Most bloggers and website owners spend their energies on finding new ways to bring visitors to their websites. They use all sorts of channels such as social media, organic search, direct traffic, and online advertising to land more and more new visitors. However, the majority of them don't pay attention to bringing previous visitors back to the website.
If bringing visitors back to the website never crossed your mind, then it means you haven't done anything significant to make that happen. You surely don't need to be an expert to understand that you have been missing out on a lot of opportunities just by not focusing on bringing visitors back to the website.
Before we dig deeper into the tactics of bringing visitors back to the website, I want to make sure that you're pretty clear on the type of visitors we're discussing. We're essentially eyeing the website visitors who have been to your website or blog at least once.
The whole idea is to push the visitors (that have been to your website) through strategies to win them over. Our goal is to ensure that they don't forget your website and somehow end up checking it out again.
It's true that the possibilities to engage and attract social media fans, blog subscribers, and look-alike audiences are endless. All it takes is a set of right strategies in place to make things happen.
There's something you might be wondering: why do we need those visitors back?
Let's discuss that first, and then, I'll share several ways to bring visitors back to your website.
Why Do We Need to Bring Visitors Back to Our Website?
Let's use this section as a reminder that whatever end goal you have in mind for your website, won't materialize until people visit your website more often. A company that doesn't sell online would also like to attract visitors, just like an e-commerce store that sells online.
To put this question out of the way once and for all, I should address it now. The reason I'm raving about bringing people to the website is that it starts an engagement process. When visitors land, the activity begins, which could convert:
Readers into subscribers
Prospects into customers
If someone builds a public website and doesn't strive to get visitors through all means, and the website has no activity whatsoever, then there is no point in creating it.
A website is built with one of the following missions in mind:
To build a business identity
To share the company's mission
To strengthen the PR campaign
To achieve the marketing goals
To aware prospects about the products
So there is always a possibility of an action to take place when visitors land on the website unless the website doesn't push people away.
How to get people to return to your website?
Most business owners are naive, and they have no idea what to expect from their business websites. So keep on leaking the leads and prospects as their websites aren't optimized for conversion.
Therefore, it's crystal clear now that why do we need to bring people to our website. They could be existing fans as well as first-timers. It doesn't matter, though, as far as they're relevant to the industry and interested in our content.
Let's focus on how we can achieve this.
Here are five ways to bring people back to your website.
#1. Write an in-depth social media post
Social media organic reach has significantly dropped over the past few years, especially if it contains a link. Since blog posts or website links force users to leave the social media platform and land somewhere else so social networks don't like it.
Sharing an article link does look spammy, anyway. Users don't pay attention to it unless it's a compelling piece of content. I've seen organic reach dropped for links over time, but I have seen influencers and social media experts change their strategy. They provide value upfront on social media and also offer something else over at their platform, such as a blog.
Here's the example: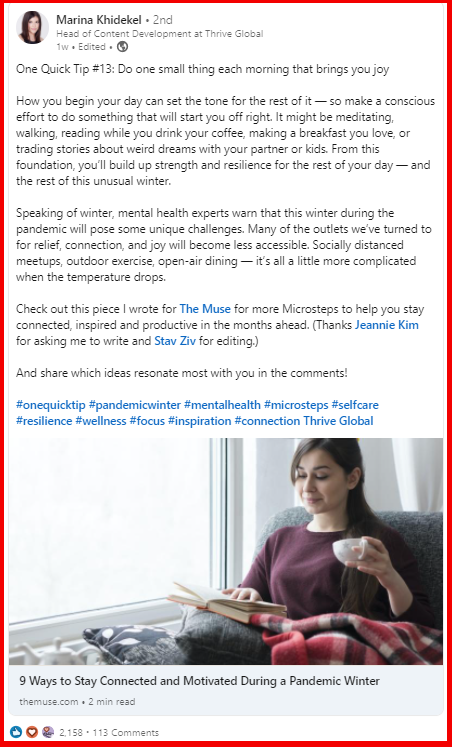 You can see an in-depth LinkedIn post that shares a vital tip for gaining motivation and staying calm during the pandemic. You can see the author of the post has tried to convey the message with a meaty post and also shared a link for more details. Furthermore, you can see the number of likes and comments on the post.
The secret of winning attention through writing an in-depth social media post is the delivery of value with no strings attached. When you offer something valuable without pushing people to leave the platform, they're likely to consume the content there and are likely to visit your website for more value.
So don't underestimate the power of writing valuable and in-depth social media posts that could not just bring your subscribers back to the website, but also attract new eyeballs.
#2.   Point YouTube viewers to your blog posts
One of the best ways to bring visitors back to your website is by highlighting the relevant blog posts in your videos and adding the respective links in the descriptions. Video content is crucial to your social media marketing success. Therefore, the existence of YouTube is inevitable. The upside of putting out video content on YouTube is that you can point the YouTube audience to your blog posts and that would bring visitors to your site.
You don't need to be pushy about this as the audience clicked through your video to watch content rather than navigating elsewhere. But it doesn't hurt to drive your audience to a relevant written piece once in a while.
You'd find hundreds of thousands of YouTubers who have been using this strategy to engage the audience, building an email list, and driving website visitors from YouTube.
Damian Keyes, for example, is doing the same thing.
Take a look at the following screenshot: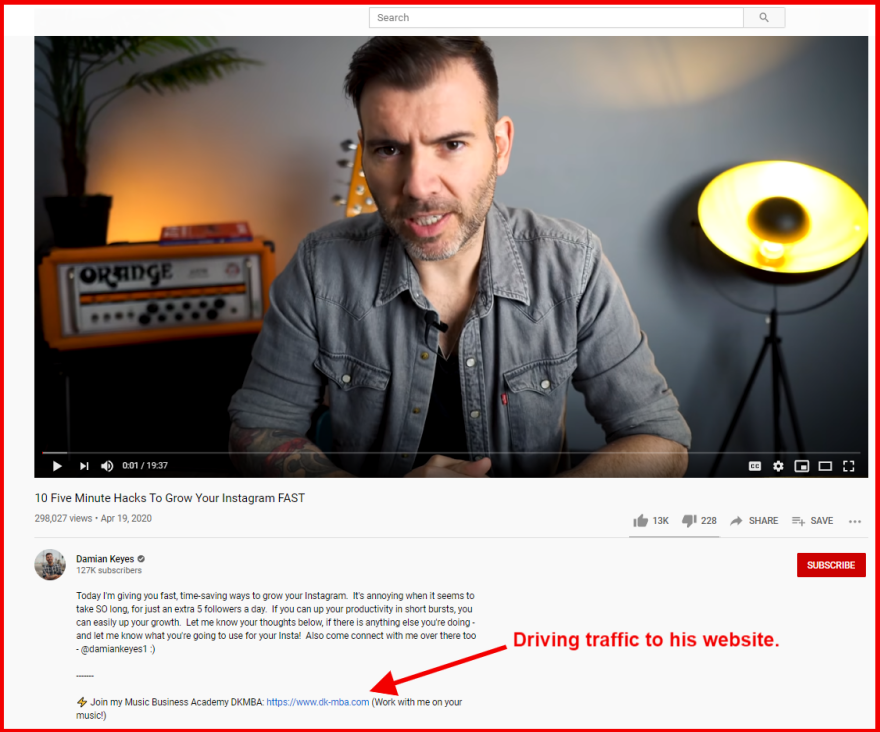 He's using YouTube content and description to drive the audience to his music business academy.
If you're really want to make the most of this strategy, you must pay attention to creating good-quality videos that help the niche audience, and then you can push them to visit your websites.
#3.  Publish a free ebook

 
Have you ever noticed some top blogs and websites offer free ebooks? They mostly do this for list building and partly for engaging the audience. What if I told you that you can use a free ebook to bring visitors back to your website?
Sure, it won't be a quick fix as publishing and offering an ebook may take some time. The most important part of this strategy is to come up with an enticing ebook. You got to hire a freelance writer or talk to your in-house content writer for writing a compelling ebook. A lot of companies don't necessarily limit their opt-in bribe to tutorial-based ebooks. Instead, they also publish industry reports and checklists to spice things up.
The goal is to push readers to take action by offering something interesting. When visitors find a free ebook appealing enough, they go ahead and click-through to download it. And that's where it starts an engagement activity on the website, which leads to spending more time on the site. Plus, you get a chance to bring visitors back to your website; I'll explain it in a moment.
You might not have heard that you can use this free ebook opt-in bribe strategy to bring website visitors back to your website. Let's shed some light on it: since you're offering the ebook for free and not charging for a valuable piece of content, you can link out to your articles or website pages in the ebook.
Furthermore, an ebook could be a PDF book, report, or tutorial that the audience might be interested in checking out.
The team at Social Media Examiner knows this trick.
They're offering a social media marketing industry report using the opt-in bribe strategy: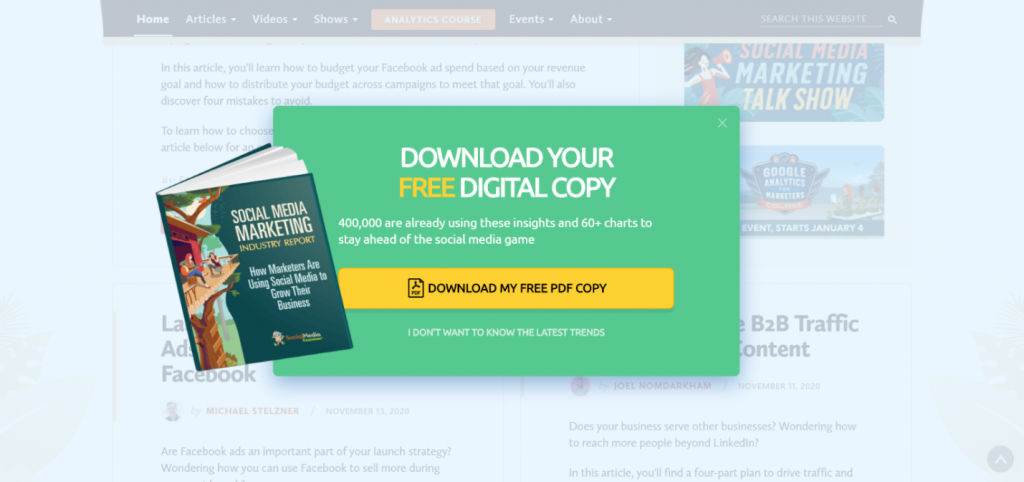 It's highly unlikely that they won't be mentioning their links in it.
So the takeaway from this example is that we can use free ebooks distribution as a way to attract and bring the audience back to our website.
#4. Establish an Instagram link strategy 
One of the ways to learn social media strategies is by observing social media influencers and top bloggers. They usually don't leave money on the table, meaning they try to use every option available at their disposal to engage the audience.
Instagram has a handful of options that could be used to bring people to your website. I'll walk you through each and every option that you can try out so that you can establish a complete Instagram link strategy even if you're getting started on the platform.
Here are four major areas of adding a website or blog post link on Instagram:
Profile Bio: Anyone can add a website URL to his/her profile and point the audience to the website or blog link through different means. You must have heard or seen the "link in the bio" text somewhere on the platform.|
Story: Instagram accounts that have over 10,000 followers or which are verified can add links to their stories. The audience can swipe up to check out the website link they added to their story.

Caption: The caption can have a branded URL shortener along with the post description and hashtags. You better use a URL shortener like Replug

to shorten your blog post links to share in your Instagram posts. Furthermore, point the audience to the blog post short link in the description as well as a comment of the very post. The caption links won't be clickable, but people could check them out as they won't be hard to remember.

IGTV description: You can add your website link to the IGTV video description, and it could drive visitors to your website. IGTV is one of the most underrated video platforms on the internet. You can harness the power of Instagram video by putting out up to one-hour long videos. As far as the link of your blog post is concerned, if you click on the IGTV video title while playing the video, the description appears from the top, and that's where you got a clickable link.
You don't have to undermine this social media platform even if you don't have 10,000 followers to enable the swipe up link feature in the story. Instead, try out other ways that can also drive website visitors to your website.
Let's take a look at a few examples:
Iamafoodblog is a popular food blog that shares recipes.
They have a fantastic Instagram account where they share food photography.
The best part of this example is that they do what exactly I was talking about earlier.
Look at the description of one of their recent posts: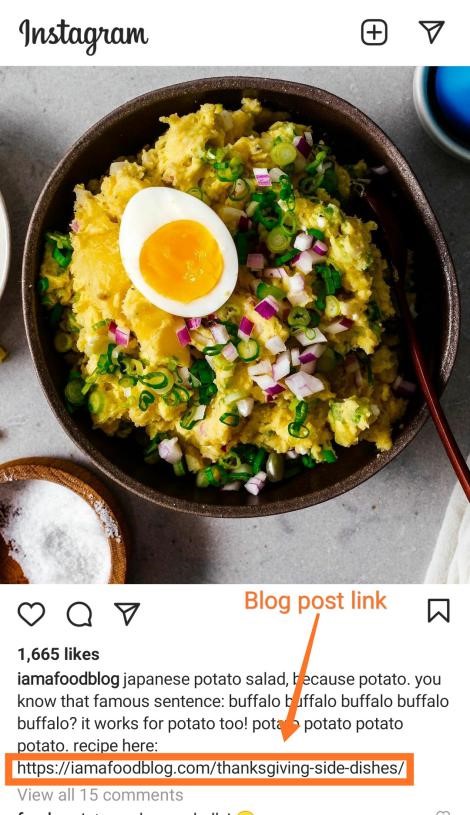 They've added the blog post link along with the caption.
Similarly, NYTCooking is another famous Instagram account: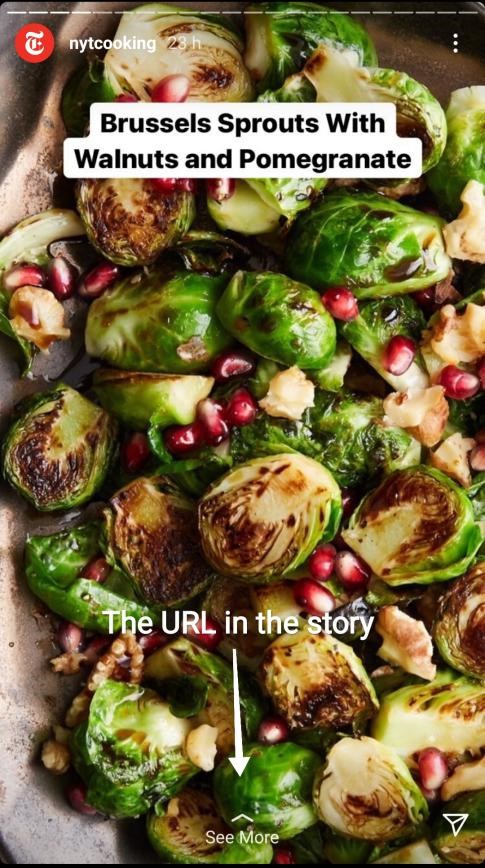 They like other top Instagram accounts use Instagram Story hacks to drive website traffic.
Here's another example:
Sarah Wayne Callies uses the profile bio to share her website URL:
She is a famous American TV actress and movie star.
So if these top Instagram accounts and celebs have an Instagram link strategy in place, then why don't you have it?
Now it's time to use Instagram to drive website visitors. It doesn't matter whether or not they have been to your website; try to send some visitors to your website.
#5. Send an email newsletter

If you have an email list, but you aren't using it to drive website traffic, then it's a shame. The email subscribers opted-in to receive emails from you, and you have an excellent opportunity to bring visitors back to your website.
The email subscribers signed up because they're interested in your product or content in the first place. So don't shy away from sending the latest updates and blog content.
Sending too many emails every month may indeed annoy them, and that's not what we want. However, a couple of emails in a week shouldn't be a bad strategy. You can always adjust according to the response you get from the audience.
If you go through your email inbox, you could see a ton of emails (that are the latest blog posts) sent to you as email newsletters because you opted for it.
Take a look at the email newsletter from American Kennel Club: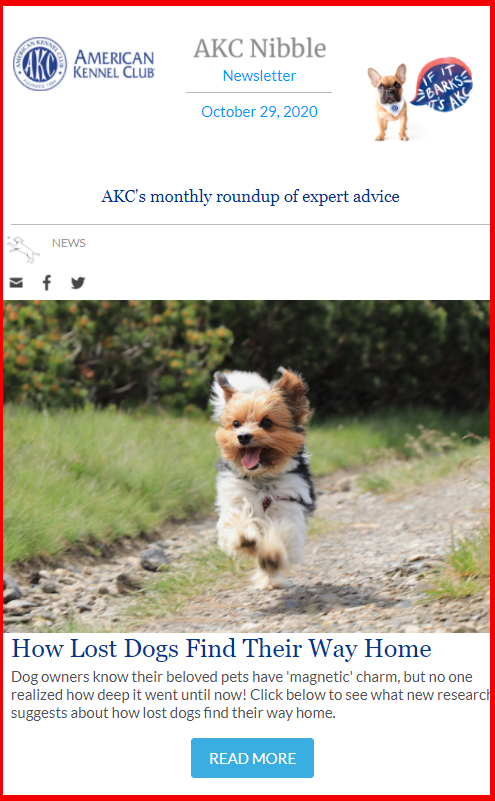 They also sent a blog post to the newsletter subscribers.
As a result, there would be hundreds of thousands of subscribers that would open up the email, and a lot of them would visit their blog post. Hence, they'd be able to drive a lot of visitors back to their website.
If you haven't started building an email list, then it's time to take it seriously. Digital marketers and pro-bloggers highly rate email list subscribers as they're the visitors that want to listen to you.
Are you ready to bring visitors back to your website?
It's essential to be on your toes if you want to bring visitors back to your website. I've shared five tactics, but I'm sure there are a ton of strategies out there that you can use.
The exciting thing is that when you strive to achieve something and start exploring, you could stumble upon new ways along the way.
I've learned an important lesson after blogging for over a decade that if you don't put effort into something, you can't do it.
The premise is that if you want more visitors to your website, you got to try every possible method to get visitors. For instance, you can put out content, engage on social media, advertising content, build relationships, and solve problems. In the digital marketing space, whatever you're trying to achieve, you have to ensure that you're offering more than you're taking.
Attention could be the easiest thing to get or the hardest part of the job. You must have known someone on social media who grew followers on social media without knowing much about social media growth. The reason is that they deliver something even intentionally and people bought it.
The methods I shared to bring visitors back to your website are tried-and-test by internet marketers and pro-bloggers. You can try them out as well as keep exploring new strategies to attract, engage, and convert the audience.
What else would you do to bring visitors back to your website?
Hassaan Khan
Hassaan is a blogger and freelance writer. He has published articles on SEMrush, ThriveGlobal, BlogPress, FreelancerMap, and many other popular publications. He writes about freelancing techniques, tips, and career growth. Subscribe to his blog.