TODAY, in this pandemic situation, marketing teams are more focused to determine the conversion strategies that help to generate more quality leads.
Before executing new hacks, keep in mind that Conversion is something more important than sales. So try to gain more traffic rather than pitching your product.
Conversion Rate Optimization (CRO) is the most compelling techniques that marketers frequently use to grow their business smartly, and that is:
"To convert the website into a  lead and then into your paying customers."
We all know marketing trends and customers' priorities change with time.  To stay at the top in the market, we have to keep strategies updated.
Conversion is the most effective and easiest way to pull the attention of your potentials audience and make more money.
In this guideline, I'm going to explain to you the essentials of CRO, strategies, and why the business should concentrate on enhancing the conversion rate that gets results.
Here's exactly what you'll learn. Let's dig into the meat of the matter.
What are the Conversion rate and Conversion rate optimization?
Conversion rate: It is a ratio of visitors to your website, who performed specific actions. It might be a sign up for a free trial or purchase your product.
Conversion rate optimization: This is the process of enhancing your marketing strategies to generate a lead, convince customers to take decisive action, and improve your existing sales funnel.
Do you know how to Calculate the Conversion rate optimization?
I'm sure you do know, but for those who don't know, then here you go.
The equation is quite simple and easy to consider. let's take an example here for your better understanding.

You have 20,000 visitors for your website and 5000 visitors show some sort of interest and bought your product. So according to the equation, you have received a 2% conversation.
All set?
Moving forward.
Why conversion is more important than sales and how is it beneficial for the e-commerce business?
Conversion is the mildest and cheapest way to raise your profit and get your customer close to making sales. It makes your life much more accessible than ever by examining which part of your business is expanding, audience behavioral tendencies, and the gaps you may improve to win more essence lead and understand market success.
In a study conducted,  74% of companies give more priority to convert leads into customers.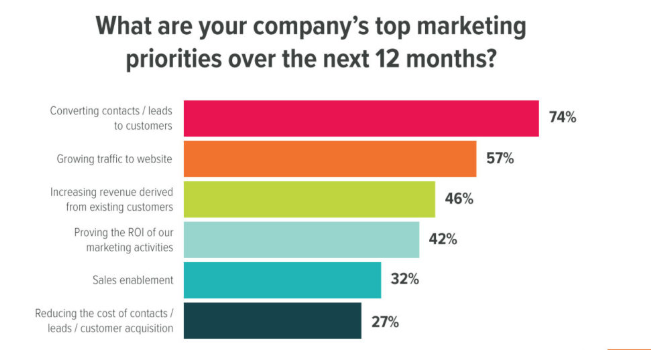 Conversion rate is a cost-effective technique that gives you an essence conversion outcome way you want in a limited budget. In short, it assists you to save your MONEY.
Conversion helps you to optimize your website, so whenever the customer visits your website, he find a reason to stay here and can't resist filling the call to action.
Use visual content to explain your product 
If I talk about myself, then I would love to watch a video rather than reading a blog to understand anything.
Have you ever notice that when you read a full article on anything and all of sudden you wondered what did you just read?
Why is it so?
Because your brain can process visuals much faster than text can. Approximately 90% of your overall brain information is visual. People love to share videos with others on social media.
Video marketing is not a cup of tea, it is hard, but if you have a hold on it, then you have won the half battle. You can easily convert your lead into your loyal customer.
It has proved that  85% of all internet users watched video content monthly on any of their devices.
Visual content has the power to pull the audience to itself.  Brands are not only considering visual content as an essential part of digital marketing but also an efficient approach to give your brand a voice.
Whether you run a drop shipping business, a SaaS company, a retail outlet, or a major enterprise, it's important that you incorporate visual elements into your content strategy.
Visual content creates a route for marketers to cross smoothly and slightly. Now, brands make things more interesting by creating a video that explains their product in a more effective way. Adding video content on the landing page helps you to boost your conversion rate by almost 80%.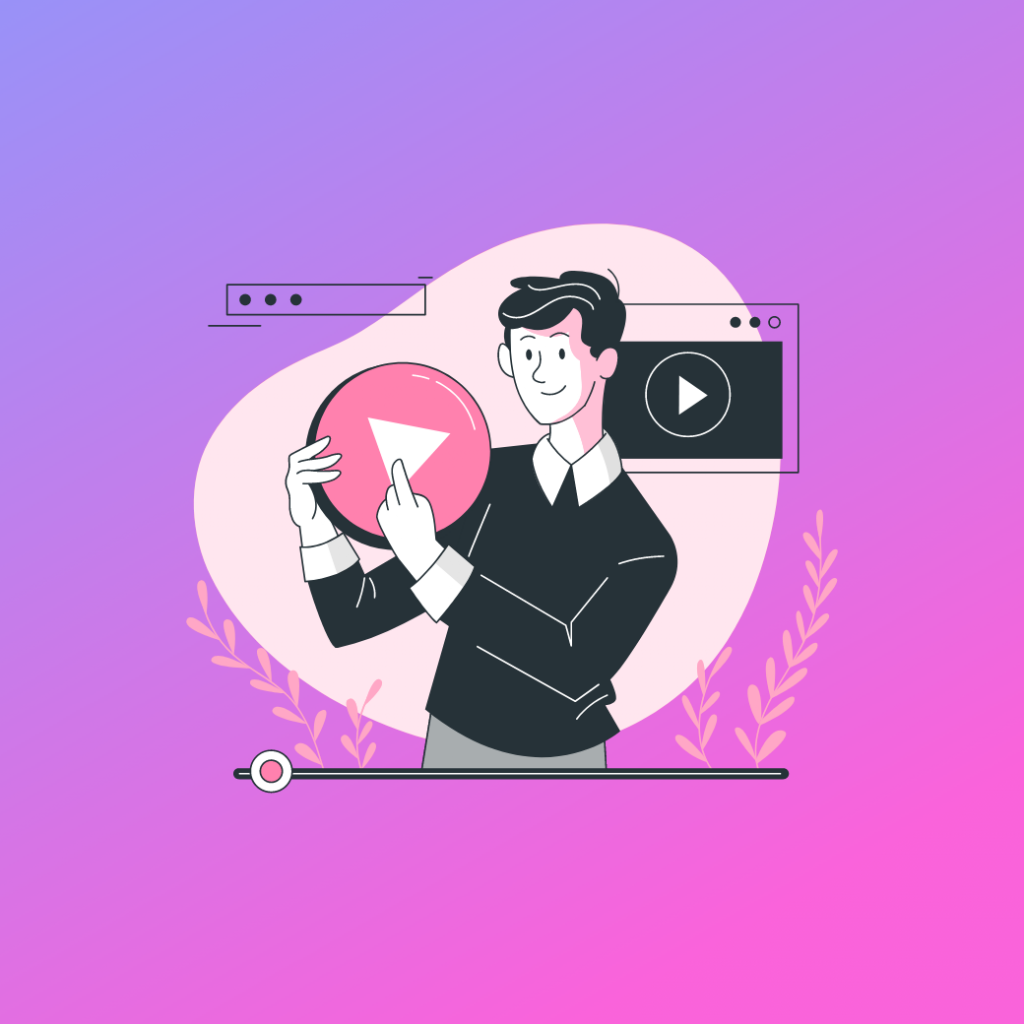 Identify a problem in simplifying design elements to hook users
If you genuinely want to lead your business to the audience, then you should simplify your landing page.
Before starting, it's crucial to know who you want to drag and why?
Don't fly blind.
For building brand appearance in front of the audience, you should design your landing page in constructive and descriptive manners that can attract the right people.  To connect with the target lead you are required to demonstrate their problem and how you can help them to overcome it.
The things you have to keep in bear while designing the website to get more conversion is:
Be consistent
Creating compelling CTA
Offers should be clear
Essentials information is placed on the top
Contact details
Testimonial / Customers Feedback
Here, we take Replug as an example.
Replug creates an easy and delicate landing page with visual content to cope with the potential audience. Customers easily understand what they have for them and how it works.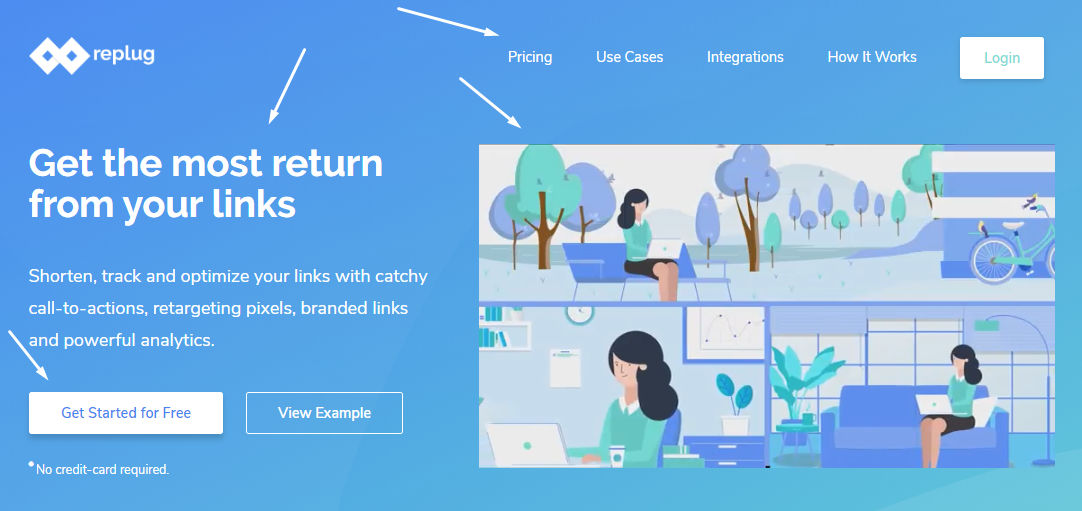 This guideline helps you understand how can web read help you to make conversion rate optimization decisions.
Streamline your message
The next approach is to streamline your message and what does it mean?
The message about your product and brand. It should be concise, simple, easy to digest and exclude all the information that you think doesn't work for you.
Every message is not much distinct from one another it's all about how you add purpose and deliver to the audience. Creating compelling messages creates the curiosity that connects the brand and the visitor.
You have to build a feeling that encourages the audience to say that: 'This company gets me'.
To deliver your message to the right audience, you must have segmented the audience and speak in a way that connects you with them. To get straight on point give the potential to boost the conversion rate and establish warm leads to your website.
So, here I'd like to give you an example of ContentStudio.
ContentStudio is one of the best social media management tools. It helps with content discovery, curation, publishing, automation, and Analytics for ALL social and blog networks, just a one-stop-shop for any brand.
ContentStudio landing pages clearly pitching their products and make things crystal clear for their visitors. They also illustrate the importance of the product in the heading, and what they have for their audiences. ContentStudio provided enough information about the product with the social proof, and its features, to convert them into paying customers.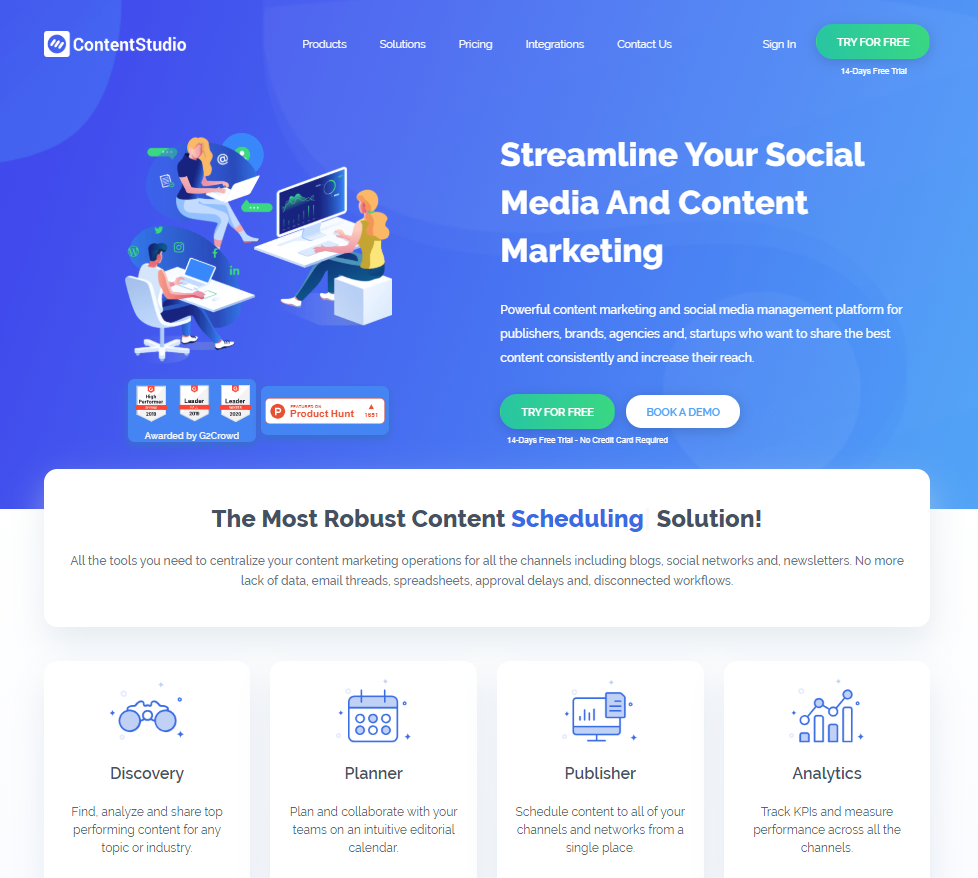 Should be goal focused 
Another essential approach to convert high traffic to your website is 'Goal-oriented'.
You must know what is your goal?
What do you want to show your audience on your landing page to lead more conversion?
To answers these questions, you need to segment the audience and target them with your product. While targeting the audience, your focus should be getting visitors to take one specific action.
Marketers have to do fascinating magic to make them stay on your website for a little longer and take a particular action. It takes a sec for the visitor to find out where your landing page is misleading. Does it valuable, relevant, consistent, or not?
Defining goals gives you a clear path to move, reach the desired audience, prompt them to fill the CTA, and raise the conversion rate.
We are going to take MyTutor as an example here.
MyTutor is an online marketplace that helps parents and students to connect with intelligent and engaging tutors. They provide an online lesson and also allow parents to choose their favorite tutor to teach their child at home.
MyTutor has created an effective campaign that targets those students who couldn't achieve good grades and support them to get the right track at the right time.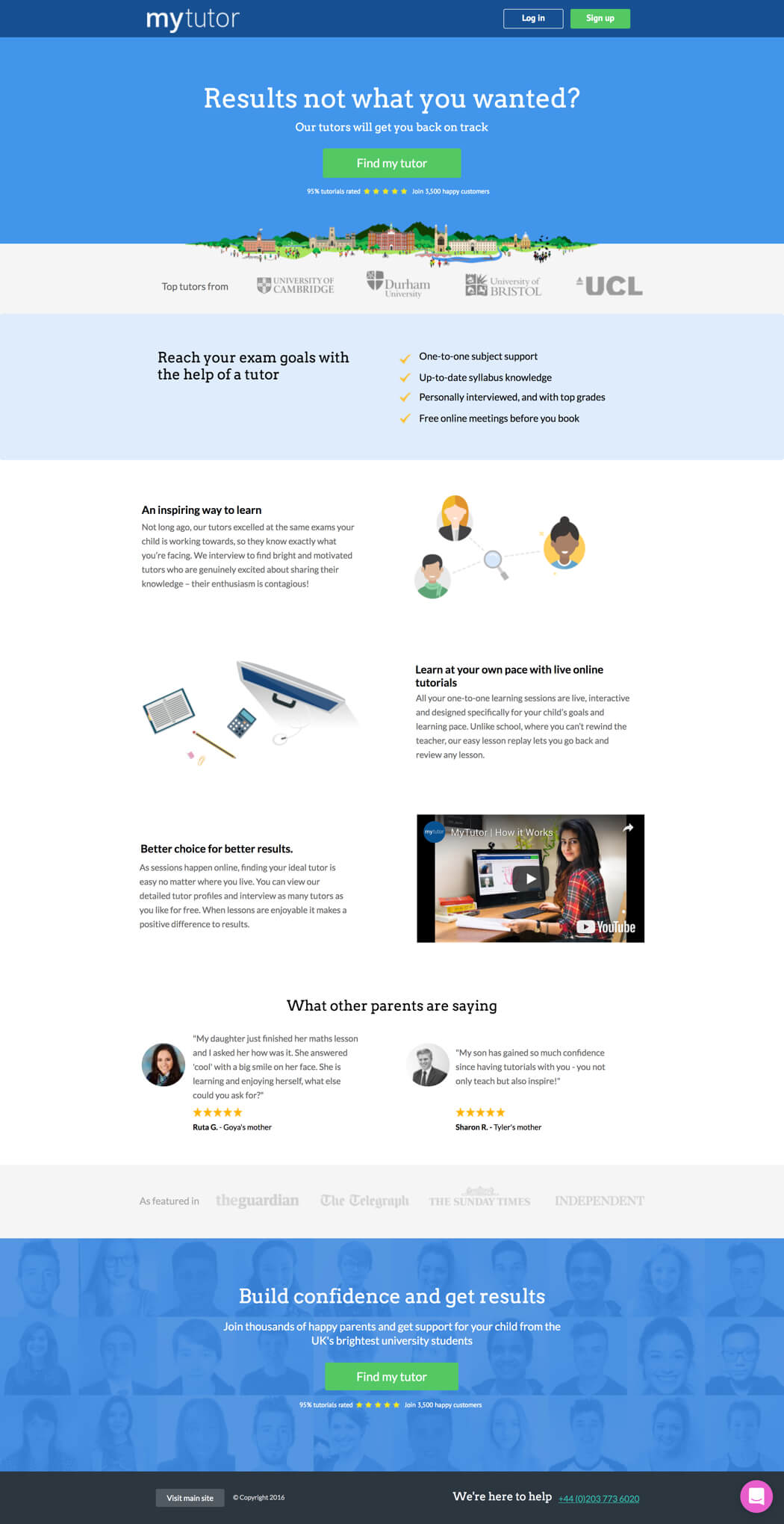 Convince Users With Social Proof to Improve Conversion Rates
Whenever I want to buy something online I'd prefer to have a look at other feedback or recommendation. After that, I get convinced and willing to spend some money on the product. So it proved that social proof aids you to earn the trust of your visitors.
Trust is everything. It is the people who come to you, visit your website, and helps you to reach their pocket. So marketers have to put themselves in the customer's shoes to convert them into your paying customers.
Research conducted, 51% of shoppers surveyed say they use Google to research a purchase they plan to make online.
Social proof is a psychological process, where people perceive other actions towards products and assume it as correct behavior.
Social proof is the most accurate approach that marketers use to improve the conversion rate to your website. and according to a study product reviews are 12-times more trusted than product descriptions come from the manufacturer.
Social influencers play an essential part to lead your product in the market happily. They have the power to lean the immense amount of audience, convince them to take action, and encourage them to perceive things the way the influencer wants to improve conversion rate.
This guideline explains marvelous about identifying the right influencers, at the right time and create a marketing campaign that leads to more traffic.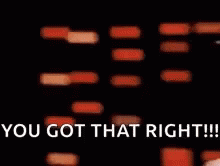 Optimize Your Website Conversion Funnel
The last and foremost important strategy is to optimize your conversion funnel. Customers are the most energetic resource that leads you with your business on the peak. So you have to pay attention to improving your conversion funnels.
Customers do not only encourage you to convert your lead into your paying customers, but they also expand your brand response through word of mouth to others. It certainly works like fuel does to the engine. Optimizing conversion funnels help you to grow more dramatically.
According to the AIDA marketing model, the conversion funnel is based on four major steps.
Awareness:  How do you create brand awareness?
Interest:   Which feature will generate interest for your audience?
Consideration:  How do you create curiosity that strikes a chord with the heart of the audience?
Decision/ Conversion:  What strategy do you need to convert them into your loyal customers?
In that way, you can improve your conversion funnel and capture the attention of your demanding buyers. Before tweaking marketing strategies, you must find out what works for you, and ones that don't work appropriately, then you can drop it and keep going no matter what.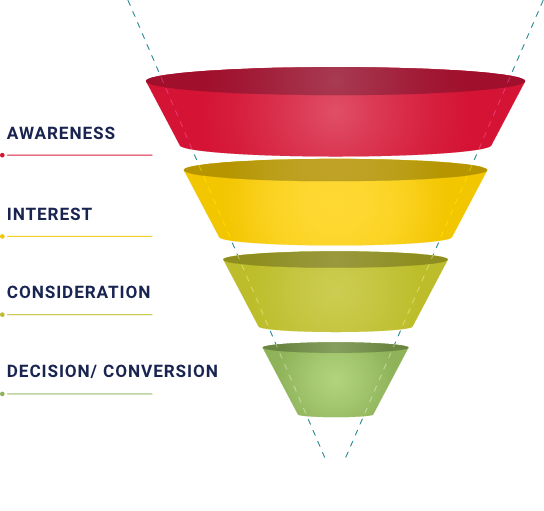 Final Thought
For those who are a newbie in the digital marketing world, it seems as hard to achieve, but it is not. All you need to do is to apply these strategies and try valuable tools to optimize your marketing efforts.
Compare to other digital tactics, conversion optimization is the most prominent, accessible way to increase your conversions and sales for your business. It also prevents you from spending thousands of dollars on PPC and SEO. Periodically seek to tweak your strategy to determine what works for you and what's not.
Sadia Umer
Sadia Umer works on putting together high-quality content for Replug customers to read. When she isn't writing, she can be found reading and trying random life experiments.