What is a tracking URL?
A tracking URL is a link that contains one or more URL parameters to track, identify, and analyze user activity or behavior on a website.
URL tracking is an engagement strategy used in digital marketing that allows marketers to track the clickability, conversion rate, and call-to-action buttons on the websites.
Have you seen a call-to-action button in an email newsletter or cloaked Amazon affiliate links?
The reason behind it is that e-commerce marketers utilize tracking tools that allow them to add parameters that help track user behavior and also to win back customers through retargeting.
Why is URL tracking important?
URL tracking is an essential process in online marketing that helps marketers in analyzing the overall performance of the URLs. It includes factors such as number of clicks and conversions.
The reason why the URL tracking process is important for bloggers, affiliate marketers, and digital marketers is that it assists users in determining the link performance in an article or on a website page.
It's nearly impossible to track affiliate sales without URL tracking. Almost every affiliate network or affiliate marketing software uses URL parameters in the product links to track the clicks and conversions.
Digital marketing experts use UTM parameters to track their website visitors and understand the source of the traffic. They set separate UTM parameters for Google ads, Facebook ads, social media, landing pages, etc.
To sum it up, the reason why URL tracking is important in the digital marketing world is that it provides users with insights into link performance, click activity, and conversion rate.
Related: What Is A Vanity URL & How To Track It?
How does the URL tracking work?
URL tracking is an online marketing strategy that monitors the impact of the marketing campaigns through link performance. Following are the activities that can be tracked with URL tracking:
Clicks
Conversion
Affiliate commissions
Click-through rate
Traffic sources
Leads generated
Related: Retargeting Hack: How to Retarget People Who Haven't Visited Your Website
URL tracking process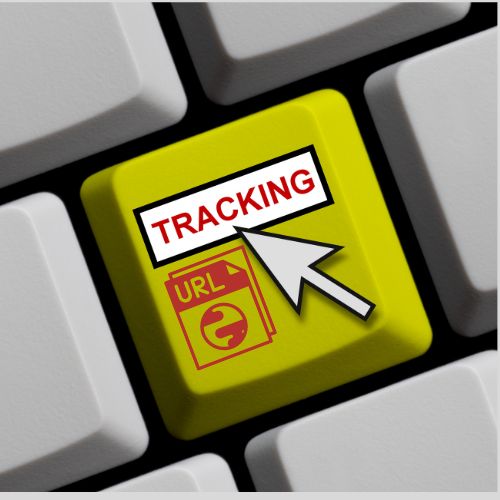 Define the purpose of URL tracking:
Bloggers and marketers don't vaguely start tracking random URLs. Instead, there is always an agenda behind the tracking.
Pinpoint the URLs that you can track over the next few weeks or months.It's almost impossible to manually track hundreds of thousands of URLs.
Opt for the most suitable UTM parameters:
Opt for the most suitable UTM parameters to insert in the URL to track. A UTM parameter is a tiny code that goes into the URL address to track the sources of website page traffic.
Tracking the UTM parameters:
The last and most important part of the URL tracking process is tracking the UTM parameters. Track UTM parameters through Replug or also can use Google Analytics.
When should I use a tracking URL?
There are several use cases for tracking URLs. Once you have figured out what tracking a URL means, it gets easier to apply the tactics.
Here are different scenarios when you should use a tracking URL:
Record the clicks on the links:
Whenever you want to know how many clicks a link has gotten, the easiest way to track the clicks is by using a tracking URL.
Track sales and conversions:
E-commerce stores and online businesses track sales and conversion through a tracking URL. It usually comes in handy when businesses want to know where the sale or conversion has come from on their website.
Identify the top-performing pages:
When there are multiple sales pages with unique UTM parameters, it's easier to identify the top-performing sales page.
Study the performance of the links on a site:
There are site-wide links available on every blog or website. Tracking URLs help admins understand the overall link performance on the website.
Allot the affiliate commissions appropriately:
Tracking URLs are imperative in affiliate marketing. No wonder the affiliate product links are long and clunky. The affiliate networks use URL parameters to identify and allot the affiliate sales to the appropriate affiliate account.
Find the traffic sources for a landing page:
When marketers create a new landing page for a new product, they share the landing page link across all channels, such as social media, email newsletter, blog sidebar, etc. Therefore, the source of the website visitor is easily traceable with a tracking URL.
Trace the footprints of the generated leads:
Lead generation means when a visitor signs up for a trial account or downloads a freebie. Marketers insert a UTM parameter that explains where the lead came from.
Related: 9 Ways to Track Results from Partners & Influencers
Types of URL tracking
There are three types of URL tracks that are being used:
1. Auto-tagging
The auto-tagging URL tracking is a URL tracking system that automatically adds relevant slugs to the URL that helps in tracking the data. There is no need to manually add a tag to every URL.
2.Manual tagging for backend systems
Manual tagging for backend systems relies on the ValueTrack parameters. These parameters track information about the ad clicks. Adding these parameters to your ad campaign, the user can track or identify the details such as device, location, and other information about the audience.
3.Manual-tagging

In a manual-tagging system, the user needs to put in the UTM parameters using a URL builder. Usually, the UTM tracking generators have a form and the users need to fill in the blanks using the parameters to generate the tracking URL.
How to track URLs with UTM parameters?
Are you wondering about tracking URLs with UTM parameters?
Here are four steps to follow:
#1. Select the URLs to track
The URL tracking process begins with selecting the URLs to track. Most experts start with choosing the UTM parameters and bypassing step no. 1, which doesn't make sense. So start with the URL selection and then get to the UTM parameters afterward.
Usually, digital marketing experts use UTM parameters on the call-to-action buttons in email newsletters, landing pages, discount offer pages, and Facebook or Google ads.
#2. Choose appropriate UTM parameters
The next up is to choose the suitable UTM parameters to add to your URL. Digital marketers who run Google ads or Facebook ad campaigns know the effectiveness of these UTM parameters.
Moreover, a campaign's URL could have multiple UTM parameters doing their specific jobs. The most common UTM parameters are mentioned below:
utm_source:
To identify the traffic platform sending traffic to a website
utm_medium:
To understand the type of link where it's being used
utm_campaign:
To specify a certain campaign or promotion
utm_term:
To recognize the search term the brand is targeting
utm_content:
To explain the type of content used to drive website visitors such as an article text or a sidebar banner.
#3. Place the UTM parameter tracking
UTM parameters placement does seem a difficult task, especially for online marketers who have zero experience with HTML or website code editing. However, the manual insertion of the UTM parameter isn't the only way to do it.
There are several UTM tracking code generators available on the market that lets you insert the UTM parameters into a URL. Not only are these UTM generators spot on, but they also make the process faster.
#4. Analyze the results
It's necessary to keep an eye on the campaign results to navigate along the way. To get started with tracking your UTM campaign results, follow these steps:
Go to your Google Analytics account for further steps
Head over to the Acquisition. Then go to the Traffic Acquisition.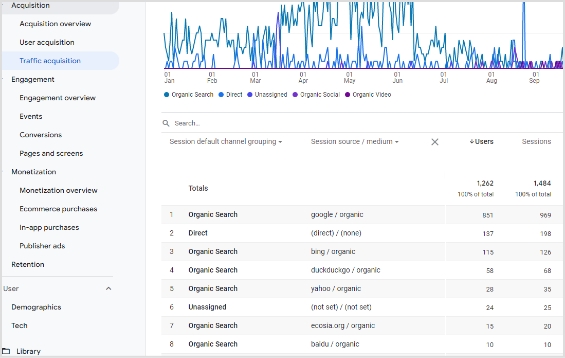 You'll see all the traffic acquisition channels.
The UTM campaign would reflect under the source/medium section, so look out for that.
How to get a tracking URL?
The UTM parameters are extremely helpful when tracking user behavior during an online campaign. A tracking URL with complete tracking anecdotes could come in handy in social media marketing, online advertising, and email marketing.
Have you ever hovered over a link in an email that includes various terms such as source or medium? The reason is that these are types of UTM parameters that facilitate to track the performance of the email marketing campaigns.
You might wonder, how do I get a tracking URL?
Well, you can opt for a decent UTM tracking tool that allows you to add UTM tags to your URLs without making a big deal out of it.
Add UTMs with Replug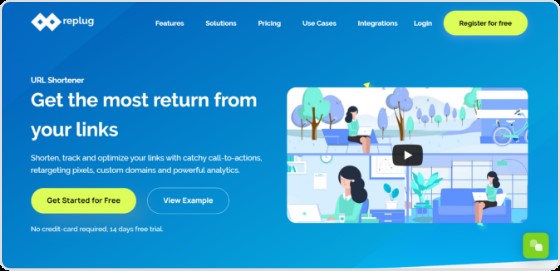 Replug is an all-in-one link management tool for creating, managing and tracking vanity URLs for social media, online advertising, or email newsletters. Branded URL shortener allows users to shorten the long URLs so that they appear clean anywhere you share them.
Moreover, the additional Replug features include UTM, retargeting, bio links, QR generation, mobile deep linking, and more.
Here are four simple steps to get a tracking URL using Replug:
Step 1: Log in to your Replug account
Go to the Replug app and log in to your account.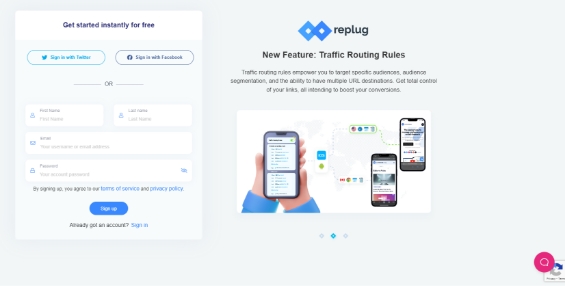 Step 2: Enter the URL to shorten
After the login, you'll see a URL shortening snippet right on the dashboard. Select the Replug campaign and paste the long URL you want to shorten and add UTM parameters to the campaign. If you haven't created a campaign, you'll be better off creating one.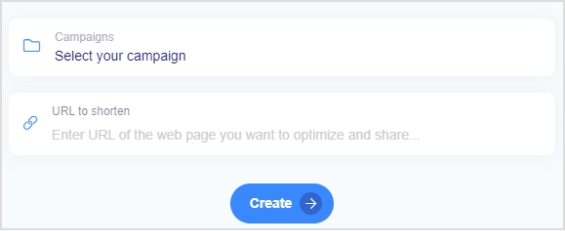 The moment you paste the URL to shorten it, an "Add UTM" CTA button will appear next to the URL.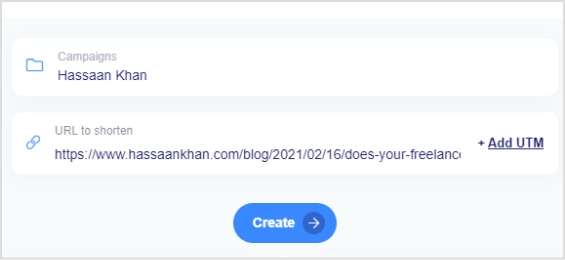 Step 3: Add UTM parameters
Click on the "Add UTM" CTA button to include the UTM parameters to add the ability to track the URL using Replug.

Once you click that CTA, you'll be prompted with a UTM screen – you'd have to select an already created UTM or add a new one.
If you choose to create a new UTM code, a form will pop up to fill out.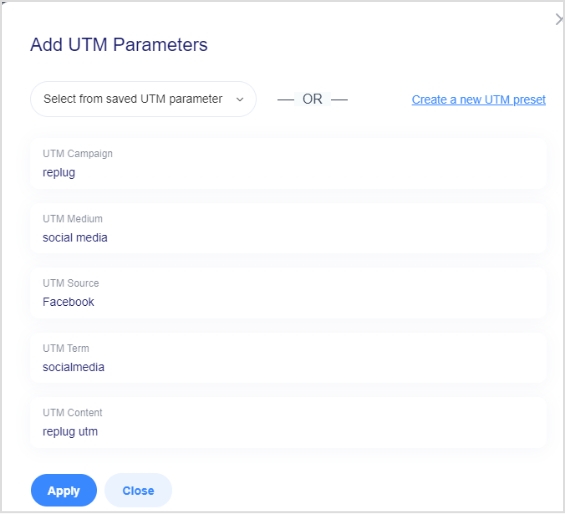 Go through this step as it's crucial to add the URL tracking. Once you're done with adding all required parameters, proceed to the next step.
Step 4: Generate the short URL
After you add the parameters, they will appear along with your URL. Proceed further to generate that short URL along with UTM parameters to track link performance.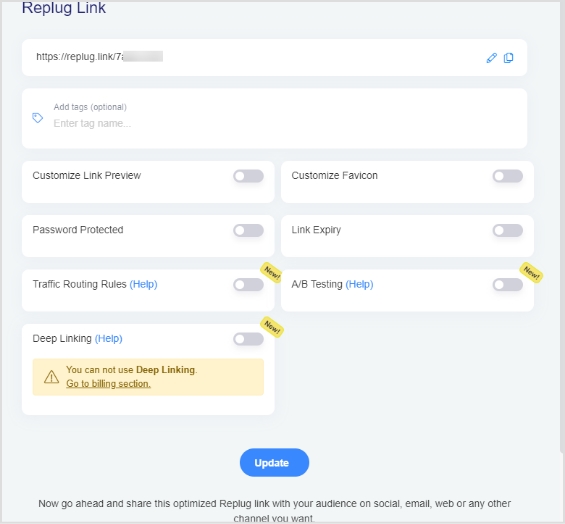 Start Tracking
Generating a tracking URL is a great tool for online marketers to push sales growth. The fundamentals of a tracking URL will remain the same whether you use Google Analytics or a URL shortener tool. However, the benefits of URL shorteners are still yet  to be explored to its maximum potential.
Brands and entrepreneurs use URL tracking for branding, building a custom audience, and generating more sales.
FAQs
Can URL be tracked?
Any URL that contains the tracking parameters can be tracked. The ideal method is to include UTM parameters to track the URL performance.
What is URL tagging?
URL tagging is the process of infusing identifiers to the URLs to attribute the traffic to a specific campaign or event.
What is UTM stand for?
UTM stands for Urchin Tracking Modules. Check out the complete guide on UTM parameters.
Start making most of your online marketing efforts with tracking URLs today!
Hassaan Khan
Hassaan Khan is a freelance writer for SAAS companies, e-commerce stores, and niche websites. He has contributed to SEMrush, ThriveGlobal, BloggingCage, AllBloggingTips, and several other publications. He builds niche websites, publishes e-books, and helps website investors with his done-for-you niche site-building service.