Have you ever heard of SMS marketing? SMS marketing refers to the advertorial text messages usually containing SMS URLs or links that an adviser sends to cellular users.
They're usually cold messages that try to sell you something. However, some companies opt for branded SMS via text shorteners that brings the marketing agencies and cellular networks in the loop.
Anyway, if you haven't heard much about SMS, SMS advertisements and SMS link before, you're probably younger than most of us. Generation X and Millennials would know what I'm talking about.
Apparently, SMS was the "thing" before WhatsApp, Viber, and WeChat – that's how we texted to friends and family.
A lot has changed in the last ten years. It's no surprise that the idea of SMS faded away as soon as social media platforms took over the scene, and transformed the online marketing landscape.
Interestingly, the majority of companies and experts don't even consider SMS marketing anymore. When they focus on digital marketing, they tend to look at developing our website, setting up social media profiles, and putting out content across multiple platforms.
You might not know that you could leverage SMS for driving traffic to your websites, landing pages, blog posts, and social media channels.
There would be several secrets to winning at SMS marketing, but one of them is using the Short links in the SMS. Clearly, ignoring SMS marketing means leaving money on the table.
So I'll dive deep into using the shorten URL in the text messages and learn more about this opportunity.
I can go on and on and if you aren't sure about the short URLs, then it's not worth it.
So let me elaborate on this before we go ahead.
What's a Short  URL?
A short URL is a trimmed version of a long URL that is easier to share online across different avenues such as social media platforms, emails, and texting apps.
What's a Short SMS URL?
Short SMS links are used in SMS for advertisements to make the text message readable and trustworthy known as 'mobile links' or 'mobile tracking links'. The SMS links can be customized with branded links using a custom URL shortener to build the most trust.
There are URL shorteners out there that help individuals, experts, and brands in shortening their long, clunky URLs and converting them into short and sweet links.
Have you ever come across an e-commerce product page? You might not have noticed that how long some pages' URLs could be. Therefore, sharing those long URLs on social media could be a mess. You'll be better off if you have a short URL strategy in place.
SMS Marketing: Why Does It Matter?
In the world of marketing, whatever has the attention or eyeballs, it's always worth paying attention to.
Do you remember most of us despised TikTok? Now the platform has over a billion users. Now brands and influencers are trying to win the TikTok real estate by putting out 15-second videos.
Check out: Best time to post on Tiktok.
Similarly, you may think SMS is old-school, but today's top social media marketing experts and entrepreneurs are revitalizing the concept of SMS links in marketing.
If you have been following entrepreneurs like Gary Vaynerchuk and Patrick bet-David, you'd know that these guys started text messaging to connect with their audience.
Take a look at Gary Vaynerchuk's text messaging platform guide on his website: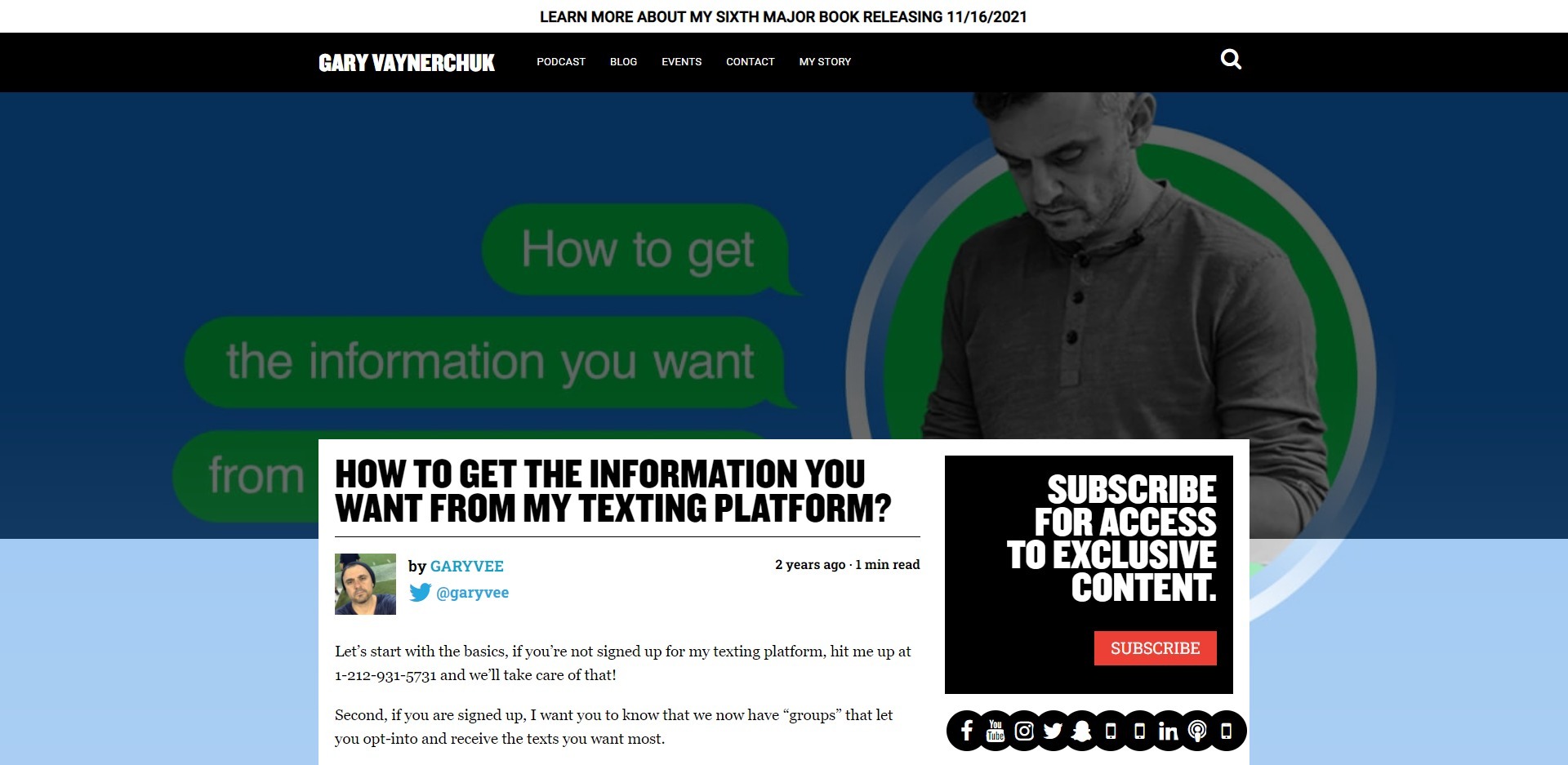 It doesn't end here.
Patrick bet-David has been using the text messaging medium for a while: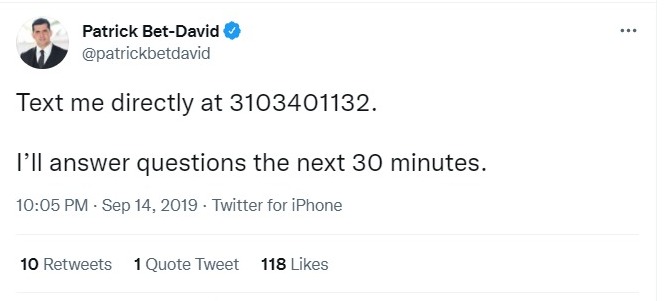 It's interesting how they're using text messaging to their advantage.
Let's don't get carried away.
You should know a little bit about short SMS URLs and why they're a big deal, especially in text messaging marketing.
Since every 13 to 70 years old has a smartphone with Wi-Fi or data connection enabled, so it's not rocket science that SMS could rejuvenate digital marketing.
We've come a long way when it comes to communication and technology. If you're taking the term "SMS marketing" the way people used to take it a decade ago, then you're mistaken.
Not only the SMS marketing has evolved over the past few years, but now this niche has become significantly competitive as compared to the past.
Here are a few SMS marketing companies to look at:
If you're still confused about SMS marketing and why it matters, then the below-mentioned solutions might give you some perspective on what we can achieve with text messaging technology:
CRM Compatibility: Many business text messaging services are designed with CRM tools compatibility in mind, which takes their customer support to the next level. Communication becomes faster and efficient.
Seamless Integration: The ability to integrate with several project management and customer management tools has brought a revolution in the IT and tech industry. Therefore, SMS marketing has surely created waves across the digital marketing industry.
Automated Messages: AI and chatbots are no surprise anymore – expect some fantastic automated messaging systems when you go on board with any business text messaging company.
Existing Phone Numbers: The majority of the SMS marketing agencies let you use your existing phone numbers for internal and external communication.
Collaborative Environment: I do not doubt that you can establish a collaborative environment at work when you sign on to the idea of business text messaging.
That being said, now let's head over to the cream of this blog post.
How to Use the Short Links for SMS
Without any further ado, let's get right into it. Here are the steps you need to take for using the short links for SMS:
#1: Sign up for a text link shortener
It may seem like a complicated process, but you don't necessarily need to be a social media strategist to pull this off. The process begins with signing up for a URL shortening tool. However, it won't be easy to pick the right URL shortening tool as there are a bunch of them out there.
If you want to nail this strategy, you better understand right from the beginning. Hence, the signing up process for a short link generator is crucial to creating short links.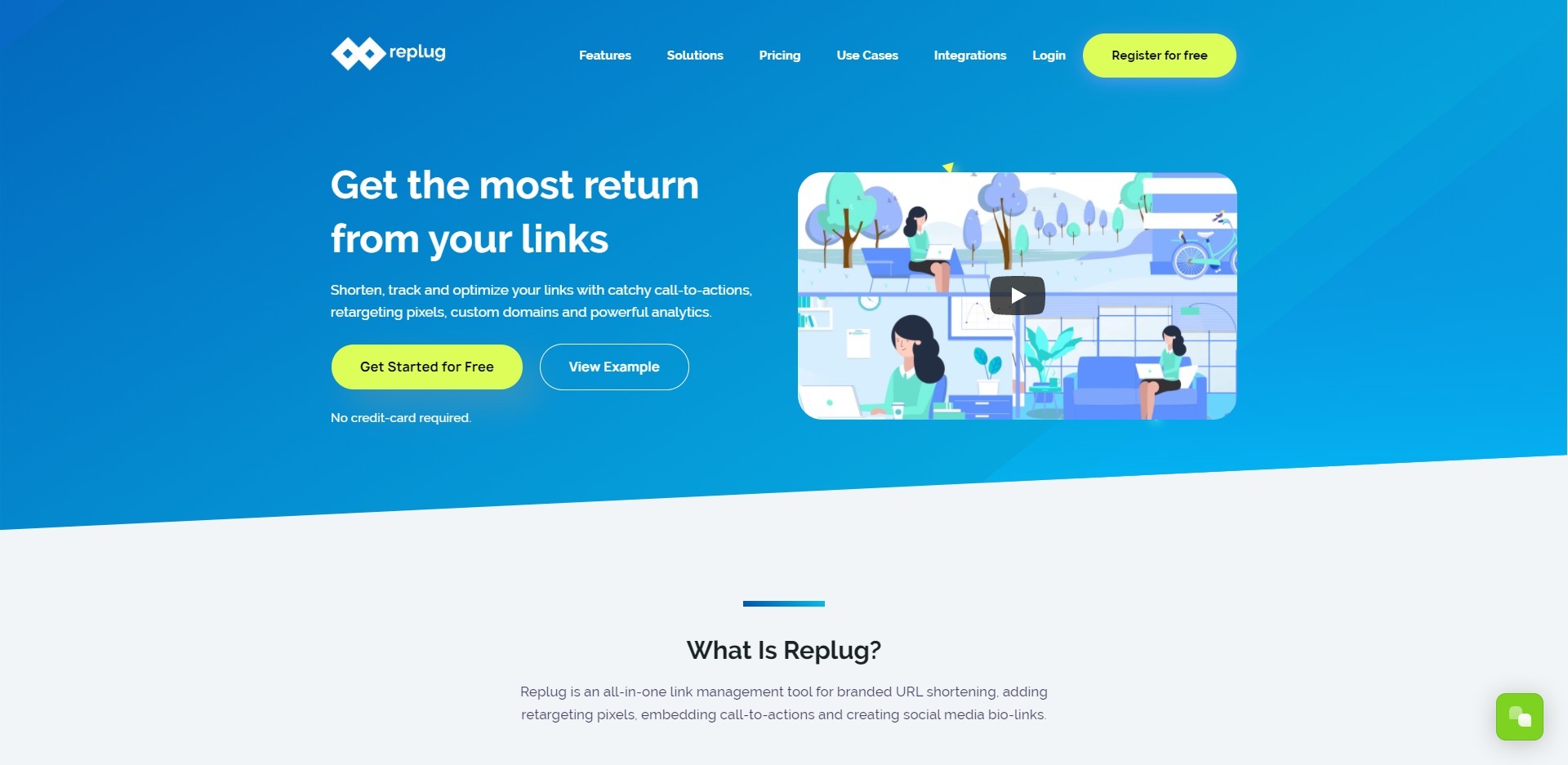 Replug is an all-in-one URL shortener tool that doesn't only create short URLs for you, but also provides you with branded links. The platform isn't just a link shortener, but instead, it's equipped with a handful of solutions, such as:
Retargeting visitors
UTM and link tracking
Custom audience building
QR code-based short links
Bio links for social media
Short link analytics
And, the list goes on and on. Once you're on board with Replug, you'll explore the solutions this custom link shortener tool has to offer. No wonder its user base is rapidly growing.
#2: Register a Short Domain
The next up is registering a custom, short domain for your campaign. It's one of the essential steps of the process.
The whole idea to shorten URL custom revolves around a short domain, and how you can generate short links for your blog post and website page URLs.
You can be creative with your short-form domain and come up with a unique short link. A lot of brands use domain extensions such as .ly, .me, .at, and io for their short links.
Don't hesitate to register on your favorite domain registration platforms like GoDaddy, Namecheap, or any other.
You should comprehend that getting your hands on a custom domain takes your short links campaign to the next level. The reason is that it weighs in on your branding and adds value to your social media marketing campaign.
Replug seamlessly connects with your short domain and helps you generate short links not just for your own links, but also for third-party content you like to share on social media.
If you must know one of the benefits of Replug is that it could help you bring a social media audience to your website. Let me elaborate on that:
The way it works is that when you shorten a friend's link with your Replug account and share it on social media, it generates a popup snippet that has a call-to-action to your social profile or website. This way, you'd be able to drive social media traffic to your website or social media profile.
Don't worry if you don't want to register a custom domain right away; you could still use Replug to generate short SMS links for your various social media marketing campaigns.
#3: Integrate Your Short Domain with the URL Shortening Tool
Since our tool of choice is Replug, and you might as well find a URL shortener that's as good as this one. Let's jump right into the setting up custom domain Replug.
Once you're logged in to your Replug account, click on the profile icon to open the menu to set up a custom domain.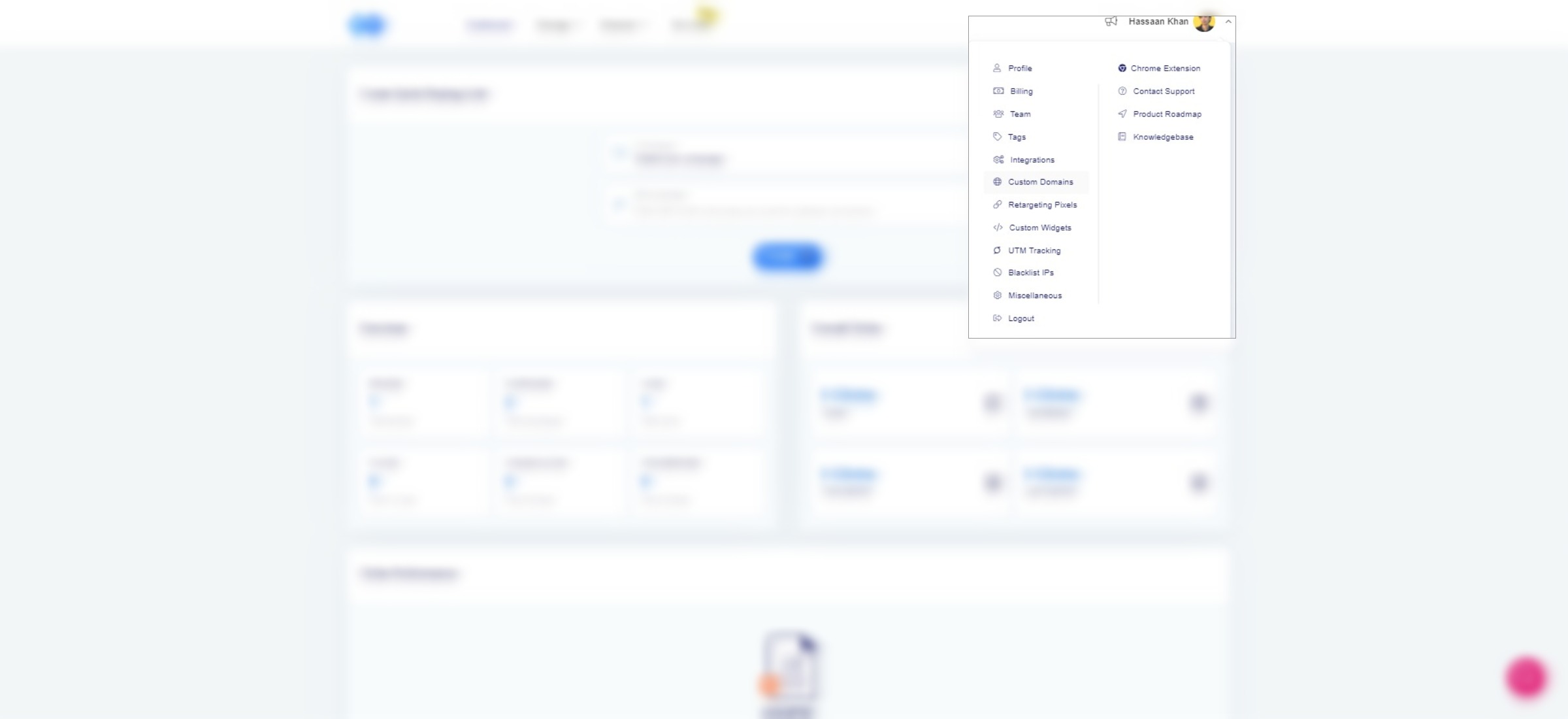 Go to the Custom Domains section to get started with sorting out the short domain.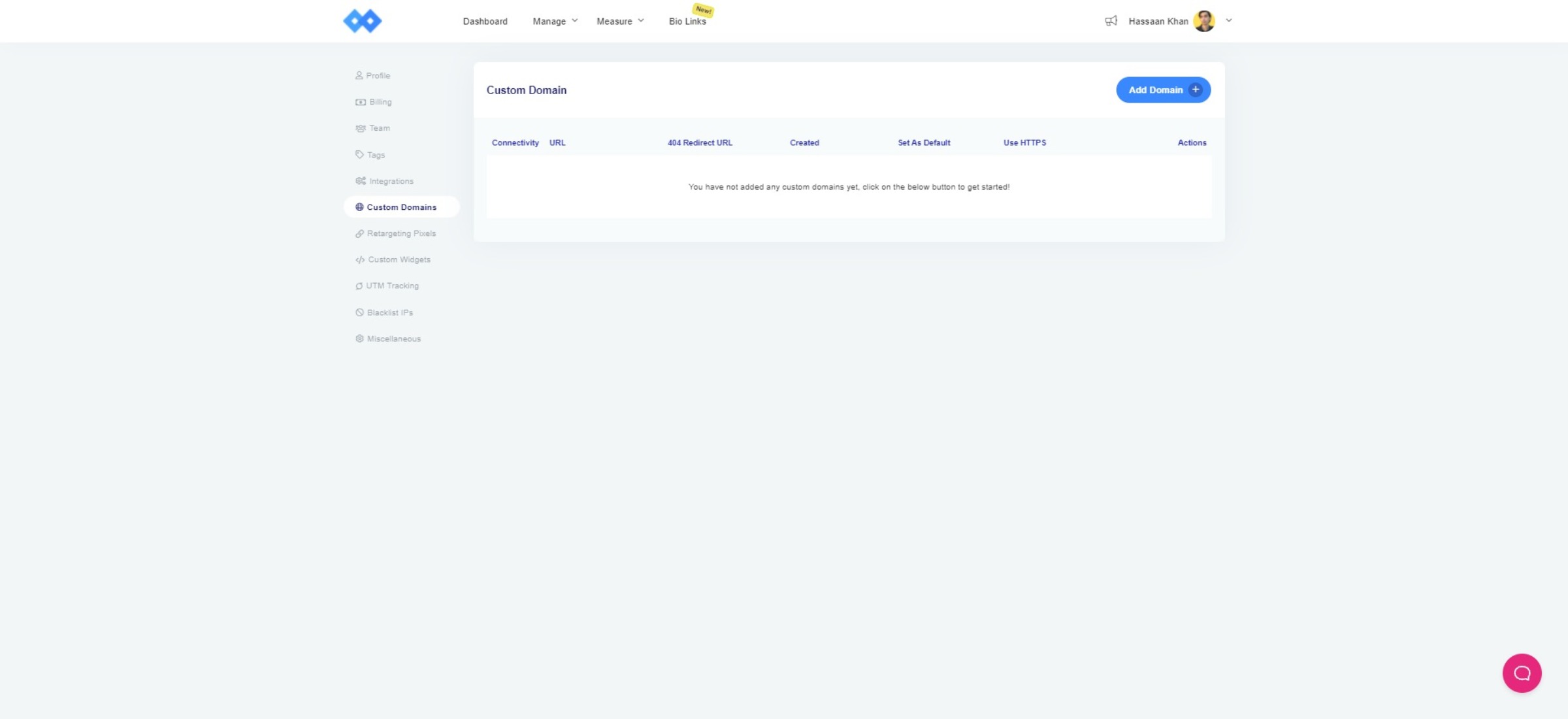 Add Custom Domain: Click on the Add Domain button to initiate the process of integrating your short domain with the Replug tool.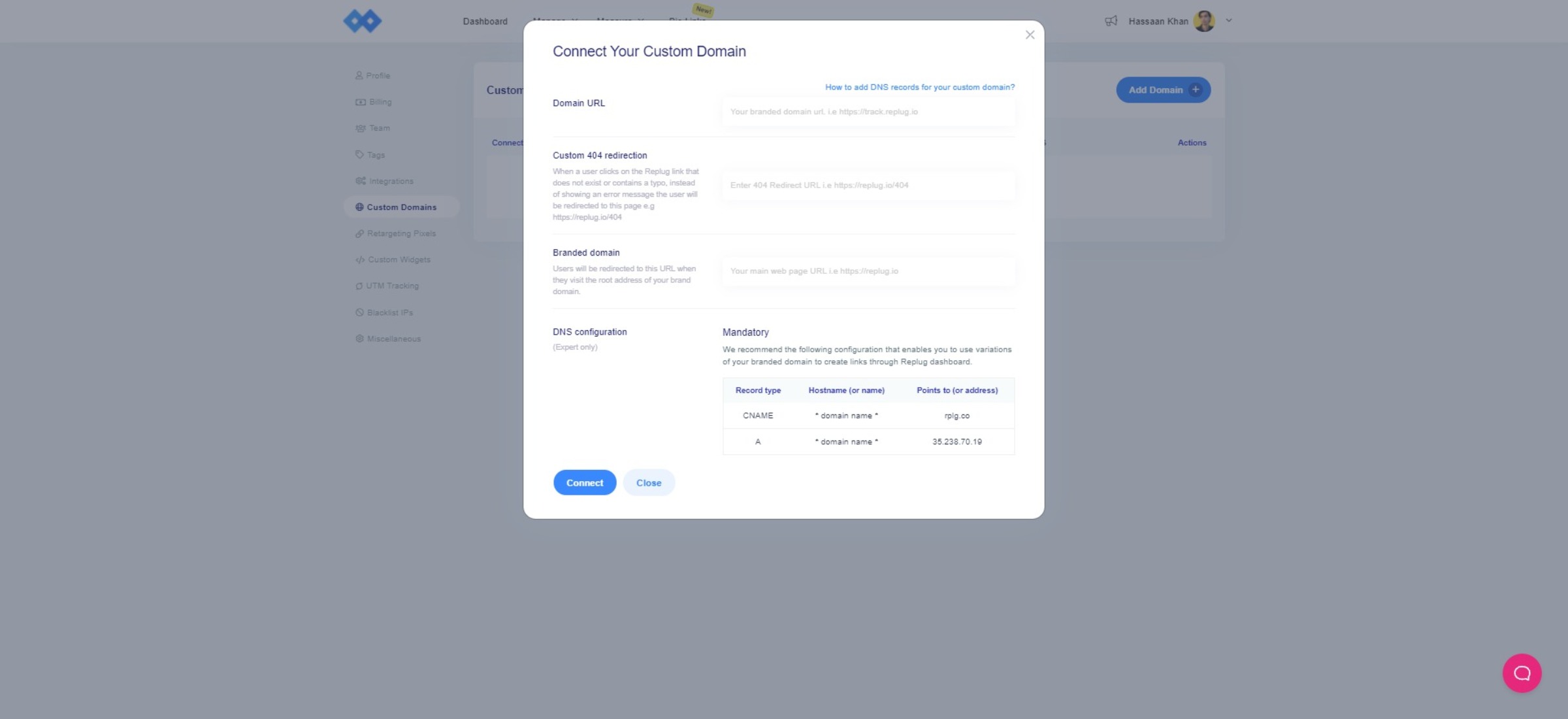 Once you click on that button, a popup window would appear that contains a form for you to fill up to proceed with integrating your short domain.
Go on and provide Replug with all the necessary details, for instance:
Domain URL
Custom 404 Redirection
Branded Domain
DNS Configuration
Once you're done with filling up the form, click on the Connect button to go ahead. And, you're good to go.
#4: Generate Short URLs for Marketing
After configuring the custom domain with your Replug account, you're all set to generate short SMS links for marketing.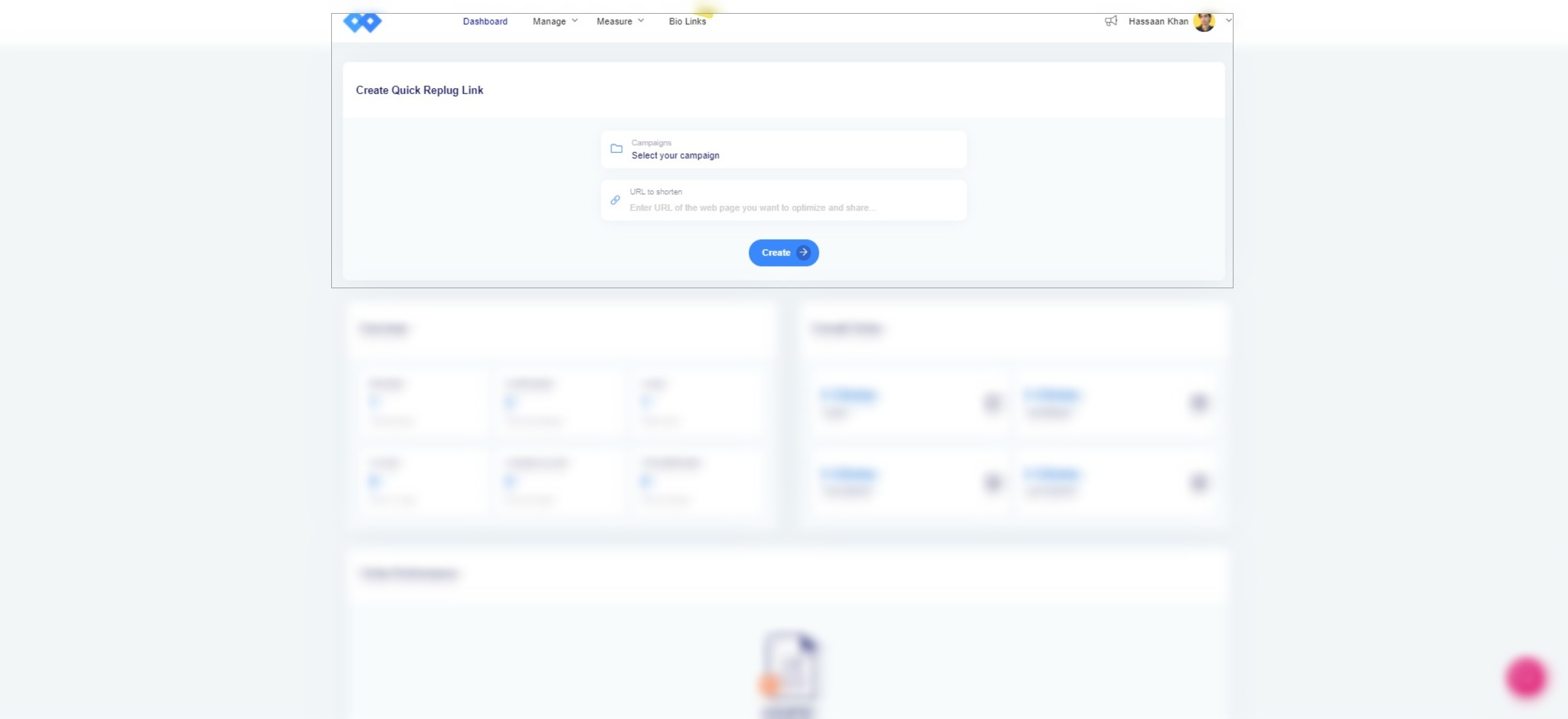 Replug allows you to generate short SMS links and track their performance. Plus, this Bitly alternative tool could be an excellent source of website traffic, meaning you can drive a social media audience to your website as well.
You might think about how and where you'd need to use the short links. Well, let me share several instances where you'd be needing short URLs:
As far SMS marketing is concerned, tools like this becomes an essential part of the arsenal. You may not be using Replug for sending the text messages, but the text messages may contain a short URL that gets you more clicks, page views, and leads.
#5: Short Links Click Tracking
Analytics is an essential part of the digital marketing campaign. You must have heard digital marketing experts talk about click-through rate, lead generation, and conversion optimization. All these metrics won't be possible to record if the click tracking isn't in place.
As far as the short SMS URLs are concerned, it's vital to have some sort of link tracking available for generating a clickability report. So there is where Replug comes in and makes your life easier.
I've already shared with you that it's a URL shortening tool that offers several short link solutions. One of the perks of using Replug URL shortener is that it has a tracking URL feature, which enables you to track clicks on the short links.
This feature would you an incredible advantage over any short link generator for SMS marketing. No matter what third-party SMS marketing tool you use, once you have short link tracking in your Replug account, you'd be able to see how your SMS marketing campaigns are performing.
How Would You Use Short Links for SMS?
I've explained what shorts links are, why they matter, and how you can use them for SMS. I also plugged in the best URL shortener called Replug, which I use and admire.
Now it's up to you what you take away from this article and choose to apply in your SMS marketing strategy.
Let us know how you would make the most of short links, especially from the SMS marketing standpoint. We can't wait to hear your thoughts and ideas.
Hassaan Khan
Hassaan Khan is a freelance writer for SAAS companies, e-commerce stores, and niche websites. He has contributed to SEMrush, ThriveGlobal, BloggingCage, AllBloggingTips, and several other publications. He builds niche websites, publishes e-books, and helps website investors with his done-for-you niche site-building service.