As of 2022, 500 million (86.6%) users daily post Instagram stories which is 100 million more users posting Instagram stories since 2018. Moreover, 400 million advertisers use this feature to highlight and showcase their products and services. Engagement is a key metric that's used to measure your success on Instagram.  Whereas, Instagram stories is one of the ways to boost your engagement. Therefore, we have conducted an in-depth research to give you the best list of hacks for Instagram stories that will boost your Instagram engagement and increase your audience.
To make it easier for you, we have divided Instagram story hacks into 4 sections.
Instagram Story Top Hacks
Instagram Story Design Hacks
Instagram Story Video & Image Hacks
Instagram Story Bonus Hacks
Instagram Story Top Hacks
Hack#1: Schedule Your Stories in Advance
The reason you want to schedule your stories is that you will never miss a day to put something up. And everyone knows that consistency is key. So, you need to regularly put something up to maintain the engagement levels. 
Besides, this will give you a chance to prepare your content in advance and plan everything accordingly. Because you may not always be available to put a post up.
Moreover, if you know what time of the day the engagement rate is maximum on your account, you can schedule your stories accordingly to get the most views.
But how do you schedule stories? Instagram does have the Insta Planner but scheduling tool?
ContentStudio is an excellent Instagram management tool that takes care of everything, from the post's composition to its performance.

Hack#2: Add a Link to Your Story
Engage your audience by sending them to a webpage. For instance, if you're selling something, link your story to the page. Or if you're an influencer and putting up a sponsored post, you can add the link.
Keep in mind that you can only use the linking option if you have a public account with a following of more than 10,000.
Once you've added a story, you will find the option to add a link on the top. Click on that and the rest should be self-explanatory.
Here's how Nordstorm, Food52 and Victoria's Secret use story links to their advantage.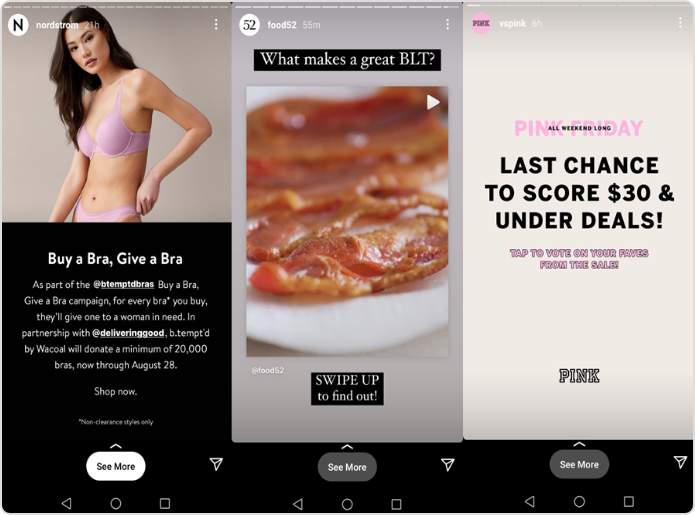 In case you don't have 10,000 followers just yet, don't worry. You can add your Instagram bio link in the meantime. It is preferable if you put up branded short links using a tool like Replug because you can track the link clicks through its built-in UTM builder.
How to add a link to Instagram story?
Use the Link sticker to include a link in your Instagram story. Tap on the sticker to be redirected.
To put on a Link sticker, do the following:
Capture or upload content to include in your Insta story.
Select the sticker tool from the upper navigation bar.
Hit the "Link" sticker to insert your desired link, then tap "Done."
Tap to check color variations after placing the sticker on your narrative, just like the other stickers.
Related: How To Add A Instagram Link In Bio?
Hack#3: Use Instagram Story Analytics
An Instagram story disappears after 24 hours. But that doesn't mean you can't gauge its success. Just like feed posts, the stories can give insights too.
Instagram's story analytics are quite comprehensive. They can give you an insight into the type of stories that did well and those that didn't. This will help you create a more impactful content calendar. You can also use ContentStudio social media analytics that gives you an even more in-depth review of your content strategy.
You can access Instagram story analytics from Insights. Tap on Instagram's menu (the three bars up top) and you'll find Insights there. Once you've entered Insights, tap on Content and you'll be able to access different metrics used to measure engagement, like reach, impressions, follows, link clicks, and more.
You can also check the analytics of a specific story by opening it, swiping up, and tapping on the bars.
Here, you can analyze what type of stories are working best for you and concentrate on similar content to boost engagement.
Give your Instagram story content a boost with these hacks and see your engagement soar.
Hack#4: Share Stories with Selected People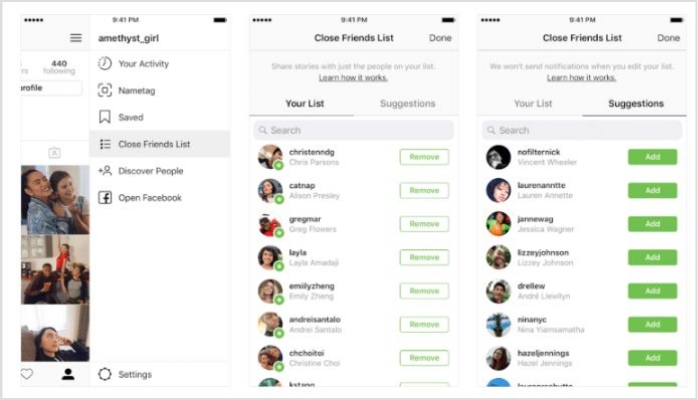 Sometimes we don't want everyone to see our story. Instagram's "Close Friends" feature allows you to exclude the people you wish to hide from your Insta story. This hack can help brand to provide VIP treatment to certain members and groups of consumers.
Hack#5: Add & Hide Mentions & Hashtags
Mention stickers are the best way to tag other users while sharing shout outs or promoting the partner brand. The mention sticker includes the following features:
Encouraging your followers to post their own stories in return for a mention, which in turn promotes your event.
You can also tag the people who will be appearing on your upcoming events to promote them.
Mention stickers, on the other hand, can boost the visibility of your stories.
Location stickers increase the chances of appearing on public feed and reach people that do not follow you.
Countdown stickers are also handy when launching a product or a specific event.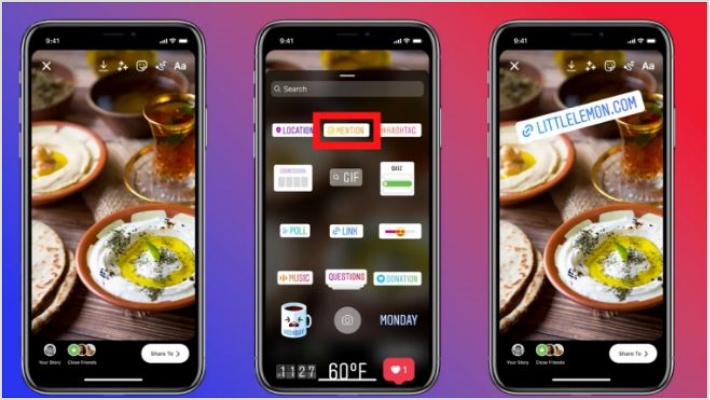 However, if you add too many of them, it can get crowded and look less aesthetically pleasing. But there are ways around it.
One way to go about it is to add all the hashtags and mentions on the story and then hit the stickers option. Choose to 'add a photo from camera' and layer the image that you want to put up on the base.
This way, your story will get the extra visibility that hashtags and mentions bring without compromising on the image.
Another way to go about it is to open the text box and add as many hashtags and mentions as you want. Then from the color tool, select the dropper and pick a color from the image to turn the text into. This will camouflage the text into the background.
If you're going with the second option, the only tricky part is that you need to have enough solid color in your story to hide all the hashtags. Otherwise, some will hide and some will show. And you don't want that inconsistency.
If you don't know which hashtags to add, the composer feature in ContentStudio is a lifesaver. You can either create a pool of hashtags from which you can pick and choose every time you put something up or create a pre-set to go with every post.
Hack#6: Add Music to Your Stories
Some people still ask Google ask questions like "How to add music to Instagram stories?" Instagram is developing new features at a fast pace and adding music to stories is one such feature. Let's all agree that music has an instant impact on the listener.
So, when you're putting up a new story or a post, put up a popular song that people are likely to recognize. This way, a lot of people will keep on watching your stories just for the song, increasing your account engagement.
For example, if you have put together a transformation video, you can start with a slow song and then move to an upbeat one once the transformation has been done. It will definitely have an impact on the audience.
You can even add a twist by turning the transformation into something funny and then playing the song "Oh no" by Capone.
To add music, open the stickers options and click on music. It will take you to a library of songs that you can choose from.
If you don't find a song that you want to add, you can pre-edit the stories on an external app and put those up without using Instagram's music.
You want your stories to be entertaining and music is an excellent way to achieve that. Just like Eva Chen shares a picture of her son with Baby Shark playing in the background.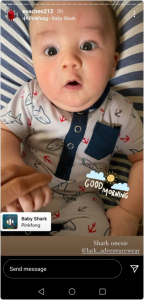 Hack#7: Do Story Hops
A story hop is an excellent way to keep your audience engaged. It can also be used to bring in more followers. So, what really is a story hop?
It is when you collaborate with multiple, similar Instagram accounts and decide on an activity to do together. For example, a group of four influencers decides to cook their version of pasta. So, one will put up a story about the pasta, sharing her recipe and tag the others.
You can also share their stories on your feed or story. So, just like your followers are likely to hop on to the stories of influencers you referred to, followers from other accounts will reach your stories as well.
This will increase your engagement manifold.
Instagram Story Design Hacks:
Hack#8: Custom Background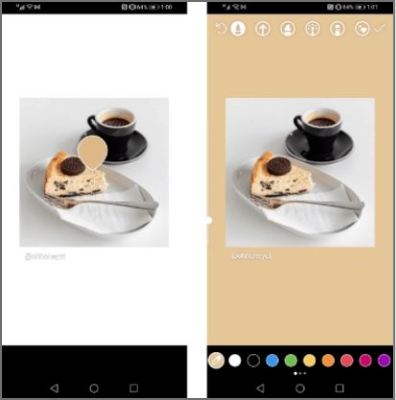 You have to go above and beyond to seize your audience's attention. In other words, custom backgrounds! Story posts look even more exciting if you use a captivating patterned background for your Instagram Story. Visitors may think your Story is just as fun as your Story when they see your Story's background. It is simple to change the color of your Story background manually. Select a grid format that integrates several pictures to share on your Story. You can choose from a variety of options.
Hack#9: Experiment Different Fonts, Texts and Emojis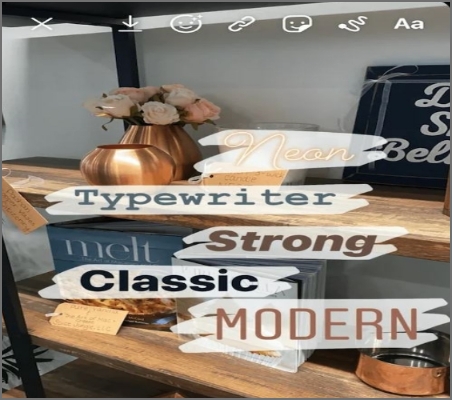 The design can be a make or break for your Instagram Story. You want something that's eye-catching, but not so bright that it draws attention away from the content of your story. When you're starting out, it's a good idea to choose light colors like white or beige. Later on, once you have a big following, you can experiment with bolder and contrast colors like red or purple.Choosing the right font and color is crucial to establishing a unique identity. To start typing, click anywhere on the screen. You can add as many text boxes as you want by clicking outside of a text box and then clicking on the screen to start another. If your text is not appearing prominently enough, add a colored background by clicking on the box with the 'A.' You can also add an emoji by typing directly from the keyboard and making it glow.
Hack#10: Add Filters & Translucent Color to Images
Have you ever wondered what makes Instagram Stories so interesting? Instagram AR creators have added thousands of filters and effects to the app, allowing you to give your Instagram Stories photos and videos a more sophisticated look. It's easy to pick a filter that's perfectly on-brand and start shooting without ever leaving the app thanks to a wide variety of tones, color grades, and effects. To apply an effect to your Instagram Story, open your camera and swipe all the way to the end to select 'Browse Effects.' Here, you can scroll and find hundreds of options.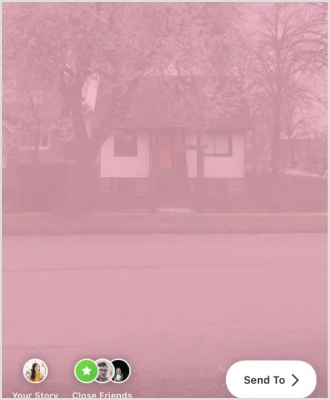 To add a customized color tint to your images or videos, one of the best Instagram Story hacks is to use transparent overlays. These overlays allow you to hide important information or products while letting people know that something is happening. This encourages followers to keep waiting for the big reveal. To make your Instagram Stories beautiful, follow the given steps:
1. Upload the photo or video to your Story.
2. Open the Story and tap the three dots in the upper right corner.
3. Select "Draw."
4. Select the desired font color.
5. To make an overlay, click and hold your finger on the screen until the overlay covers your photo or video.
Hack#11: Use the Eraser Tool for Dramatic Reveals & Cool effects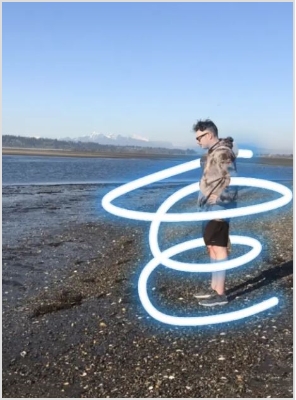 The eraser tool can achieve a lot of unique results when you're creating Instagram Stories. You can really wow your Instagram followers with this simple hack with a bit of creativity. Create a variety of interesting effects with this tool.
You can also create Instagram Stories to cover a new story for a dramatic reveal as shown in the image below. When doing this, you won't just want to post a plain block of color, so try this trick with the eraser tool.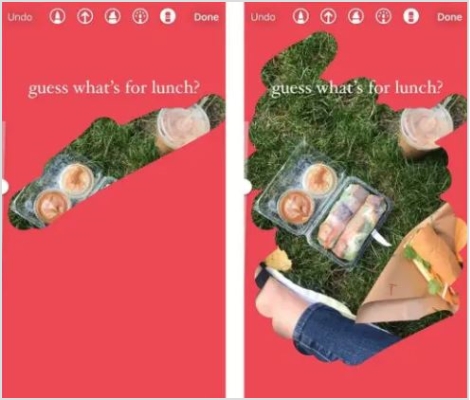 Instagram Story Video & Image Hacks 
Hack# 12: Use Boomerang Feature
If you're an Instagram user, you should definitely be using the Boomerang feature on your feed. It's a quick and fun way to save memories, and it's easy to do. Just click the camera icon, record a short video, and then click "Boomerang." You'll get a preview of your video with the boomerang effect in the upper left corner. Click "Save" to save your boomerang as a photo or video. When you post it again, it will play back in reverse.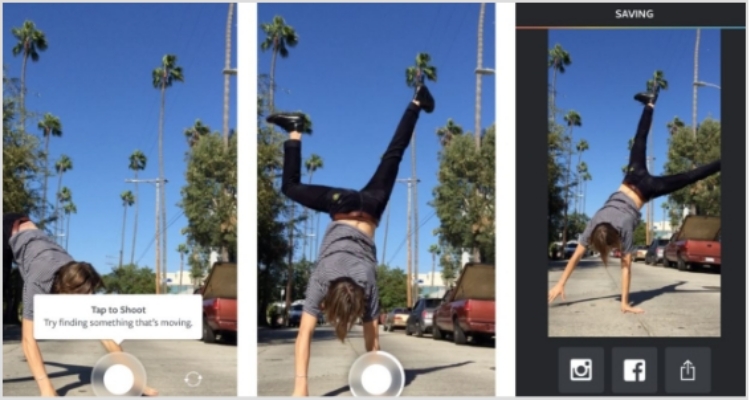 The best part about Boomerangs is that they allow you to capture things in a different way than normal photos or videos do. It's perfect for funny moments or when you want to reverse that embarrassing mistake! Boomerangs are also great for capturing that one special moment. Whether it's a baby's first steps or your dog's hilarious reaction to the beach, boomerangs can capture it all.
Here's a video to give you an idea of the Boomerang feature
Related: 7 Ways to Use Optimized Video to Increase Conversions Rate
Hack#13: Add Some Green Screen Tech Fun
Let's be honest. Watching people in Turks & Caicos while you have limited travel options because of the pandemic is all the excursion you're going to get this summer.
BUT you can still take your audience there, by using some super cool green screen tech. And you don't even have to buy any equipment for this. All you have to do is open your stories, swipe through to the end of the filters where you will finally end on Search Filters. Tap on that and write "green screen" in the search bar. You'll get quite a few green screen filters to choose from.
Download whichever you like and you're reading to hit the beach and take your audience there too. Teach your audience how you did that, and ask them to tag you when they put such a picture up. And there you have a potentially successful campaign on your hand. You can thank us later!
Hack#14: Multi-Image Stories in One Go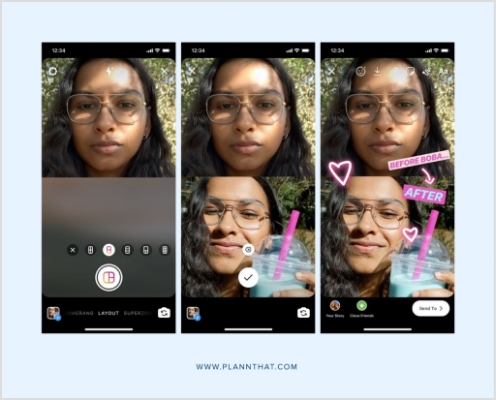 You can now add multiple images in one go on Instagram stories. But how exactly does that help with the engagement of your audience?
Well, this feature can come in very handy if you're trying to tell a story, which is one of the main reasons why people use Instagram stories. If you upload one story at a time and you have active users, they will lose interest because they will have an incoherent experience.
However, if you publish the entire story in one go, you will be able to maintain your viewership. Another thing that you try is combining images and videos. 
Hack#15: Use the Highlights Feature
The highlights feature can be used in multiple ways to keep your audience engaged. For starters, it keeps your stories alive for longer than 24 hours. So, for instance, if you've shared a recipe on your Instagram story, you can add it to highlights. 
This way, whenever you mention that recipe again, you can link your audience to your highlights. It keeps the engagement alive on your stories for much longer than 24 hours.
Not only will you be able to engage your audience with old stories, but it is also an excellent way to repurpose them.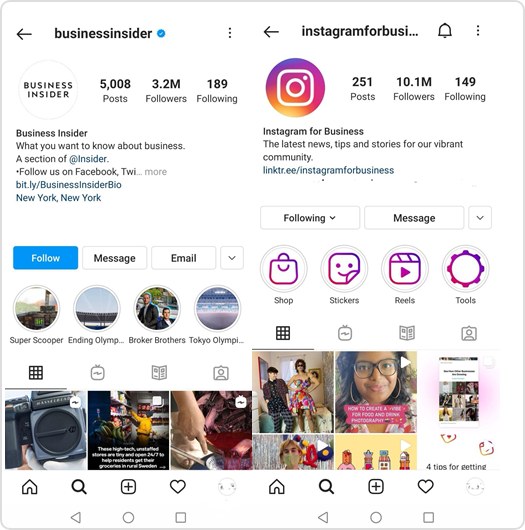 If you are a fashion retail shop, you can showcase your products on your highlights too. Since you have the option of putting up multiple highlights, you can dedicate one to your latest products, another to reviews and then another to how people are styling your products.
You can easily turn an existing story into a highlight. To do that, open the story. On the bottom, you'll see the option of 'highlight,' Click on that.
Now if you have already been using highlights, it will show you the existing highlights and you can pick any one of them to add to your story too. And if you want to add a new one, then scroll towards the end of the highlights and click 'New'
However, if this is your first time using highlights, then the only option you get is to create a new one. Give the highlight a name and click 'Add'. And voila, you're done!
You can also add older stories to highlights by going into your archive and following the same steps mentioned above.
Hack#16: Do an Instagram Live Session
The first and foremost reason why you MUST do an Instagram live is that you get the first spot in stories. This gives a lot more visibility than any story or post can give you. 
In fact, Instagram Live is slowly becoming a staple for most hybrid events. By going live you're certain to get the attention of viewers while increasing engagement.
Secondly, the moment you go live, Instagram pushes it by sending notifications to all your followers. Instagram's algorithm is also a little biased in favor of live stories. The statistics also scream of the success of live sessions with more than 80% preferring to watch Instagram live over a feed post.
Last but not least, Instagram live helps your followers connect with you on a deeper level. You become a reality for them. 
Considering the above, Instagram Live has really picked up the pace.
There are multiple ways you can go about Instagram Live. If, for instance, you are a skincare brand, you can invite a skincare expert where the audience can ask questions.
The trick is to call someone relevant to your niche.
Hack#17: Put Up Templates
Another way to engage your audience is to create and fill a template. Then share the same template unfilled and ask your followers to take a screenshot and fill the template. They will share it on their Instagram stories and increase your account's visibility.
The template will of course be branded so your name will already be there, giving you visibility in new circles.
There can be multiple types of templates. It could be something asking masses to fill in the blanks, a bingo fest, and even an aesthetic wallpaper.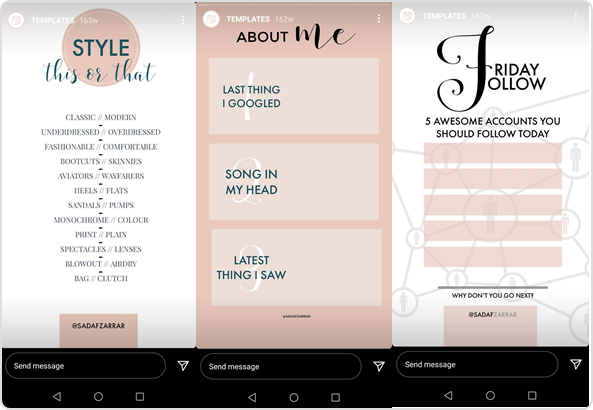 You will find multiple templates on Canva, ready-made. You can easily edit them too.
Hack#18: Repost Feed Posts on Instagram Stories
Every time you put up a new post on your feed, share it on your stories as well. Why? Because the reach of your story and feed vary.
While the post feed visibility is largely controlled by the Instagram algorithm, your story is more likely to be visible to your followers. So, sharing your feed post on your stories is a good idea.
An interesting tip to put feed posts up on Instagram stories is to hide what the post is about. Do it in a way that inspires curiosity and begs the viewer to tap on the story.
For instance, you can give a hint on what the post is about. Or show just enough to pique the viewer's interest.
Here's one example where the influencer and photographer Hana Le Van arouses the viewers' curiosity through emojis that builds anticipation towards the caption. Or how influencer Anoushey Ashraf hides her picture by putting a sticker on it.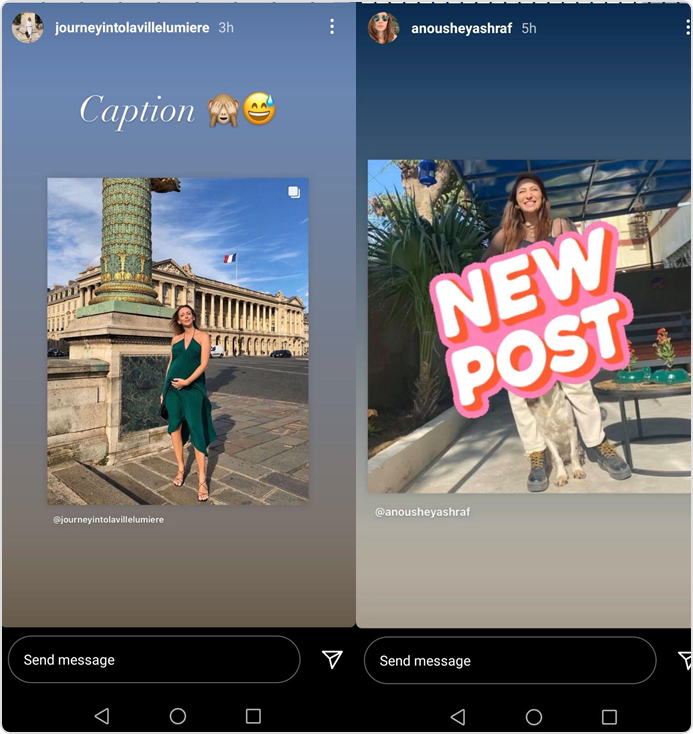 Another interesting hack is to change the background of the story where you reshare the feed post. You can use a solid color or put up an image.
To do that, add a post to your story and tap on the Draw tool. Select color and hold your screen for 2-3 seconds to see the background color change automatically.
However, if you want to replace the background with an image, add a post to your story and tap on the sticker option. Once there, select Add from camera roll to pick an image from your gallery and create an interesting storyboard.
A quick tip: You can access colors other than those given in the Instagram draw feature. You can access them by tapping on any color for 1-2 seconds and you'll see a rainbow of colors to choose from.
Hack#19: Use the Correct Instagram Stories Size
Ensure that you use the correct Instagram story dimensions. Minimum dimension is 1.91:1 and maximum is 9:16. The recommended aspect ratio is 9:16 with a size of 1080px by 1920px.
Hack#20: Create Shoppable Stories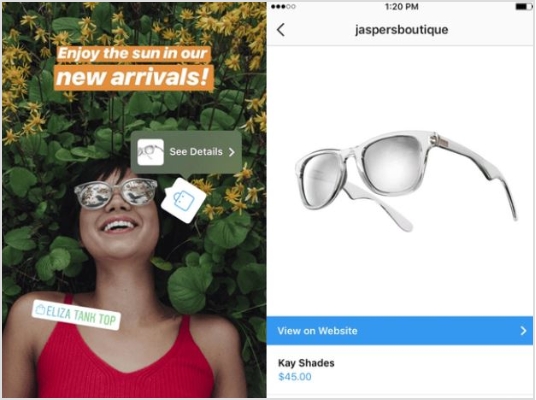 If you have an eCommerce store then connect it with Instagram Shop. So anyone who taps on your story will be directed to your store.
How to do it?
Create your Instagram Story
Go to Stickers
Select the product sticker and add the item
Customize and match it with your brand
Related: 8 Ways to Increase eCommerce Sales Using Social Media 
Bonus Instagram Story Hacks
Hack#21: Don't Underestimate the Power of Polls
Everyone has an opinion. And everyone wants to share their opinions too. What better way than putting up a poll to engage people then? 
It could be as simple as asking your audience for their opinion on a social issue or a fashion choice, the sky's the limit.
What do you like more? X/Y

Do you think this is right? Yes/No

Should we launch this next? Yes/No
These are just some examples of polls you can put up. 
Since polls are interactive, they automatically increase engagement. They can also be used to build hype for a launch or some content that you've planned for later.
For instance, if you have created a recipe video for the gram, you can put up a picture of the final concoction and ask your followers if they want the recipe or not.
Or if you are a product-based business, you can, like Victoria's Secret, ask people which product they'd like better. Even if the viewers don't want to buy these products, voting between the two is fun.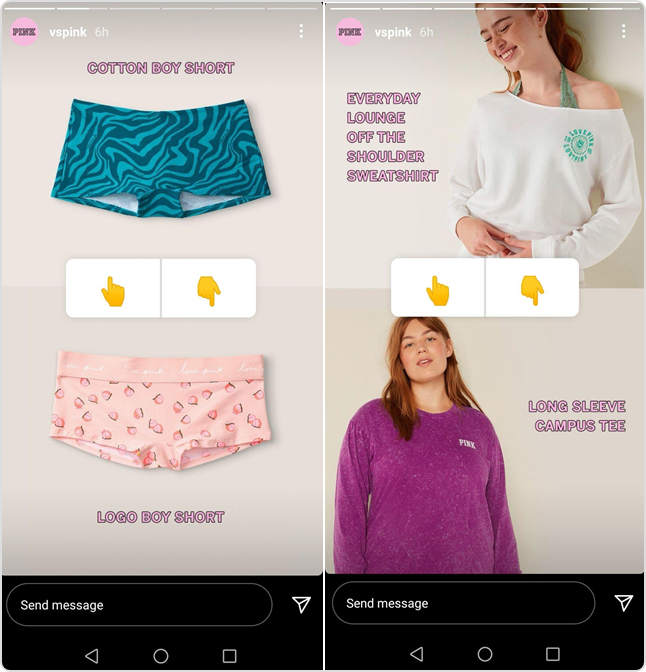 Or like Mango, you can ask the viewer's opinion on interior design.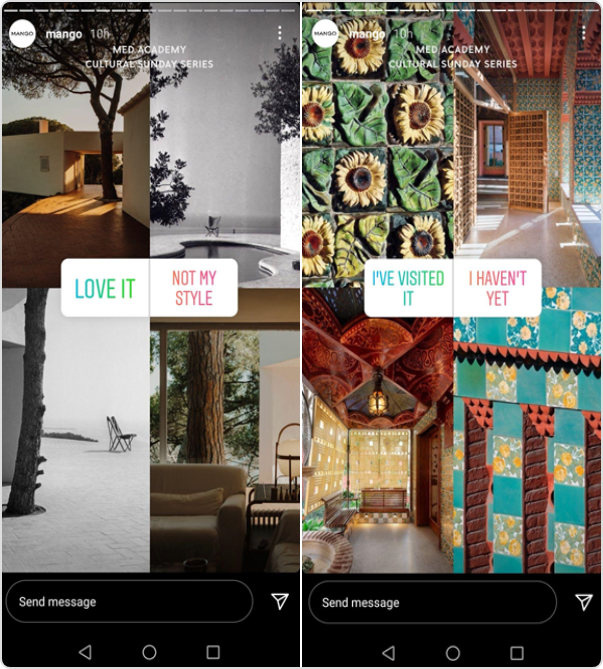 Any social media analytics tool will tell you that polls increase your engagement and build anticipation for your story as well.
Hack#22: Ask a Question
It doesn't matter what niche your business falls in. There are always questions that your audience can ask you or you can ask your followers.
For instance, if you are a skincare brand, you can ask people what they think about your products. Or you can be more specific and ask which product they like best. You can even ask how they use a specific product.
On the other hand, you can intimate your audience to ask you skincare-related questions that you as an expert can answer later.
To ask a question, click on add story and go to Instagram elements. You'll find questions there.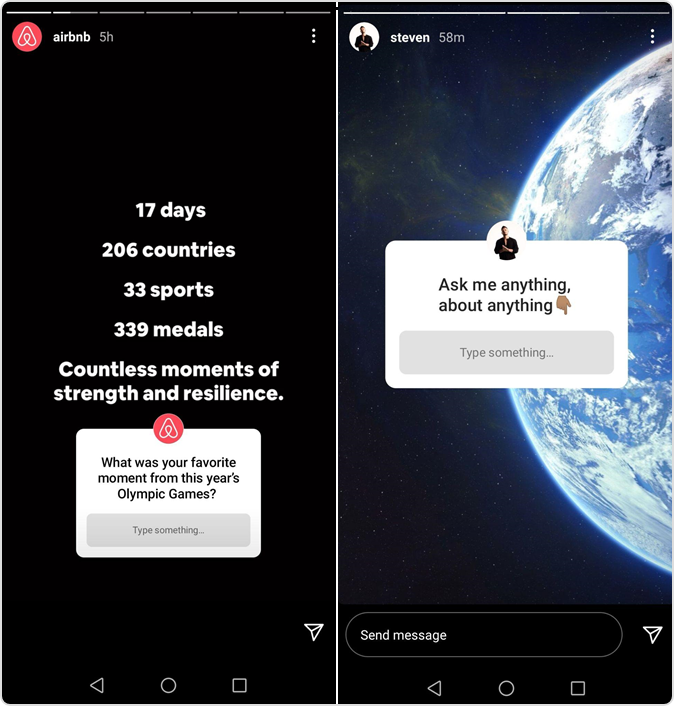 Hack#23: Post Multiple Answers Together
Posting multiple answers together keeps your audience from getting bored of tapping on to the next story.
There are two ways you can do this.
The first way is to share a response to your story and take a screenshot of it. Exit the stories and open the screenshot. Then share another response on the stories over the screenshot. 
Keep on doing it until you have enough responses to the story and then share it.
The second way is to record your screen as you scroll down the answers. But this is only a good idea if you didn't ask a sensitive question and your audience doesn't mind you showing their names with their answers.
Hack#24: Host a Contest
This is one of the easiest ways to boost engagement. You can host a giveaway in collaboration with someone or on your own. You could be giving away a product or a service voucher. Just make sure that whatever you pick is something your audience will want.
There are different types of contests. Some ask you to just tag a few of your friends, others require you to ensure your tagged friends follow the account as well. Then some giveaways ask you to answer a question and the best answer wins.
Some giveaways or contests also involve participants sharing your post or story within theirs. This gives an instant boost to your account and deeper penetration into similar audiences.
All these tactics help increase engagement. Contests and giveaways are especially useful engagement tools because the participants' stakes are involved. They may win something they really want for free so they are more eager to engage.
Hack#25: Build on Your story
Well, who doesn't like suspense and drama? Not us. So, we suggest building on to your stories, especially if it is some sort of a reveal.
How do you do that?
Well, click on 'add story' and put whatever you want out. Before you publish it, save it. Then, use the saved image to create the next story and add more to it. Again, save it before publishing it. And so on.
A story progression brings drama and excitement into your stories. It fills the viewer with anticipation, beckoning them to watch it till the end, hence boosting engagement.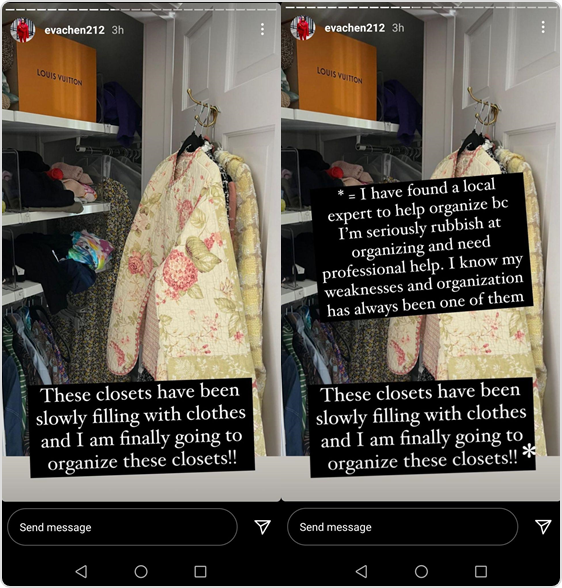 Hack#26: Add Automatic Captions
When you are talking in a story, it is good to add automatic captions. So, your audience won't misunderstand you. It will also keep them more engaged if they have read along with watching your stories. This especially works if you have a long story planned.
You will find the option of adding automatic captions in Instagram stickers.
Hack#27: Summarize What You're Saying
This is another tactic to help people skim through your stories quickly. If you summarize whatever you're saying in each post, people are more likely to go through your entire storyline. Because this takes people less time to go through your stories. 
Make sure you only talk about the crux of what you're saying in the story in around 15-20 words/story so the viewers can easily read it within 15 seconds. If they have to tap on a story to hold, it will interfere with the experience. And you don't want that.
Hack#28: Promote Your Stories
Just like feed posts, you can promote your stories to reach a bigger audience too. 
Since stories are more interactive and relatable, their promotion success rate is greater in getting more followers and engagement than feed posts.
However, you are showing your story to people who are not following you. And you don't want them to get annoyed. So, one way to avoid left swipes is to choose the appropriate audience. Preferably, go with an audience similar to your existing one or people who have previously visited or interacted with your page or your website.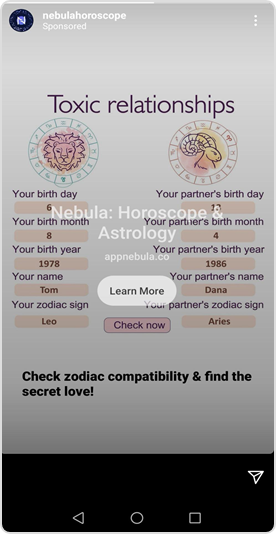 Since Instagram is a Facebook entity, you can use data from Facebook to drive your Instagram promotions.
You also want to make sure that your ad is spot on. The first 3 seconds may make or break it for you. So, make sure you get the viewers hooked right away.
Hack#29: Unlock Secrtet GIFs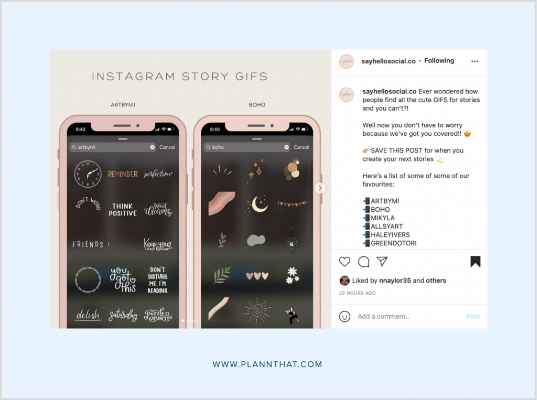 We all love GIFs. Adding some humor into your stories is a great way to engage people with your stories.
How to do it?
Go to the "create mode" and scroll to the GIF tab where you can add thousands of GIFs. You can use them as a background for your Instagram stories. You can also create your own GIFs using different editing Apps like ImgPlay and upload on your stories.
Hack#30: Check Story Reshares
There's one hidden insight that most people are missing out on is story reshares. Intagram insights does not include this insight.
Click on the ellipsis in the top right corner of a post to reveal the 'View Story Reshares' menu. This will take you to a page displaying any currently live public reshares. You can see a reshare live on someone's account by tapping it. If you don't see this option if your post isn't being shared in public stories at this moment. You can use this to find and reply to posts that you are not tagged in.
Quick Faqs
How do I make my Instagram stories attractive?
Take Boomerangs
Creative Fonts & Stickers
Custom Backgrounds
Adding Filters
Adding Music
Adding GIFs and Memes
Create Dramatic Reveals
Put Attractive Templates
Does Instagram notify when you screenshot a story?
Instagram does not send screenshot notifications for stories, posts, reels, permanent DMs, or any other content on the app. Instagram will only notify you if someone takes a screenshot of a disappearing photo or video sent in a private DM thread.
Wasiq Naeem
Wasiq Naeem is a content and digital marketing veteran who is passionate about his writing. Extensive research and producing high-quality content is just another day at the office for him.