What if I told you that READING THIS ARTICLE to the end could earn you THOUSANDS OF INSTAGRAM FOLLOWERS?
I might be able to grasp your attention even for a moment. Isn't it right?
You're most likely to check it out to see what happens.
However, that's not true.
Instead, this article is about making the most of your existing followers.
It doesn't matter you have 370 or 10k followers on Instagram.
The piece isn't about the numbers, but instead, it's about leveraging Instagram even when you have fewer followers.
You're about to learn:
Why Instagram matters so much
The Instagram growth recipe
How to Leverage Instagram Bio Link
So without any further ado, let's get right into it.
Why Instagram Matters?
See, Instagram is a mainstream social media platform for sharing photos and videos. In 2018, this popular photo-sharing app had crossed over one billion monthly active users.
I'm not advocating Instagram because of the numbers, but instead, it's a fact that a lot of experts and influencers have succeeded to find their niche audience on this photo-sharing platform.
The diversity of possibilities on Instagram has made me realized that Instagram has a lot to offer. As far as user behavior is concerned, it's no different than any other social media platform. The moment people hop on this platform, they think of gaining Instagram followers as fast as they can. And, then the rat race begins until they burned out.
Therefore, they miss out on a lot of opportunities that the platform has provided to everyone.
Stick with me because that opportunity is the "INSTAGRAM BIO LINK," which I'll be educating you about so that you don't make the very mistake that most people are making these days.
What's the Instagram Growth Recipe?
There aren't any hard and fast rules for growing on Instagram, but people are growing on Instagram every day. You'd hear people rave about how social media platforms manipulate algorithms to their advantage so that they could make more money, but we don't know that.
However, what I know is that we can follow up in the footsteps of influencers and experts who are growing on Instagram or any other platform. Does it seem like something you might be interested in? I guess so!
Here are four secrets that might turn things around for you:
It's a bit cliche, but it works. Understandably, we hear this advice so much that it sounds mundane now. The truth is that if you add a little bit of creativity, taste, and innovation to whatever you're doing on Instagram, you can nail it.
Let's say you're doing photography and using Instagram to attract more prospects, then you got to push the limits with your creativity, exposure, and craft. Use the best equipment you have for the photoshoots, edit the photos like you haven't done before with the help of some editing tools such as Instasize, and put it out there like a pro.
Creating better posts means you have to come up with the best content possible whether you're educating people on stock investments or running a fashion Instagram account, just put out the useful or entertaining content that attracts followers.
You might be wondering some Instagram users aren't growing even if they're putting out photos. The reason why they might not be growing is that they aren't using the tools available at their disposal. Instagram has provided users with tools like Stories, 60-Sec Video, Live stream, Mentions, Emojis, and more.
Do you know who uses all the features the best? The influencers are good at capitalizing on the social media features of any platform. Have you ever noticed that influencers post a lot and keep followers updated? The reason behind this is that they want social media platforms to notice that they're consistent, people want to hear from them, and they deserved to be placed on a pedestal.
Once social media networks start to notice that a person or brand is getting a lot of traction, they start to suggest their content to more people, and then, it works like a snowball effect.
The bottom line is that try using every Instagram feature whether you like it or not so that somehow you get more eyeballs around.
Engagement is one of the biggest secrets of social media success, and here's why: when you start a conversation, bring in more people to the platform, or help the platform retain the audience, the platform is going to reward you with a lot of attention.
So, it won't be unfair to say that when it comes to social media, engagement and attention go hand-in-hand. Anyone who wants to pull this social media thing off must be someone who loves to interact, connect, and talk to people.
Fans on social media react to influencers' updates more if they know that their favorite creator replies to the fans. Therefore, the impact of social media engagement is way bigger than we think it is.
You may have heard a million times that if you want to succeed on any social media platform, just be consistent with posting content. It's the easiest advice to give to anyone who wants to make it, but it's the hardest thing to do from the other end.
However, if you develop a system, you might be able to stay consistent with your social media publishing, for instance, a lot of brands and influencers schedule their social media posts ahead of time or build a content calendar to stick to the schedule.
That was it.
The point here is that there are several things we can elicit from the social media strategies of experts and influencers who are crushing in on social media to bake our recipe for social media success.
Now it's time to share a bunch of Instagram bio tactics that might make you fall in love with Instagram, especially if you're a publisher, online marketer, blogger, or web entrepreneur.
The following tips on the Instagram bio link might turn things upside down for you, so don't neglect them if you're trying to cash in on the Instagram platform.
7 Ways You Can Use Instagram Bio Links to Your Advantage
Let me teach you how to leverage Instagram bio links without doing much. Here are seven ways you can use the Instagram bio link section to bring attention, eyeballs, and even sales:
1. Drive Visitors to Your Website
Who doesn't want to drive visitors to the website? Companies spend millions of dollars on search and social media ads for bringing visitors to their websites. Plus, SEOs, content writers, and social media experts get paid because they help websites drive visitors to their platform.
The best part is that you could get your hands on some valuable website visitors (which we can call prospects) without spending a dime if done right.
That's where the Instagram bio link comes into play. It appears that Instagram is all about putting out photos or image posts, but it's more than just a photo-sharing platform.
E-commerce stores and SAAS companies are crushing it with Instagram ads. So, why can't you use Instagram to your advantage?
You might not have heard much about Instagram being a website traffic driver, but influencers and experts are doing it every day.
Here's an example:
Oliver Kenyon knows the importance of the Instagram bio link, which is why he has been using it right.
It's just one example; you can scroll through your Instagram feed and look at more entrepreneurs' and business owners' profiles. You'd surely see more Instagram accounts that have their website URL mentioned in the bio link. So I implore you to pay attention to such tactics.
2. Promote Multiple Social Media Profiles
It'll blow your mind because I haven't seen anything like this before. I'm sure the majority of you haven't thought about something like this either.
Can you imagine promoting multiple social media accounts with a single link?
It sounds unreal. Isn't it?
Once I shed more light on this, it'll surely change your perspective on the Instagram bio link.
Replug is a one-stop shop for shortening your URLs, tracking ability, adding the UTMs, and driving social media followers over to your website. Simply put, it's just the best URL shortener, but instead, it comes with a whole package to take your social media engagement and website visitors to the next level.
The quest here is to promote multiple social media profiles through Instagram. Replug has a feature called "Bio Links," and it does something cool.
You can create a short URL for your Instagram bio that leads people to your other social media profiles.
Here's how you can do this:
Once you're logged in to your Replug account, click on the "Bio Links" CTA from the header section.

You'll see come across three options to pick from.

Choose the "social icons" for creating a single social media link for multiple profiles.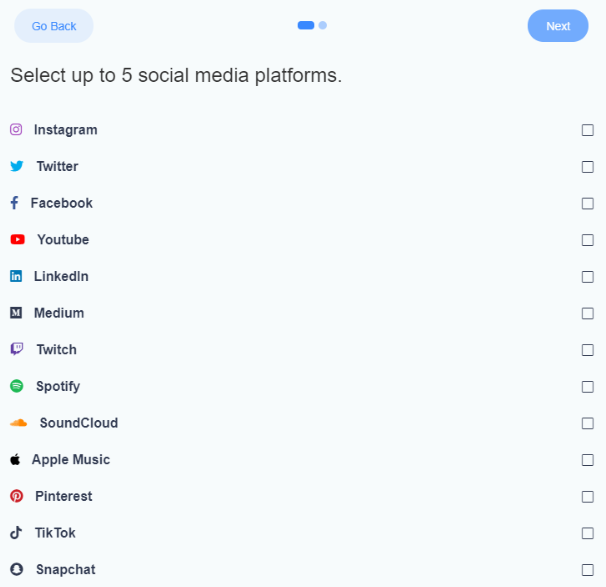 Provide your handles/links on the next step.
Once the process completes, you're all set. Feel free to share the bio link with anyone or put it in your Instagram bio.
When people would click-through, they'd land on a dedicated page of yours that will have your social media links.

Do you know what else I like about Replug?
Suppose you're reading an excellent blog post and you decide to share it with your Twitter followers. All you need is to copy the URL and paste it into your Replug account.
Not only would Replug generate a clean, short URL for you, but it'd also plug your snippet into the URL. Therefore, when you share someone's article and your followers open the blog post, they'd see a little sticky snippet at the bottom of the page. They could click-through and check out what you got. They might end up visiting your website too.

To make this work, you need to create a campaign in Replug and choose the type of campaign whether it's shortener-based or for retargeting. Furthermore, choose the widget type such as call-to-action or custom widget.
Once the campaign has been set up, you can add multiple short URLs within your campaign and your snippet would appear when people would visit the short URL.
That's pretty much it.
3. Share Latest Blog Post's Link
Instagram has a lot of offers and I believe we must cash in on every Instagram tool, but I don't want you to get overwhelmed by this.
Since we're discussing how we can make the most of Instagram's bio link, so one of the ways to make use of this opportunity is by pasting your latest blog post link in it.
I found these tactics fascinating just because I'm a blogger and I love when people visit my blog regardless of the route they take to get there.
I do not doubt that it's one of the untapped opportunities on Instagram to get the attention and solidify the connection with the audience.
Most of you may not have done this before, but influencers have been doing it for years.
Iamafoodblog is a popular food blog. They often update their Instagram bio link with a fresh blog post: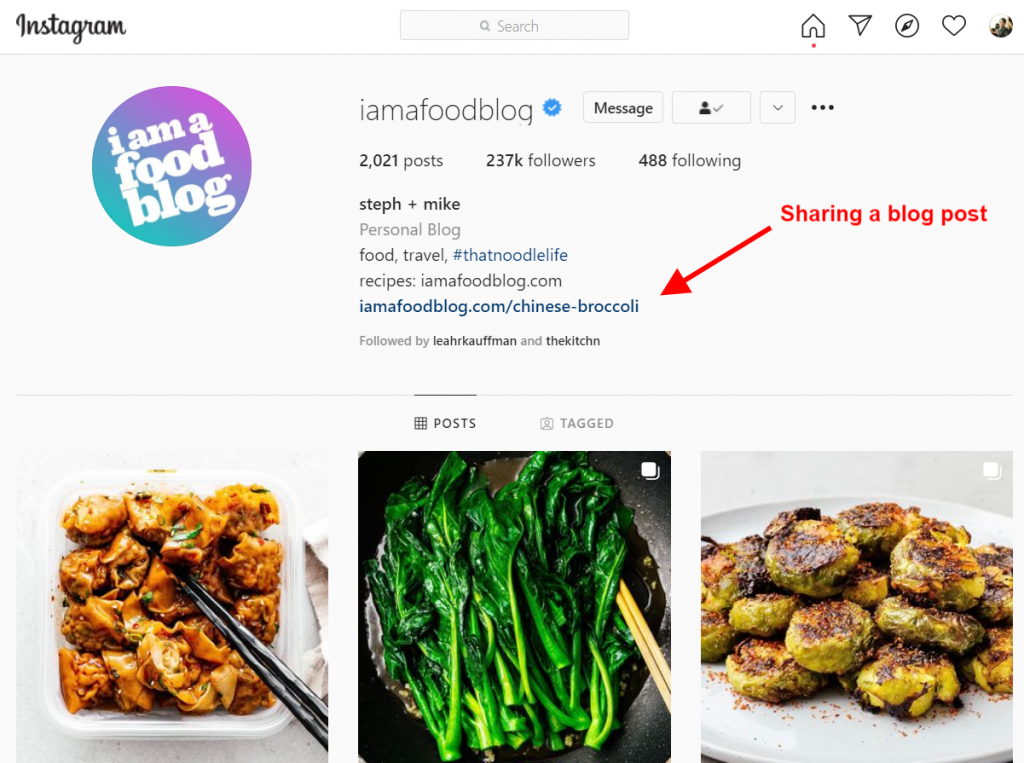 Similarly, Gary Vaynerchuk knows the importance of using every real estate on social media platforms.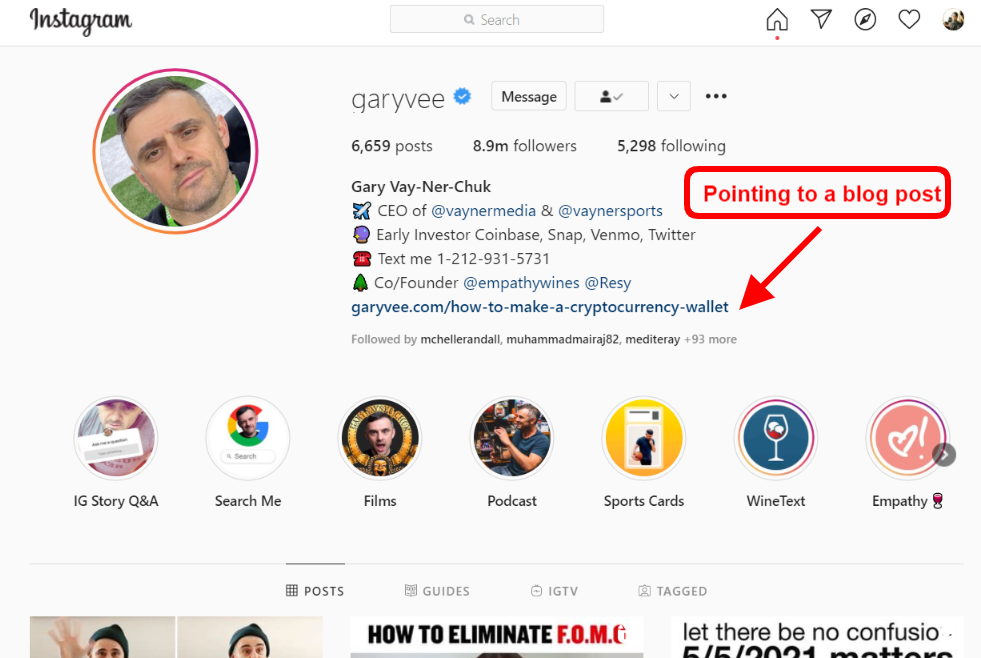 I have seen Gary trying out different bio links, but he has been using the blog post tactics lately.
Do these examples validate my strategy?
Heck yeah!
Now it's your turn to make the most of your Instagram bio, especially if you're a blogger or internet marketer.
4. Generate Leads through Bio Link
The next up is "generating leads" on Instagram. Since we're trying to make up our Instagram profile bio link, so let's see how it could help us generate leads.
First things first, businesses need to pay close attention to this strategy because they want to generate leads. In other words, businesses want people to sign up for their services or trial plans.
Some businesses in the finance and banking niche even pay for leads, and bloggers who generate leads make a ton of money by selling those leads, but that's the different story.
How long have you been using Instagram? I reckon most of you have been using it for the past few years, but I'm sure you haven't thought or heard about generating leads with your bio link.
Don't worry because there is no rocket science involved in this process. All you need to know is what lead generation is and how you can use the Instagram bio link to elevate your game plan.
Here's how you can generate leads through the bio link:
Step #1: Setup a Funnel
The fundamental part of lead generation is funnel creation. A funnel is a pipeline that conduits a visitor or follower into the brand's email list. What happens is that a visitor or prospect wants to know something and the brand offers a form to fill out to send over the information. So this process is called lead generation.
You can read this article on how to create a content funnel that converts. So set up a funnel before you start dreaming about generating leads through the Instagram bio link.
Step #2: Create a Landing Page
The landing page is where the visitors would land once they click on the link you shared or mentioned. So in our case, the visitors would be clicking on the Instagram bio link and landing on the landing page we have set up for them.
Once they land on the page, that's where the magic happens. If the information makes sense to them and they want to go ahead with filling up the lead form, they can do it or else leave the page.
Step #3: Add the Link to the Bio
Once you've set up your landing page and created the funnel, the final step is to add the page's URL to your Instagram bio link, so that people could find it. Try explaining what it is that you're offering in one line and add a call-to-action that points to the URL. Make sure the link is short and sweet.
Take a look at the example: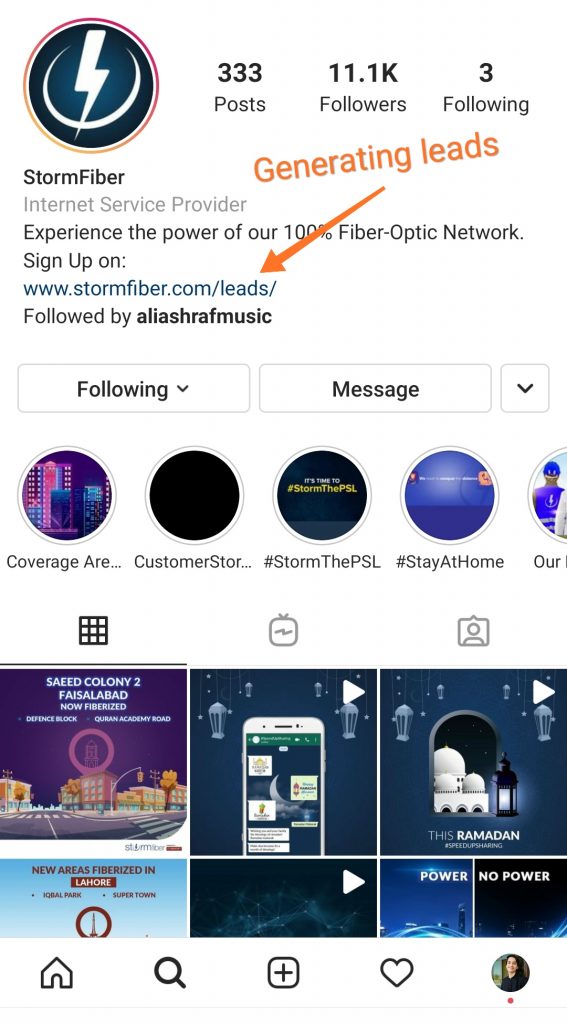 This internet service company has nailed it. Not only did they keep their link short, but they also added a call-to-action just before the bio link which makes sense.
They're a fine example of how you can generate a lead using your Instagram bio link.
5. Monetize Your Bio Link
I'm pretty sure you aren't feeling overwhelmed because I have a couple of more ideas to share after this one. Usually, when readers read the word or phrase that has the word "monetize," they pay attention to it.
Just like positive comments, reviews, and likes produce endorphins in our system, the word "monetize" also produces something that makes marketers attentive.
Let's cut to the chase: you can make money off of your bio link. All you need to do is point visitors and followers to the website or page that you're using to sell or promote a product.
Influencers have been doing it for quite some time.
Junaid Akram is a popular Pakistani comedian who has over 200k followers on Instagram. He also has similar numbers on YouTube and Facebook.
Take a look at his Instagram bio link: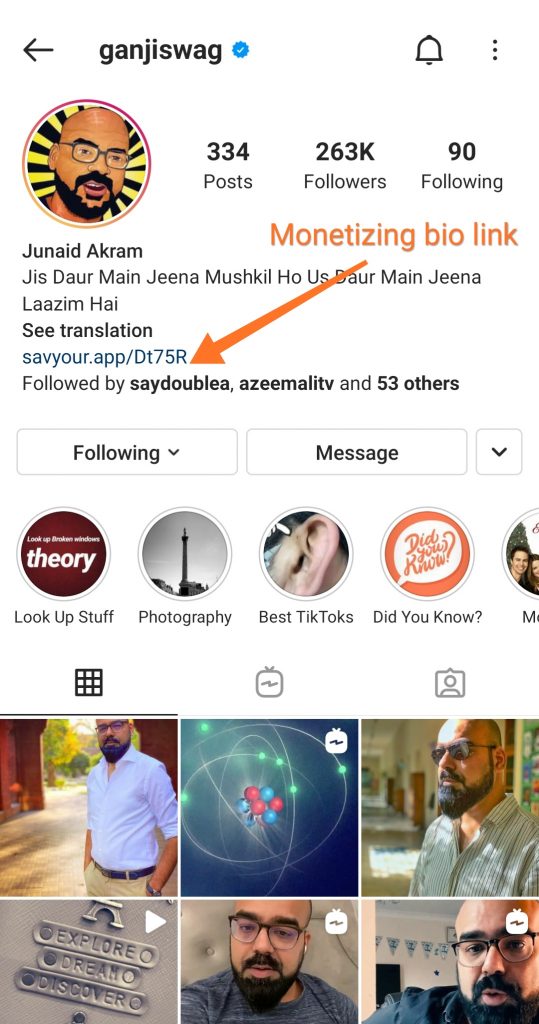 It appears to me that he is working with a company that partners with brands and offers customers cashback when they use their links.
The interesting part is that this influencer is monetizing the Instagram bio link, which is excellent.
The takeaway from this point is that you can also find the offers that your Instagram audience might be interested in checking out and that's how you can start monetizing your Instagram account.
6. Cross-promote YouTube and Instagram
This tip might startle some of you because you could be trying to get more Instagram followers for a while and you also have a YouTube channel, but you haven't thought this through.
What I mean is that you never aggressively cross-promoted both these platforms. Since we're exploring how we can make the most of our Instagram bio link, adding your YouTube channel's link might be helpful.
I'm happy to report that I have been doing it for over three years, and it has helped me gain both Instagram followers and YouTube subscribers.
Please take a look at my Instagram bio: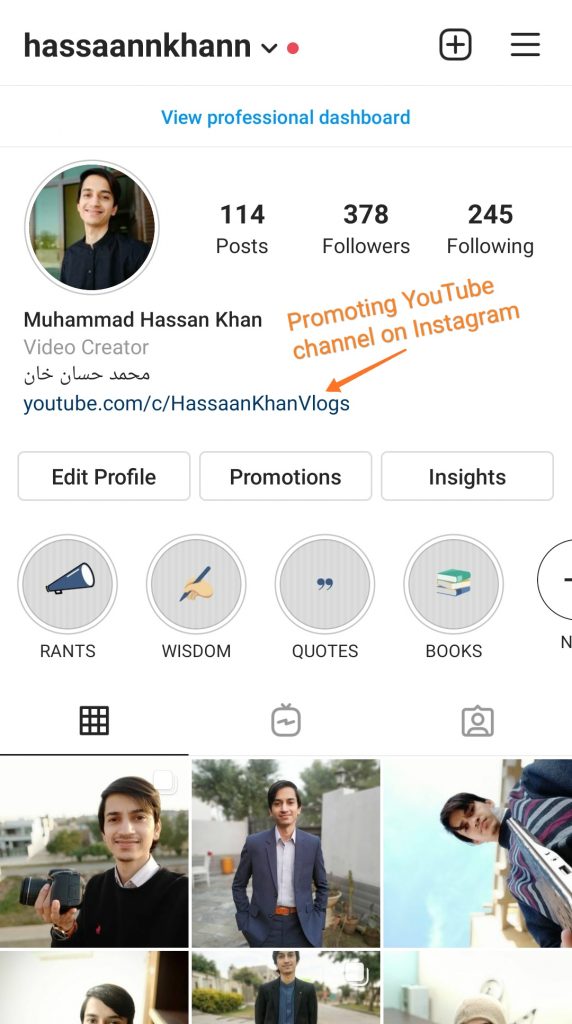 I have placed my YouTube channel's link in the Instagram bio. This way, many new followers go to my YouTube channel and some end up subscribing to it.
Sure, it isn't a one-way street; I cross-promote my YouTube and Instagram.
Just take a sneak peek at my YouTube channel: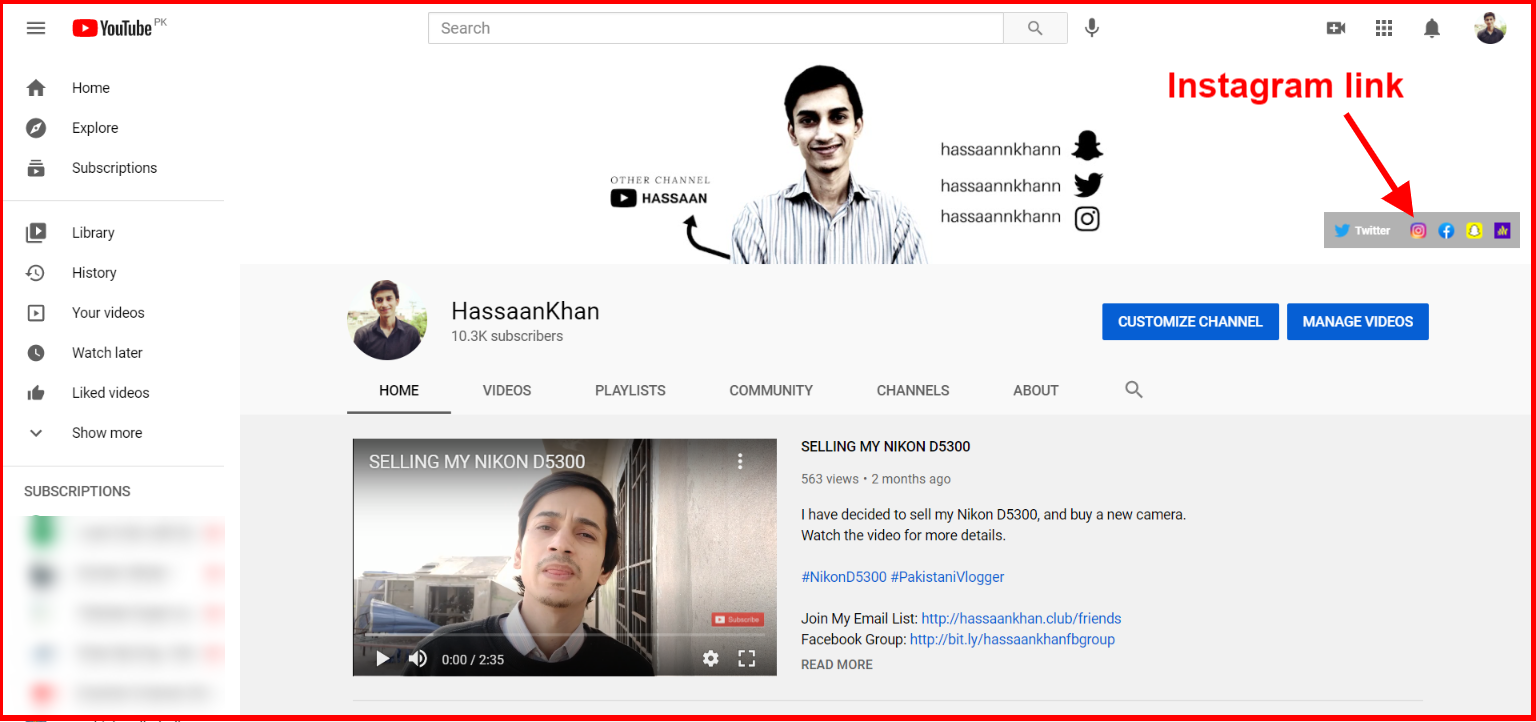 See, I'm cross-promoting my YouTube and Instagram myself, and if you haven't started doing it, you should right away.
I know a random Joe would think he only has 241 followers on Instagram. So, what good those 241 followers are going to do?
Well, that's where Joe is wrong.
What if 1 out of 241 followers went to your link and bought your $49 product?
Anything is possible when you have a decent social media marketing strategy in place. I'm preaching to you to cash in on every opportunity you're getting on social media. Therefore, using your Instagram bio link to cross-promote another platform could turn things around for you.
7.  Offer a Free Trial
Instagram is a platform of pictures and videos. So it's a bit challenging to entice the Instagram audience to read the caption under the post or click on the bio link.
Influencers and marketers, on the other hand, always find a way to make things happen for themselves. They use giveaways to entice people to click on their links or read the text. However, brands could use discounts or freebies, or trial accounts to make the most out of this platform.
So, one of the best ways to use Instagram bio to your advantage could be offering a free trial of your product or service. Offering a free trial is surely a tried-and-tested strategy because prospects don't have to pay anything for trying it out.
It reminds of SAAS tools that charge $7 or $1 for their trial accounts, but the majority of the digital marketing businesses prefer free trials for 14 to 30 days.
Here's an example: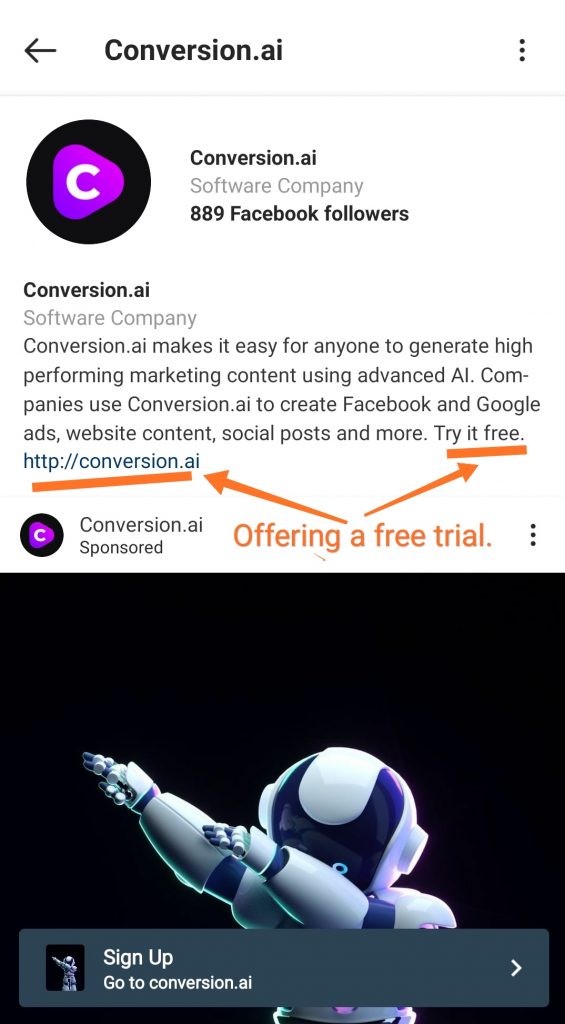 Conversion.AI is a content creation software service that uses artificial intelligence to write text content for you. Look at their Instagram bio; they're using this exact strategy for making people click on their link and try out their service. They're offering a free trial through the Instagram bio link, for crying out loud.
That was another hack for you to use the Instagram bio link to spice things up.
How Would You Use Your Instagram Bio Links?
It's not like you're going to make a million dollars from your Instagram bio links, but instead, it's about making the most of the opportunities the platform presents to you.
If you aren't taking advantage of these opportunities, it'll be like starving in a fancy restaurant when your wallet is full of cash but you aren't ordering the food. It doesn't make sense.
You've seen the examples of people and brands who are crushing it with their Instagram bio links.
Now it's your turn to add another source of bringing attention to your brand.
Let me know how you would use the Instagram bio links in the future.
I'll be waiting for your comments.
Hassaan Khan
Hassaan Khan is a freelance writer for SAAS companies, e-commerce stores, and niche websites. He has contributed to SEMrush, ThriveGlobal, BloggingCage, AllBloggingTips, and several other publications. He builds niche websites, publishes e-books, and helps website investors with his done-for-you niche site-building service.