What is QR Code Marketing?
QR code is the bridge between your online and offline marketing efforts. Nurturing your consumers through the marketing funnel by giving them the correct information at the right time is the key to a successful marketing campaign.
Technology is meant to complement traditional print marketing and advertising instead of replacing it. The most successful and engaging marketing campaigns have one thing in common: integrating digital marketing approaches with conventional advertising.
What is QR Code?
QR are 2D barcodes that are scanned through smartphone devices through cameras or their QR code scanning capability.
The strategic use and placement of QR codes with access to the updated and relevant information can be the most significant asset.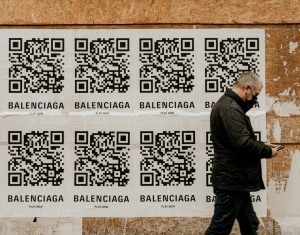 Why does QR code marketing matter?
The QR codes were used by a Toyota subsidiary named Denso in 1994. They helped in tracking the vehicle parts and streamline the manufacturing process.
This allowed the fast-decoding process and thus called Quick Response Code.
Back when it was introduced, there was a minimum number of people leveraging this technology. With a tiny number of use-cases, marketers predicted the QR code trend not to last too long. 
Fast forward to 2020; the pandemic catapulted the QR code adoption not because of its versatility but for the fact that it was a safe, hygienic and cost-effective solution.
Not just that, it also gave an option to collect data from the traditional marketing campaigns.
Is QR code marketing here to stay?
According to Bank My Cell, there are 6.648 billion smartphone users globally, which means 83.40% of the world population owns a smartphone. With the growing rate of QR code adoption, they can help increase brand awareness, increase sales and enhance customer engagement with the brand.
Modern way to create QR codes is through URL shorteners. Tools like Replug, Bitly and other allows users to create custom shortened URLs without needing to know anything about HTML. When sharing these shortened links, users just need to scan the link with their smartphone camera. This method is great because no technical skills are required, and any recipient can access the shortened URL.
How can you use QR codes for your marketing goals?
Increase social media following:

Social media presence for any business is no longer an option. It's a necessity. You can use QR codes on the products for your marketing material to direct users to your social media pages like Facebook, Instagram.
This is a great way to maximize reach on social media networks. You can also ask them for a review of your product or tag them in the user-generated content with your product.
Get app downloads:

If used strategically, QR code marketing can be one of the fastest ways to increase app downloads and drive users into the mobile app marketing funnel. Burger King used them during 2020 MTV VMAs to let viewers download the Burger King app. These ads encouraged the viewers to scan the codes to download the app and avail various discounts.
Related:
QR code sharing with bio links 
Drive more traffic to your website:

You can use the QR code to direct viewers to a page or website with detailed information. The information not covered in the print ad, such as product description, pricing list, dates and time, the procedure to place an order, can be communicated via the code. The luxury brand, Burberry, introduced sustainable labeling where they outlined the product attributes through this.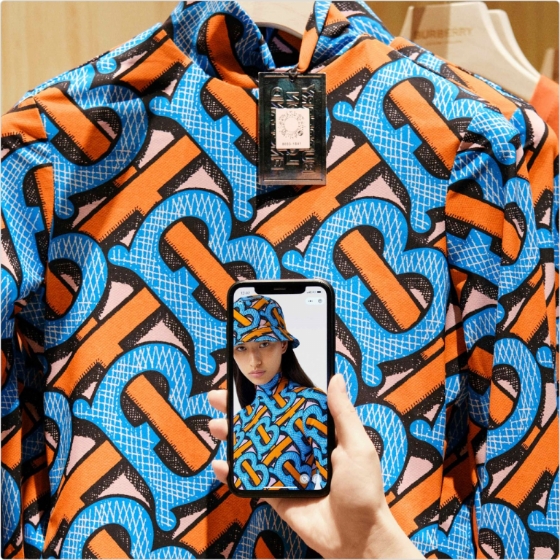 Build email marketing lists:

QR codes can be used on marketing materials from billboards, print ads and business cards to direct users to webpages. This helps marketers to build email lists by asking users to sign up to avail certain offers.
This will be a good strategy to boost your email marketing strategy.
Enhance the user experience:

You can improve the user experience by offering them valuable and necessary information in the QR code—for example, an instructional video to set up the product or printable sheet or link to the recipe on food products.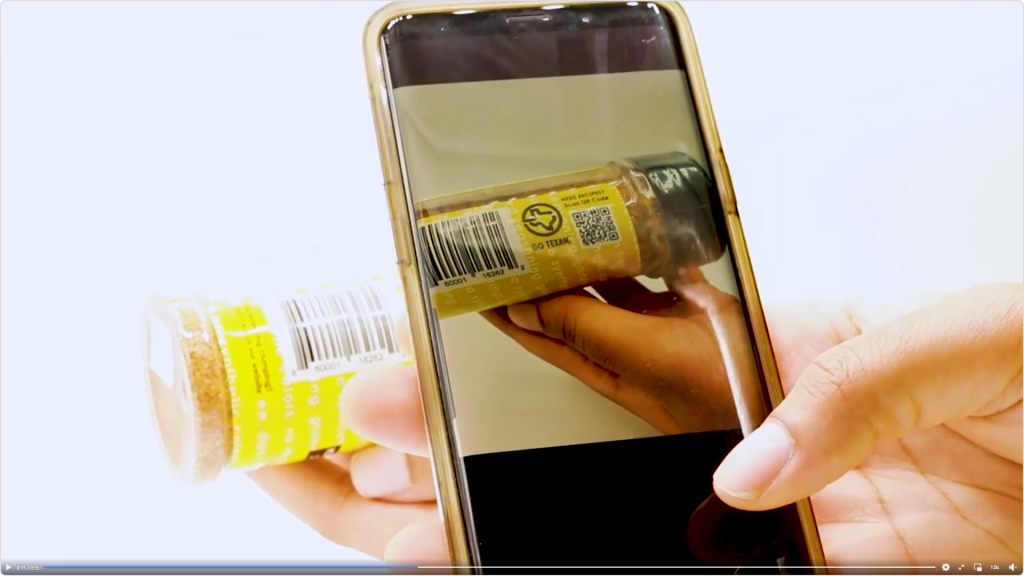 Source 
Increase leads:
QR codes can be strategically used for lead generation according to the kind of business. For example, a real estate agency had to sell a large office building. They used these to generate and track leads.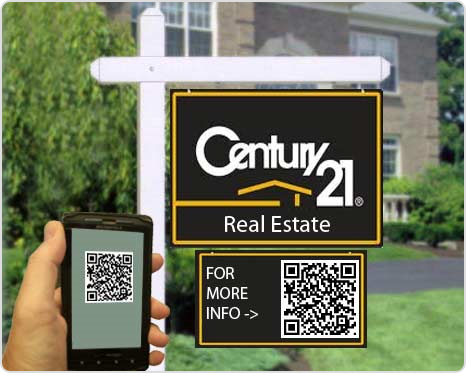 Source 
Win customer's trust and loyalty:
You can use QR codes for establishing product transparency through product packaging. This will help you to win your customer's trust.  It will increase the customer's loyalty and engagement which is why they are more likely will stick to the brand.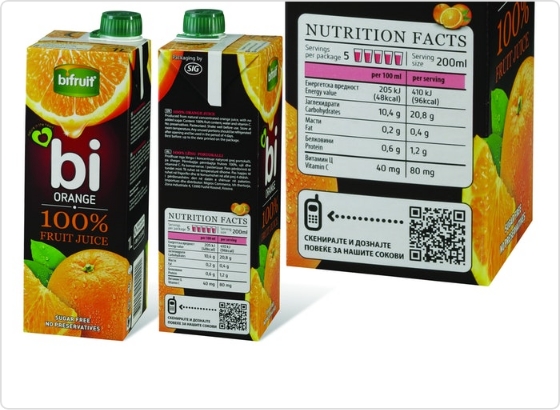 Share contact details:
With the vCard QR code, you can share your contact details such as email, work address, phone details, location etc., with your customers. The dynamic one gives you the freedom to edit the information many times without reprinting the code.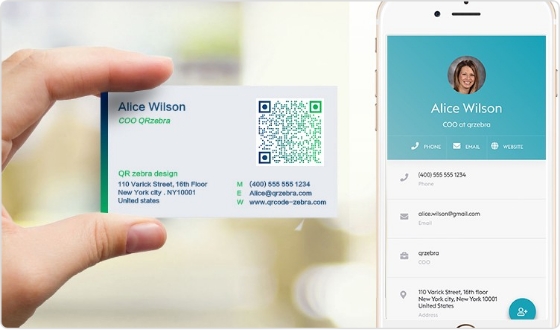 Personalize the experience:
With the flexibility to embed multiple content formats into QR codes, brands have attracted customers with personalized shopping experiences. JC Penny on Christmas released "Santa tags". The idea was to allow the giver to record a personalized message played when the recipient scans the code.
Increase post purchase engagement:
Avail the opportunity to engage your customer after the purchase. QR codes for rating and review pages are the one way to go about it. You can also link these to discount coupons for their future purchases, so they continue shopping with you. The Amazon QR codes drive repeat purchases and thus increasing the website traffic.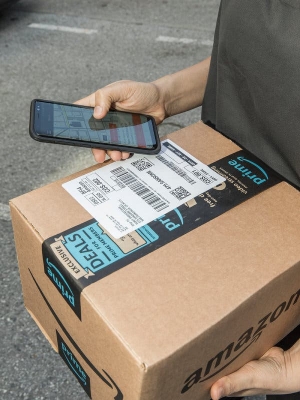 Source
Related: 8 Ways to Increase eCommerce Sales Using Social Media 
Get reviews and feedback:
According to writers block hive, 86% of people said they trust online reviews as much as they believe in word of mouth.
You can use a QR code to ask for product reviews and build the customer's trust by providing them with the information they are looking for.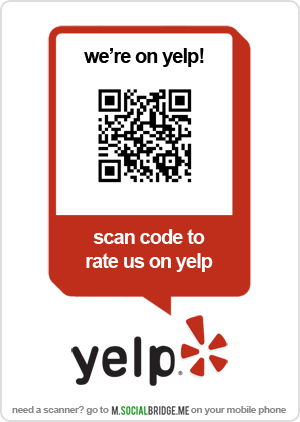 Source 
QR code marketing Use Cases:
1-Restaurant Menus:
With the pandemic, restaurants looked for safe and hygienic options for their customers. From menus to payments, restaurants used QR codes to design a contactless experience for their customers.
QR code menus lower the printing price and are also more convenient to update about the availability of items, price, details etc., without reprinting.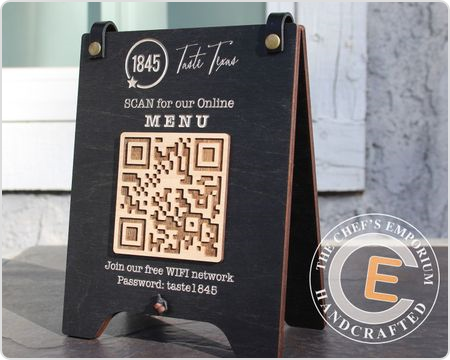 Source
2-OOH Advertising:
One cannot deny the effectiveness of OOH advertising. According to Dash Two's study, 71% of consumers said digital billboards are more appealing than online ads. Pairing the billboard with a QR code strategically can drive consumers to take action and thus getting you data.
Walmart, during the 2020 holidays, when their sales are supposed to be high, didn't observe the shoppers due to the covid-19 pandemic, they launched virtual billboards at places where they did not have brick and mortar stores. 
These virtual stores allowed people to scan and buy the products on the spot from their online stores.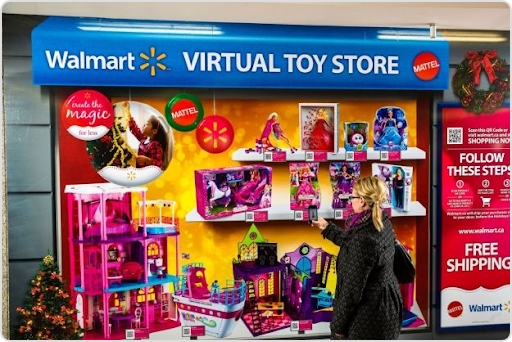 Source
3-Adding a twist to museum:
Sukiennice Museum in Poland used QR codes to tell the "secrets behind paintings".
Visitors scan the code next to a painting, and they get a series of stories about the artwork, its history and the painter themselves.
The intriguing stories about war, deception, insanity, love and romance added to the experience of the museum visitors.
4- Recycling:
PepsiCo used an integrated hydration platform with QR codes in their soda stream style dispenser. For single-use plastic, PepsiCo used an integrated hydration platform.
The users can bring their bottles to fill them with still or carbonated options. Thus, replacing the vending machine with dispensers that use QR code stickers. The system was launched in schools and offices, but it was later expanded into public places.
How to get more scans with QR code:
Add a call for action next to your QR code:
A QR code is like the door opening into the experience your customer wants to have. But if there is no sign on the door, nobody will enter. A compelling call to action is therefore necessary.
QR code Placement:


Make sure your QR code is strategically placed in a well visible place where your target user can notice it and quickly scan it. It should be set against a bright background to increase its readability.

Brand your QR code:
Make sure the QR code reflects your brand identity. Branding is an essential part of it as well to generate more scans. Make them more attractive by customising them with brand colours and logos.


Source

Mind QR code proportion:
While using it on the marketing material or packaging, make sure not to distort the ratio since it can make the scanning difficult.
Minimize the number of QR codes:
If there are multiple QR codes on the package or your print ad, it'll confuse the audience, and thus you'll miss the opportunity.
Ideally, you should go with one goal per QR code, but if you want to give them a holistic view of your product, then you should create a universal link and direct them to the information they are looking for.
Use interactive landing pages:


When linking your QR code to the video, file or landing page, make the content accessible on a smartphone and mobile-friendly.

High-quality QR code:


Make sure you use a high-quality QR code with well-maintained whitespace so it is easy to read and scan.

Track data:


Once your QR code marketing goes live, keep track of data. This data will tell you about your best performing and underperforming campaigns, and you can optimise them accordingly.
Benefits of dynamic QR code:
Editable:
You can edit your dynamic QR code's content at any time, allowing you to print your active QR codes, and you can still change the content at any time.
Data tracking:


You can track data of your dynamic QR code addresses, contact numbers, and names; you can follow the number of scans, time of a scan, location of the scan and even people used it to scan it.

Cost-effective:


A QR code generator is very cost-effective, and some platforms even offer it for free
Choosing a QR code generator:
Making the right choice of a QR code generator is the prerequisite of leveraging QR code marketing for your business. There are unlimited free QR code generators available, but make sure to choose with:
The accurate data tracking feature

Cost-effective with unlimited scans

High-resolution  printable QR codes

Excellent documentation
Excellent customer support service
Related: How to create a QR code for a URL?
Frequently Asked Questions:
What are the data points you can get from QR codes?
QR codes are easy to use and are a great tool to analyse users' click behaviour. They offer multiple data points such as time of the scan, location of the scan, times it has been scanned etc. With the right messaging and strategy, you can ask your users for email addresses, contact numbers and names.
Is there any expiration date for QR codes?
Some QR code generators offer a limited period or a limited number of scans. Once that is over, your QR code expires. However, some QR codes provide a lifetime of free access, and there is no limit on time or number of scans. In this case, you only have to make sure the URL is not broken.
How can we use QR codes in marketing?
QR codes are one of the most widely used tools for marketing by brands and businesses of all sizes.
You can use QR code for:
Directing customers to your website

Getting App downloads

Share the business and contact details with potential clients

Share the address and location

Building email lists

Encouraging customers to leave a review

Engaging the customers for post-purchase

Personalized marketing tools the marketing

Sending prompted SMS and emails

Access AR for marketing
How to promote QR codes for your business?
There are various ways in which you can promote QR codes:
Include QR codes on the packaging

Include QR codes on marketing material both online and offline

Include QR codes in email signatures

Include QR codes on your business cards

Stick QR codes on tables, doors and signage where it can grab customer's attention 
Wasiq Naeem
Wasiq Naeem is a content and digital marketing veteran who is passionate about his writing. Extensive research and producing high-quality content is just another day at the office for him.