Sharing links on social networks is an excellent way to advertise your business. How? Branded short links are a great way to promote your business.
Before we dig deep on how you can effectively use this marketing tactic and what are the benefits of using URL shorteners. First, we must get familiar with some basic concepts surrounding short links.
What Are Branded Short Links?
Basically, branded short URL's are the shorter version of URLs that you want to share online built around a brand name or related term. The purpose of these links is the promotion of your brand with unique brand links. When you click on the shortened URL, it redirects you to the original URL page.
Let's look at some examples that will make the amazing technique clearer to you.
For example, you want to shorten a URL as seen below

Damn! that's an awful URL.!!!
However, the best URL shortener can turn this ugly link into an attractive and exciting one. Now let's see the magic of a URL shortener in the below image.

Want your own branded link?
Keep on reading as we have also explained the steps of creating a branded link. But first, you need to know the reason for customizing your links.
Why Do We Need URL Shorteners?
Nowadays, several domains on the World Wide Web have grown leaps and bounds. So the URL's have also become complex. This problem has reached a point where it was impossible to remember, type and share URLs because of their complexity.
This is where the best URL shortener comes in handy. They shrink the number of characters in the URL to make it easier to share the link online, whether it's via email, social media, or downloadable PDF.
Difference between Simple and Branded URL Links
Wondering what's the difference between a normal link and a branded short link? Let's clear this ambiguity that is in your mind right away.
Branded short links are short URLs that after being shortened can bear the name of a person, company or brand. As the name suggests, they induce branding as a short link. As a result, these links boost awareness and recognition.
Each day we share posts, recommend videos, and comment on blogs. Each time we do this, unless we use a branded domain to tell others about this content, we miss out on a massive marketing and branding opportunity. Now with a URL shortener, you can share content in a way that builds your brand.
If you are yet to use a branded domain, then you're missing out on a massive marketing opportunity. Schedule a Demo Now!
Related: Use Branded Short URL Links to Generate More Sales: Here's How
Why Are Branded Links Better Than Generic Short Links?
Branded Links took the internet by storm, and companies got a great marketing hack to exploit. For starters, short links are easy to remember and pronounce. It uses your brand name and makes it easy to remember. It has a great impact while also making a mark on the internet. There are other factors why branded links are very popular among digital marketers that we will discuss further.
What Are The Benefits Of Branded Short Links?
A branded URL can help businesses in many ways such as it can help your brand stand out from others. Moreover, unique URLs are easy to memorize and make brands credible in the eyes of online consumers.  People cant recall complex URLs therefore having a custom URL comes with many benefits from improving CTR to increasing engagement on social media posts. Below we have discussed how branded URL Links are beneficial for branding.
Shareable and Recognizable URL's 
The first benefit is that you can make URLs short! No need for irrelevant random characters.  Short URLs are simple and easily sharable. This increases the engagement level when you share these links.
By keeping your URLs simple they become easy to read and easy to share. . On the plus side, most social scheduling tools such as ContentStudio, allow you to use your own branded URL by connecting it with URL shorteners that support them.
Though we are in living in the era of digital media, however, we still use conventional advertising platforms. So, such links are easier to use for print media and billboards, etc.
A Branded URL Builds Credibility & Trust
A shorter version of your URL brings credibility to your brand. As discussed earlier, the key purpose of a short link is to put your brand out in front. Your company has worked hard to earn the name, fame, and trust of your consumers. But a single marketing step can drain down consumer trust.
Related: How to Use Branded URL Shortener For Brand Awareness
So how does having a short URL fit this scenario? 
A custom domain name for your URL can make the URL trustworthy. It might have come under your notice that companies use dedicated domain names for correspondence instead of some generic domain. Even when someone forwards us a link we don't open it until we can associate with the brand. This is where a branded URL showcases your brand upfront and adds a trust factor.
You won't be opening an email from [email protected] (if that's not already ended up in the spam folder). Whereas, you would consider taking a look at an email that has a more authentic ID such as [email protected] or [email protected] . Similarly, you won't be opening a URL that seems suspicious or is not optimized. This takes many potential consumers away from your brand. That is why you should start using branded short links to grab on this market potential.
Branded Links Improve the CTR by 34%
The great thing about branded shortened links is that they increase brand recognition. Sharing engaging and relevant content with your branded domain associated with it will increase visibility and improve recognition.
Providing a tidy professional appearance, shortened and branded links improve the click-through rate by 34% on average. A branded link shortener turns your unappealing URL into a recognizable URL as link shorteners have built-in trust signals.
When you have built credibility and trust among your consumers, then it means you will have higher Click-through Rates (CTR). People click more on branded links rather than on any generic link. A branded link instills trust which increases your CTR. By being willing to share your brand name with your link it offers a guarantee that you are leading them to the destination suggested in your link. Having a unique link of your brand increases the recall value of your brand. This in return also increases CTR.
Related: What is Brand Awareness? 9 Trending techniques to expand your businesses via Social Media
Create Social Posts That Drive Traffic
A social media post with boring and long URLs makes it look unattractive. People don't even tend to click such boring links. You can make your links look attractive using a link management tool and increase the number of clicks on your social post.
Link shorteners make your post more appealing and can generate heavy traffic. If you are not using a link shortener, then you are just wasting characters of your URLs. Some URLs are with random letters and characters so turn those characters into short and interesting ones.
You are more likely to attract traffic and keep your readers' interest with a custom domain.   Amazon branded their long URL into a short and sweet one for their donation campaign.

Using short URLs, you can also create Bio links for Instagram and other social profiles.
Create your own Bio Links now!
Related: How to add link to Instagram bio
Do Link Shorteners Really Hurt SEO? No They Do Not!
Shortened URLs can allow spammers to insert harmful links. 301 redirects, which can occur for very reasonable reasons, can cause indexing issues. This causes a lot of problems and relays a bad name for link shorteners.
Adding to the above, a research by Jin Mun & Li in 2017, revealed that using URL shorteners can make a webpage easy to access for your target audience. Whereas, a long URL that has random characters does not reach the intended audience and cannot engage the user. Secondly, shortening the URL can protect you from phishing attacks as they can detect the original URL source.
Social networking websites usually put a 'NoFollow' tag in the links. This is done as a safety precaution. URL shorteners potentially benefit SEO as the URL shorteners typically ignore no follow attributes. This proves to be a huge bonus for people who use social media as part of their marketing campaigns or who just use them to share content.
According to several ranking specialists, using URL shorteners doesn't lead to any negative impact on your SEO. As a matter of fact, Search Engines consider short URLs as any regular 301 redirect and they will thus act upon it.
However, there are other positive impacts  of URL shortener on SEO. The key is to utilize the tools effectively.
You can brand your links with the focus keyword in the URL.
Secondly,  a

URL shortener can help in eliminating unnecessary elements such as stop words and punctuation from your links.

It allows you to keep your URL and page titles consistent that positively impact SEO.
Online Tracking and Data Driven Business Decisions
Last but not least branded links have an inherent reporting mechanism. You can track which piece of content is performing well and gain more insight. With A/B Testing you can analyze and test several campaigns and decide which type of content you need to produce. Along with that, you can evaluate the ideal publishing times and performance benchmarks of any industry peers.
The most important factor of getting branded short Links is that it allows you to track anyone that clicks on the link. Furthermore, the Replug tool is very handy for social media engagement. You can use branded bio links for Instagram, Facebook, TikTok etc for higher engagement. Short links are readable therefore result in higher engagement. Along with this, whenever someone sees and shares your company's branded link, you reinforce your brand identity. Most of these tools such as Replug.io provide analytical insights that help you in retargeting your ads in a more effective manner.
Link Management With Replug
There are a lot of link shortening tools available in the market today. However, Replug is one URL shortener that actually offers great value for money.

First and foremost, Replug, a link shortening & tracking platform that allows you to create eye-catching custom URLs. Replug offers several other features such you can also create social media Bio Links, URL tracking through custom URL, QR Code generator, UTM, Tags, and much more. With Replug you can shorten links, track and optimize them with catchy call-to-actions. It also provides the ability to add retargeting pixels paired with branded links and powerful analytics. There are several new features added to Replug that are briefly explained below.
Deep Linking
Deep links allow users to instantly go to the specific applications rather than wasting their time to search themselves on the webpage. When it comes to mobile users, deep links increase overall engagement and conversion rates.
Traffic Routing
Using the traffic routing feature, you can now target your audience with several filters such as location, device, browser, etc. You can also choose the IP address, time and dates as well. Thus, allowing you to redirect users from various locations to your link.
A/B Testing
A/B testing feature allows you to redirect a link to multiple destinations. Easily distribute the weightage and start testing up to 10 branded links at a time.
There are several other features that we have listed down that you can learn more about.
If you are looking for a branded URL shortener with great value for money, then Replug is just for you.
Increase your CTR with a Branded Link Now!
Branded Links
With Replug, you can easily create branded links. Just put the brand name in front of the domain and tell the readers what the domain is actually about. Having your own short URL built around your brand identity can help increase conversion rates.
But how to manage these links? Don't worry, Replug also helps you with that as it has a solution for branded link management.
Related: 9 Ways Brands can use Replug to ascend their Brand Recognition
Branded Link Management
The goal of creating a short branded URL is to engage more users with your brand. Ultimately, converting these users into customers.
But how to analyze these campaigns?
Branded Link Management is a solution that lets users manage their branded links easily with Replug URL shortener.  Whether it's a social profile or a website, track their performance easily. You can also create campaigns for multiple brands and analyze progress of each campaign. Thus, making it easy to analyze and retarget ads.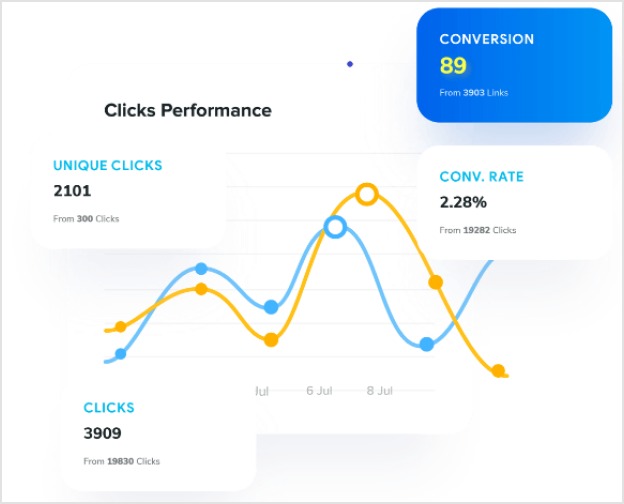 How to Create Branded Short URL Links with Replug?
Creating branded short links using Replug is as simple as it can be. Login to your Replug account or sign up if you do not already have one.
The first thing you need to do is to create a brand. What is a brand you may ask? A brand is a unique identity for your call-to-action widget. To put it in simpler words, let's say you have 5 websites, they are 5 unique identities for you, so these 5 unique identities are brands in Replug.
Get started by putting your website logo or your profile picture as a brand to convey your message effectively.
Steps to Follow To Create a Branded URL
Creating and using branded short Links was never this easy. It just takes a few simple and easy steps to create one.
Step 1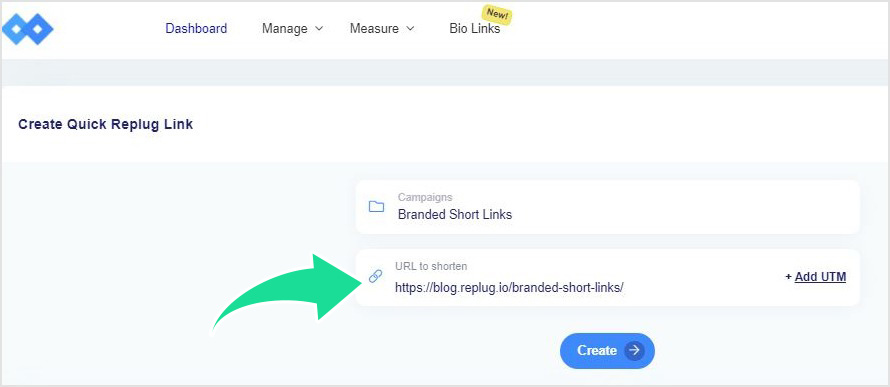 Log in to your account and navigate to the dashboard. Select your desired campaign and enter the URL that you want to optimize (you can add any UTM as well). Then click on create.
Step 2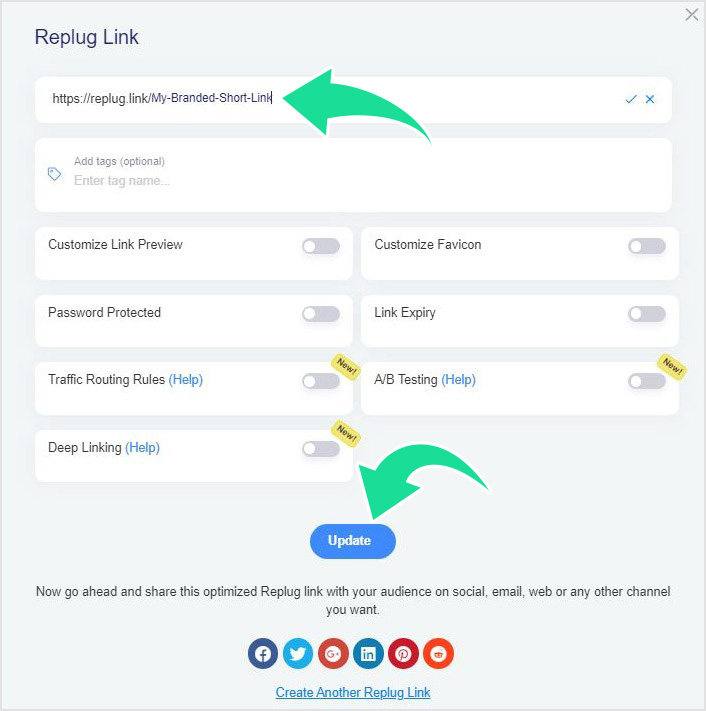 Completed the above step… That's great!
After clicking on create a new screen will appear. Click the edit button where you can start customizing the URL link into a branded URL link.
Add tags and set other parameters that you want for your campaign. Now click on update and your branded link is live to share.
Register with Replug and start creating your own short links. Don't worry! Replug offers a 14 day free trial. You can also schedule a meeting with our representative to learn more.
Now lets recap again on what we have learned.
Other Notable Link Management Tools
With Bitly you can create a short domain name for custom link shortening and forward on Twitter or Facebook.
Customize or personalize any link using T.LY. Get statistics on how many times your links have been viewed online by shortening URLs.
Clkim allows you to use your branded domain, retarget on click, monetize with custom, responsive, full-page interstitial ads.
Use your own domain name to create branded, memorable, and pronounceable custom short links.
It is used to share ads and market them on a custom domain name directly from your Mac storage.No need to write long emails anymore. With Dropler you can show complicated, processes using screen casts and transfer files with a customized short link.
Tinny CC is a URL shortener platform that you allows you to plug-in your own short domain then manage your whole brand from social media to product packaging.
Genius Link makes localizing, tracking, and managing smart links dead simple so you can earn more without added work.
It allows you to create your own branded short Links on your domain. You can easily manage links and view click statistics. If you need short links for different websites, you can manage many domains in your account. It provides an API for developers and Google Chrome extension for a better experience.
We can use t2M as a URL shortener with  Twitter, Facebook URL Shortener, YouTube URL Shortener. You will get a powerful dashboard which will make your work easier.
If you have programming skills and have an interest in running your own shortening service. Then get Polr, as you can run your own URL shortening service with this free open source software.
Foxly provides URL shortening services to marketers, advertisers, and brands. The purpose of Foxly is to help users achieve growth goals on their social websites across all marketing channels. Increase subscribers with short URLs for YouTube, Facebook, WhatsApp etc.
Transform your long URLs into short and concise links with Toinsh. It also allows you to create landing pages with multiple links and gather valuable data insights. Other features of this tools include UTM Generator, Social Audit and Hashtag analyzer.
Sniply is another URL shortening tool that allows to create short URLs, CTA and tracking. Share links using Sniply on your social media channels, articles, newsletters and much more. When it comes to the price, its price value is a bit high.
Yourls is an acronym for 'your own URL shortener'. Similarly to Polr, it's also an open source link shortener. It allows creating links, provides analytics, Bookmarklets etc.
Tiny.ie is a simple URL shortening tool for link shortening, branded domain, custom short link, real time analytics, etc. It helps users short ugly URLs into attractive short links.
Conclusion
In conclusion, branded shortened links are a great way to promote your brand. They can also be converted to eye-catching CTA's helping improve conversion rates. Similarly, they can be tracked to evaluate the performance of your ads and the content you share. By using branded links in the content you can effectively imply remarketing in your content marketing strategy and make the most out of it.
Wasiq Naeem
Wasiq Naeem is a content and digital marketing veteran who is passionate about his writing. Extensive research and producing high-quality content is just another day at the office for him.