Benefits of using Branded Short Links
Every link you share on social media is an opportunity to advertise your business. How? Customized short links are a great way to promote your business.
Before we dig deep into how you can effectively use this marketing tactic, first we must get familiarised with some basic concept surrounding branded shortened links
What is URL shortening
URL shortening is a technique in which a Uniform Resource Locator (URL) is made substantially shortened but still directs to the same page. This is accomplished using a redirect which links to the webpage that has a long URL.
Let's start by looking at some examples, the URL
"https://example.com/assets/category_B/subcategory_C/Foo/"
can be shortened to
"https://example.com/Foo"
Similarly
"https://www.blog.google/products/maps/wheres-waldo-find-him-google-maps/"
can be shortened to
"https://goo.gl/rVBBtP"
Why we need URL shorteners
As the number of domains on the world wide web grew leaps and bounds, URLs became more and more complex. The problem reached a point where it was impossible to remember, type and share URLs due to their complexity.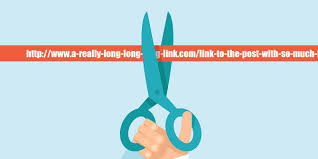 This is where URL shorteners come in handy. They shrink the number of characters in the URL to make it easier to share the link online, whether it's via email, social media, or downloadable PDF.
Difference between simple and branded link shortening
Branded links are URLs which after being shortened bear the name of a person, company or brand. As the name suggests, they are built to induce branding in the shortened link. As a result, these links boost awareness and recognition.
Each day we share posts, recommend videos to our peers and comment on blogs. Each time we do this, unless we use a branded domain to tell others about this content, we miss out on a massive marketing and branding opportunity?
You share posts you've found helpful. Recommend videos that made you laugh. Comment on presentations and other content too and occasionally even slag some authors (only if they deserved it, of course).
But did you know that unless you use a branded domain to tell others about this content, you're missing out on a massive marketing and branding opportunity?
Why branded links are better than generic short links?
Branded links took the internet by storm and companies got a great marketing hack to exploit. There are a number of factors why branded links are very popular amongst digital marketers.
For starters branded links are very easy memorable and even more so pronounceable. The fact that it utilizes your brand name and can be easily read and remembered by others has a great impact while making a mark on the internet.   
The other great thing about branded shortened links is that they increase brand recognition. Sharing engaging and relevant content with your branded domain associated with it will increase visibility and improve recognition.
A branded link instils trust which in turn increases your CTR. By being willing to share your brand name with your link it offers a guarantee that you are leading them to the destination suggested in your link.
Last but not least branded links have an inherent reporting mechanism. You can track which piece of content is performing well and gain more insight as to which type of content you need to produce. Along with that, you can evaluate the ideal publishing times and performance benchmarks of real estate industry peers.
Protection against Spammers
Generic shortened URLs are susceptible to cyber-attacks. They do not provide the same level of security against hackers as their branded counterparts. Hackers can scam shortened link the same way they break short passwords, through brute force.
This means that web pages could become accessible by people you didn't intend to view. One line of defence against these attacks is having a custom domain name for your URL. This makes the URL trustworthy and on the plus side most social scheduling tools e.g. ContentStudio, allows you to use your own branded URL by connecting it to one of the custom URL shorteners that support them.
Effect of Link shorteners on SEO
A shortcoming of these type of links is that the destination link is hidden. This gives spammers an opportunity to insert harmful links. As a result, visitors end up on undesired websites.
This causes a lot of problems and relays a  bad name for link shorteners. Also, If you are setting up a chain of 301 redirects, which can happen for very reasonable reasons, you might face a few issues in terms of indexing
This practice causes a problem because it gives a bad reputation to shortened links as people who have already experienced spamming will never trust one again. Social networking websites usually put a 'NoFollow' tag in the links. This is done as a safety precaution.
This does not apply to link shorteners as they short-circuit the whole process. Indeed, these type of links will be then followed back by search engines which entails that some value will eventually pass through them. This proves to be a huge bonus for people who use social media as part of their marketing campaigns or who just use them to share content.
According to several ranking specialists, it seems that using URL shorteners doesn't lead to any negative impact on your SEO. As a matter of fact, shortened URLs are considered by search engines as any regular 301 redirects and they will thus act upon it.
Top link shortening tools available
There are a lot of link shortening tools available in the market today. We have shortlisted 10 which present the best value for money.
With Bitly you can create a short domain name for custom link shortening and forward on Twitter or Facebook.
Clikin allows you to use your branded domain, retarget on click, monetize with custom, responsive, full-page interstitial ads.
Replug is a URL shortener and link tracking platform that also allows you to add eye-catching and branded call-to-actions or retargeting pixels to any page on the web. With Replug you can shorten links, track and optimize them with catchy call-to-actions.
It also provides the ability to add retargeting pixels paired with branded links and powerful analytics.
Use your own domain name to create branded, memorable, and pronounceable custom short links.
It is used to share ads and market them on a custom domain name directly from your Mac storage.No need to write long emails anymore. With Dropler you can show complicated, processes using screencasts and transfer files with a customized short link
Plug-in your own short domain then manage your whole brand from social media to product packaging.
Genius Link makes localizing, tracking, and managing smart links dead simple so you can earn more without added work.
Share links, images, files and more with this powerful menubar app for your Mac. It is an easy-to-use screen recorder that brings video, webcam, screenshot annotation, and GIF creation securely to the cloud.
Ity allows you to create your own branded short links on your domain. You can easily manage links and view click statistics. If you need short links for different websites, you can manage many domains in your account. It provides an API for developers and Google Chrome extension for a better experience.
T2M can be used as a URL shortener with  Twitter, Facebook URL Shortener, YouTube URL Shortener. You will get a powerful dashboard which will make your work easier.
How to create branded shorten links with Replug
Using replug is as simple as branded URL shorteners can be. Login to your Replug account or sign up if you do not already have one. 
The first thing you need to do is to create a brand. What is a brand you may ask? A brand is a unique identity for your call-to-action widget. To put it in more simple words, let's say you have 5 websites, they are 5 unique identities for you, and these 5 unique identities are considered to be brand in Replug.
You can put in your website logo or your profile picture as a brand to convey your message

Follow the below steps to create a branded URL.
Step 1
Navigate to the Brands page

Step 2
Click on create a new brand and fill in the necessary information e.g. company product name and upload image.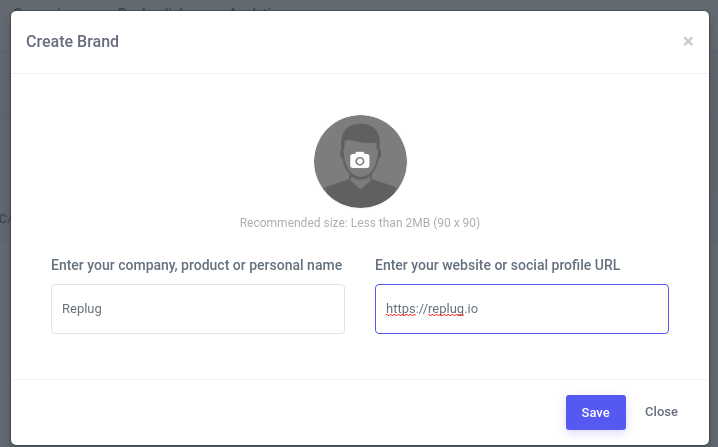 Save your information and navigate to "New Link" on the homepage
Step 3
Select your campaign and enter the link to an article where you want to add CTA.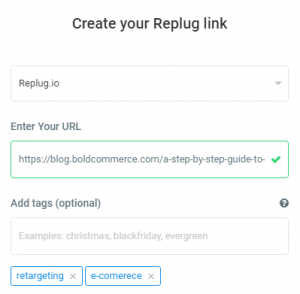 You also have the option to add the tags which can be used for reporting later on. Click on save link
Step 4
Now go ahead and share this optimized Replug link with your audience on social, email, web or any other channel you want.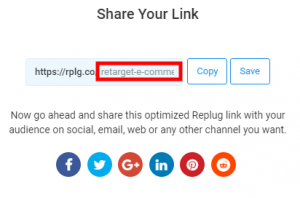 Notice that besides the shortened link generated is an edit button. You can use this option to change the ending part of your URL. This allows you to further customize your URL, and add meaningful phrases to conjoin brand with a message.
One suggestion is to choose these words/ phrases very carefully to be in sync with the message being replayed in the content. This helps users to better relate to both your brand and the content in question.
Conclusion
Branded shortened links are a great way to promote your brand. They can also be converted to eye-catching CTA's to help improve conversion rates. Similarly, they can be tracked to evaluate the performance of your ads as well as the content you share.
By using branded links in the content we share you can effectively imply remarketing in your content marketing strategy. If you know other health benefits of using branded leaves, please leave a comment.