Digital marketers, SEOs, and affiliate bloggers play around with links all the time. Sometimes, these experts use short URLs, masked URLs, or redirect URLs. Different link management strategies are used to achieve desired results.
If you're into affiliate marketing, you must have come across link cloaking. It's also known as URL masking.
If you're curious about URL masking or why it's important to understand or who should be using this link management technique, then stick around.
What Does it Mean to Mask a URL?
URL masking is a process of altering the appearance of the URL without changing the destination URL. When a URL is masked, it may appear different on the outside, but it takes the visitor to the pre-defined destination.
URL redirection has an important role in the URL masking process. The redirection helps website owners and bloggers to allow URL masking to work. I'll shed some light on the URL redirects in a second.
There are several other use cases of URL masking that you'll witness going forward.
One of the reasons why marketers and SEOs mask URLs is to beautify the look of the URLs, especially if they want to promote content on social media or email newsletters.
Most bloggers and affiliate marketers cloak affiliate links to hide the hideous affiliate links and mask them with their short, beautiful links to increase CTR and engagement.
What are URL Redirects?
URL redirects are traffic forwarding parameters to direct the visitors and bots toward the destination URL. The purpose of setting up redirects is to push the visitors or bots in the right direction.
Sometimes, a company rebrands itself into a new name and pushes the website traffic toward the new domain. This is where the URL redirection comes in handy.
Often a landing page or website section is under construction, so a temporary URL redirection is set to direct the traffic to a different destination.
Moreover, a permanent redirect is also used to tell the search engine bots that a page or website has moved to a new URL.
URL redirection is extremely helpful in blogging, affiliate marketing, and SEO. Therefore, it's vital to understand how it works and the difference between different types of redirects.
Related: Fix "ERR_TOO_MANY_REDIRECTS" Error
When to Mask a URL?
Now you know how URL masking works and why it's important. So let's discuss when to apply URL masking.
Here are different scenarios where URL masking would be helpful:
Inserting affiliate links: Most affiliate experts mask URLs when they have to promote affiliate products on their blogs. They use a URL masker so that their affiliate links look more natural and non-spammy.
Dealing with long URLs: We've established the fact that long and clunky URLs don't appeal to website visitors due to their spammy and sketchy appearance. Therefore, marketers and bloggers mask such URLs when they have to deal with long product URLs or affiliate offer links.
Hiding free web hosting URLs: A lot of beginners prefer free web hosting and free sub-domains for launching their websites or blogs. However, most of them try to hide those free sub-domains through link shortening or URL masking. For instance, blogger.com and wordpress.com provide free sub-domain and web hosting for setting up free blogs.
Increasing tracking parameters: Whenever a brand wants to keep track of its links' performance, they have to add certain tracking parameters to the URLs in question. Therefore, it's necessary for them to insert additional tracking parameters using a URL tracker to make it happen.
These were some of the situations where users might want to consider masking the URLs so that they could benefit from this link management strategy.
Advantages of URL Masking
Here are some perks of using a URL masking tool:
i. Security
A lot of companies try to hide their sensitive information or deny the accessibility to sensitive files to maintain security. Data theft, malware transfers, and code injections are a few of the challenges websites, blogs, and e-commerce sites have to be aware of to survive.
So this is why it's important to understand and implement URL masking when or where it's inevitable.
Related: A Complete Guide to Protecting Your URLs
ii. Links appear user-friendly and trustworthy
They say the first impression is the last impression. You might not want website visitors to feel overwhelmed when looking at your links. URL masking may help improve your links' appearance to some degree.
Social media influencers, bloggers, and affiliate marketers strive to position themselves as genuine, authentic, and real.
However, when they come across awkward, untrustworthy links to publish on their sites or social media, they fashion something to make those links look better.
URL masking helps marketers and brands create short, user-friendly links that don't look sketchy at all. And that's a huge advantage of link cloaking.
As a result, most influencers and creators with massive followers base use short links to promote the products or sell their own products.
iii. Hide unnecessarily long destination URL
One of the benefits of using any URL masker is to hide long destination URLs. These long URLs might not necessarily be affiliate links or e-commerce product links. Sometimes, website pages or blog posts have relatively longer URLs that don't look very nice.
Have you ever come across a social post that has a long URL as a call-to-action?
I'm sure we have all seen something like that on social media or SMS. The point is that nobody would ever click on such a link.
Brands, marketers, and affiliate bloggers need short and trackable URLs. The reason is that these experts know that readers despise long links in the article or social media posts etc.
URL masking provides these professional marketers and bloggers with a shield to get away with this.
This way, brands, websites, and bloggers can get more engagement and clickability on their websites. Here's an example of Coca Cola's URL branding example.
iv. Adds the ability to track link performance
It's impossible to grow an online business or blog without a proper website tracking and reporting system. One of the benefits of URL masking is that it allows users to track the clickability of the shortened links. Thus, it helps in determining the conversion rate of a website or blog.
Website tracking assists website owners to analyze content performance, user engagement, and conversion rate. Links are added to the content or social posts so that readers click them while going through the content.
It'll be a shame if clicks are happening, but there is no click tracking in place to analyze the links' performance.
It's safe to say that link performance tracking is crucial to establishing a successful link management strategy whether you're managing social media channels or running an email marketing campaign.
URL masking does help marketers and affiliate bloggers to track link performance across different platforms.
v. Improves click-through rate on affiliate links
An affiliate marketing campaign has numerous aspects that make conversion happen. The affiliate offers on a blog don't convert just because they have been added.
In fact, the conversion happens because readers need the solution or they trust the author or the recommendation makes sense.
URL masking does have a huge impact on the click-through rate of any brand or website. You must have known by now that readers find it hard to click on an untrustworthy link.
While some readers chicken out when they aren't sure about the link they're supposed to click, others leave it to decide later.
I have personally been using link-cloaking tools to hide the affiliate offers on my blogs because I don't to showcase my unpretty links.
On the flip side, adding short URLs to your blogging system dramatically improves the click-through rate on your website.
vi. Branding
Branding isn't just about the name, logo, and colors – it's a wholesome package that shapes how a brand is perceived by the audience. Links are an essential part of the branding composition. Pay close attention to your links from the branding perspective. No wonder a lot of brands use short custom domains for URL shortening.
URL masking & URL branding is quite common in digital marketing and affiliate marketing areas. Publishers, bloggers, and affiliate marketers try to mask affiliate or lengthy URLs to make the user experience as smooth as possible.
Perhaps, long and bulky URLs scare readers off. Therefore, it's necessary to make your links look beautiful and catchy with your branded keywords.
Link Management Made Easy
Your go to link management tool for CTAs, branded and bio links, QR Codes, tracking and retargeting.
Get Started for FREE!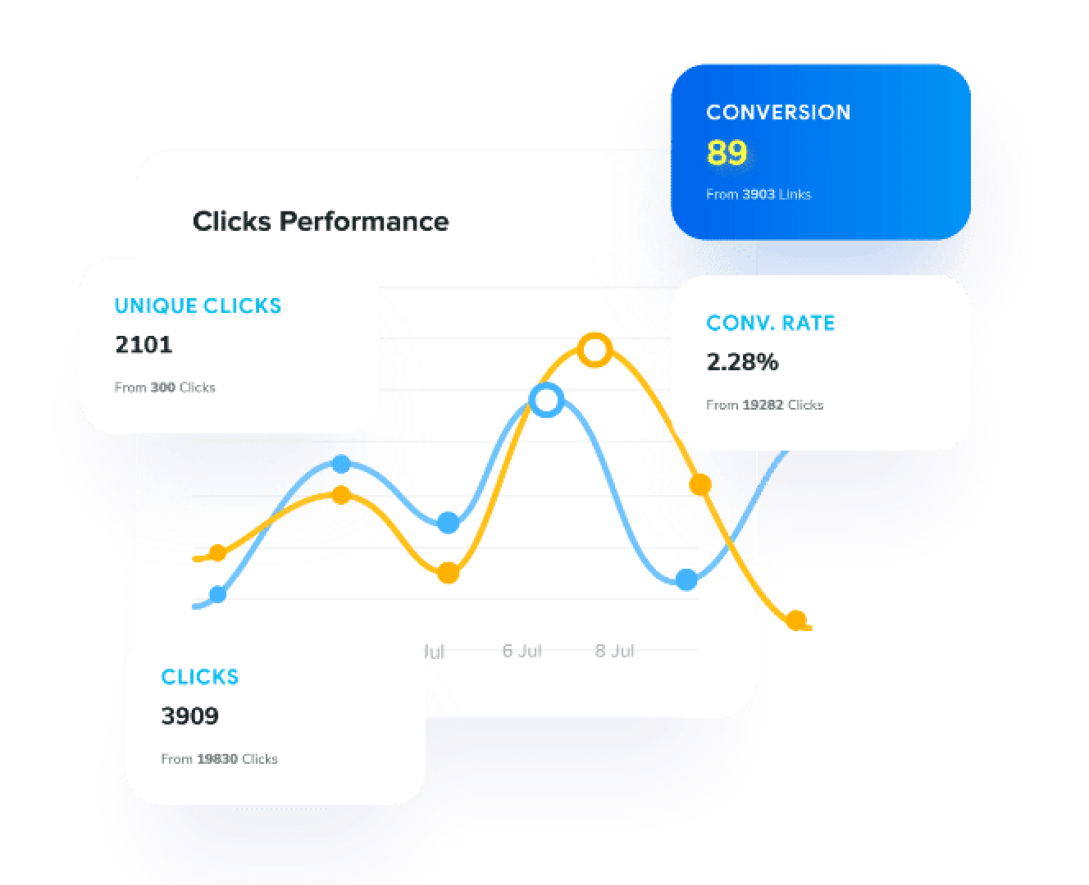 How Do I Create a Masked URL?
You don't have to be a website developer need to create a masked URL. In fact, it's not that difficult, considering you have access to the right tools for the job.
Speaking of the tools, I'll be sharing how you can do URL masking using a URL shortener. Let me tell you a little bit about this URL shortener.
It is an all-in-one URL shortening tool that provides digital marketers, affiliate bloggers, and social media experts with a bunch of link management tools.
The key features of Replug include social media bio links, branded short links, URLs shortener, retargeting visitors, mobile deep links, QR marketing, UTM parameters, and more.
Create a masked URL using Replug URL Shortener:
Note: Skip to step 3 as integrating a custom domain is not mandatory to create a customized URL slug. Unless you want to use your brand name in your domain with your slug, then follow the given steps.
Step #1: Register your short domain
First things first, register a short domain that is suitable for your brand. A lot of companies and experts pick the short version of their brand name to register for setting up their short domain.
For instance, youtube.com has youtu.be, Amazon has amzn.to, and Replug has rplg.co. So these are a few examples of short domain names that companies have registered for different purposes.
To register your short domain, go to your favorite domain registrar services like Namecheap or Godaddy and look out for a perfect, short domain name.
Once you've registered the domain name, move on to step number two.
Step #2: Integrate your custom domain with Replug
After registering the short domain name, there are some integrations that need to be done before you could start using your branded short URL.
This integration is a two-step process to make it work. Start with adding the DNS records for your custom domain to configure it with Replug.
To do this, log in to your domain registrar account and look out for the DNS settings. You'll see an option like "Add New Record" or "Add Record," depending on the domain registrar you're using.
The idea is to add a CNAME record in your domain setting to configure it with your Replug account.
So click on the "Add New Record" option to include a new record. Provide the following details:
| | | |
| --- | --- | --- |
| Record type | Hostname | Point to (Address) |
| CNAME | @ or www | *short domain* |
Most domain registrars allow adding a CNAME record. However, if your domain registrar doesn't allow it, you can use the A -Address option instead.
| | | |
| --- | --- | --- |
| Record type | Hostname | Point to (Address) |
| A | @ or www | *Domain IP address* |
Once you're done on the domain registrar front, head over to the Replug account.
Now it's time to add a custom domain to your Replug account.
Log in to your Replug account and open the drop-down settings menu from the top right corner.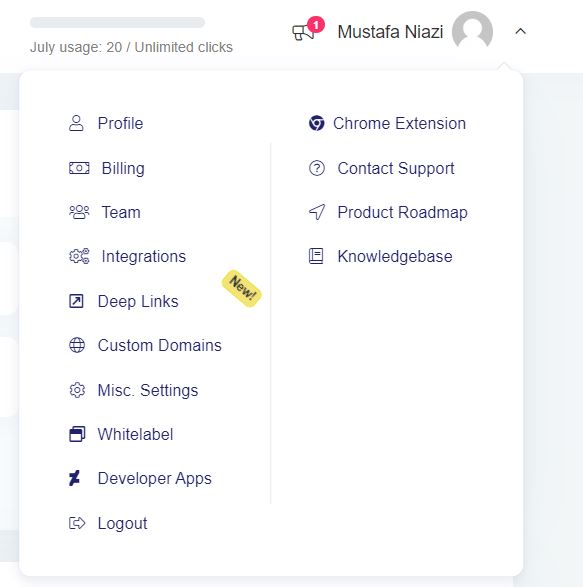 Go to the Custom Domains section to proceed.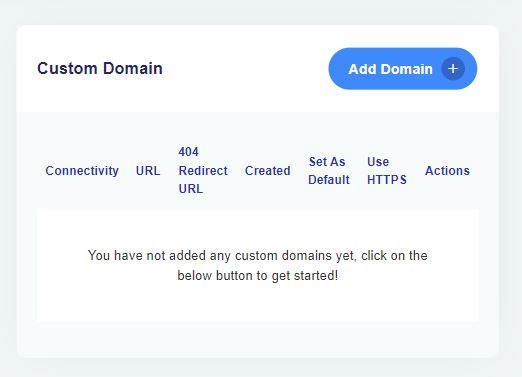 Click on the Add Domain option to add a custom domain.
Connect your custom domain by providing the branded URL (that you want to use), custom 404 redirection page URL, and main root URL.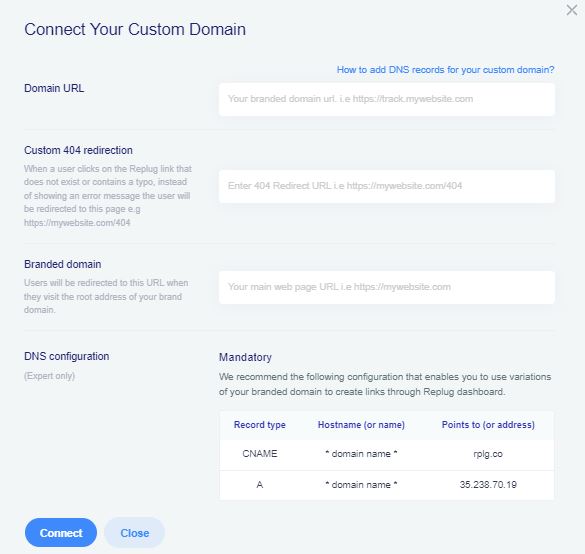 Once the details have been added, press the Connect button to go ahead.
Step #3: Add a new brand to your Replug account
After you've successfully configured the short domain with your Replug account, the next up is to add a new brand to your Replug account.
To do so, log in to your Replug account.
Go to Manage from the top menu bar, and click on the Brands option from the drop-down menu.
Now you need to add a new brand. Click the "New Brand" button to proceed.
A pop-up menu would appear.
Enter the brand name and website URL of your brand and press save.
That's it.
Step #4: Create a new campaign
Once you've added the brand, now it's time to create a new campaign for this brand.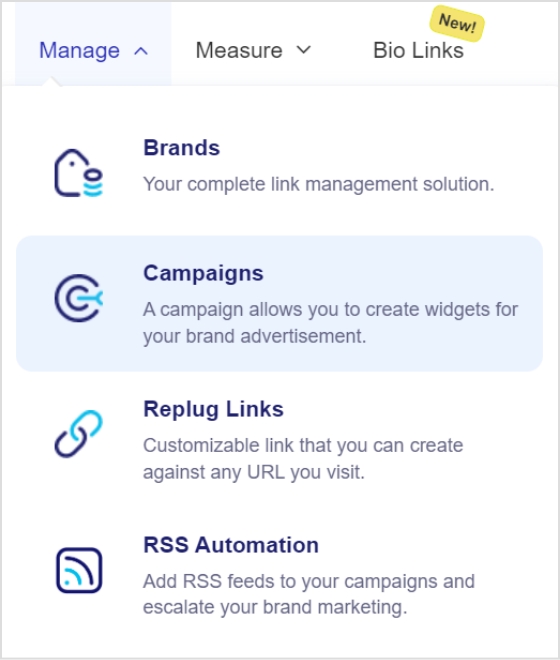 Access the campaign section through the top menu. Go to Manage from the top menu bar and click on the Campaigns option from the drop-down menu.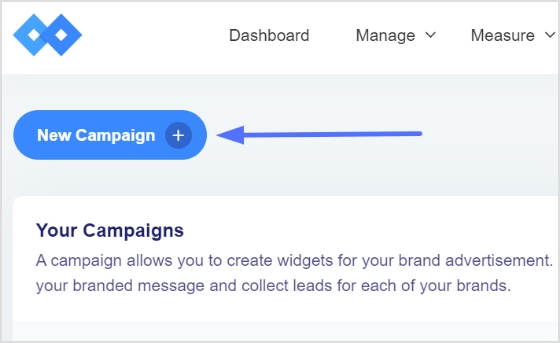 Now press the New Campaign button from the top.
Now you'd have to select the right brand for this campaign.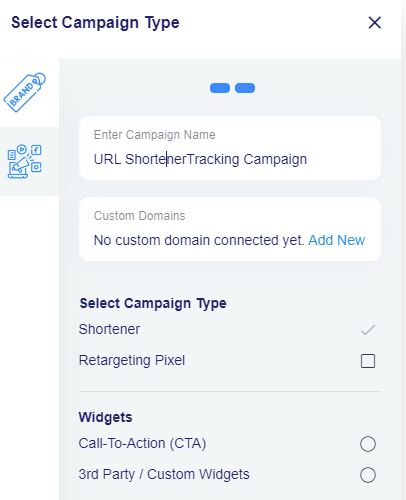 Select the brand you just created for this campaign.
The next section would be about the campaign type selection.
This is where you have to select the appropriate custom, short domain for the campaign.
Name your campaign and opt for the right short domain you just added.
Save the campaign and you're good to go.
Step #5: Shorten the URL with your branded URL
Once everything goes smoothly, you'll be able to create disguised short links.
Head over to the dashboard to start shortening the URLs using your short, branded domain.
FAQs About URL Masking
Here are some burning questions about URL masking:
Is there a way to mask a URL?
Sure, there is more than one way to mask a URL. The most common method for bloggers and affiliate marketers to mask links is by using plugins.
Moreover, you could also use link cloaking to mask a URL. It essentially changes the appearance of the URL to make it look decent, but the destination URL remains the same. It requires URL redirection to direct the visitors to the destination page.
What is the difference between URL masking and redirecting?
The URL redirection pushes the visitors to a different page or a new website with clear directions for search engine bots to follow. However, URL masking is more of a URL-hiding strategy to avoid unnecessary suspicion on the user's end.
What is the difference between URI and URL?
The URI is an abbreviation for Uniform Resource Identifier. It's a series of characters employed to specify and differentiate a logical or physical resource, commonly associated with the internet, from other resources.
Whereas, a URL is short for Uniform Resource Locator. It's a distinctive identifier employed to pinpoint the location of a resource on the Internet. It's also known as a web address.
Hassaan Khan
Hassaan Khan is a freelance writer for SAAS companies, e-commerce stores, and niche websites. He has contributed to SEMrush, ThriveGlobal, BloggingCage, AllBloggingTips, and several other publications. He builds niche websites, publishes e-books, and helps website investors with his done-for-you niche site-building service.