Link disguising is about hiding up a link so it looks like another link. Though the term itself might sound dubious. But it is very useful in the digital world. People generally mask links to shorten them and brand them.
Disguising a link is just like concealing the bad parts or random characters in case of a URL and beautifying them. Whereas, tools like URL shorteners come in handy in turning these random links to something meaningful and useful.
What is a Disguised Link? 
A disguised link is also called URL cloaking or URLmasking. When a link is cloaked or disguised, it hides the original URL link while redirecting traffic to the original destination URL. Thus, URL shortener will allow you to disguise a URL by hiding the original URL. While you can create a customized or vanity URL or a branded link that appears to the users when you share with them. 
So the real question arises, why do people use disguised links?
Why Disguise a Link? 
First impressions matter!

A URL is something that people see at first sight when you share a profile, video link or company website etc. So if it seems suspicious, no one is going to click that link. 

Another reason to disguise a link is to improve eCommerce sales, brand engagement, user experience etc.
URL tracking tools not only allow disguising but also allow tracking performance by creating custom links.

Furthermore, long URLs look nasty, and hence a person can go for a link shortener. All this can be done by URL masking. 
Reasons to Use Disguised Links
URL shortening and beautification

Replace nasty and ugly URL

To make affiliate links

To disguise free web hosting URLs
Related: Benefits of Using Branded Short Links
Use Disguised Links for Affiliate Marketing 
Are you looking to increase e-commerce sales and shorten your long nasty URLs, two birds one stone?
Link disguisers are used to hide URLs and customize them. As link disguising is very useful when it comes to affiliate marketing. Using a URL shortener can disguise link and allow you to hide and protect your affiliate ID from malware. On the other hand, you use a custom branded link associated to your product and brand. Thus, increasing brand credibility and trust of the consumer.
Related: Affiliate Marketing Guideline for Beginners: A Step-by-Step Guide
A URL shortener is the solution for you to hide and disguise any website link. Moreover, you can also track, analyze and add CTA's, bio links, retargeting pixels etc. 
Here's how you can use Replug to disguise a link:
Step 1: Navigate to create a "Replug Link". Choose your desired campaign, put the URL you want to disguise, and click on "create" (you can also add UTMs).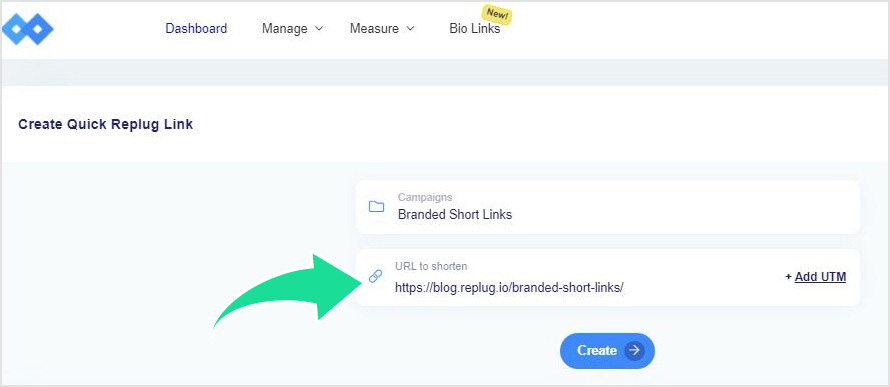 Step 2: After taping on create, a new screen will show. Click the edit button where you can initiate customizing your URL into a branded link. Add tags and set the rest of the parameters that you want for your campaign. Now click on update, and your customized link is ready to go live.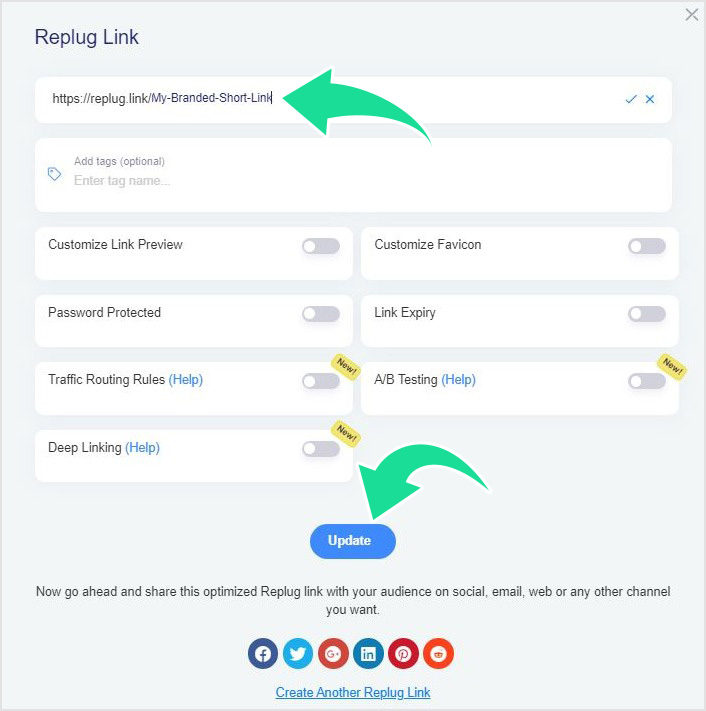 Sign up and disguise any link now!
Replug.io Key Features
Link Management
Multiple links shortening tools are available in the market, but Replug.io is among the few best link shorteners that offers link disguising, tracking & optimization as well as a catchy call to action. Replug.io is an easy URL shortening and tracking platform that allows you to create eye-catching branded URLs. It also creates social media bio links, URL tracking with custom URL, UTM, tags, and QR code generator. It offers the ability to add retargeting pixels with powerful analytics and branded links.
Related: Best Link Management Tools of 2022
Replug.io Chrome Extension
Replug's chrome extension makes it easier to create disguise links. You can download the Google Chrome extension and log into your Replug account by putting login credentials. Once completed, you have full control of using Replug features in no time. 
Link Analytics
Replug stands higher among all link management tools when it comes to link analytics. You can make a profitable brand's strategy by keeping an eye on link analytics. Track every engagement on the content you share; below mentioned are some great analytics you can track.
Overview
Conversion Performance

Click performance

Visitor by browser

Visitors by the operating system

Visitor by country

Visitor by source/referrer
Deep Linking
Deep links let users go to the specific application rather than wasting time searching themselves on the browser. Therefore, deep links can increase overall engagement and conversion rate in the case of mobile & PC users. 
Traffic Routing
With the help of the traffic routing feature, you can reach your target audience by setting multiple filters such as geography, browser, and device. You can also select the IP address, dates, and time. Hence, traffic routing feature allows you to redirect users and deliver a unique experience on the base of these filters.
A/B Testing
A/B testing features offer you to redirect links to several destinations. Efficiently distribute the weightage and start testing up to 10 customized links simultaneously. 
Final Words
Using a URL shortener to disguise a link is not only for the people of the e-commerce world. In fact, URL shorteners are way much more than just a shortening tool.
You can create bio links, test landing pages via A/B testing, add CTA's for special offers and discounts, route and redirect traffic etc. And this is just the tip of the iceberg.
Here's a 14 day free trial link for you to explore different ways to use a URL shortener.
Khadija Anwar
I am Khadija Anwar, B2B Copywriter. I started my career as a freelance writer in 2019 and built a strong portfolio. I have crafted multiple blogs, website content, fashion magazines, news outlets, SEO content, and technical documentation. Last but not least, my favorite cartoon character is Dopey Dwarf, resembling my real-life character- calm, happy, and lively.