TikTok has already found a berth in the top-tier social media platforms. No wonder this short, vertical video platform has over one billion monthly active users.
Surely, optimizing the TikTok bio could get you more attention, so don't miss out on this opportunity.
Lo and behold, this piece shares several TikTok bio ideas and hacks to drive traffic to your website, landing page, or other social media profile.
So without any further ado, let's jump right into it.
Here are several TikTok bio ideas to take inspiration from or learn from to get more views and followers:
Funny TikTok bio ideas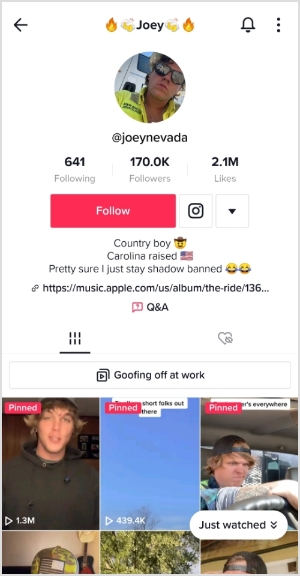 Joey shows self-pity in his TikTok bio using a bit of humor. This TikTok bio seems a little sarcastic but doesn't attack anyone. Therefore, this makes it quite hilarious.
Related: TikTok Strategies to Promote Small Businesses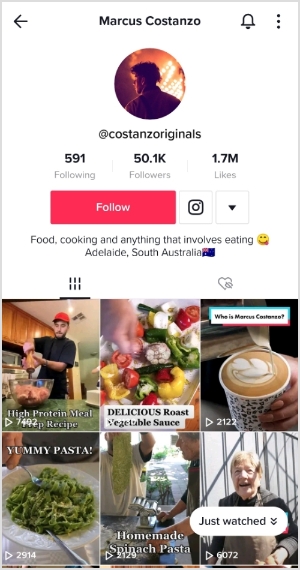 Marcus has quite a funny TikTok bio. It says, "food, cooking, and anything that involves eating," which cracked me up.
The best thing about this TikTok bio was that it explained what the creator of the account is all about, but in a funny way. It sure is one of the funniest TikTok bio ideas I have ever read.
Motivational TikTok bio ideas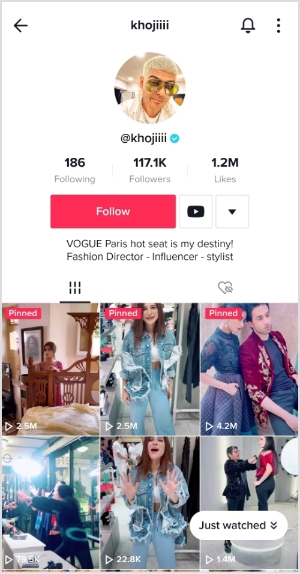 Khojiiii is a fashion expert. However, he came up with quite a motivational TikTok bio that anyone can take inspiration from. He says, "VOGUE Paris hot seat is my destiny."
Well, some self-help experts and motivational speakers suggest writing down your goals somewhere. And that's a practical example of that. I found this TikTok bio quite motivational, though.
Related: Link Instagram to TikTok?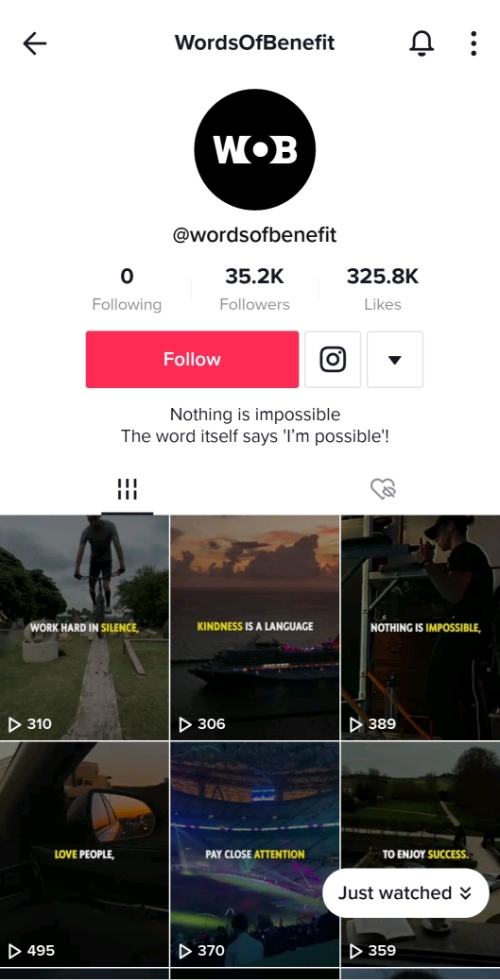 The "Words Of Benefits" TikTok account has a fascinating bio. It goes, "Nothing is impossible. The word itself says I'm possible." This TikTok bio is simple yet meaningful and deep. No wonder it has made it to the list.
The motivational and self-help social media accounts must have thought-provoking, meaningful, and brief bios so that they're quick to read and understand. This is surely one of these TikTok bio ideas.

Stylish TikTok bio ideas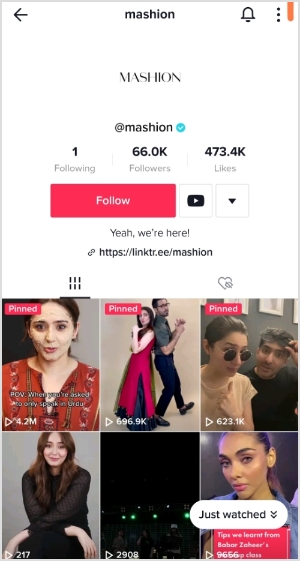 Mashion is a lifestyle and fashion news and updates platform. Their TikTok account has quite a stylish bio. It says, "Yeah, we're here."
It's short, catchy, and entertaining. Isn't it? The takeaway from their bio is that one can have a brief and to-the-point TikTok bio that grasps the audience's attention.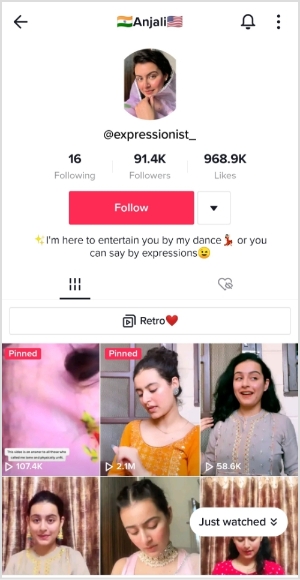 Anjali is a social media influencer. She has a very crystal clear TikTok bio. It says, "I'm here to entertain you by my dance or you can say by expressions."
It seems like Anjali does expressions on TikTok, but also loves to dance. I found her TikTok bio quite stylish and entertaining.
Related: TikTok Trends for Businesses & Brands
Foodie TikTok bio ideas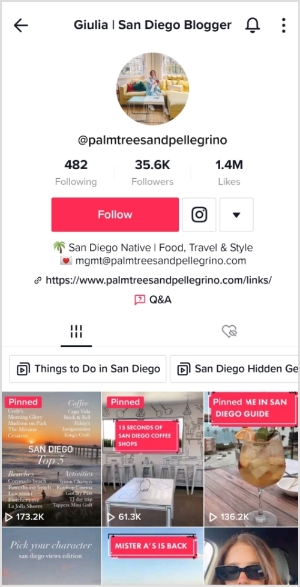 Guilia is a lifestyle blogger and content creator. She has mentioned "food, travel, and style" in her TikTok bio, which pretty much explains everything about her social media presence.
Most lifestyle influencers put out content about fashion, food, and travel. It allows them to collaborate and work with several brands along the way.
Romary is a food and lifestyle content creator on TikTok. Her TikTok bio says, "lifestyle, fashion, and food." She often posts videos and photos about food.
I liked the way most lifestyle bloggers and influencers use food to create content and attract the audience. No wonder restaurants and food companies work with these TikTokers.
Related: Best Time to Post on TikTok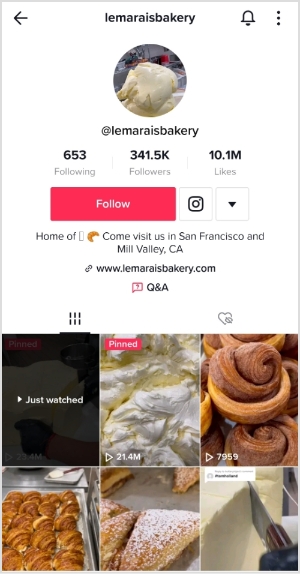 Le Marais is a bakery with branches in San Francisco and Mill Valley. They have quite a foodie TikTok bio. It says, "Home of (Croissant emoji). Come visit us in San Francisco and Mill Valley, CA."
Since they have a bakery in their TikTok handle and the croissant emoji in their TikTok bio, it's not difficult to figure out that they're in the food business.
Health and Fitness TikTok bio ideas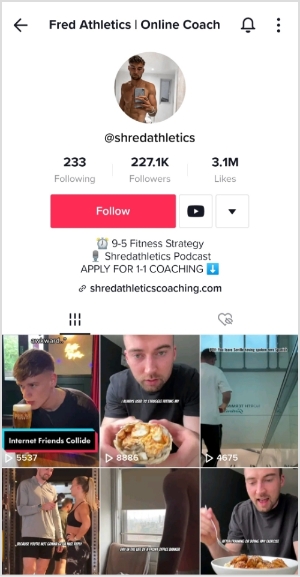 Fred is a fitness expert and coach. He has a fitness-related podcast called Shredathletics podcast. Plus, he also offers a 1-on-1 coaching program.
It looks like Fred has figured out the TikTok platform as he is making the most of the TikTok bio opportunity. He hasn't bombarded his TikTok bio with loads of info but still manages to share three entities.
Related: How To Remove TikTok Filter?
Kaitlin York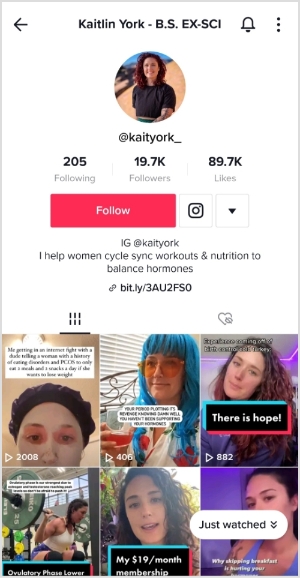 Kaitlin is a fitness expert and nutritionist who guides women on balancing hormones and suitable workouts.
Kaitlin has mentioned her Instagram handle in the TikTok bio. Plus, she has written quite a brief yet helpful TikTok bio line, which makes the viewers understand what exactly she does.
Cross-promotional TikTok bio ideas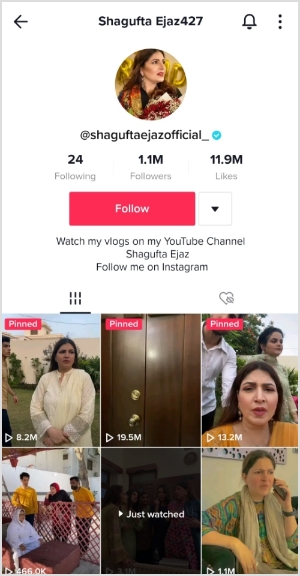 Shagufta Ejaz is a veteran TV actress from Pakistan. She has been creating a buzz on TikTok for the past few months.
Shagufta knows how to cross-promote social media channels to grow its followers. Her TikTok bio is quite a great example of cross-promoting social media accounts as she is promoting her YouTube channel and Instagram account.
However, the links for both platforms are missing out in her TikTok bio, but it still counts as a cross-promotion.
Related: TikTok marketing guide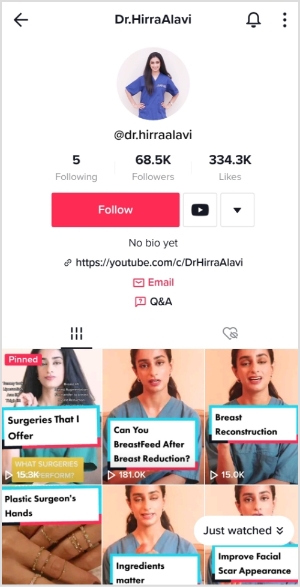 Dr. Hirra Alavi is a TikTok influencer. She came up with a rather creative TikTok bio. Her bio says, "No Bio Yet." Furthermore, she added a YouTube channel link right away.
Even though her bio says that there is no bio yet, she still has a bio written on her TikTok profile. It's a smart strategy to drive the audience toward the YouTube channel right away.
Related: 9 Ways to Track Results from Partners & Influencers
Malaika Riaz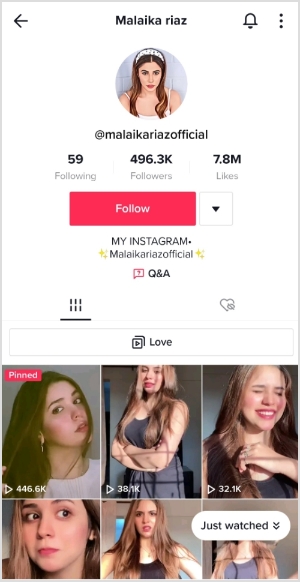 Malaika Riaz is a TikTok creator from Pakistan. She only has her Instagram handle mentioned in her TikTok bio. That's another example of a cross-promotion strategy as she directs her TikTok followers to the Instagram profile.
Travel and lifestyle TikTok bio ideas
Courtney is a lifestyle blogger and traveler. She has a short, but clear TikTok bio. It says, "San Diego based travel + lifestyle blogger." Plus, she goes on with adding her email address and website URL.
The point is that Courtney knows how to maximize the TikTok bio opportunity. Not only does it explain what her brand is all about, but she also adds her email address and a bio link that leads to all important links.
Related: Increase Tiktok Enagement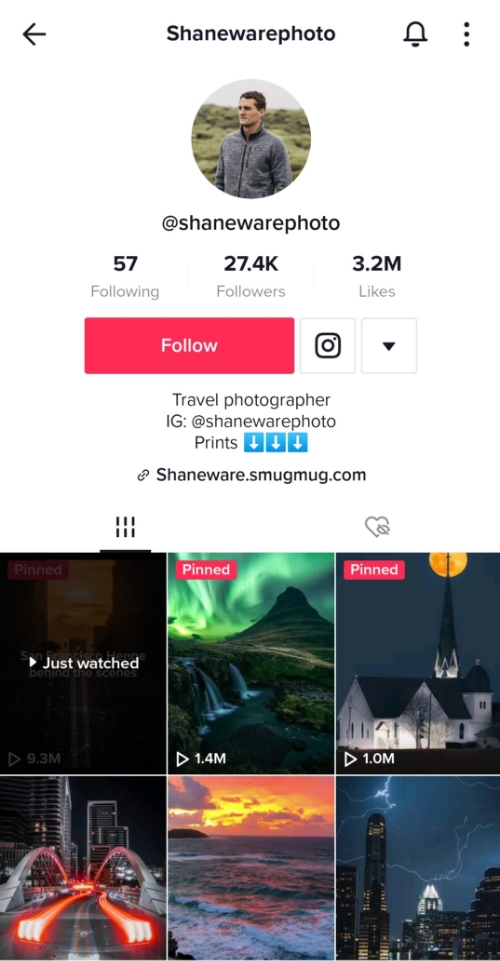 Shane is a travel and landscape photographer based in Austin, Texas. He has quite a simple yet attractive TikTok bio. It says, "Travel Photographer" on the first line, and then there is Instagram handle afterward.
So Shane is using the TikTok platform to showcase his photography as well as pointing the audience to buy his photographs via the link in the TikTok bio. Kudos to this smart move.
Related: How to check analytics on TikTok?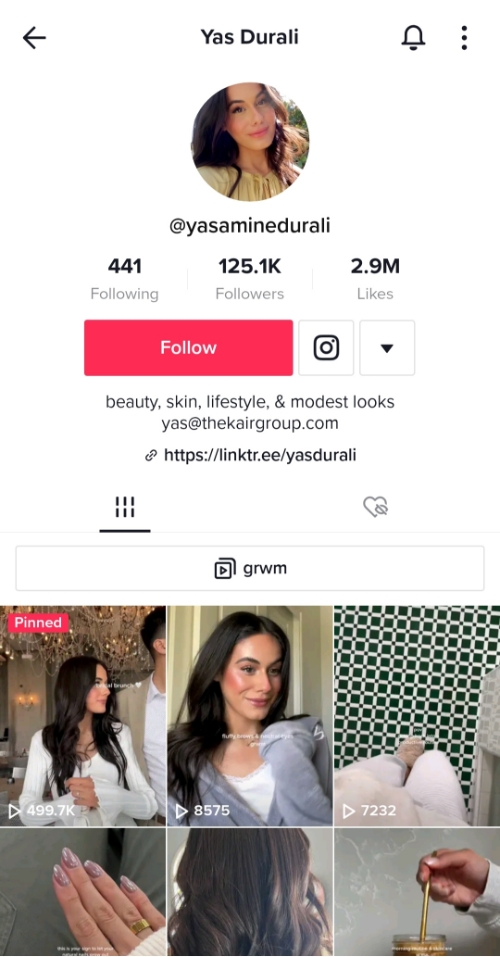 Yas is a lifestyle influencer. Her TikTok bio says, "skin, beauty, lifestyle, and modest looks." Then, she got her email address mentioned beneath the first bio line.
Besides adding the Instagram handle to the default social media place on the TikTok profile, she also has a short bio link for more links in the add a website section of TikTok. It shows she knows how and where to drive traffic from TikTok.
So these were 15 TikTok bio ideas or examples to learn or take inspiration from for adding your TikTok bio. It's always good to look up to the influencers and social media experts as compared to going blindfolded.
TikTok Bio Hacks
Are you uploading TikTok videos for a while and looking to get more views? First things first, you got to be smart about TikTok ideas to pull this off.
We've got you covered. All you need is a handful of tried and true TikTok bio hacks to turn things around.
Here are some of the tips and techniques for improving your TikTok bio:
How to drive traffic using your bio?
TikTok can surely be a website traffic source for brands, influencers, and experts. All it requires is the know-how to drive traffic. Since we're discussing TikTok bio hacks, here are some of the things you could do to open the traffic flood-gate through TikTok:
Add your URL to the TikTok bio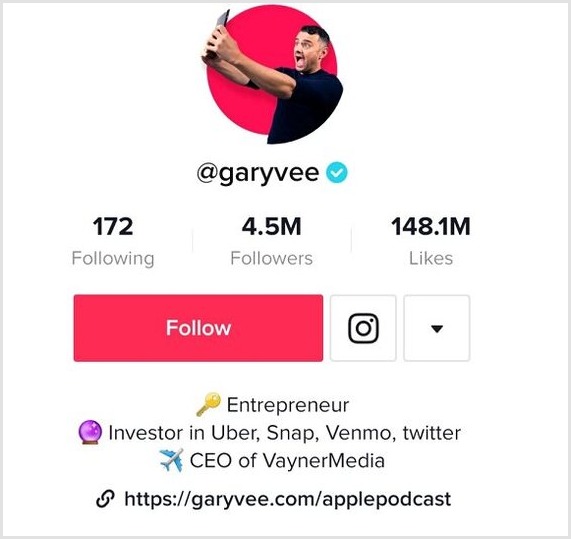 TikTok bio is one of the undervalued real estate on social media. To start on the right foot, you must first add the URL where you want to drive traffic to from TikTok. Use the TikTok bio to make it happen.
Don't clutter your TikTok bio
Most beginners who try to cash in on any social media profile bio make a common mistake, which is cluttering their bio. Bombardment your TikTok or Insta bio won't help you. The reason is that you won't properly point the visitors in the right direction.
Create videos relevant to your offer
One of the problems with the TikTok bio is that the content lacks relevancy. To make your TikTok bio work, you should start creating highly relevant and suitable content. Stick to your niche and try to help or entertain your audience with relevant content.
Collaborate with other TikTokers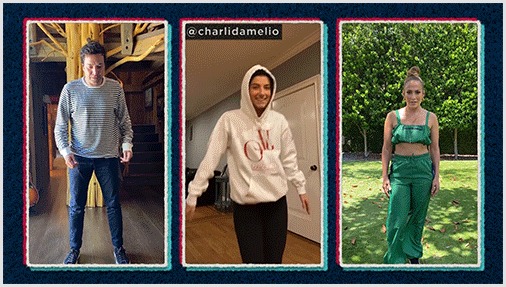 Collaboration is a key to getting more attention on social media as it helps creators meet like-minded audiences. It's the social media growth hack almost every social media influencer uses to grow. You'd find Instagram, TikTokers, and YouTubers collaborate with other creators because they know the importance of collaborating with other creators.
Related: Become a social media-influencer
Point viewers to the TikTok bio
If you want to effectively drive people to your landing page, website, or sales page from TikTok, try pointing viewers to your TikTok bio. You could ask the viewers at the end of the video or just use the in-video text or description to tell the audience about the link in the bio.
Engagement fuels attention on social media. Plus, most social media platforms boost the reach of a profile that gets attention from the audience. One of the best ways to get attention is to have conversations through comments and DMs. If you want to drive visitors through TikTok bio, make sure that you're getting some engagement on the platform.
Increase your CTR with a Branded Link Now!
How to Add a Bio on TikTok?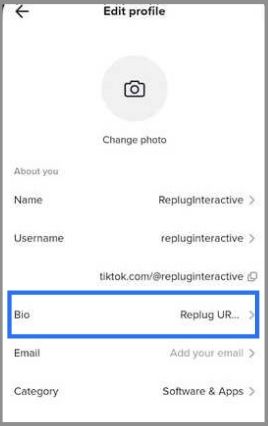 Adding a bio to your TikTok account is not rocket science. However, you should know how important this section could be for growth hacking.
It doesn't matter if you're on TikTok to generate leads, build an email list, go viral, or drive website traffic – whatever target you've set, the TikTok bio would come in handy.
Here's a simple five-step process for adding a bio on TikTok:
Open your TikTok app to get started with the process. (You could instantly get distracted by the music video or a funny skit, so stay focused).
Go to your profile to access the profile area, look at the profile option at the right bottom of the screen. Tap on the profile button to move forward.
Click on the "Edit profile" button on your profile to add a TikTok bio.
Tap on the "Bio" option; the new window would appear. Write down the TikTok bio. You could add up to 80 characters to your TikTok bio.
Save the bio once you're done writing it.
That's how you can add your TikTok bio.
How to Write a Call-to-Action for your TikTok Bio?
If you're wondering what to write in your TikTok bio, then this section is tailored-made for you. Writing a random bio won't make a difference unless there is a call to action with proper reasoning.
However, there are always some exceptions, for instance, if a TikToker goes viral, then any link in the TikToker's bio would get some clicks no matter what.
Similarly, if a celeb adds a charity or donation link to the Instagram or TikTok bio, people would sure check it out.
Example: Casey Neistat – Donations Call

Casey Neistat is a popular filmmaker and YouTuber from New York City. He once shared the story of his friend in a video – A UPS delivery guy who needed money. Neistat's followers donated a lot of money to the cause.
Anyway, allow me to shed some light on the key elements of writing a perfect call-to-action for the TikTok bio:
Precise yet meaningful: A short bio often gets the attention of the audience. Keep your TikTok bio short and precise so that the audience doesn't bypass it.
Relevant to the audience: Writing some that the target audience doesn't understand won't help here. Always try to write a call-to-action in your TikTok bio that's relevant to your audience.
Irresistible offer: Make your offering so attractive that it becomes hard to resist. Influencers and experts add coupon codes or affiliate links to their social media bio to monetize their social media presence.
Short and sweet links:Long and clunky URLs often push people away. Try using branded short URLs for your TikTok bio links.
Crystal clear meaning: Some social media users add unnecessary jargon to their social media bios to make them look good. As a result, it decreases their click-through rate on social media bio links. Both the social media bio and call-to-action must be understandable for everyone.
This is the right or wrong way to write a good call-to-action for TikTok bio. However, the above-mentioned tips would help you craft a perfect call-to-action for your TikTok bio.
How to add your other socials to TikTok?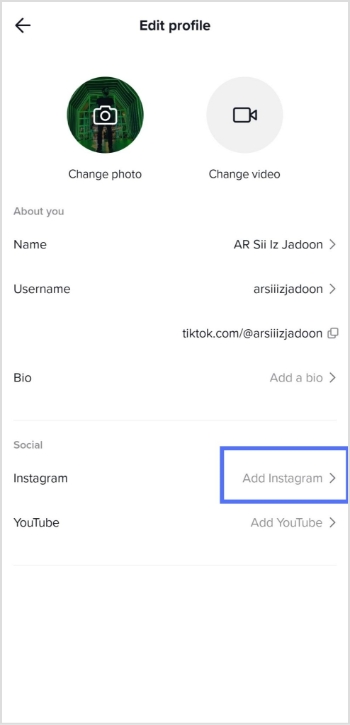 TikTok allows you to add your Instagram and YouTube links to your TikTok account. Once you add other socials to your TikTok account, they'll appear on your TikTok profile.
A four-step process of adding other social handles to your TikTok profile:
Log in to your TikTok account to get started with the process. If you're already logged in to your TikTok account, move on to the next step.
Open your TikTok profile. The profile option is available at the right bottom of the app. Tap on the profile button to access your TikTok profile.
Tap on the "Edit profile" button on your profile to start the profile editing process. Once you tap that button, it'll take you to the settings area to edit the profile.
Scroll down to the social section. Tap on the YouTube and Instagram options to add the respective social media accounts. TikTok ensures that TikTokers could display their Instagram and YouTube handles on their TikTok profile.
Related: Learn to make money on TikTok?
Let's Conclude
Driving traffic from TikTok or capitalizing on the TikTok bio isn't the problem. The only challenge is to establish a TikTok brand. When followers start to enjoy your content and become loyal followers, everything seems doable.
If you ever wish to start TikTok to make money or dominate the competition on social media through TikTok, try sticking to your basics.
The following three key elements will make a huge difference:
It all starts with the right niche. You can't predominantly put out content if you aren't confident about your expertise or passion. The solution is that pick something you're good at or extremely interested in so that you could keep going no matter what.
Consistency is the key to success on social media regardless of the social media platform. Don't start a TikTok account unless you're not sure about your niche. Figure out your niche first, and then get to work. This way, you would be able to post content for a long time.
Once you start enjoying the content creation process, you're on the track to take off. Try understanding the power of brand building once you're getting some attention on the platform.
An established social media brand won't worry about using a short URL or normal URL in the bio; they'd know that followers will click on it anyway. However, it won't hurt to utilize your TikTok bio link.
So these three key elements would immensely help anyone who wants to get big on TikTok.
Furthermore, don't overlook establishing a bullet-proof TikTok content strategy to make sure that you're off to a good start.
Capitalize on the opportunities the TikTok platform has to offer? Good luck!
FAQs

What is a good bio for TikTok?
A good bio for TikTok should be brief, catchy, and informative. Here are some tips to help you write a great TikTok bio:
Keep it short
Highlight your niche
Show your personality
Use keywords
Add links
Keep it updated
What can't I comment on TikTok bio? 
TikTok has recently introduced measures to restrict certain keywords in user comments, such as "shop", "link", "bio", and "Instagram". If you include these keywords in your comments, they may be subject to censorship or removal by TikTok. This is part of TikTok's efforts to combat spam and ensure a positive and safe environment for its users.
Where is TikTok bio?
Your TikTok bio is a short description of yourself or your account that appears at the top of your profile.
Hassaan Khan
Hassaan Khan is a freelance writer for SAAS companies, e-commerce stores, and niche websites. He has contributed to SEMrush, ThriveGlobal, BloggingCage, AllBloggingTips, and several other publications. He builds niche websites, publishes e-books, and helps website investors with his done-for-you niche site-building service.