The SAAS business model looks appealing but it's always an uphill battle building a company from the ground up. However, the challenge doesn't end with the launch, but instead, it opens up a doorway of countless other challenges to deal with. One of the challenges is building an effective email marketing strategy for a SAAS business that works like a charm.
Some startups have a fantastic email marketing strategy in place. We all have seen invite-only SAAS tool subscriptions in the beta phase, or a series of emails we get once you sign up for a SAAS product.
I'd dig deeper into these email marketing tactics for SAAS businesses down the road, but before that, I want to give you some perspective on the hardship of entrepreneurship.
Finding the right idea is hard enough, let alone making a successful company. Most startups appear to be the next big thing on the outside, but the majority of them fail. It's the harsh reality of the entrepreneurship world.
Every SAAS business goes through pretty much the same startup journey. Once an idea moves past the ideation phase and manages to reach the MVP stage, it opens a Pandora box of marketing tactics, growth hacks, and sales strategies.
One of the areas the founders should pay close attention to is the email marketing strategy for their SAAS businesses. Since most of you haven't had a chance to build an email marketing strategy before, so it'll be good to discuss the fundamentals of email marketing for a SAAS business to brush up on the email marketing techniques.
There are two key reasons why discussing an effective email marketing strategy for a SAAS business is vital:
The majority of SAAS businesses tend to focus on social media and online advertising as compared to email marketing
Most entrepreneurs aren't educated on the usefulness of a successful email marketing campaign
Have you ever noticed that you immediately receive an email upon signing up for an online subscription? That's the beginning of the email marketing journey between a user and the company. It depends on the effectiveness of the email marketing campaign that how the company engages the user throughout the journey.
I have a handful of examples to help you understand how you can develop an effective email marketing strategy.
I'll take a few seconds to explain what a SAAS business is, just in case. And, then I'll jump over to building an effective email marketing strategy for a SAAS company.
What's a SAAS Business?
SAAS is an acronym for software as a service. It's online web-based software that provides a solution and accessible to the users anywhere through the internet. Most SAAS products are cloud-based services that are designed in the CRM, Payroll, Marketing, Social Media, and Project Management genres.
Nowadays, it's impossible to think of a SAAS product without mobile integration. The majority of the top-notch SAAS products across all genres have mobile apps for Android and iOS. The SAAS companies make sure that they provide data accessibility and a better user-experience to the users on smartphones.
What's an Email Marketing Strategy?
An email marketing strategy is a set of tactics that email marketers use to engage the audience and deliver the core message via a single or a series of emails. The gist of email marketing is to engage users to opt for your email marketing newsletter and send them the information they'd love to consume via emails.
Furthermore, an effective email marketing strategy has various pillars such as automation, email opt-in tools, email copy, call-to-action-buttons, email sequence, and much more.
Let's shed some light on how to set up an email marketing strategy for a SAAS company.
Building an Effective Email Marketing Strategy for a SAAS Business
Here are the fundamentals involved in establishing an effective email marketing strategy for a SAAS business:
#1: Email Marketing Setup
First things first, you got to have an email marketing software that does much more than sending emails to the email list. You would have to know a whole heap of things in email marketing, but to start things off, sign up to a reputable email marketing service. Aweber, MailChimp, and other MailChimp alternatives are available in the market.
Before you click on the checkout button, make sure that the email marketing service you're opting for has the following key features:
Email Automation: To create automated email sequences
Integrations: To make sure that you could link your email service with the top-notch opt-in tools
Templates: To use pre-designed HTML email designs
Drag & Drop Tools: To speed up the newsletter creation process
Groups & Segmentation: To separate the subscribers according to the need
RSS: To send out the latest blog posts automatically to the subscribers
A/B Testing: To analyze the performance of different campaigns
When you step into building a SAAS business, you come across so many expected challenges to deal with. One of the fundamentals of digital marketing is establishing an email marketing strategy.
To kick things off, you got to have an email marketing strategy in place right from the beginning.  Give your input in writing the copy of the email sequence, so that you have an overview of what you're about to send out to the subscribers.
Delegate the email marketing campaign set up to an expert for digging deeper into analytics, testing, and results. A lot of companies don't frequently send out custom email newsletters, but instead, heavily rely on email automation. They set the email sequence in a way that the software keeps sending the emails.
Discussing automation or RSS or sequences would be irrelevant if you haven't signed up for an email marketing service. So the first step is more or less is getting your hands on the email marketing software and get familiar with the features.
#2: Funnel Creation
Funnel creation encapsulates the whole process of bringing traffic, attracting visitors, and capturing leads through an organized content marketing plan. Simply put, a funnel refers to the brief journey of the website visitor that begins from the landing page and completes with the click on the CTA button.
If you haven't thought this through during your email marketing strategy building, then you haven't done a good job at building your email marketing strategy.
For every level of the funnel, you have to be able to identify the next step for your customer to eventually end with a purchase. Do you want them to share their email address with you so you can tell them more about yourself? Do you want them to book an appointment? Avail of a coupon? Download an ebook?
Pro-bloggers are pretty good at creating funnels to build email lists by offering opt-in bribes. The chances are, you aren't sure what an opt-in bribe is. So an opt-in bribe is a freebie that experts or businesses offer to the subscribers for joining their email list. It's a vital part of the email marketing strategy, and you'll hear more about it later on.
To understand the nitty-gritty of funnel creation, you should know the following elements:
Opt-in Tool Selection
An opt-in tool is a product that allows users to collect email addresses. They're used on both blogs and websites to build email lists. To get off the ground, you need an opt-in tool besides email marketing software to roll. So the opt-in tool selection is a backbone of an email marketing strategy. OptinMonster, MailMunch, and Bloom are popular opt-in tools out there for collecting names and email addresses of website visitors.
Landing and Squeeze Pages
A landing page is a website page where website traffic lands through organic search, paid traffic or social media engagement. The purpose of a landing page is to push the visitor down the funnel; you can provide the download button on the landing page or place an opt-in form to download the goodie.
A squeeze page is a landing page where websites or blogs collect email addresses once the visitors click on the call-to-action button or advertising banner or a sponsored link.
Landing and squeeze pages come in handy when your website starts to get some traction, and they play a pivotal role in taking your email marketing campaign to the next level.
Freebies or Opt-in Bribes
You got to have something attractive for the audience to take action on your call. If you're simply putting a subscription opt-in box to get updates, you won't see much attention. Who wants updates from a business? People want stuff that could help them solve their problems. Offer valuable goodies that attract people and make their lives easier.
Companies come up with useful checklists, ebooks, and video courses as opt-in bribes to entice the audience to sign up for their email newsletters.
Website Copy
The website copy is the text part of the website. It's impossible to push a visitor to click through the CTA to check out the landing page if the website copy is unattractive. The same rule applies to blog posts; you can't put out the worst content and expect people to sign up for your email newsletters.
Similarly, a well-written copy also comes in handy when you're building a funnel. It's highly unlikely that a visitor would sign-up for your newsletter if there is a typo on your opt-in form. Consider copy as an essential part of the funnel whether you're using an email opt-in box underneath your blog post or you've set up a landing page for a freebie.
The above-mentioned four elements can make or break your email marketing strategy as the funnel is one of the pillars of email marketing.
So the funnel creation doesn't only mean setting up an opt-in form or popup and deliver a goodie on a squeeze upon the signup. Rather, it's a process of engaging the website visitors through delivering value upfront and infusing the idea of getting more out of this by joining in the list.
As a SAAS business, you should do what most digital marketing and content marketing agencies often do: give out free ebooks through an email funnel and collect the email addresses of the interested audience.
For example, Oberlo is a leading platform for finding products to sell online. They have an excellent funnel in place. Oberlo offers several ebooks to the audience through their email opt-in funnel: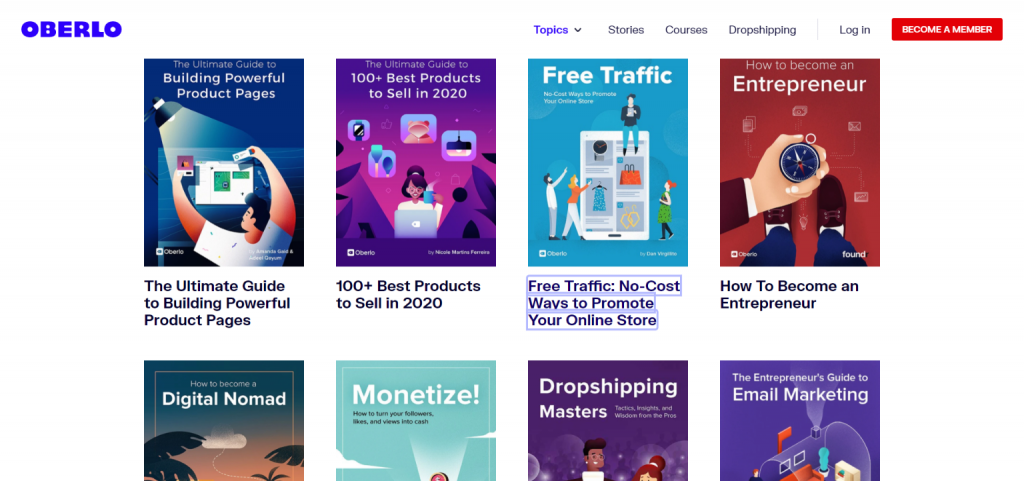 When you click-through the ebooks, they ask to become a member to get free access to the ebooks.
And, that's how they gain subscribers.
Isn't it smart?
#3: Useful Content Publishing
When we sit down to talk about email marketing, we often get swamped by the email marketing tools, automation, segmentation, and other features so much so that we ignore other stuff.
One of the important factors in making any email marketing campaign successful is to publish useful content alongside your email marketing efforts. If your articles suck, it's hard to say that people would want to subscribe to your email list.
If I were you, I'd pay close attention to putting out valuable content for the audience. When you publish high-quality content, it goes a long way.
Don't confuse well-written content with high-quality content; any irrelevant article could be well-written. Therefore, a high-quality article isn't just written very well, but it's also helping the audience, meaning it's a great fit for the site.
When you publish a high-quality article, it does the following things:
Brings organic traffic to the site
Engages the readers with the site
Increases social media sharing
Attracts more audience through social media
Helps us figure out where the potential is
Putting out useful content has a deep connection with email list building, which is why marketers put opt-in forms inside the article, at the bottom, and on the sidebar of the blog.
Take it from a guy who is writing blogs for over a decade. I have published thousands of blog posts over the past 12 years, and I can tell you that the blog posts that get ranked in the SERP are enough for building an email list.
For instance, here's one of my articles that brings regular visitors to my blog: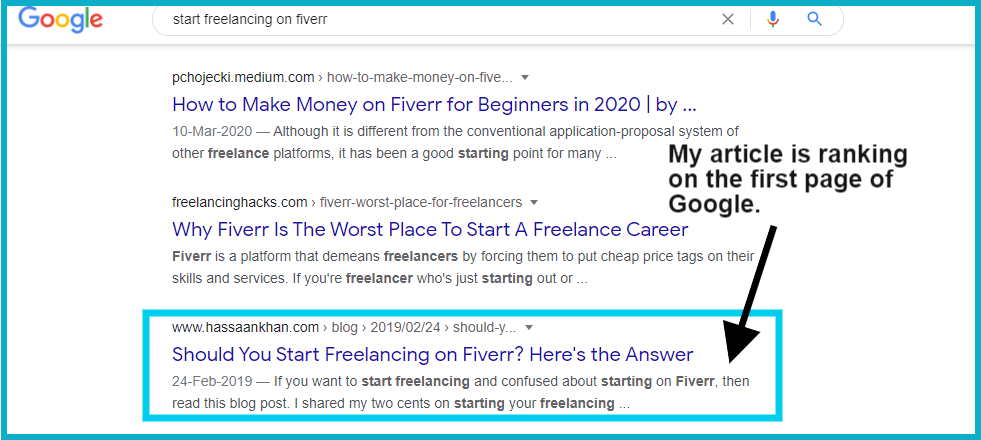 It ranks on the first page of Google for the keyword "start freelancing on Fiverr," and every now and then, a new subscriber signs up to my email list. So try writing articles that drive people to your blog.
If you have ten articles on the blog and two of them are well-ranked in Google, and you have opt-ins installed on your website, then you could expect some of the readers of those articles to convert into subscribers.
#4: Lead Magnets Infusion
One of the surefire ways to winning at email marketing is by creating good-quality lead magnets. If you're thinking that creating lead magnets are for content marketers and pro-bloggers only, then you're wrong.
A lot of e-commerce companies and SAAS businesses use lead magnets to build email lists and bring people on board; I'll give you a few examples in a second.
Let's not get carried away; some of you may not be very tech-savvy and have no idea what a lead magnet is, so let me explain it for you.
A lead magnet is a freebie that experts offer to the subscribers in exchange for the email addresses. They use lead magnets to entice people to sign up for their email list and download the item. A lead magnet is also known as an opt-in bribe.
A SAAS business shouldn't shy away from trying out building a lead magnet as they are essentially aware of such online marketing strategies. However, the question is that what they could offer in the lead magnet.
Here are a few examples of what a SAAS company could come up with to spice things up:
PDF Ebooks: A PDF ebook on a burning issue related to e-commerce or online marketing could be fantastic. Choose the area where the potential audience is vulnerable and already seeking advice from the experts. This is a key email marketing strategy to speed up the email list-building process.
Video Courses: It's easier for some people to watch a video tutorial and then get it done. So don't overlook this tactic of creating a step-by-step video guide for the prospective audience to offer as a lead magnet.
Checklists: A checklist could be an excel sheet or a PDF file that contains a list of to-do things for the audience to get through a problem or for completing a process.
Survey Reports: Survey reports are research data and statistics that researchers compile after surveys or research on a specific topic. Survey reports are usually available in PDF format.
So these were a few lead magnet ideas for SAAS businesses; I'm sure there are other things that you can offer as well.
The better you'd understand your audience's needs, the easier it'd be to come up with the right opt-in bribe to offer.
For instance, Shopify is a SAAS company that provides e-commerce solutions to online sellers. I once came across a lead magnet in which they were offering a free dropshipping webinar.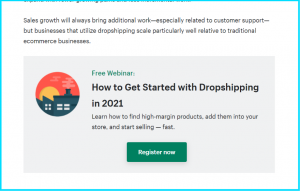 When the interested audience would register for the free webinar, Shopify would get their names and email addresses. And, that's exactly how lead magnets work.
#5: Third-Party Tools Integration
Building an effective email marketing strategy is incomplete without capitalizing on the third-party tools available at our disposal. You might wonder why would someone need a tool other than excellent email marketing software.
The answer is that it's always important to make the most of every opportunity you get. Sometimes, a specific feature isn't enough to fulfill the requirements, so we need to piggyback on other relevant tools to make things happen.
For instance, I use a simple and default opt-in box of Mailchimp on my blog. Take a look at the screenshot below: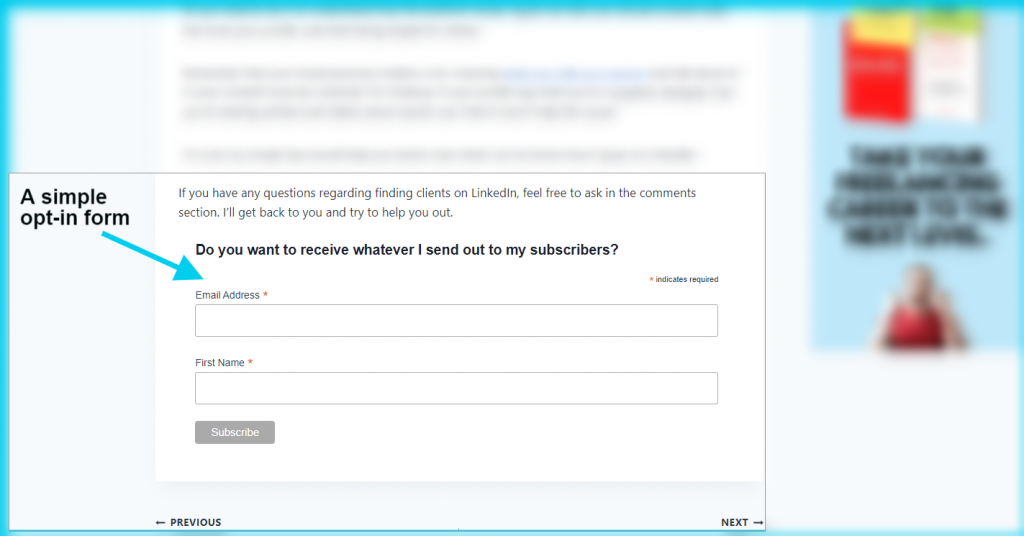 It does the job, but it could surely be better. I must say it doesn't convert as much as I expected it to.
When I started my authority blog, I opted for a third-party email opt-in plugin for the opt-in forms. Take a look at the opt-in form on my authority blog: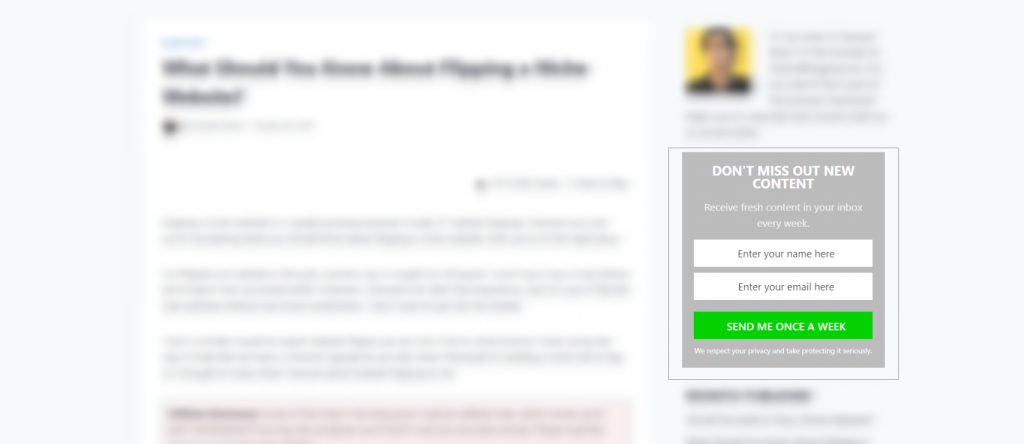 It looks much better than the one on the personal blog.
So don't ever hesitate to try out useful third-party tools that could boost your email marketing campaign's performance.
Replug URL shortener doesn't only provides you short URLs for social media sharing but also helps you track the clicks on the short URLs.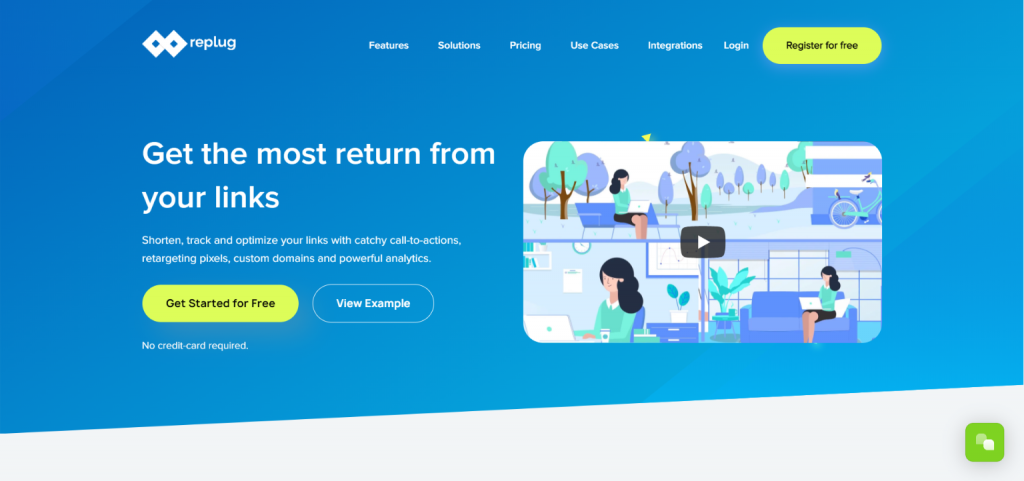 The best part is that it integrates with all major email marketing software. What it means is that you can target the audience who click-through on your email newsletter links and bring them back to your website.
Replug integrates with Mailchimp, Aweber, ActiveCampaign, ConvertKit, Constant Contact, MailerLite, OptinMonster, and many others.
One of the essentials of building an effective email marketing strategy for your SAAS company is connecting your email software seamlessly with other marketing tools. Be sure to check out the Replug tool for boosting your email marketing campaign performance.
#6: Analyze the Performance
You can't keep experimenting with email marketing without looking at the outcome. Digital marketers and pro-bloggers keep on changing the opt-in forms, form copy, CTA buttons, and whatnot. A SAAS business website is no different. One should also analyze the performance, make tweaks, and re-analyze the results.
Experimenting with your email marketing strategy becomes an integral part of the growth, so don't hesitate to maneuver along the way. There are no hard and fast rules for analyzing the performance of an email marketing strategy. It's pretty much obvious that you need to look at the open rate, click-through rate, and conversion rate of your emails.
However, it shouldn't stop here, but instead, you must go ahead and make some changes in your email marketing strategy to see the difference.
Here are some tweaks to try out:
Experiment between plain text and template-based newsletter formats
Alter the subject lines for your email drip to see the open rate
Try re-writing the copy of the email to see the difference in the click-through rate on the CTA
Use subscriber name tag in the email subject to see the impact on the open rate
Once you start to look through the statistics and performances of your different campaigns, you'd be in a better position to tell what's working for your SAAS business website.
What's the Takeaway?
I've tried not to make things super complicated for the readers. If you're a SAAS business owner, you may have other headaches to deal with as well. So I thought to keep this article as simple as possible.
The gist of the article is that one should brainstorm on the value proposition that can be offered through an opt-in channel to attract, engage, and convert the random website visitors.
Sure, it also means you must be aware of several other things such as what email marketing service to pick, how to do email automation, and how to A/B test with the opt-in forms.
The teams behind most software-as-a-service companies focus on the software front-end and back-end and customer support, which is good, but they often overlook the email marketing side of the business.
The purpose of this article was to shed some light on the key areas of email marketing for up-and-coming and already-existed SAAS businesses.
What else would you suggest to a SAAS business from an email marketing standpoint?
Hassaan Khan
Hassaan Khan is a freelance writer for SAAS companies, e-commerce stores, and niche websites. He has contributed to SEMrush, ThriveGlobal, BloggingCage, AllBloggingTips, and several other publications. He builds niche websites, publishes e-books, and helps website investors with his done-for-you niche site-building service.