The cart abandonment rate in the e-commerce industry, as you know, is high. As per 41 cart abandonment rate stats, the average shopping cart abandonment rate online is 69.57%. 
Even if you look at apps, the number of users uninstalling an app after only one use was 25% in 2019.
No wonder, many SaaS businesses are now recognizing the value of creating fantastic onboarding experiences to retain their customers. 
Now, what is user onboarding?
In simple terms, user onboarding is a process that introduces your product to new users, letting them understand how to implement it best. 
When you have a well-designed user onboarding strategy, users can easily understand your product and end up becoming loyal users.
An excellent user onboarding plan has a structured, step-by-step framework that guides new customers through the product. 
However, note that user onboarding is not a one-time process. Instead, it is an ongoing process since you need to keep revising, upgrading, and re-designing it. 
Here are the 12 best practices your business can implement today to create a successful SaaS user onboarding process:
An incredible customer onboarding experience begins with sales. 
The goals set by your sales team about what will happen in the initial days or months after users have bought your product will significantly help your onboarding progress. That said, it might even deter the onboarding progress.
Create pre-sale content, speak to prospects, and train your sales teams regularly. 
Users will feel good about your company when they can solve an issue on their own. In fact, a study reveals that 73% of users like to solve the problems on their own. 
To make your users feel good, create content that will assist your users in solving issues on their own. It will also make the onboarding journey faster.
Just ensure to make it available to your users at the right time. You can send the content via email or use in-app messaging. You can also add it to the onboarding UI too. But don't force it upon your users.
Consider creating your content with ContentStudio's intuitive editor and also leverage on its content planner and calendar feature that allows you to collaborate with your team.
Do it like Slack! Use bots as customer service.
If you have used Slack, you definitely will be familiar with the Slackbot. 

Source
It simplifies the onboarding process when a customer first signs up to the platform, but it doesn't stop there. After the initial onboarding process is over, the Slackbot serves as a customer service/tutorial as the onboarding process doesn't end on the first day. 
It is evident that the company had planned past the first day when they planned their user onboarding. Rushing your users through a quick tutorial and then leaving them with no further help insight is never a good idea. 
Sure, you want to tell your new customers many things. But don't overwhelm them with information. Keep it simple. Some things are better said when or can wait until they have spent some time in your product.
Allow users to onboard before signing up.
Allowing users to onboard by giving them a free trial is a great process if you wish to create a habit-forming product that customers turn to regularly.
It is a practice common with educational apps. For instance, if you visit the Babbel website, you will be given the option to either sign up immediately or take a free trial mini-lesson.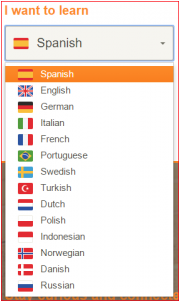 Source
Before the platform asks the users to sign up and create an account, they already know which languages are being presented, have chosen their preferred language, finished their first lesson, and made some advancement. 
When the users have gained some value from the product, and they are most likely to commit, Babbel asks their users to sign up.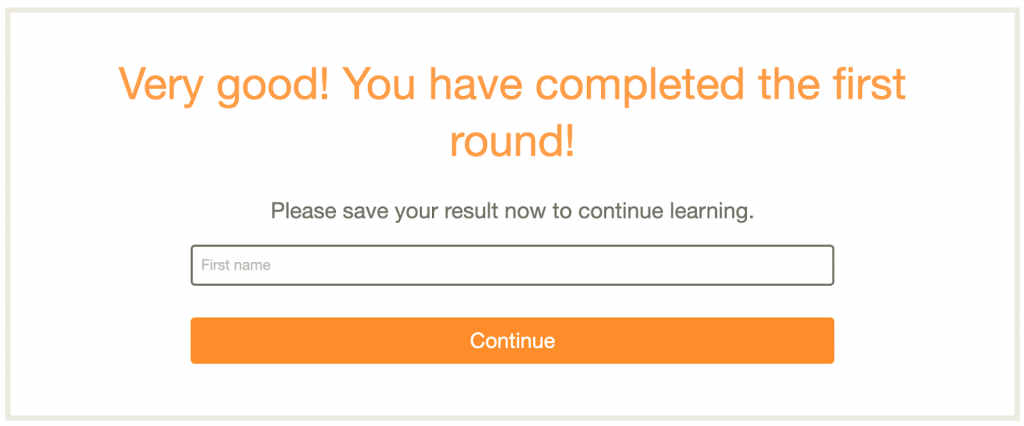 Also, note how they offer positive reinforcement and encourage the user to continue. 
Offering free content to users before making a monetary commitment is an excellent tactic to convert users into paying customers. Once the users get used to the interface and like it, they are more likely to continue using it.
Provide interactive walkthroughs
User onboarding, as you know, can be quite dull. Customers want fast and painless interactions. And one way to retain your customers is to engage them during the onboarding process.
Tools like Whatfix (that are top WalkMe competitors) can help you with:
Keeping your users engaged throughout the onboarding process

Helping you easily design interactive product tours

Design & create onboarding task lists

Provide appropriate guidance to your team & customer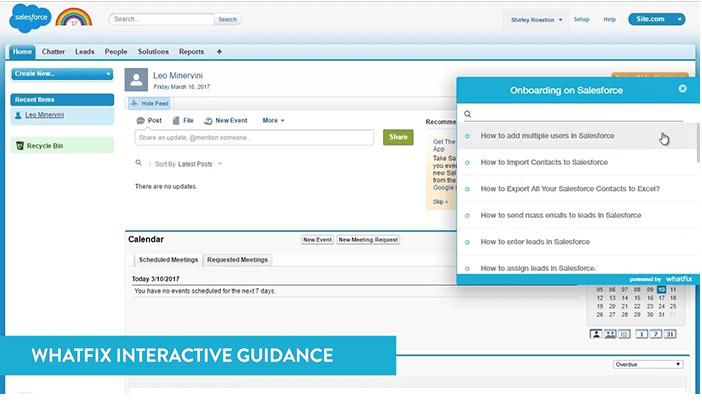 Source
It guides the users through an app, helping them to navigate through its various touchpoints and encourages them to take action. You can also personalize the onboarding experience, which is key to engagement.
Plus, it is easy to use. Simply install the Whatfix browser extension, and you are good to start. The browser extension is compatible with any web page. When you click the browser extension, the Whatfix Guide Editor will be launched. You can then start creating your interactive walkthroughs.
It is estimated that 91% of buyers prefer visual and interactive content. So, take advantage of it. 
It is said that 64% percent of customers buy a product after watching branded social videos. And 51% of marketing experts worldwide say that video content brings the best ROI. So if you are not using video content, you are missing out on a lot.
Use customer onboarding videos to walk new customers through a product. 
For instance, if you sign up for Xero, the web-based accounting system, the first thing you will notice when you try to access your new account is a prompt to view the 'Getting Started' video. The new users are given an animated walkthrough, thus simplifying the onboarding process.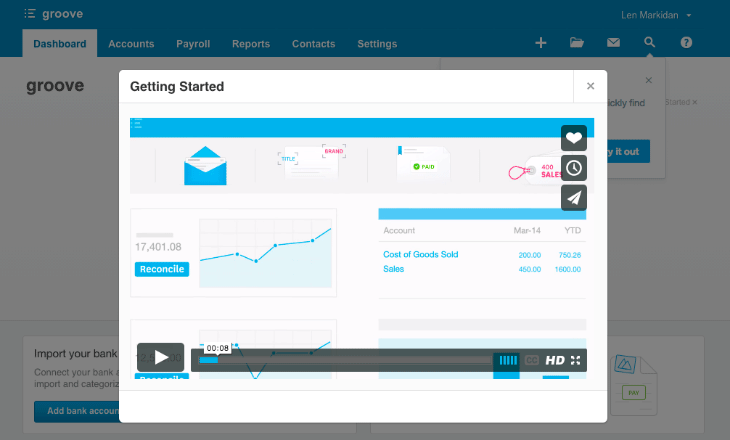 Source 
The "aha" moment should arrive for the users as quickly as possible. 

Don't let your users wait too long to get to know the value of your product.
If you are working with complex tools, it will be challenging to arrive at the full "aha" moment quickly but look for chances to show micro-value quickly when your users sign up.
The onboarding process should not be only about welcoming the users, discussing goals, and arranging subsequent steps without getting anything substantial done.
Make onboarding skippable
If you don't want to frustrate your current users, make the onboarding skippable. Some of your 'new' users may have already viewed a lot of your products.  
Chances are your users may merely be downloading your app onto a new device, sign up using a new email id, or they may have been made to sign up again due to other reasons.
Your users will not want to go through your onboarding process twice. To solve this issue, create a skip button just like Airbnb does.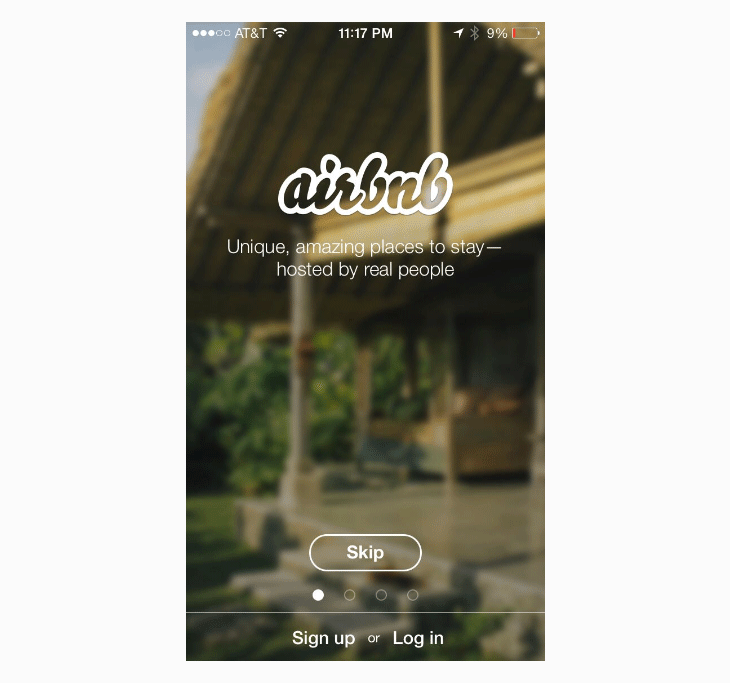 Source
Your users will thank you for not having to do extra work.
To motivate your users to keep going, set expectations, and allow them to complete setup at their own pace, progress bars are crucial.
Consider adding relevant animation. It will beat the standard progress bars.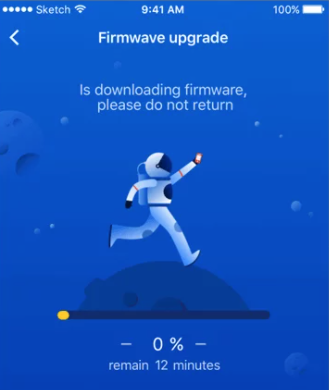 Source
Or set expectations by letting your users know where they are exactly and how much work they need to do before they complete the task.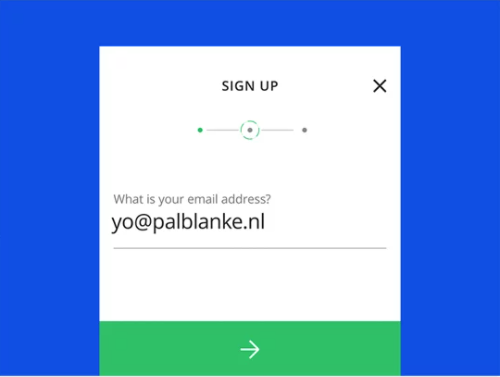 Source
Progress bars can also be fun and colourful.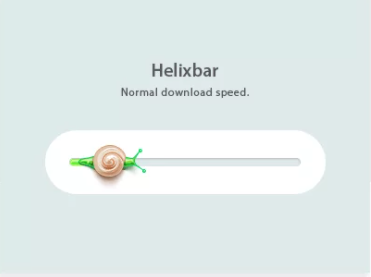 Source
To further engage your users and encourage them to complete the onboarding process, you can also use tools like Replug. It will allow you to create pop-ups to engage users when they are about to leave.
 Offer excellent customer support
Don't make onboarding all about the product. Customers want to feel special. Reach out to them with proactive customer service from the first day.
Let a customer support team member send a personal email letting your user know that you're there to assist. You can even make a phone call. Or send a warm in-app welcome message. 
This action will let your users know that they are valued, and this will influence them to do business with you. 
In a survey, it was found that 42% of customers were willing to pay more for a friendly, welcoming experience.
Don't think it is too early to get feedback. Remember, not all unsatisfied users bother to complain. Be proactive in collecting feedback from the start.
You can ask relevant questions in case a user failed to complete the onboarding process.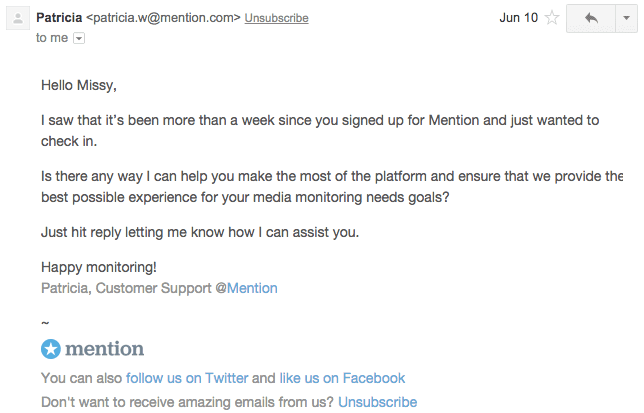 Source
If they have completed the onboarding process, you can send them a quick survey asking them about their experience.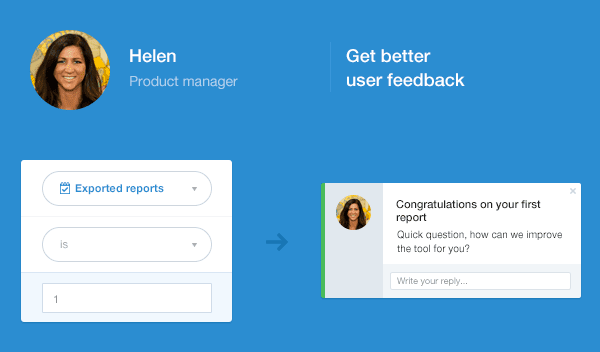 Source
But don't stop there. Use analytics to analyze your customers' behavior and find out about their experience with your product. 
Don't forget to use A/B testing to comprehend what type of content would effectively onboard your users. A/B test will compare two different versions of content to let you know which one performs better.
If you implement the better version effectively, you will experience higher customer conversion.
The A/B testing process involves collecting data, deciding goals, creating a hypothesis, making variations, running experiments, and studying results. A/B testing will help you in creating brilliant customer onboarding strategies.
Wrapping-Up
Remember that your users are only humans with real problems. They are looking for a quick onboarding process and avail whatever value your product or service is offering. By making the onboarding process simple for them and giving the best customer experience, you will be able to convert them into paying customers and also retain them for the long haul. Follow the 12 best practices mentioned in this article to create a successful SaaS onboarding process.
——————————————————————–
Author The Author:




Gaurav Belani is a senior SEO and content marketing analyst at Growfusely, a content marketing agency that specializes in content and data-driven SEO. With more than seven years of experience in digital marketing, his articles have been featured on popular online publications related to EdTech, Business, Startups, and many more. Connect with Twitter at @belanigaurav.
Sadia Umer
Sadia Umer works on putting together high-quality content for Replug customers to read. When she isn't writing, she can be found reading and trying random life experiments.