Companies need to adopt machine learning to develop unique content for SEO, beginning with a set of data based on specific variables, Machine learning, coupled with the need for analysis and reporting, as testing new strategies and implementation is imperative to understanding successes and failures.-  Jenn Mathews of Jenn Mathews Consulting
Emerging Technologies have a major role in revolutionizing and educating an average person. Now, people are aware and enlightened about data and its protection. Toucan Toco has predicted that 90% of the companies will have CDO's in 2019 which will help companies communicate with their associates in a civilized manner and make better decisions for their future projects.
When you talk about data, the use and importance of reports come naturally. Data is useless when it is not observed periodically. That is why protection and organization of data are vastly being recognized among businesses.
Why is Reporting Important?
Reports are used everywhere; in one form or another. If you're not collecting and analyzing your data trends properly, you wouldn't know what you're doing and what to do next. Reports help you nurture your audience with a better understanding of the service you provide them and how it helps them. All these things help you move forward and nearer to your goals and vision.
Reports and business analytics provide useful data which plays a major role in the growth of an organization.
Let's first discuss how reports and analytics drive you towards the pinnacle of PR.
Data Story-Telling
Modern marketing strategies require you to be empathetic and create content that is relatable to the reader. Telling your personal stories through data and using reports for this purpose is a clever marketing tactic.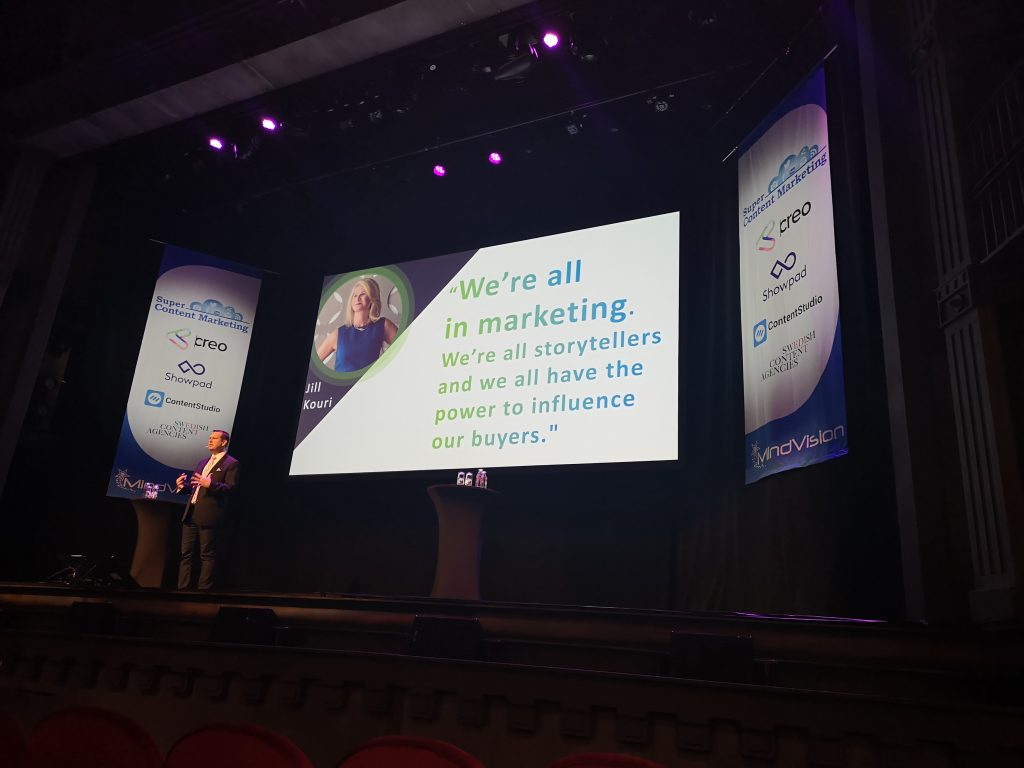 Data story-telling is a derivative of Dataviz (also known as Data Visualization) and Business Intelligence; which support you to present your data in the most interactive and apparent way.
In 2015, Danielle Kurtzleben of Vox created a great example of data storytelling. She gave a statement 'You don't eat the way your parents did' and instead of showing a year by year comparison respective of each food item, she presented it in the form of a chart that showed the shift of food consumption over the years. (Visit the link to view the complete chart).
Keep all the stakeholders aligned
Real-time reporting helps companies progress faster and monitor their activities on the go.
Irrelevant to the size of your company or the span of your stakeholders, reports are the most convenient way to conversate with your team. All the successful B2B and B2C companies prefer to compile data in reports and present their research in an optimized manner.
Pro-Active Measures
There is a very famous saying; 'what doesn't kill you, makes you stronger'. When you have a detailed report in your hands, you can measure your achievements and identify past mistakes.
This data could easily be represented in reports which would resultantly lead to a positive impact on your growth. This means, that if you keep track of all your failures, they could turn into your strengths as well.
With the help of different analytical or business reports, you can prepare for the future and easily dodge the evitable mistakes. You could get an early insight into your actions and their outcomes and plan your strategies accordingly.
Reports in Marketing
Reports have an integral involvement in identifying different KPIs which could be used in measuring the performance and progress of your marketing campaigns. These reports also help in predicting future trends by comparing different behaviors and practices of different entities.
Reports reinforce data-driven marketing; which the modern marketing methods heavily rely upon.
Replug Reports
Replug brings a great opportunity for its users to create as well as track their brands in a single place. Each of your brands and all the marketing campaigns you create for them in Replug are trackable.
Replug reports help you analyze the strengths and weaknesses of your brands and campaigns. You can measure the ROI gained by each campaign instantly, and plan your future campaigns accordingly.
The same way, these reports also enable you to detect if something is going wrong or if your campaign is not working as planned.
Depending upon your requirement, you can inspect your Reports daily, weekly, or monthly.
Let's see how Replug Reports work and what you can get from them.
Adding Reports in Replug
As explained earlier, you can segment the performance of your brands & campaigns created in Replug and represent them in the form of analytical reports.
Replug has a whole section to cater the reports of your brands and campaigns.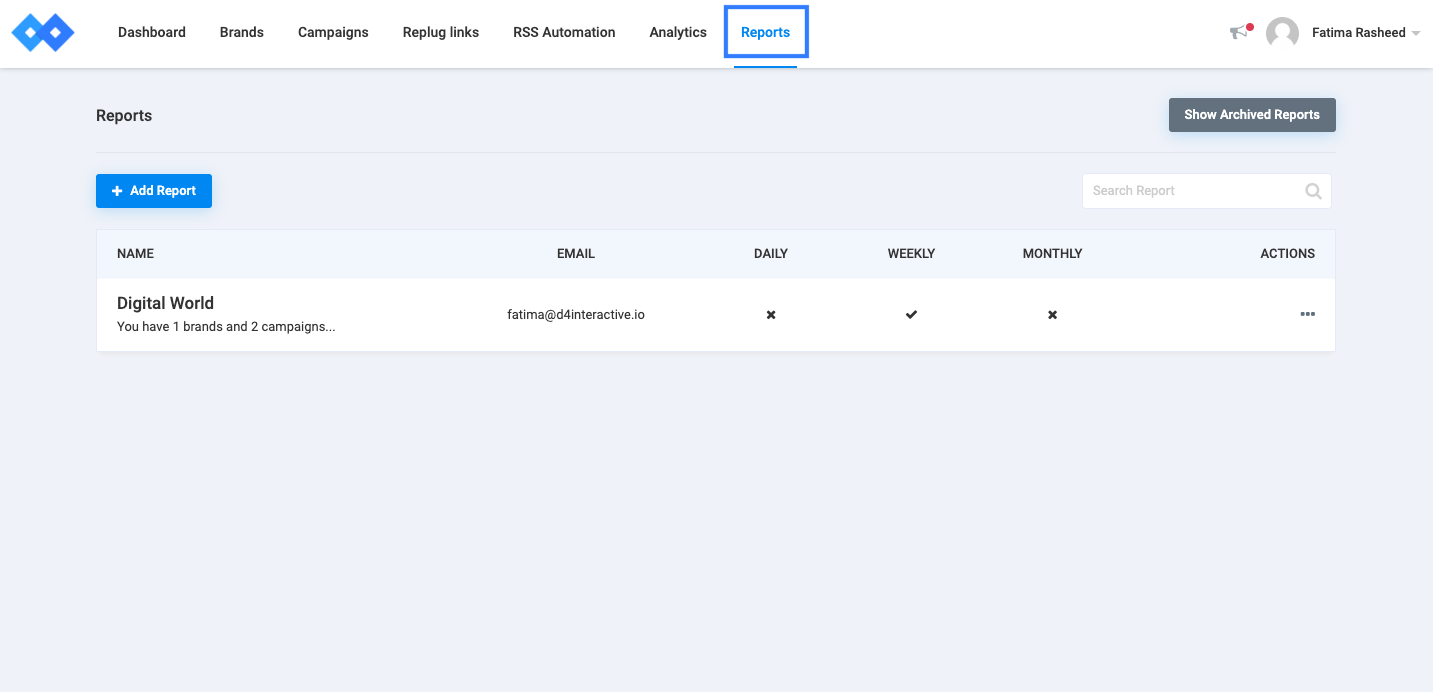 While adding a Report in Replug, you need to select the brands and campaigns which you wish to track. Replug creates a daily, weekly, or monthly report depending upon the frequency you choose. All of these details are entered in the pop-up form which would appear when you click on Add Reports.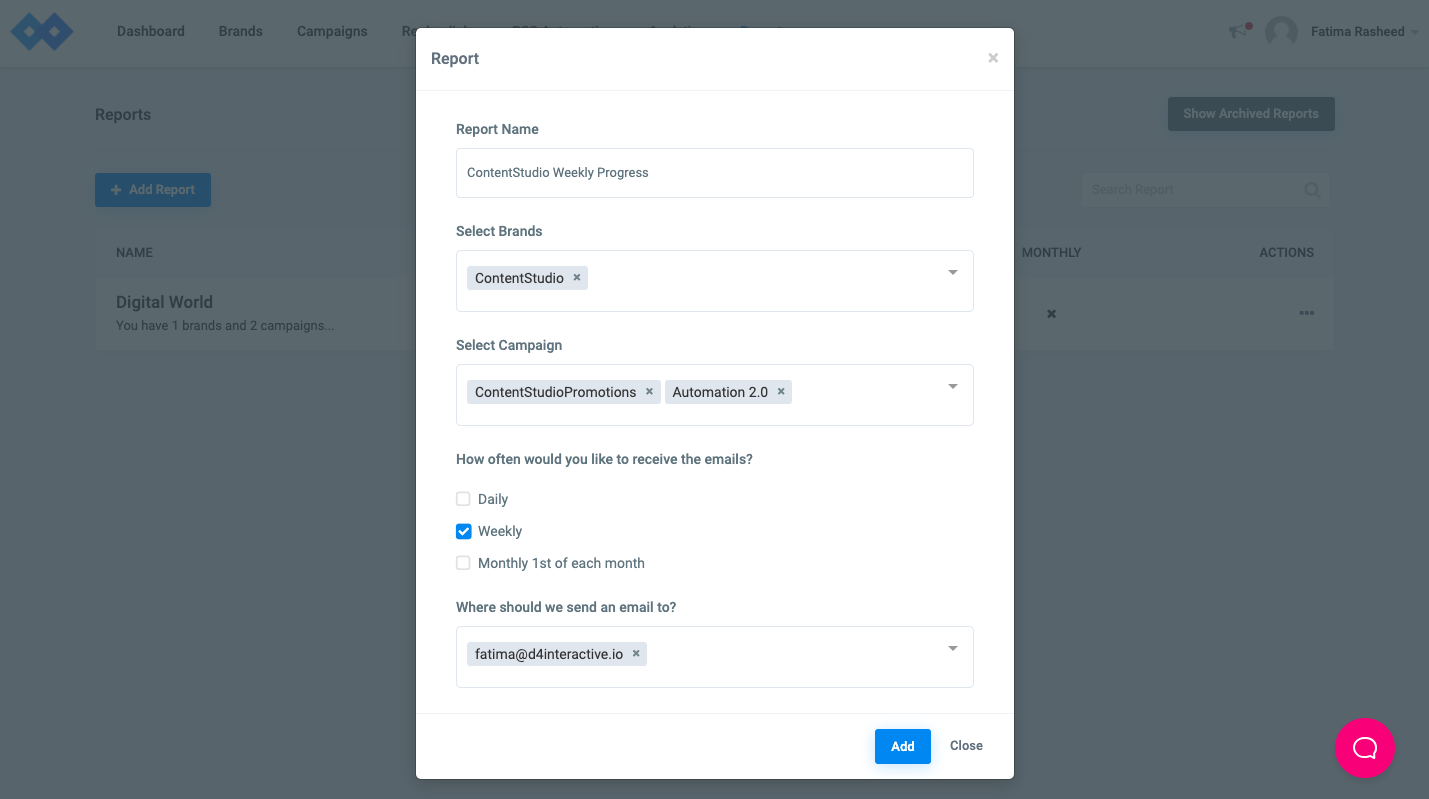 These reports are then sent to the email address you entered while adding your report. You can download the report in CSV format.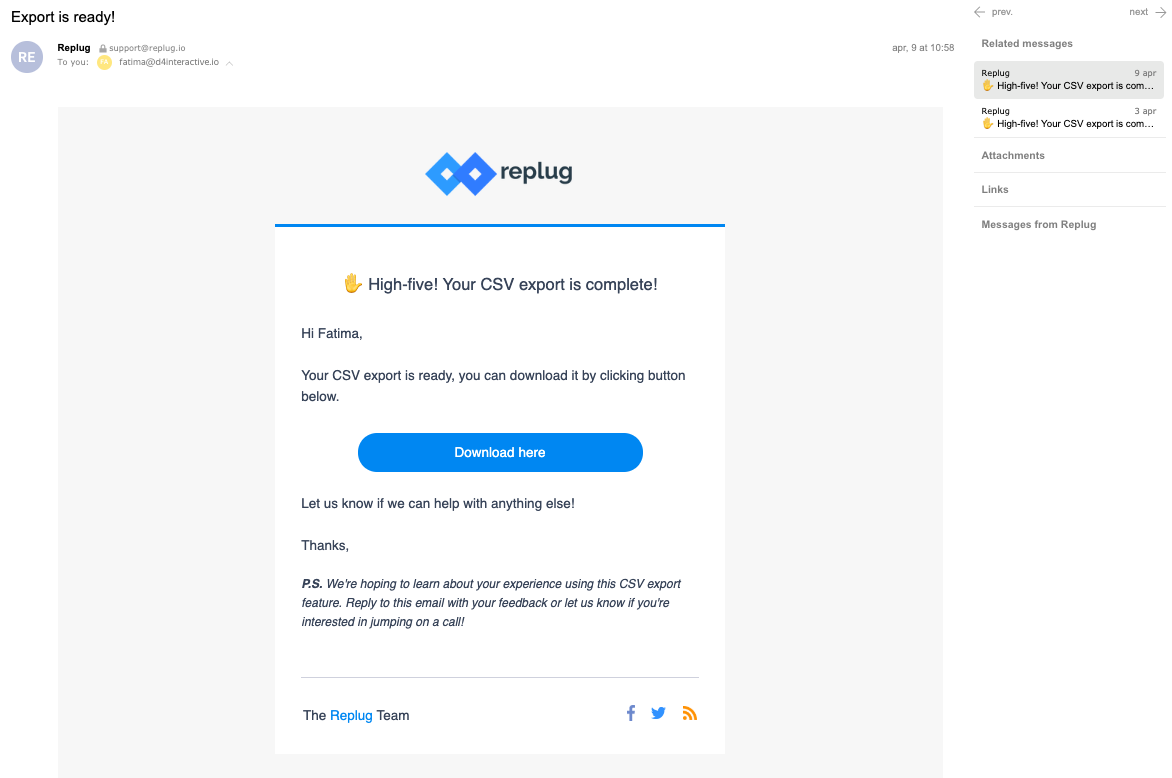 What can you view in a Replug Report?
Replug reports let you view the following metrics of your brands and campaigns.
Shortened URL: Custom Replug links created for easy link tracking
Original URL: The original link of the webpage you used in your campaigns
Campaign: A campaign created for the brand
Clicks: No. of clicks for each replug link
Conversions: Total conversions as a result of your campaigns
Conversion Rate: A link's Click-through rate
Avg. Time: Total time spent by the visitor on your link
Tags: Tags assigned to each campaign
Unique Clicks: Unique clicks received by each Replug link
Creation Date: The date when the campaign was created
Actions performed on Replug reports
Once your report is added to the system, you can perform the following actions on your Reports.
Archiving/ unarchiving Reports
If you want to separately store old reports which are still important to your company but they're not being actively used, you can add them to an archive. These reports will be retained in your archive for as long as you want and you can unarchive them when you want to start using them actively again.
To add a report to archive, select it and click on the menu button underneath Actions. Click the second option that says Archive.


Similarly, if you want to view archived reports and then unarchive them. Firstly, click on the button Show Archived Reports placed on the top-right corner of your screen. Then select the report which you wish to unarchive and click on the unarchive button underneath Actions. 
If you want to view the report you just unarchived, click on the button Show Active Reports placed on the top-right corner of your screen.

Editing/ Removing Reports
If you want to edit some information in your Replug Reports, you could do that by clicking on the Edit button underneath Actions. A pop-up will appear where you can make changes and click on update to save the changes.


The same way, if you want to permanently delete a report from the system, click on the Remove button (third option in the above image).
Analytics
The trends in data analytics have drastically increased since 2015. Last year, Big Data adoption reportedly increased by 59% from 17% in 2015.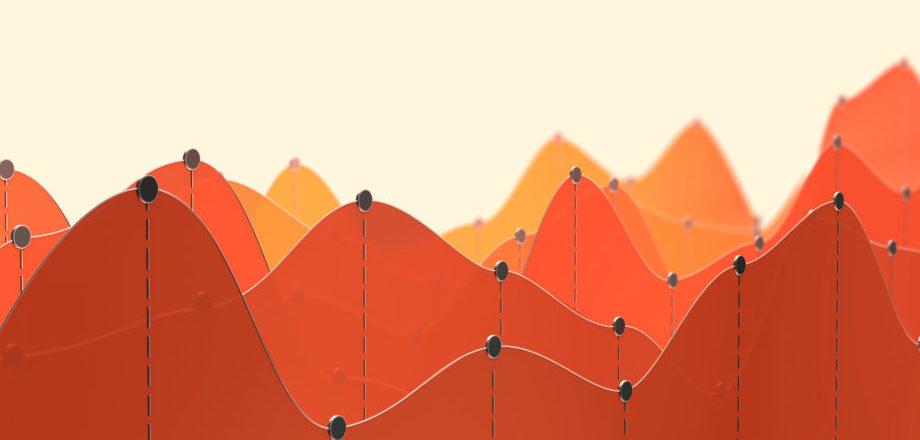 Analytics, just like reports, help you track the current standing of your campaigns. It's better to be safe than sorry; that's what data analytics do to your business.
Replug links – Bulk Export
Replug allows you to track your Replug links and examine their performance by analyzing the metrics like clicks, unique clicks, and conversion rate, etc. A Replug Link is a shortened, customizable link that you can create against any URL you visit.
Now, you can export your links in Bulk and gather some useful insights on:
your user base; demographical data like age, gender, country, etc.
The type of content you share
The content that maximizes your audience engagement
The conversion rate you achieved – Click-through Rate
Unique Clicks
To export your Replug links in bulk, locate and click on Replug links on the top navigation bar. All of your customized replug links will appear with all the analytical data.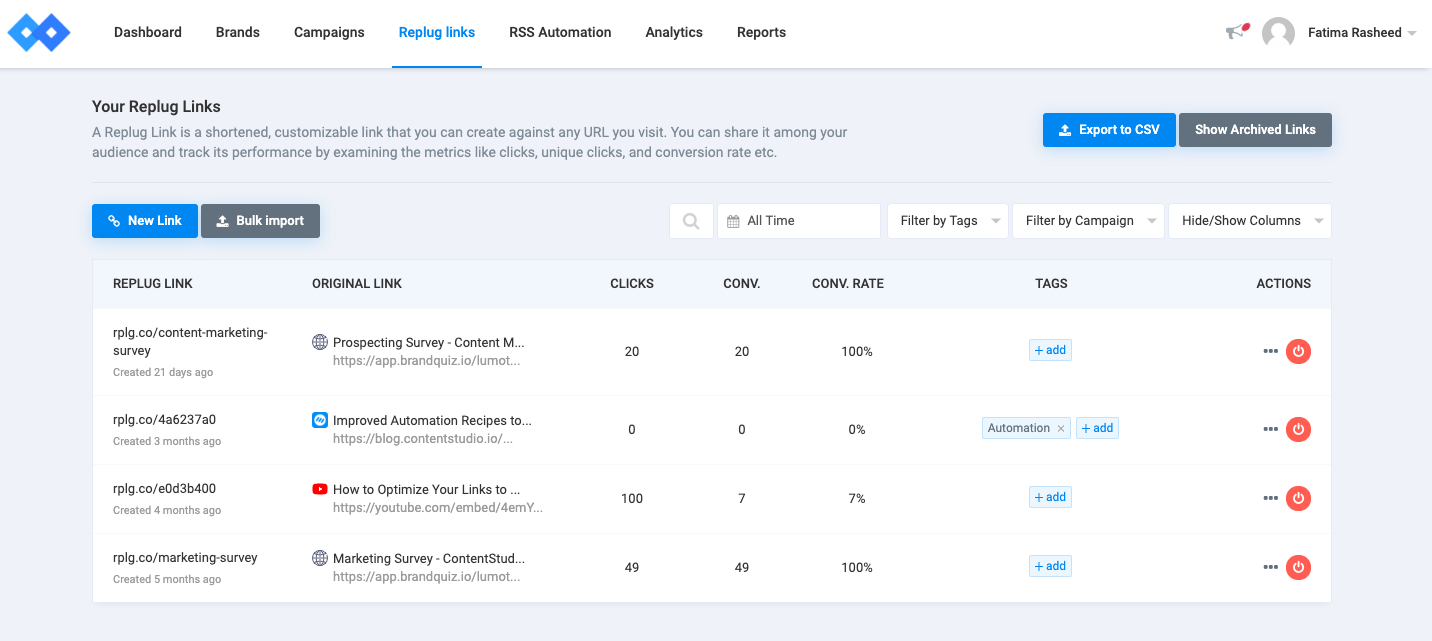 Click on the Export to CSV button placed on the top-right corner of your screen. A pop-up will appear where you have to select the category of links that you wish to export.
Here you can select the:
Brand(s)
Campaign(s)
Fields which you want to export in your CSV file. If you want to exclude the data for some fields in your exported report, you can uncheck the field's label here (as shown in the image below).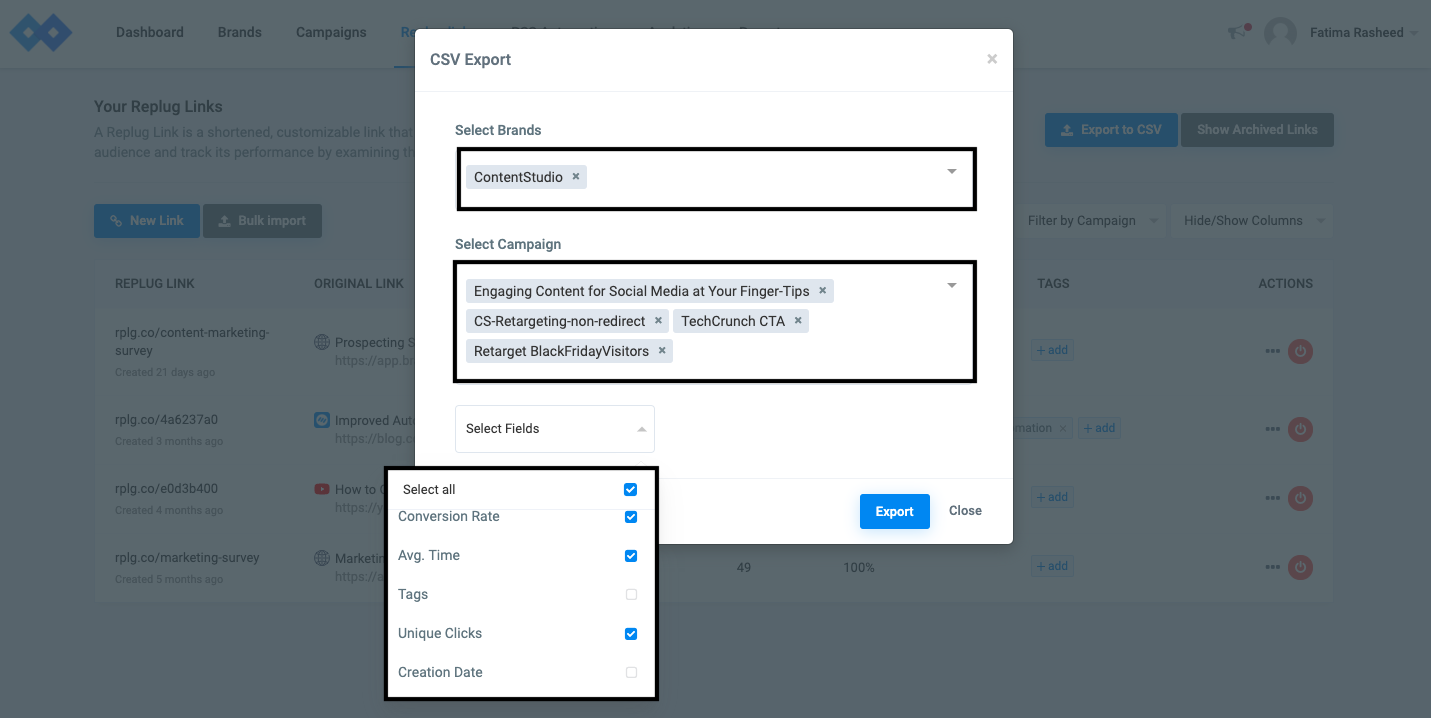 Click on Export and your CSV file will be exported to your connected Replug Account. You can download this CSV file and use it as per your requirement.

Exporting Archived Links
If you have some old but useful links that you have archived but now you want to export them and study the performance of your links, you can do that in a few easy steps.
First of all, you have to unarchive those links. Locate & click on the button Show Archived Links. You will be redirected to all your archived links. Click on the unarchive button underneath the heading Actions (as shown in the image below)


As you unarchive your links, they'll be shown in the list of active links which you can export in your customized CSV file.
Wasiq Naeem
Wasiq Naeem is a content and digital marketing veteran who is passionate about his writing. Extensive research and producing high-quality content is just another day at the office for him.