Working from home is our new reality. However, the universe sent the early signs through Robert Kelly's interview in 2017. We took it as a funny work from home meme until we all had our own BEST work from home memes in 2020-21 when the whole world was working from home.
Did the universe send early signs?
In March 2017, Robert Kelly, an associate professor of political science at Pusan University, South Korea was being interviewed by BBC news, about the South Korean president, from his home office when things got a bit chaotic.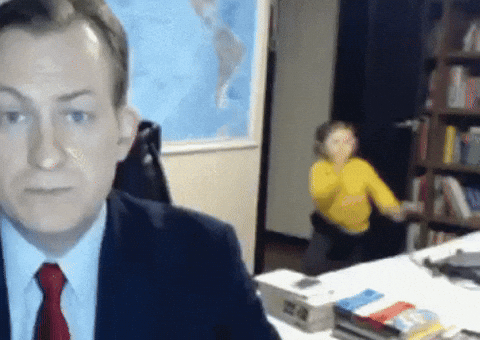 His 4-year-old daughter walked in the room followed by her 9-month-old baby brother rolling into his office in a 'hippity hoppity' style, which, by the way, has now become shorthand for confidently entering into the room.
Kelly's wife then scrambled in to hustle kids out of the scene leading this whole situation to an online family blooper.
Somehow, Kelly maintained his composure through the whole situation which was later linked to the rumours that he didn't stand up to shoo his kids because he wasn't wearing pants.
However, Kelly clarified that he didn't stand up because he wanted the interviewer to cut the interview short.
Is it Karma?
The whole world laughed it off and he became a viral 'dad'. However, Mr Karma also had Kelly's episode tuned in and later it saw his memes trending on social media. It then decided to come to us in 2020 with a global pandemic, so we all could understand Kelly's situation while working from home.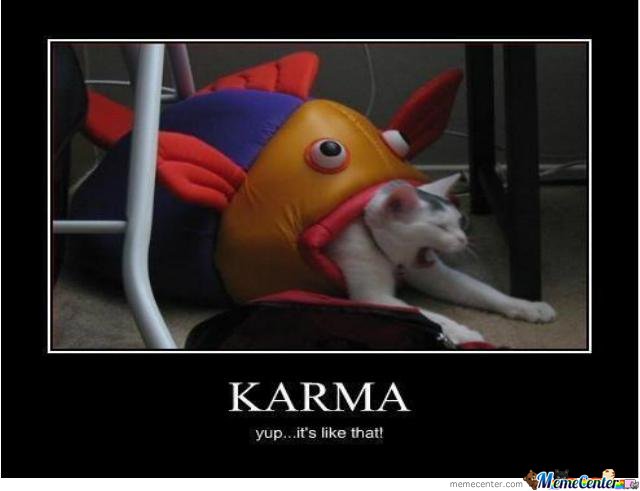 Is our current work-life a big compilation of funny work from home memes? YES!
The most difficult thing in the world is to spell pneumonoultramicroscopicsilicovolcanoconiosis, which refers to lung disease. The second most difficult thing is to imagine our digital lives without memes. Imagine your day without tripping on the best work from home memes? Can't imagine, right?
Meme marketing is here to stay and the popularity of meme advertising can be evaluated with the fact that according to Google trends "Memes" is a more popular search term than "Jesus". Memes is the trending digital marketing strategy for brands these days.
What makes memes so special is the way attitudes, feelings and situations are communicated in a quick, snappy and witty manner. Therefore, it is no surprise the best way for brands to communicate as well is through memes especially with ad-averse generations who smell branded content from miles away.
The success of an organization majorly depends on its employees and employee work culture. Having proper remote work software can help businesses develop a perfect employee work culture.
Working from home is the new norm and we had no standard to compare and relate our emotions and challenges of working from home until the best work from home memes started flowing in.
Some of our top picks for best work from home memes are:
How it has been in the beginning!
The week started looking like this: Monday, Tuesday, another day, another day, another day seeped into the weekend, Sunday.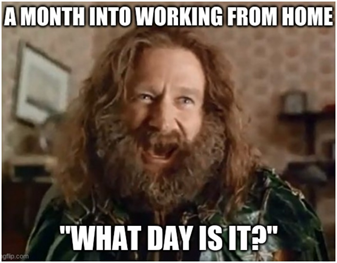 Zoom calls have become a part of our lives like vitamin supplements. Here is a guide to nail your zoom call while working from home – and hopefully not becoming the best work from home meme. 
Preparing for Zoom Meetings Memes  and Zoom Memes
Every Zoom call that could have been an email shows how everyone should not be a project or product manager. Have you ever heard about project management tools? They are there for a reason.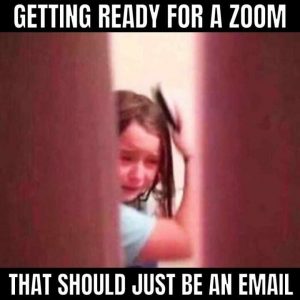 There should be a standard guidebook circulated on how to take zoom meetings for maximum productivity in minimum time.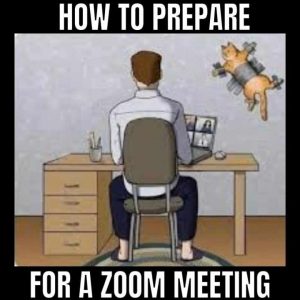 Can someone already give promotions, Nobel prizes and special mention in Christopher Nolan's next film to all the parents who have been managing kids and work from home?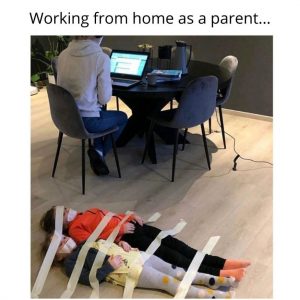 Audio meetings only are the new name for employee empowerment.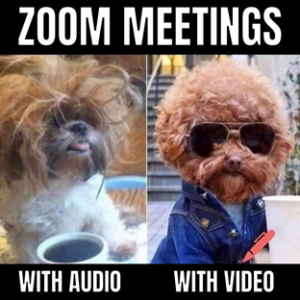 Legends to learn from on how to nail your Zoom meeting looks:
Who is Tan France? The award for best zoom memes – style category goes to  @GretchenTG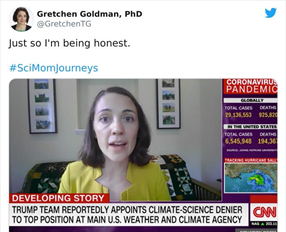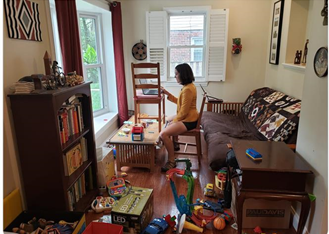 Who is Brad Pitt? The award for best work from meme and zoom meme- best-dressed category goes to @Sanfra79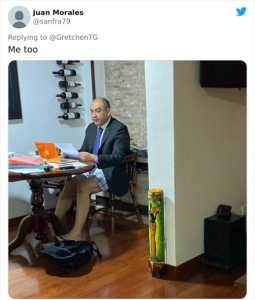 Who is James Bond? The award for best work from meme and zoom meme – Awesome dressed category goes to Austin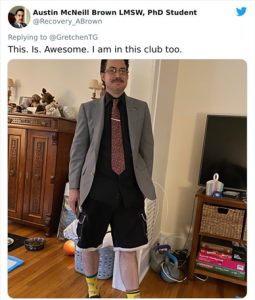 Or I will prefer to be a potato than to dress up for the meeting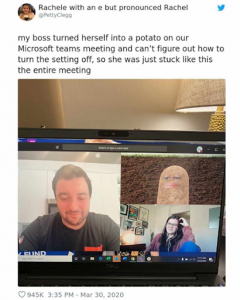 However, after 4651208645132 Zoom calls, the data shows that the attention span of Zoom meetings is nearly the same for everyone
A diagram of #zoom #meeting #attention #span %👀🤟🏼 pic.twitter.com/szJD68IN4d

— Larissa Hjorth (@micronarrative) March 28, 2020
While working from offices, your dressing and styling was the way to express yourself but no one has the energy to iron clothes and to get out of PJs in that case,
Are Zoom backgrounds the new way to express yourself?
HR and trainers had been trying to crack the code of engaging the employees and keeping them motivated for work, but the only thing that worked, Thanks to Zoom, are the virtual backgrounds.
Some of our top picks from the most creative backgrounds for video calls are:
Here are some zoom background memes
my zoom background game remains undefeated pic.twitter.com/2t3dicl1Ke

— caitie delaney (@caitiedelaney) April 4, 2020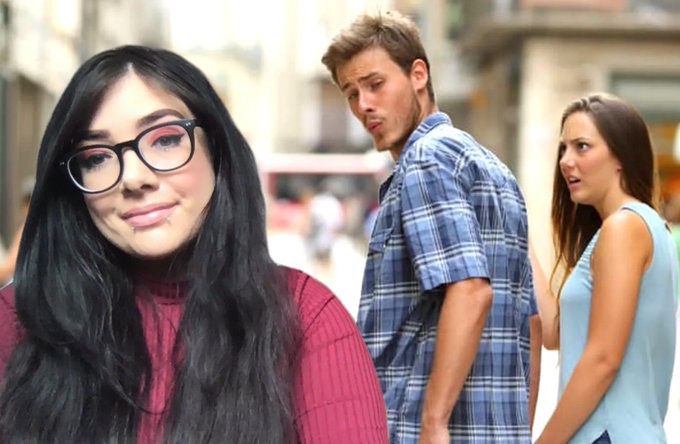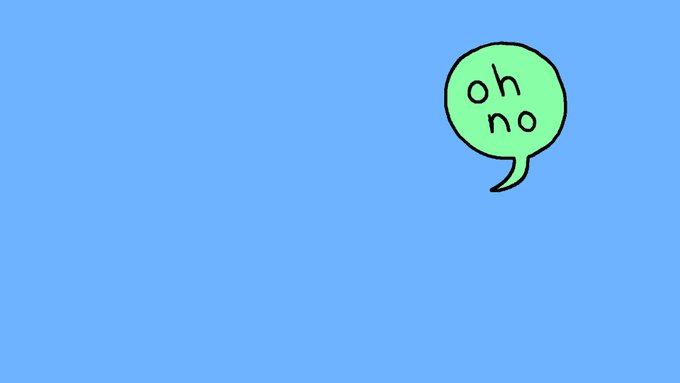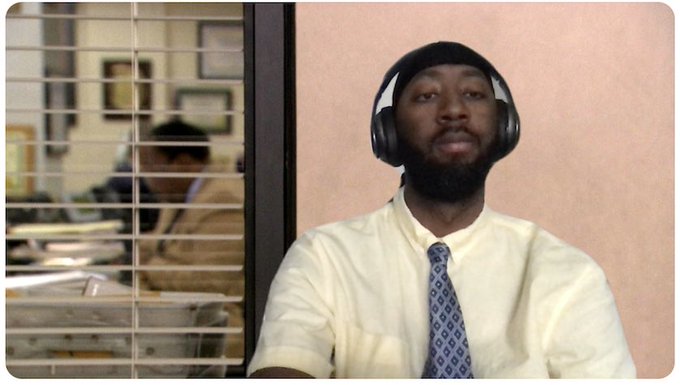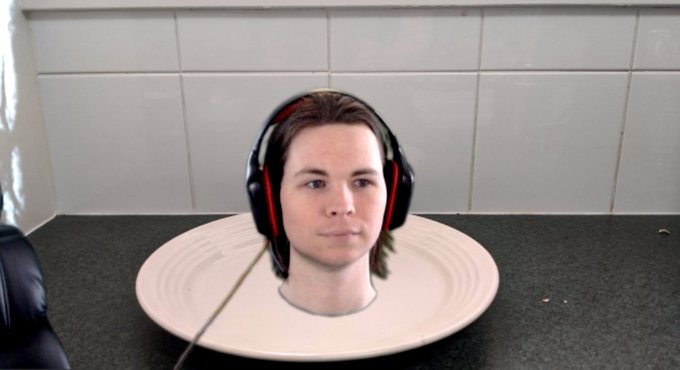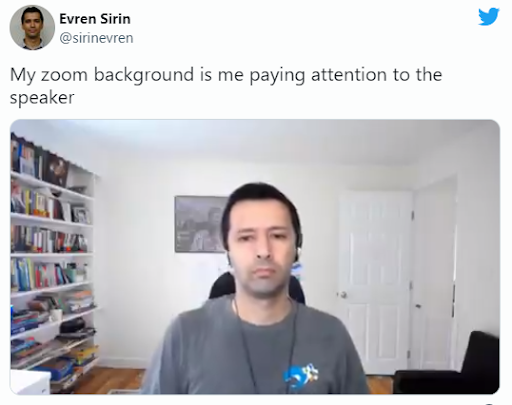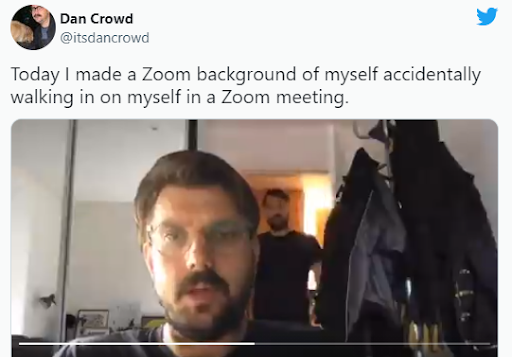 Other than looks, our most favourite work from home phrases have been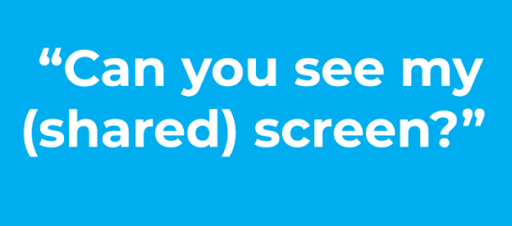 "Hey guys! let me know when you can share my screen!
Not yet!
Now?
Nope!
Now?
Yes, we can!"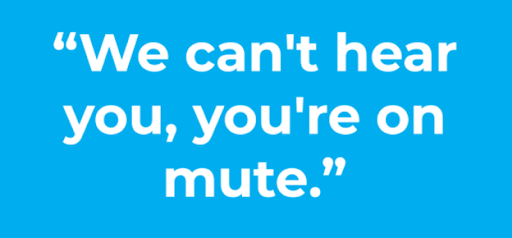 "Ahh, My bad! I had been talking to myself for the last 20 seconds"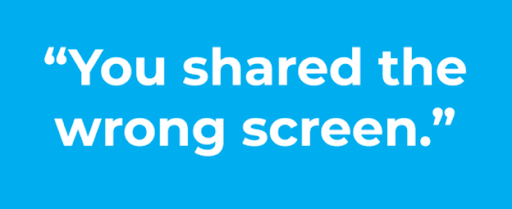 "Nice to see you are a BTS fan too!"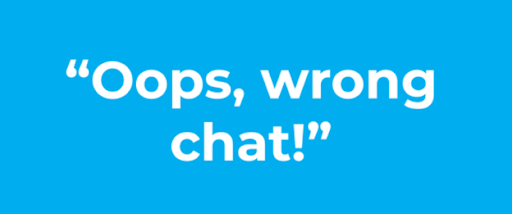 I hope nobody saw it *fingers crossed*

"Hey, I am online!"
"Just wrapping up another meeting. Sorry for the delay!"
But is it possible for everyone to work from home? Well, it depends on how devoted you are!
 LifeGuards working from home:
"Please don't eat your soap"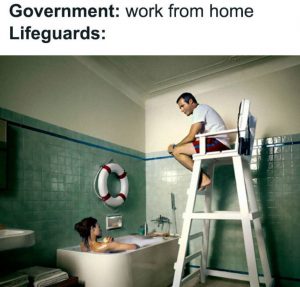 Uber drivers working from home:
"Did you book the ride from bed to the bathroom?
I have reached your destination"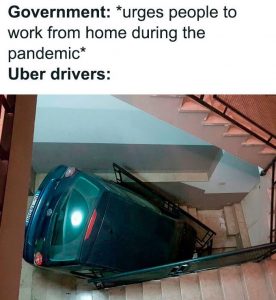 Marine Biologists working from home:
"Why do you keep sitting in the bathtub most of the time?"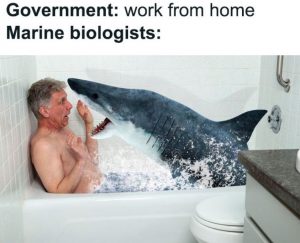 Archaeologists working from home:
"Honey, I found the vase which you broke and hid"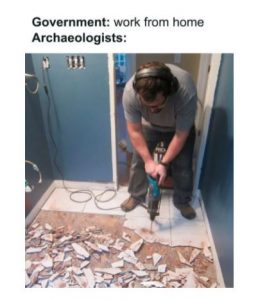 Pilots:
"Everyone be aware of low flying aircrafts"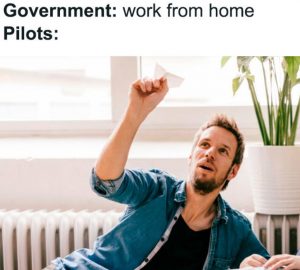 Iron Man:
"Heroes are made by the path they choose not by the powers they are graced with"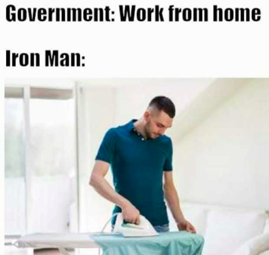 Spider-man
"Gotta save the city; online!"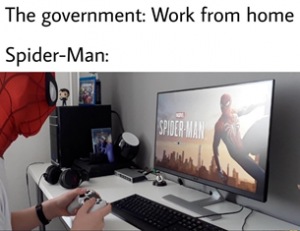 Scientists
"What does 1 portion of honey and 2 portions of milk make? Honey Milk! *Boom*"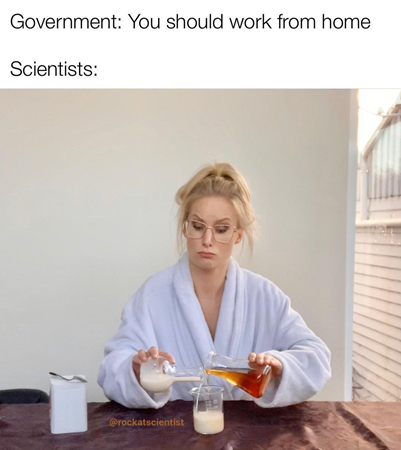 Surgeons
"Be careful with the stitches"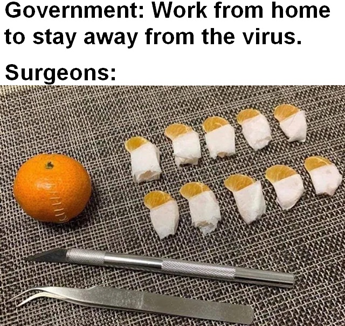 Source
Funny Work from Home Memes – An opportunity for brands
Meme sharing has escalated in this pandemic due to their relevance, wit and timing. According to a survey, memes have been the 3rd most shared type of content after personal news and funny videos.
Meme marketing and meme advertising is short-lived but the timely hijacking of trends can bring enormous results for brands and for driving consumer behaviors. Brands need to be very timely to hitch the wagons to stay relevant. There is nothing worse than an audience associating your brand with bad meme marketing, who are late to the trends.
How brands have navigated the meme game with funny work from home memes?
Meme-jacking for marketing benefit has been the most favorite and go-to strategy for marketers.
But making great use of memes isn't as easy as it is to spell. Especially while working from home, brands had to up their brand meme game to get the attention of their audience in the ocean of content they are shown.
However, there are brands that have used funny work from home memes for advertising and engaged their social media audiences through challenges to let people enjoy themselves while they are staying and working from home.  
Getty Museum:
By the end of March 2020, Getty Museum issued a playful challenge asking people to recreate their artwork using 3 objects lying around their home. People loved it! They used their creative ideas and sense of humour to share-worthy paintings which made a great case study for meme marketers, with these funny work from home memes. Getty museum accounts received thousands and thousands of submissions where people recreated Jeff Koons with piles of socks, Jacques Louis David with a fleece blanket, duct tape and used towels, scarves, shower caps for MacGyvered costumes.
    Arnolfini Wedding Portrait by Jan van Eyck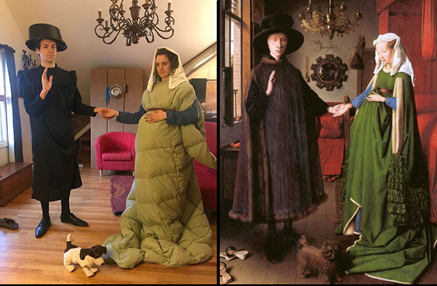 Recreated by Covid Classics
    The Harp and the vacuum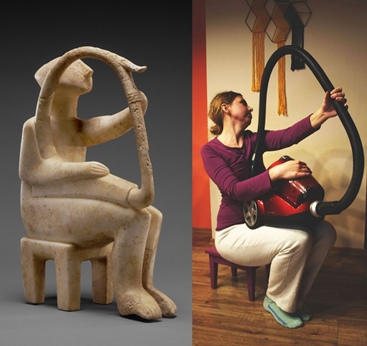 Recreated by Irena Ochódzka
    Me and My Parrots by Frida Kahhlo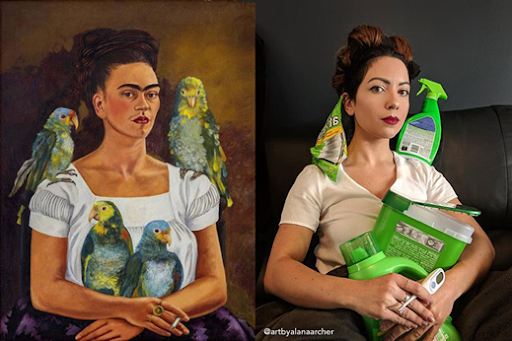 Recreated by lana09 on reddit
    Psyche Opening the Door into Cupid's Garden by John William Waterhouse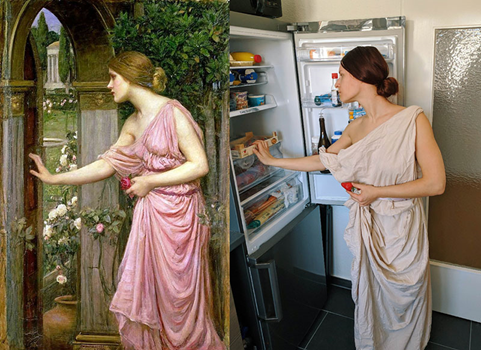 Recreated by moorelei on reddit
    Spring by Édouard Manet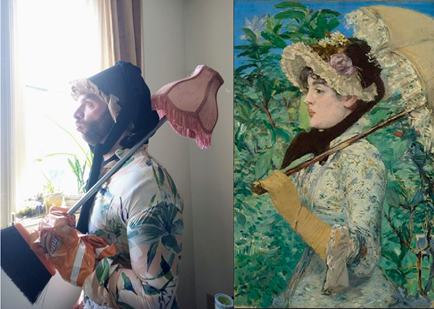 Recreated by OldMan603 on reddit
But do we want to go back?
Despite all the challenges we faced while working from home, are we ready to go back to the way things were before we hosted (or attended) webinars daily? Brands jumped in through best work from home memes to tell how they feel about this question.
While working from home was no less than a challenge for everyone especially when one has to manage kids, food, home and pets along with work, everyone slowly adjusted into the comfort of working from their homes, managing chaos from left, right and centre in their PJs. Now going back to work like we used to look far from something we all want. The time we took to adjust and gain productivity while working from home will be 5X more when we are asked to go back to work. 
Therefore, for absolutely non-selfish reasons, I loved the idea of hybrid work.
Rounak Bhavsar even put together a pie chart for the reasons the majority is not happy going back to offices. I won't be surprised if Mark Zuckerberg (CEO, Facebook) and Jack Dorsey (CEO, Twitter) come forward and admit that this pie chart has been the reason they approved a hybrid work policy for their employees. 
But how mindful do we have to be while working from home? 
While working from home, the lines of work and home get blurrier. 
Are you working from home? Or are you staying at your office? While work-life balance has been an important discussion while we were working from offices, it is more crucial than ever before to set boundaries when we are working from home. 
While funny work from home memes and videos might give you a sense of relevance to how everyone is in the same boat, it is important to set the boundaries where work is a part of your life – and not your whole life.  
Funny work from home memes are a great way to connect with the common challenges and laugh at your problems, but it is also important to communicate the ways you can manage your work-life balance while working from home in content formats that get your attention. 
How to strive for a better work-life balance? 
Here are some tips to strive towards your work-life balance while working from home: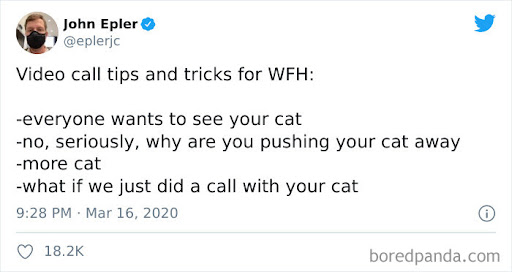 Just Kidding, These are some tips Really Simple Systems posted to their fb page.
Getting back to some real tips now.
     

Set the morning routine, which does not centre around work. Get dressed to take over the day.

     

Never check your work messages and emails from bed

     

Set a designated space and time for work that separates life from work to minimize distractions

     

Align a remote work schedule that has your start, end and availability hours  

     

Avoid spending time in your home office space on weekends

     

Avail your lunch break hours

     

Use remote work productivity and management tools

to stay focused and to remain on schedule

 

Prepare a productive meeting space that isn't too personal

 

Guarantee time for hobbies or something creative

 

Give yourself a weekly check-in so you don't feel burned out

 

Train yourself to prepare lunch rather than ordering in

 

Continue to network and foster new relationships while working from home

 

Set rewards for yourself in the form of post-work activities that you enjoy

 

Set a designated space for meetings

 

Close your laptop at a specific wrap uptime
Setting ground rules for both work and home will not only help to maintain one's sanity, it will also help a great deal to manage the expectations of your bosses and peers.
Otherwise, the freedom of working whenever you want can change the impression of someone not serious about their work and only trips over the funny work from home memes.
The perception of non-serious behavior is the last thing you want as an employee or even a boss.
Sometimes an unplanned, unscheduled manner of working style, both at an individual and an organizational level.
This is the reason most of us can relate to this funny work-from-home meme.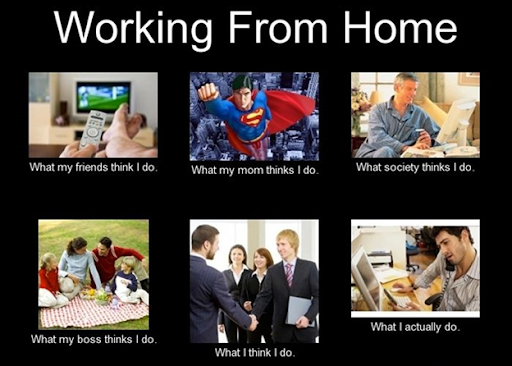 Source
Wasiq Naeem
Wasiq Naeem is a content and digital marketing veteran who is passionate about his writing. Extensive research and producing high-quality content is just another day at the office for him.