Starting a small business seems interesting, but managing the processes such as sales, accounts, and customer services all by yourself often takes away the fun.
Worst of all, you don't have enough time to create content for marketing and engagement.
As a result, the sales start to get stagnant or decline, and most small business owners press the panic button.
They look at the online advertising options or hire someone to run ads for them. Eventually, the customer acquisition costs start to go up even if you're getting new customers.
Luckily, I haven't had such issues with my freelance writing career.
Do you know why?
I kept on publishing blog posts when I was struggling back in 2014. And, it turned out to be the right thing as 2015 changed everything for me.
In other words, I did some content marketing through my blog, and it worked out for me.
Now, I know what's going through your mind right now:
"I don't know anything about content marketing."
"I can't write articles; I don't even have a blog."
"What type of content should I make?"
"Where should I begin from in content marketing?"
"What are the new trends in content marketing?"
Folks, it's okay if you don't have a clear picture of content marketing.
What are we here for?
Our content team put out a ton of content to help guide businesses in managing their social media and content marketing campaigns.
I'll help you out in crafting a perfect content marketing strategy for your small business.
Some of you might not be 100% sure about what content marketing actually is.
So here's the brief explanation:
What's Content Marketing?
Content marketing is a process of utilizing helpful content across multiple platforms to attract, engage, and convert the audience into loyal subscribers or paying customers.
Simply put, when you create a piece of content to put out on the internet and reach the audience whether it's a written piece or a video or visual art, you have the power to attract and engage the eyeballs.
Businesses use this technique to build an audience, which they could convert into customers.
Types of content you can use for marketing
Before I get to a 5-step process of creating a content marketing strategy, you must know what types of content you can create to put out there:
Text: The text content refers to articles or blogs. Some experts believe written content isn't popular anymore, but I think it isn't going anywhere. People still search in Google and read the answers to their queries. Voice search may become popular, but even the voice algorithm works alongside the written content.
Image: Images are vital to not just the search engine optimization of your blog or website, but also to engage the visitors. Visuals tend to create an attraction, especially when they're well-designed or contain valuable information.

 

Incorporate infographics

and other visual elements into your content.

You can't put together a content marketing strategy without images.
Video: Videos are wildly popular these days. Almost every major social media platform, for instance, Facebook, Twitter, LinkedIn, Instagram, and Pinterest, now supports video content. Furthermore, live streaming is a new normal in online marketing and audience engagement.
Audio: Audio is usually referred to as podcasting. A podcast is an on-demand audio episodic content that is distributed through RSS feed on the web. If you haven't listened to a podcast, simply check out Apple Podcast, Google Podcast, Stitcher, and Spreaker platforms.
So these were the main content types that you should know as a small business owner who is interested in establishing a content marketing strategy.
Let's move towards the cream of this blog post.
5 Steps of Creating a Content Marketing Strategy for Small Businesses
You may find different versions of these content marketing techniques all over the internet, but the gist would be pretty much the same. Take a look at those five steps:
Identify Your Market Segment
The first and foremost thing you might want to do is scan the population and find the right market segment for your business. What I mean by finding the right market segment is that it's impossible for you to create useful content until you identify who it's for.
Every content marketing expert raves about putting out helpful content, and it's absolutely necessary to do so.
But here's the catch: you can't help them if you don't know:
Who they are
Where they belong to
What their problem is
How you can help them
Think about it this way: you can't sell an office chair to a waiter at the hotel.
When we hear the buzzwords like "social media marketing" or "content marketing strategy," we tend to think of the secrets that could skyrocket our content.
The only way to make things happen for your content is by putting your content in front of the right people.
And, identifying the market segment is going to do that for you.
The question, however, is how one can identify the market segment to dominate.
Here's How to Identify the Market Segment:
Understand your product inside out, which means, the better you know your product, the higher the chance to figure out what it's right for.
Spy on your competitors through social media and blogs. This way, not only would you understand who they're trying to reach out to, but you'd also be able to do something slightly different from the competition to stand out.
Think of the business types you could help the most. It's crystal clear that you can't help every type of business out there, for instance, if you're a freelance graphics designer, a digital marketing agency might be interested in buying your service rather than a garments store. So think wisely about the business types that could potentially be your prospective customers.
Survey your current customers to help them better. Often, talking to your customers or asking them a few questions goes a long way. Maybe, they end up referring you to a prospect or tell you a problem that you could solve through your content. As a result, you end up reaching more customers.
You can take the example of  Content Studio's audience segmentation. Their team is pretty sure who their target audience is and what they need to learn.
Therefore, they always put out content on the topics that their potential customers might be looking for.
Take a look at the screenshot from the ContentStudio blog: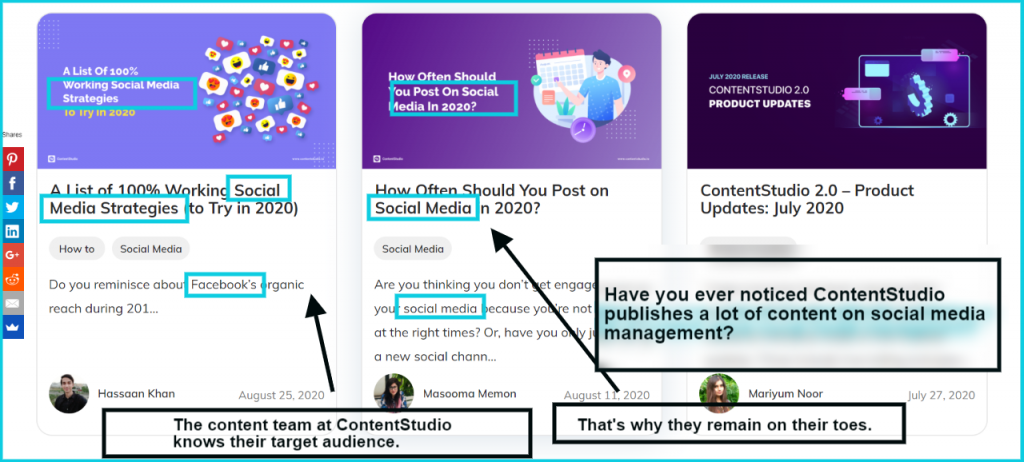 So the takeaway is that if you want to build a content marketing strategy for your small business, then don't overlook the "figuring out your target market" part of the process.
It's essential to start on the right foot.
Choose the Right Medium to Reach Out to Your Audience
Your potential audience is out there and you know it. What I want you to do is do some due diligence before you set out on attracting the prospects through content. Most beginners get off the mark without a clear map in their minds.
Identifying the market segment would come in handy when you would have to find out where to meet your potential customers.
Remember that content marketing and social media would go hand-in-hand.
Social media is a vital source of attention and traffic for businesses. If you're keeping social media out of the loop, it's clearly a mistake. However, in today's day and age, most businesses have some kind of existence on social media, but it's still highly unlikely that the majority of the businesses would have figured out social media.
So that's where we come in to help you navigate your social media and content marketing strategies. To sort this out, you must first find out where your potential audience exists on social media.
No matter how valuable your content is, it won't make a difference if your audience is on Pinterest and you're putting out content on LinkedIn.
There is no rocket science in figuring out what social media platforms your potential audience uses. Put your spy-hat on and get down to work. All you need to do is notice what's happening around you.
If you're a SAAS business, you might not be putting out flyers everywhere in the town. Instead, you'd go and advertise online.
ContentStudio knows about this, which is why they're running a Facebook ad: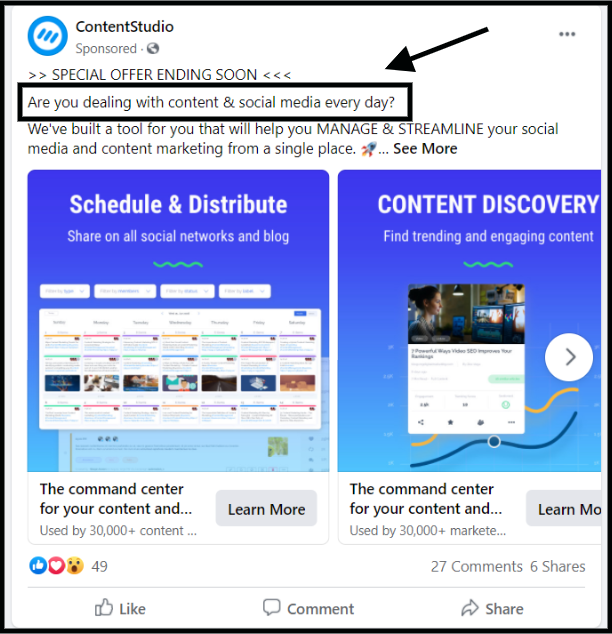 What's more interesting is that they've mentioned the keywords like "content" and "social media" in the ad description, which showcases that they know who they want to reach out to.
Similarly, Shopify is a popular e-commerce service for creating an online store.
They have been one of the top-notch content creators in the e-commerce space.
Take a look at the selection of keywords and topics on their blogs: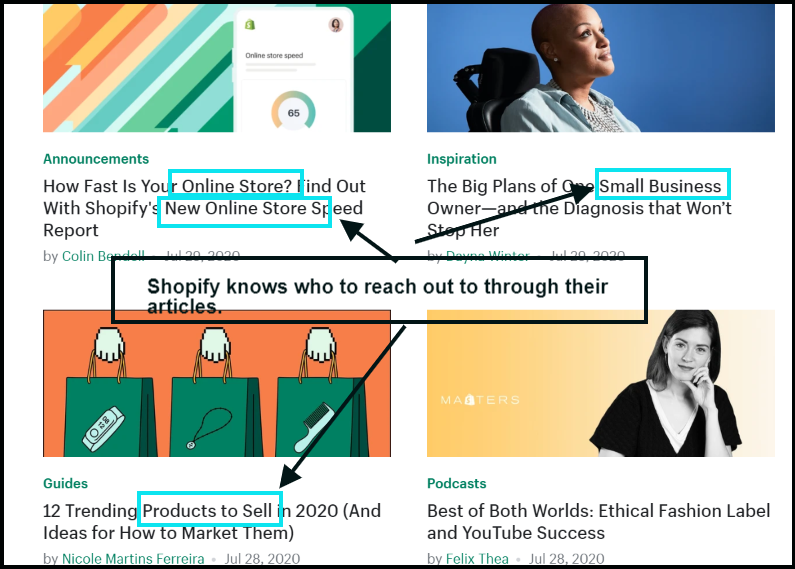 Here's another one:
Who doesn't love Netflix here?
Right? Now, have you ever read a Netflix blog post?
I highly doubt that. The reason is exactly what I'm talking about: they know what medium to choose to engage, attract, and convert their audience into customers.
Take a peek at their YouTube channel: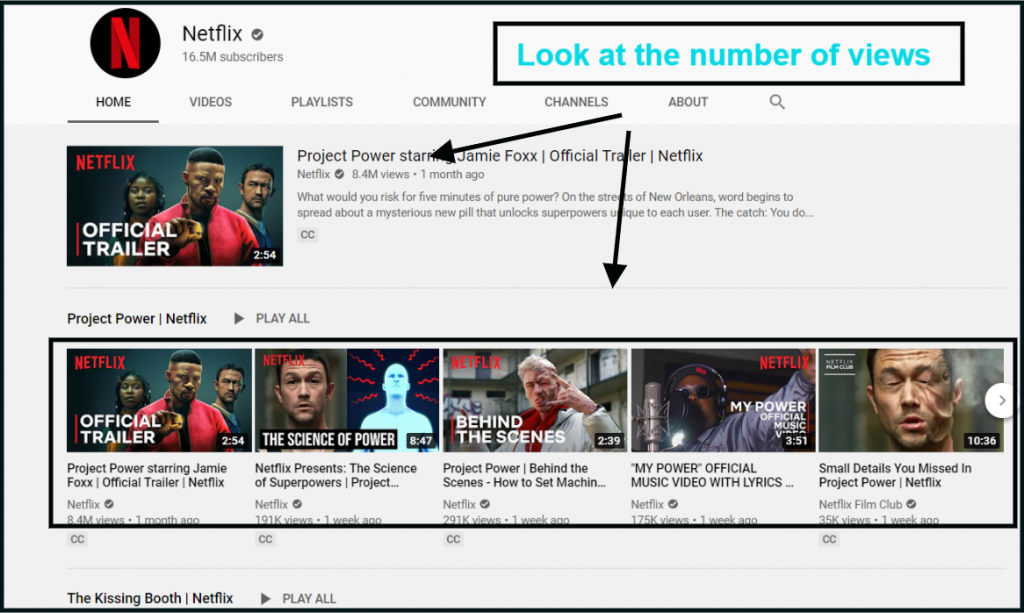 The point I'm trying to make is that these online services and companies know where they could meet their target audience, and they double down their efforts in that direction.
This is exactly what you should be doing:
Analyze your product/service inside out
Understand the behaviour of your existing customers
Predict where you need to meet new prospects
Put out content on the right platform
I won't mind if you completely ignore YouTube and Twitter, and only focus on Pinterest if you're passionate about graphics designing and you enjoy designing Pinterest pins.
Got my point?
Folks, choose the right medium for yourself.
Zoom In on the Audience Pain-points
There is no better way to attract and engage the audience than to address their pain points. Most businesses that fail to capitalize on content marketing opportunities are the ones that don't have a clear buyer persona in mind.
Once you've chosen the right medium to reach out to your potential customers, the next thing you should do is get one step closer to them to find their pain points. The conversations and follow-ups could happen anywhere on social media such as in the Facebook groups or YouTube comments or Twitter replies.
I often ask questions on Facebook, and the response rate has always impressed me. I learned through my experience that people won't care much if you keep sharing your content on social media. They think you're here just to spam the timeline, so they ignore your posts.
On the other hand, asking questions goes a long way, and you get to learn about the struggles of your audience.
Here's an example of a question I asked on Facebook: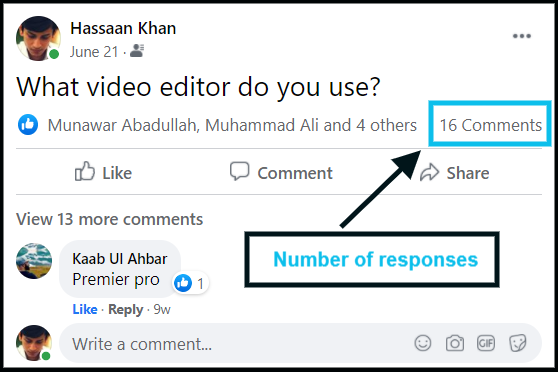 You can look at the responses; it has gotten more engagement than any article I shared on my Facebook profile in a long time.
Here's an example of an article that I shared on Facebook: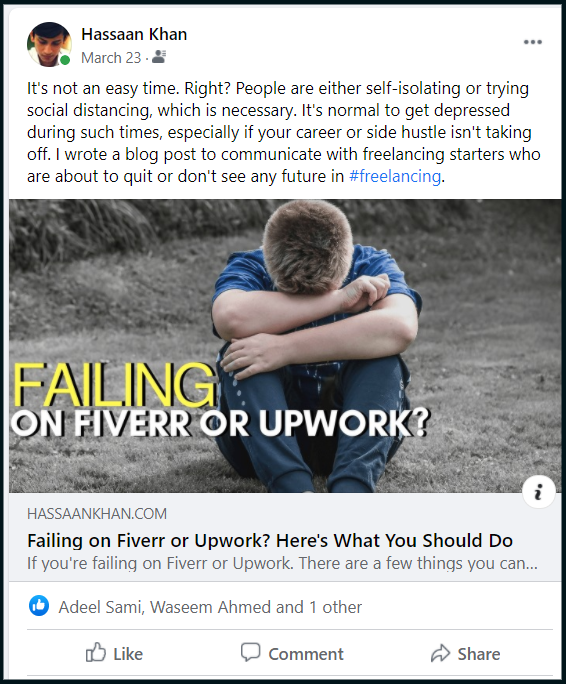 Put your hand on their pulse to comprehend what they have been going through.
You don't have to buy any fancy software or subscriptions to make it happen.
All you need is to utilize social media platforms where you interact with your followers.
Plus, try to cash in on every medium you use to get connected with loyal subscribers or customers.
Here are several ways to do so:
Send an Email Newsletter: Reach out to your email list subscribers and ask them about what they are struggling with right now. You'd certainly find two or three things that you can address in your content.
What happens is that a lot of people don't get the point of such emails and some can't think of anything that they can ask you. And surprisingly, when you come up with content, some of those inactive subscribers hop on and check out that content because chances are, they also have similar challenges.
Write a Status on Facebook: It's a tried-and-tested social media engagement strategy. You can poll your audience about the problems they might be facing or simply ask them what they want you to cover in the next batch of content. You'd surely find some hints that would help you understand the pain points of your audience.
Ask in your Facebook Group: It's imperative to have a community of your subscribers or customers on social media. Facebook group is the most viable option to build a community online. ContentStudio has its private Facebook group as well.
So you need to build a Facebook group around your business and ask about the struggles of your loyal customers or subscribers.
Make a Story on Instagram: Some businesses pay close attention to Instagram, and that's understandable. If you're one of those businesses, then go ahead and make a story on Instagram asking about the pain points of your audience. You'd surely get some replies that would eventually help you to reflect on the problems of your followers.
Follow a Hashtag on Twitter: Sometimes, an industry-related hashtag could lead to a segment of the audience that has a common problem which you could solve through your content. Twitter is a great way to tap on the topics and understand the challenges a segment of the audience might be facing.
So these were a few ways to find out the issues your audience might be facing at the moment.
Once you've figured out the pain points of your audience, you could align your content strategy accordingly to attract and engage those prospects.
Creating content without having a plan is somewhat similar to going blindfolded and expecting to reach the destination on time.
Understanding the pain points of your audience would give you a perspective that would eventually shape your content planning.
Create a Problem-solving Content
Content marketing isn't just about creating content to sell your product. Instead, one of the fundamentals of a successful content marketing strategy is to create content that entices people to take action. It could be a tutorial that is helping the readers in overcoming a website problem or a baking video on YouTube that is educating newbie bakers on how to bake cupcakes.
For some markets and industries, online courses can even come in handy. It's also a great way to position your brand as an authority and gain credibility.
You can apply different approaches to finding the problems of your audience and coming up with content topics to cover. Surveying your audience is one of the ways to do so which you learned in step#3.
Here's another one:
Think about your search behaviour: you go to Google because you need an answer and you type in your search query and hit enter. The next thing you see is hundreds of thousands of results in the SERP. And then you click the result that seems appropriate for you.
Now get into your potential customer's shoes and think about the way they'd be searching.
I'm assuming that at this point you have some clarity about the issues of your potential customers. So now is the time to get down to creating content that could help solve the problems of your audience.
Take care of the following things while creating problem-solving content:
You're creating content on the right platform, for instance, if you're a photographer and you're tweeting photos on Twitter, but haven't started an Instagram account, then it won't work out.
You're addressing the pain points of your audience, which means you're talking about what the prospective audience wants to listen to or looking for. One of the ways to understand what your audience wants to hear from you is by looking at your most successful content.
You aren't being salesy by plugging in your products every now and then. It does frustrate the audience if your focus isn't on helping them, but instead, all you care about is selling your product to them.
You genuinely care about solving the audience's problem. It doesn't require any rocket science to figure out whether or not you care about solving your audience's problem. If your content is helping in solving the audience's real issues, then you're all set. Otherwise, you need a few tweaks here and there in your content strategy.
It's easier said than done, honestly.
You need to create content (that helps) at scale.
WPBeginner is a great example. It's one of the popular blogs on WordPress tips and tricks.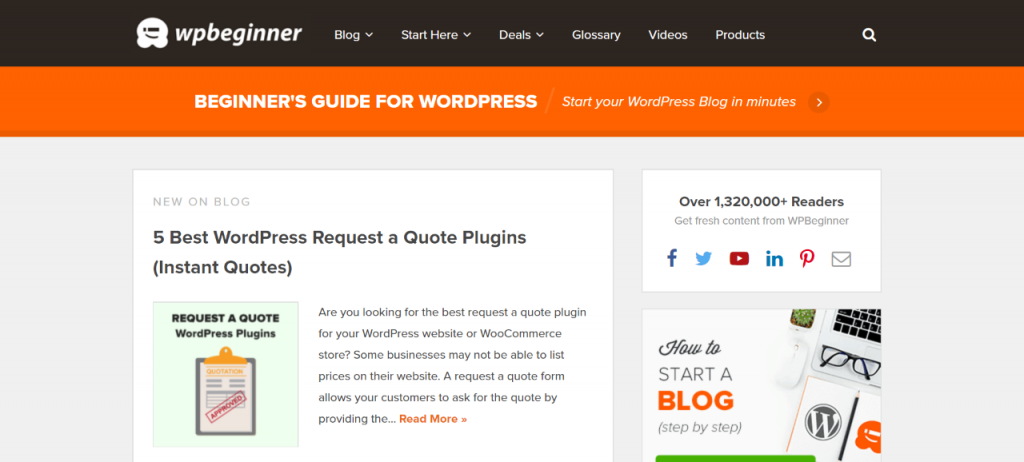 They cover every tiny bit of WordPress open source and create content that helps WordPress users.
If you're a WordPress user, you must have seen or read this blog.
The essence of this whole point is that create helpful content consistently, and it'd slowly but surely make an impact.
Nurture the Audience to Convert into Customers
Building a content marketing strategy for a small business is no different than for large organizations. However, small businesses have an edge over large companies, which is that they don't usually have hundreds of thousands of customer bases to tackle. Therefore, it gives them a huge opportunity to engage with prospects and customers.
The worst thing a business can do is publish any form of content and never engage with the audience in the comments; this rule applies to every social media platform.
Building a connection with the audience is how you establish loyalty, trustworthiness, and effectiveness. You can come up with great content, but if the audience has a perception that you don't interact with the audience, they'd less likely to start a conversation with you.
There is no point in creating a lot of content but not setting a little bit of time to engage with the audience.
So I urge you to put some effort and energy into nurturing your relationships with your followers and subscribers; it'd only make the transition from a follower to a paying customer easier.
Darren Rowse published a blog post lately, which was all about building a community around your blog.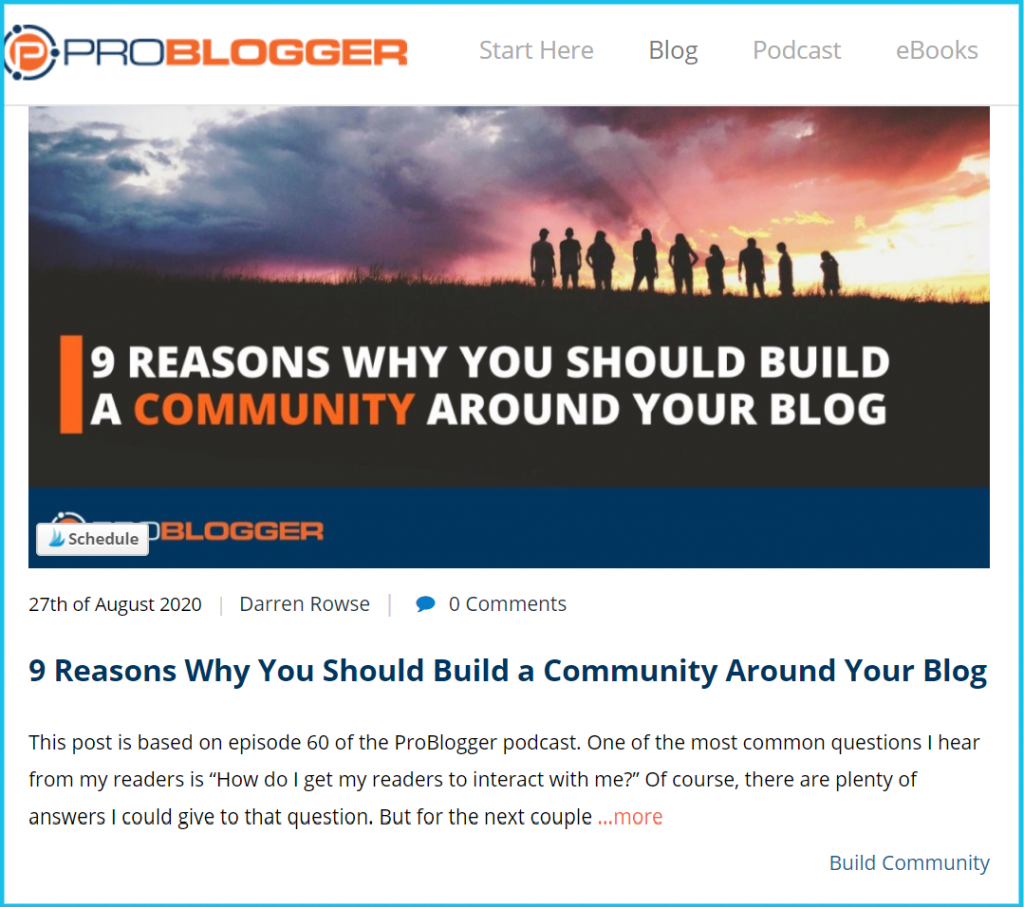 If you don't know who Darren Rowse is, then you probably aren't into blogging much.
Darren Rowse is a popular Australian blogger who is also famous in the U.S. and UK.
Furthermore, Darren's blog post comes in as a validation of what I just said.
Isn't it?
Here's another one: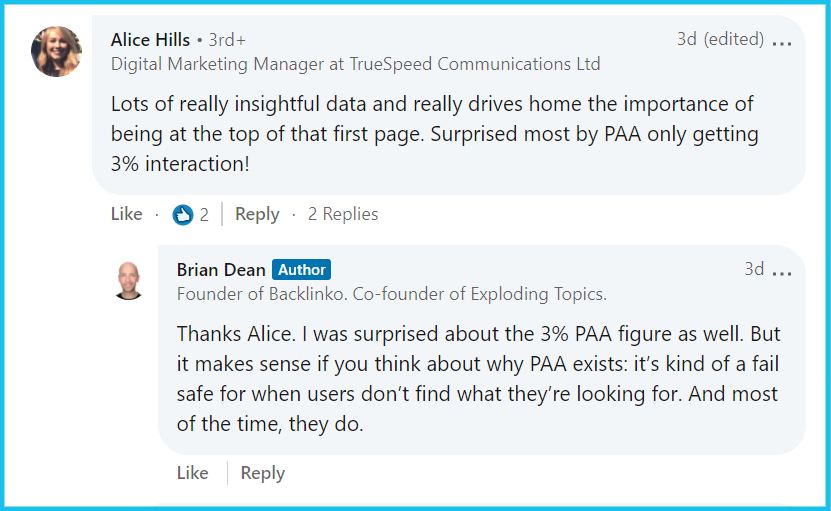 Brian Dean is the founder of Backlinko, which is a popular SEO and content marketing blog.
Not only does Brian put out great content, but he also replies to the comments.
You'll find him replying to the readers and followers everywhere.
These influencers understand the power of engagement with followers.
When they engage with the audience, their social media posts get highlighted and pushed even further. And it doesn't end here; when a follower sees an influencer replying to him/her and answering the question, it solidifies the loyalty.
The biggest perk of being there and communicate with the followers is that it nurtures your relationship with the audience.
Here are four popular ways to nurture your connections with the audience:
I. Build an Email List
Building an email list allows you to reach out to your audience without any paywall or restriction. Content marketing experts rate building an email list very high, and the reason is that you could lose your search engine ranking or lose your social media channels, but an active email list is something that remains with you as long as you keep it.
Furthermore, getting on someone's email list means you're closer to that person as compared to an average follower.
II. Establish a Facebook Group
Facebook group is one of the best community-building tools. There are many reasons for that such as:
It's still available for free to every Facebook user
It doesn't have organic reach problems like Facebook pages
It allows you to build a private community
So cash in on Facebook groups until you can and nurture your followers on Facebook under one umbrella.
III. Reply to the Comments
Replying to the comments on the blog as well as social media might not be something you'd imagine as an important element of a prospects engagement strategy, but it surely is. When you reply to your followers and subscribers, you send out a message that you care about them and value their opinions. Hence, taking a few minutes out every day to reply to the comments goes a long way.
IV. Offer Discounts and Giveaways
Discounts and giveaways attract the audience and even bring in new eyeballs. Therefore, when you're maximizing your content marketing strategies, don't hesitate to inject offering discounts and giveaways into your content marketing mix.
The sole purpose of content marketing isn't to make money with your content. Instead, it begins an engagement process with the new faces and helps a business nurture them under its umbrella. One of the long-term benefits of content marketing is surely more profits. Seemingly, a successful content marketing strategy conduits a section of loyal followers into paying customers pool.
How Will You Develop Your Content Marketing Strategy?
Before started writing this blog post, I had a clear picture of a small business in mind which needs to sort out how it can benefit from content marketing.
So it took me hours and hours to write this piece of content for you.
I owe you a two-line comment just to understand what you got from this piece.
Feel free to share what you're going to do after reading this blog post on creating a content marketing strategy.
I'll see it in the comments section.
Hassaan Khan
Hassaan Khan is a freelance writer for SAAS companies, e-commerce stores, and niche websites. He has contributed to SEMrush, ThriveGlobal, BloggingCage, AllBloggingTips, and several other publications. He builds niche websites, publishes e-books, and helps website investors with his done-for-you niche site-building service.