The content you create for your audience can take potential customers on two paths. One is that they get bored after a sentence or two i.e your content engagement needs improvement, and feel indifferent about your brand. The second one is that they find your content engaging, start an interaction, and get a desire to find out more information about your services. 
Every brand hopes that its target audience takes the second path, but the hard truth is that their direction depends on your content. If you know how to write content that engages the readers, you'll be able to generate more leads, grow brand awareness, and most importantly increase your sales.
The power of engaging content isn't a myth, it's a proven fact. Research has shown that 70% of customers feel closer to business after engagement with content. Once you establish a closer connection, you can steer their actions in the direction that you want. 
So, are you ready to write some amazing content that will lead to engagement? Here are the tips you must know before you start. 
1. Come up with Impactful Headlines
Did you know that 80% of people will read the headline and only 20% of them will continue reading the rest of the content? Without an attention-grabbing headline, your content won't even get a chance to engage readers.
All the best headlines have the following qualities:
Connects with thoughts that readers have boiling in their minds (problems, questions, and curiosities)

Credible with clear indications of what the reader is about to read

Contains keywords

Compels the reader to find out more
In order for the headline to do its part, you first have to do yours. Don't use the first headline that pops into your head. Take your time and think about different possibilities. Moreover, write down those possibilities. Come up with at least 5 options.
Having several different headlines in front of you puts you in the readers' shoes. Imagine that you have just encountered those headlines, on which one would you click?
Evoke user's interest by appealing to their personal needs. For example: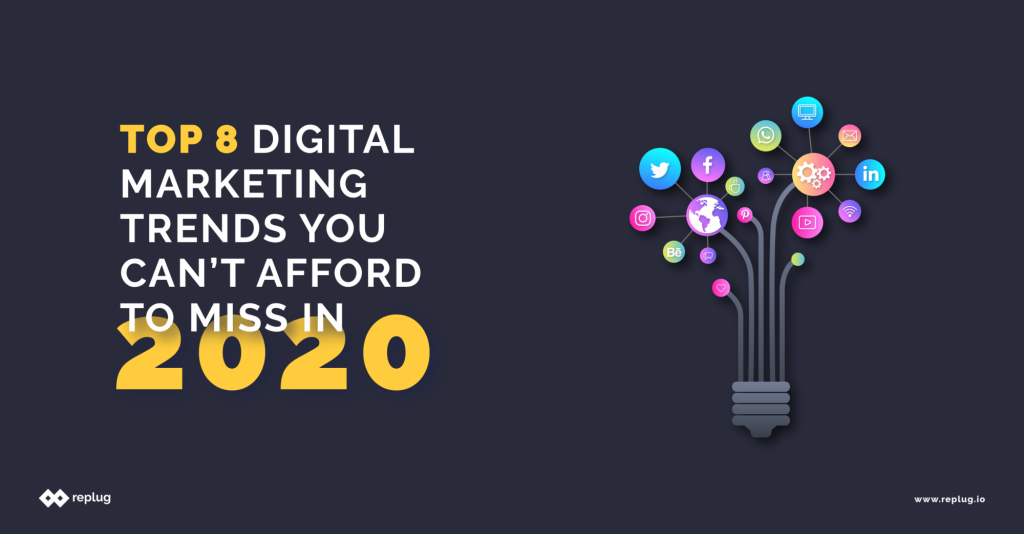 This headline consists of a few components that urge the reader to click on it. "Top" insinuates that you'll get the best advice. "Trends" are essential for staying up to date in the business world. Lastly, "can't afford to miss" plants the idea that the reader can monetarily benefit from reading this post. All these keywords lead the user to instantly click on the post to get more scoop. 
Keep in mind that click baits aren't quality titles. If you want your content to lead to engagement, luring the readers in with ambiguous headlines isn't the best idea. You might get that first click, but you probably won't get the desired reaction afterward. 
2. Tell Stories
Stories connect with people. They remind us that we are more alike than we tend to think. That's why storytelling is one of the most popular writing methods among marketers.
Brand stories or stories related to your niche combine two very important things: evoking consumers' emotions and your brand.
There's nothing that gets people going more than stirring up their emotions. Emotions are the ones that force them to interact as they feel closer to you and your company.
Some of the stories you can tell can be about:
the passion that made you start the company

your employees who are giving their best to push this company forward

examples of incredible people in your niche

your challenging beginnings
Who doesn't remember that Jeff Bezos founded Amazon in a rented garage?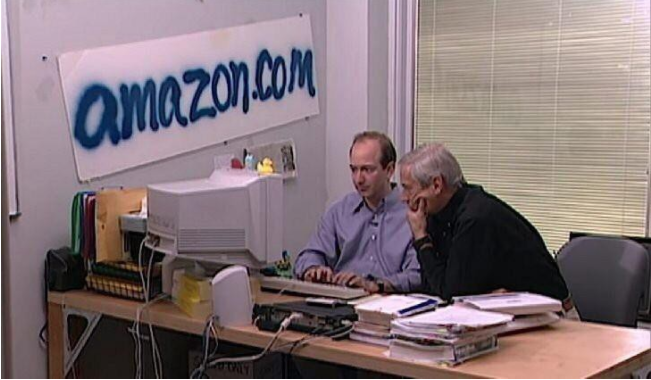 These kinds of stories inspire people to be doers, not just observers. And doers are the type of people who are more likely to take the action you want.  
In the book, Building A Story Brand by Donald Miller, the author said that stories identify ambition, defines challenges, and provides a plan to help conquer those challenges. 
Incorporating stories into your brand communication helps your customers weave their story into yours, and add value to the solution your product is offering.
For example, if you're selling mattresses, don't just talk about your product. Instead, educate people about what's important to them, and how investing in quality and consistent sleep can help them achieve them.
A useful trick to make your stories even more engaging is to tell an anecdote in the introduction. This will draw the readers into the story in a heartbeat.
Use visuals to make your stories pop. Creating videos or Images that support attentively written stories will completely hypnotize the readers. 
3. Put Your Experience to Use
Whatever your occupation is, you are in that business because you're an expert in that field. With so many content options online, it's getting hard for people to find high-quality and credible content. You can be the one who can provide them with that.
Use your expertise to create useful and helpful content. Writing about what you know best will make your writing much better. 
Rewrite your content and back up this type of content with infographics and statistics that prove your point.
For example: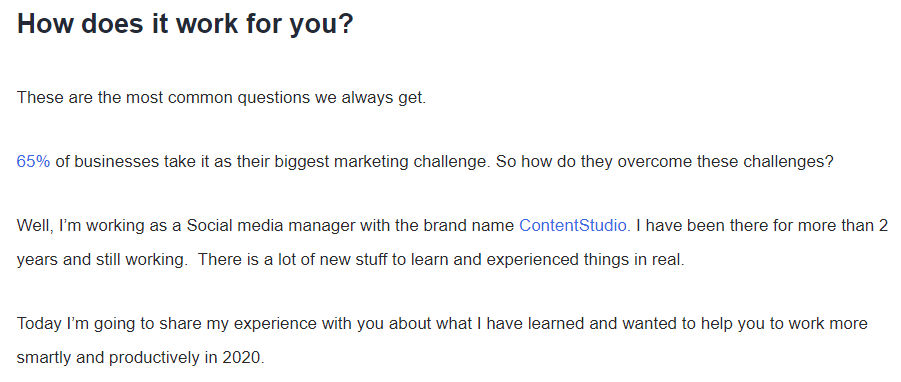 Mix research with your personal experience and you'll be able to deliver extremely valuable content. Then run a website speed test to deliver the best experience for visitors.
Take Neil Patel for example. His marketing blog generates over 3 million visitors per month because he uses his knowledge and experience in digital marketing to write enticing content.
When you provide your target audience with tips that actually work, the feedback is imminent. 
Think of it like this. Imagine that bunch of people is standing on a cliff. They are dared to jump off the cliff into the water. Of course, no one wants to go first, but when the first person jumps and tells the others that the feeling is amazing, the others will follow.
Show the audience that you are that brave person who had jumped off the cliff first and share your findings. Be an example of how they can conquer certain situations, and they will be encouraged to follow that example and tell you their experience. 
4. Use Highly-Engaging Content Formats
Wrap your well-written content in an engaging content format, and you'll be one step closer to boosting their engagement.
Aside from the must-have content format like website content or informative posts, try to include in your content arrangements highly-engaging content.
According to research, the content that consumers' find most interactive in the browsing phase are:
Contests

Quizzes

Assessments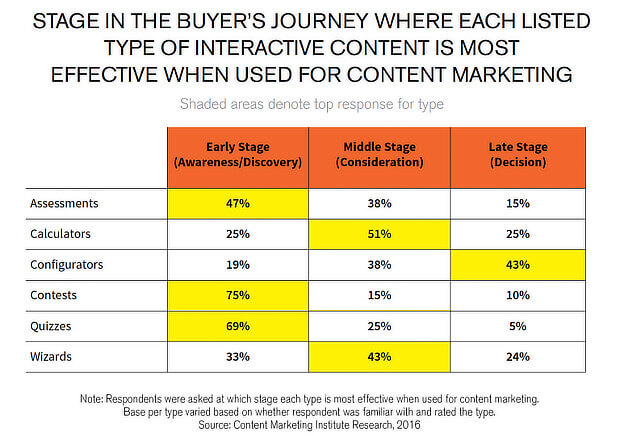 Explore these possibilities and try to include them in your content marketing strategy. If you're wondering what makes these content formats so engaging let us clear your doubts. The key is that they ask the audience for their opinion. A number of content marketing platforms can help you through in your content marketing efforts.
Whether they need to share some information about themselves or express their thoughts on some subject, these types of content invite users to participate. It's like your content is saying "I want to know what you think/how you feel."
If you are willing to reach an even higher level of engagement, you can create your own app. That isn't as complex as it sounds since now you have services like AppsGeyser where you can create your free app without coding. 
For example, if you have a plant nursery business, you can make an app that will give more information on the plants that customers purchased and notify them when they need to water those plants.  
Aside from using engaging content formats, enhance their power by writing great questions/statements that will encourage the audience to be a part of it. You might consider finding good writing websites to help you out with this. Especially if you want to make your own app. You'll need some incredible content to go along with it. 
5. Aim for Longer Content
Of course, you shouldn't write a 1,000-word Facebook post, but when it comes to blog posts, newsletters, or similar types of content that allow in-depth reading, don't shy away from lengthy posts.
Longer posts tend to get more shares, and they are linked more often. Simply put, the audience finds them more engaging.
You might think that this makes no sense in this busy, time-lacking society. However, posts that are longer than 1,000 offer more information on the topic and therefore, are more valuable to the reader.
If you pay attention, you'll notice that some of the most popular websites post longer posts (Unbounce, Crazy Egg's blog, Quick Sprout, etc.).
The foundation of writing engaging, lengthy posts is to include relevant information only. Reaching that word count won't mean a thing if you beat around the bush just to prolong the content. Be specific and share relevant insight throughout the content.
What can help you reach that desired over 1,000-word content length is using examples. Present some case studies, people's experiences, success stories, and similar. 
This type of additions will make your content more engaging, prove your point, and give you that extra word count.
Bonus tip: Whenever you write lengthy content, add a few visuals. People need to rest their eyes from all that text. Ultimately, we are visual beings, and a contributing image (or two) will keep your readers stick to the end and help in content engagement.
Final Thoughts
Before we say our goodbyes, there is one more essential tip that we must share. Yes, the point of these tips is to help you get a better idea of how you can write engaging content. However, there is one crucial element that solely you can deliver – originality.
Intertwine these writing tips with your authentic ideas, and that's how you'll hit the audience's sweet spot. Show your readers that you are one of a kind and you'll have their attention. Let your creativity loose and don't forget to have fun along the way. 
Author's bio. Daniela McVicker is a passionate digital marketer. Daniela is interested in everything related to SEO and blogging. She collaborates with Essayguard and other websites where she shares her experience and helps marketers make their names in the online world.
Sadia Umer
Sadia Umer works on putting together high-quality content for Replug customers to read. When she isn't writing, she can be found reading and trying random life experiments.