When it comes to promoting your offerings or communicating about your brand, email marketing has proven to be one of the most effective channels online. Businesses, large and small, use email marketing as one of their primary tactics to connect with customers and get more business. The reason email is so popular is that it generates the highest ROI and is 40x more effective than social media marketing.
With so many businesses sending out emails to promote their business, the customers' inbox is always cluttered. To break through the clutter and stand out in the inbox, it is important to send emails that can create an impact. And, having pitch-perfect emails is not enough; you also need to execute the entire marketing strategy efficiently to make the most out of your efforts.
So, if you are looking at utilizing the potential of email marketing to grow your business, here are a few must-haves to create an effective email marketing strategy.
The first and foremost thing to do before planning your email marketing strategy is to define your goals. Determining what you want to achieve out of your email marketing campaigns is crucial. Your marketing goals may include acquiring new customers, increasing sales, improving brand visibility and brand loyalty, building connections with existing customers, or just increasing your website traffic. Having clear objectives and setting achievable goals will steer your strategy in the right direction and help you stay focused throughout the entire campaign.
Build your Email List Organically
A clean and organic email list plays a pivotal role in the success of email marketing. Although there is a shortcut option to buy email lists, it is never advisable, because scrapped and borrowed email lists can endanger your brand reputation. Email addresses in the purchased email lists are usually fake or include people who might not be interested in your brand's offerings. So, sending emails to such contacts will result in lower click-through rates or worse, an increased spam rate. Hence, it is a good practice to get people to opt-in to your email list via subscription forms or lead generation forms, and this way you will have a list of people who are interested in your brand and its niche.
Check out this email from Zapier that confirms subscriptions by asking the users to update preferences.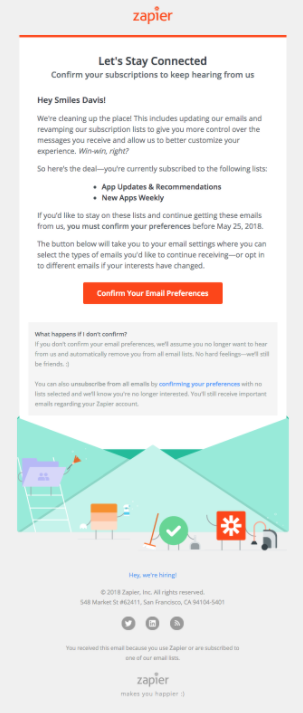 Source: Really Good Emails
Segmenting your subscriber list and making your emails more relevant to specific segments can help you in creating a well-organized and efficient campaign. Break down your email list into specific segments based on the demographics, lifecycle stage, buying behavior, and buying frequency of the users. Email list segmentation will help you create more targeted and tailored email campaigns that will perform better and engage more users than generic emails. Hire Mailchimp experts or other ESP-specific experts who can help you with effective list segmentation.
This email from Bespoke Posts asks the subscribers to fill out preferences in order to customize the content better. Getting to know about the subscribers' interests and preferences will help you to divide them into various segments and create targeted emails.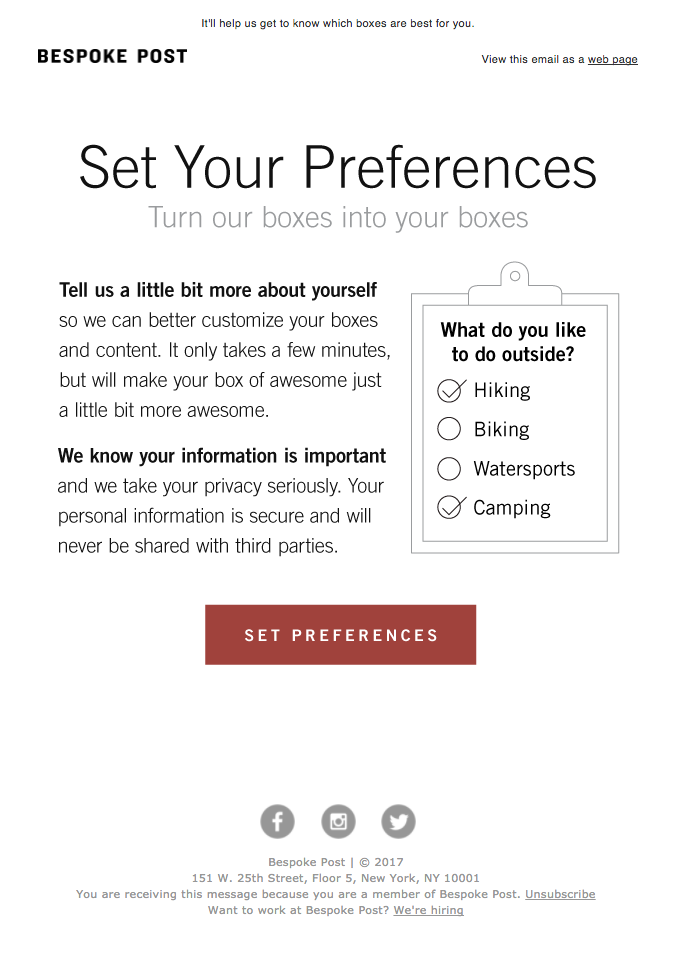 Source: Really Good Emails
Craft Captivating Subject Lines
The subject line is the first thing that a user notices about your email. It can make or break your email campaign, as it determines whether or not a user will open and read your email. It is therefore important to focus on creating effective, eye-catchy subject lines that will entice the users to open your emails. Make your subject lines short, crisp, engaging, and personalized. Mention attractive offers or include emojis and engaging copy to enthrall email recipients and motivate them to click. 
Focus on the Content and Timing 
Once you get people to open your email, the next step is to get them to click through and make a purchase. The content is at the core of the email and a deciding factor for the success of your email campaign. Hence, creating quality content that resonates with your audience and prompts users to take action is vital for your email marketing strategy. It is also necessary to have a CTA that stands out and encourages the readers to click through. Apart from this, make sure you send your emails at the best time to get maximum engagement.
Make the Design Attractive 
A well-designed email is a key driving factor for conversions. To design top-notch, engaging emails, make sure you have a clean layout, use the right colors, keep the content short, use interactive design elements such as images, GIFs, and videos, use ample white space, and include a prominent call-to-action. To begin with, you can make use of custom Mailchimp email templates, Pardot email templates, or Salesforce email templates that follow email design best practices and help you create emails that click.
Here's a simple, yet attractive email design by Great Jones.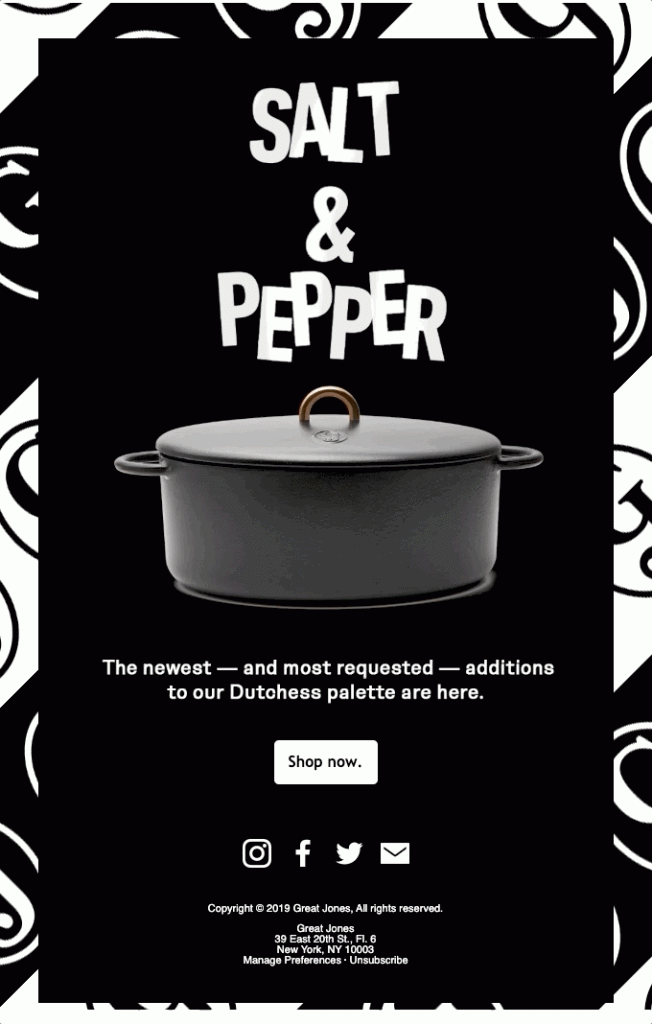 Source: Really Good Emails
Before you hit the send button, it is essential to test if all elements are correctly placed and your email is all set to render perfectly. A/B testing will enable you to test your emails, get valuable insights, and optimize it for better performance. Use various combinations of the subject line, design elements, copy, placement of CTA, etc. to thoroughly test your emails and see what works best and gets the desired results. 
Make them Mobile-Friendly
85% of users check their emails on mobile phones. Keep this in mind while designing your emails. Optimize your email design for mobile screens by using a responsive layout, resizing images to fit smaller screens, using prominent and easy to click CTA buttons, and including shorter texts and longer links. Use responsive Mailchimp templates to make your emails mobile-friendly and get maximum conversions. 
Add an Option to Unsubscribe
Make it easy for the uninterested subscribers to opt-out from your email list whenever they want by adding an unsubscribe button in all your emails. This is an essential step because, if you keep sending emails to people who do not want to hear from you, it will lead to your emails being ignored or marked as spam, which will hamper your brand credibility. It is, therefore, better to let them choose to unsubscribe in case they do not want to receive your emails.
Track and Analyze Performance
In order to know if you are moving in the right direction and getting the desired results from your email marketing campaigns, you need to analyze the performance of every email that you send out. Track metrics such as the email deliverability rate, open rate, click-through rate, bounce rate, social sharing rate, unsubscribe rate, etc. to see what works for your brand, and based on the analysis, make necessary changes to your campaign to improve its performance.
All Set to Create a Winning Email Strategy?
A well-executed email strategy will get you more customers, boost engagement, and improve overall ROI. Incorporate all the above best practices while devising your email marketing strategy, and it is sure to make positive impacts on your business.
Author Bio
Kevin George is Head of Marketing at Email Uplers, one of the fastest-growing full-service email marketing agency that specializes in crafting professional email templates, PSD to HTML email conversion, and HTML email templates coding services. He enjoys sharing his insights and thoughts on email marketing best practices on his blog.
Sadia Umer
Sadia Umer works on putting together high-quality content for Replug customers to read. When she isn't writing, she can be found reading and trying random life experiments.