What is the best day and time to send an email?
If you are a marketer and running an online business, then you are probably spending more money, resource, energy, and time on email marketing to build a connective relationship with the audience. 
Right?
In 2022, attracting more customers to your website or business is not a cup of cake anymore. Why is that? 
Causes, there are 4.88 billion internet users in the world who accumulate information, looking for the solution to their problems and receive promotional emails.
If you genuinely want to capture the audience's attention and give a powerful brand impact on the audience's mind, then all you need to do is to find the best day and time to send emails.
Makes sense?
I have another intriguing question for you: 
Is it important to email at a time that certainly works for your targeted audience?
Absolutely yes, It's incredibly essential to email at the right time to the right audience, it not only influences your outcome but also sustains you to improve click-through rate (CTR), open rate, and boost your ROI.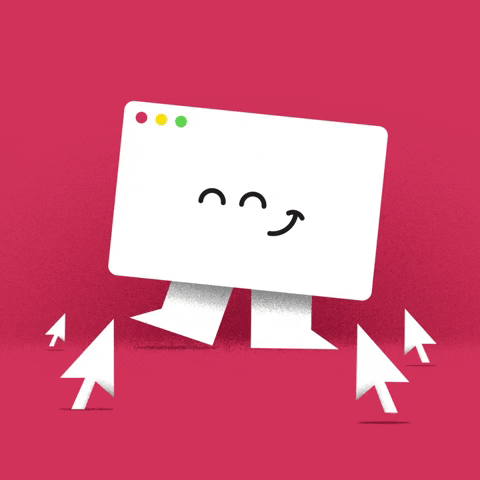 Are you aware of email marketing challenges in 2021?
I'm sure you all do. For the past decade, people used to interact with the other business partners and teams in the same office, but now we all prefer to connect through Zoom, Microsoft team, Slack, and more. Things constantly change, but it doesn't mean email marketing lost its worth. 
Even with all these fancy apps, Email marketing is still one of the best and most competent strategies to communicate with customers and others. The study forecast the number of active email users to reach 4.3 billion in 2023 and 4.6 billion in 2025. So that means Email is not dead, it is still alive and more hard-hitting.
In this article, I'll introduce the five most reliable studies that reveal the best time and date to send emails to your audience after having sent billions of emails.
Read on and find out to make the biggest splash through it. 
What's the best day of the week and time to send emails to your audience?
Let's dive into some relevant studies:
Yesware
The first study, conducted by Yesware, discovers hundreds of thousands of email activity over the last quarter to analyze the best timing for cold emailing, email campaigns, and follow-ups.
Yesware studying based on the replies rate they have received. According to their data, there are two best times for sending emails that are:
One best time to send an email is: 1 pm
The second best time to send an email is: 11 am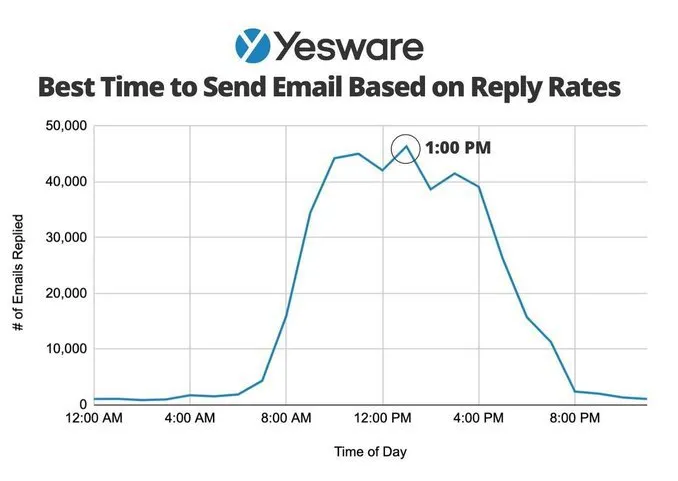 They found sending emails around these frequencies increases the reply rate that assists you to prompt the potential customers into sales customers. On the other hand, the best days to send emails are:
The best day to send an email: Monday and Tuesday
The worst day to send an email: Friday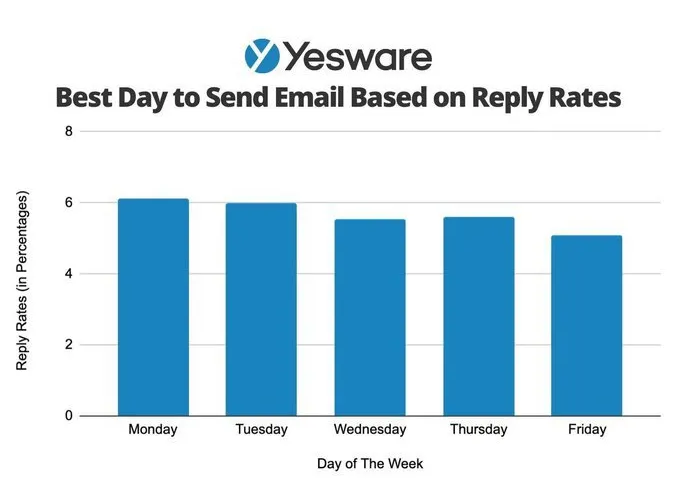 All marketers want their audience to give some time and importance to emails, newsletter and for that, marketers have to put themselves in the audience's shoes and select a perfect period to send an email.
Mailerlite
There is another study of Mailerlite, as opposed to Yesware data, Mailerlite reveals Tuesday is the best day to send out the emails, but Wednesdays, Thursdays, and Fridays can also be convenient to send an email. It certainly enhances the highest open rates and click-through rates rapidly.
The Best day and time to send an email: Tuesday at 11 am
The Worst day to send an email: Saturday and Sunday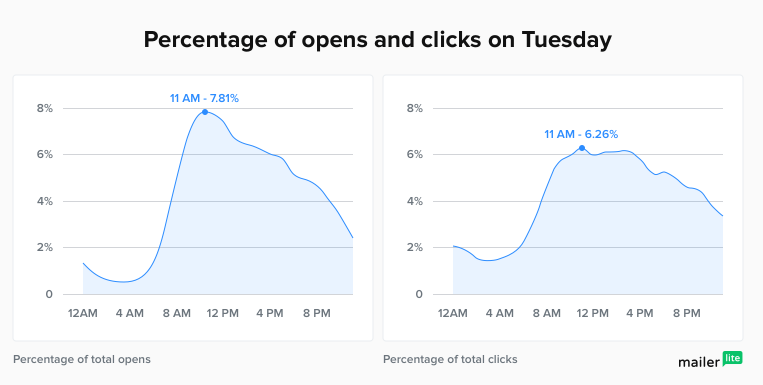 GetResponse
GetResponse found in its studies that Tuesday is the best day to get the most emails opened compared to any other day of the week and accomplish a click-through rate of 2.33%. The second peak day is Friday in order to attain an open rate of 20.58%. 
The Best time to send emails for open rate: 4 am 
The second-best time to send an email for click-through rate (CTR): 6 am

WordStream
In another study from WordStream, they advise email marketers to avoid Monday anxiety and Friday's itchy feet.
Because on Monday; people usually march into the office and are flooded in the barrage of emails, and on Friday, people are trying to wind up the thing rather than replying to emails.
So, they also found the Tuesday, Wednesday, and Thursday are traditionally the favorite:
The best day and time to send email is: Thursday 8–9 am
The Worst Time to Send Emails: Tuesday & Wednesday 8–10 am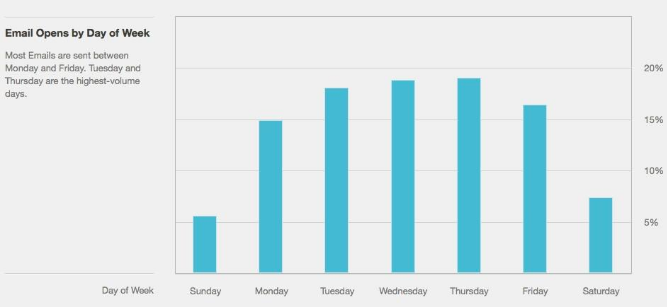 Coschedule
Data from Coschedule reveals Tuesday is one of the most effective days to send an email. In any case, you want to send two emails in a week, then go on Tuesday and Thursday.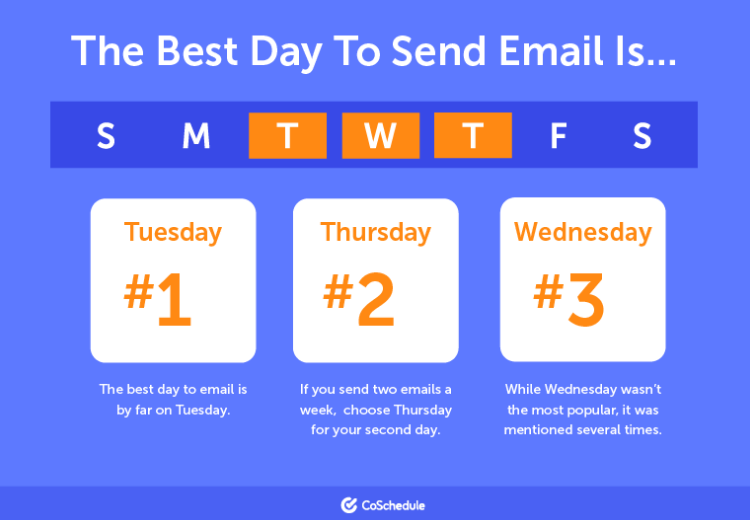 The Best time to send email is: 6:00 am, 10 am, 8 pm, and 2 pm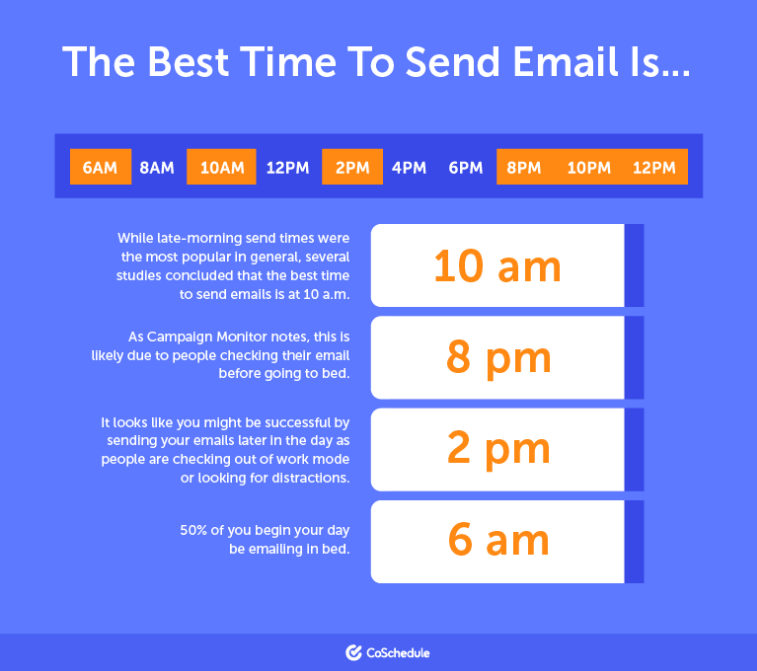 So what is the best day and time to send an email?
What factors should we consider while selecting the time and data?
No doubt, sending emails at the best time is important, but there are some other factors we have to look into before creating an email campaign:
#1. Understand the customer's behavior and demographic segmentation
Knowing your audience's behavior and demographic is the most pivotal factor in email marketing efforts. Think about how your audience's day goes. You wouldn't want to send your email in the middle of their busy schedules. Doing this might cause them to overlook your message unintentionally. Understanding customers' needs and wants are the effective approach to sending your email at the right to the right audience and also assists you to improve your ROI, click-through rate, and response rate. 
Here we take an example:
Let's say you have a large no of the audience doing their jobs at night like bartenders or barista, then you are more likely to send your email at night, which gets a more open rate. We have different studies that reveal sending emails at the night is not a good option to increase the click-through rate, but in this case; it is. 
You want to send emails to the audience, but there is the thing that holds your back is: Who is your market niche? 
To answer this question, you have to find the audience's problem, interests and what do you have for them. Let us say you are targeting B2B and B2C marketers, then weekdays are the best days to send emails for you and Tuesday is the peak day to send an email.
After identifying the niche and customer demographic segmentation the next step, you need to focus on the frequency of email and the subject line with an intriguing title. If you are looking to enhance your open rate, click-through rate, collect lead and sales then you should send one email per week, and sending one or two bulk emails a week is the ideal situation to enhance your brand visibility and improve ROI. 
#4 Identify the Products and Service Offerings

The best time to send your emails is also determined by the type of business you are in. Are your products and services fit under the B2B model or the B2C model?

Based on your solutions and offerings, your time and data can vary accordingly. For example, if you are sending B2B emails then the beginning of the week such as Monday or Tuesday first half usually works the best. Even if you are sending B2B emails, segment your audience to accommodate different modes of working and behaviours. Are you sending to employees? Or entrepreneurs? Or executives?

However, if you are sending B2C emails there are other factors that contribute as well. Such as, is it a retargeting email? If there is an event coming up? For example, if you are promoting fun entertainment activities with family or the hospitality industry, then Friday evening or the weekend will work best.

#5 Test Different Subject Lines

The first thing your reader will notice about your email is the subject line. It is the first and only determining factor whether your reader will open the mail or not.

Based on your niche you can test which subject line will work the best. You can experiment with subject lines to build curiosity, offer value or highlight time sensitivity and the value the email will provide.

Your subject line will determine the open rate of your emails which will eventually lead your reader to take the action you want them to take.

#6 Make the Best Use of Seasonal Consumer Behavior

According to Campaign Monitor, Black Friday emails had the highest open rate and highest link click rate. Another insight about consumer behaviour during holidays shows that 20% of online holiday shopping happen because of emails sent during this season. Therefore, it is important that you have a good strategy of email marketing in place to capitalize on seasonal consumer behaviour.




If you are sending the promotional email about Sales or the New Arrivals, you can schedule the emails for weekends or during lunch hours because they are most likely to take action from your emails during these hours.

#7 Design Mobile-Friendly Emails

More than 47% of your consumers check their emails on their mobile devices. This shows the significance to design mobile-friendly emails. For designing user-friendly emails, you can work on good graphics, flow of content, copy and personalization. These elements will also determine if your user will take any action from the email or not such as clicking on the link.
6 Email Marketing tools to save your time and money
Marketing trends change with time, but email marketing still has its place in the market. Choosing the best email app to send the right email is another important factor that not only affects your email marketing efforts but also assists you to grow your business smartly with the help of valuable analytics against your email campaign.
Do you need email marketing software, which is cost-effective, easy to use, time and money-saving? 
We have listed the 5 most effective email marketing tools which help you to hit the targeted mark every time.
1. ActiveCampaign
ActiveCampaign is one of the most cost-effective and popular email marketing with over 130k customers. 
It allies you to reach the target audience, captures their attention with an interesting message, builds relationships, and aids them to address solutions to their problems. It makes it easy for their customers to run email marketing campaigns. A CRM that includes email and sales automation holds all the customer details in one place. Manage the pipelines, keep transactions up to date, and follow up at the right time.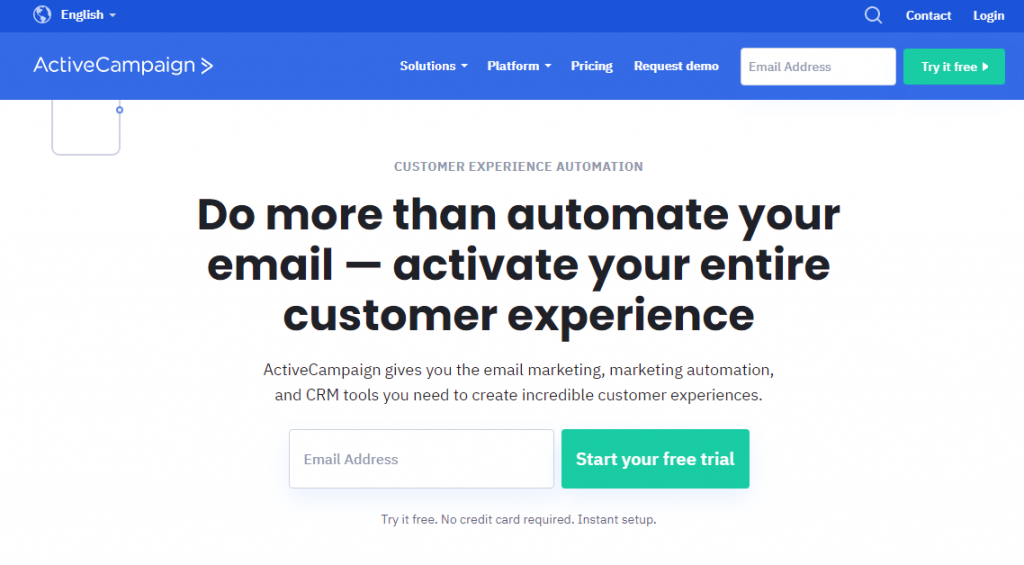 2. Benchmark
Benchmark is another fascinating email marketing tool for agencies that help to create easy professional emails rapidly to keep customers stay and engage. 
It is a cost-effective tool and simplifies the assets you need so you can focus on developing connections, growing your market, and raising the bar.
It allows efficient leverage of your most valuable marketing assets, setup and customizes email without spending hours, builds stronger relationships with your contacts, gets access to a robust email marketing tool, and reaches out your goals faster.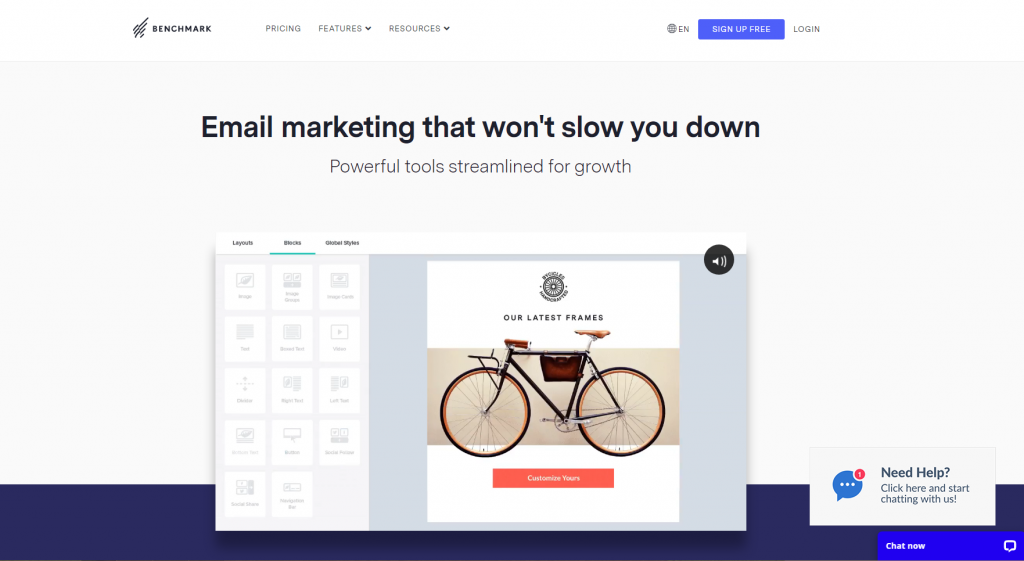 3. eSputnik
eSputnik is a marketing automation tool that offers extensive functionality for customer data management and processing. It provides no-code solutions meaning you don't need code knowledge to implement them for your business.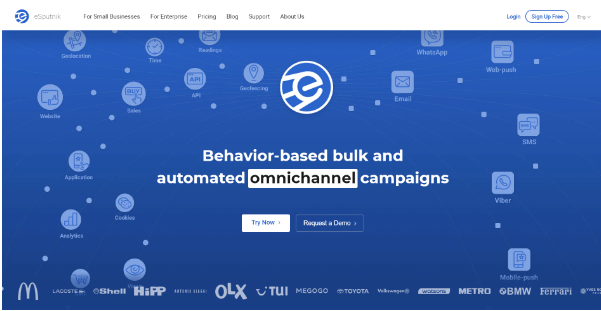 The platform helps create and send mass and transactional emails, SMS, app notifications and browser notifications. Such features as advanced contact segmentation, support of multilingual messaging, the substitution of dynamic content and product recommendations allow to automate message personalization and deliver each subscriber and customer only relevant content.
Aside from messaging, eSputnik offers solutions for personalized website marketing such as forms and site recommendations. It integrates with numerous tools, for example, Tilda, Zapier, Google BigQuery, PostgreSQL, which enables you to run multiple marketing activities within one platform.  
4. Zoho Campaign
Zoho Campaign is an email marketing platform that allows you to develop, deliver, and monitor emails using permission-based email marketing. Through a real-time analytics platform, it assists you in building a large and future client base. 
It assists you in creating visually appealing emails with your brand name, automating your emails, and forming personal relationships with customized emails. It is a malleable and budget-friendly email marketing plan for marketers.
To help you deliver customized messages to your audience, Zoho Campaigns includes features such as interactive content, email surveys, and automatic list segmentation.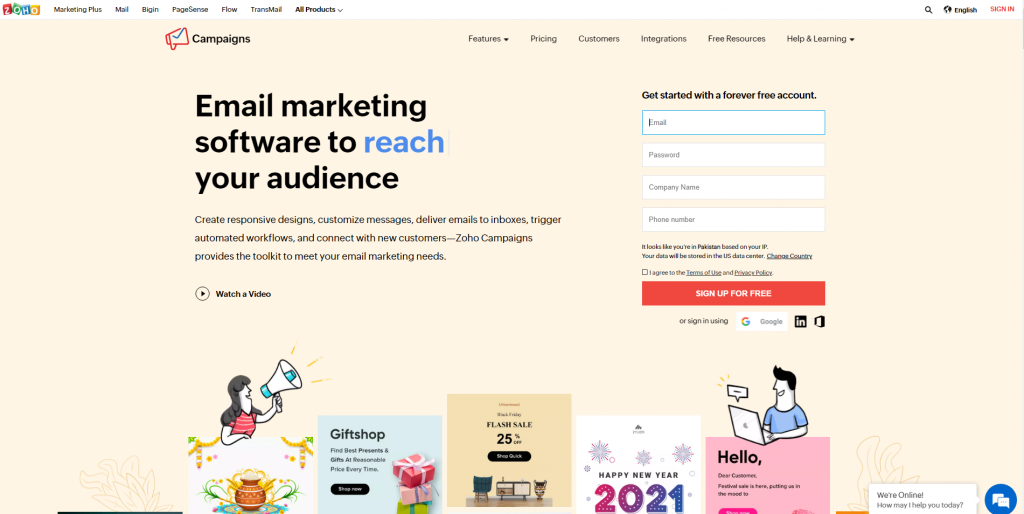 5. Sendinblue
Sendinblue helps companies create and develop relationships by using marketing automation, email promotions, transactional communications, SMS messages, chat, CRM, Facebook ads, and retargeting ads.
It is more than just email marketing software for a marketer, offers a wide range of resources for marketing your product or service. So, no need to go anywhere; find anything relevant to digital marketing without leaving your couch.
One of the latest reviews expound upon its features including Email marketing, SMS marketing, and live chat applications will help you reach your target audience on social media, build a good bond with your consumers by using CRM while saving time and energy with email automation.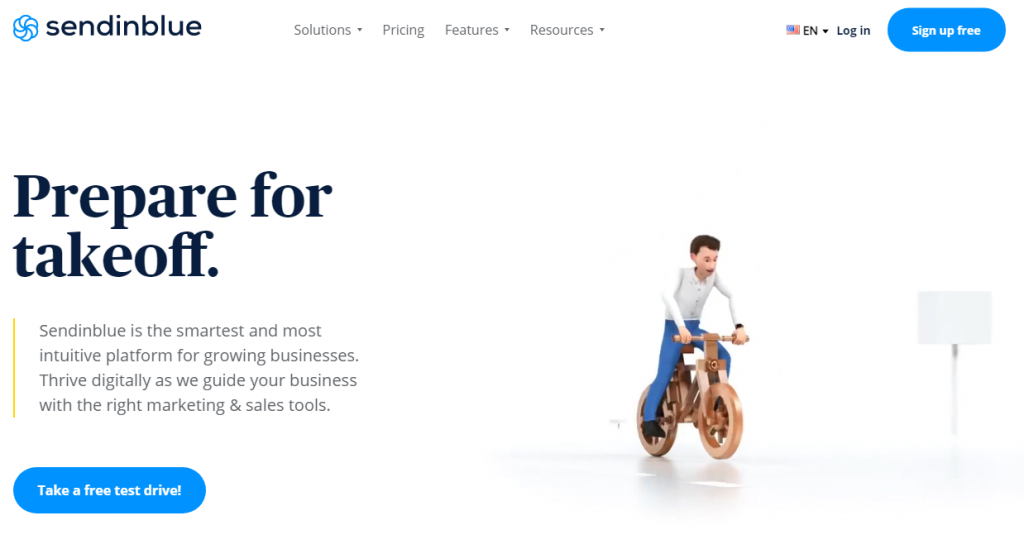 6. Mailchimp
Mailchimp is the most leading tool for bloggers and small businesses because it was one of the first major email providers to have a fully free package forever. 
It let you generate emails, develop a website, register a domain, and design landing pages. It is a top-rated and well-trusted email marketing software that will assist you in growing your company by creating automated emails at critical points in the buyer journey, so you can send out welcoming emails, order confirmations abandoned cart updates, and more with ease.
However, there are many Mailchimp alternatives you should try too.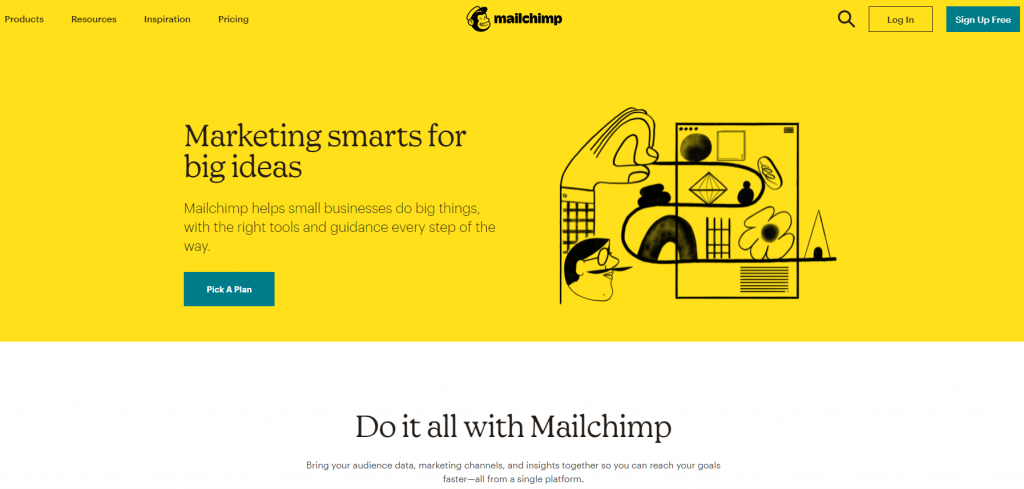 3 Email Metrics to Calculate the Impact of Your Email Marketing: 
It is important to understand the impact of your email marketing after you have identified the best time to send emails.
We have listed down the 3 most important metrics of email marketing to differentiate the best time for people to open emails and the best time for people to take the action (for example, buy a product, complete registration, download an item).
These metrics are:
Open Rate

Click-through Rate

Click-to-open Rate
Open Rate:
Open Rate tells you about how many people from your subscribers opened your email. For a better open rate, have short, crisp and value-added headlines, and add pre-header text.
Click-through Rate:
The Click-through rate tells you about how many people engaged with the email content after opening it. The Click-through rate is usually lesser than the open rate since readers abandon emails without reading completely and taking action. To make your emails more engaging, use the elements of personalization, improve the copy and mention CTA clearly.
Click-to-Open Rate:
Click-to-open Rate is determined by comparing the open rate and the number of people who clicked on any link in the mail. This metric is helpful to understand which content is relevant to your audience.
You can calculate the Click-to-Open Rate by using this formula: 
Click-to-Open Rate = (Click through rate / Open Rate) x 100
Conclusion
Now, I'm sure you have learned how to get more traffic to your website through email marketing.
Email marketing is the cost-effective approach that takes your business to the next level and assists you to improve sales and ROI. Send an email on Tuesday at 10 am with an engaging subject line aids you to stand out in the market.
When will you send your promotional email to the audience?
Sadia Umer
Sadia Umer works on putting together high-quality content for Replug customers to read. When she isn't writing, she can be found reading and trying random life experiments.