Did you know that a compelling call to action on your websites can multiply the rate of conversions for you?
Hard to believe?
Let me tell you how different companies improved their conversion statistics by simply improving their call to actions.
Some User Stories for you
Friendbuy, a company that promotes referral marketing for growth marketers, was able to increase the click-through rate of their improved CTA by 211%.
Now, that's a huge figure.
Another striking example was Jason Fried, the co-founder of the software company 37Signals. His team tried different CTA variations to optimize conversions for Highrise. And finally, they got lucky.
They observed a boost in sign-ups on the website by 200% by changing just the text of a CTA button.
You must be drooling over these figures by now and want the same for your website.
You are fortunate to stumble upon this blog. Because in this, you will walk through a journey of creating the most appealing CTAs and utilizing them in unmasking your business's potential.
Let's start by understanding the nature of a call to action.
What is a Call-to-Action?
A call to action could be a button or a text that incites the user to click on it. It could be anywhere on your website or across other channels as well. Once a call to action is clicked, the user is redirected to your intended page.
A webpage has a pool of content that has to be explored by the readers. If a motive is created for the readers, they're more likely to stay on the page. A call to action could be used to retain the visitors on the web page. 
A call to action plays a vital role in lead generation and customer conversion. Because it makes it easy for the user to browse through your website.
Your website might have won the best website award or could be a slick content source, but your efforts could go futile if your audience fails to understand the workflow. That is why you need to cite your websites with a helpful call to action; to help users progress through your website easily.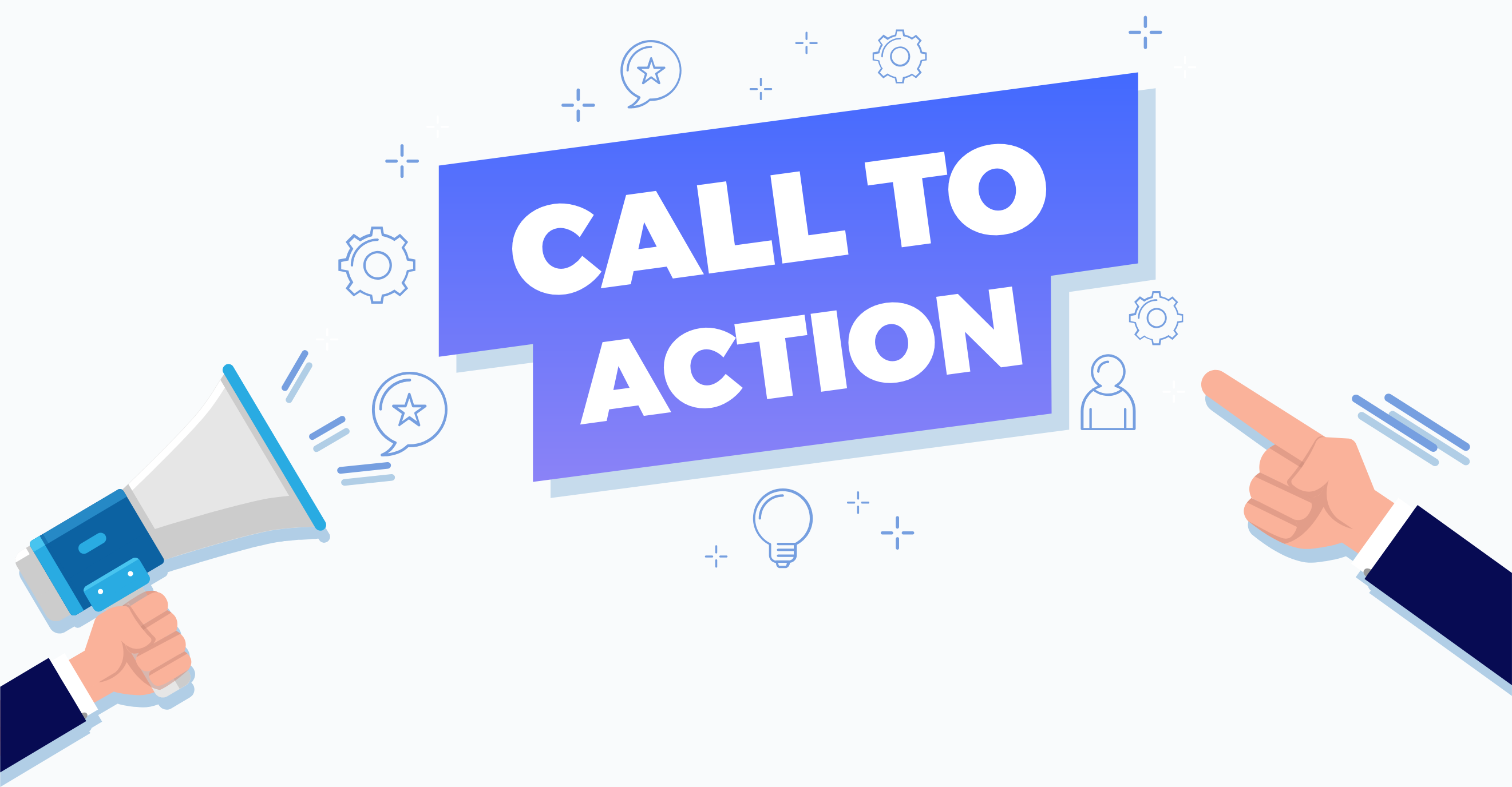 A perfect Design for your perfect Call to Action (CTA)
The design is the first thing that you need to take care of. Because it's the first thing, the viewer is going to see. Using the right color palette and the right words can sweep your audience off their feet.
An attractive website with attractive and organized CTAs can get you the desired conversion rate.
Let's see how you can play with the design scheme of your CTA.
Psychology of colors
We all experience and perceive colors differently. The vibe we get from different colors strums the strings of our brain and settles in the subconscious part of our mind.
Researchers found in a study, Impact of color on marketing, that 90% of the immediate judgment about a product is greatly affected by its color.
An item that stands out attracts more eyeballs towards itself. The importance of color could be magnified by this example below.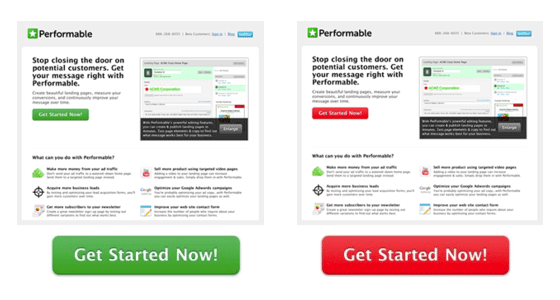 An ordinary alteration like a change in button color can boost conversions.
The boost in conversion was noticed by doing a very ordinary alteration; change in button color.
The red colored 'Get Started Now' CTA boosted conversions by 21%. Keeping this example in mind, imagine what you can achieve by changing just the color of a button.
There you go; a very simple yet revolutionary tip can turn the tables for you.
Nevertheless, the idea is not to use blazing colors in your CTAs, but the idea is to make the CTA stand out from the background.
In this example, the page is constructed on a green palette. A green colored CTA simply blends in with the background and doesn't pinch the viewer that much. Whereas, the contrast of the bright colored CTA button adds to its captivation.
Shopify
Let's see how Shopify grabs your attention with their CTAs. The current call to action they use on their website looks like this:
But before this, during the past few years, they had been constantly trying to improve the look of their CTA. In 2013, they advertised these versions of CTA ads.

The predominant version of their CTA till 2016 was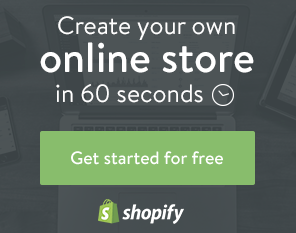 You can also get the maximum lead by playing with your CTAs and improving their outlook.
Smart wordplay
Overlooking your website's call to actions is synonymous to wasting hours of effort spent on creating one. Be it the colors or the text of your CTA, it should be well thought out.
Don't use mainstream CTA words such as 'Buy Now', 'Download' or 'Click This'. Such boring words could destroy your conversions. Instead, use the words that go best with the idea of your product.
Because you don't want your users to think that you are a brain fed robot prone to go with worn convention.
Choose the words wisely!
Let's take an example of this case study; changing one word in the call-to-action of the B2B website generated a 38.26% lift in conversions.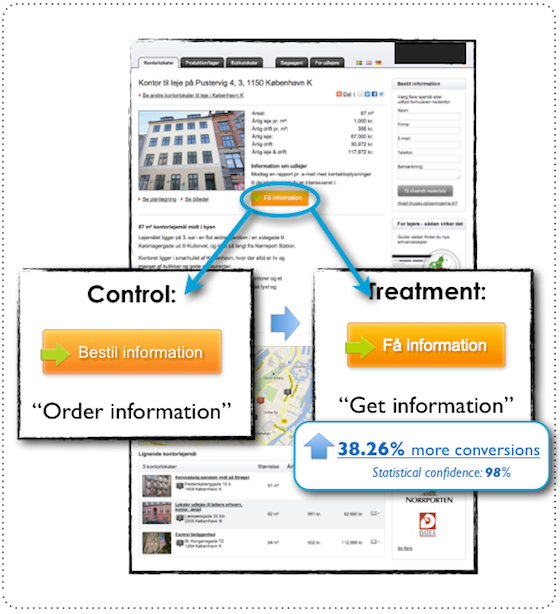 Here the weighted value of the words' Order' and 'Get' can be measured.
Apparently, both these words are used to nudge the user to click on the CTA to buy your product. But take a look at the psychological effect these words have.
The word Order indicates what the user has to do- no anticipation for the end result is built for the user.
Conversely, the word Get emphasizes the end result- what the user is going to get if they click on the button.
And just like the colors of your CTA, your text has to be discrete too.
There is a fine line between being unique and being extra. However, don't lose your originality at the verge of being unique.
The secret is to resonate with your product. Let's take an example of WordPress and how they've shaped their CTA.

"Create a website that works for you."
You can observe that the text of the CTA goes seamlessly with the story of the website.
So, spend some time associating your CTA with your business story.
What is a business story?; you must ask.
Let me spell it out to you.
The power of storytelling
Have you ever heard about neural coupling?
It is a phenomenon which illuminates the storyteller's and the listener's brain in the same areas.
You must have witnessed an unwitting attention when you start listening to a story.
A story is the compilation of events in such a manner that it reverberates maximally with our neural cells. In easier words, we ought to remember information in the form of a story much easier than plain facts.
When you are righting the text in your CTAs, the wording needs to compliment the story's rhythm. Let the readers feel the emotions and make them empathize with your concepts.
Tommy Walker states in a blog that the purpose of the CTA is to build anticipation. The effective CTA is not created by smart wordplay, it is insurance to the reader that your story gets better when they sign up.
Let's take a look at the example of Movement Mortgage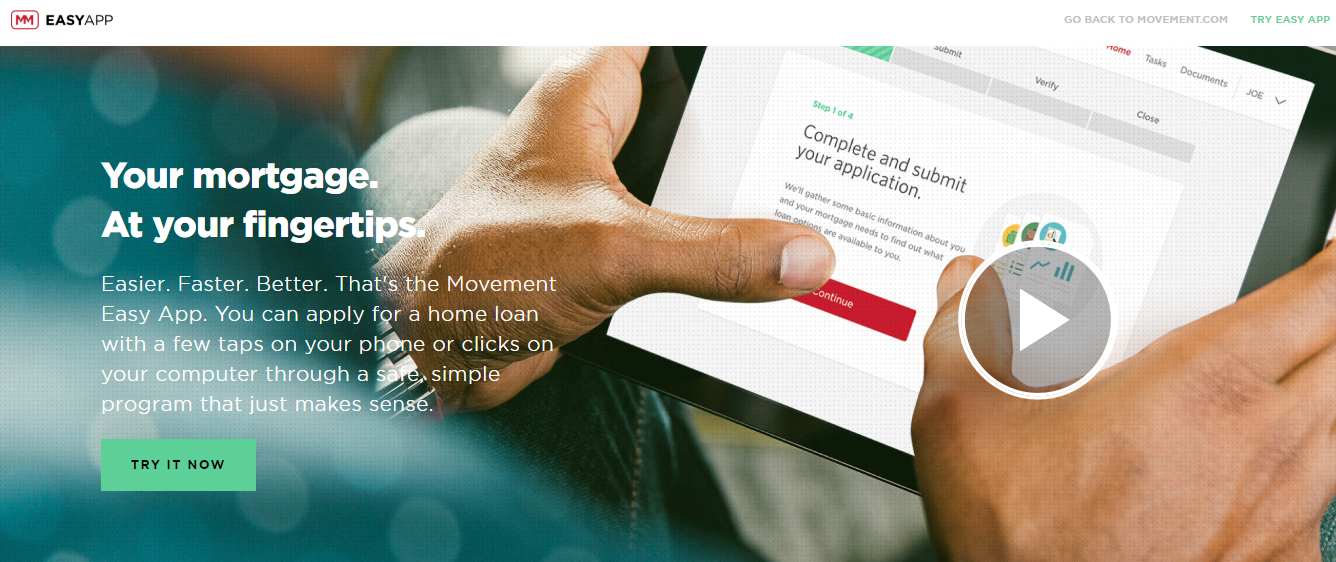 Their concise CTA "Your Mortgage. At your fingertips" is appealing enough for the user to click on the "Try it now" button.
The information they've provided on their landing page is neither insufficient nor overwhelming.
Value and Relevance
Even a single word can have a huge impact on conversions. A change of a single word might not hold significance for you but it can majorly affect the decision-making process of the onlooker.
Create a sense of urgency
Fear and love are those two powerful forces that drive mountains. Love is difficult to understand, so let's use fear in our marketing strategies.
Sometimes, you have to use alarming words in your call to action to sell your deal. Instead, use the words that create urgency and enchant the viewer to click on it.
If you succeed in making your users believe that they'll miss out on the hot deals if they don't click on the CTA. The fear of missing out will push the users to check out the deal before the time runs out.

Less is more
Keep things simple and unambiguous.
Simplicity brings out elegance, and elegance is attractive.
If you can explain something while keeping it simple, why go down the hard path?
Simplicity could be used to sprout curiosity in the viewer's mind which elicits them to explore more of your offerings.
Unamo, a tool for marketers, sets a live illustration of simplicity.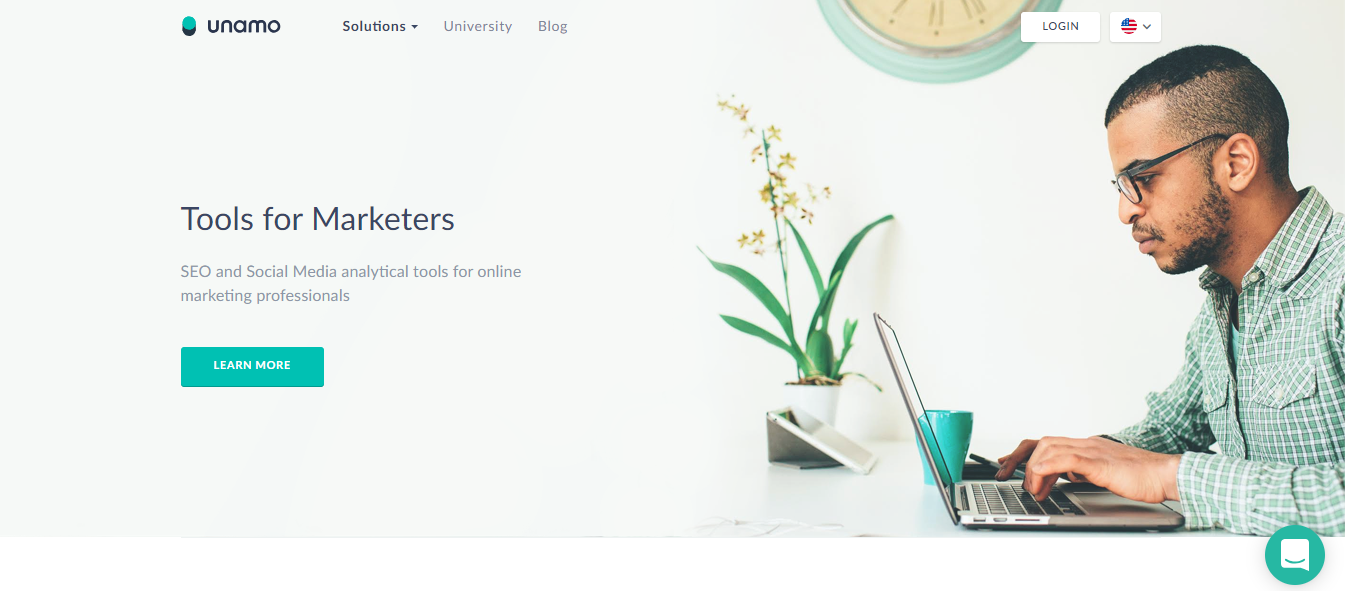 You can see in the screenshot that the words used on their landing page are quantifiable and ignite questions in the reader's mind. And, to unveil the details, the users are invited to learn more via a call to action.
Be direct
If you own a renowned brand, you don't need to splash unnecessary information on your website. People already know you and your specialities. So be direct, swab away all the explanations and directly introduce your user to your offer.
Square, a credit card processing tool, aces the use of CTA by direct targeting. Check out their landing page in the screenshot below.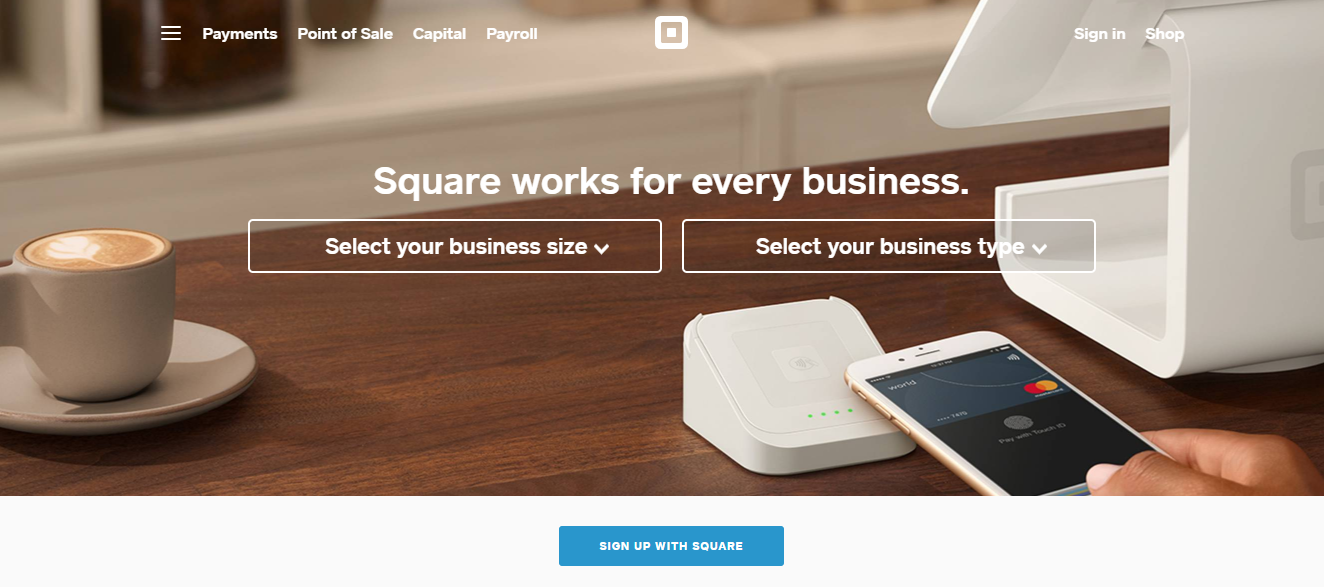 On their website, they have taken advantage of the fact that people are already acquainted with them. Look at how sleekly they have made the use of CTAs.
People know their business and visit the website to sign up. And there it is, right in front of their eyes, they don't have to search for it. The effective targeting and agile placement bring in the exact audience that Square hopes to convert.
Use CTAs According to Your Funnel: 
Your audience can be at the different stages of their customer journey while coming across your offering. Therefore, the personalization and customization will add more relatability for them, and they are more likely to convert through a specific call to action.
This can be done by customized CTAs according to the type of content, whether it's an awareness level content, consideration level content or conversion level content. Therefore, Retargeting CTAs can be more specific than awareness campaign CTAs.
For example, let's look at Slack's case study and how it caters to different audiences through different CTAs on the same page.


Slack has two CTA buttons on its features page. This page caters to two types of audiences. One who is in the mid of their research stage and is learning and exploring the tool's features. The second CTA targets people who are on the last stage of their customer journey and want to sign up for the tool.
In addition to these, they also have several other CTAs on their page where they offer you to talk to their sales team for more information and understanding on the offerings. So again, this is a great example of catering to different audiences at different customer journey stages.
Nintendo's website is another example of moving down your audience in the funnel through effective CTAs. They answer the questions of their visitors by answering them through a CTA button. For example, here they have the CTA of "Compare Features", which enables their customers to research the options. 

Having relevant CTAs according to where your visitor is in their customer journey will enable you to drive conversions by menouvering their journey. 
You can now see just how important little CTA tweaks can be.
Create Selling content to go With Your CTA:
Credibility is one of the core values in the online and offline world for converting our visitors into customers. That's why you must pair your CTA with the content which adds authenticity to your offerings. 

One way is to use testimonials as social proof that your services have been tried and tested by real users. The social proof and reviews from other people make a substantial difference in your customer's decision-making.
For example, in this post, Neil Patel Digital used the testimonial of a business owner to share her experience of working with Neil Patel. After this feedback, people are more likely to explore the offerings by clicking on the CTA at the bottom.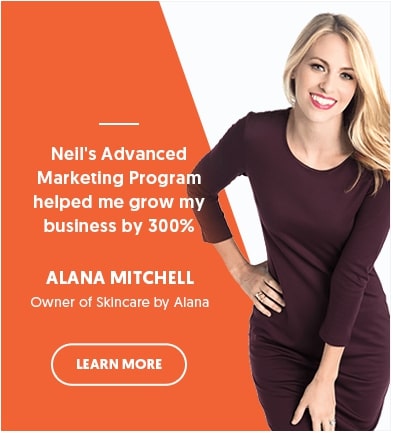 Another way to pair your CTAs with selling content is to add numbers and compelling statistics. These statistics also prove your credibility that there is already a high number of people who trust your services, products or current offering. This also creates a sense of urgency by making people realize that they might be missing something. 
For example,  Neil Patel uses his organic results on CTAs to attract visitors to attend his webinar. With this copy, people are more likely to explore the tricks and tips to increase their website traffic.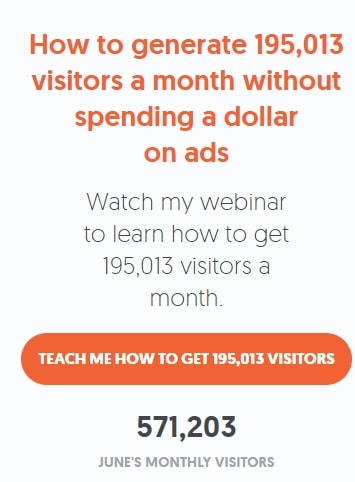 Contextual Placement
Using a CTA on your website is essential but its placement is the tricky part.
A well-placed CTA is likely to gain more leads than a misplaced CTA which is not backed up by a powerful story.
Don't we all crave harmony in our lives?
Just like that, you as a marketer should harmonize all your call to action on your website. Create a story on your website and make the end-user a part of your selling story.
A logical story will create momentum in the user's brain to figure out your product's value.
To make sense to the user, everything has to be in context.
Let's say you have a website and your motto is to promote your product. After highlighting one of your key features, invite the user to try out that feature via a CTA right below the description. This will encourage the user to click on the CTA to substantialize the concept they've just learned.
Make the user's visit worthwhile so that they appreciate the sweet symphony your service provides them.
The relevance of your content with your CTA matters equally as the quality of both, if not more.
If you don't place your CTAs in the right context, the users will be confused about their next move. Thus, they will get intimidated and bounce off of your website.
Check out how smartly Lynda's CTAs integrate with the offers they sell.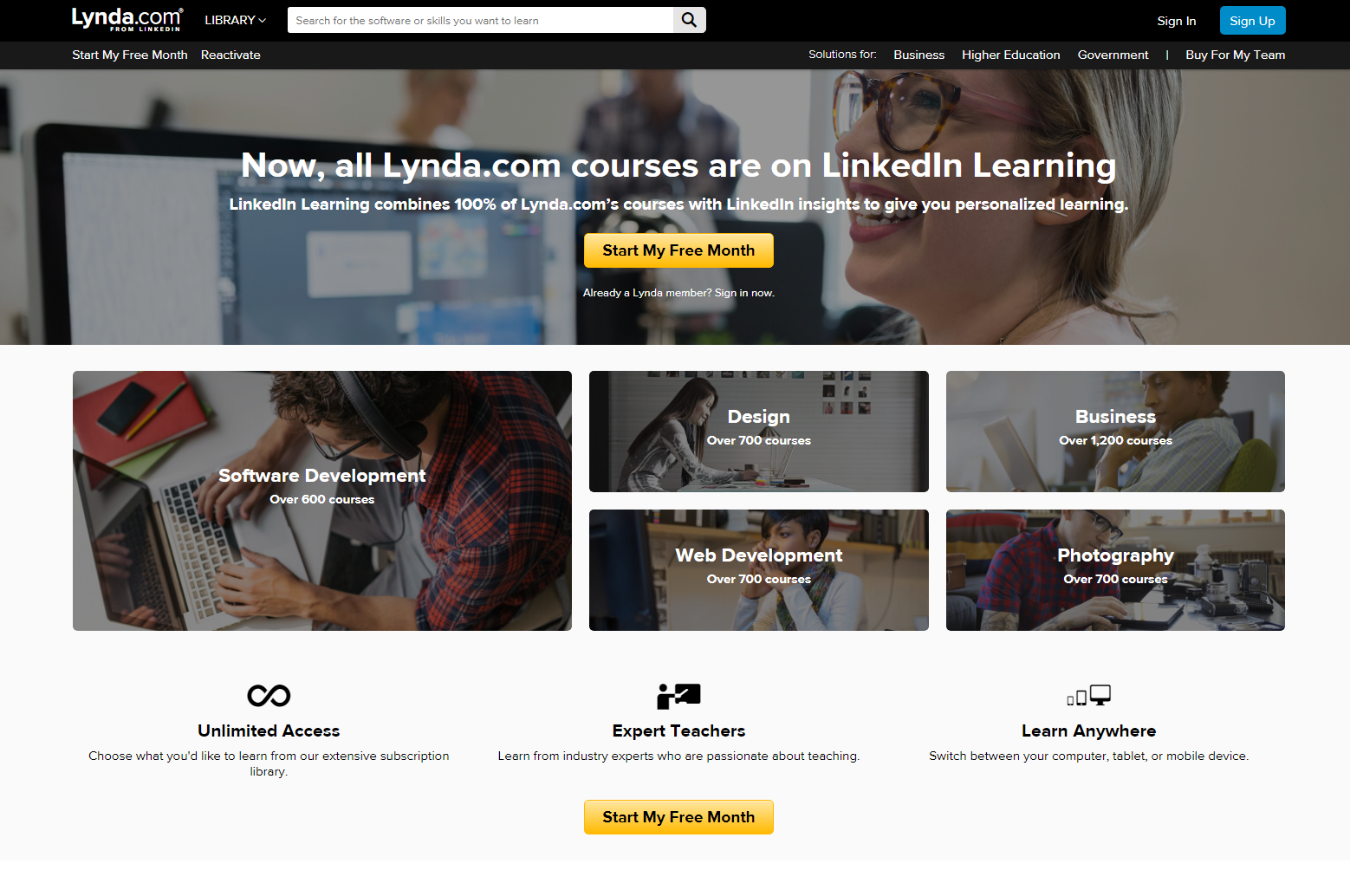 The CTA is placed right above the offered courses, directing the users to start a free trial right away. The point to notice here is that, had the CTA been present elsewhere, it would have been cumbersome for the seeker to find the CTA to move forward.
Another perspective explains that for complex websites, it's better for the CTA to reside below the fold. ContentVerve reinforces this statement by providing us with some facts and figures.
So, according to their study, CTAs placed at the bottom of complex products and service websites gained 304% more conversion than if the same CTA were placed at the top.
This theory is not a game-changer though, as the concept is to stay consistent. If you have a product that needs plenty of description for the viewer to digest, don't risk skipping the important message.
Remember that the expanse of your CTA is wider than just pixels and colors. It's about creating the psychical chemistry with the onlooker.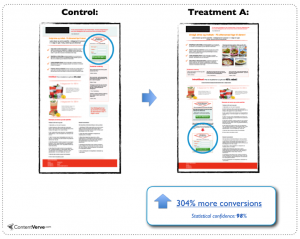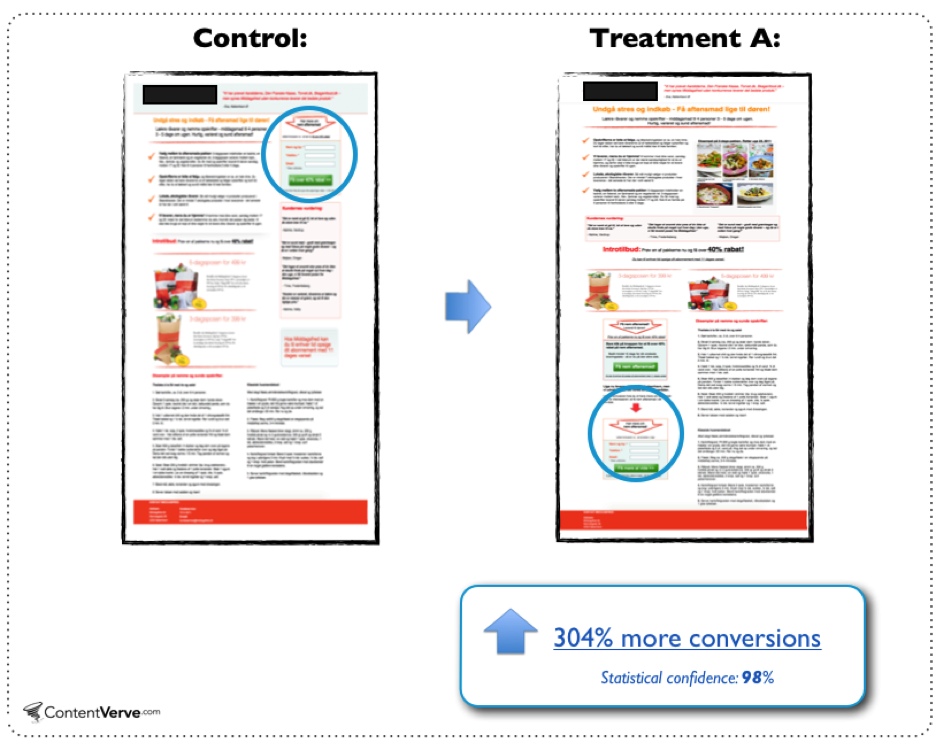 Customer Feedback
At this point, you pretty much are on the expert ladder to incentivize your CTAs.
The next thing to take care of; is customer feedback and customer satisfaction score. Your website should be understandable by a wider audience and elucidate their cognitive curiosities.
Even if you have created a classic CTA for your website that withstands all the rules, you still have to rely on the end-user. Because an impartial user attains an unbiased experience of your website.
Value the feedback of your customers. Make sure that your users understand the workflow of your website properly. Revise and upgrade your design to an extent that your website becomes a piece of cake for the coming traffic.
CTAs in a Blog
A Call-To-Action may defer in its guise, but the essence remains the same; i.e to lead the visitor towards their next step.
Above are some of the examples of CTAs being used in the home website to guide the visitor towards their next move.
CTAs could also be used for brand marketing as well. The use of such CTAs could easily be staged in a blog.
For example, if you're explaining a new feature in your blog or creating relevancy with your product, you could escort the user towards the landing page of your home website via a powerful CTA. This could be done on different channels.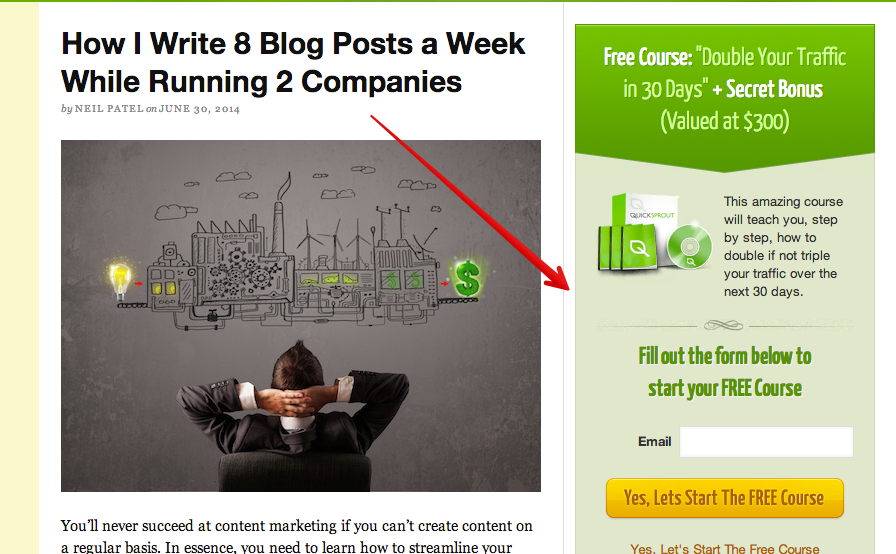 Voila!
You can generate leads even when the audience is not present at your website. But how do you do it?
Replug has the answer to this question.
Branded CTAs by Replug
Replug is a link shortener that has commercialized the concept of a call to action. You can create branded CTAs for your website that could be broadcasted anywhere across the web to the relevant audience.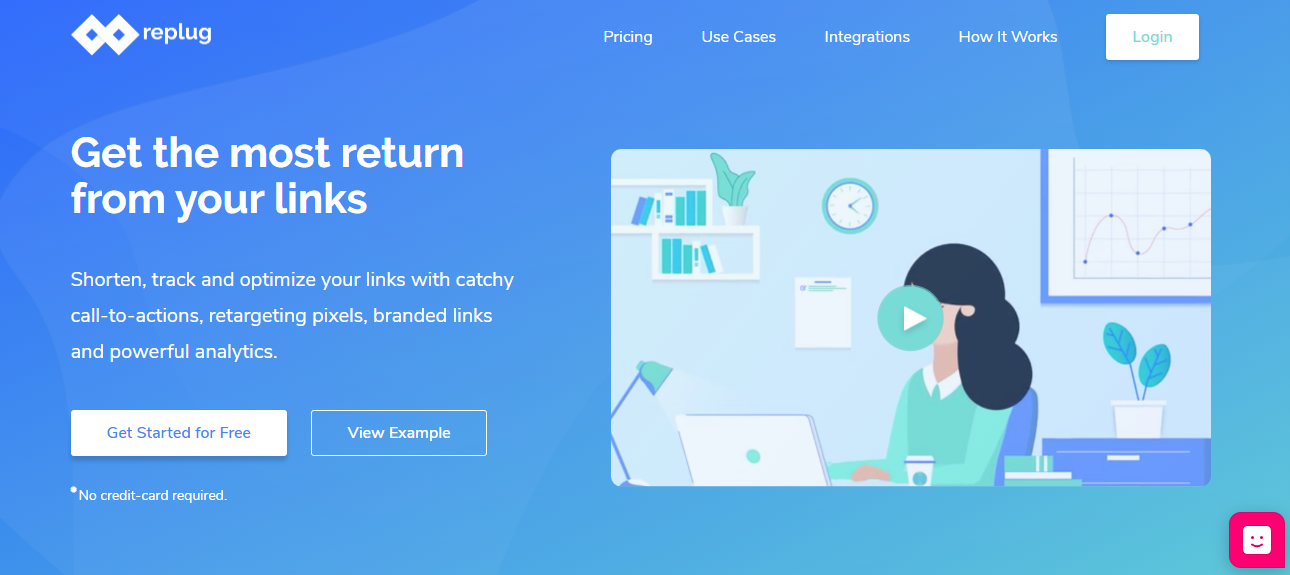 With Replug's branded CTAs, you can target the relevant audience anywhere across the web and drive them toward your website. This means an exponential escalation in your leads resulting in uprearing conversions.
You can customize your CTA by choosing the CTA type from the option pool and bolster your marketing campaigns.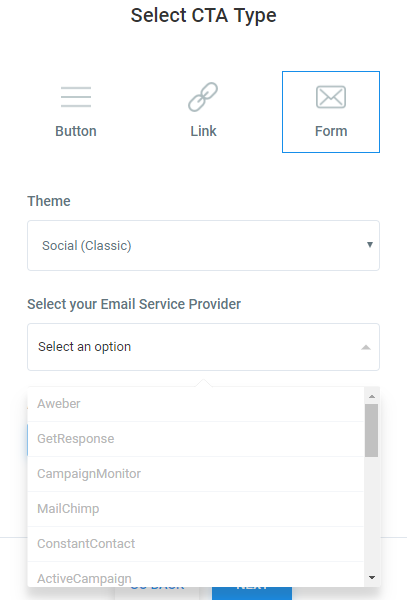 Replug provides a complete canvas for you to draw a catchy call to action from scratch. In addition, the intuitive design of the website lets you smoothly progress through the whole process.
Try Replug for free and envisage your business venture by creating powerful call to actions for your business.
Conclusion
Discard the conventional rulings and design intuitive, more compelling CTAs for your audience.
Get them hooked with your products and services by resonating with their cognitive needs. Make your CTAs stand out by choosing smart color schemes for your CTAs. Create a story for your customers to make their exploration on your website purposeful.
The placement of the CTA is as important as its design. Carefully contextualize your CTA's placement and make your users' journey a seamless one.
Create benefit-oriented CTAs for your websites and multiply your conversion rate and lead generation.
A well-placed and well-designed call to action is not to be undervalued as it can stretch your business capacity to many folds.
Wasiq Naeem
Wasiq Naeem is a content and digital marketing veteran who is passionate about his writing. Extensive research and producing high-quality content is just another day at the office for him.