With the advancement of resources and software, most of the brands make mistakes while composing an email for the target audience. In this blog, I'll mention the most common and fatal mistakes that marketers make frequently. So here are the 8 Deadly Email Marketing Mistakes to Avoid in 2019.
Before starting, I have a question for you.
Do you know, who invented the email concept and what marketers did in the early stages of selling their product?
I'm sure, you do.  Ray Tomlinson, is an American computer programmer who sent the first electronic mail.
Before the discovery of the internet, marketers were used to marketing their products and connecting with the audience through a telephone call and snail mail which were not useful as much as after the invention of the internet.
Email Marketing has changed the entire process of sending an emotional, short, and sweet message to reach out to the potential audience no matter where they are. Marketers find it a valuable source to generate more lead, traffic, and build a connection with the audience that won't only boost sales but also enhance brand loyalty among the audience.
Let's dig a little deeper.
Undefined Goal
Have you ever wondered, that you're managing your email marketing strategies effectively?
Sadly, there are many brands that make certain email marketing mistakes while creating strategies. The one and most notable mistake are Undefined goals.
Do you believe that you can build social engagement through email marketing?
Admittedly Yes, you can. You're required to set an email's goals at first priority. Defining goals give you a clear picture to reach the audience, create campaigns for the segmented audience, and measure the efficiency of these campaigns.
In a nutshell, when you have decided to send an email to the targeted audience you're obligated to give answers to these questions.
How will you connect with your audience??
Are you trying to build an awareness of the product or brand?
Do you want to convey the product's message or tempt the audience to avail of some discounts which you're offering??
After identifying the goals, you can step forth to expand your business in the market. To avoid the embarrassment of being making email mistakes in front of the immense ocean of the audience, you need to define the goals specifically.
Let's take an excellent example of LEWIS HOWES here.
Lewis delivers an email to the audience belongs to the webinar. In this email, Lewis starts from the webinar timings and creates the feeling of a hurry by telling the audience about the seat's limited capacity.
Lewis describes the audience in a concise description of what they can expect from him. He appends a link for the audience to register themselves for the free webinar and also adds a picture of himself to grab the customer's attention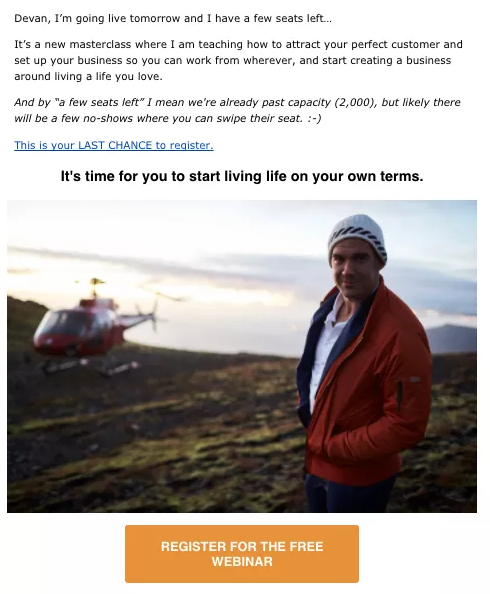 Make them feel Welcome 
As a rule: Go hard on the initial efforts. Marketers should begin with welcome emails. This is the best opportunity to build a friendly and engaging connection with the audience.
As we know, when subscribers enter your store, sign up for your product or view your website, they have mostly expected a warm welcome from the brand. It is human nature to feel worthy for others.
"The first impression is the last impression", so YES, a warm welcome doesn't only improve brand loyalty, in fact, it gives a product's positive impression and company's reflection to the audience. Welcome emails can generate revenue more than 3 times than a promotional email.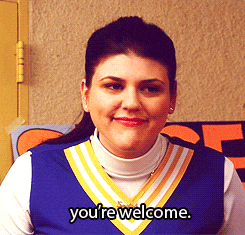 Keep your message simple and concise
Entertaining a vast number of audience is the central concern of almost every marketer. So, it's better to segment the audience and target them with a sweet and short email message. Marketers should create an email that is easy to understand, short in length, and stay on the right path. Marketers need to be addressed one goal for the specific situation or audience, in a particular email.
In this scenario, ThriveHive illustrates in the email precisely, what they are delivering to their clients and how it's beneficial for the client's business. The body of his email content is relevant and informative for the clients.  We don't need a jumble of words to hold the audience's attention towards the brand.

Poor Subject line
Subject lines matter a lot, many users read the subject line and get the idea of what email is about. In other words, meaningful subject lines can pursue the audience to open an email. So, if your email's subject line is eye-catching, then there is a probability that you'd receive a positive response from the desired audience or otherwise, you will be neglected.
Let's take another example of your deep understanding. There is Company X,  wants to write an email to the stakeholder notifying the detail of the meeting they will have on Monday.
Subject 1:   Meeting Request — GEAR up Alumni Leadership Academy
Subject 2:     Alumni Meeting
What would you prefer? Which subject line is more appropriate and attention-grabbing?
I guess Subject 1. if you're genuinely craving to enhance customers' likeability, then you need to write an adequate email with a unique, short, and engaging subject line.
Added Wrong or broken links 
We are humans and we make mistakes. So don't panic.
In fact, marketers are always careful before sending an email to their clients, but still, things get wrong.
Broken links are a primary concern, it gives the impression to the audience about the company, brand, or product at first sight.  According to the study, there are 88% chances that your clients won't come back after having a bad experience. It causes the marketers to lose their potential audience towards your website, ruins your business and brand reputation.
However, marketers need to test their email marketing links repeatedly in order to avoid any email marketing mistakes.
These links consider:
Sometimes, it is an incorrect spelled URL, while adding the link in emails.
Marketers habitually create an email, add links and send to the audience, and lately grasp that they have added a wrong link into CTA.
Usually, customers confront an issue related to the outlook of email address links. For instance, whenever the user clicks on the link, it'll redirect the user to the wrong landing page.
Neglecting mobile users
If you're not reaching your customers' expectations, then you will lose your customers for sure they will unsubscribe you from their email list.
People feel more comfortable checking their emails through their phones rather than laptops or computers. Admittedly, 60% of emails opened on mobile phones.
Habitually, marketers build an email for their target audience on the laptop or desktop and don't check how it looks for mobile users. At that point, everything fluffed up.
Crafting mobile email messages with attractive images, videos, and texts create ways to grow subscriptions, conversions, and open rate toward your website. So, it's essential that email for mobile users should be different from desktop users. It must be easy to read, simple and clear for mobile users.
Let's take an example of Contentstudio, and see how their welcome email looks, for the desktop user.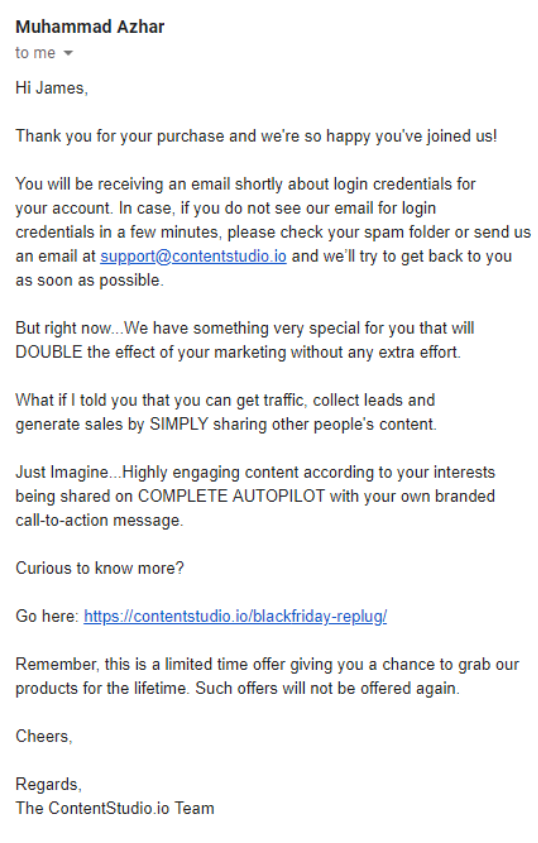 And for mobile users. Here you go. You can examine the readability, the text is clear, easy to consume, and font size is acceptable.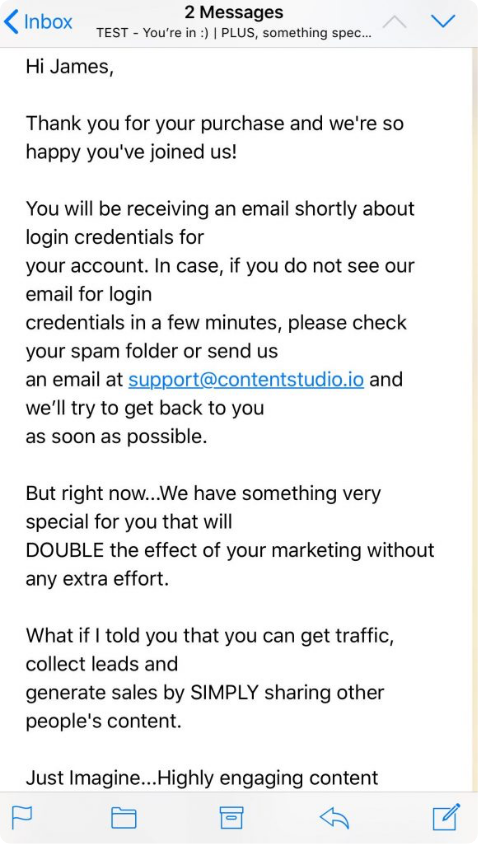 Failing to create a clear Call to Action
Sending emails to the target audience doesn't mean that you have done your work. In fact, that is not enough at all; marketers need to move one pace forward.
How could they do that?
Using CTAs!
A well defined, clear, and simple CTA leads the audience in the right direction. Particular determined messages delivered and with consistent CTAs drive the audience to one landing page, and will generate a far more great impact.
If marketers genuinely nudge the audience to take certain actions then, they should keep in mind that they need to add a single CTA to the appropriate email message rather them using multiple CTAs at once.
Email marketing with CTAs is the most compelling approach for marketers to cater to potential audiences all around the world. To avoid basic email marketing mistakes use good font size, color, picture, and engaging text while building CTAs to arrest the customer's attention.
This article helps you to create a great call to action to lead the conversion to your website, brand, or company.
Here, we have an exceptional example of  De Beers.
Dee Bears has used a light color for CTA, appropriate text that is easy to read, related image, and button size. It arrests the customer's attention by notifying them what they can do for you.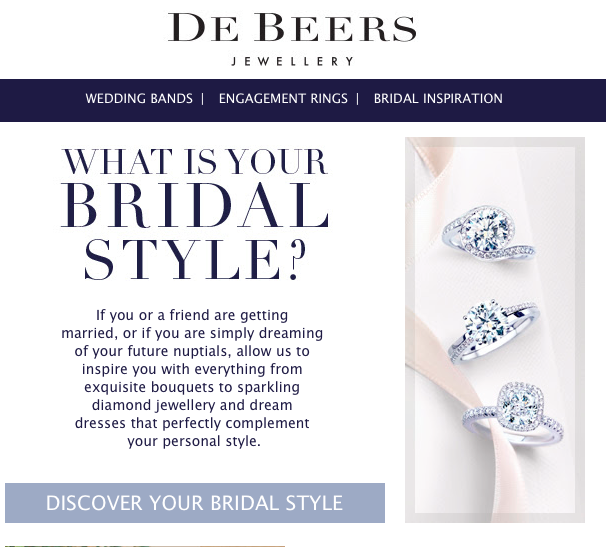 Be smart while A/B testing
Most marketers make basic email marketing mistakes when it comes to testing.
Testing is an important element for marketers to enhance their social engagement and boost conversion rates. Sending emails to the audience without examing, may point the marketers in the wrong way.
For A/B  email testing, marketers need two different modifications such as two subject lines, email templates, or webpages, and find which one works better and generate more lead.
"When sending email campaigns, it's important to find out what works for you and your audience," said Sean Nichols 
It hurts when visitors don't feel your content engaging and step down without reviewing or performing any particular action. On that point, you should look through a/b testing and make sure about your subject line, email template, readability, offers, or discounts, and campaigns.
This article gives you the proper direction about how A/b testing works.
Wrapping-up
Email marketing is one of the prime sources which encourages marketers to build a healthy relationship with their subscribers and pull over the potential audience with the greeting emails or offer a discount on their product. To get the maximum output from Email Marketing, avoid these most common email marketing mistakes.
Marketers are required to overcome these general mistakes while composing an email message for their target audience to build a strong impression of their product or brand in front of different readers.
Sadia Umer
Sadia Umer works on putting together high-quality content for Replug customers to read. When she isn't writing, she can be found reading and trying random life experiments.