Every year, the digital marketing landscape changes drastically; however, e-commerce marketers continue to find email to be one of the most effective channels. Studies show that email marketing can generate an ROI of 4200% on average. In order to keep track of leads and move them through the sales funnel, you probably already rely heavily on email.  Therefore, you need to know some of the best email marketing best practices, whether you're a startup or a large business.
The success of email marketing is heavily dependent on its strategy, even though it has a high ROI. You may find that your email marketing efforts do not produce as desired results if you do not follow email marketing best practices. You can contribute positively to your sales team's bottom line by using email marketing as part of your overall marketing strategy.
It doesn't matter if you failed to get the most out of your email marketing efforts in 2021. To help you out, we have compiled a list of best email practices that you can apply in 2022. Different audiences require different approaches, making it essential to test which strategies work best for you. Below are a few best practices for email marketing. 
Personalize Your Emails
Your email marketing campaigns will be more effective if you personalize them. If your email is not customized to the consumer's interests or needs, they won't even engage with it. Your emails' open rate, reply rate, and clickthrough rate improve when you personalize them. In addition, prospects are more likely to make a purchase after reading your emails. 
"The costs of acquiring customers can be cut in half by personalizing emails. Your email marketing campaigns can generate up to 760% more revenue."
Personalized emails get higher conversion rates than non-personalized emails by 10%. Your sales cycle will be shorter when you personalize your email messages. As a result, you can develop a better relationship with your leads since you are able to provide them with relevant and helpful content.
Email personalization can help you improve customer retention and brand loyalty by showing customers that you care about them and positively influencing how they feel about your brand. With a measly 39% of businesses personalizing their emails, focusing on email personalization also helps you stay ahead of your competition.
Following are some email marketing tips for personalization:
Identify specific segments and recommend products to them

Use customer behavior to trigger emails, such as abandonment of a shopping cart.

Put the name of the recipient in the message.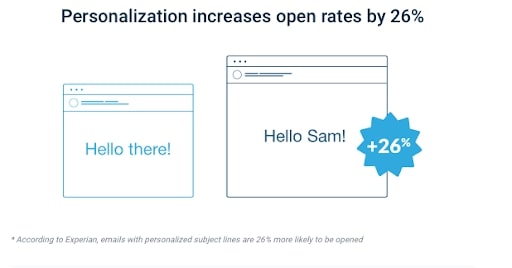 Clean Your Email List
You need to clean up your act in 2022 if you didn't remove inactive subscribers the previous year. Ideally, you should do your email list cleaning at least twice a year.
Not doing so can lead to poor email deliverability. You'll also be able to present a more accurate picture with your metrics since you won't be affecting them with customers whose email addresses have changed. 
If you are removing inactive subscribers from your email list, it's a good idea to send win-back emails first. Take a chance – you may get a few subscribers who wish to stay on your list. After this re-engagement email, inactive recipients should be removed with a clear conscience from your list. 
Make Use Of Welcome Emails
Do you think it is important to send a welcome email? Consider the following example. The average open rate for a welcome email is 80% – and the clickthrough rate is somewhere between 22 and 25%, according to GetResponse. The purpose of welcome emails, in addition to providing your new subscribers with a warm welcome, is to present relevant content at a time when your customers are psychologically ready for your company. If a new subscriber joins your mailing list, many email marketing services enable you to send an automated welcome email. Your welcome email should be relevant and evergreen to attract new subscribers.
You can use a welcome email to build brand affinity for your company and strike a chord with your subscribers. Introduce yourself and your company to new readers, showing them the journey from idea to launch. Your email should be personalized with a photo of your team and a handwritten signature.  Keep in mind that it needs to be a professional email signature to build trust and maintain professionalism.
Below Mentioned Are Some Welcome Email Best Practices:
Give a brief introduction of your company and yourself.
You can use a welcome email to build brand affinity for your company and strike a chord with your subscribers. Introduce yourself and your company to new readers, showing them the journey from idea to launch. Your email should be personalized with a photo of your team and a handwritten signature. 
Curate The Best Content You Have To Offer.
Unless you share useful tips and information with new subscribers as part of your email marketing strategy, they won't have access to the backlog of your previous content. Curate a few of your most popular articles or messages in your first email to a new subscriber. 
Provide A Discount Or Promotional Offer. 
By offering a promotional discount, like 10% off their first purchase, businesses entice website visitors to sign up for their email list. You should follow up on that promise in your welcome email by providing a discount code and even providing a selection of products they can indulge in. 
Send At The Best Time
A lot depends on the timing of your email marketing campaign. Sending an email at the optimal time can significantly boost open rates, clickthrough rates, and revenue per subscriber. According to online data, the best days to send marketing emails are Tuesdays and Thursdays. On the whole, it is better to send the email during the workweek, but these two days, in particular, will offer the highest open and clickthrough rates. 
The time is equally important as the day of the week. In general, the best time to send an email is when your subscribers are taking a break.
However, you should still conduct your own testing to determine the best time and day to market to your target audience. In the end, it is critical to find that sweet spot in 2022 so that your emails appear at the top of subscribers' inboxes when they check them.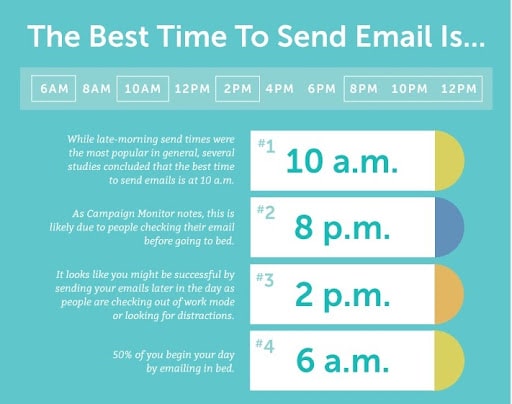 A/B Split Test Your Email Campaigns
Anybody can create an email marketing campaign that gets opened and clicked. Nevertheless, if you're serious about creating a truly groundbreaking email marketing strategy, you'll need to split test your campaigns.
In order to improve your 2022 email marketing strategy, you need to get hands-on and experiment with A/B testing. Measuring the results of your emails will help you discover what works and what does not.
Below are some email test ideas to get you started:
Messages with different subject lines

Emails with or without images

Call to action buttons of different colors

Try sending at different times of the day.

Try sending emails with both short and long subject lines.

Try both short and long email messages in different emails.

Different names of the senders (try using a company's name or a person's name.)
In the long run, testing will ultimately help you to understand your customers better, which in turn will lead to a more satisfying experience.
Test Emails Before Sending
Test your campaigns before you send them. That is perhaps one of the most important email marketing tips that small businesses must consider. A successful overall digital marketing strategy requires that you test your email marketing campaigns, even though it may seem like just another step. It's surprising how easily typos or display issues can slip into your emails.
If you haven't done so already, try previewing your content with your email marketing software once you've finished. Be sure to test your emails on desktop, mobile, and tablet and send them to yourself and a few colleagues.
Optimize Email Subject Lines
A well-written email is only effective if the recipient opens it. Because of this, writers need to make sure their headlines stand out from the clutter in their inboxes. Using all caps, exclamation points, or emojis can seem gimmicky. Instead, use these tips:
Limit the number of characters in your subject line to say more with fewer words.

Don't be afraid to speak your mind. Be clear about what your subscribers will find when they open your email.  

In the subject line of your email, let readers know if you have a special discount or a sale ending soon.

The overuse of words like "free" can turn readers away and may negatively affect deliverability.
Create Drip Email Campaigns
Modern email marketers have access to powerful tools in marketing automation. You need a drip campaign to convince subscribers to act if you want to automate time-consuming tasks. Moreover, you don't want to be spammy in your approach.
Subscribers are usually sent drip campaigns after they register with your newsletter sign-up form. Fortunately, we've got tons of great drip campaign examples to inspire you.
A welcome email drip campaign is the most popular series. You can send a series of emails with different incentives to onboard new customers. It is possible to include a discount in the first email. Your loyalty program could serve as an incentive for them to join the next one. Finally, the third email introduces your team or who is behind your brand. You are humanizing and promoting your brand image this way.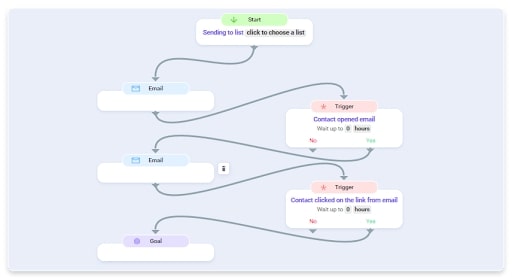 Focus On Email Accessibility
When preparing your campaigns, making your emails open to everyone is the most important factor to consider. Regardless of your recipients' demographic, ability, or device, you need to ensure your email message is understood. It's easy to make a website look great by creating a great user experience by using easy-to-read text and clear graphics and by experimenting with typeface, size, and color.
A trend currently dominating visual and online design trends, Dark Mode, is one of the best ways to make emails more accessible. It is easier on the eyes and enhances contrast when used in dark mode, making lighter objects stand out more.
Consider The Following Email Marketing Tips For Accessibility:
In an email, add alternative text to images so screen readers can read them 

In order to avoid seizures, animations should be flashing between 2 Hz and 55 Hz 

You should aim for a minimum font size of 14px and a readable font style 

For people with visual impairments, the color contrast ratio should be at least 4.5:1 

People with dyslexia will have a hard time reading center-aligned text.
Use Confirmed Opt-In
Your landing pages or Facebook page can be used to set up a sign-up form to grow your email list. Make sure to send a confirmation email once they sign up. The best way to improve your delivery rate is to get your subscribers to confirm that they want to receive your emails again. You know they were serious about signing up since they confirmed their email address. Their responsiveness and email engagement should increase as a result.
Plan A Smart Thank-You Email Strategy
Particularly for a business, gratitude is a valuable trait to have. This part will discuss some ways you can use thank-you words at various stages in your email marketing life cycle. As an alternative to sending a thank you word after someone becomes a new subscriber, you might consider combining a note of thanks with an order confirmation email.
Customers usually wait or expect a receipt against their purchase after completing the checkout process on your site. When they receive it, they are sure to open it and check the details. You can also send customers a thank-you message on their anniversaries or when they reach important milestones. It is certainly possible to amplify your brand's engagement with customers by showing your appreciation, even if it does not directly lead to sales.
Conclusion
Due to new technologies, shifting regulations, and other factors, email marketing changes dramatically every year. As far as email marketing trends go, you'll need to stay on top of them and adjust your plans accordingly in order to stay competitive. You need to use the best practice email marketing strategies to get one step ahead of your competition. We provided you with a list of the best email marketing tips that you can apply to your email marketing practices. After reading this article, you might find some inspiring and wonderful ideas for creating emails for your business.
Farwa Anees
Farwa is a Digital Marketer who likes to share her insights and experiences via writing. She likes to test and experience new eras in marketing and share them through blog writing.