Creating UTM links is a straightforward process that helps you track the effectiveness of your marketing campaigns and understand where your website traffic is coming from. UTM parameters are tags added to your URLs to provide more information about the source of a click.
Here's a quick and effective approach to creating UTM links:
Understand UTM Parameters:
UTM parameters are tags added to the end of a URL to provide more information about the source of a click. They are essential for tracking and analyzing the performance of your campaigns, allowing you to make data-driven decisions and optimize your marketing strategies.
Here's a breakdown of the key UTM parameters and their purposes:
utm_source:
Purpose: Identifies the specific source of the traffic, such as a website, platform, or publication.
Examples: "facebook," "google," "newsletter," "twitter."
utm_medium:
Purpose: Specify the medium or channel through which the link was shared or clicked.
Examples: "cpc" (cost-per-click), "social" (social media), "email," "organic."
utm_campaign:
Purpose: Names the marketing campaign or effort where the link is used.
Examples: "spring_sale," "product_launch," "holiday_promotion."
utm_term:
Purpose: Typically used in paid search campaigns to specify the keywords associated with the ad.
Examples: "running+shoes," "digital+camera," "best+smartphone."
utm_content:
Purpose: Differentiates between variations of the same link within a campaign, such as different ad creatives or locations.
Examples: "banner_ad," "sidebar_button," "top_menu_link."
Here's an example of a URL with UTM parameters:
https://www.example.com/page?.utm_source=facebook&utm_medium=social&utm_campaign=spring_sale&utm_term=shoes&utm_content=banner_ad
How to create UTM links using Replug?
Replug is a feature-rich link management platform that excels in simplifying UTM tracking while offering robust link management capabilities. Its versatility, customization options, and detailed analytics make it a compelling choice for marketers.
Additionally, Replug provides URL shortening, efficient campaign organization, and seamless integration possibilities, making it an attractive option for businesses of all sizes.
Here's how to add UTM codes to your URLs using Replug:
Step 1: Sign in or create an account
Begin by signing in to your Replug account. If you don't have one yet, you can easily create a free account.
Step 2: Select your campaign
Once you're logged in, click "Select your campaign" on the main dashboard or create a new campaign.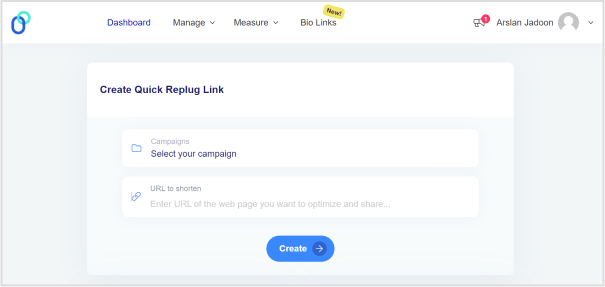 Step 3: Paste the URL
Locate the "URL to shorten" section below "Select your campaign", and paste the URL to which you want to add UTM parameters.
Step 4: Add UTM tag
At the end of the "URL to shorten" section, you'll see an "add UTM" tag. Click on it to proceed.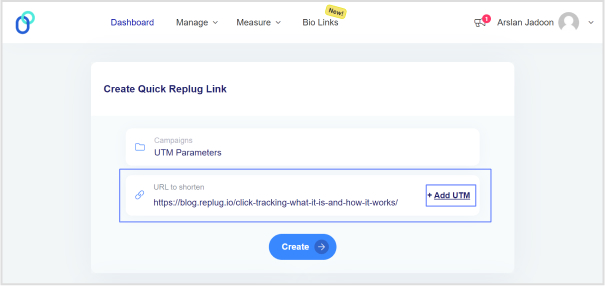 Also read: Click Tracking: What It Is and How It Works?
Step 5: Choose UTM parameters
You have the option to either "select from saved UTM parameters" if you've used these before or "create a new UTM parameter."
Step 6: Fill in UTM parameters
If you decide to create a new UTM parameter, provide the necessary information such as the source, medium, campaign, term, and content. Once you've completed this, click "Apply."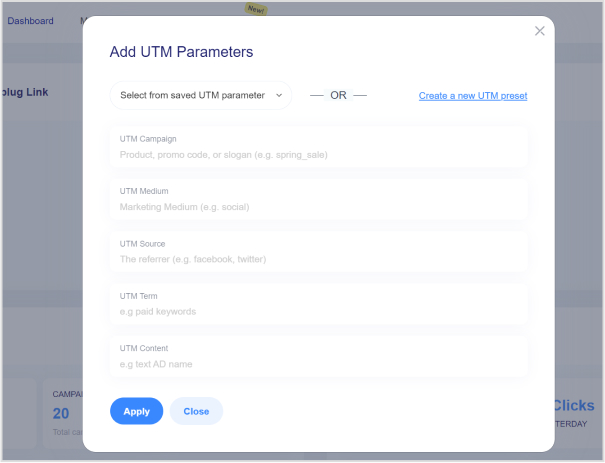 Step 7: Create the URL
Click the "create" button, and Replug will automatically generate a shortened URL with the added UTM parameters.
Step 8: Edit UTM code (optional)
If you wish to further customize the URL, you can do so by clicking the edit icon.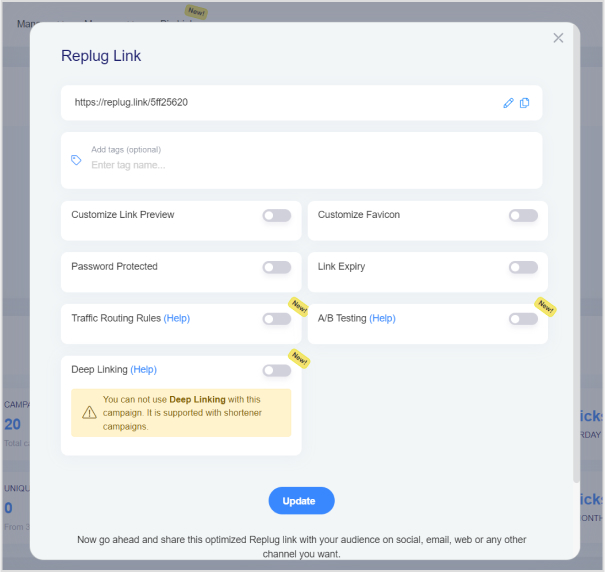 Also read: How to Create a Trackable Link: A Step-by-Step Guide
Step 9: Copy and update
After any edits (if necessary), simply copy the URL with the UTM parameters and click the "update" button to save your changes.
Step 10: Access your URL
To access and manage the URL you've just created with UTM parameters, navigate to the "Manage" section in Replug and click on "Replug links."
By following these steps, you can harness the full potential of Replug to seamlessly integrate UTM parameters into your URLs, improving the accuracy and effectiveness of your marketing campaign tracking and analysis.
Link Management Made Easy
Your go to link management tool for CTAs, branded and bio links, QR Codes, tracking and retargeting.
Get Started for FREE!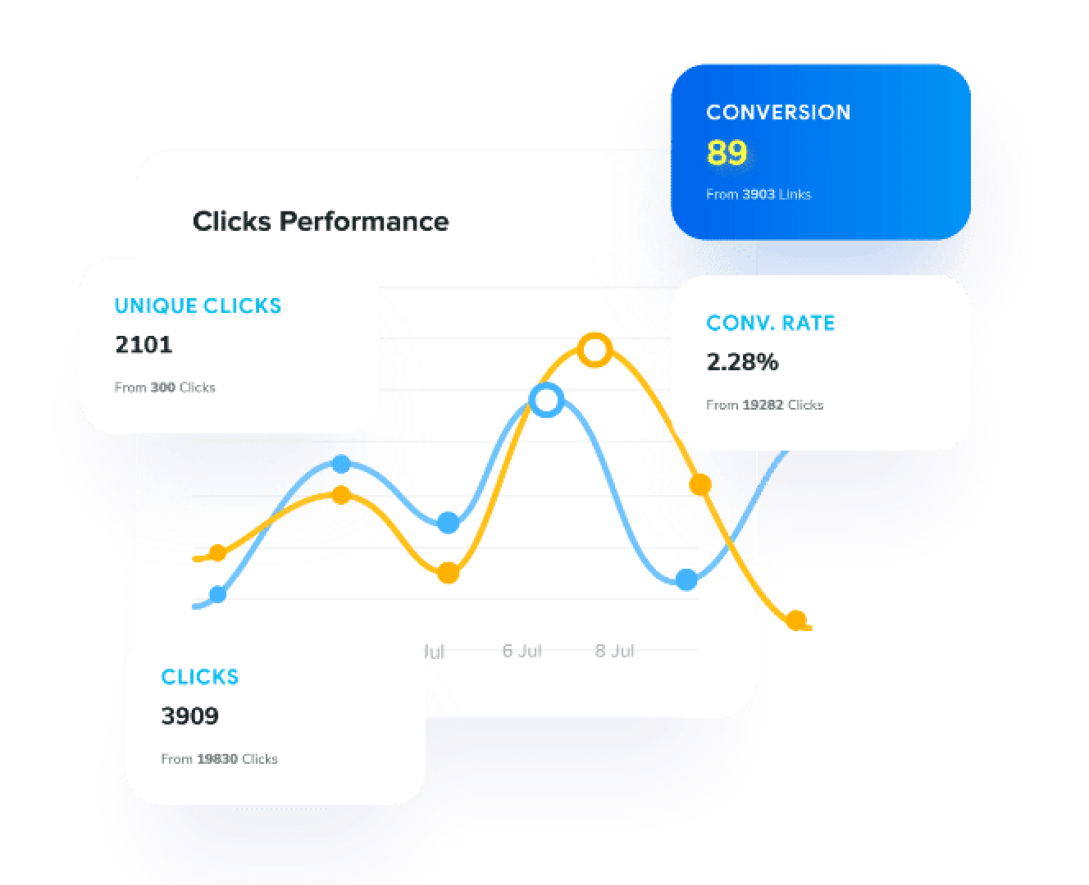 FAQs
What are UTM parameters?
UTM parameters are tags added to URLs to track the source and performance of your marketing links. They're essential for understanding where your traffic comes from and how effective your campaigns are.
How do I create UTM links for my marketing campaigns?
Use an online UTM builder like Replug or manually add UTM parameters to your URLs to create UTM links.
What are the common mistakes to avoid when using UTM parameters?
Avoid using spaces or special characters in your UTM parameters, and make sure they are applied consistently. Be careful with sensitive data like user information in UTM parameters.
You may also like:
How to Create a Custom Short URL?
How to Add Multiple Links to Instagram Bio Using Replug?
What are Deep Links and How to Create Them?
Arslan Jadoon
Meet Arslan, a skilled website blog and content writer who combines creativity and expertise to deliver engaging and informative pieces that captivate audiences.