Digital marketing hasn't been this diversified in the past, and when we infuse data-driven strategies into digital marketing, it does wonders for us.
Since digital marketing is so wide, so it becomes a headache to figure out where to begin from, especially when you're getting started marketing your business online. No wonder a majority of non-tech savvy business owners think of just online advertising as digital marketing.
Have you ever wondered which online marketing source brings the most website traffic?
Is there any chance you know how many website visitors you get every month from Facebook and Twitter?
Some of you might immediately think, we could look up the website statistics.
What if I told you I have used website statistics tools like Statcounter and Extreme Tracking in the past. Sure, they do some website visitor tracking, but you don't find ground-breaking statistics to make a difference.
The thing about website statistics is that they aren't 100% accurate. Back in 2011-12, when I was using Extreme Tracking, it used to skip keywords for some organic visitors for some reason.
Nevertheless, you could use tools like Google Analytics and Google Search Central for tracking keywords, popular pages, and whatnot.
However, things start to look difficult when you need to track referral traffic from other sources such as email lists, social media channels, giveaways, and opt-in bribes.
That's where UTM parameters come in. Don't panic if you haven't heard about it or you have no idea what they are. I'll walk you through and try my best to explain what the heck this thing is.
What's a UTM Parameter?
UTM is the abbreviation for Urchin Tracking Module, which is a web technology that is used to track the effectiveness of online marketing campaigns. It has five variants of URL parameters that play a role in identifying website traffic sources for marketers and business owners.
In simple words, a UTM parameter is a referral traffic tracking system that adds a slug in the URL and makes it convenient for marketers and businesses to track website visitors from all the sources.
It comes in handy when you've set up a social media campaign, for instance, you're running a Facebook ad campaign, you could slip in your UTM code into the URL, and there you go.
What happens next is that you could track the number of visitors that clicked through the URL and landed on the page. As a result, it'll help determine the performance of your Facebook ad campaign.
See, if you're spending money on Facebook ads, you might want to cross-check your ad clicks and website visitors it drove to your website. Therefore, you can simply set up a UTM parameter and add it to your URL in the Facebook ad. You could dig deeper into your site analytics to find out the number of visitors using the UTM code.
How to Setup UTM Parameters
The UTM parameter setup is an integral part of the website traffic tracking and conversion optimization processes. It does seem technical, but it's quite an easy one if you know what you're doing. There are several UTM parameters in a URL that help marketers identify the marketing strategy and referral source of the traffic.
I'm sure now you must have some idea what a UTM parameter is. We often come across a UTM parameter while surfing through the web, but no one pays attention to long and clunky URLs.
Here's what a URL with UTM Parameters looks like:

You can notice several UTM components in the above-mentioned screenshot.
Let's go through the process of setting up UTM parameters in four steps:
Step #1: Decide what to track
It's essential to know what to track before you start scratching your head for setting up a campaign. If you haven't had a chance to deeply understand what UTM tracking is, then don't worry about it. It's a tracking system that marketers or brands set up to identify the traffic source.
You can set up UTM parameters for various marketing tools such as email newsletters, online ads, social media campaigns, etc. Once you're sure what to track, things start to look a bit easier.
If you hire an expert to set up a UTM parameter tracking for you, be sure to answer some questions right off the bat. Here are some possible questions he or she might ask you:
What do you need UTM tracking for?
What is the traffic coming from?
What medium do you use?
What type of campaign are you planning on starting?
What type of content are you going to use for the campaign?
The easiest way to figure this out is by start testing the strategy you're relying on for attracting prospects, and then move towards testing some new tactics. You can A/B test both strategies to find out what resulted in bringing more customers to the business.
Step #2: Understand the UTM parameters
UTM parameters are not rocket science. Anyone who has ever run a Google ad or Facebook ad campaign can tell you how it works.
There are several UTM parameters a campaign's URL might have. Therefore, knowing what they represent can't just make the job easier, but it could also amplify the digital marketing performance.
Here are five UTM parameters that are used for tracking visitors:
utm_source: It's used to identify which platform or site is sending the traffic
utm_medium: it Identifies what type of link was it, for instance, CPC or email newsletter.
utm_campaign: It describes a specific campaign or promotion, for instance, a Black Friday sale.
utm_term: This UTM code is used to identify the search term the brand is after.
utm_content: It tells what content was used to bring the visitors such as a text link in the article or a banner ad.
The reason why I explained these UTM parameters is that you're going to need to fill up the UTM parameters form in the next step.
Step #3: Setup UTM parameter tracking
It'll hardly take a minute to insert a UTM parameter into a URL for your campaign. There are online tools that help you generate UTM-based URLs for the campaign. Not only do they bring accuracy to the job, but they also help speed up the process.
Go to one of the many online UTM tracking code generators available to grab your tracking URL for the online campaign. Here are three of the popular ones:
You'll put the five UTM parameters discussed in step #2 in every UTM builder tool: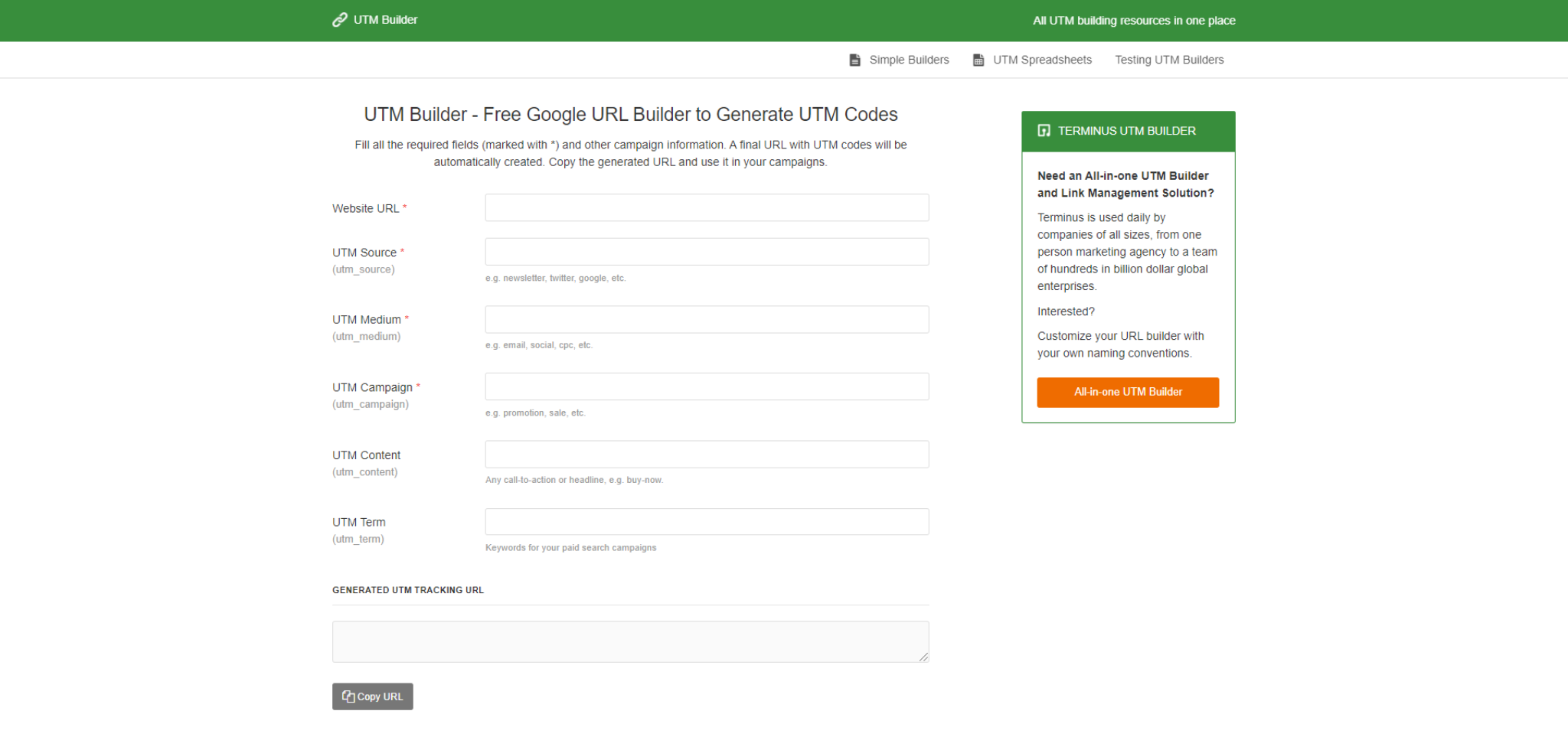 Once you're done with the data input, click on the button below to generate, or in some cases, the tool automatically generates the URL once you put the details into the data fields.
That's it. Now you have the URL that contains the UTM parameters. Feel free to use that URL in your various marketing campaigns.
Step #4: Track Your UTM Parameter
The next up is tracking your campaigns that contain UTM parameters. Log in to your Google Analytics account for further steps. Google Analytics is a one-stop-shop for checking your website's statistics. Therefore, it'll help you track your UTM campaigns as well.
Go to the Acquisitions > All Traffic > Source/Medium.
You'll see something like this in your Analytics account: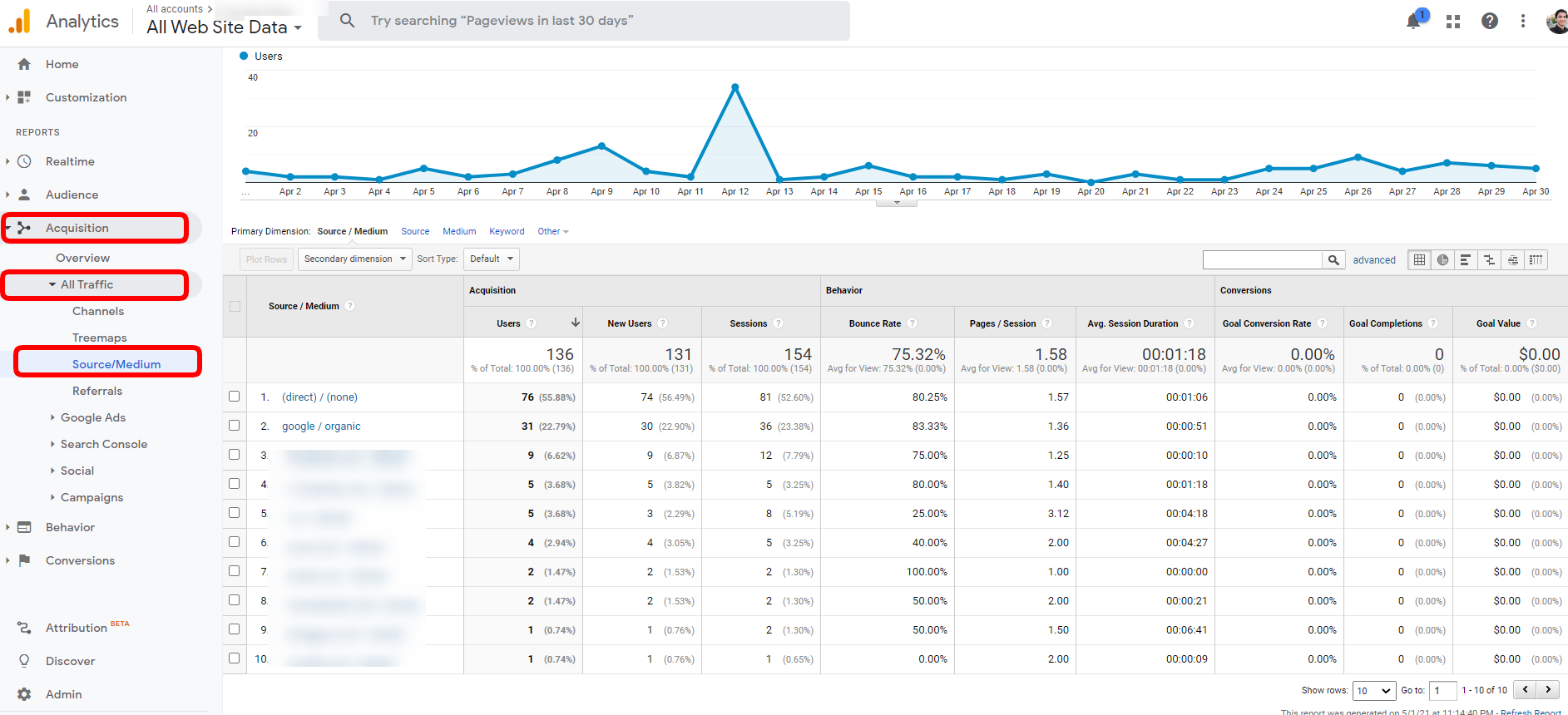 Your UTM campaign would reflect under the source/medium section.
For instance, if you set the campaign as newsletter and medium as email while generating the URL for your UTM campaign, then the source/medium section would display newsletter/email on the list.
Here's the example:
What it means is that you can track how many clicks you're getting on a campaign just because you attached a UTM code to the URL that's tracking the number of visitors landing on the page.
How to Use UTM Parameters in Digital Marketing
The UTM parameters come in handy where you're trying to track the clickability of the visitors to understand the behavior, conversion, or acquisition. However, you can use UTM parameters in various segments of digital marketing.
Let's take a look at three common digital marketing segments where you can use UTM parameters:
Since the fundamental idea of the UTM parameters is to track website visitors' sources, so we'd want to integrate a UTM parameter to our email marketing campaign to track the visitors landing through email campaigns.
We often send out newsletters with the intent of bringing subscribers to our latest blog post or a discount offer on the website. The UTM tracking could help you differentiate how many visitors came through a specific email campaign.
For instance, Yoast is a popular SEO plugin for WordPress. They're proactive with their content marketing, especially when it comes to blog publishing.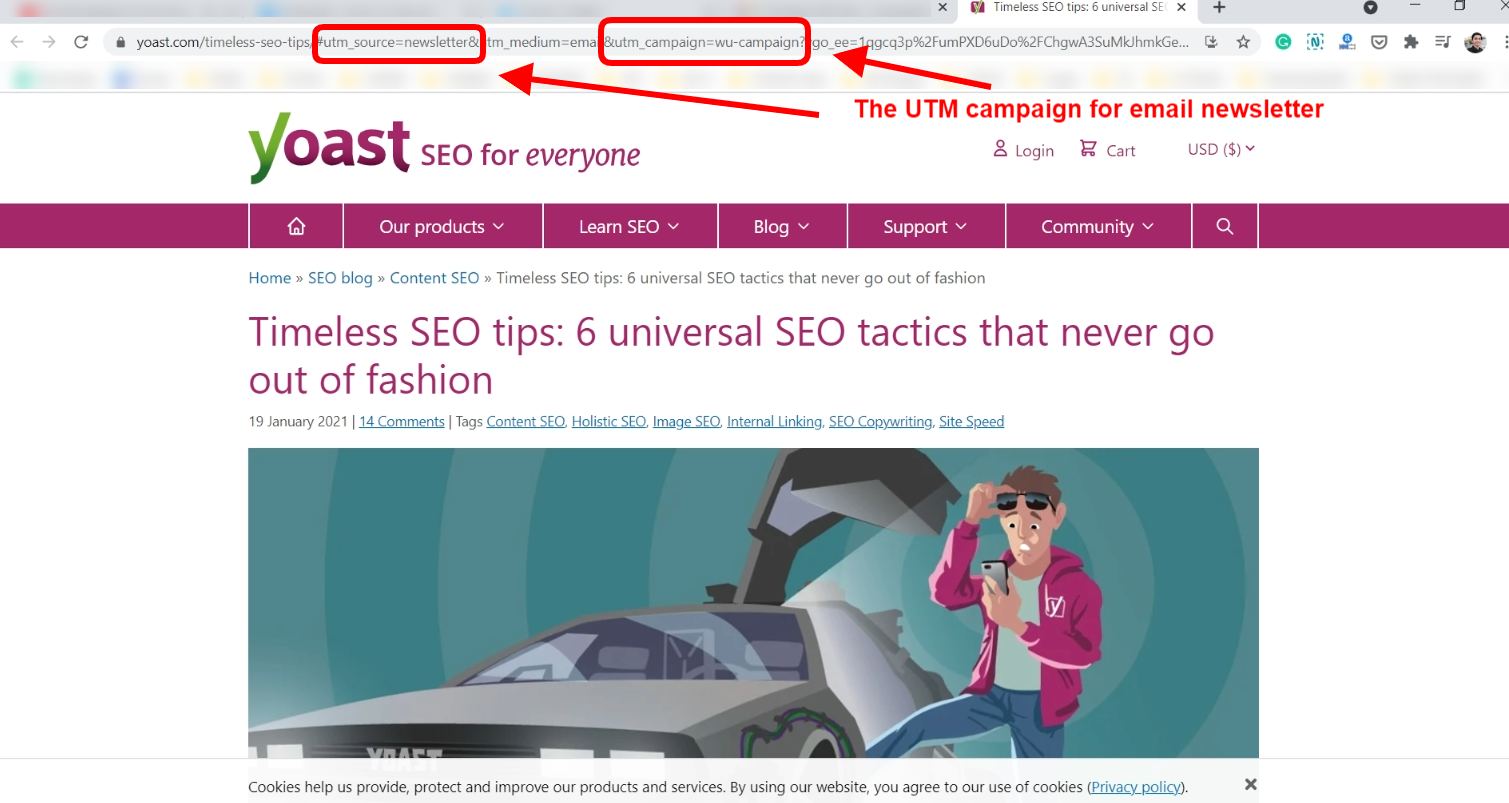 Yoast uses a UTM parameter in their email newsletter to identify the website visitors coming to their site or blog via email newsletter.
They aren't the only company doing so. You'll find millions of blogs, websites, and companies are using UTM parameters for tracking website visitors to figure out the traffic sources.
You're about to discover how you can infuse UTM parameters into more areas of digital marketing.
Social media is an essential pillar of online marketing. Brands and websites spend money, resources, and energy on establishing connections, fan base, and engagement on social media.
However, they'd also want their followers to visit their websites or landing pages to make purchases or generate leads or click on the ads. That's how websites and businesses primarily make money on the websites.
Well, the current state of social media engagement isn't the same it used to be about 10 years ago — you must have seen marketers whining about their lower reach on Facebook, Twitter, and YouTube. Let's say these social media giants want users to spend money on ads to get more reach.
Social media marketing and UTM Parameters go hand in hand, especially when a business or entrepreneur wants to track the visitors from social media to their website. They'd want to do so when they're offering a promotion or running an ad campaign. Such data help them understand the effectiveness of their marketing tactics.
Take a look at the sponsored post on Facebook: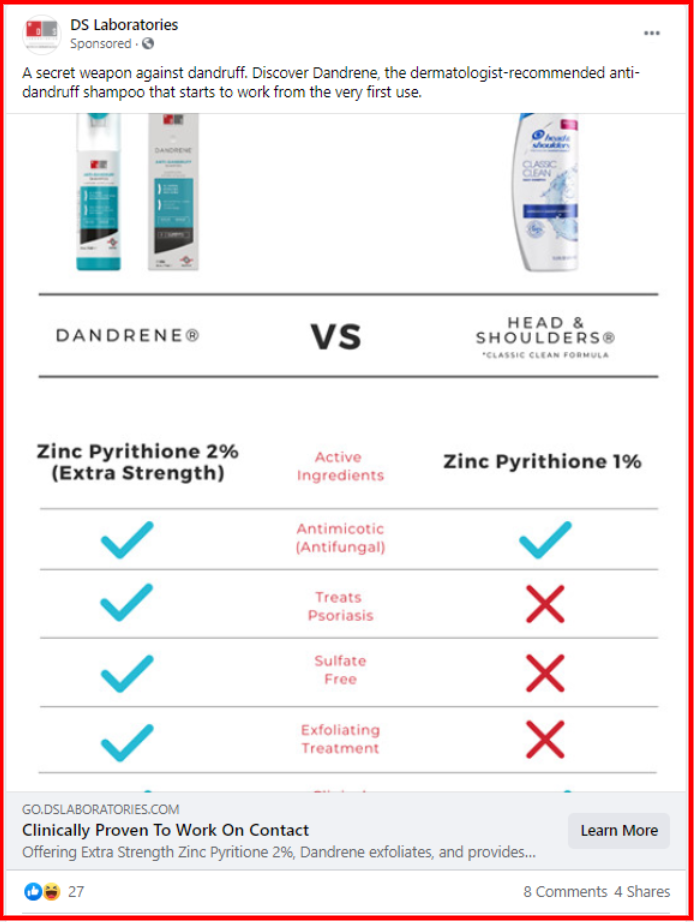 Once I clicked through the CTA button on the ad, I noticed that the URL contains the UTM parameters, which are telling their analytics tool that this visitor has come through your Facebook ad.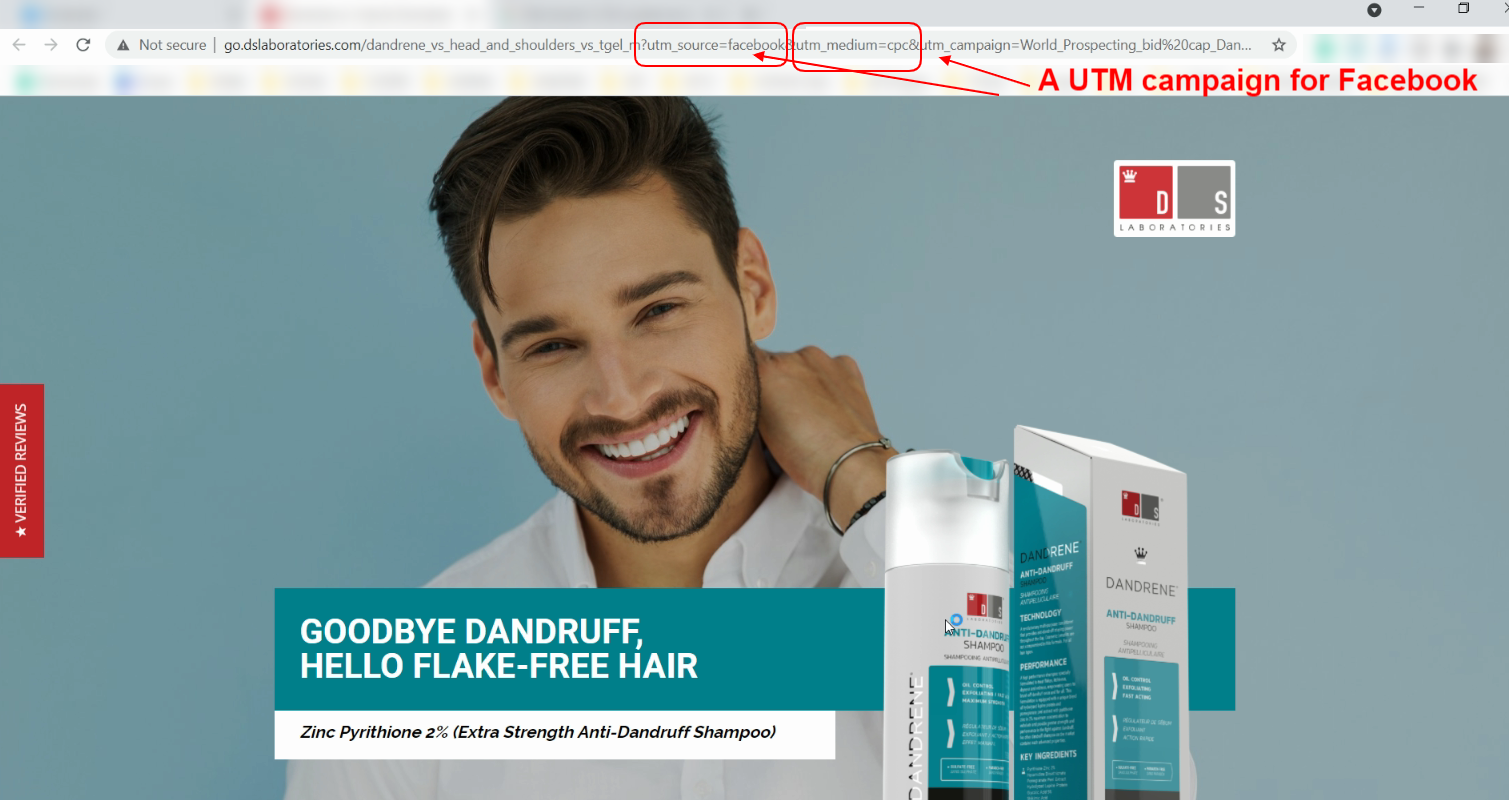 Social media advertising isn't the only area in the social media realm where you need UTM parameters. You can simply infuse UTM parameters into your social media marketing. Here's how you can do this:
Sign up for a Replug account. It's a URL shortener that provides you short link tracking as well as helps you create a bio link for social media. It does so many fantastic things to boost your social media marketing.
Let me explain how replica works for marketers: It helps them create short URLs of their favorite content from other creators, and when they share those short URLs with their followers on social media, the audience also sees a sticky snippet from the marketer somewhere on the page that could drive visitors back to the marketers' site.
So basically you're promoting others' content to get attention, but you're driving a percentage of the visitors to your website or blog too.
Add a UTM parameter using Replug to short URLs, which is an optional feature for users to use. However, track the performance of your social media campaigns, create and insert a UTM parameter to your short link.
Here's how it works:
When you're shortening a URL in the Replug, it'd display the UTM feature as an optional item to add to the URL.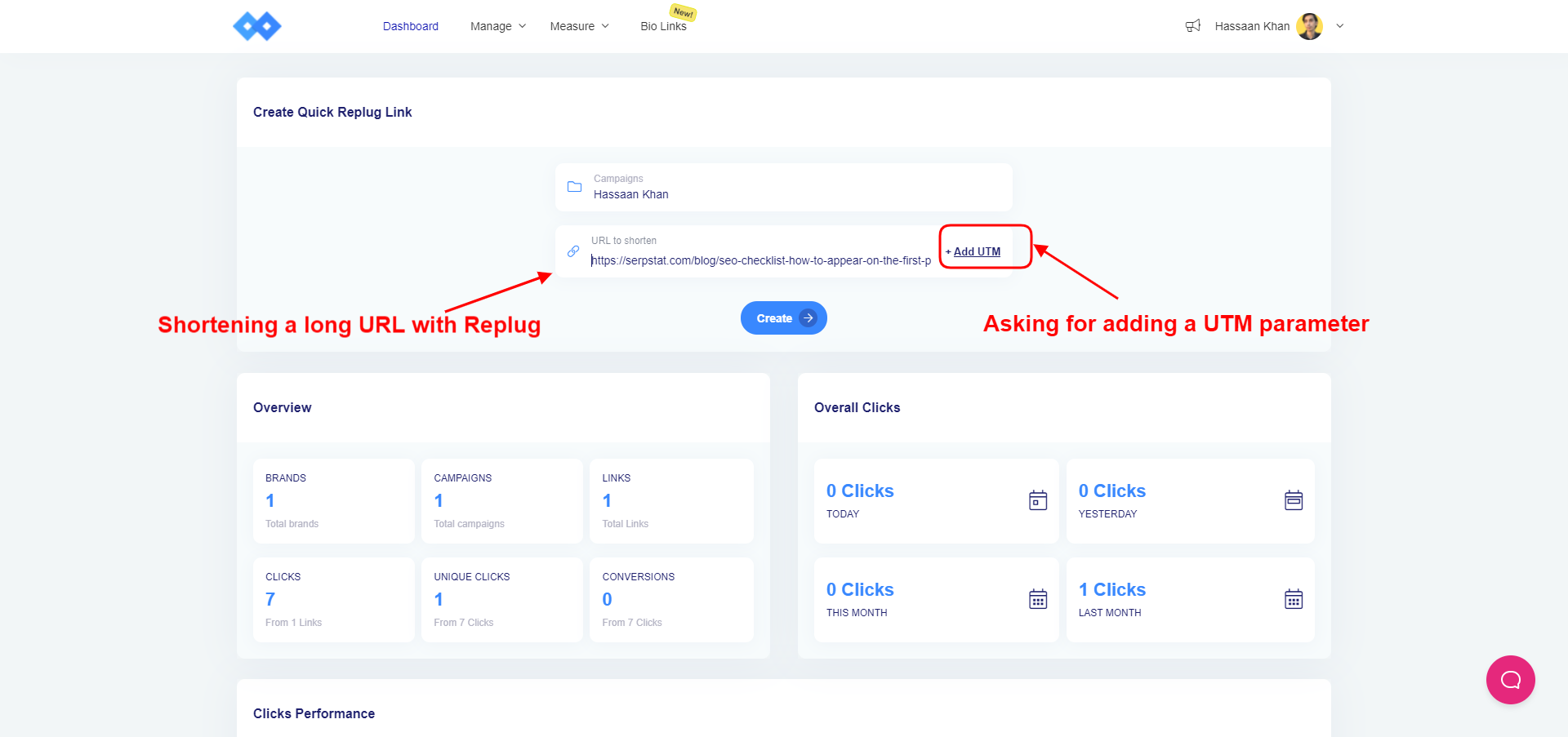 If you press the "Add UTM" button on the right side of the URL section, it'd prompt a new popup that will ask you to either choose a UTM or create one.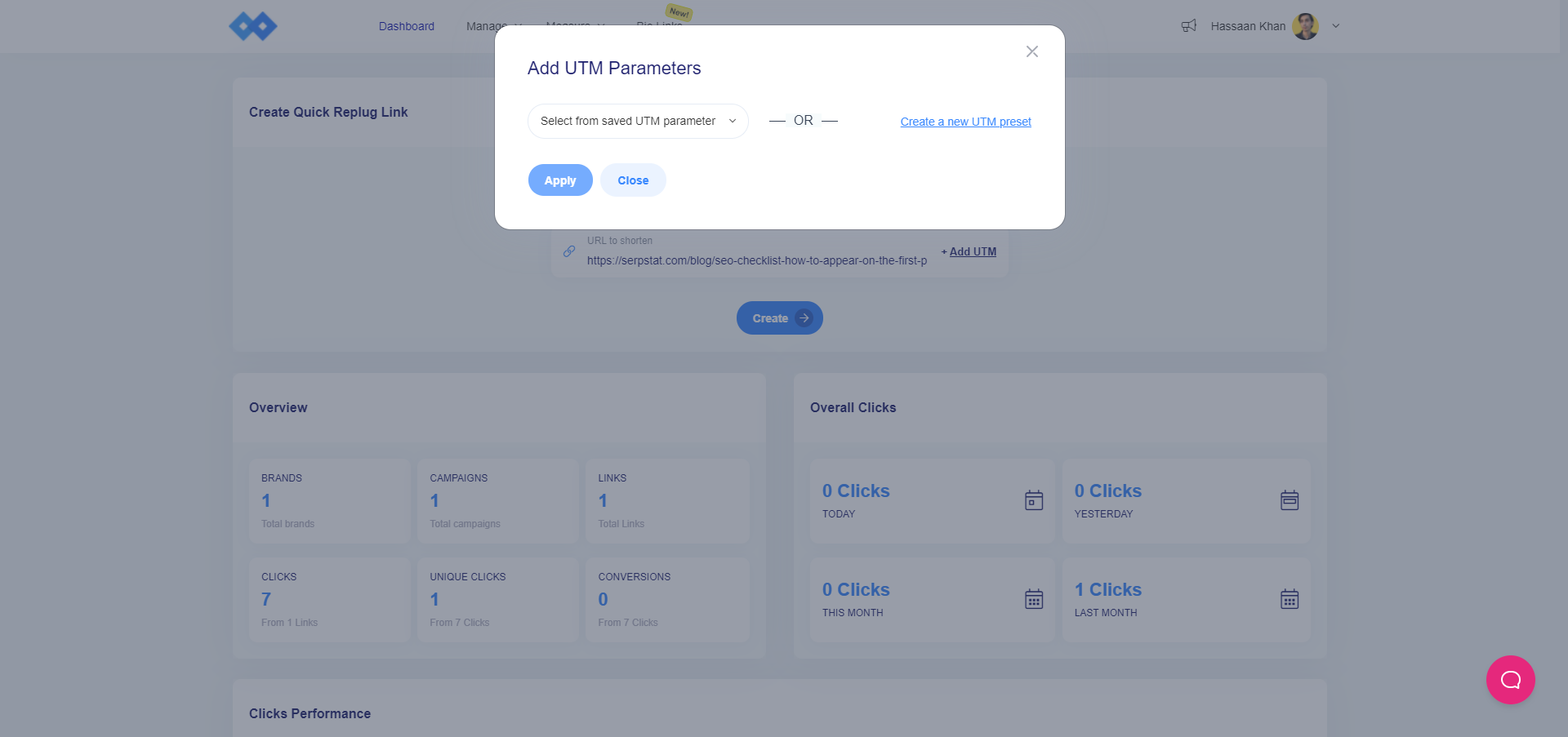 Once you add an already created UTM or done creating a new one, it'd automatically insert it to your URL.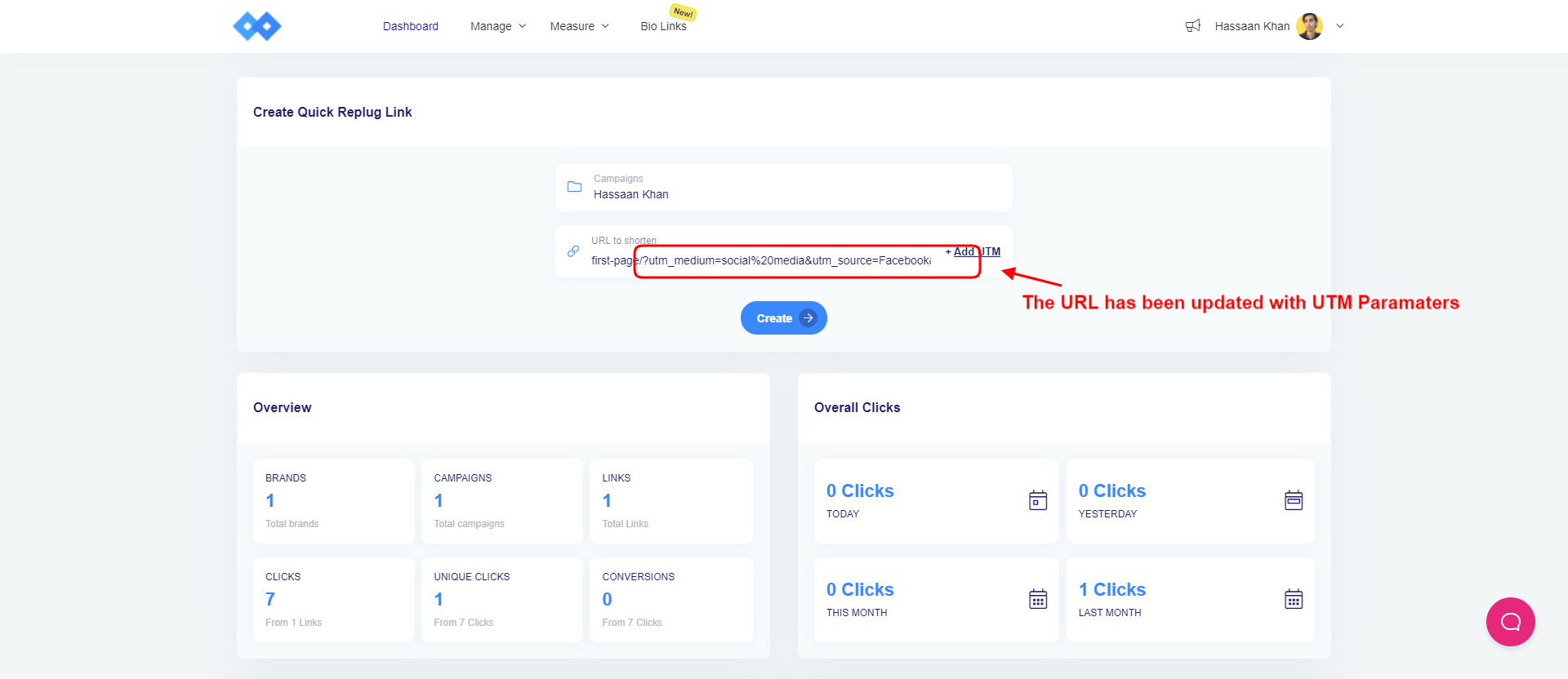 Now you can shorten the URL and the UTM would be linked to your main URL. Feel free to share the short URL on social media, and when someone would click-through the short URL, they'd land on the destination page and see the original long URL along with your UTM parameters.
Now you'll be able to track the clicks on your short URLs that have UTM embedded into them.
Online advertising is an important part of a digital marketing strategy. When businesses or entrepreneurs focus on digital marketing, they produce content to put out, use social media for engagement, and use paid ads to generate leads or attract a new audience.
I've just explained how UTM parameters help social media advertising campaigns. They do pretty much the same thing for Google ads. I'm about to uncover that you might come across the UTM parameters option while running an ad campaign in Google Ads (formerly known as Google Adwords).
I stumbled upon a Google ad while doing a random search. I was searching for a free online poll creation tool. So I tried to find one.
Here's the screenshot: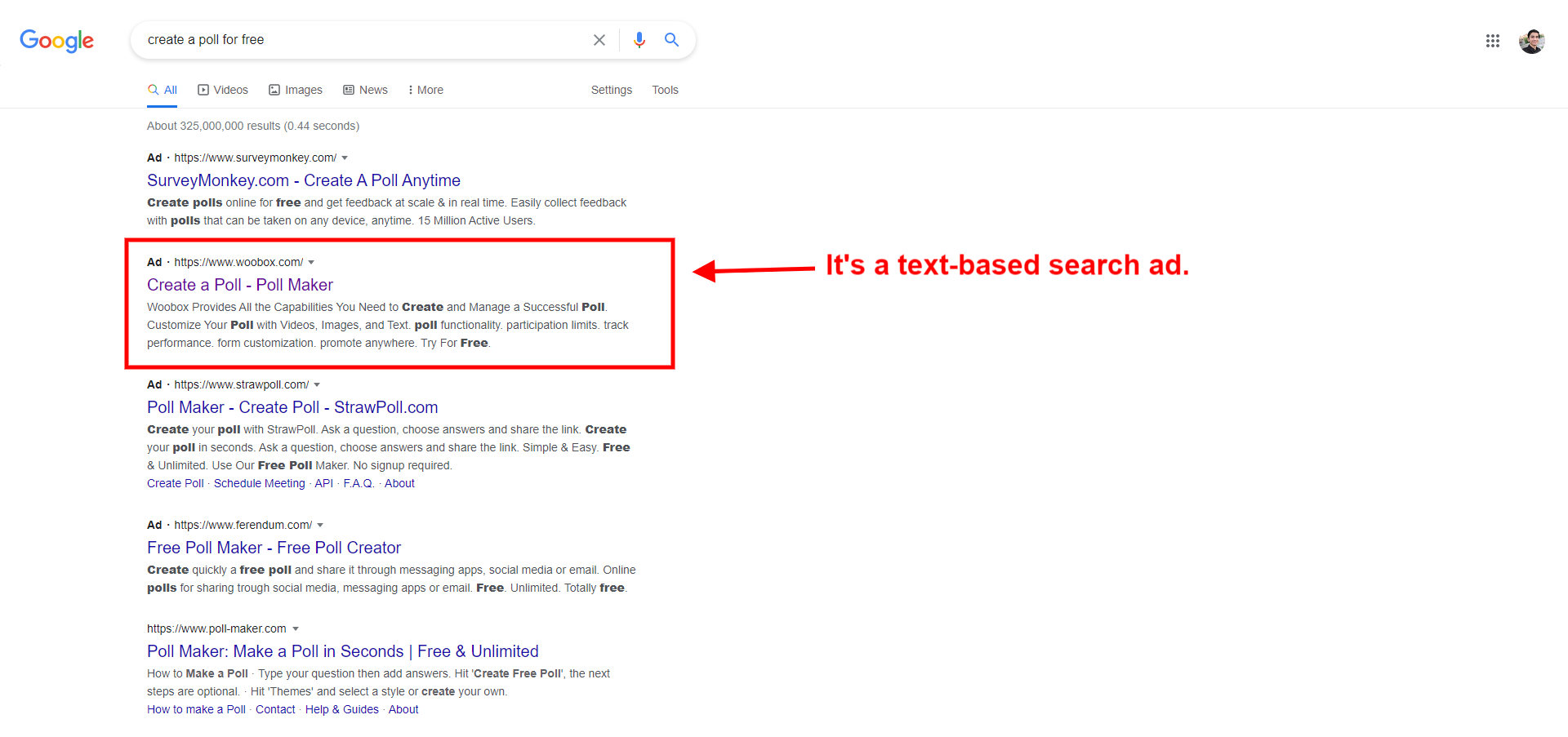 You can notice that the search result I highlighted says "ad" at the beginning. It notifies the searcher that it's a paid ad. Most of the searchers don't even pay attention to the paid search results.
All they need is to pick an option from the SERP that seems closest to what they're looking for, and they click the result.
When I clicked the ad and landed on the website, I noticed that the URL contains a UTM parameter that explains to the tracking software the website might be using that I was a CPC visitor that came from their Google ad.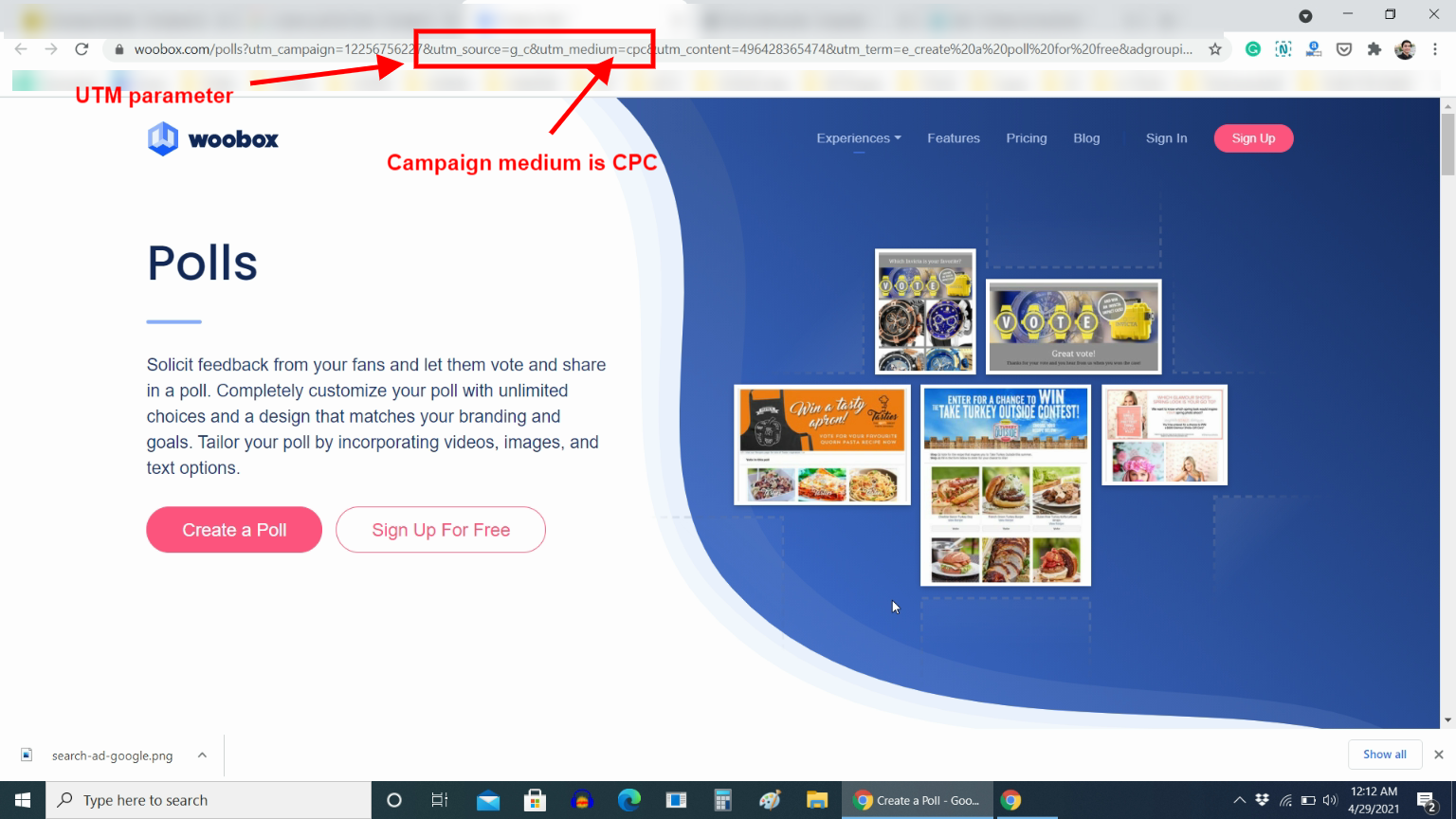 So that's another area of digital marketing where you need UTM parameters to track and analyze your paid advertising campaigns.
What Did You Learn About UTM Parameters?
I've tried to keep things as simple as possible to help you understand what UTM parameters are and how they're impacting our social media management, clicks tracking, and online advertising.
The majority of the social media experts and influencers haven't had a chance to integrate UTM parameters into their campaigns.
Most brands aren't aware of UTM parameters' effectiveness, which is why they aren't enforcing it on their social media management teams to induct UTM parameters into their digital marketing campaigns.
I'm sure you've learned a thing or two about UTM parameters. Please feel free to express whatever you learned from this piece.
Otherwise, you can ask questions to our social media team about using UTM parameters for tracking different types of visitors on your website.
The comments section is waiting for you.
Hassaan Khan
Hassaan Khan is a freelance writer for SAAS companies, e-commerce stores, and niche websites. He has contributed to SEMrush, ThriveGlobal, BloggingCage, AllBloggingTips, and several other publications. He builds niche websites, publishes e-books, and helps website investors with his done-for-you niche site-building service.