If you think the clash between Musk and Zuckerberg has cooled down, you're wrong, as the show has just begun with the launch of Instagram Threads.
Now, we're guessing you're here because exploring Threads has left you exhausted. Or you may be curious to discover its hidden features!
Don't worry; we wrote this handy guide to help you get started. Discover new features, and develop your account in no time.
First, let's begin by defining Threads, discovering its hidden characteristics, its future, and comparing it with Twitter.
What is Threads?
Threads is a text-based social app launched by Mark Zuckerberg in integration with Instagram on the 5th of July, 2023.
Over 100 million people have signed up on the app so far. However, the total number of active users is undefined yet. With Threads, users can create, share or repost multiple types of content, such as short-term texts, images, videos, URLs, etc.
Moreover, the new software is tied to Instagram, so users can automatically be able to connect with all the people they follow on Instagram.
How to use Instagram Threads?
Threads offer a variety of popular features that are currently trending in the realm of social media. And have a very user-friendly interface.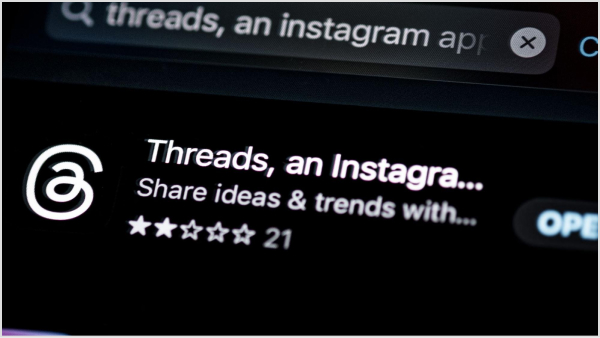 However, some of you may be experiencing challenges when trying to sign up for your Threads accounts or when attempting to post a Thread.
Allow me to assist you here.
How do I sign up?
You can sign up directly from your Instagram account. The software will automatically fetch all your data from Instagram, such as your name, username, login credentials, block lists, followers, etc. Additionally, the app can be downloaded for free on iOS and Android devices in over a hundred nations.
Is Threads linked with Instagram?
Yes, Threads is fully integrated with Instagram. It's like having a mini social network within Instagram.
I don't have an Instagram account; can I still use Threads?
Currently, the only way to join Threads is through your Instagram account. So, if you want to sign up on the app, you must have an Instagram account first.
Is it safe to use Instagram threads?
One of the most important aspects of any social media platform is privacy, and Threads doesn't disappoint in this regard. Just like Instagram, this app offers a range of privacy features that allow you to have control over your interactions. For instance, you have the power to block or report any user who may be causing you discomfort or violating your privacy.
Related: Shorten a Link for Instagram Bio
How can I create a Thread?
It's so simple.
Just tap on the new thread icon at the bottom of your screen.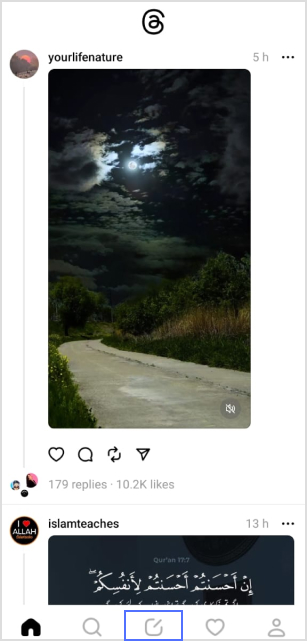 Add your content, such as text (up to 500 characters), video, or image (up to 10 visual items), and press Done.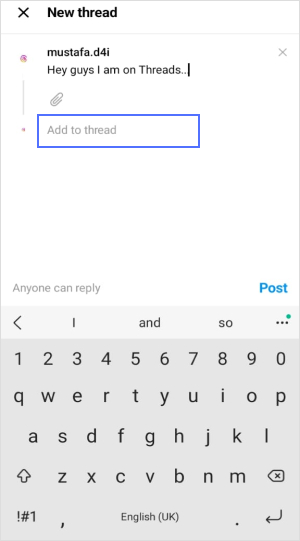 And your thread will be shared on your profile and feed right away.
Here's a preview of the shared thread on profile.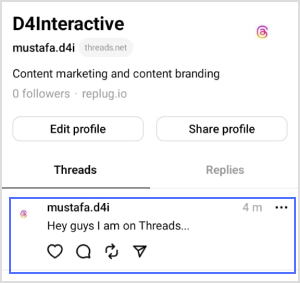 Here's a preview of the shared thread on feed.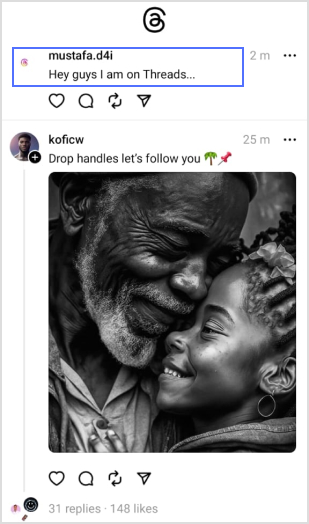 Related: The Ultimate Guide to Increase Followers on Instagram 
Few hidden gems in Threads
You may have seen standard thread features like sharing text-based messages, images, video visuals, or reposting your threads post. But below are some hidden features on threads you may not know;
1. Managing replies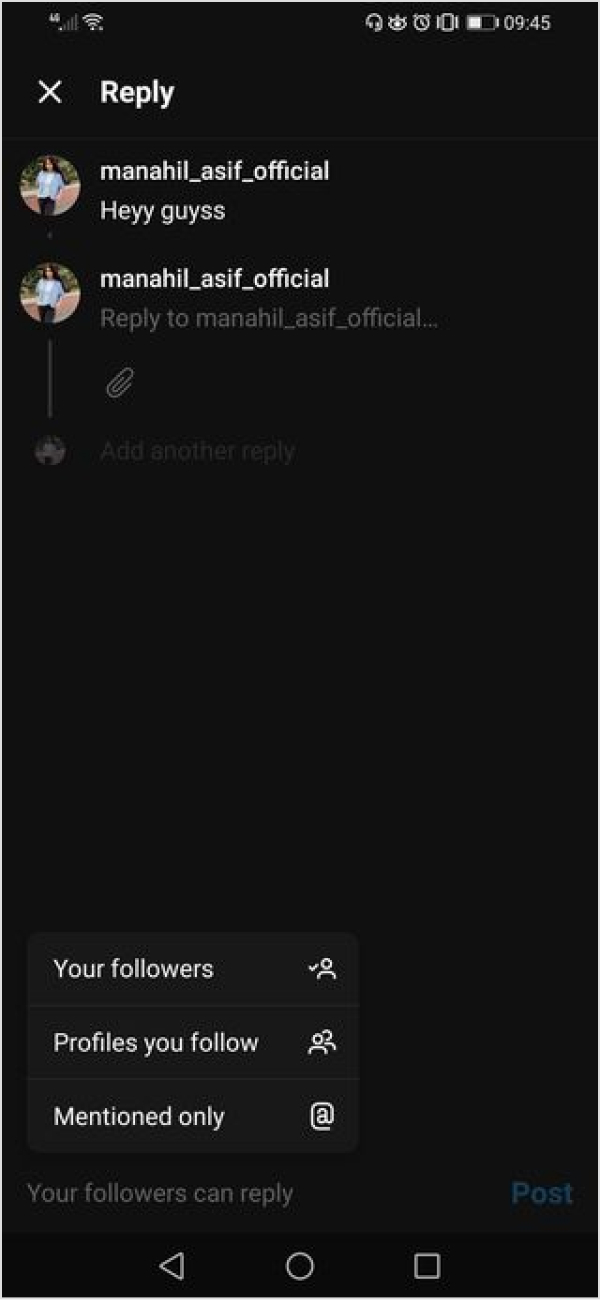 When you post a thread, a dialogue box will appear on your keyboard in the reply section. When you press that button, a menu with three choices will appear. Choose the one which suits you. 
2. Modified shortcut
If you press return three times, a new thread shortcut will be created immediately, just below the last thread you posted.
3. Fast open the search bar
If you long-press the search icon. It brings up the search bar and pulls up the keyboard alongside. Or you can double-tap on the search tab to search.
4. Quick account following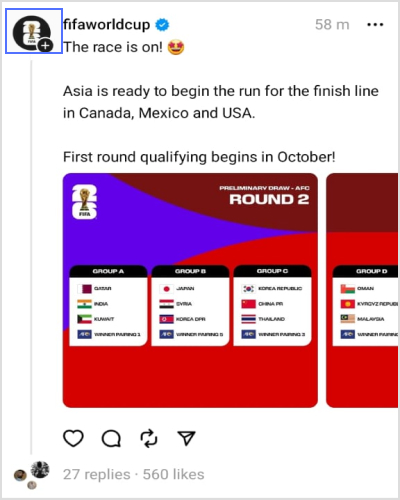 To quickly follow an account, simply tap the Profile Icon on the user's profile.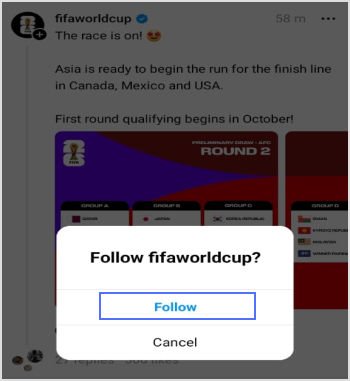 5. Mute a profile without unfollowing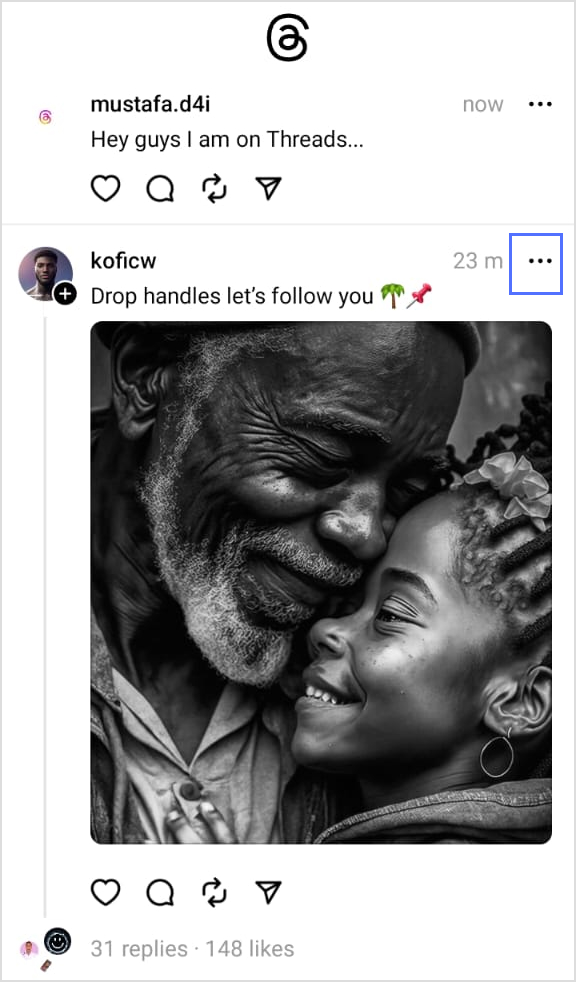 If you don't want to see threads from a specific user again. You can mute the user profile by tapping the three dots on the extreme right section of the profile that you want to mute.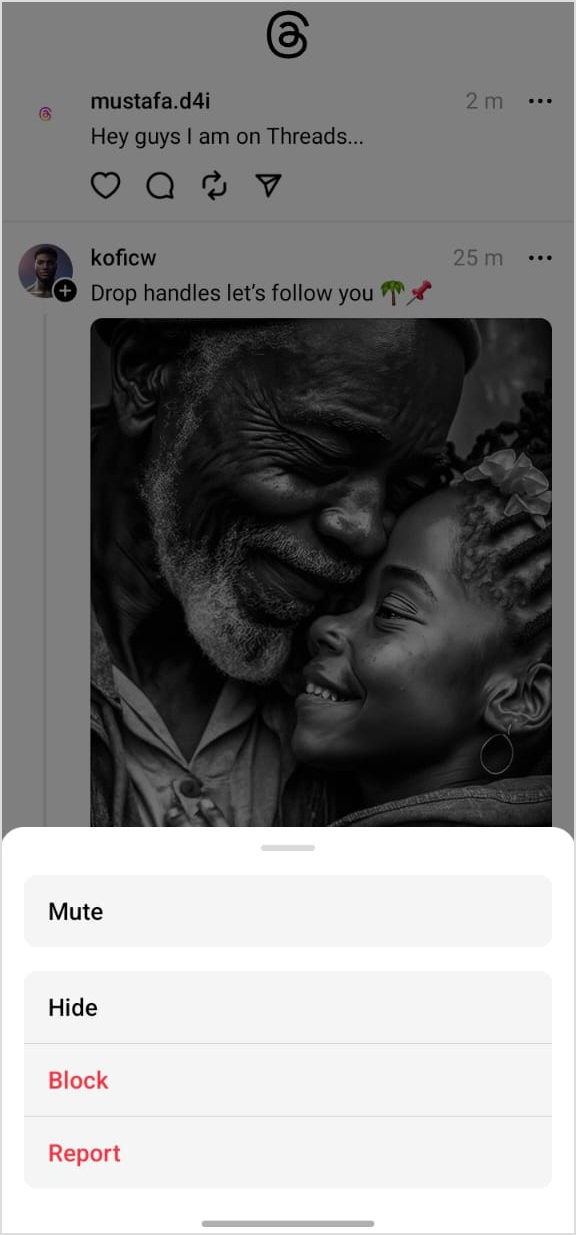 Now just tap Mute and the selected user will be muted
Note: You'd still be following the user, but none of their Threads will show up in your feed until you unmute him.
6. Time limits option
Go to your profile by tapping the Profile icon at the bottom corner of the Threads feed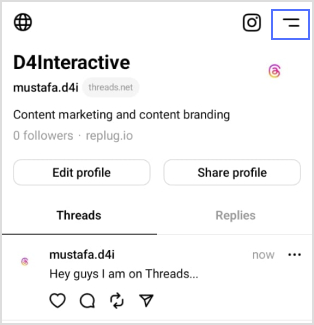 On the top right corner, tap on the right horizontal bars similar to the Hamburger Icon to navigate to the settings menu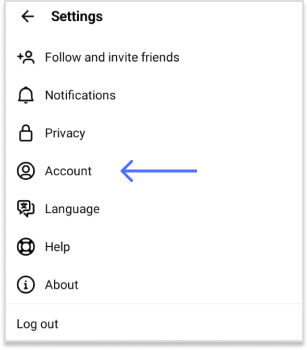 Tap on Account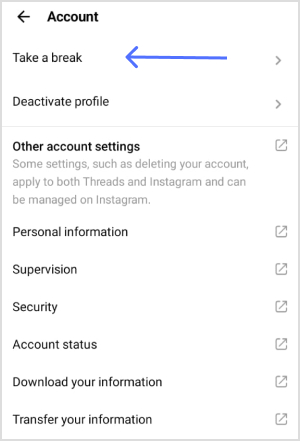 Tap on Take a break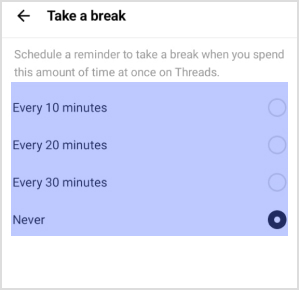 Set the reminder as per your necessity, i.e. from every 10 minutes to 30 minutes
Now the app will remind you to take a break every 10 to 30 minutes after use.
Note: The earlier issues with the app have been resolved. The app now runs smoothly on iOS 17. Also, users can facepile, pill polish, expand pictures on profiles, make extra tall photos that are now fully viewable, trim the binary size, etc. However, Meta is still working on new features, such as following feeds, hashtags, editing posts, post search, web presence, like lists, translations, and many more.
Related: How to Shorten a Link for Instagram Bio?
Limitations in the Threads app
But even with all these perks, users are experiencing some limitations listed below.
If someone replies to your thread and you delete the Thread later on, that person's reply will not be removed.
You can only post a thread text of up to 500 characters.
You won't be able to view a response to your thread if it comes from a private profile you don't follow.
Thread feeds show you a mix of posts from people you follow and posts suggested by AI.
You cannot send direct messages to other users.
Currently, no web version of the Threads service is available.
You can only post up to 10 media items (visuals such as images, videos, gifs, etc).
Related: How to add YouTube links to Instagram story?
What does Adam Mosseri have to say about Instagram Threads?
There are a lot of rumors and chatter of forthcoming modifications going about the app right now. Such as how Meta will modify Threads. What will happen to Twitter? Is Threads for politics and business? etc.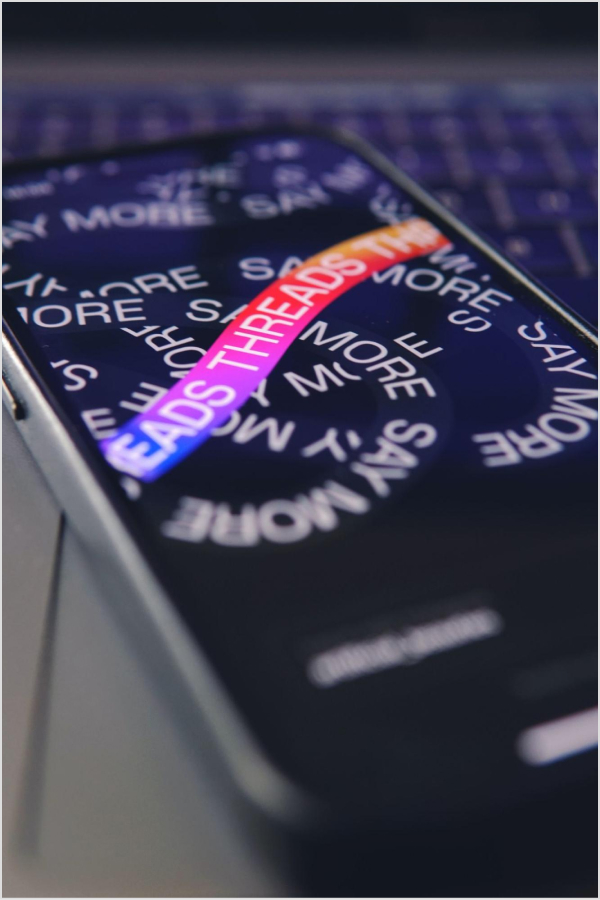 Adam Mosseri says Threads is for public conversation, not business or politics.
He says in a statement that
"Politics and hard news are important, I don't want to imply otherwise,"
Further, he says,
"But my take is, from a platform's perspective, any incremental engagement or revenue they might drive is not at all worth the scrutiny, negativity (let's be honest), or integrity risks that come along with them."
After that, users were confused about what to put on Threads and how to develop a network on that platform.
In response to this, Mosseri said…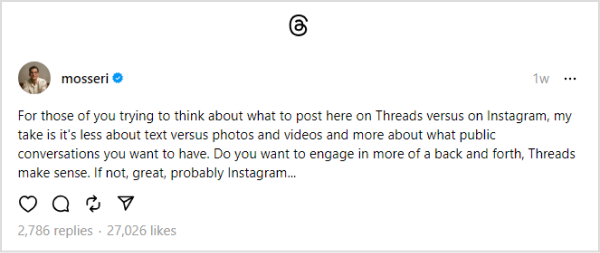 Related: Fix the "Instagram Bio Links Not Working" Issue
What are the key differences between Twitter and Threads?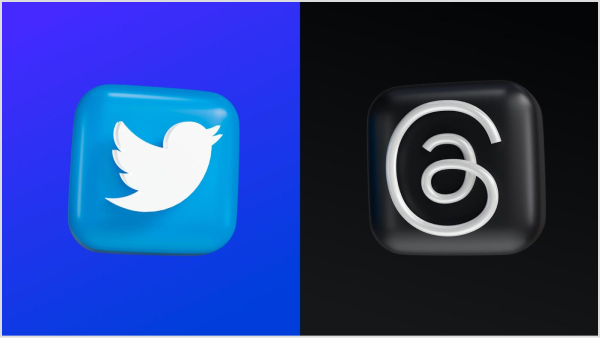 Below are the key differences between Twitter and Threads;
| | | |
| --- | --- | --- |
| | Instagram Threads Vs. Twitter | |
| Description | Twitter | Threads |
| Text Character per Post | 250 | 500 |
| Direct Message | Yes | No |
| Total no images per post | 4 | 10 |
| Video time | Up to 2 min 20 sec | Up to 5 minutes |
| Trending news | Yes | No |
| Hashtags | Yes | No |
| Active Users | 250 Million | 100 Million+ |
| Links | Yes | Yes |
| Edit Post | No | No |
| Polls | Yes | No |
| Live audio rooms | Yes | No |
| Availability | iOS, Android, and Web | iOS and Android |
Related: How to Tweet a Link without URL?
Is threads the Twitter Killer?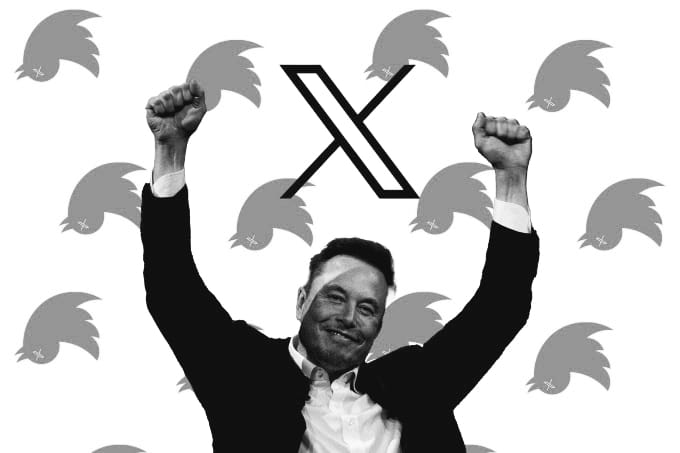 You won't hear anyone calling Instagram Threads the "Twitter Killer" other than Twitter itself.
In contrast to Twitter's public, real-time, and open character, Threads provides a platform for private chatting and exchanging information with close pals.
Twitter is widely used because of its general nature, rapid news publication, and accessibility. So, both systems can coexist, with users taking advantage of each for interaction and content creation.
Elon's rage against Instagram Threads
Musk has threatened to file a lawsuit against the platform(Threads), accusing it of recruiting former employees to work on a 'copycat' software to compete with Musk's original company.
Musk tweeted,
"Competition is fine, cheating is not."
Twitter lawyer Alex Spiro wrote in a letter:
'Twitter has serious concerns that Meta Platforms (Threads') has engaged in systematic, willful, and unlawful misappropriation of Twitter's trade secrets and other intellectual property.
However, Meta has denied the claims, stating that no current or former Twitter workers are working within the Threads team.
Also, Zuckerberg says he's (Elon Musk)
"very optimistic about how the Threads community is coming together.
Competition between the two has become fierce. With Elon Musk rebranding Twitter's bird logo with "X". Musk has also repurchased its"X.com" domain (i.e. now redirected to Twitter's original domain). This shows the intensity will only rise between the two platforms going forward.
The Threads app has already seen 70% decline in its daily active users. While many of the Twitter (now X) users are hating the rebranding of the Twitter app. However, Threads is in its new stages, while Twitter is going through some drastic branding changes, so only time will tell who is going to win this battle.
FAQs
How do you delete your Threads account?
You can delete your account on Threads; however, to do so, you will also need to erase your account on Instagram. After getting complaints from end-users over this issue, Mosseri announced that the organization is "looking into a way to delete your Threads account separately."
What is the difference between Threads and Instagram?
Threads is a social media app primarily using texts, while Instagram focuses on multimedia content, particularly visuals.
What can you do on Instagram Threads?
You can actively share images, videos, and text updates on Instagram Threads and effortlessly share real-time updates with your close contacts.
Are there any well-known people posting on the Threads?
On Threads, there are a lot of well-known names, like Selena Gomez, who has more than 5.1 million followers. Kim Kardashian has more than 5 million followers; Mr. Beast has more than 4.6 million followers; and many other famous people.
Manahil Asif
Meet Manahil - A wordsmith who practically buddies with B2B and B2C businesses to create digital magic. With a dash of humor and a sprinkle of wit, she whips up content more addictive than your morning coffee.