Welcome back to our Product Spotlight! 🔦
Replug is one of the most powerful and leading link management tools in the market, and it's continually striving to improve. 😇
We are thrilled to introduce the new features and improvements of Replug to establish warm relationships and to build a powerful influence on the social media networks after interacting with multiple clients and identified their concerns. 🙌💫
We've made key updates in Q1 to get you closer. Let's review! 🤗
Product Updates
1. Preview your RSS Feeds
We are aware that you still want to share the latest updates and trends with your audience through branded short links. 😎
Right?
Now, Replug allows you to re-crawl your RSS Feeds to get the latest updates and preview them from the settings button against the feed before actually sharing them with your vast audience.
Also, you have an option to copy the link directly to paste it into the shortener or get redirected to the original article.
2. Integrately
Through Integrately, you can search From 250,000+ fully ready integrations, and activate them in 1 Click! 🛒
Interesting?
Now, you can automate your other app commands through Replug activities. 🎲 It is very easy to connect and automate. 🎈
For more information, please visit Replug Store at Integrately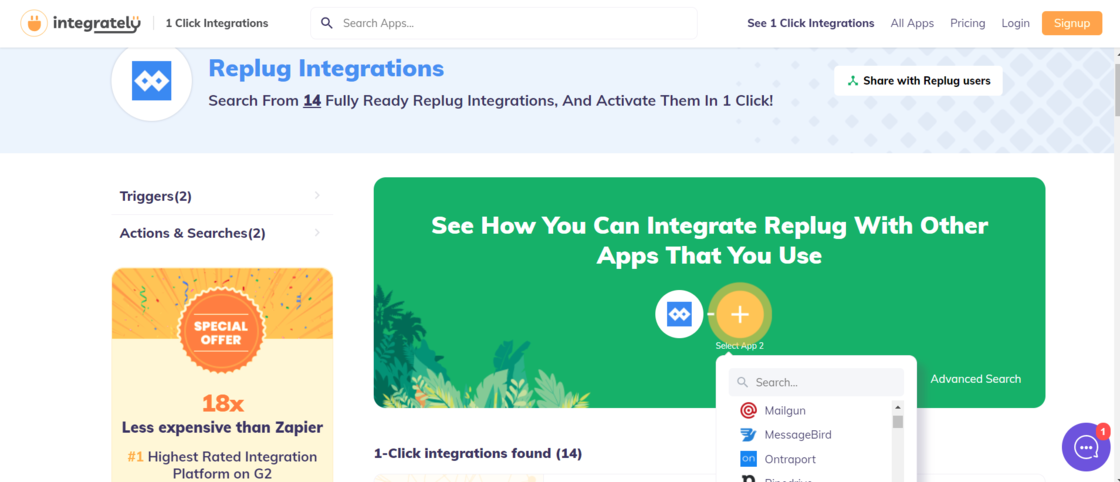 3. Pabbly Connect
With Pabbly Connect, you can create automated workflows and transfer the data between your favorite apps and services with no manual effort.
For more information, please visit Pabbly integrations.

4. Include GIFs in Call to Actions
Buh-bye static images, hello animated CTAs! 👋
With this latest release, you can now upload a GIF image in the CTA pop-up or in the brand's image!
GIFs are a popular way to communicate on social media. Better still, there are untapped opportunities for brands to use them in a variety of ways–introducing branded GIFs!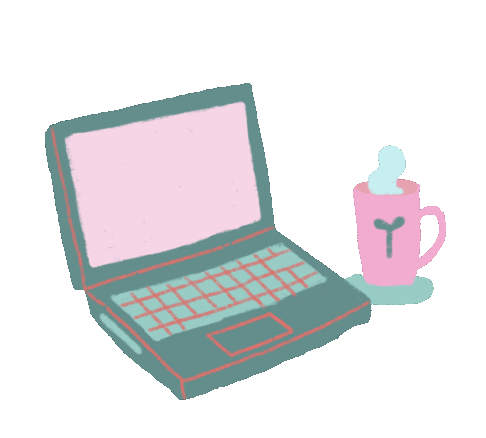 Branded GIFs are huge… if you do them the right way! Include branded GIFs in your CTA to attract more leads and increase conversions!
Here's how to create your brand on Replug while including a GIF as a brand's image: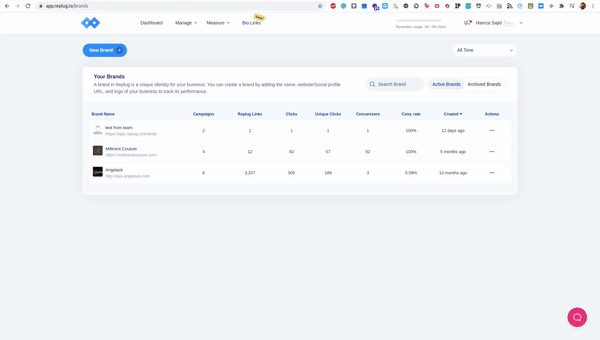 Here's how to create a campaign with a GIF for CTA: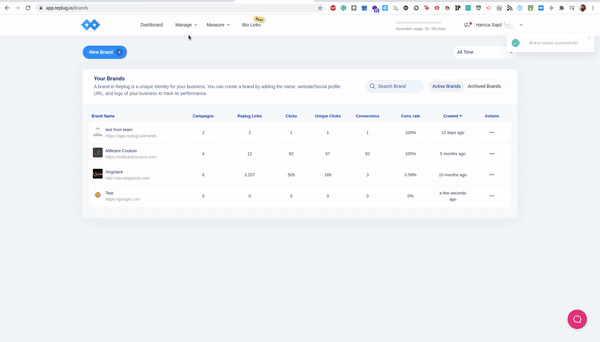 5. Faster Replug!
Swift and easy. Replug application will now run smoother and faster than ever before!
We have also improved browser cache usage and logged user sessions.
Enjoy a seamless web browsing experience with Replug!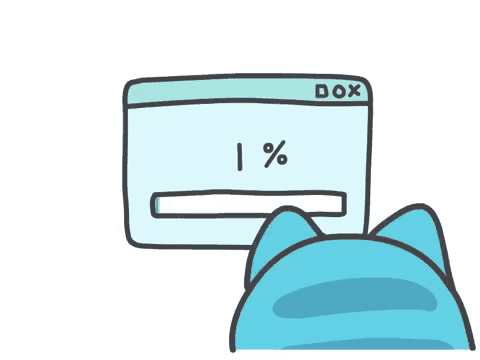 P.S No more breaking of the laptops anymore! 😸
6. Chrome Extension new UI
Introducing a BRAND NEW user interface for Replug's Chrome Extension!
If you haven't already downloaded it, we suggest doing it now. So many exciting updates to follow!
So, what's the change?
Amazing user experience
Smooth and faster performance! 🚄
If you're logged in to the web application, you'll be automatically logged in to the Google Chrome extension (and vice versa!!)
Get quick access to Replug as you're scrolling through the web. 🕸 Just one click away!
Enhanced speed for link creation!
7. Clicks' Usage
A progress bar is now displayed on the top header of the Replug application. This shows the exact number of clicks used in the current month, and how much is still left:

This corresponds to the Replug account you own. To increase your limits, please upgrade your plan here.
8. Real-time Analytics
Behold, with this new update, Replug analytics have been updated to real-time and exact figures!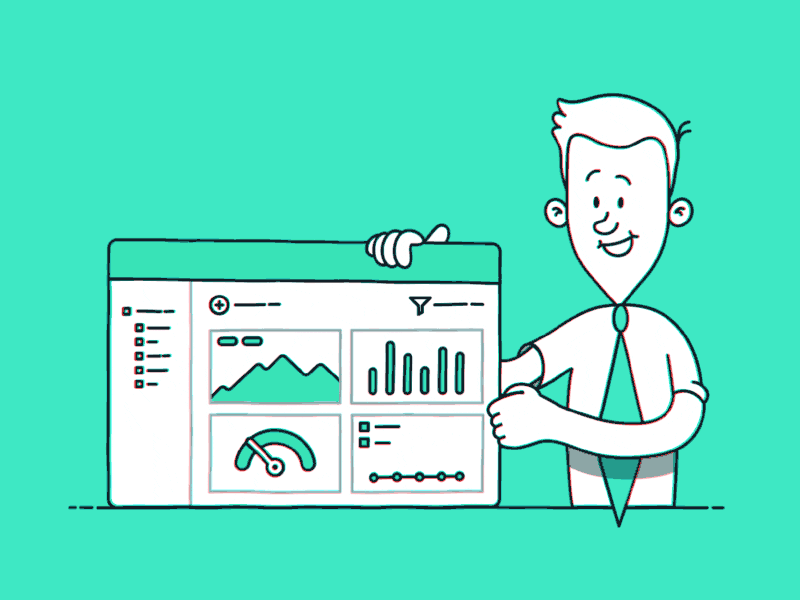 That means you can view your brands, campaigns, and link analytics on a real-time basis.

And these are in real-time: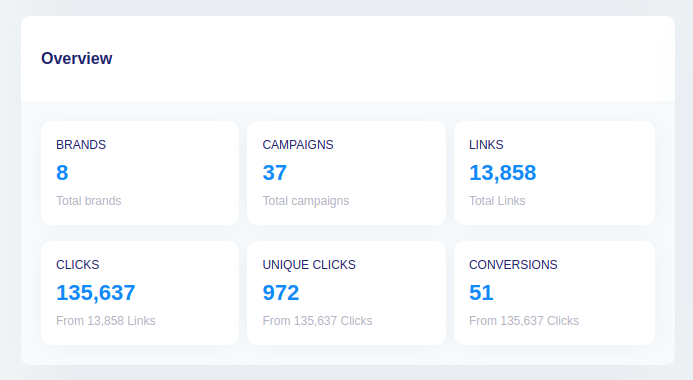 Wait, what Is Real-Time Analytics, anyway?
Real-time analytics is the analysis of data as soon as that data becomes available. In other words, users can draw insights and conclusions as soon as the data enters the system!
This means as soon as a user would click on your link, it would be reflected at Replug.
How will this help?
Businesses can get a true picture of whether a campaign has been performing well.
React without delay. Seize opportunities and prevent problems!
Get ahead of the curve.
What includes Replug Analytics?
The number of unique clicks your link has had.
The number of site visitors who converted by clicking on a CTA.
A conversion rate refers to the percentage of users who have completed the desired action.
Calculation: Take the total number of users who 'convert' (for example, by clicking on your Google Ad). Divide it by the overall size of the audience and convert that figure into a percentage!
(Of course, Replug does this automatically for you!)
9. SEO Links for Replug Campaigns
We have added an additional feature to change the meta title, description, and image of a link.
While creating a link, a user can change the Metadata of a URL directly from ContentStudio.
Let me first explain what's a Metatag, and why it is so important. Metatags are invisible tags that provide data about your page to everyone who visits your page, and all the search engines out there.
In simple words, they make it easier for search engines to determine exactly what your content is, and that's why it makes it so essential for SEO. Ultimately, this will lead to an improved authority and higher ranking!
Now, let's get into how to create your SEO-optimized link.
First, you need to select the Campaign and add the URL of the website to create the Replug Link.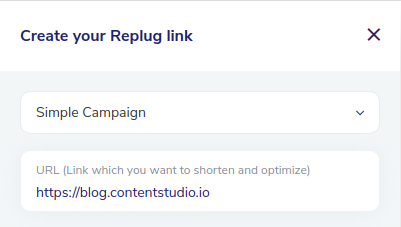 Proceed to add on SEO-optimized Meta Title, description, and URL.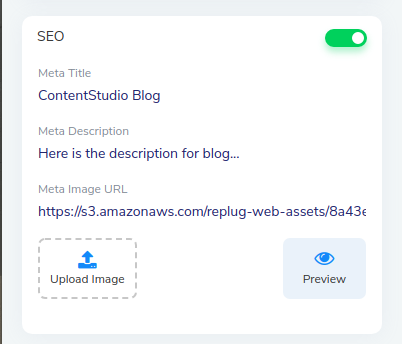 Before clicking OK, you can click on Preview to see what your post will look like.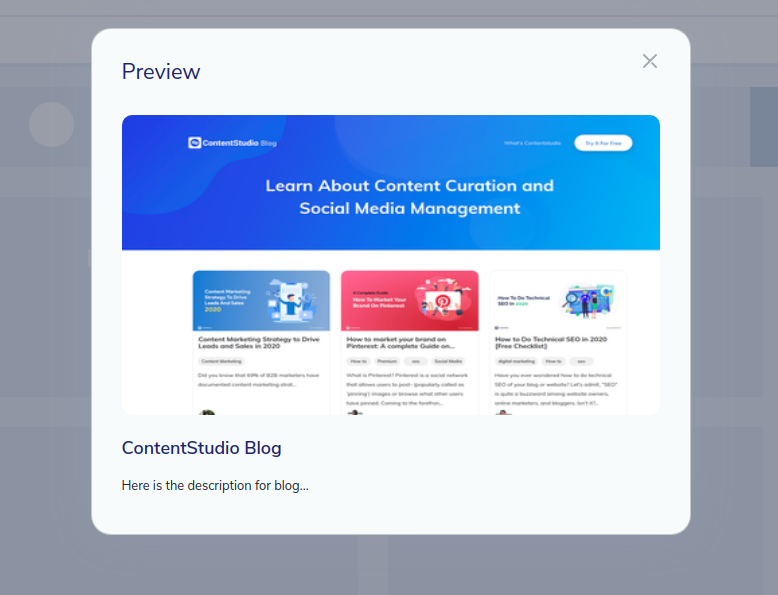 Now before you upload your blog to your social media channels, make sure you create an SEO-optimized link!
Improvements:
1. Analyze Campaign Performance
We have been long insisting on keeping an eye on the analytics so that you get to know which of the links are performing best and what are areas you need to improve. 🤠
Now, we have launched analytics for your dedicated campaigns as well so that you can make better decisions on the go. 🥇
All the relevant stats are shown directly in the Campaigns section without you having to move to the analytics section.

2. Importing Links in Bulk
We also have improved how the link import panel worked and looked. 🎉 You have to upload a CSV file inside the link import option within the Links section of the app.
Please make sure to name one of the columns on the CSV as URL and the other one as SLUG. Once you upload the links, it shows you the next steps as shown in the image below.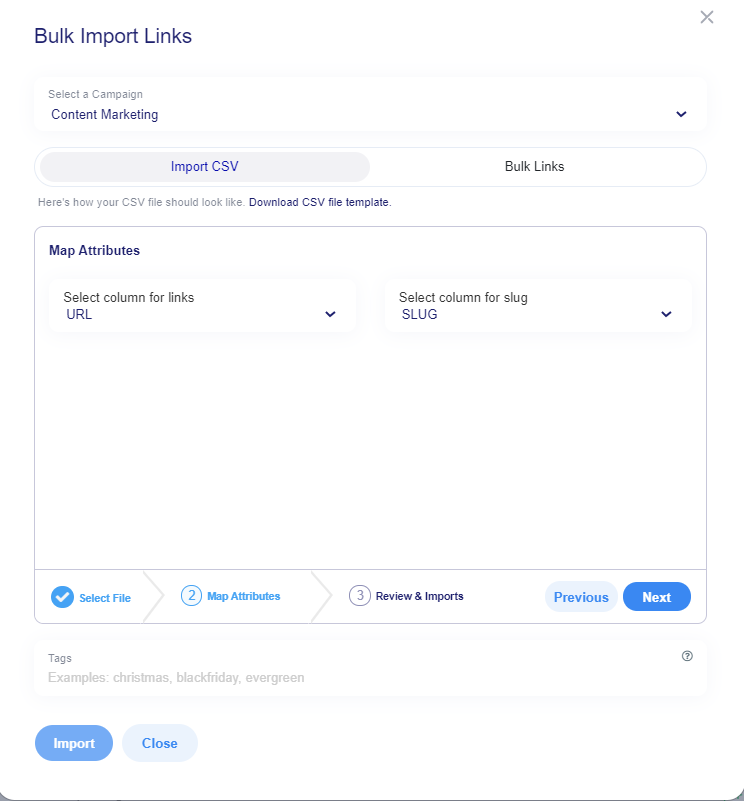 3. Provide opportunities to your Team
Replug enables you to allow your team members on collaborator status to create new brands or otherwise, you can **restrict **the number of brands that they can access.
Provide them with pixels and custom domain access as per your needs. Achieve more efficiency in completing your marketing goals by collaborating better.
Save your time and let them learn. 🔑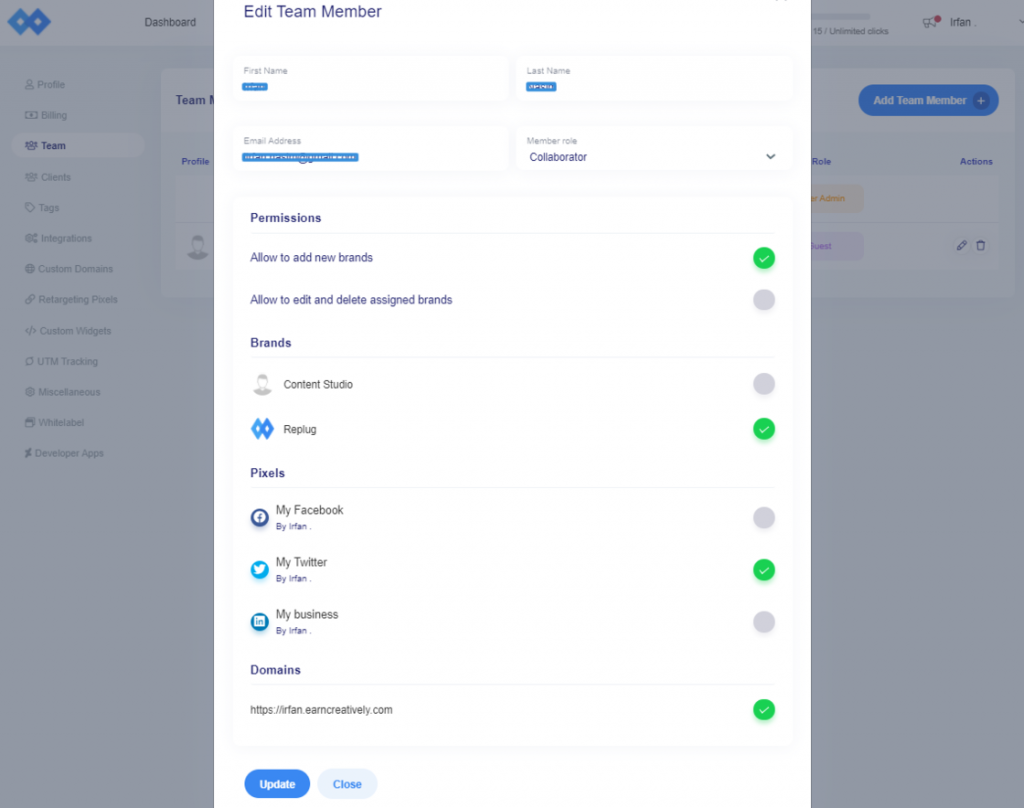 4. URL HTTPS concatenation
The tool does not demand you to identify HTTPS or HTTP before the links that you want to brand and shorten.
This means that https:// is added by default once you try to enter a link. 🤓
This applies to where you paste the long URL in the links section to shorten it, to the campaign's CTA section, and to the links blocks in Bio-Links.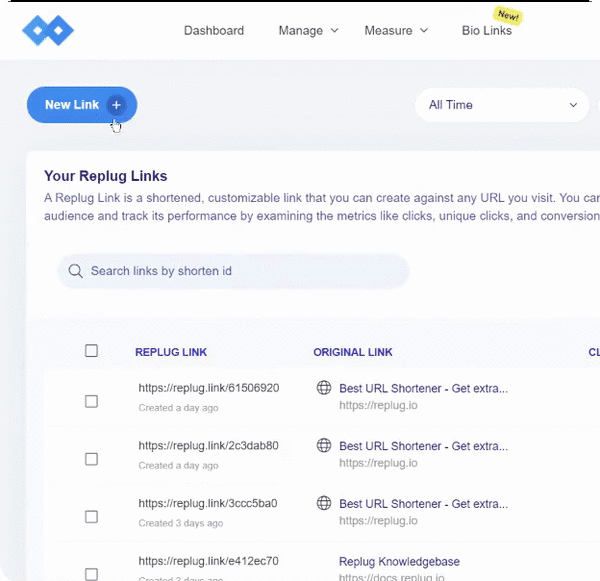 5. Bulk Export Links as CSV
We have included many more indicators for you to analyze your data correctly on the go while making improved decisions and experience higher ROI.
Once you choose to export links from the Links section within the tool, you will be able to see all the columns including original link, branded link, campaigns, clicks, conversions, conversion rates, tags, unique clicks, conversion rates.
Follow the screenshot below & choose the data you need from the drop-down list while exporting links for forecasting. 📈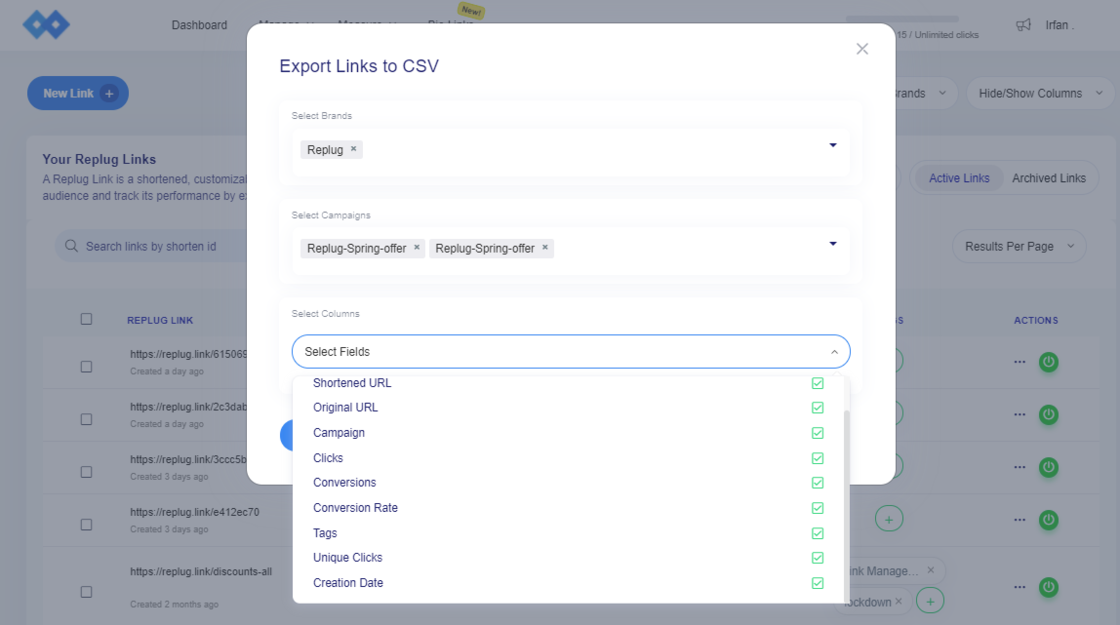 6. Drag & Drop with Bio-Links
Do you want to show your Social media pages and presence after your important sales links?
🔄 We knew that you wanted to drag and drop Bio-links blocks so that you can set your priorities for your audience.
⁂ Now you can arrange the blocks and make your Bio-Links aesthetically pleasing as shown in the GIF below.

7. Branded Favicons
Your Favourite Icon is called a Favicon and can be a shortcut icon, website icon, tab icon, URL icon, or bookmark icon.
Now with Replug, you can easily customize the Favicons and Brand them with your logo to boost your Brand Story.
👉Please, make sure to configure the size and format of the logo as directed below.
Size: The optimal size for creating a favicon is 16×16 pixels, which is the size in which they are most commonly displayed. However, they can sometimes appear in larger dimensions too (such as 32×32 pixels).
File format: The Favicon can actually be either a PNG, GIF, or ICO file. However, ICO files are typically used more than others as the file size is smaller and is supported in all major browsers. PNGs are used more commonly for IOS, Android, and Windows 10 devices.
⭐Once you are creating a link, toggle the switch to ON, and afterward, upload an image you want your audience to see.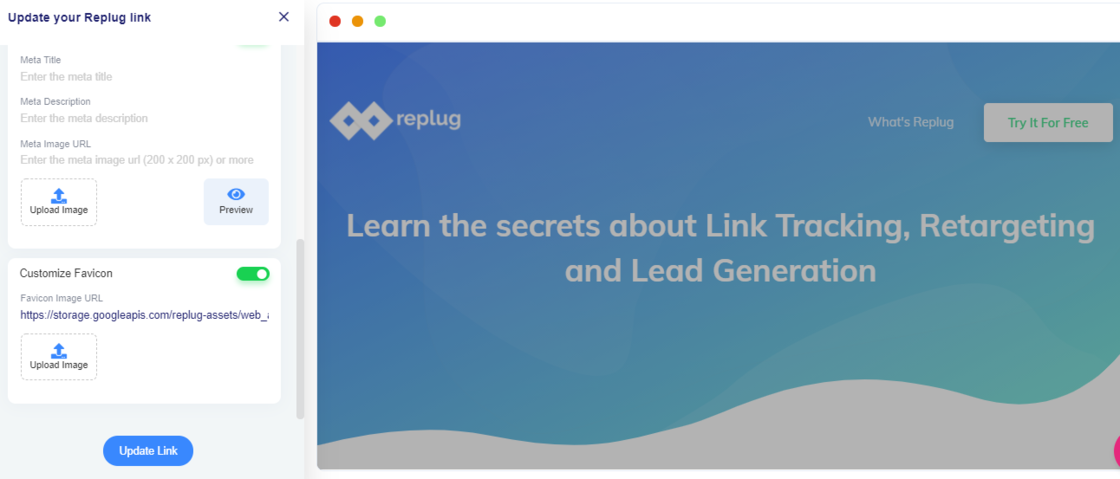 8. Meta Image Resolution Restriction
We have added a restriction on Custom Meta Images in the links and quick links section so that the Image preview is exactly what you want it to be. 👋
Social platforms like Facebook have added a restriction model that directs the Meta image resolution to be a minimum of 200×200 pixels.
⭐Please make sure to upload the image with a resolution of 200×200 pixels or more.
👉This will help you gain more audience through Social Platforms in particular specially when you set the customized preview on your content for your targeted audience.
Here's how to define Meta Image while creating a Replug Link: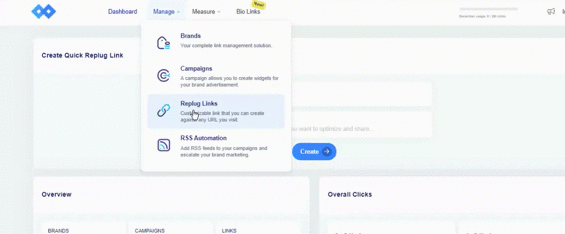 9. RSS Fetch Feed Posts
You can add RSS feeds to your campaigns and escalate your brand marketing.
With this recent update, upon entering an incorrect RSS URL, an error will be prompted notifying that you have entered an invalid RSS URL. That means there will be fewer mistakes and higher efficiency!
Moreover, feed posts are fetching more accurately than ever before.
Before that, a loader was showing all the time for fetching the feed posts in the RSS URL.
Now, feed posts are shown quickly and links are shortened sequentially!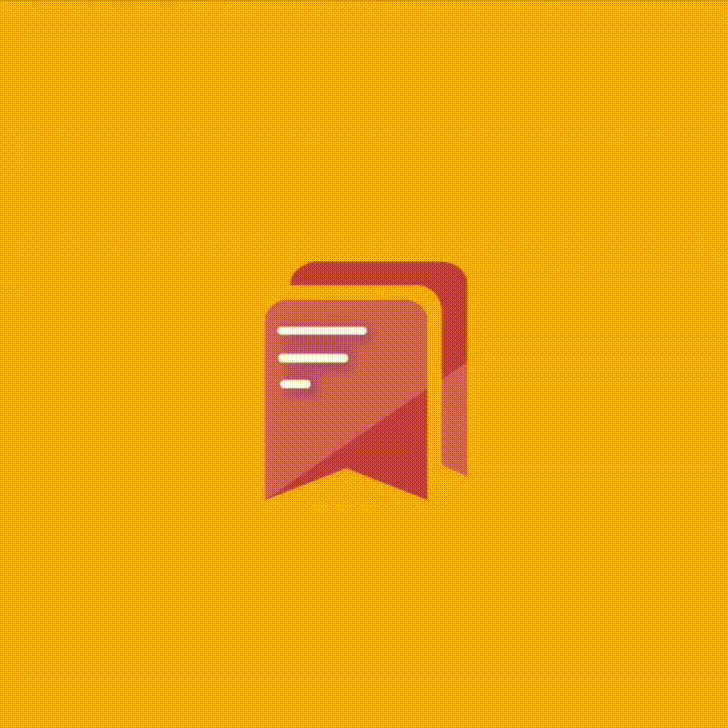 Sadia Umer
Sadia Umer works on putting together high-quality content for Replug customers to read. When she isn't writing, she can be found reading and trying random life experiments.