One common way to track clicks on a link is to use a link tracking service, providing you with a unique link that redirects to the intended destination. The link tracking service will record the number of clicks on the unique link and other data, such as the location of the clickers and the devices they use.
Another way is to use web analytics tools like Google Analytics that provide click-tracking functionality. By adding tracking codes to your links, you can see how many clicks they get and other information about the users who clicked them.
In this guide, we'll look at "how to track clicks on a link using a link tracking service." So let's get started:
How to track clicks on a link using a link-tracking service?
Using a link-tracking service to track clicks on a link can help you optimize your marketing efforts and improve the effectiveness of your campaigns. By tracking the number of clicks on a link, you can identify which content is resonating with your audience and driving the most engagement.
You can use this information to create more content your audience finds interesting and relevant.
Introducing Replug: An all in one link tracking service
Replug allows businesses and marketers to create and track custom branded links, monitor click-through rates, and gain insights into their audience. With Replug, users can create unique tracking links, manage their link campaigns, and analyze traffic sources from a single dashboard.
Replug also offers a range of advanced features, including retargeting, link optimization, and custom domain names, to help businesses and marketers improve their brand recognition, increase conversions, and drive more engagement. 
Link Management Made Easy
Your go to link management tool for CTAs, branded and bio links, QR Codes, tracking and retargeting.
Get Started for FREE!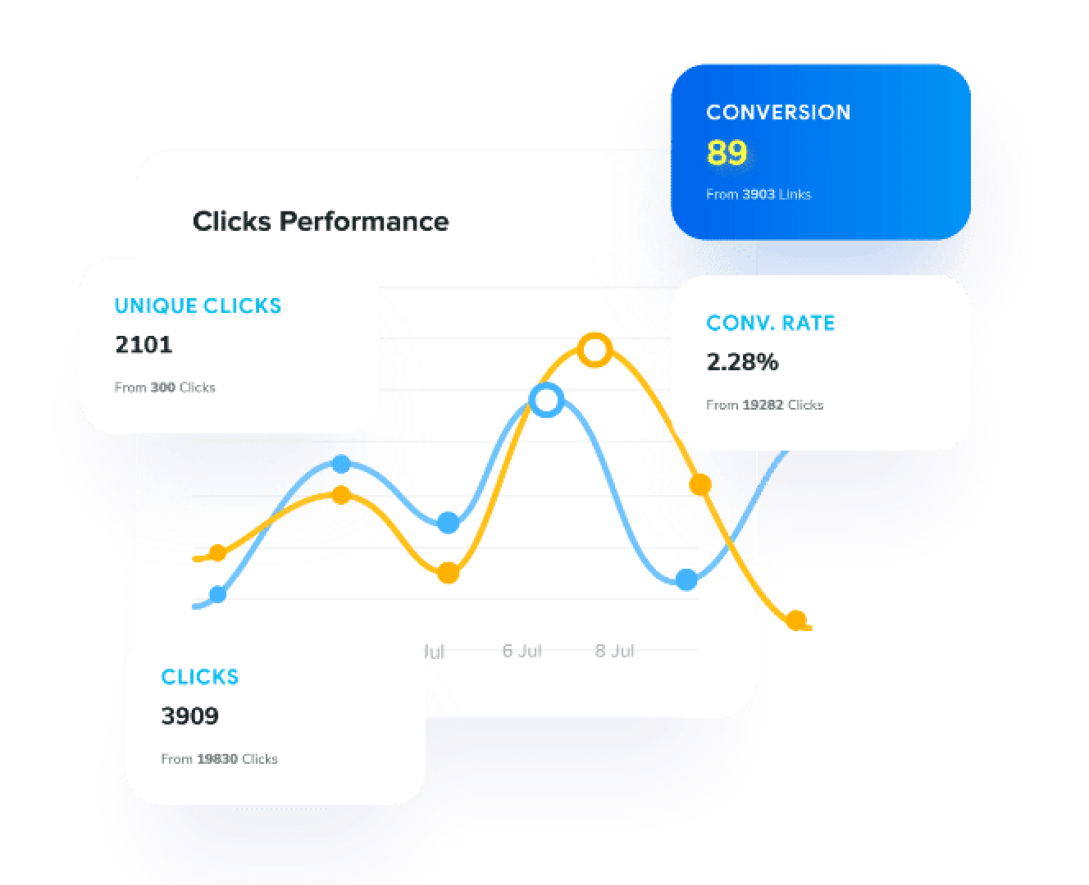 How to track clicks on a link using Replug?
To track clicks on a link using Replug, you can follow these simple steps:
Step 1: Sign in to Replug or create an account for free.
Step 2: Select a campaign on the main dashboard or create a new one in just a few seconds.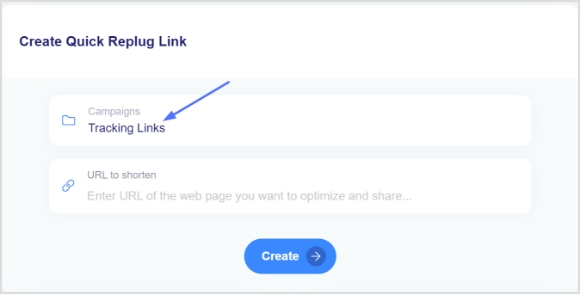 Step 3: Paste the link you want to track in the "URL to shorten" section below the "select your campaign" section.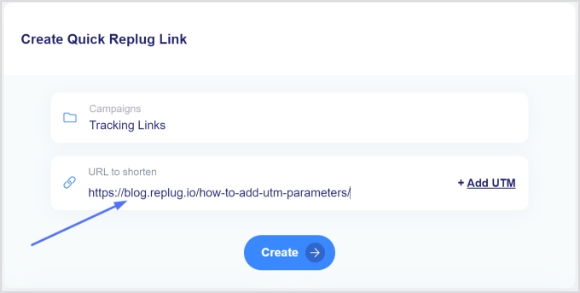 Also Read: UTM Tracking Through Replug
Step 4: Click create, and your new Replug link will be created.
Note: Here, you can add UTM parameters to your link if you'd like to measure more than just clicks.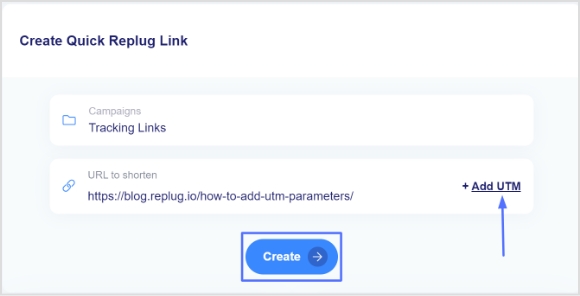 Step 5: Click the edit icon to customize your newly created link and add a URL slug.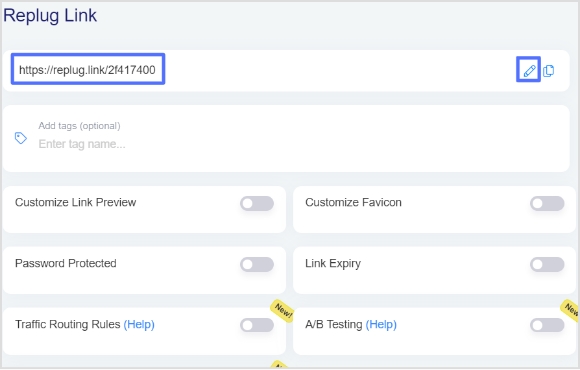 Step 6: Once done with customization, click the copy icon to copy the link and click the update button at the end.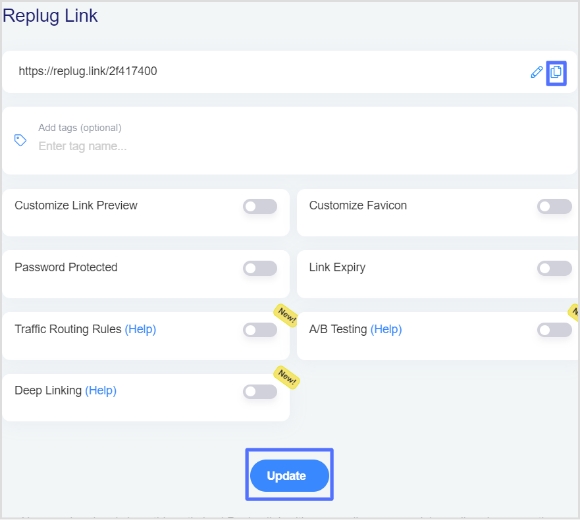 Your new URL with Replug is created. Now, you can share this link to track clicks.
To track clicks on your URL:
Step 1: Go to the main dashboard, click "Manage," then "Replug links."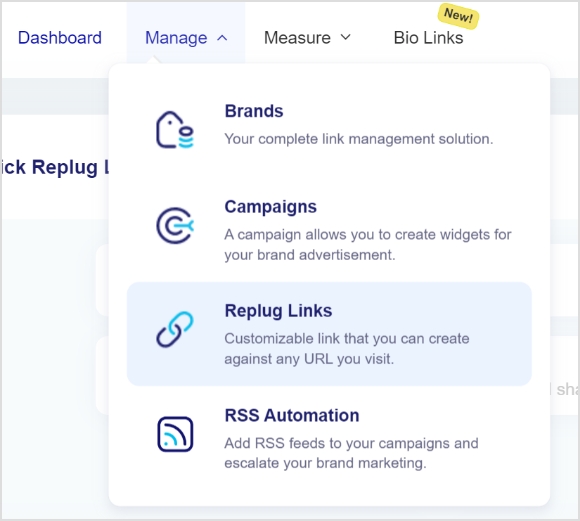 Also Read: How to add utm code to the URL using a link shortener?
Step 2: You'll find all the links you created with Replug. Click the "3 dots" under "actions," then click "view stats" for each link you created.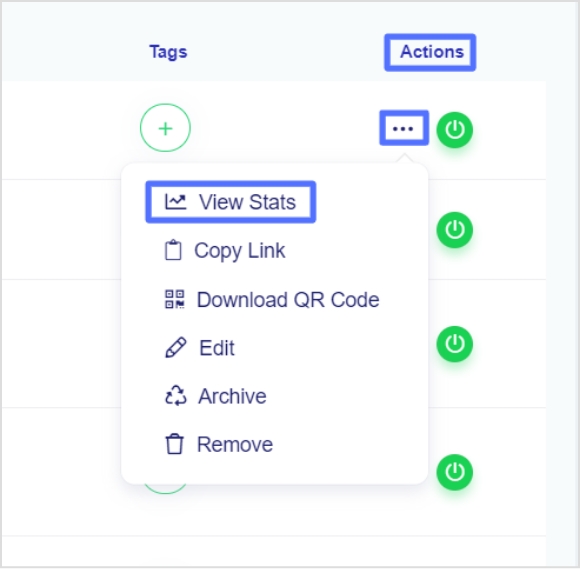 You'll find detailed stats of your link. Check clicks and other stats to figure out how your link is performing.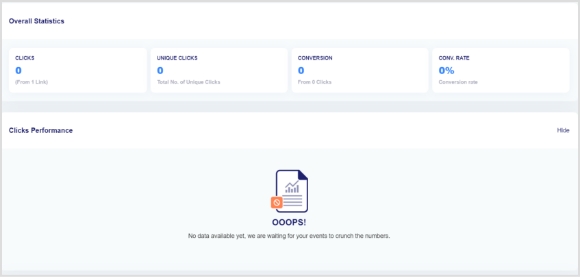 Branded Short Links
Create and track branded short links for your business for better conversions.
Brand Your Links Now!
Also Read: What Does HTTP 302 Code Mean For URL Shorteners?
FAQs
Can I track clicks on links in emails and social media posts?
Yes, you can track clicks on links in emails and social media posts using Replug. Link-tracking services from Replug provide users with unique tracking links that can be used in email campaigns and social media posts.
When a user clicks on a tracking link, the link-tracking service records the click and provides data on the number of clicks, the source of the clicks, and the behavior of users after clicking the link. This information can be used to optimize marketing campaigns and improve the user experience.
How can I ensure the security of my tracking links?
Ensuring the security of your tracking links is an important consideration when using a link-tracking service. Here are a few ways to help ensure the security of your tracking links:
Choose a reputable link-tracking service:

Select a link-tracking service with a good reputation and a track record of providing secure services.

Use HTTPS:

Use HTTPS links instead of HTTP links to encrypt the transmitted data and ensure the links are secure.

Use authentication:

Use authentication mechanisms such as passwords, tokens, or API keys to limit access to your tracking links.

Monitor for abuse:

Monitor your tracking links for signs of abuse, such as click fraud or spam. If you notice any suspicious activity, take action to block or remove the offending links.

Keep your software up to date:

Make sure that any software you use for tracking links is up to date and that you have applied any security patches or updates.

Train your staff:

Educate your staff about the importance of link security and how to detect and prevent security threats.
By following these best practices, you can help ensure your tracking links are secure and your data and user privacy are protected.
Arslan Jadoon
Meet Arslan, a skilled website blog and content writer who combines creativity and expertise to deliver engaging and informative pieces that captivate audiences.