It's only getting more and more crowded in the eCommerce industry out there. Online shopping has always been popular — but since the pandemic strike, now it's become people's favorite way to buy things they need.
Today, at least 2.14 billion people shop online (equivalent to 27.2% of the world's population). And more than 24 million eCommerce sites are leaving no stone unturned to attract more customers and make them spend their money on the products.
Now that the competition is getting bigger and your potential customers are getting pickier, how can you make your online store stand out from the crowd?
One of the best ways to stay ahead of the competition is to optimize your online store. Yes, Your eCommerce business needs to take an SEO-friendly approach to sit on the top pages of search engine results pages.
It might sound daunting. But, there is one SEO-friendly, engaging medium that can help you improve your eCommerce search rankings hassle-free: video content.
So, how can you use videos to optimize your eCommerce website? Here are all the basics you need to know.
E-Commerce Video: Why Do You Need It?
Not only are videos well-known for their power to convey messages succinctly, but they are also a powerful tool to boost a website's rank on search engines. According to the stats, a website with a video is 53 times more likely to reach the front page of Google.
The reason?
Because Google itself thinks that video is a unique multimedia format, it should come as no surprise that the world's largest search engine loves this format and is much quicker to index it than the 1000-word text you write on your eCommerce website.
Of course, the perk of using videos for your eCommerce marketing and optimization is so much more than that. Here are some other reasons why you should incorporate videos into your eCommerce website:
Set the Customers Expectations
Simply looking at product images and reading the text-heavy product descriptions are not enough to help them understand what to expect. In this case, videos can show your potential customers what your products look like in real life, making it easier for you to educate them about your product.
Videos allow the potential customer to take a closer look at your products from different angles. Therefore, they should have a better knowledge of what your product is all about and avoid any surprises (or potential disappointment) in the future.
Show the Products' Fullest Potential
Videos are an ideal medium to show how your products work and how potential customers can benefit from them. You can create explainer videos or product videos for your products to guide them using your product to its fullest potential.
No more plain, underwhelming text-based descriptions. You can rely on videos to convey the essence of the products you sell on your eCommerce website.
Make the Customers Stay Longer
You can also use videos to make your potential customers spend more time on your online store. It helps you increase dwell time. And the higher dwell time you have, the higher your chances you will get to boost your eCommerce website ranking.
Videos are so much more engaging and entertaining compared to other types of content. All the potential customers need to do is to click on the play button, and the video will deliver snackable messages to them effortlessly.
Address Any Product-Related Concerns
Videos also offer you a light-hearted way to generate more trust. It shows off the products in a typical box and demonstrates your value proposition. Therefore, the potential customers can be more convinced to purchase from you.
By watching a video, potential customers can find the most answers to their questions. Therefore, they can have reasons why they need your product.
How to Boost Your eCommerce Rank with Videos?
Not all eCommerce videos bring and help you reap all the benefits mentioned above. You need to invest more time and effort to optimize the videos.
Here are some handy and actionable ways to boost your eCommerce website rank with videos. This way, it would be much easier for potential customers to find your online stores.
Do an In-Depth Keyword Research
Just like a regular SEO practice, you will need keyword-based titles and descriptions for your eCommerce videos. Many eCommerce websites embed their videos from social media platforms like YouTube or other video hosting sites. This is where keyword-based titles and descriptions are needed.
Make sure to choose the keyword that has low competition and a quite decent amount of volume. You can also opt for long-tail keywords to reach more specific, highly-targeted potential customers.
Here's an example of a keyword-based eCommerce video from Love Hair. They use "pure coconut oil" as a target keyword.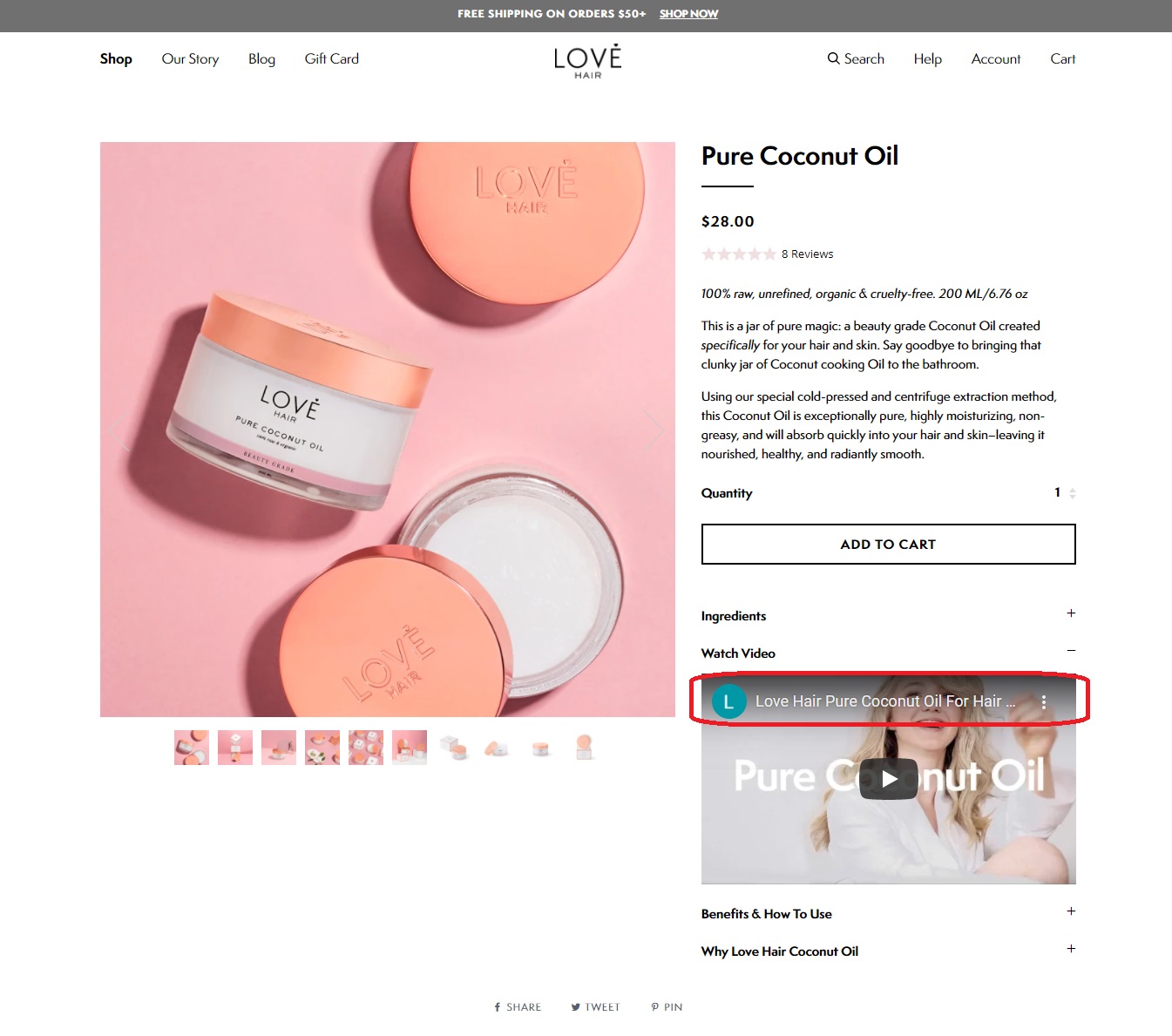 Keep Them Short and Crispy
Make sure you keep your eCommerce videos short and straightforward. Long-duration videos can only make your potential overwhelmed and lose interest in watching it.
After all, no one wants to see a 10-minute video of a brand bragging about their products, right? This will lead to a higher bounce rate and harm your eCommerce SEO ranking.
Eight seconds. That's the time you have to grab your potential customer's attention with your videos before you can engage them. That is why it's crucial to include only information that brings value to your target customers.
The sweet spot for eCommerce videos is around 2 minutes. After two minutes, potential customers tend to get distracted and move on to the next thing.
See how Essie can give their potential customers a 1-minute how-to video to encourage them to buy their products: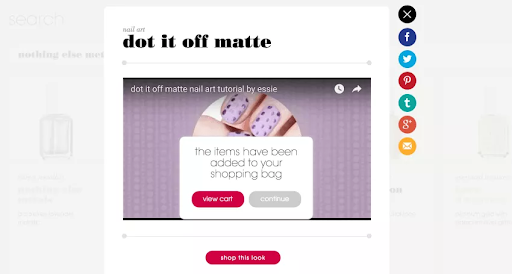 Optimize Videos for Mobile Users
Do you know that younger generations (i.e., Generation X and Millennials shop online more often than older generations? Millennials make at least 60% of their purchases online. And that group age now makes more than 36% of their total purchases using mobile devices.
Those staggering numbers are quite obvious since younger generations are mostly digital natives. In this situation, you need to make sure that your eCommerce videos are accessible for hand-held users.
Mobile-friendly videos will help you expand your reach as it caters to mobile users. The more people click on your eCommerce website, the more likely you will gain more authority in your industry. And you know that Google will prioritize a website with high authority.
See how Nine Line Apparel nailed their mobile responsive eCommerce video on their About Us page.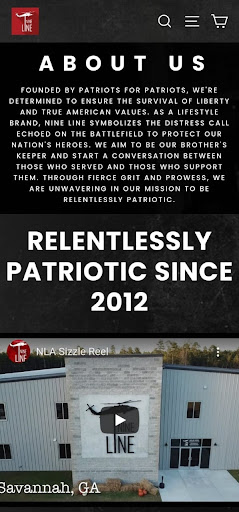 Create Eye-Catching Thumbnails
The thumbnail is the first thing your potential customers see when they find your video on your eCommerce website or search engine results. It's a big deciding factor whether or not they click on your video. So, the more you create them eye-catchingly, the more people will click them.
Video thumbnails have a direct impact on your eCommerce organic search visibility and click-through. It helps you to spark potential customers' curiosity and even may transform their expectations of what the target URL is about.
This key here is to give a more professional look to your video and make it more appealing to click. Make sure to make it clear and convey the content in the most effective way.
You don't have to go all fancy just to create catchy thumbnails. You can simply use your professionally-taken product photos just like what Bliss did for all of their product videos.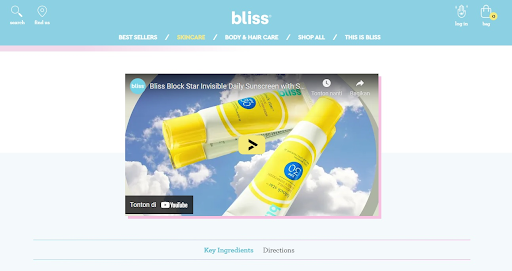 Make the Content Engaging
SEO can only get your eCommerce video to appear on your potential customers' screen. But, it's actually up to you to keep them engaged with your brand and move them through to the sales funnel.
You need good, related content for this. The best way to do this is to put yourself in your potential customers' shoes so you can think and behave like them towards the eCommerce website.
Ask yourself, "what kind of content do I want to watch and make me spend money on the products?"
For instance, if you want to create a product video, always make sure to highlight the benefits instead of bragging about your awesome features. And if you aim to make a brand history video for your About Us page, it's always better to include your beginning and where you are now — avoid including any fluff and any unnecessary moments whenever possible.
Not only will an engaging eCommerce video optimize your online store, but it will also make those potential customers come back for your content.
See the eye-capturing and engaging video from ESQIDO. It demonstrates the easiest way of applying false lashes to get visitors' attention and engage them right off the bat.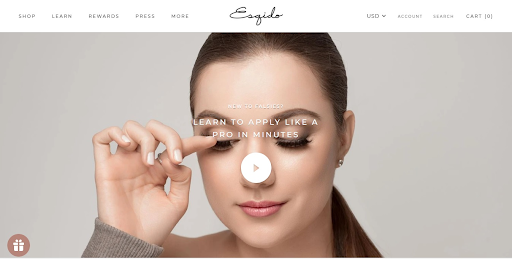 Final Thoughts
Video can be a powerful addition to your eCommerce website. One of the perks of having them on your online store is that it can boost your website presence, making it much easier for target customers to find you through the organic search for relevant keyword searches.
When you optimize your online store, it would be much easier for you to drive more traffic to your website. This, as a result, will lead to an increase in conversion rate and revenue. After all, the more traffic you drive, the more chances you will get to convert them into paying customers, right?
Author

Andre Oentoro is the founder of Breadnbeyond, an award-winning explainer video company. He helps businesses increase conversion rates, close more sales, and get positive ROI from explainer videos (in that order).
Farwa Anees
Farwa is a Digital Marketer who likes to share her insights and experiences via writing. She likes to test and experience new eras in marketing and share them through blog writing.