Are you ready to revolutionize your content marketing game and unleash its true potential?
Look no further!
Whether you're a seasoned marketer or just starting, these invaluable content marketing tips will empower you with the knowledge and strategies needed to craft compelling content that resonates, engages, and converts.
Simply put, a well-planned content marketing strategy can help your brand reach its full potential. It holds the ultimate power to captivate your audience and earn their loyalty in the easiest way possible.
Get ready to create content that not only grabs attention but also leaves an ever-lasting impact on your audience, driving your brand's success in the digital realm.
Before we dive in, let's talk about the core of the matter.
What is content marketing?
Content marketing is a strategic marketing approach that focuses on creating and distributing valuable, relevant, and consistent content to attract and engage a specific target audience. It is a long-term strategy that aims to build trust, establish credibility, and foster relationships with potential customers.
Instead of using traditional advertising methods, content marketing seeks to provide informative, entertaining, or educational content that addresses the needs, interests, and pain points of the audience.
The content can take various forms, such as blog posts, articles, videos, podcasts, infographics, ebooks, case studies, and social media posts. The key principle behind content marketing is to deliver value to the audience, positioning the brand as a knowledgeable and trusted authority in its industry.
However, the following are characteristics for which content marketing is known.
Less expensive
Boosting sales
Loyal customers
Typically, the goal of content marketing is to increase traffic to the website you're running. So these viewers can then be guided through the appropriate channels to become actual customers.
10 content marketing tips to drive conversions and build loyalty
Below are some of the most effective content marketing strategies for driving traffic to your website.
1. Identifying the target audience- Clear buyer persona
The first step towards maximizing website traffic is to determine the target audience and create a detailed consumer persona. To create a clear buyer persona, you need to observe consumer trends closely.
The Golden rule of running a successful business is to constantly evaluate the market value and demand for your products. A company's first step in building a successful brand should be focusing on its target demographic. And figure out how to satisfy its user's needs.
Generally, there are two types of audiences;
Warm audience: People who value your content.
Cold audience: People who show no interest in your content.
However, targeting the niche audience demographically, based on different regions and other factors, is the hardest part. Multiple tools, social platforms, and devices gather incoming data about the customer's preferences, interests, needs, and more.
These tools enable marketers to identify the conversion rate and audience engagement. And create marketing automation campaigns that allow them to compose a message to the right prospects at the right time.
Moreover, Industry challenges can be learned by marketers, and competitor strategies and their customers can be examined. Business owners should always remember: customers seek products or materials that will help them reach their goals or gain knowledge. Satisfying these needs is key to success.
2. Sketch out your customer's journey
The next technique is to map out your customer's journey. One can use a framework for effectively carrying out marketing approaches. And collecting dependable information at each stage of the client journey.
Therefore, one must develop persuasive instructional content and update it regularly to reflect changes in the consumers' demands and needs. As,
Forrester Research analyst Lori Wisdom says:
"Buyers control their journey through the buying cycle much more than today's vendors control the selling cycle. In a recent survey, 74% of business buyers told Forrester they conduct more than half of their research online before making an offline purchase. This buyer dynamic changes the role of B2B marketing in a fundamental way."
However, concise, easy-to-read, and audience-engaging content is essential. So, marketers should prioritize quality over quantity. Of course, it's not as easy as it looks; wasting time trying to sway people's attention with information they don't like is more like writing content they don't like.
The customer journey cycle consists of three primary steps.
Awareness
Consideration
Decision
Let's go through these steps one by one.
Brand/Business Awareness
This is the TOFU (top of the funnel) stage, where you can make a larger audience recognize your product or service by addressing the public's pain points in the content creation process. This will make them feel important and turn your possible customers into real buyers.
However, the below processes offer an opportunity for marketers to connect with their target audiences, get their attention, identify their pain points, and offer solutions or new perspectives.
E-books- infographics- white papers- educational content
One important thing that every business owner should remember is that customers are always looking for products or materials that Will help them get what they want or learn something new. Moreover, focusing on areas where customers spend more time and are interested is a great way for marketers to raise brand recognition and get known in the vast content marketing landscape.
Ingenious consideration
The second step is known as consideration, and during this stage, potential customers finally evaluate the solutions to their pain areas, While also searching for a variety of different choices.
In this stage, referred to as MOFU (in the middle of the funnel), marketers are required to provide informative content. That demonstrates to the audience why they should choose your product over the other options currently available on the market.
According to the Content Marketing Institute
"The marketing and business process for creating and distributing relevant and valuable content to attract, acquire, and engage a clearly defined and understood target audience — to drive profitable customer action."
Decision making
The term BOFU "bottom of the funnels" refers to the process of reinforcing certain offerings to improve or increase the conversion chances that are related to your brand.
Moreover, this gives customers the confidence that they have made the appropriate decision for their company or the solution to the issue. However, this includes live demos, case studies, and trial downloads.
3. Set up an editorial content calendar
Content marketing is a long-term strategy that requires the use of marketing strategies, the creation of high-quality content, and the fine-tuning of promotional efforts. Therefore, it is challenging to deal with everything simultaneously.
The content editor's calendar provides a platform for strategic marketing planning, work management, and content preparation. It serves as a road map to better marketing outcomes and helps the team stay focused on the company's mission and objectives.
Without a content plan, it will be difficult to create leads from your website's marketing efforts. A well-organized editorial calendar is essential for a successful content strategy. However, If you want to create magnificent content, you need to use editor calendar software that explains to marketers and their teams how they may best connect with and serve their target demographics.
4. Identifying the right platforms for your audience – Leveraging social media channels
Identifying the best channels to reach your demographic and generate traffic to your site is another important consideration. An increasing number of people have turned to various social media sites. To network with like-minded individuals, peruse blogs, and learn more about the companies whose offerings they adore.
However, businesses can reach a wide audience and build brand awareness by using social media to convey intriguing stories about their products and brands. Channels like Facebook, Twitter, Instagram, and Pinterest play a monolithic role in increasing engagement and conversion rates.
Tools for analyzing statistics:
In 2023, there are a lot of great tools that can help you manage your daily, weekly, and monthly tasks, and keep track of your sales and conversions.
I'm going to give you a rundown of some of the most fascinating tools that can help you figure out the statistics of your marketing campaign on social channels. And you can also see how different marketing strategies affect your business with less time and money.
ContentStudio is one of the best marketing tools because it lets you build a custom campaign to promote your product. You can use fancy filters to improve the content and share it on any of your social media networks to raise brand awareness.
It also lets you write your scheduled posts and customize them for your real and potential audiences, so you don't have to post the same thing on all your social channels.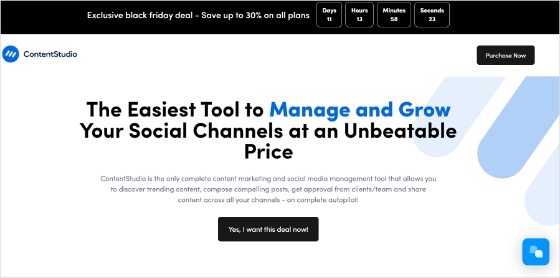 However, It's so easy to see the big picture of all the marketing activities when they're laid out in a calendar and a list. You can control and handle the posts you've set up to go out on your social media accounts at a certain time, and you can keep track of when the posts are due.
Replug makes short links with your brand's name in them. This helps your brand stand out and gives you more trust in your custom domains.
It lets you make a brand for your business and run ads to get the word out about what you're selling. It offers a lot of features, such as a URL shortener, custom domain, retargeting, link analytics, etc.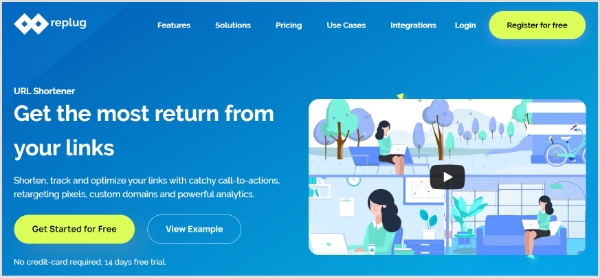 You can add RSS feeds to your campaigns. Every 30 minutes, the content from the RSS feed will be automatically retrieved and put on your shortened Replug link, which you can share with your audience.
However, Replug also lets business owners make an eye-catching call to action to draw their audience to their website or retarget the audience with the same content to any page on the website. It also gives your email marketing efforts more power and makes your email reach wider.
5. Creating engaging and informative visuals
One versatile method of attracting clients' attention to your business is using humorous clips that showcase your products or services in action.
Moreover, visual content is helpful for marketers since it provides in-depth knowledge of the product you have and opens the door to making a personal connection with your audience.
Know that with the developments in technology and increased access to the internet, things have continued to develop in the same manner they always have. The relevance of video marketing in this day and age is readily apparent to every one of us.
However, to achieve your goal of increasing the number of social media conversions, you should consistently focus your attention on the Audience, by placing sponsor advertising on Facebook, LinkedIn, Tiktok, and other social media platforms.
6. Craft captivating web-content
Your content represents you and tells consumers why your company exists and what problems you solve. Convince them to choose your product over competitors, and makes it easier for them to find you.
Moreover, research is one of the key elements of being a good content marketer if you want to keep people's interest. It's necessary for every business owner needs to dedicate some time and effort to studying the market. 
Albert Szent-Gyorgyi said:
"Research is to see what everybody else has seen and to think what nobody else has thought"
Extensive marketing research is crucial for recognizing who your target audience is, what they want, and how to best serve them. After conducting research, you can develop a content process that details the steps you should take to identify your target audience and alert your readers.
The keywords can help marketers organize the issues about which their target audience has questions. Keywords boost the effectiveness of content marketing efforts and also help with search engine optimization.
However, When it comes to coming up with original ideas, brainstorming is one of the most widely used methods. It can help you come up with a better topic for your blog article if you use it correctly. In general, it's all about coming up with original ideas, not putting them into practice.
7. Analyze results – data-driven content
Monitoring and analyzing the performance of your content is crucial for understanding what works and what doesn't. By utilizing analytics tools, you can gather valuable data on metrics like page views, engagement, conversion rates, and audience behavior.
This data-driven approach enables you to identify trends, refine your content strategy, and make informed decisions to continuously improve and optimize your content for better results.
Data-driven success with Usermaven: Your analytics solution
Usermaven is the game-changer for data-driven content marketing success. With comprehensive analytics, a streamlined workflow, privacy compliance, and tailored features, Usermaven empowers businesses to optimize content strategies, deliver personalized experiences, and gain a competitive edge.
Unlike Google Analytics, Usermaven offers no-code event tracking, a user-friendly interface, and a privacy-friendly approach.
Elevate your content marketing with Usermaven and unlock the power of analytics for remarkable results.
8. Enhance the user experience: A key priority in content marketing
When it comes to content marketing, prioritizing the user experience is paramount. No matter how well-crafted and informative your content may be, a subpar website experience can drive away readers and negatively impact your rankings. More importantly, it results in missed opportunities for conversions.
To ensure an optimal user experience, consider the following tips:
Optimize site performance: A fast-loading website is essential. Users expect quick access to content, especially on mobile devices. Make sure your site is optimized for speed by optimizing images, using caching techniques, and leveraging a reliable hosting provider.
Mobile responsiveness: With the increasing use of mobile devices, your website must be mobile-friendly. Responsive design ensures that your content adapts seamlessly to different screen sizes, providing a consistent and enjoyable experience for all users.
Enhance navigability: Make it easy for users to navigate through your content. Incorporate features such as a table of contents and a back-to-top button to facilitate smooth scrolling. Clear and consistent headings help users find relevant information quickly.
Readability and typography: Ensure that your content is easy to read across devices. Use a sans-serif typeface, maintain a reasonable font size, and create a visually pleasing layout. Consider readability for users with different visual abilities by optimizing for high contrast and adhering to accessibility standards.
Accessibility optimization: Cater to users with disabilities by optimizing your website for accessibility. Provide alternative text for images, include captions in videos, and ensure that your content can be read aloud by screen reader software. By prioritizing accessibility, you expand your reach and create an inclusive experience for all users.
9. Avoid fixating on word count for blogs
This situation arises from the misconception that longer articles automatically generate more organic traffic. However, Ahref's analysis of 900 million pages reveals a moderate negative correlation between word count and organic traffic for posts exceeding 2,000 words.
In essence, a typical 10,000-word post receives less search traffic compared to an average 2,000-word post.
Therefore, it's time to relinquish the fixation on word count. Readers aren't enthusiastic about lengthy content. Instead, focus on covering the necessary information, omitting irrelevant details, and delivering concise, to-the-point content.
10. Reengage your audience with remarketed content
By repurposing your existing content, you can transform a previously covered topic into a fresh format. However, the power lies in remarketing that content to re-engage users who interacted with it but didn't convert initially.
Numerous variables may work against us in capturing user attention. The timing might not align with their immediate need or financial situation. But by strategically remarketing your content to those who have already demonstrated interest, you increase the likelihood of capturing their attention at the right moment. After all, that's the essence of content marketing – delivering value when it matters most.
Our final verdict
These days, no marketing strategy can succeed without the perfect content marketing techniques, at its core. It is essential to have a firm grasp of the dynamics of marketing and the kind of content that will be the most effective for your company.
In my opinion, the most effective method of content marketing, however, is to conduct research into the barriers faced by your targeted audience. And coming up with a content strategy to address those challenges.
Leave a comment below, letting us know. Which content marketing strategies best match the growth goals you've set for your business?
We'd be thrilled to get some feedback from you. You have our deepest gratitude for staying with us to the very end. Your time and effort are very much appreciated.
FAQ's
What are the most common types of content marketing?
Some of the common types of content marketing can be done through social media marketing, Blog content marketing, infographic marketing, video content marketing, podcast content marketing, paid ad content marketing, etc.
Is content marketing strategies effective for small business?
Yes, building a content marketing strategy for a small business can be very effective for small business. However, it's no different than large organizations.
What are the pillars of content marketing?
The pillars of content marketing conclude; creation, insights, audience, distribution, and experience.
What are the major benefits of content marketing?
Some of the major benefits of content marketing include audience engagement, building trust, and driving maximum conversions.
How to develop an effective content marketing strategy?
Content marketing is a crucial aspect of any successful digital marketing strategy. It involves creating and sharing valuable, relevant, and consistent content to attract and retain a clearly defined audience.


Sadia Umer
Sadia Umer works on putting together high-quality content for Replug customers to read. When she isn't writing, she can be found reading and trying random life experiments.