Video marketing has become a popular tool to generate conversion in such a short time. What makes it different from other marketing strategies is that it turns the art of old copy into an engaging video.
But, there's another distinct feature that only video marketing has. It is the personal touch of visual storytelling. Unlike any other online videos, this type of marketing video focuses on the audience's perspective. As a result, the video will act as a great representation of them.
But why must it be a video?
If you're an avid internet user, you won't be surprised that most content is video. In reality, video has become a staple content in the online world.
It's nothing new, really.
In fact, a statistic says that people consumed one billion gigabytes (56 exabytes) of online video monthly. And that's in 2017 alone. The current stats predict that over 240 exabytes will be consumed monthly in 2022.
In conclusion, the future of online video is bright. If you're an entrepreneur, you must've taken this information into account. Promote your business with video marketing as soon as possible.
What is Video Marketing?
Video marketing is the practice of turning textual copy into an entertaining and informative visual with the touch of powerful storytelling. That's what we call video marketing.
Video marketing itself covers many types that are aimed for a different purpose – for example, educational videos, product videos, brand videos, and tutorial videos. These are the four major types of video marketing nowadays. 
Each type also divides into a more specific video; for example, an explainer video is inside the educational type video. It is the introduction of a company or product to establish a new relationship with the audience.
In short, it's best to implement video marketing when you begin your entrepreneurial journey and hook the audience's attention. Video marketing can also act as an educational video since you explain who you are to the public's eyes.
The Benefits of Video Marketing 
Often, you may hear about powerful video marketing tactics that boost conversion rates in no time but you don't get to know how it works to get you satisfied with the outcome. 
Video marketing's benefits don't come overnight. In contrast, it is a compilation of teeny-tiny steps that lead to your conversion goals. Here are the benefits (in order) that show you how video marketing can bring you more conversion rates.
1. Capture The Audience Attention
Video marketing is an excellent tool for grabbing the audience's attention. Since it centres around the audience's point of view, it's essential to incorporate a unique approach.
For example, a tutorial video aims to solve the pain point of the audience. Most of the time, the audience doesn't pay attention to what a product can be used for many possible usages. Your tutorial video will come in handy to help them understand better.
Suppose you're running an Italian Parmesan business. We all know what we can do with the cheese. It's a basic complement dish that enhances pasta and pizza into a mouth-watering delicacy. Even without your tutorial, the audience knows how to incorporate parmesan into their meal.
They will come up with the idea of making cheesy pizza or cheese fondue or something 'normal' thing to do with the cheese. But if you get your audience a tutorial video to try out something different, you can benefit the most from it.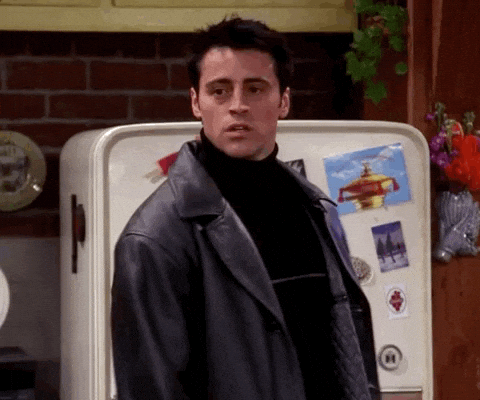 You can make a fantastic tutorial video by incorporating new recipes for your authentic Italian cheese. For example, cheese tends to be an expensive ingredient in some parts of the world. To tap into an audience of students or people who are tight on a budget, you decide to make a budget-friendly recipe with cheese.
Doing so helps you reach a new market and provide insight for your existing audience. In the end, you get the best of both worlds.
2. Improve Brand's Awareness
Video marketing can help you spread more awareness by incorporating an effective strategy. This is where explainer videos play a big part in the game.
First off, an explainer video has the ability to convey a message about your brand and product concisely. If you're new to the business, it's an excellent way to apply this method sooner. 
Let's get back to the cheese business.
To begin with, there are tons of cheese companies in this world. They aren't just cheese producers but also dairy companies that supply all dairy-derived products worldwide.
Does it mean you lose the battle as a local cheese producer? No, you still have a chance to acquire markets, at least in your local area. 
This is where video marketing comes to the rescue. It enables you to spread out the words about your local-authentic Italian cheese. It also allows the audience to know better about your brand in an amusing way- not too promotional.
3. Boost SEO
Every business needs to have a website to level-up its attention. Often, the audience looks up the website first to judge whether your company is credible or not. Basically, your website is an exceptional online presence that you should nurture in the long run.
Besides, people rely heavily on the search engine to look for anything in today's internet age. The chance of your business to appear on the search engine will be super low if you don't incorporate a digital marketing tactic.
A digital marketing tactic includes having video marketing as one of the plans. As mentioned above, video marketing won't only act better to attract the audience but also the search engine. Including a video on your site will help the search engine rank your site.
A good marketing video on your site allows visitors to get an in-depth explanation within minutes. The presence of video can also attract the eyes first when a user visits your site. It leads them to click and watch without spending time reading a bulky text inside the website.
The relevancy of your marketing video enables the search engine to track your page better. This way, you can improve your site's appearance on the search engine result page (SERP).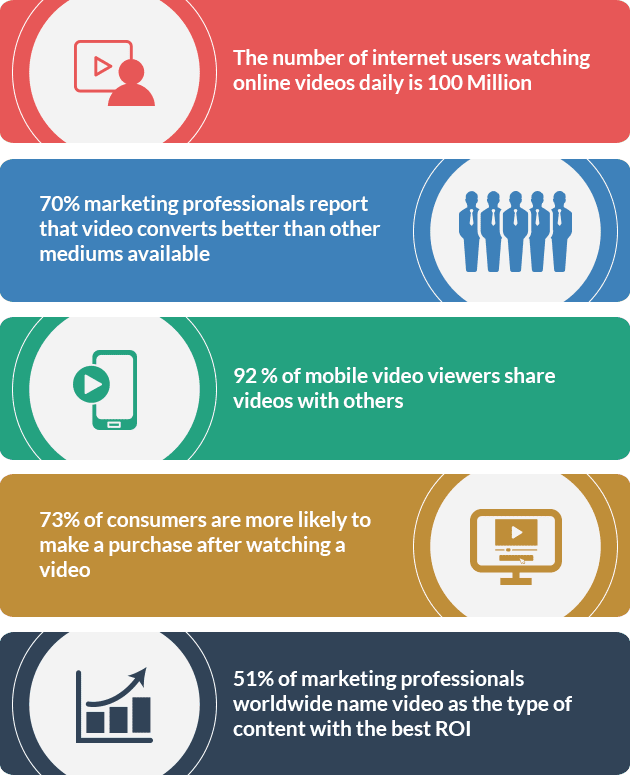 4. Bring More Traffic
Now that you have a fundamental knowledge of websites and SEO, let's dive into how a better SEO score can bring you more traffic.
When you finally reach page one on the search engine result page, the chance is you generate massive visitors to your site. Although it's apparent, our 'local cheese business' doesn't even know this strategy.
A small business mostly relies on the classic word of mouth without giving a chance of online presence. Although the former method is still effective today, the online representation can fuel up the businesses' expansion.
An embedded video marketing on your site isn't the only source where your enormous traffic comes from. Thanks to social media platforms, people can share your video marketing multiple times. Also, don't forget about the number of views and impressions. Those are the vital analytic tools to measure your video marketing success.
If you succeed in delivering useful video marketing, the chance of getting overnight popular is very much likely. The audience will be curious as to what your brand is all about. They will dive into more information by visiting the only complete source of you: your website.
Therefore, the more shared your video marketing is, the higher opportunity of you getting more traffic to your website. 
5. Increase Conversion Rates
Video marketing is designed to generate leads in the first place. So, there's no debate on it. But how does it work?
Firstly, in every video marketing, the narrative or storytelling guides the viewers to pay more attention to it. Without the audience realizing it, each video infuses marketing information, leading them to feel attached.
This is where powerful storytelling works. It enchants the audience to stay within the video until it ends. Although many implement an urgency narration, some companies prefer to have it in the end.
We call this actionable narration a call-to-action (CTA). It can be a text, button, banner, or even a story in the narration that gives the audience a sense of urgency to take action. CTA is the gate for every potential lead to embark on your brand's journey.
CTA works like a magic word. It doesn't push anyone to click on something or visit your website. Rather, it beautifully persuades the audience to get an experience with you.
That's why it's crucial to understand how CTA works for generating the audience. Placing CTAs can also be tricky as it needs some strategies without making your audience feel objectified. 
In brief, every video marketing needs CTA to generate leads and measure the conversion rates. That's a must-have. If not, then what's the point of your video marketing?
How To Write Your Video Marketing Script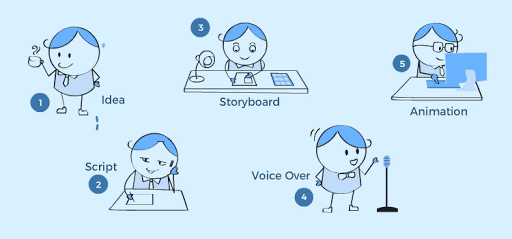 Now that you have a knowledge of video marketing, you may think it's hard to make one, especially when you're a novice in this practice. Although you can give it all to the video production company to handle, you should know the science behind it. Only then can you work together to receive the best outcome you desire.
Here are some tips for you to create a compelling video marketing script that helps increase conversion rates.
1. Write As You Talk
Sometimes scriptwriters don't put this as equally important as giving the real conversation with the audience. They concentrate more on delivering whatever in their mind into words, which is terrible.
Your writing text doesn't automatically turn into an engaging story if you ignore this element. That's why there's this statement amongst writers, "Write as if you're speaking." It means that when you sound your writing, and it comes out great, you have succeeded in your writing hustle.
Writing for video marketing can be challenging, but that doesn't mean impossible to tackle down. Continuously writing your script can enhance your skill in the future to get a better hold of what's enticing to the audience and what's not.   
2. Educate The Audience
Video marketing isn't that salesy video where you push people into buying your product. It's never like that, to begin with. There's a reason why it's called marketing, not sales. It aims to penetrate the market and acquire leads.
Therefore, your video marketing should be informative and educational for the audience. If they find it helpful, you don't need to worry much about the upcoming event. A broad audience will be right in your hand.
Your video marketing script must be the first introduction of the following promotional video. In other words, you must create a solid audience that 'understands' your brand and your product. And, you can achieve this state by educating them properly.
3. Accentuate Your Words and Tones
If you understand what it means to have a hidden agenda, well, then you can incorporate that method in your scriptwriting. It's not about the wrong and misleading information to cruelly achieve your goal. It's about focusing on the thing you want to deliver by accentuating your words.
Words and tones can sometimes be complex to understand fully. People from diverse backgrounds can interpret the words differently too. That's why a video marketing scriptwriter should emphasize it to give a concise message.
Tones are also vital to leave an impression on the audience. It differs from every business or niche. You can't apply a happy tone for a product that solves an emotionally dreading situation. That's inappropriate in the first place, and secondly, it will leave a terrible impression of your brand.
4. Incorporate Narrative Structure
The thing about storytelling is the beauty of its structure, how it enchants the viewers to feel 'something.' Crafting exceptional storytelling needs a lot of practice. But to start on, try implementing the narrative structure in your scriptwriting.
Well, storytelling itself is already in the form of narration. But, most marketers ignore this part as they may straightly think of the words to gain leads. Because, no- you can't incorporate a brand-centred story if you target a different subject: the audience.
It's not about telling your features and so on (well, yes, you should put this into the writing), but it's not the main thing. When you implement a narrative structure about your audience and make it all about them, they sure feel attached.
5. Use Illustrative Words
Lastly, don't forget to use illustrative words in your video marketing script. Most scriptwriters forget to put this as they focus more on crafting the big words. The thing is, your heavy words are hard to translate into a video. 
Keep in mind that a video needs illustrative words to be acted upon. Your words must be visually friendly so that the production engineer knows what you mean or the message you want to deliver.
Illustrative words also allow the audience to visualize better, albeit there's a video representing it. But still, it's a crucial element that every scriptwriter should take notes of.
Conclusion
Video marketing is one of the most popular strategies every marketer has reverted to s in the past decades. Thanks to the growing world of the Internet, people are now relying on it to look up almost everything. 
The content itself has shifted from visual to video as the latter has more information included than the former. This is where businesses take an opportunity from. They implement a marketing scheme into an online video that reaches out to a broader audience, in the hope of having more conversion rates and it's true. Video marketing is now used by many businesses to elevate their performance.
Author

Andre Oentoro is the founder of Breadnbeyond, an award-winning explainer video company. He helps businesses increase conversion rates, close more sales, and get positive ROI from explainer videos (in that order). Twitter.Linkedin Email: [email protected] 
Farwa Anees
Farwa is a Digital Marketer who likes to share her insights and experiences via writing. She likes to test and experience new eras in marketing and share them through blog writing.