What Is Black Friday Marketing?

Black Friday marketing
is an e-commerce business event born in the 1950s in the United States, where brands and retailers offered significant and attractive discounts on their products on Friday in November.
Black Friday starts one month before Christmas and comes after Thanksgiving Day. It is an enormous opportunity for both retailers and customers.
Why do we call it Black Friday?
There are different stories behind calling this day "Black Friday," but the real reason is still unknown. As we saw in history, Black Friday began in Philadelphia in the 1960s. 
Some say that police of Philadelphia called it Black Friday, when tourists and shoppers after Thanksgiving and before the day of the Army-Navy football match held on Saturday flooded in the city. 
The Philadelphia police had to work an extra long time to deal with this crowd.
Another story is that the Black Friday term originated when two devastating crashes occurred in the stock market on Friday. 
One story says that gold prices collapsed and negatively impacted the stock market on September 24, 1869, and September 19, 1873. Both events caused a long-term depression in history. Hence, the term originated.
Another crash happened in 1929, but it was on Tuesday. So the term Black Tuesday began to be used dramatically.
The term "in the black" in finance refers to profits for the business. Large brands and retailers show signs of high profits as the holiday season starts at this time of the year.
There are more stories, but the accurate claim, so controversy exists.
Successful Black Friday marketing: Ideas, tips & strategies
Black Friday is the most important event for both businesses and consumers. 
After the pandemic, 80% of people in the USA buy online. So if you have built an e-commerce website available for shopping, you must be aware of customer promotion strategies. A similar pattern has also been found in other parts of the world. 
Hence, it's the time when e-commerce merchants need to make the most out of this occasion using various Black Friday marketing strategies. Here are some discussed below.
1. Build your Black Friday email list:
An email list is an important way to build a relationship with the client in an intimate and professional manner. 
You can get into someone's social inbox and attract customers with catchy sales offers.
To gain an edge in Black Friday, you must build an email list of your customers to inform them of your participation in this campaign. 
About 40% of people open their emails to see about Black Friday offers. 
Make an email list of already signed-up users and invite new visitors to sign up for your email by sending notice of the upcoming Black Friday sale.
Invite new website visitors to sign up by sending identification forms which include their name and email address, to take their data. 
Customer experience surveys and quizzes are great sources for building an email list.
Another way is to send email links to potential users and ask them to subscribe and invite their friends to earn discount points and vouchers. 
All these steps help build a potential email list.
Here is what boss business has to say about email list strategy.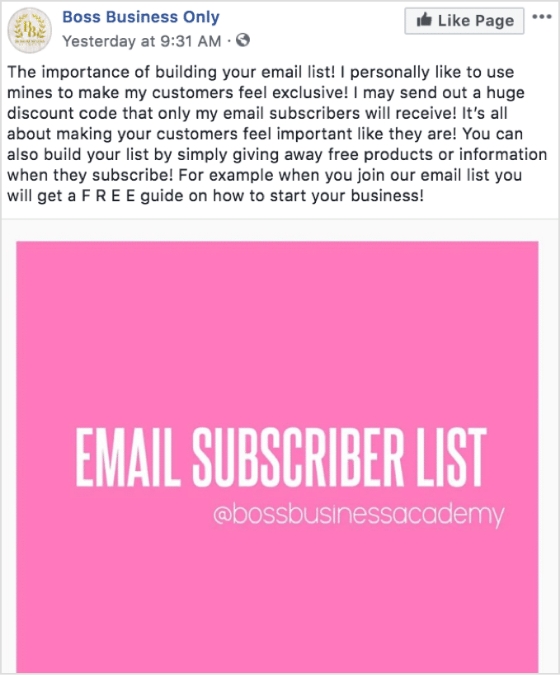 2. Send personalized Black Friday advertising emails:
Sending personalized emails to your customers and users in three steps:
An email one week before the Black Friday event to your customers and potential leads to inform them about upcoming Black Friday events and create curiosity.
A second email at the start of Black Friday to inform about all discounts and offers. It will create fear of missing out. 
Send third email to remind customers about the end-up of the sale and create a sense of emergency.
A customized email will make your customers feel important and exclusive. You need to post reminders on all social media channels along with an email campaign. 
Here is an example of the Black Friday sale. 
ContentStudio offers a 30% discount on its social media management tool, showing a countdown on top. It is the perfect example of creating a sense of urgency.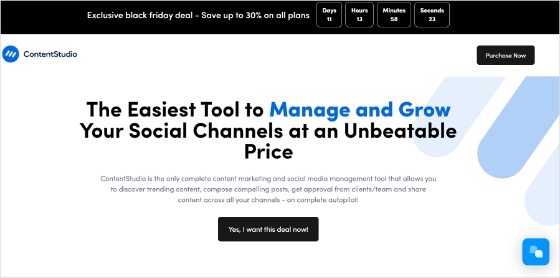 Here is another example from AK Galleria creating a CTA by sending "sales end today."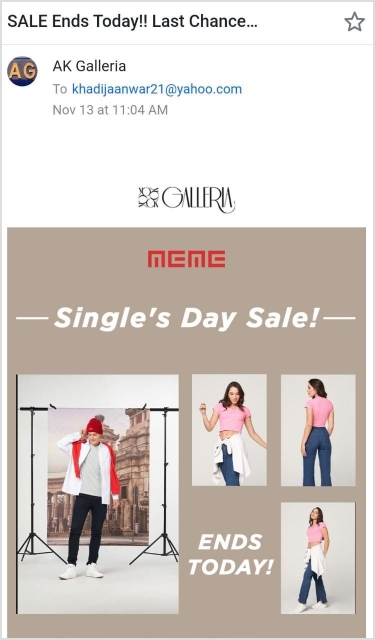 Related: 5 Tips to Generate Leads Through Cold Emailing 
3. Boost Black Friday sales via Social Media:
Social media is the best platform to inform customers and users about your attractive discount offers and deals by sharing pro ads. 
As today the most used platforms for networking are social media channels Instagram, Facebook, WhatsApp, and TikTok. 
By giving information about upcoming offers before Black Friday, you can encourage your customers to check all deals on Black Friday. 
Plan your offers and discount wisely, and share ads to make people curious and excited about these offers.
You can post stories, reels, posts, and videos or go live to introduce your Black Friday discounts and vouchers. 
Social media is a great platform for e-Commerce stores to catch potential leads & traffic. 
When scheduling your Black Friday content, use all social media features for maximum conversions. 
Sponsored posts and stories are a great source to gain an edge over the competition.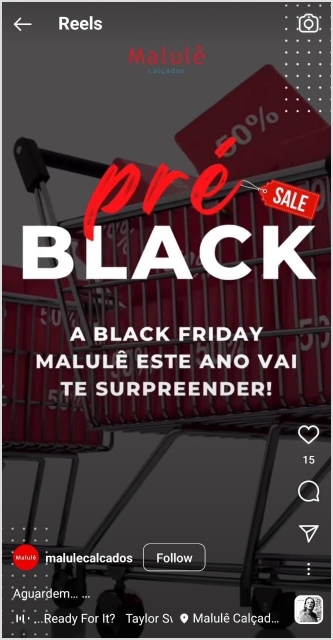 Related: 8 Ways to Increase eCommerce Sales Using Social Media 
4. Try a Black Friday SMS marketing campaign:
The Black Friday campaign can't be successful without a clever SMS strategy. 
SMS is easily readable and accessible to customers. 
A pop-up notification on the mobile screen with a discount code can attract any customer during busy hours. 
The email opening rate is less than SMS as only some people open email instantly. 
You can send an SMS links directing to your page to see all offers in detail. 
One week before the Black Friday event, send an SMS to your customers and users to inform them about upcoming Black Friday events and create curiosity.
Send the second SMS at the start of Black Friday to inform them about available discounts.
Send the third SMS to create urgency to remind about the end up of the sale.
5. Upsell and cross-sell with discounts:
Up-selling and cross-selling are the best strategies to improve your Black Friday marketing campaigns.
By doing this, you can sell more than one product together to increase your earning potential. 
For example, instead of selling a burger separately, you can make it a deal on discount and better price by adding fries and drink to attract the customers. 
People like packages deal more than single. They won't mind little price fluctuation on deals. It will boost customers and sell products number.
Here is a sleek graphic offering a Black Friday deal with a bundle of marketing campaign tools.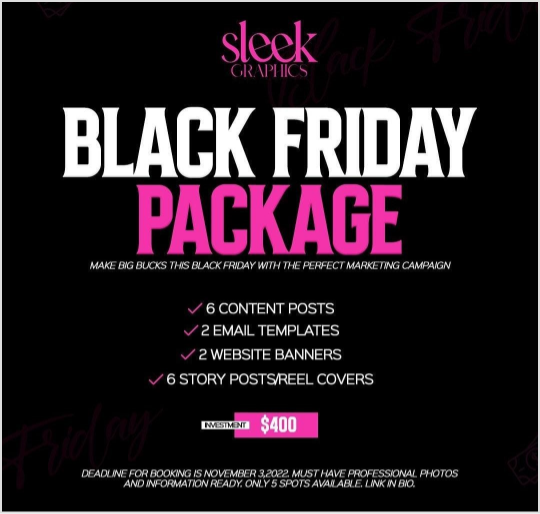 Related: Plan Highly Focused Content Marketing Campaigns Using Replug
6. Multiple gift-giving opportunities:
To make successful Black Friday Marketing, you should have multiple gift-giving opportunities to attract customers.
You can urge more traffic to your stores by giving bundle discounts on your products. People buy more at a discount. It increases customers and your earning potential.
Give your VIPs an exclusive Black Friday discount
To increase your earning potential, give your old and permanent customers exclusive discounts to appreciate their loyalty. It will increase your sales on Black Friday and ensure that these customers shop not only on Black Friday, but also throughout the year.
To increase earning potential, you must distribute gift cards to your customers with attractive and special discounted offers and deals. Customers can use these cards to avail discounts.
Give a free gift with a purchase
To make the Black Friday sale attractive, make deals in which a buy one get one offer is announced. For example, if the customer buys a burger, offer a free drink. It will increase customers and urge them to buy more.
7. Prevent cart abandonment:
Cart abandonment  means an online purchaser leaves the website without completing their purchase and does not go through the checkout process. 
This purchaser left the cart with products. 
An exit-intent pop-up is a message that appears before leaving a website when a user moves toward leaving the tab. 
Such message prevents a customer from leaving the site without completing the shopping. 
Using exit-intent pop-ups reduces cart abandonments and also retarget them to win these customers back that leave in the middle of their buying journey.
According to Danny Leonard of Exposure Ninja, here are some tips on the subject matter:
Avoid surprising customers with hidden costs can prevent cart abandonments, such as delivery charges. Hence, free shipping can be a great incentive to push customers to make the purchase.
Secondly, nudge them and remind them to complete their purchase of the items that are part of their wish-list or basket.
Giving multiple payments options may also reduce cart abandonments.
8. Influencer partnerships:
Partnership with influencers is a top strategy for promoting Black Friday marketing campaigns. 
Influencers have a greater effect on convincing audiences and new customers to purchase a product. 
As people believe the opinions and reviews of their fellow beings who they trust. Recommendations from influencers/celebrities can urge fans & followers to purchase your products. 
Through partnerships with people who influence social media, we can promote & sell our products. 
Collaborating with multiple websites is also a possible way to sell & advertise your products through these websites; you can also increase your number of customers.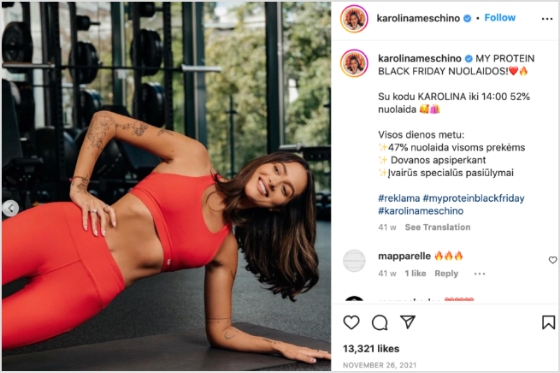 Tip: Shout-outs from influencers to plug sale offers in their videos or podcasts can be a good way to push sales.
Related: 9 Ways to Track Results from Partners & Influencers
9. Use hashtags to reach a new audience:
Hashtags are primarily used on social media platforms like Facebook Instagram and others for online promotion. 
Before and on the Black Friday sales, you can use hashtags for your selling promotions. 
These hashtags can make new people aware of your participation in the Black Friday sale and all your upcoming offers and discounts.

Related: Find TikTok Hashtags
10. Create a sense of urgency: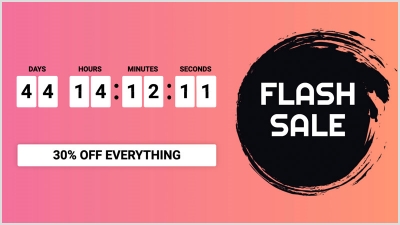 On Black Friday sales, you can increase your customers and earning potential by creating a sense of urgency. For example for customers like you can give an offer for a limited time to catch traffic to your store or website.
Use a countdown timer for swift customer actions, such as promoting on your social media or on website, informing people about the time remaining for the sale to end. 
Customers with an urgency take more action to complete the purchased as compared to those without urgency.
11. Use retargeting ads: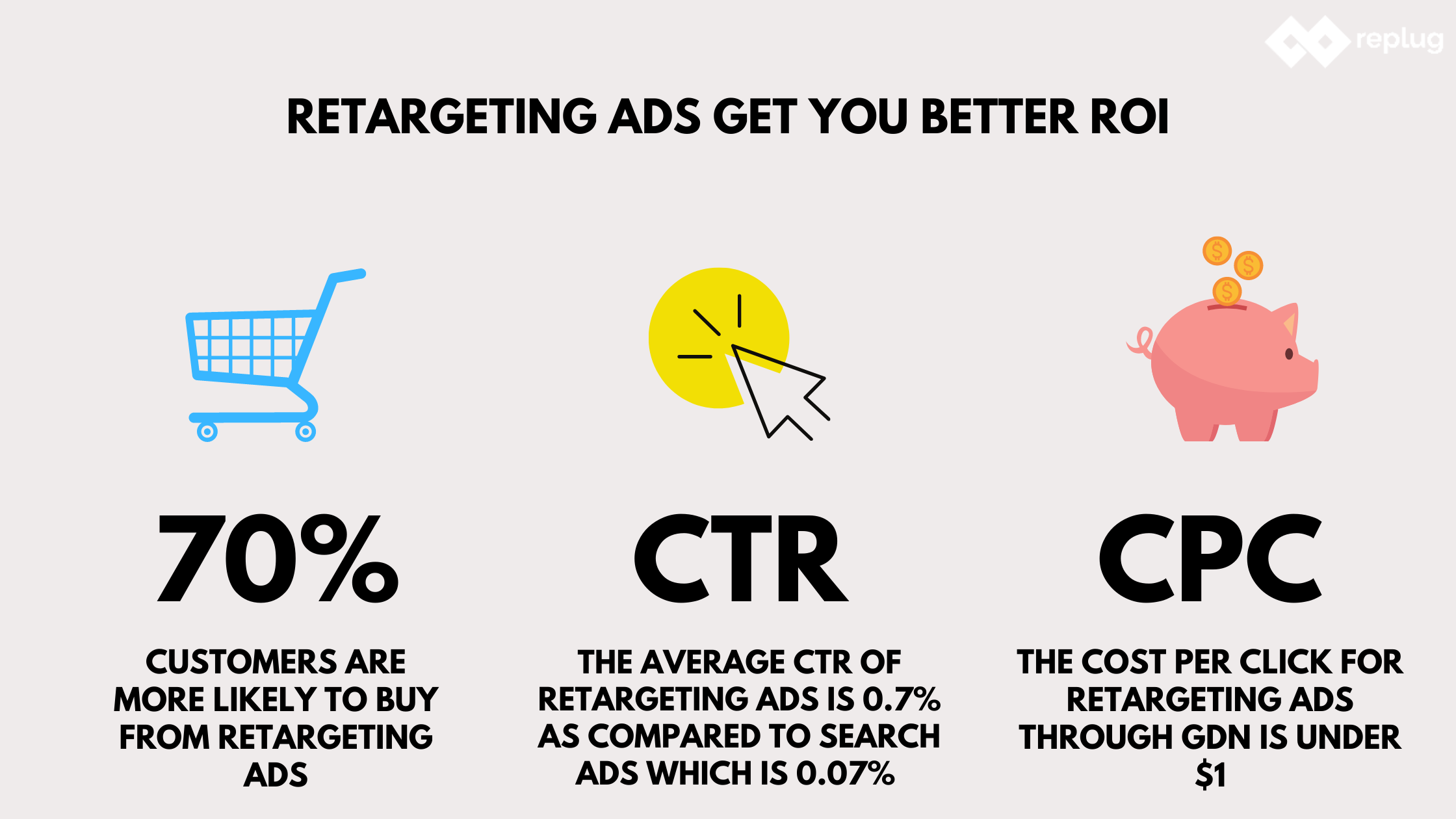 Retargeting ads are the way to retarget people that have already visited your website and brand. You can use ads for targeting and retargeting people for black Friday sale promotions. 
Retargeting campaigns have two types
Pixel-based retargeting

List based retargeting
Pixel-based retargeting is a way to redisplay material to any anonymous site visitor. And, List-based retargeting works when you already have someone's contact information in your database. 
On Black-Friday events, paid/sponsored content is already at its peak. Therefore, you should make a strategy to gain an edge for maximum conversion. 
Maximize your retargeting campaigns and show retargeting ads to ABC audience of one (social) platform that is also present on the other XYZ platform. For example, create a retargeting campaign using a URL Shortener, and connect your Facebook pixel with the campaign created. Any one that clicks on your shortened Shopify URL will be tracked, and you can retarget them on Facebook using Retargeting Ads.

Tip: You must add and highlight customer reviews in your retargeting ads. 
12. Use bio links to direct people to your store:
Bio links are clickable URLs added in the profile section of a page on social media channels such as Instagram and can direct a customer to a website page or online store. 
Before and on the Black Friday sale, you can put these bio links to direct people to your store to increase their promotions and customers. 
This can also save your customers time and give them a better experience.
Here's an example of a GFuel-Energy bio link.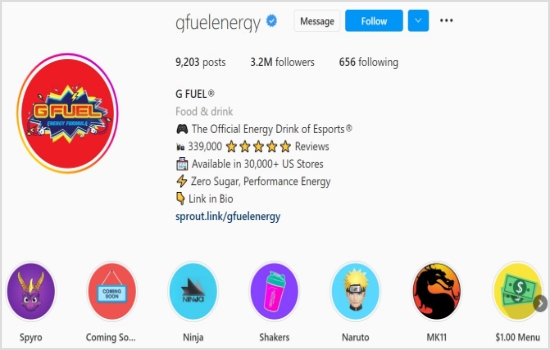 Here's another example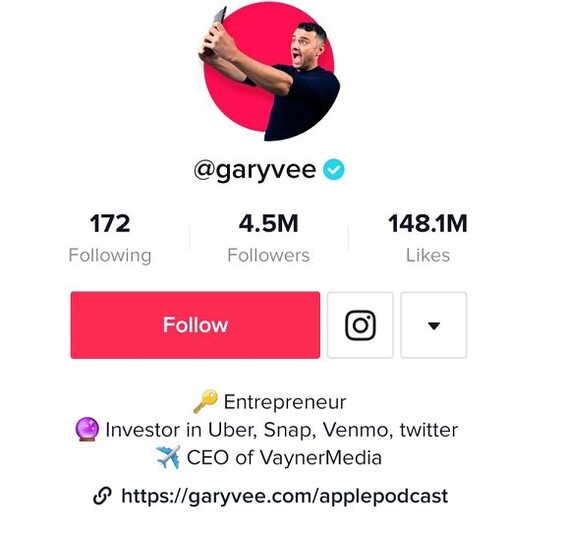 Related: 7 Ways You Can Use Instagram Bio Links to Your Advantage
13. Use deep links: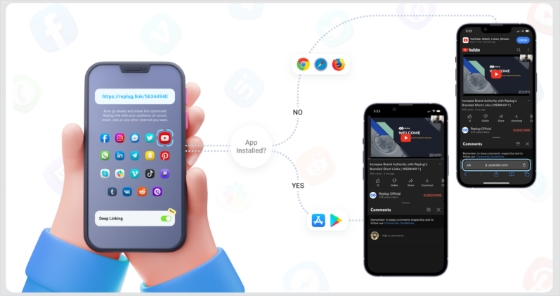 Deep links are URLs that direct people to an app store instead of a page or website and save time for the user. 
For Black Friday sale promotions, you can use deep links to direct the audience to your app store. 
It will make your customer journey easier and shorter and will boost retention and engagement. It takes customers closer to the end goal, conversions. Undoubtedly, deep links can increase conversion by 66%.
From one store, your customers purchase all desired products. For example, many e-commerce businesses are using deep links to promote Black Friday marketing campaigns.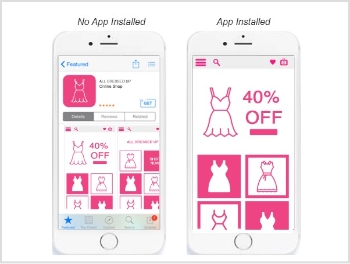 14. Use branded links:
Branded links are short URLs or alternative names for a web page that are customized and unique to a brand and different from lengthy URLs. 
These personalized links are for brand recognition and awareness. 
Branded links are helpful in gaining your audience's trust and building your credibility in the online world. 
For example, Coca-Cola always highlights branded links while posting a tweet. 
It helps people recognize the brand's tweet and catch their attention. 
You can use these branded links for Black Friday promotion as people trust them. This increases your customers and, in turn, earns you sales.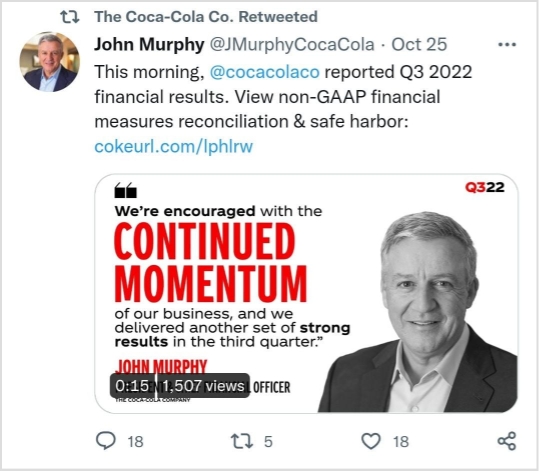 15. Optimize checkout process:
Optimizing the checkout process is a strategy that retailers use for their conversion rate. 
For Black Friday sales, ensure to optimize the checkout process to increase your positive selling reviews. 
To make an optimization checkout, you should show all prices, including shipments payment and taxes, with the product price. The optimized checkout process can make a positive impression on your customers. This strategy is because people are excited to purchase the items, but when they see unexpected prices, they leave abandoned carts. 
If you don't optimize the checkout process, it will cause an abandoned cart. Here's an example of the one step checkout process.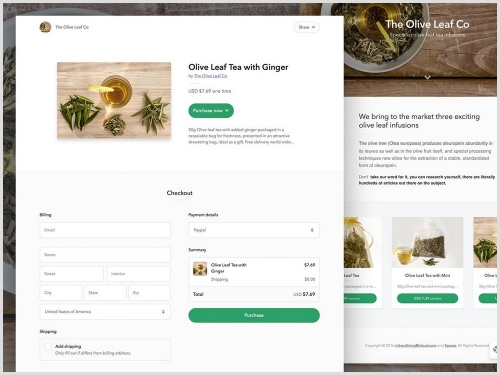 Optimization of the check-out process can give users a better experience on your eCommerce website. 
16. A/B test campaign pages: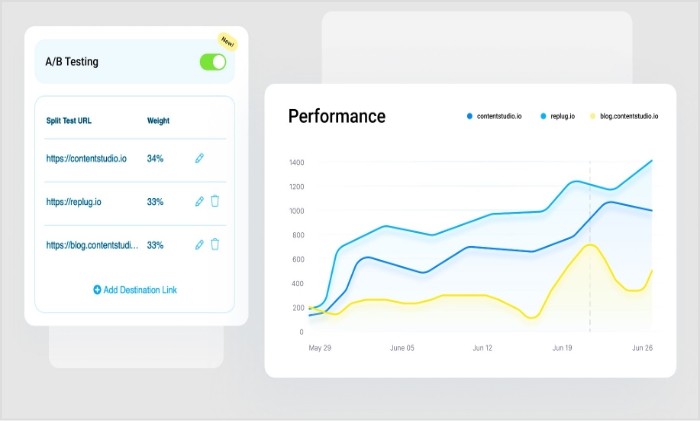 This test is used for comparisons of two versions of web pages or apps against each other to see which one performs the best. 
In the Black Friday sale, you can use an A/B test to analyze different marketing strategies for a single campaign. 
You can test ideas that work best and discontinue the weaker one. Through this test, you can check the effectiveness of your strategies and modify your ideas for better results.
Running an A/B test can have significant effects on your site or mobile app. The examples below show how little elements can make a difference.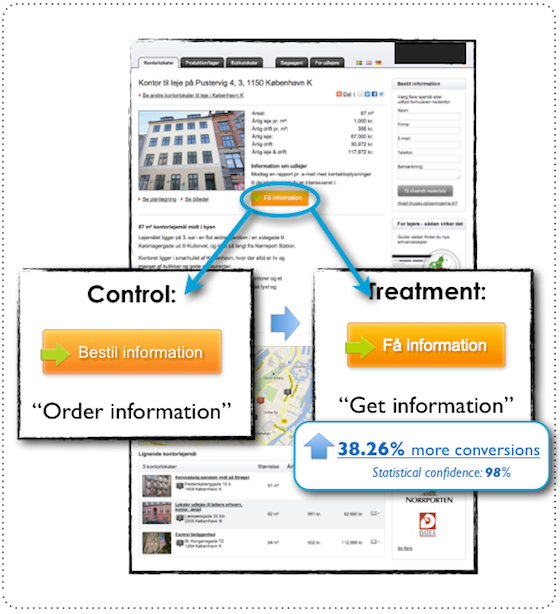 Run A/B tests and achieve the following:
Increase engagement

Reduce bonus rate

Increase conversion rate

Minimize risk

Effectively create content
17. Use the best CTA type to convert more: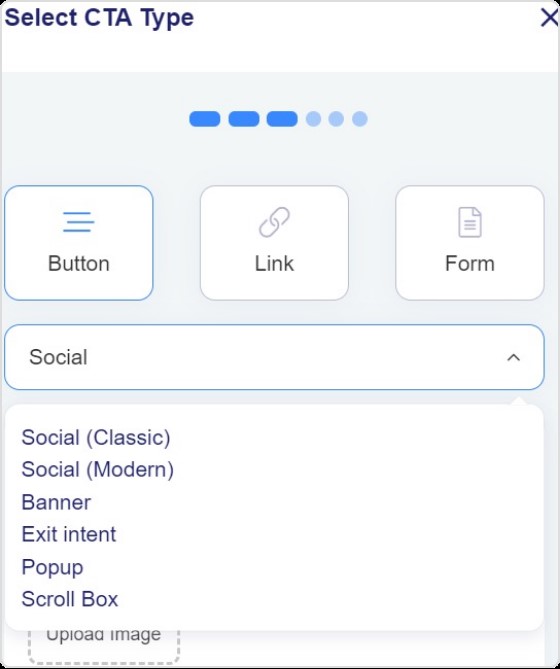 A call to action is a designed text to target the audience to take the desired. CTA helps achieve the customer journey.
For example, in Black Friday sale promotions, you can use a call-to-action on button or URL and ask the audience to click and know about all the updates/discounts & offers.
This strategy can increase leads and conversion on the Black Friday sale.
Use a link management tool that helps you create customized CTAs. Try different types of CTA and analyze the impact of different CTA's, and use the one that performs best.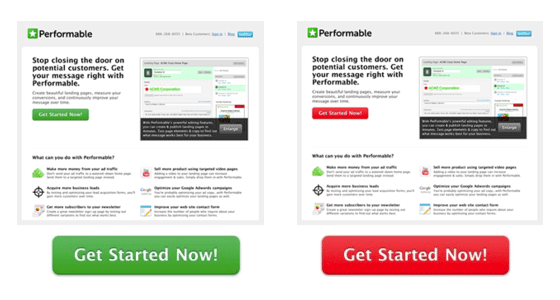 Secondly, the colors and CTA phrases also matter so be sure to design a CTA that can result in more clicks and conversions. 
Related: Call To Action For Social Media : 15 Best Examples
FAQs
When should I start Black Friday promotions?
You should start your Black Friday promotions in the last week of October or the first week of November, as many people start looking for Black Friday in October. All the strategies for Black Friday should be managed before this day.
How long does the Black Friday sale last?
The basic time for the Black Friday sale is usually 24 hours, but it lasts from Thanksgiving to Friday and the weekend between Cyber Monday. Some brands may last for a whole week.
What is the difference between Black Friday and Cyber Monday?
Both events offer a worldwide shopping experience. Black Friday belongs to the retail shopping arena, while Monday cyber is designed for online shopping. 
Black Friday follows the Friday after Thanksgiving. Monday cyber follows in the trail of Black Friday. It is one of a kind when online shoppers pick their online bargain without going to the retail stores.
Khadija Anwar
I am Khadija Anwar, B2B Copywriter. I started my career as a freelance writer in 2019 and built a strong portfolio. I have crafted multiple blogs, website content, fashion magazines, news outlets, SEO content, and technical documentation. Last but not least, my favorite cartoon character is Dopey Dwarf, resembling my real-life character- calm, happy, and lively.