Supercharge your marketing with Replug's Call to Action generator!
Learn how to create irresistible CTAs to boost your brand's visibility and multiply conversions.
This guide will show you the easy steps to leverage Replug's magnetic feature for maximum sales impact. Let's turn your clicks into conversions and elevate your digital success with Replug!
What is a CTA campaign in Replug?
In Replug, a Call-to-Action (CTA) campaign serves as a powerful message to showcase your deals, offers, and sales to your audience. By using CTAs, you can effectively broadcast your message and prompt your audience to take specific actions that lead to sales.
When you opt for the Call-To-Action feature in Replug, you encounter three distinct options in the subsequent step:
Button:
Ideal for redirecting visitors to your primary source, this option enables you to create a clickable button or link, providing a direct pathway for your audience to take the desired action.
Link:
Similar to the button, this option allows you to redirect visitors, providing flexibility in creating clickable links to guide your audience towards the intended action.
Form:
If your goal is lead collection, selecting the Form option is key. This choice enables you to integrate with various third-party Email Services for effective lead gathering.
Replug seamlessly integrates with several third-party email services, including but not limited to:
Convertful
MailerLite
MailChimp
Sendlane
ActiveCampaign
Moosend
Aweber
SendPuls
By understanding and leveraging these options, you can tailor your Call-to-Action campaigns in Replug to effectively engage your audience and drive the desired outcomes, whether it's through clickable buttons, links, or lead collection forms.
Create compelling Call-to-Actions to boost conversions
Improve your click through rate by creating catchy CTAs for your marketing campaigns.
Get Started For Free!
How to create a CTA campaign in Replug?
Follow the steps below to create a CTA campaign in Replug.
Step 1: Sign in to Replug or create a free account.
Step 2: Navigate to the Manage section on the main dashboard and click on "Campaigns."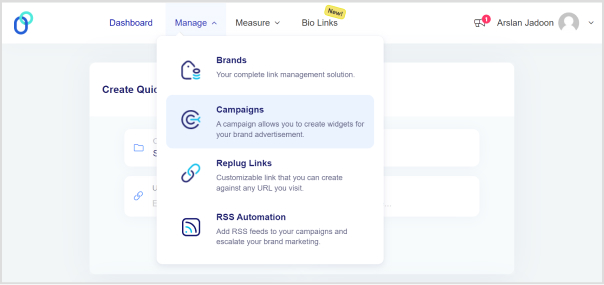 Step 3: Click the "Create New Campaign" button in the campaign section.

Step 4: Select or create a brand for your new campaign and click the "Next" button.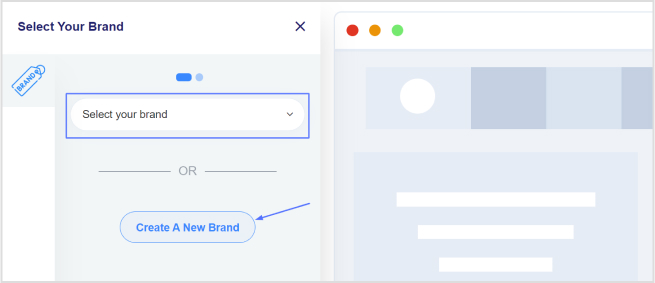 Step 5: Choose a name for your call-to-action campaign on the campaign type page.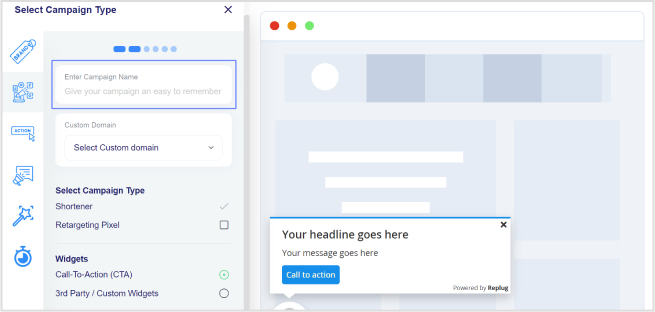 Step 6: Select the Call-to-Action option and click "Next."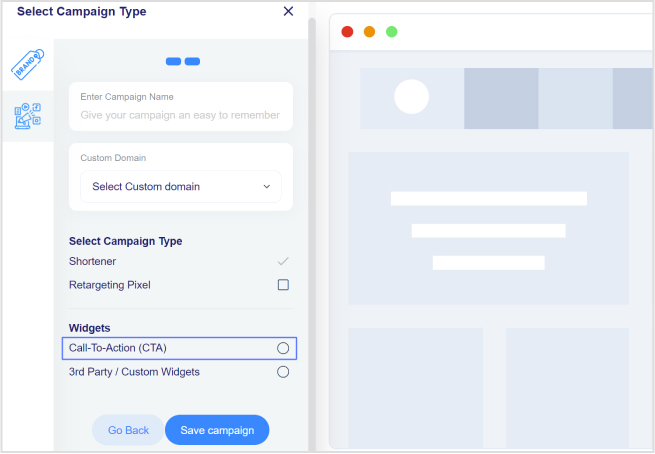 Step 7: Choose your CTA type (e.g., Link, Button, Form).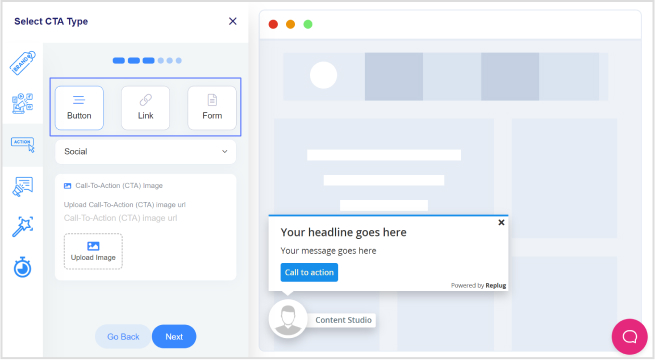 Step 8: Select a theme for your CTA; for example, you can choose a pop-up theme.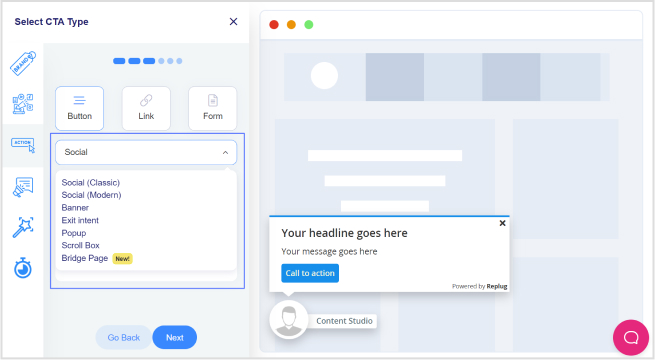 Step 9: Enter your URL, upload an image for the CTA, and click "Next."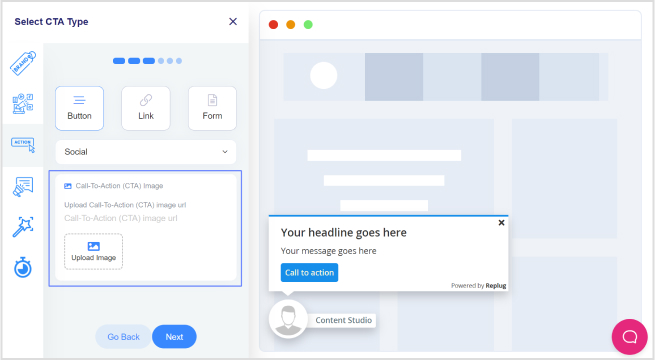 Step 10: In the CTA message section, write your headline, message, and CTA button text. Enter the URL for the CTA.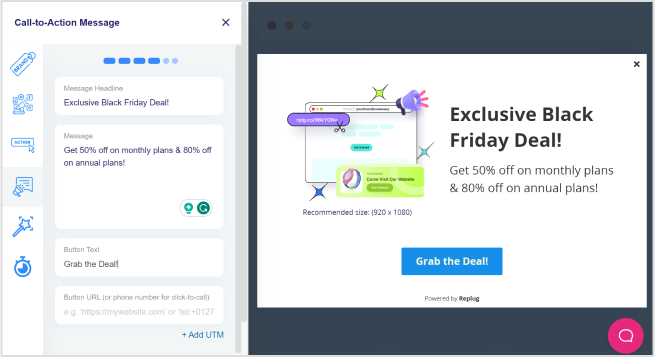 Step 11: Move to the CTA customization section, where you can add colors for the background, text, CTA button background, and CTA button text. Click "Next."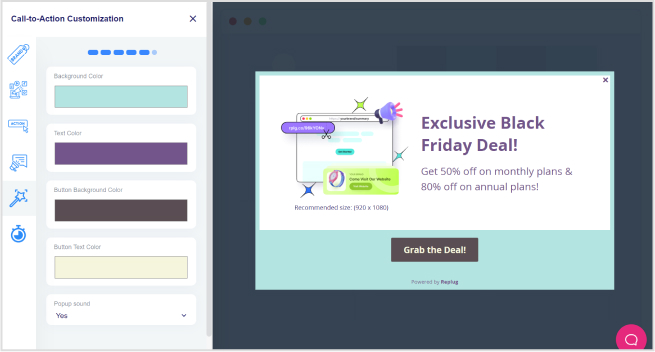 Step 12: In the final step, select the seconds after which the CTA will be displayed to the user. Alternatively, choose the "On exit-intent" option to display the CTA when the user intends to exit the page.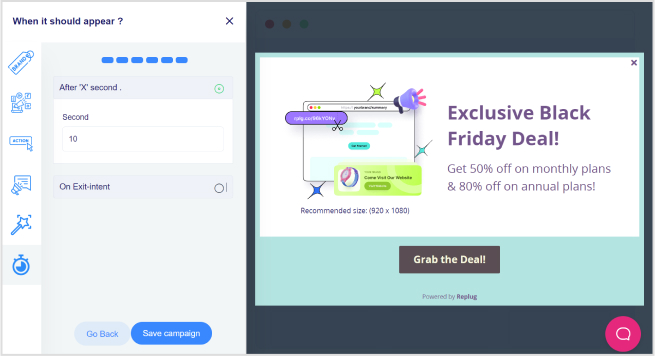 Step 13: Save the campaign.
Create compelling Call-to-Actions to boost conversions
Improve your click through rate by creating catchy CTAs for your marketing campaigns.
Get Started For Free!
Also read: How to Create a Perfect Call-To-Action (CTA) For Maximum Conversions?
Track your CTA campaigns with Replug:
Effectively monitoring your Call-to-Action (CTA) campaigns with Replug is crucial to ensure their success and optimize for better results. Here's what to monitor and analyze using Replug:
Dashboard overview:
Gain instant insights into your campaign's success with overall statistics, including Clicks, Unique Clicks, Conversions, and Conversion Rate, displayed prominently on your dashboard.
Clicks performance:
Delve into the performance of your CTAs by analyzing the Clicks metric. Understand how many users engaged with your call to action and track click trends over time.
Conversions performance:
Monitor the effectiveness of your CTAs by examining the Conversions metric. Track the number of desired actions taken by users and assess the overall success of your campaigns.
Visitors by browsers:
Understand your audience better by exploring the browsers they use. Identify popular browsers to optimize your CTAs for a seamless user experience across different platforms.
Visitors by operating system:
Gain insights into the operating systems your audience employs. Use this information to tailor your CTAs for compatibility, ensuring a smooth interaction on various devices.
Visitors by country:
Explore the geographical impact of your CTAs. Identify which countries are most responsive, allowing you to target specific regions more effectively.
Visitors by source/referrer:
Uncover the sources or referrers driving traffic to your CTAs. Determine the most successful channels and adjust your marketing strategy accordingly to maximize reach.
By leveraging these monitoring features provided by Replug, you can track the key performance indicators of your Call-to-Action campaigns. Whether it's understanding user behavior, optimizing for different platforms, or targeting specific regions, Replug equips you with the data needed to refine and enhance your CTAs for optimal results.
Create compelling Call-to-Actions to boost conversions
Improve your click through rate by creating catchy CTAs for your marketing campaigns.
Get Started For Free!
FAQs
How can Replug's Call-to-Action campaigns benefit my business?
Replug's CTAs can significantly enhance your brand's visibility, multiply conversions, and maximize sales impact. The platform provides a user-friendly interface to create compelling CTAs tailored to your specific goals.
What types of CTAs can I create using Replug?
Replug offers versatile CTA types, including buttons, links, and forms. You can redirect users, collect leads, or guide them to perform specific actions based on your campaign objectives.
How do I track the performance of my Call-to-Action campaigns on Replug?
Replug provides comprehensive statistics, including overall clicks, unique clicks, conversions, and conversion rates. You can monitor performance trends, analyze clicks and conversions, and gain insights into visitor behavior.
Can I customize the appearance of my CTAs on Replug?
Yes, Replug allows you to customize your CTAs extensively. You can choose different themes, add colors to the background and text, and optimize the appearance to align with your brand identity.
What kind of analytics does Replug offer for my CTA campaigns?
Replug provides detailed analytics such as click heatmaps, device and location insights, and even integration with third-party analytics platforms. This allows you to make data-driven decisions for refining and optimizing your campaigns.
Can I use Replug's CTAs for lead generation?
Absolutely! Replug offers a Form option where you can integrate with various third-party Email Services to collect leads effectively. Choose the Form type when creating your campaign, select your preferred email service, and start gathering leads seamlessly.
You may also like:
How to make a call to action using a link shortener?
Bio Links From Replug:Create a Stronger Marketing Impact while Social Sharing:
Branded Link Management: Your Key to Online Success
How to Create a Smart URL Link: Step-by-Step Guide
Arslan Jadoon
Meet Arslan, a skilled website blog and content writer who combines creativity and expertise to deliver engaging and informative pieces that captivate audiences.