We all need a URL to go to a certain website, just as you need an address to get to a specific place. The URL, often known as a link, directs us to our desired location on the internet in the same way that address does.
We all put in and share a lot of links with our friends, family members, and co-workers daily. Everything on the internet revolves on sending and receiving links, whether it's emailing a hilarious YouTube video, swapping memes on Facebook, or working on papers.
Everything demands you to deal with URLs all day: emails, social media material, external reporting, tracking, internal communication, etc. Yet, on any given day, you apparently have no idea how many links you make, email, or share!
How Link Management Tools Are Useful?
Long URLs look suspicious and can be fussy at times. This is where link management tools come in. It allows individuals and businesses to take control back of their links. Link management tools help with content sharing, brand collaboration, and data tracking. 
Here are some reasons that make link management tools a must-have for any marketer.
Short URL allows getting the most out of character limits on social media

They offer detailed analytics and track performance

A custom URL shortener allows you to brand your links

Change suspicious and lengthy links into authentic ones
What Factors to Consider When Choosing a Perfect Link Management Tool?
Choosing the right tool is important for your business growth. However, a little research and upfront work should save you a lot of time. Below are some factors you should consider while evaluating link management tools. 
Price: You get what you pay for. When you pay a fair price for the service you are using, then you are helping ensure their long-term success. Never go overrated and underrated pricing plans; choose what you need. 
Social Media Presence: Visit your focused tool's social media platforms. They always leave some clues on how well the teams are leaning in. 
Responsiveness: You can also evaluate credibility by pinging useful questions from their support platform and see how long it takes until you get a real response. 
Social Proof: Check out testimonials as well. Go for clients who recommended the services and dig further to see what people say about the overall service. 
Team: Does the company share who are core members of the company? Full name? Social Media profile links? This right and genuine information about the team of a company is a good start as it builds credibility for upcoming clients.  
10 Best Link Management Tools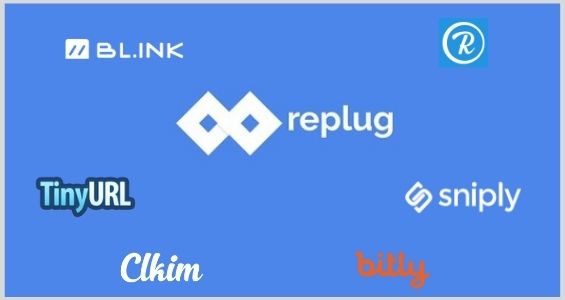 Replug.io
Long URLs are messy, ugly to reach, and often lack context. That is why replug.io is our favorite link management tool on our list. Replug, a URL shortener, allows users to shorten, share and track their links. 
In addition, Replug.io offers real-time analytics to measure metrics such as geographic data, clicks, and top referring sources for every link and campaign. It is also integrating seamlessly with most social media and digital marketing tools. 
Replug.io offers to create custom links with your brand name and make your links highly recognizable. With amazing features like branded links and link redirection, Replug.io is an amazing link management tool. 
Features: 
Link Branding

URL shortening

Link Analytics

Link Retargeting
Pricing plan: 
Replug offers basic $19/month, Professional $49/month, and agency $79/month.
Related:How to Create a SEO Friendly URL: Ultimate Tips
Clikim
With Clikim, you can set up your branded domain. It is also feasible to monetize your links through this service. You can use Clikim analytics (geo reports, referrer tracking, device insights) for improved traffic and better engagement. Besides, setting up Clikim isn't a hassle like the rest of the advanced automation tools. 
Features:
Link Analytics

API integration

Setup branded domains

Every device friendly tool
Pricing: 
Annual plans include; analyze $10/month, optimize $70/month and Monetize $100/month
Monthly plans include; analyze $12/month, optimize $84/month and monetize $120/month
Bitly
Bitly is the second-best free URL shortener after Replug. It is free to shorten URLs and access other features such as creating vanity URLs, tow factor authorization, and analytics. 
In addition, links created with Bitly never go down unless their services are stopped. But for advanced services such as better user support, and API access, you'll have to get Bitly Enterprise. 
Features:
Shorten and branded links you share

Optimize your marketing effort

Gather audience engagement

Collect insights on your performance
 Pricing: 
It starts at $0 months, Basic $29/month, Premium $199/month, and Costume pricing plans.
Related: Using Vanity URLs for Social Brand Awareness
GeniusLink
GeniusLink is also a reliable link management tool. It short links and allows you to track your customer journey. GeniusLink is capable of tracking any transactions that carry outside your website. Another noteworthy feature of GeniousLink is "no lock-in," so you can regularize your links instantly without requiring any other tool. Conclusively, the plans are pretty economical to start. 
Features:
WordPress integration

Retargeting Pixels

Amazon Link Break Monitoring

Link Rotator
Pricing: 
It has only one plan and starts from $7, you will be charged after 14 days of a free trial.
TinyURL
The site doesn't show any creative outlook but who cares. It offers everything you need such as creating a tiny URL and customization without logging in. It is the best option if you are in a rush. One cool feature is that you can add TinyURL to your browser toolbar so you can create short links for whatever site you are currently on.
Features:
Campaign monitoring and analytics

Link Management

Branded and customized links
Pricing: 
TinyURL offers free, pro $9/month and Bulk $99/month pricing plans. 
Capsulink
Capsulink is a featured rich brand link generation, tracking, and analysis platform. Capsulink purely focused on short URL management. It helps you create customized URLs and also offers a URL shortening API to integrate the feature straight into your website. 
Features:
Custom slug and domains

Link Analysis

URL shortening API

Cross-platform tracking
Pricing: 
It offers a starter, pro $10month, business$40 month, and ultimate plan $160/month.
Sniply
Sniply is another link management and social media conversion tool that lets marketers add call-to-action to any page, along with everything they share, including links to articles. Sniply allows users to share links, track results, and monitor engagement. This tool is designed to help users grow conversion through customization, content curation, custom code, data gathering, and integrations.
Features:
Custom URL shortener

Call-to-action URL shortener

Link management and analytics
Pricing:
It offers free, Basic $29/month, pro $79/month, Business $149/month, and agency $299/month plans.
Bl.ink
BL.INK is another demanding link management tool created to help companies shorten, customize, track and control URLs. Businesses can measure and monitor touch-points across engagement journeys, edit prime keywords and use charts or graphs to gain insights into clicks between date gaps based on geographical locations.
Features:
Reporting and statistics

Third-party integration

Customizable branding
Pricing:
It offers expert $48/month, SMB $99/month, team $299/month, Business $599/month, and custom pricing plans.
Rebrandly
Rebrandly is a reliable link management tool for enterprises, organizations, and marketing users to track and share short URLs. It helps teams create, manage, and easily share branded links. 
Moreover, Rebrandly helps individuals and companies the possibility to shorten and brand the links they share using a particular domain name of their choosing. 
Features
Link Management Collaboration

Custom Domains and slug

Bulk link creation and editing
Pricing:
It has a free plan, starter $29/month, pro $89/month, premium $499/month, and enterprise with a custom price plan.
Related: Use Branded Short URL Links to Generate More Sales: Here's How
t2m
t2m is another amazing URL shortener with branded links. It allows for concise links and uses them to your brand's advantage. t2m custom URL shortener has got it all in one unique platform. Whether you are looking to showcase your domain, configure your redirects or create vanity links, be sure to give it a try. The features of t2m go far beyond those of the ordinary link online shortener. 
Features
URL managements

Branding & APIs

Campaign Management

Detailed Analytics
Pricing
t2m offers basic $5/month, standard $9/month, pro $29/month, premium $89/month, and customized dedicated pricing plans.
Final Verdict
With so many businesses trying to do their best in a short time which keeps marketers thrive on executing the right strategy and acquiring the right tools. Whether you are a professional marketer or a part of your company's in-house marketing team, you will need to acquire a tool that can make your job easier. 
There are so many link management tools that can help manage and grow your business. So, if you are a first-timer with any link management tool, never choose a costly one. However, some tools have free trials. 
Conclusively, I would recommend that you give a try Replug's free trial as its way more than just a common link management tool. In fact, its a complete marketing solution when combined Content Studio.
Khadija Anwar
I am Khadija Anwar, B2B Copywriter. I started my career as a freelance writer in 2019 and built a strong portfolio. I have crafted multiple blogs, website content, fashion magazines, news outlets, SEO content, and technical documentation. Last but not least, my favorite cartoon character is Dopey Dwarf, resembling my real-life character- calm, happy, and lively.