Have you ever heard of a custom URL shortener? If not, then I must tell you that you're missing out on a lot of marketing opportunities by doing so. 
Perhaps, you haven't had a chance to dig deeper into a custom-built URL shortener.
Many brands and publications use short, branded URLs, especially for content marketing and remarketing. 
Don't worry; we'll reveal how short URLs are used across different industries.
Are you still confused about the custom URL shortener?
Let me explain it to you.
What is a Custom URL Shortener?
A custom URL shortener is just like any other URL tool that shortens the long URLs and generates compact and short URLs for website pages or articles.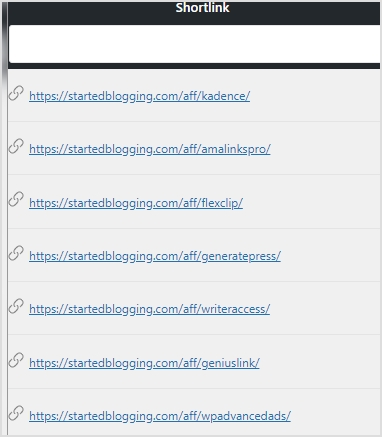 However, branding is the difference between a generic URL shortener and a custom URL shortener. The custom URL shortener allows users to create branded short URLs. 
Branded URLs use a custom (short) domain that integrates with the customer URL shortener before creating branded short URLs.
Usually, there is a unique slug for each page or post along with the short domain. It doesn't matter whether you're using a custom domain or not, and the URL slug will be generated to identify the path for each page or post.
So, there is no rocket science involved in using a custom URL shortener as most URL shorteners allow users to create custom short URLs.
Custom URL Shortener: Use Cases
Let's dig deeper into various use cases of custom URL shorteners and find out how custom URLs can benefit experts and brands across different areas:
URL Shortening for Bloggers/Affiliate marketers
Bloggers and affiliate marketers use several monetization strategies, and one of them is affiliate marketing. However, the problem with most affiliate programs is that they give long and clunky affiliate links that look shady. To tackle this situation, bloggers and affiliate marketers use URL shorteners to shorten the URLs.
Furthermore, URL shortening comes in different shapes and forms when you're blogging or doing affiliate marketing. For example, these professional bloggers or affiliate marketers may have to deal with the long product links or make their affiliate links trackable.
Therefore, custom URL shorteners are inevitable if you want to scale your blog or make money as an affiliate marketer.
URL Shortening for E-Commerce Marketing
E-commerce stores usually focus on running paid ads to drive traffic and generate sales. As a result, they miss out on so many opportunities. Some e-commerce store owners know how to optimize their e-commerce site pages to improve page speed and user experience, but it's not enough.
Have you ever seen a product page URL of an e-commerce site?
These URLs usually are long and bloated with serial numbers, product category IDs, UTM codes, and other tracking codes.
Since social media marketing and search engine optimization are essential sales channels, URL shortening becomes an important element of e-commerce website pages. You might not want to share long and filthy URLs on social media. 
People don't trust long URLs full of codes. Therefore, URL shortening for e-commerce businesses comes in handy to create branded URLs. People do not recognize long generic URLs.
Company name within the URL instills trust among users. A URL that includes a brand name has a higher tendency to be clicked.
However, there are a lot of suspicious URLs that may contain ransomware. Clicking it can lead to cybersecurity issues. Apart from using a branded link shortener, it is also recommended to use
website checker tools
like WHOIS and Norton's Safe Web to help identify fake websites in order to avoid online traps.
Shopify is the number one e-commerce platform for starting an online store.
Walmart is a popular e-commerce store in the US. Take a look at one of their product pages' long URL:

The long URL might not be ideal for sharing through channels. Therefore, e-commerce businesses need to look into URL shortening and creating branded URLs.
Related: 8 Ways to Increase eCommerce Sales Using Social Media 
URL Shortening for Social Media Marketing
Social media managers are the ones who manage social media for brands or clients, and they usually have a lot on their plates. 
They keep in touch with content publishers to put out articles, collaborate with graphic designers to design social media images, and keep an eye on the social media team to manage the social media publishing calendar.
URL shortening is an integral part of social media marketing. Most social media marketers shorten the URLs to keep track of clickability on the short links. You must have a good link management tool for doing so.

The reason why social media managers or social media marketers use URL shorteners is that they don't want their links to look odd and clunky, especially if they have a decent number of followers on social media. Plus, URL shortening has its perks, such as click tracking, UTM coding, bio links, etc.
URL Shortening for Recruitment
Recruiters usually work with companies and do candidate hunting for them. Then, they reach out to the potential candidates and offer them job interviews. Nowadays, recruitment has also been done through social media. So recruiters also need to adopt the tactics to get things done.
Recruitment agencies and HR consultants don't always want to reveal the source, so they use short URLs to push the audience to click on their link. It could also be done to drive website traffic to their website so that they get more visitors.
You must have seen a tweet, YouTube description, or Facebook post with a short URL without random characters. Now you know that recruitment agencies either don't want to reveal the source or want to drive visitors to their websites.
Vanity URLs For Branding
Have you ever heard of vanity links? The vanity links are trimmed versions of the long and clunky URLs, but they redirect the visitor to the original destination without wasting time. 
Most bloggers and affiliate marketers use vanity URLs to cloak affiliate links. To do this, they opt for affiliate link cloaking plugins or third-party tools to shorten the affiliate links. 
Marketing experts use these custom link shorteners to keep track of their affiliate link clicks and analyze the CTR and conversion rate.
Related: Using Vanity URLs for Social Brand Awareness
URL Shortening for Campaign Analytics
Digital marketing is a vast field to cover. A digital marketing head keeps an eye on the ad, social media management, content creation, graphics designing for social media, and video productions. Thus, this guy always has a lot on his plate. 
The reason is that usually, brands try to capitalize on every marketing channel. Therefore, it becomes the duty of the digital marketing expert to pave the way for the company's marketing strategy.
URL shortening is a tiny part of the digital marketing campaign. However, it's essential to milk every small opportunity to understand the audience's behavior. 
SEMrush is a top-tier competition analysis, keyword research, and site performance tool for bloggers, online marketers, and digital publishers. One of the perks of using the SEMrush tool is that users can generate shareable PDF reports. You could convert those clunky, long report page URLs into short URLs using link shorteners. 
Replug is a URL shortener that offers several tools for digital marketers and bloggers. The top features include short branded URLs, bio links, deep links, retargeting, QR-coded short links, and more. 
URL Shortening for Email Marketing
Email marketing is a significant pillar of digital marketing. URL shortening has a vital role to play in email marketing, just like in social media publishing. If you haven't had a chance to run an email marketing campaign, then you perhaps don't know how vast it is. 
Email marketing isn't just about writing an email newsletter and sending it out to the subscribers or scheduling an automated weekly newsletter with your blog RSS feed. Instead, it's a whole new world of marketing. 
Since this isn't a detailed blog post on email marketing, I would stick to the point. One of the crucial elements of an email newsletter is link clickability.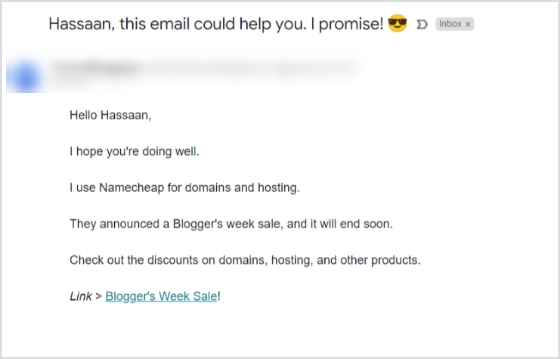 Marketers and bloggers (who send out newsletters) pay close attention to adding a link to their email copy. However, they usually stick with one CTA so that readers can focus on it and don't get distracted.
The CTA button is usually hyperlinked to a sales page, a discount offer, or the latest blog post. So URL shorteners could be used not just to shorten the long URLs but also to track the clickability of the call-to-action buttons. 
URL Shortening for QR Code Marketing
You must have heard about QR codes – a lot of companies use their QR codes to let their customers access certain offers or discount pages. But do you even know what QR stands for? The QR code is an abbreviation for Quick Response code. 
QR code marketing facilitates to brands, bloggers, and marketing professionals.
Think about this: you have shortened a URL for your website, and you put the QR code on a flyer and distributed it at an event. Now it allows you to bring the offline audience to your website. So it's a digital strategy for the offline audience.
No wonder thousands of people are using Replug URL shortener worldwide.
URL Shortening for Text Marketing
WhatsApp is one of the popular mobile apps that almost every smartphone user uses. According to Statista, WhatsApp has 2 billion monthly active users. 
We all send and receive files and photos on WhatsApp. But, do you know you could infuse URL shortening in your WhatsApp and other social channels? 
You could create several short URLs using your branded short URL, for instance, a short link of your office address via Google Maps, a single link for all social media links, or a short URL for a downloadable freebie.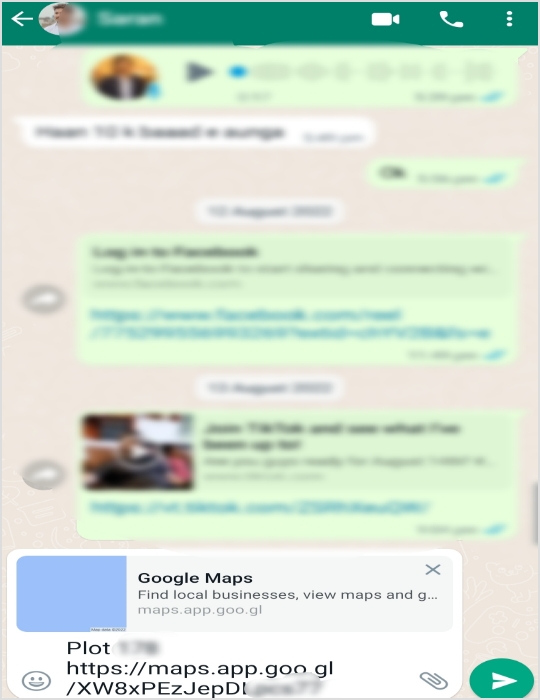 Once you have a handful of short URLs that you'd frequently use, you could always send them out to colleagues or prospective customers when needed. 
URL Shortening for Email Signatures
An email signature is one of the most underrated real estate in the digital marketing space. However, a lot of marketers and business owners capitalize on it very well. They put their essential links, such as blog links, social media links, or podcast links, in the email signature.
Here's a quick example: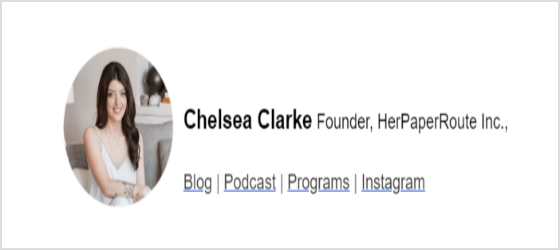 It's the email signature of Chelsea Clarke from HerPaperRoute. You might a lot of entrepreneurs, and marketers do the same thing, but it doesn't end here. 
You could infuse the power of URL shortening into your email signature and make the most of this marketing opportunity.
What if I told you that putting the website URL or social media links directly won't be such a smart idea? The reason is that there is no way you could track the number of clicks – so you have no idea how many people clicked on your email signature links.
Thanks to some great URL shorteners you can track clicks and conversions. So don't sleep on this opportunity to land some clients or generate leads on your website.
URL Shortening for Digital Downloads
How long have you been hearing about digital goods? Do you know people make money from digital goods such as ebooks, checklists, and PDF reports? But we aren't going on that route; it's the topic for another day. 
However, URL shortening has something to do with digital goods, especially the free digital downloadable stuff.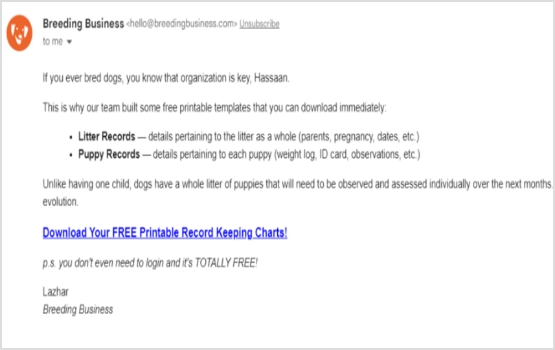 When bloggers and marketers offer free downloadable goods as an opt-in bribe, they upload the file to a file-sharing or cloud hosting service to generate a downloadable link. Then, they send the link to the receiver via email or thank you page. 
You could use a URL shortening tool to create a short and pretty link instead of providing that long and clunky download link. This way, you'd be able to showcase your custom short domain and the download link, which won't seem spammy.
Top 3 Custom URL Shorteners
Here are the top paid URL shortenersf with free trials you should know:
1. 
Replug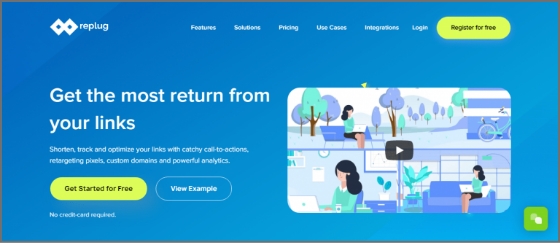 Replug is an excellent URL shortener with several additional features such as short URL tracking, UTM codes, bio links, retargeting branded URLs, SMS marketing, QR code marketing, and lead generation. 
In other words, it's not just an average URL shortener tool, but instead, it's a complete toolkit to manage your short URLs and elevate your social media engagement to the next level. 
The two of the best features of the Replug platform are bio links and custom widgets. The bio link allows you to create a single link for all social media profiles. It gives you a quick landing page that hosts all your social media links. 
Furthermore, the custom widgets are popups appearing on the third-party articles you share on social media. It allows you to bring the visitors back to your website. Additionally, Replug has a Chrome extension for managing your short links without logging in to your Replug account.
The Replug Basic plan costs $15 per month (on annual pricing); the next up is the Professional plan, which costs $39 per month. Finally, the Agency plan is priced at $63 per month. You can start with a 14-day free trial account with no credit card required.
2. 
Bitly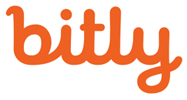 Bitly is yet another great URL shortener that comes right after Replug. In addition, it offers several link management services such as URL shortening, QR codes, and link-in-bio. 
Bitly has several plans, and the free one has limited features such as 50 bit.ly links, link-in-bio, QR code, and link reporting. On the other hand, the paid plans have numerous additional features such as branded URLs, link redirects, data export, and additional bitly URLs. 
The paid plans start at $8 per month, and the pricing goes up to $199 per month (if you pay annually). However, the monthly billing cycle has slightly higher prices. For instance, you pay $45 per month for a Basic plan instead of $29 and $300 instead of $199 for a Premium plan. 
Furthermore, if you want to opt for the enterprise plan, then reach out to the support for a custom quote.
Related: 9 Bitly Competitors That Agencies Should Try Out
3. 
Rebrandly

Rebrandly is a well-known link management tool for creating, distributing, and monitoring short URLs. The key features include analytics, traffic routing, deep linking, retargeting, and more. 
Other noticeable features include UTM codes, custom domains, and API access.
Rebrandly does the same things as the other URL shorteners on the market.
Rebrandly has two types of pricing plans; they have three plans for individuals and two plans for teams. Individual bloggers and marketers can start with a free plan and upgrade their subscriptions. However, the agency plan starts at $499 per month.
Related: 23 Best URL Shorteners Of 2022
Conclusion: Replug is the Best URL Shortener
There are various URL shorteners and link management tools available on the market, but Replug stands out for me. The reason is that this URL shortener offers a handful of additional features that most URL shorteners do not.
As far as the user interface goes, it's easy to use, even for those who aren't tech-savvy. Additionally, the pricing is a huge factor in choosing a specific tool over another. It is quite affordable, even for large-scale businesses and agencies. 
Most URL shorteners charge a whole heap of money on their agency or enterprise plans. Replug has quite a low pricing plan for agencies or enterprises. It all adds up.
As a user of Replug, I could be a little biased with tagging it as the best URL shortener, but all the details about this tool speak for themselves.
Hassaan Khan
Hassaan Khan is a freelance writer for SAAS companies, e-commerce stores, and niche websites. He has contributed to SEMrush, ThriveGlobal, BloggingCage, AllBloggingTips, and several other publications. He builds niche websites, publishes e-books, and helps website investors with his done-for-you niche site-building service.