How long have you been blogging or doing online marketing? Most of you might be working with website services, SAAS platforms, and e-commerce companies. You must have noticed the trend of using short and branded URLs. Companies need to avoid lengthy and clunky URLs as such URLs feel suspicious to online users. Link Management tools turn long URLs into short branded links that are also called vanity URLs. 
Most digital marketers, bloggers, and affiliate marketers already know about such short URLs because they may have been doing link management for a while. 
If you are a blogger or an affiliate marketer and aren't using any tools to measure performance, try out a link management tool. 
The reason is that affiliate products have long and bad-looking links as they're software generated. 
With a link management tool, you can track and measure affiliate links. Affiliate links contain several parameters to track and manage clickability and conversion results. There's a misconception that removing clunky sections from the URLs is impossible.
However, link shorteners are the way to keep your URLs short and sweet and still be able to track clicks. It's a big game-changer. 
Before we go any further, let's learn link management, just for newbies' sake, so everyone reading this piece takes something out of it.
What is Link Management?
Link management is a strategy designed to track, shorten, and beautify the traditional, long URLs to make them short and eye-catching for the audience. 
The website or product page links are incredibly important to get organic traffic, attract social media visitors, improve on-page optimization, and increase conversion rate.
It'd be unfair to bracket link management into just shortening the URLs. In fact, there are multiple angles attached to link management. 
Brands and entrepreneurs want to make their long URLs precise and shareable on social media. Therefore, getting away without paying attention to link management is inevitable.
Some affiliate networks have a link management feature that helps affiliate marketers opt for a short URL instead of a long, clunky product URL. 
Some link shorteners include features like "deep links," which assist affiliate marketers in converting a product page URL into an affiliate link.
So, all in all, link management has a wide spectrum. However, the concept encompasses optimizing and glorifying the website page URLs to enhance their performance.
Why Companies Need to Use a Link Management Tool?
E-commerce stores, affiliate marketers, and social media gurus need link management services to shorten the URLs, track clickability, and analyze the conversion.
Bloggers and affiliate marketers do link management on the site level to make their affiliate product links look better.
So there are multiple reasons why a company needs a link management tool. Still, the crux is that nowadays, companies and influencers want to spearhead utilizing efficient tools as there is stiff competition in the market.
Popular URL shorteners allow users to generate short, branded URLs. It's not rocket science. All you need is a URL shortener that flawlessly integrates with your website URL and helps you set up a short custom domain that is short and sweet. 
It offers several features that don't only make your long URLs shorter but also drive social media traffic to your website. The key features include bio links, branded URLs, lead generation, and retargeting.
Want to get traffic, leads and sales with our all-in-one link management tool?
Talk to one of our experts to see how Replug can help you get the maximum return from your shared links.
Benefits of Link Management
Now you know what link management is and how companies and marketing experts utilize it to maximize social media output and organic traffic.
It's time to head over to the benefits of link management to give you some perspective on what to expect from deploying a successful link management strategy.
Here are the benefits of link management:
i.
Get Statistical Analytics
The statistics and data are crucial to any digital marketing campaign, especially when social media or online advertising is involved. 
A huge benefit of link management is that it gives you access to the statistical analytics of your links. Once you've chosen a URL shortening tool and started using the short links, it must give you access to the statistics, such as:
Number of Clicks on the URLs
It's necessary to dive deep into the data to find out how many users clicked on the URLs. It doesn't matter if you're using a link management tool on social media or for affiliate links on the blog. The number of clicks on the links will determine how good your content marketing strategy and keyword targeting are. 
Understanding the Audience Through Data
When a link management strategy is in place, it gives you insights into various elements that help you understand the type of website visitors or social media followers you're gaining. The analytics provide you with user data on various parameters such as country, device, operating system, web browser, and search engine.
Run and Monitor Campaigns
Most URL shortening tools give you access to the clicks and source, so it helps you find out what specific campaign or source is sending you the most visitors. This would allow you to fine-tune your overall link strategy.
ii. 
Improves Branding
Branding is undeniably an important aspect of marketing. Not only does it sparks the brand's creativity, but it also has a psychological angle to build a better online reputation.
Link management may have dozens of benefits, one of which is brand visibility. Here's how short URLs do the trick:
Create Branded URLs for a Specific Campaign
One of the perks of having a link management strategy is that you can create branded URLs for specific campaigns. Have you ever seen discount landing pages of brands? They often use the short URLs and highlight the campaign names in the short links.
Branded URLs Improve Trust to Click the Link 
It's been noticed that people don't trust the long URLs with parameters injected into them, and rightly so. Such long and funky URLs start to look suspicious. On the other hand, short and branded URLs show that the brand or the expert has taken the time to improve the URLs. Thus, most people are likely to trust such links. 
It's unlikely that social media audiences click on random long URLs from random sites they come across on social media. Therefore, short and branded URLs could easily increase engagement on social media as they seem legit and trustworthy.
iii. 
Increase CTR and Sales
Would you fancy an increase in sales and conversion on your website?
Well, there is a reason why companies like Amazon and others are making use of URL shorteners.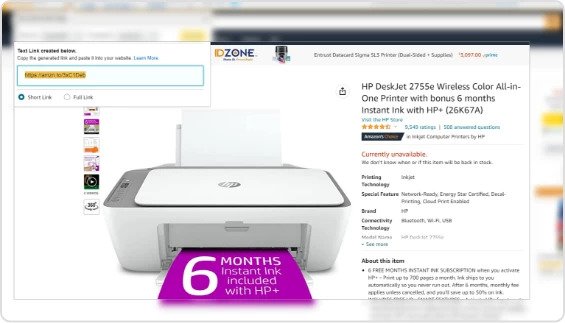 One of the reasons why short URLs could increase click-through rate and sales is that the links look clean and simple. On the other hand, website visitors get annoyed by links with suspicious brand names or random long URLs with many parameters attached to them. 
However, it doesn't happen on a whim. In fact, you would have to play smart to pull this off. There are certain ways to utilize short links to increase CTR and sales. Here are some of the areas where short links could come in handy:
Bio Links:

 Bio links offer a one-link solution to social media influencers. It lets you create a single-link custom landing page that displays all of your bio and social media channel links. The bio link goes into the Instagram, TikTok, or Twitter bio and lets people check out all social media links once they click on the bio link.

Deep Links:

 Replug could turn your marketing around by providing a short link for SMS or Whatsapp etc. It allows mass branding opportunities for companies, celebrities, and influencers. Directly place users at in-app locations to increase conversions, follows, likes, and subscribers without the need to log in to the app. The smart links can determine and identify browsers, operating systems, apps, etc., to provide seamless navigation. For example, if the app is not installed, then the deep link will navigate the user to complete the pre-requisite steps to reach the destination URL.

QR Code Marketing:

 Replug has a QR code generator to let users create QR codes for their social media or website links. The purpose of QR code marketing is to drive offline audiences to the digital channels. For instance, QR codes could be printed on the business cards or event invitations so that people scan them and find your web address or social media link.

Pop-Up Call-to-Actions:

One of the best features of Replug is pop-up CTAs. When users shorten links using the URL shortener, it provides an opportunity to display a pop-up CTA snippet when the end-user opens the URL. Suppose you grab a Forbes article, shorten the link, and share it on Twitter. When the audience would click the link and land on the Forbes article, they'd also see a small pop-up snippet that could drive traffic back to your website.
iv. 
Improve Social Following using Bio Links
It's a fact that bio links are vital to improving your social media presence and increasing your social media followers. 
If you're wondering how on earth you could improve your social media followers using bio links across different social media platforms, then keep reading.
When you're using a short bio link generated through Replug, there are several reasons why it can improve your social media following. Let's take a look at a few of them:
The biggest benefit of a bio link is that you can cross-promote your social media accounts. Suppose you have more followers on Instagram as compared to Twitter. You can insert the Twitter profile link in the Instagram bio to let Instagram know that you're active on Twitter as well. Or even better is that it also lets you create a custom landing page with multiple CTAs leading to your other socials and business pages.
It's far better to use short branded URLs than long and hefty URLs in the social media bio. People are likely to ignore those clunky links as they look suspicious, especially when they don't know much about the user.
Since you can use one link in the bio to showcase multiple social media links, it could get you more attention across different social media platforms. The reason is that more people would discover your other social media links when they click on the bio link.
v. 
Short URLs are Recognizable and Shareable
No doubt, short URLs are easy to remember when people stumble upon them through blog posts or social media platforms. In fact, they're recognizable when they're seen on the pamphlets or ad hoardings the outdoor.
There is a reason why ad networks, affiliate companies, and e-commerce stores use short URLs. Moreover, several e-commerce businesses use custom short domains for their social media marketing so that their URLs don't seem rubbish when shared on social media.
Performance Analysis of Replug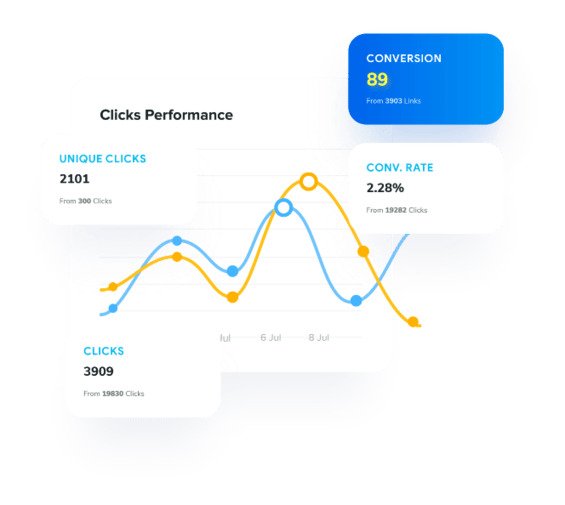 I did some testing with Replug URL shortener. I took an article link and shortened it, and tweeted it once. 
Even though my Twitter engagement isn't that great, I started seeing some clicks in Replug Analytics.
It made me realize two things. First, my Twitter following isn't that dead. And the second is that Replug could generate extra traffic to my site just by using others' content on social media after shortening the URL.

If you aren't sure how short URLs from Replug can generate traffic from social media, then create a campaign in Replug, choose the campaign type as retargeting, and widget as call-to-action (CTA). 
The next up is choosing the CTA type; you can either go with a button, link, or form. Then, add a message headline, message body, CTA text, and the link to drive traffic. 
Once you have created this campaign in Replug, the next time you choose this campaign while shortening the URL, your pop-up call-to-action will appear every time someone clicks the short URL to visit the website page.
Let's conclude!
Link management is crucial to your social media marketing campaign. Branded short URLs are real, and if you keep on ignoring these social media marketing tactics, your competitors might take advantage of them.
I've explained what link management is and how brands and entrepreneurs can benefit from them. Since Replug is the go-to link management tool for me, I plugged it without any hesitation whatsoever.
If you're serious about social media, branding, and driving traffic to your website, then pay close attention to link management or short branded URLs. It could skyrocket your social media (website) traffic within a few months.
Hassaan Khan
Hassaan Khan is a freelance writer for SAAS companies, e-commerce stores, and niche websites. He has contributed to SEMrush, ThriveGlobal, BloggingCage, AllBloggingTips, and several other publications. He builds niche websites, publishes e-books, and helps website investors with his done-for-you niche site-building service.