QR codes have become ubiquitous in recent years, and for good reason – their potential uses are virtually endless. From marketing to sustainability to convenience, QR codes are being used to enhance our daily lives in countless ways.
Marketing is one of the most popular uses of QR codes. By placing QR codes on product packaging, flyers, and other marketing materials, businesses can drive engagement and sales by providing easy access to additional information, promotions, and other interactive features.
But QR codes are also being used to promote sustainability and responsible consumption. By placing QR codes on products, businesses can track and monitor their lifecycle, from manufacturing to disposal, and ensure that they're being produced and consumed in an environmentally friendly way.
So whether you're a marketer looking to boost engagement, a sustainability advocate looking to promote responsible consumption, or just someone looking for an easier way to navigate your daily life, the uses of QR codes are sure to impress and inspire you.
Also read: Split Testing Made Easy: A Beginners Guide
How to use QR Codes to boost sustainable marketing strategies?
QR codes have become a popular tool for businesses to enhance their marketing strategies in a sustainable way. With the fast-paced technological advancements, QR codes offer a quick and efficient way for customers to access the information they need without wasting time in lengthy procedures. One of the most interesting features of QR codes is that anyone can use them without any prior knowledge. They offer a virtual communication platform between brands and customers, increasing the reach of advertising and enhancing the customer experience.
QR codes have a wide range of applications in various industries, from bookshops and restaurants to medical facilities and ticket booking services. They can store a variety of information, such as contact details, book data, website URLs, medical history, and educational material, making it easy for users to access all the information they need in one place with just one click.
QR codes also offer significant advantages in the medical field, allowing patients to access critical information about doctors, hospitals, and pharmacies with a single scan. For doctors, QR codes eliminate the need to wait for assistants to access patient history and authorization details, saving them valuable time.
The rise of e-commerce has made transactions through mobile devices a popular way to shop. QR codes offer an authentic and secure pathway to facilitate these transactions, making them an essential tool for promoting websites and businesses. They can be incorporated into clothing tag details and shopping carts, allowing customers to choose an item, select its quantity, and complete the payment process with ease.
QR codes can also be used as a Call-to-Action (CTA) to engage target audiences with promotions, giveaways, launching offers, challenges, and scavenger hunts, among others. By providing a fast and secure way to access information, QR codes motivate people to join and gain maximum information from them.
Finally, QR codes are a secure way to facilitate cashless payments, which is increasingly important in the era of cybercrime and faulty transactions. Customers feel secure using QR codes for touch-free payment methods, making them a popular choice for businesses.
Also read: UTM Parameters: A Guide for Marketing Success
Did you know? Drones formed a giant QR Code in the sky of Shanghai
If you have not yet started your business marketing with QR codes means you are missing a blast of opportunities to grab your customers. Start creating dynamic QR codes and become a part of this booming technology. Hundred of drones were collectively displayed on Shanghai's night sky to represent China's remarkable work in the release of the Japanese game Prince.
On March 29, Hyundai's brand launched 3100 drones in the sky of Shanghai. The sky gives a captivating look and is filled with fancy characters. These vibrant ideas reflect the booming technology to engage maximum consumerism.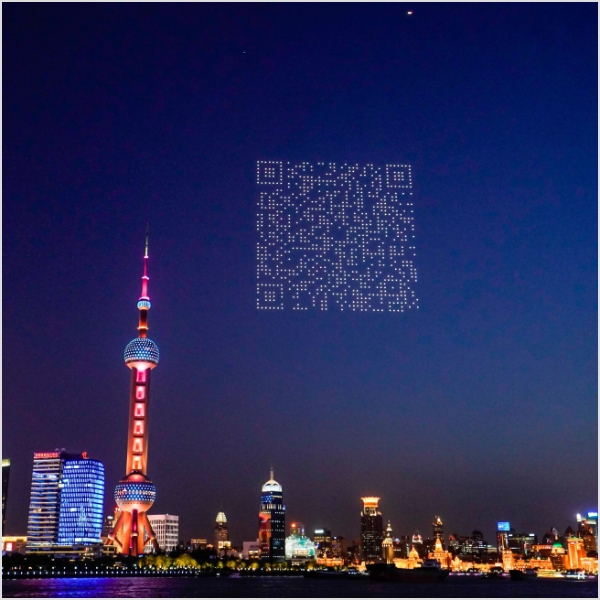 Top 10 Ideas to Use QR Codes
There is a huge list of using QR codes. Let's have a look at a few that are used in our daily life but still, we are not much aware of them.  Right from our home for example very basic munching items that cannot be skipped all eatable do have these scans for detailed ingredients and allergic items as well. Moreover, we can have its price and it's very handy to use. 
While traveling we face a lot of hustle for reservations, timings, available slots, and missing flights and every solution to our problem ends up with just a tick of the clock scanning a QR code and here we go. 
Also read: How to Create Tiny URL: Step-by-Step Guide
1. Direct customers to a landing page/website
Customers are a big asset for the business lead and it can be more productive if they are kept in high priority. Social media pages or the very first page that is the landing page of your website can easily be approachable with the help of a QR code scan. You can gain potential users once they are redirected to a landing page with detailed information about your brand. Brand recognition is of equal importance along with customer care, all depends upon sustainability and social accountability.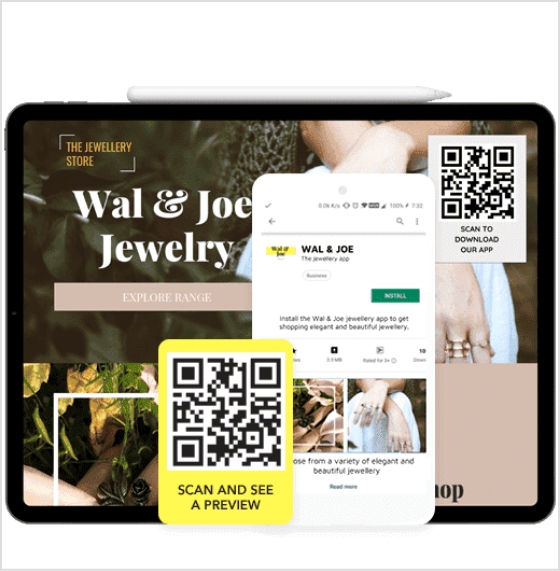 2. Shopping and e-commerce
Qr codes are of great edge for cashless payments as customers are always tilted toward comfort payment methods and what else is needed when you have a safe and secure cashless payment method. So QR code not only increases customer loyalty but also increase businesses' marketing strategies. Here what's more appealing to customers is touch-free hygiene and efficient method.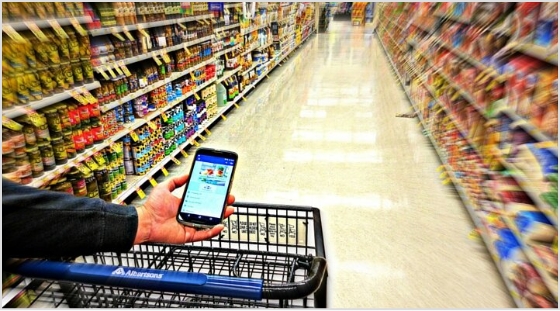 3. Use QR Codes for real estate marketing
Did you know what is a more attractive thing on your visiting cards or in advertisements? Marketing campaigns, strategies, and advertisements must be clearer and give a minimalistic look to have an attractive appearance. So, this can only be possible with QR codes and it shows all elaborated information with a single scan. Real estate marketing needs to be more expressive and catchy for attention grabbers. Our banners, visiting cards, billboards, and brochures only need to go with advanced technical marketing campaigns.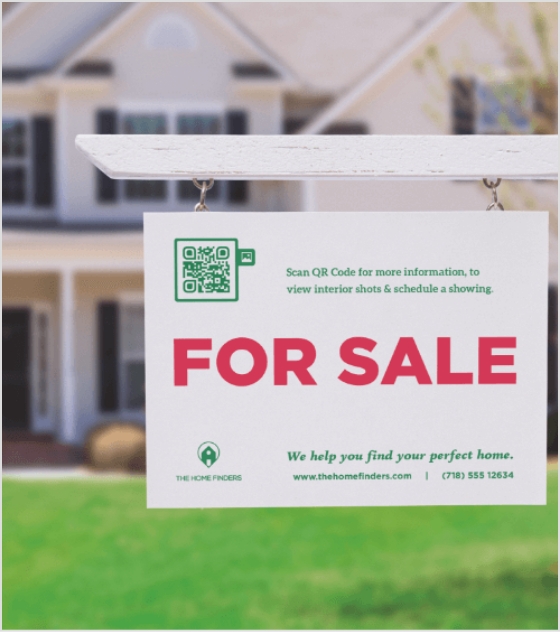 4. Share your social media accounts
Social media account sharing is one of the best ways to get a maximum audience, users always go for a comfortable yet secure way and a QR code is the solution. You only need to copy your profile URL and paste it into the QR code generator app. There is no need to put your credentials first then authentication codes everything is replaced by this QR scan. It is the pathway to engage more comments, likes, requests, and more traffic on your account.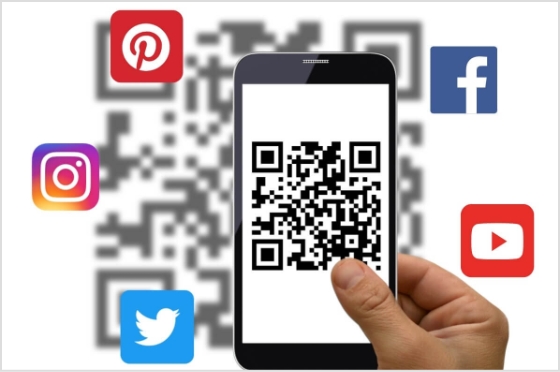 5. Ask for reviews or feedback
Feedback is an efficient way to overcome our weaknesses and produce a better version. Rather than asking users to give feedback, and reviews on given cards within a limited space, one only has to scan the code and be directed to the feedback page. This gives a sound feeling between the reader and writer.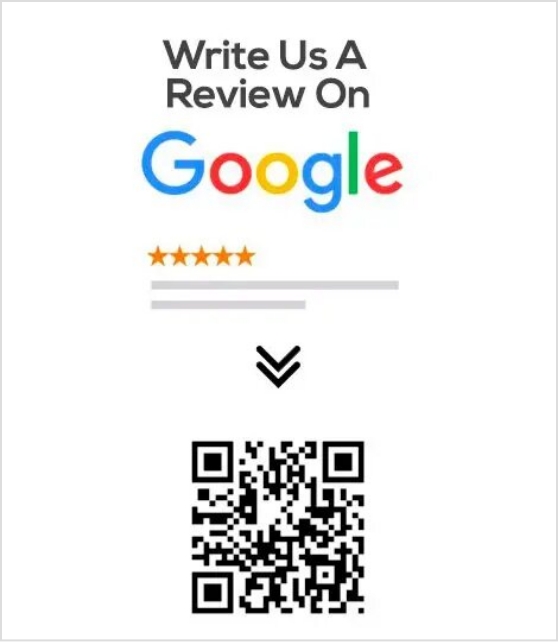 Also read: Social Media Risks For Brands. How To Avoid Them?
6. Track inventory, delivery, packaging, and people
Courier services and all applications where GPS is integrated for tracking and status activities everything can be controlled with the help of QR codes. Location is linked, you can follow your rider on the map by scanning the code and addressing him. It is the fastest and most reliable way to have better communication within no time.
7. Offer incentives and coupons via QR codes
Everyone is crazy for coupons, bouncing offers, and amazing deals. All can easily be available under one scan and users can take full advantage of present or even upcoming offers. It is a brilliant idea to get detailed information on various brands, companies, restaurants, and hotels.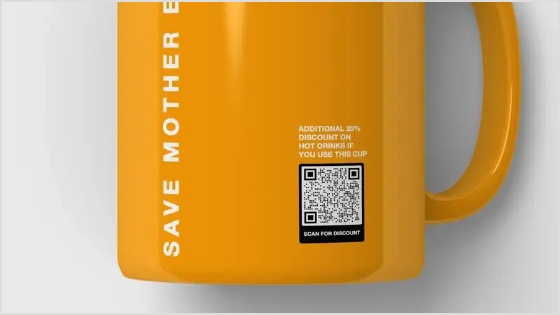 8. Integration with Search and social ads
Social media ads and different marketing strategies through QR codes are now commonplace and continue to give brilliant hype. Integrating such codes to attain customers' attention and provide them with maximum information. QR codes prove to be an innovative idea and it also promotes brand awareness.
9. E-learning
QR codes guide every level of education. Scanning it can automatically lead to an open-source library with enormous knowledge. Suppose a researcher needs in detail guidance on a particular topic no matter whether it's advanced or beginner level every kind of information is available behind QR codes. One can solve his maths problem or even programming within a few seconds only.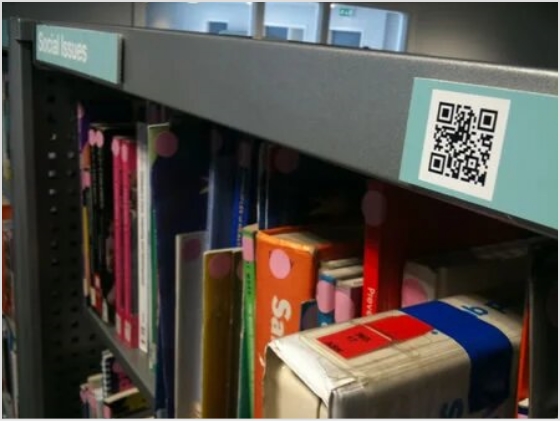 10. Authenticate people and documents
QR codes help to share the encrypted content in the QR code with the concerned person or system only. As authenticity is the most prior characteristic while exchanging information So, It is a mandatory step to follow a QR code scan to get access. Moreover, it is widely used in multiple organizations as a biometric verification. Users can scan the QR code and can see all detail of the document on mobile only with one scan.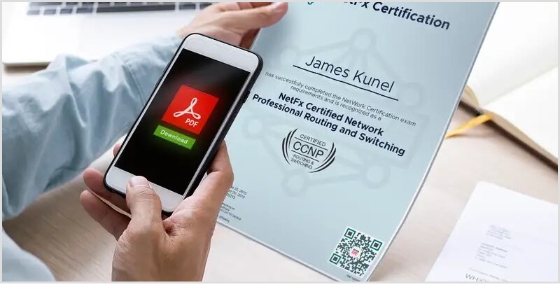 Also read: How to Create a Deep Link for a Seamless User Experience?
How are brands using QR Codes?
Brands are using QR codes in various ways, such as providing quick access to product information, offering exclusive discounts or promotions, facilitating easy mobile payments, and enhancing customer engagement through interactive experiences like games and surveys.
Here are some examples of how brands are using QR codes:
Nike: Nike used QR codes to provide customers with additional information about their products. By scanning the QR code on the product, customers could access videos that showcased the shoes in action, as well as tips on how to use them.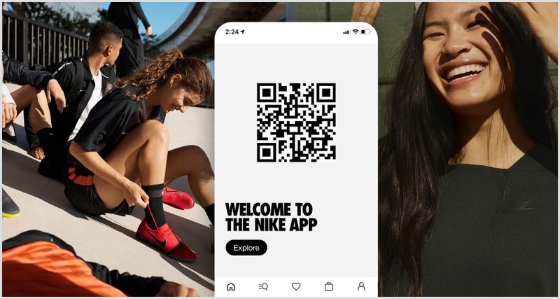 Pepsi: Pepsi used QR codes as part of a scavenger hunt promotion. Customers scanned the codes on various Pepsi products to find clues, which led to prizes and giveaways.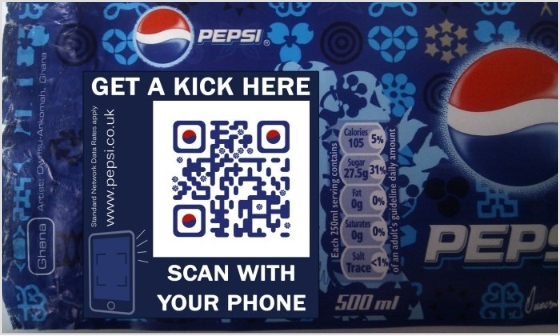 Heinz: Heinz used QR codes to create a more engaging experience for customers. By scanning the code on a ketchup bottle, customers were directed to a landing page where they could create their own personalized label and share it on social media.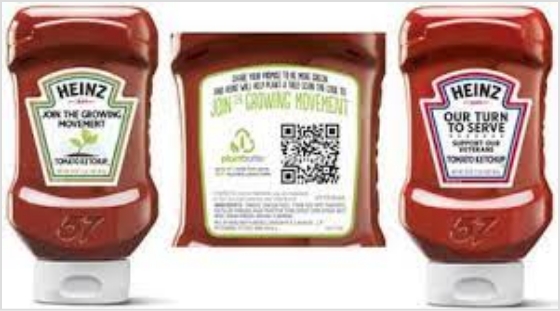 Tesco: Tesco, a UK-based supermarket chain, used QR codes to provide customers with additional information about their products. Customers could scan the codes on produce items to learn more about where they were grown and how they were produced.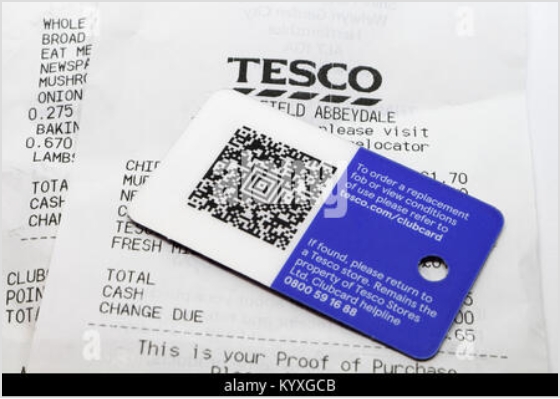 Starbucks: Starbucks used QR codes as part of its rewards program. Customers could scan the code on their app to earn points and redeem rewards.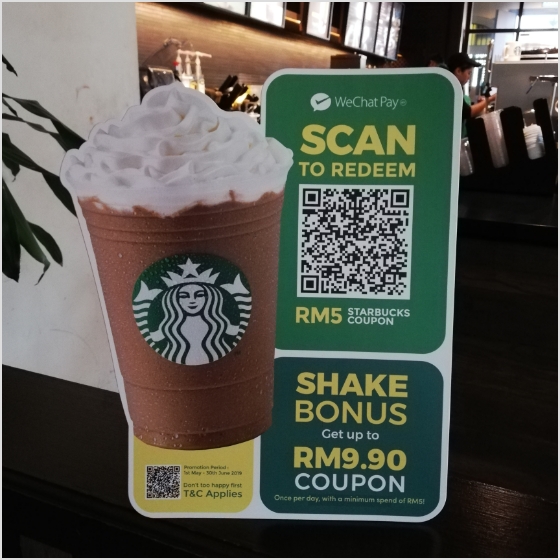 These are just a few examples of how brands are using QR codes to enhance their marketing strategies and improve customer engagement.
How to generate a QR Code for any website or URL? 
QR codes can easily be generated by following a few steps, this could be anything related to your marketing businesses, content, website pages, social profiles, documents, books and etc. 
Here's how to generate a QR code using Replug:
With Replug, you can easily generate QR codes for everything from product information and promotional materials to event invitations and social media profiles. Simply design your code with our user-friendly interface, and watch as it comes to life in seconds.
Step 1: Sign in to Replug or create a new account for free.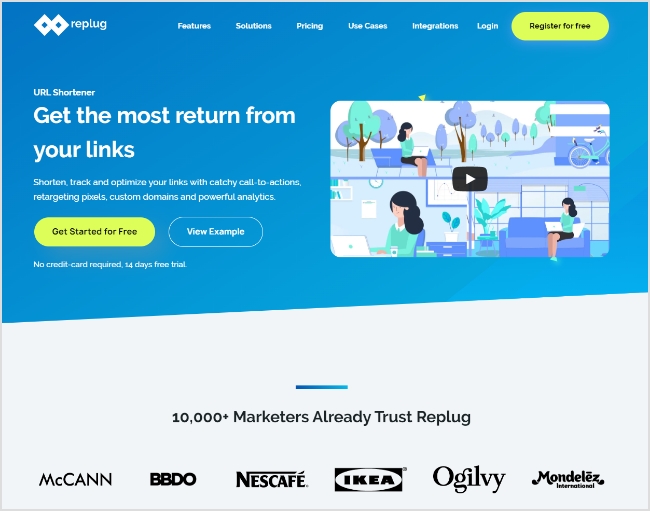 Also read: Brand New Replug UI. Let Us Amaze You!!!
Step 2: Select the desired campaign on the main dashboard or create a new one.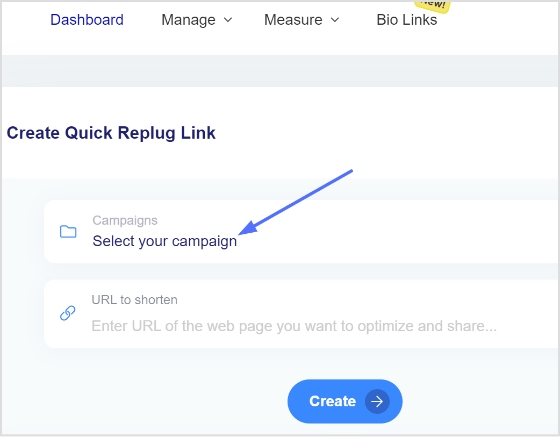 Step 3: Paste the URL in the "URL to shorten" section below the "Select your campaign" section and click Create.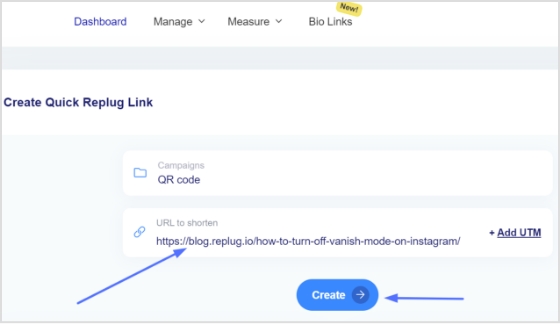 Also read: How to shorten my URL link using a URL shortener?
Step 4: You'll first see a shortened version of your URL. Click the edit icon to customize your URL and click update.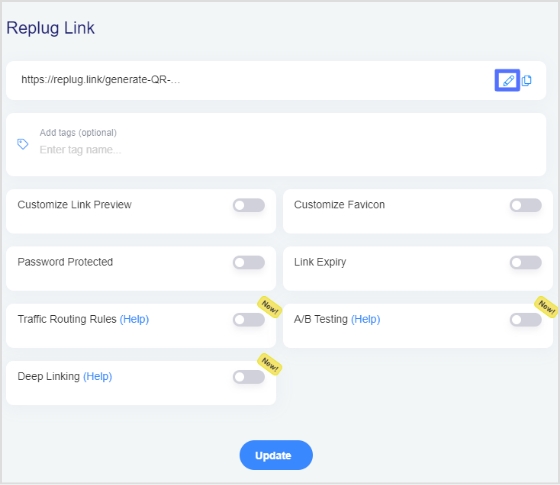 Follow the steps below to download your URL as a QR code:
Step 5: To access your newly created URL, go to the manage section on the main dashboard and click Replug links.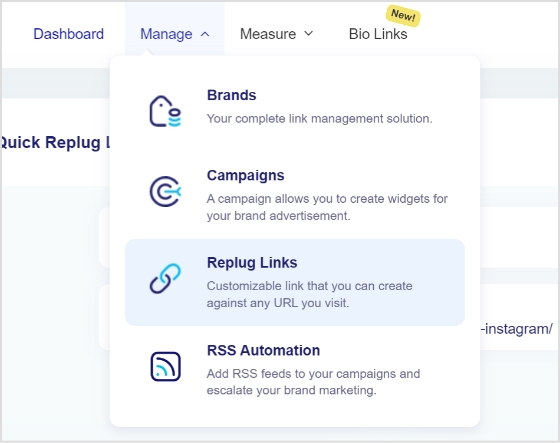 Also read: How to create a vanity URL?
Step 6: Here you'll see your newly created URL. click three dots at the end of the URL and then click download QR code.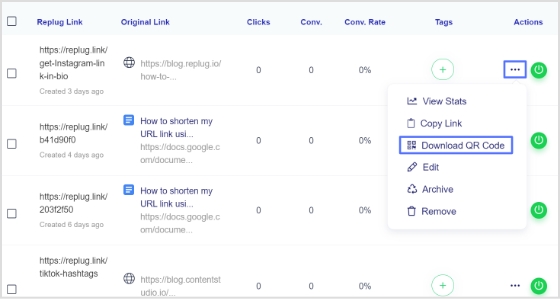 And the best part? Replug doesn't just help you create QR codes – it also allows you to track and measure their performance! With our advanced analytics tool, you can easily monitor how many times your code has been scanned, where it was scanned, and even what type of device was used.
Also read: What is a Tracking URL and How Does it Work?
How to track & measure QR code success?
Creating a QR code is just the first step in a successful marketing campaign – the real challenge lies in tracking and measuring its performance. Fortunately, with the right tools and strategies, it's possible to track your QR code success and make data-driven decisions to improve your marketing efforts.
Replug offers analytics features that make it easy to track and measure the success of your QR code campaigns. With our advanced analytics platform, you can monitor everything from scan locations and devices to conversion rates and engagement metrics.
By tracking and measuring your QR code performance with Replug, you can identify which campaigns are resonating with your audience, and which ones need improvement. This information can help you make informed decisions about your marketing strategy, and optimize your campaigns for maximum impact and results.
Also read: A Quick Guide to Building Custom Audiences through URL Tracking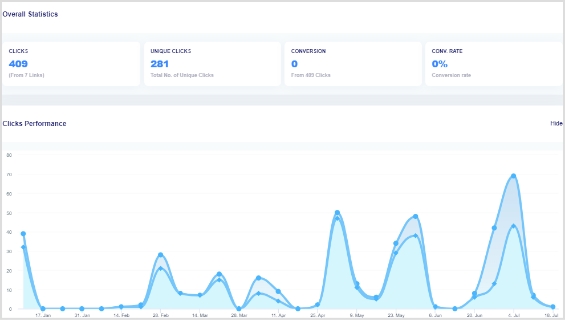 So if you're ready to take your QR code marketing to the next level, sign up for Replug today and start tracking your success!
Also read: Campaign Tracking: Data-Driven Tools for Marketers
FAQs
Why use dynamic QR codes?
It is of more importance than static QR codes because dynamic QR codes can be updated and altered at any time and it helps in tracking data, number of visitors, and location. In this way, it is less time taking and more efficient as you can change it while it's active.
What is the difference between a static and dynamic QR code?
Static QR codes can not be updated while dynamic QR codes can be updated easily.
Static QR codes cannot fix mistakes if occur you have to recreate them from the start while dynamic QR codes can be fixed and no need to recreate them every time.
Which countries used QR codes in Covid?
It proves to be a safe and secure way to avoid the spread of pandemic disease. Countries like China, India, Qatar, Singapore, and many more countries use QR codes.
Do QR codes expire?
Yes, QR codes can expire. The expiration time of a QR code depends on the creator and can range from a few minutes to indefinitely. The purpose of setting an expiration time is to ensure the security and effectiveness of the code. Once a QR code has expired, it will no longer be scannable.
Trending:
A Complete Guide to Using the Facebook Pixel
A Quick Guide to Building Custom Audiences through URL Tracking
10 Best A/B Testing Tools For Click & Conversion Analytics
URL Hijacking Uncovered: A Complete Guide to Protecting Your Online Presence
Arslan Jadoon
Meet Arslan, a skilled website blog and content writer who combines creativity and expertise to deliver engaging and informative pieces that captivate audiences.