A call-to-action (CTA) is a button or a link on a website or an email that encourages visitors to take a specific action. Such as purchasing a product or signing up for a newsletter. 
The purpose of a CTA is to guide visitors toward a goal conversion, such as completing a purchase or filling out a form. CTAs should be visually attractive and easy to spot so visitors can quickly and efficiently take the desired action. Strong CTAs can lead to maximum conversions, while weak CTAs may not be effective in guiding visitors to take action.
How to create a custom CTA using Replug?
Replug is a powerful tool that allows you to easily create a custom CTA for your website. With its user-friendly interface, you can quickly design CTAs that match your brand's style and aesthetic by adding colors, fonts, and other design elements. 
Replug also comes with analytics features that allow you to track the performance of your CTAs and conduct A/B testing to determine which versions are most effective. This means you can optimize your CTA for a better conversion rate and increase your website's performance.
Read Now: 5 Top Link Rotators: Convert More With Traffic Routing & A/B Testing
Here's how to create a custom CTA using Replug:
Step 1: Sign in to Replug or create an account for free. 
Step 2: Go to the manage section on the main dashboard and click campaigns.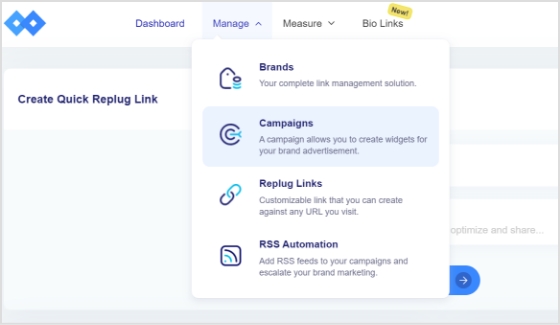 Step 3: Click the new campaign button to start your new CTA campaign. Or you can select a campaign from the campaigns section if you have already created one.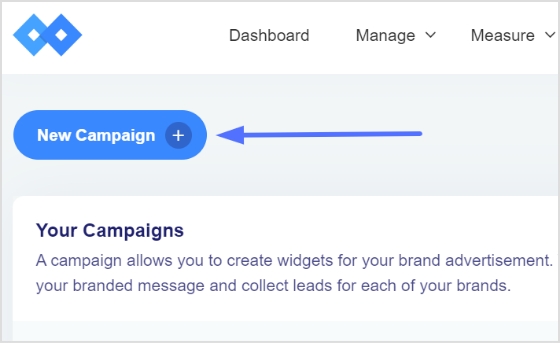 Read Now: Conversion Rate Optimization Tips – 8 Easy Ways to Boost Sales
Step 4: After creating your campaign, you need to select your brand, or you can create a new one.  Once selected or created a new brand, click the next button. 
Note: Here's how to create a new brand in just a few seconds.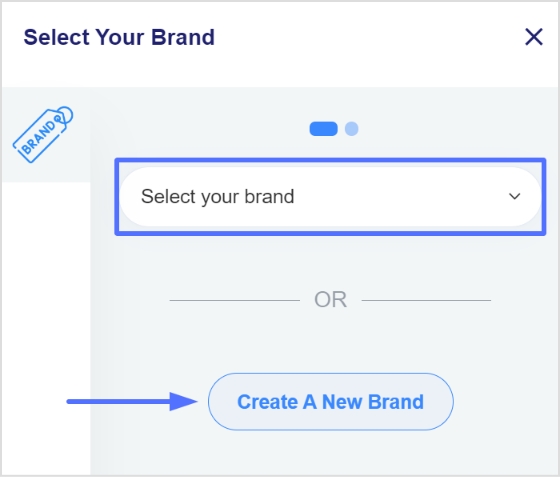 Step 6: Enter your campaign name, enable the call to action (CTA) and click next. 
Step 7: Here, you need to select the CTA type and theme. And upload an image for your CTA, then click next. 
CTA types include; Button CTA, Link CTA, or Form CTA.
CTA theme includes; Social classic, Social modern, Banner, Exit intent, Popup, Scroll box, and Bridge page.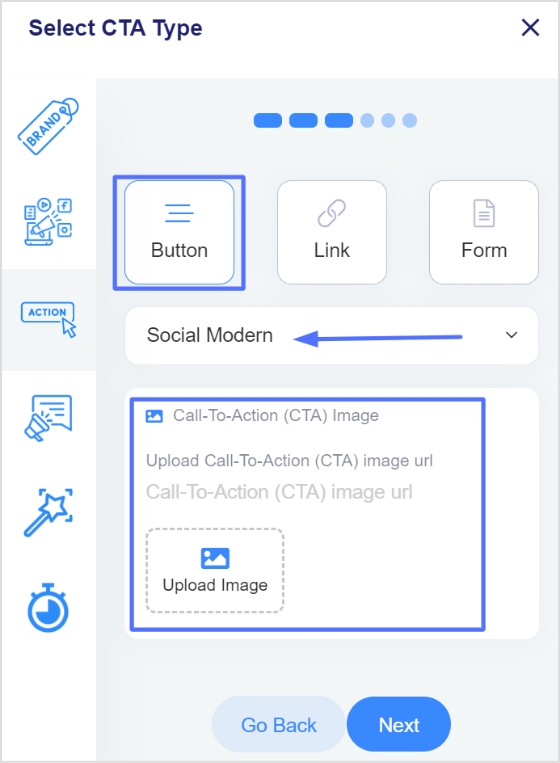 Step 8: Next step is to enter the headline, message, CTA button text, and the actual link to your CTA button, then click next.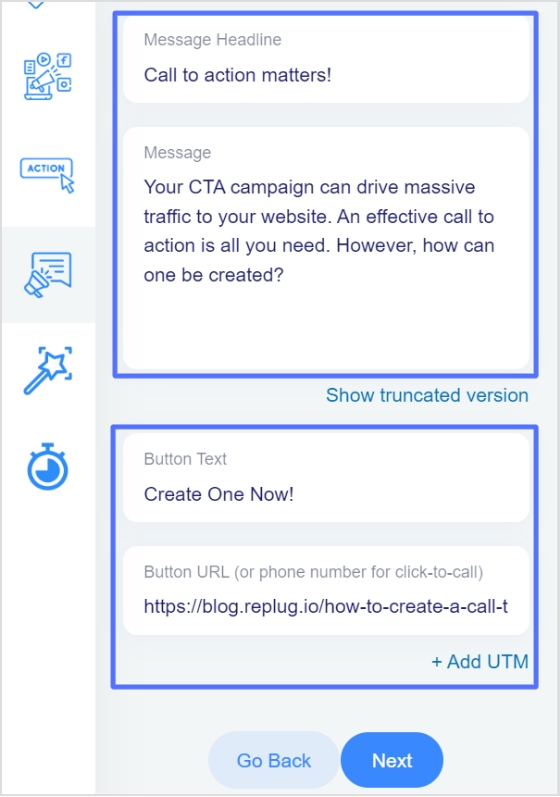 Step 9: Customizing your CTA is the next step. 
Add background colors, text colors, and CTA button colors. See other customizing options and click next.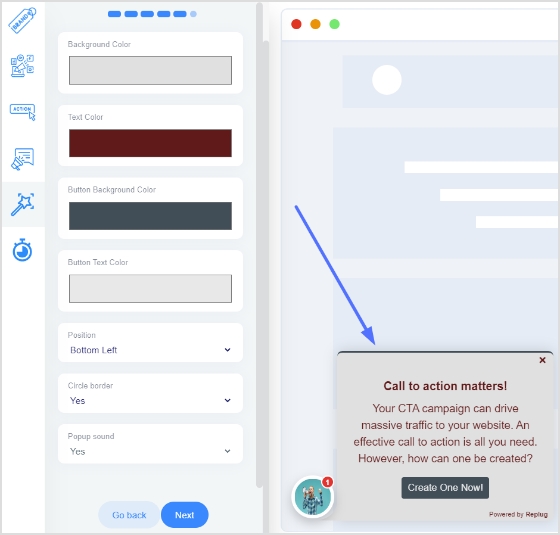 Step 10: Choose the time after which your CTA appears on your website. 
Alternatively, you can make your CTA appear when the user wants to exit by enabling the "exit intent" option.  
Click the save campaign button, and you're done.
Analyze your CTA's performance using Replug:
Replug helps you analyze the performance of a call-to-action (CTA). With Replug, you can track and measure specific metrics. These metrics can include the following:
Click-through rate (CTR):

Replug measures the number of clicks a CTA receives. A high CTR indicates that the CTA effectively motivates users to act.

Conversion rate:

with Replug, you can measure the number of successful conversions (e.g., completed a purchase or sign-up). A high conversion rate indicates that the CTA leads users down the desired conversion path.

Bounce rate:

It measures the number of visitors who leave a website after viewing only one page. A high bounce rate on a page with a CTA could indicate that the CTA needs to be more relevant and compelling to users.

Time on page:

This measures the time a user spends on a page before leaving. A low time on a page with a CTA could indicate that the CTA needs to be more engaging users or that the page needs to provide more information to keep users interested.

A/B testing:

It compares two versions of a CTA (A and B) to determine which one performs better. With Replug, you can measure the compare the metrics of both versions. Also, you can identify which CTA is more effective in driving conversions.
It is important to note that you need to have clear goals and objectives for your CTA and a clear understanding of your target audience and their needs to effectively measure the performance of a CTA.
Hubspot and Replug: why should you use them together?
HubSpot is a marketing, sales, and service software that allows you to manage all aspects of your inbound marketing efforts, including creating and tracking CTAs. It provides many features, such as landing pages, forms, email campaigns, and analytics. It also allows you to track the performance of your CTAs and optimize them for better results.
Using Replug with HubSpot can be beneficial as it allows you to:
Track clicks on the shortened link using a link-tracking tool and see the number of clicks and the source of the clicks.

Create an easy-to-remember and share links for social media or messaging apps.

Track conversions using UTM parameters (Urchin Tracking Module) which allow you to track the source, medium, and campaign of the clicks that came from the link.
Trending Now:
How to create a call to action using a URL shortener?
How to Shorten a link using a URL shortener?
How to change the YouTube URL name using a URL shortener tool?
Arslan Jadoon
Meet Arslan, a skilled website blog and content writer who combines creativity and expertise to deliver engaging and informative pieces that captivate audiences.