TL;DR
What is a Link Rotator?
A link rotator is a link management strategy that splits a website page traffic and redirects visitors to multiple destinations.
The core idea behind this link strategy is to make a change in the destination URL and provide visitors with more than one option to analyze their response.
Why Marketers Need to Use a Link Rotator Tool?
The link rotation is mostly done by digital marketers for several reasons, such as conversion optimization, landing page analysis, user experience and others.
5 Best Link Roators
Read further to easily setup link rotation on any URL.
Have you ever thought about experimenting with link rotation on social media or email marketing?
Bloggers, affiliate marketers, and digital marketing experts try to capitalize on every opportunity to grasp the audience's attention and convert visitors into subscribers or customers.
Now different marketers and social media experts may opt for different routes to achieve this very goal of converting the audience. So they experiment with a number of tactics to achieve the goal.
Since links are vital to conversion optimization, they apply different techniques to make their links better and more prominent, such as URL shortening, link rotating, etc.
Interesting Read: Create Affiliate Links 
How Do Link Rotators Work?
Marketers and conversion optimization experts use link rotation tools to test different landing pages or offer in the same marketing campaign.
Marekters A/B test the performance of their campaigns by adding multiple destination URLs to the campaign and setting the percentage of visitors to drive to each link.
When the website visitors or social media followers click the short link, the link rotation gets activated and allocates the destination URL with respect to the pre-defined settings.
Link rotation could help e-commerce stores, SAAS companies, and any other business that sells products online.
Example:
Suppose an online camera gear shop has gotten a brand new camera in the inventory. The camera store could create two offers; first with just a single camera body and the second with other camera accessories.
Then, they could use a link rotator tool to distribute 50% of traffic to each offer page to see which converts better or which one has gotten more clicks during the campaign.
So that's how link a link rotator works. I'm quite sure you got the idea of how to link rotators work by now.
5 Best Link Rotators
It won't be fair to discuss everything about the link rotators, but not mention industry-leading link rotators for marketers to try out. Here are the five best link rotators for you to check out:
1.Replug – Best URL shortener with advanced features
Replug is a powerful link manager that comes with several advanced features other than being a link disguiser or a link masker, such as:
Digital marketers, affiliate bloggers, and conversion optimizers do a lot of testing, for instance, they create multiple ads in their ad campaign to see which one performs better than the rest.
One of the essential features of Replug is A/B testing which allows marketers to redirect visitors to multiple destinations to see how splitting the traffic affects the campaign performance.
One of the best things about this tool is that it gathers data about your website visitors and conversions and identifies the most suitable marketing combinations of website traffic, online ads, and sales pages. All these benefits speak volumes.
G2 has awarded Replug with several high performer awards in its industry in 2022/2023. Here are some of the reviews of the tool.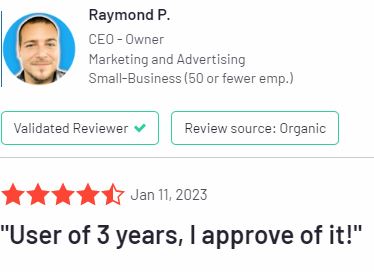 Related: Why You Need a Custom URL Shortener?
How to rotate URL/links using Replug?
Replug is an all-in-one link management tool for marketers. It offers influencers, social media managers, and digital marketers a number of tools to shorten and manage their content links.
Besides several link management features, Replug has a link rotator with an A/B testing feature. A/B testing is a marketing strategy that involves a side-by-side comparison of two or more versions of the same entity to find out which one performs better.
It's a widely used growth hack in the digital marketing field. No wonder a lot of URL shorteners have such a feature.
Here's how you can create a link rotator for A/B testing using Replug:
Sign up and log in to your Replug account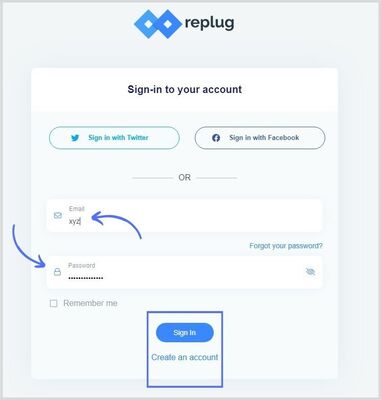 To kick things off, sign up for a Replug account. You can start with a free trial account to get going. Replug has a 14-day free trial offer for new customers.
Once you've set up the account, log in to your Replug account with your credentials to start the link management.
Related: Optimize Your Links
Create a short link using Replug

To enable link rotation, you must first have a Replug short link. Create a new Replug link or edit an existing one. You might want to start fresh with this process so go ahead and create a new short link using Replug URL shortener.
In case, you don't want to create a new short link, you could edit an existing Replug link by clicking on the three-dotted button available next to each link. You'll find this option on the Replug links page.
Toggle the A/B testing option to enable it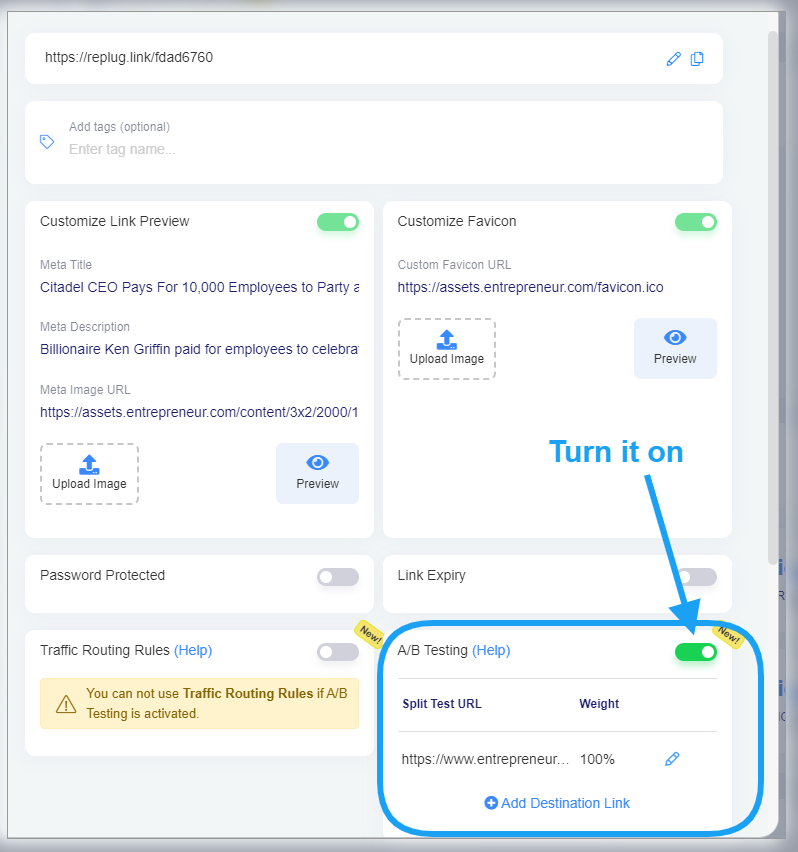 When you'recreating a short link using Replug, don't finish off the process link creation process unless you enable the A/B testing option. To do so, toggle the A/B testing button to turn it on while creating a Replug link.
After you turn on the A/B testing option, the destination URL would be the first link with 100% weightage. You're almost one step away from starting your A/B testing with Replug link rotator.
Provide multiple links while splitting traffic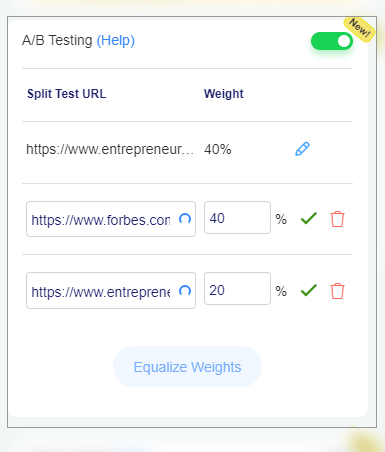 The next up is adding more links to the A/B testing process. The A/B testing is useless unless you have multiple options for side-by-side performance comparison.
Go ahead and provide Replug with multiple links for splitting the traffic to multiple destinations. All you have to do is to click the "Add Destination Link" button to add more links for A/B testing.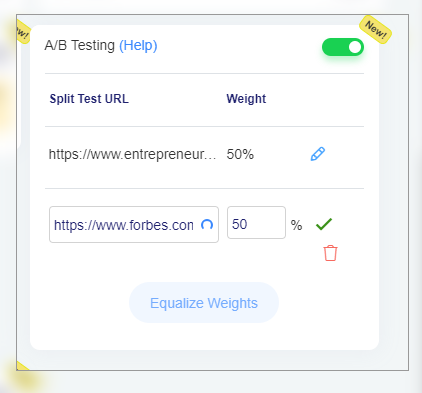 Setting the link weightage is essential for the link rotation system. The Replug A/B testing feature allows users to put separate weights on multiple links. However, users could also give equal weights to all links.
Once you're done with it, go ahead and finish creating the Replug link with the A/B testing feature enabled. Now you're ready to track the link rotation performance of your links.
Increase your CTR with a Branded Link Now!
2.JotURL – Feature-rich click rotator software
Jot URL is a URL shortener tool that offers UTM tracking, bio links, deep links, branded URLs, retargeting, and QR codes.
It's not just a URL shortener that trims down the long and clunky URLs for you, instead, it empowers your branding, helps generate leads, and provides link tracking. Plus, it also has a link rotation feature that puts this tool in the list of top link rotators for marketers.
Related: How to add UTM parameters?
ClickMeter is an all-in-one short link solution that helps bloggers and marketers create, monitor, and track marketing links for improving conversion rates. It offers URL shortening, branded domains, A/B test link rotation, conversion tracking, and several other features.
It's a link management solution that works best for marketers and bloggers with content-heavy blogs and websites monetized with multiple affiliate marketing programs.
Plus, it's also suitable for social media influencers and experts that use social media marketing channels to promote and sell their products.
Spinster is a URL rotation solution built with javascript, HTML, and CSS for marketers and web entrepreneurs who want to create a personalized URL on their websites.
This URL rotator creates a unique short URL to redirect the incoming traffic on the URL and help distribute the visitors to the pages of the choice. It's a perfect solution for splitting a website page traffic and tracking the number of visits on each page.
5.Voluum – Best link tracker for CPA marketing
Voluum is an excellent link-tracking solution for online advertisers that run ad campaigns across different ad networks. It offers link tracking, campaign optimization, and process automation.
Voluum is a professional ad-tracking software that integrates with multiple ad platforms to provide campaign performance reports. It's a fantastic link tracker for advertisers and marketers who are into conversion optimization.
Let's Conclude:
Link rotators are an integral part of the link management ecosystem, which is why almost all the popular URL shorteners have this feature.
The core idea behind using link rotators is to dissect the number of website visitors and drive them to multiple destinations with the same or different proportions to see the impact on the results. That's pretty much it.
Other Interesting Reads:
9 Bitly Competitors
12 Best Bio Link Tools To Use In 2023
Top 22 Personal Branding Tools

Hassaan Khan
Hassaan Khan is a freelance writer for SAAS companies, e-commerce stores, and niche websites. He has contributed to SEMrush, ThriveGlobal, BloggingCage, AllBloggingTips, and several other publications. He builds niche websites, publishes e-books, and helps website investors with his done-for-you niche site-building service.