Have you ever wondered how to transform those endless, complicated web addresses into neat and shareable links? You're in the right place. We're here to not only explain what link shrinking is but also guide you on how to do it. It's a useful method for sharing links on social media, emails, or printed materials.
The process is quite simple: just copy your lengthy URL, paste it into a link-shortening tool, and there you go – you'll receive a shorter, more convenient link that you can easily share. Let's get started!
Shrink a link: What does it mean?
Link shrinking, often referred to as URL shortening, is the process of converting a long, unwieldy web address (URL) into a shorter, more streamlined version. This short link is designed for greater convenience, ease of sharing, and improved user experience. It is widely employed in digital communication and marketing to simplify the presentation and distribution of web links. 
For example:
A lengthy URL looks like this:
 "https://www.example.com/products/electronics/smartphones/latest-model"
This is how it might look after shortening or shrinking:
"https://exm.ple/3AbCdEf"
Shrink vs. branded link: What's the difference?
The primary difference between a shorter link and a branded link lies in their structure and purpose:
Shrink link:
A shrink or shorter link is a compact, generic URL that's created to make a long and unwieldy web address more concise. This is typically done using link-shortening services like Replug or Bitly.
Shrink links are shorter in length and are easier to share, especially on platforms with character limits, such as Twitter.
They often use a generic domain (e.g., rplg.co) followed by a series of random characters or a short identifier.
Shrink links are primarily used for convenience and brevity.
Branded link:
A branded link, also known as a custom or vanity link, is a URL that incorporates a specific brand or organization's name or keyword into the link itself.
Branded links use a domain associated with the brand, making them instantly recognizable and trustworthy.
Branded links are used to enhance brand recognition, trust, and user engagement. They help users easily identify the source of the link and can be a part of a company's branding strategy.
Shorten your links, amplify your brand.
Create shareable, trackable and fully customizable branded urls. Get more clicks with absolute link management features such as Bio Links, retargeting, deep Links, CTA's and more.
Learn More!
Also read:  How to create a vanity URL?
How to shrink a link using Replug?
Here's how to shrink a link using Replug:
Step 1: Sign in or create a free account
To get started, sign in to your Replug account, or if you're new, create a free account. This will give you access to the link-shortening features.
Step 2: Choose or create a campaign
From your main dashboard, select an existing campaign or create a new one. If you're creating a new campaign, follow these steps.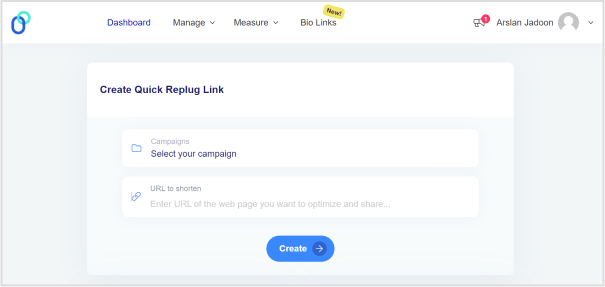 Step 3: Enter the URL to shorten
In the campaign settings, locate the "URL to shorten" section, just below where you selected your campaign. Paste your long URL here and click the "Create" button.
Tip: You can also add UTM parameters to track link performance, helping you better understand which marketing channels and campaigns are most effective.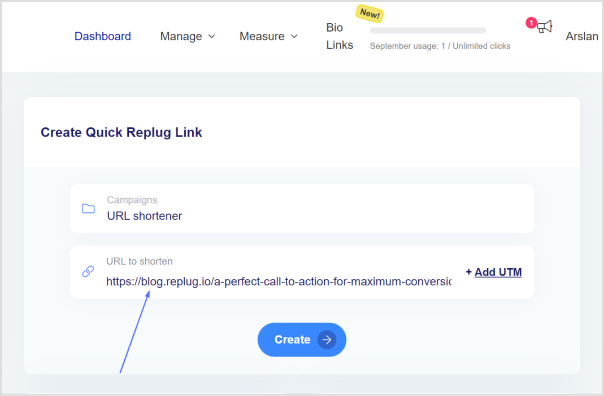 Also read: What are UTM Codes and How Do They Work?
Step 4: Customize your shortened link (optional)
Your link is now shortened automatically. If you wish to personalize it further, click the edit icon. This allows you to type a custom URL slug for your link.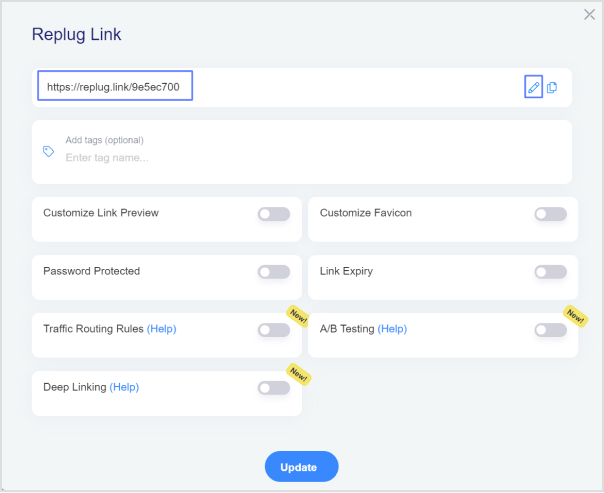 Step 5: Copy and update
Once you're satisfied with your shortened or customized link, click the "Update" button. Your link is now ready to use.
Note: Replug offers various features to enhance your links. Explore these options to elevate your marketing efforts. Additionally, check out our CTA campaign features to see how they can further improve your campaigns.
Brand your links with Replug:
Elevate your online presence and foster trust by crafting branded links that are both memorable and reliable. Customize each shortened link with your branded domain, setting yourself apart from competitors and reinforcing your unique identity. 
With Replug's branded domain capabilities, you're in complete control of the visual appeal, fostering trust, and driving higher click-through rates. Seize the reins of your links, amplify your brand's authority, and watch brand awareness soar to new heights.
Branded Short Links
Create and track branded short links for your business for better conversions.
Brand Your Links Now!
FAQs
What is link shrinking?
Link shrinking, or URL shortening, is the process of turning long and unwieldy web addresses into shorter, more manageable links for easier sharing and cleaner appearance.
What is the difference between link branding and link shrinking?
Link branding involves customizing your shortened link with a branded domain to make it easily recognizable, while link shrinking is the process of shortening a long URL to make it more concise and user-friendly.
How can branded links benefit my business?
Link branding enhances brand recognition, increases trust, and provides a professional appearance for your links. It can also lead to higher click-through rates and improved user engagement.
Can I customize the appearance of my branded links using Replug?
Yes, Replug offers customization options that allow you to personalize the appearance of your branded links. You can choose specific slugs, add UTM parameters, and integrate branded domains to align the links with your brand's aesthetics.
Arslan Jadoon
Meet Arslan, a skilled website blog and content writer who combines creativity and expertise to deliver engaging and informative pieces that captivate audiences.