B2B email marketing focuses on businesses ratfiher than individuals, and the purchase decisions are made on value transfer instead of impulsion. The sales cycle is considerably longer, and it may involve multiple decision-makers, making B2B email marketing significantly different from B2C. A lot of email marketers apply the same strategies for B2B email communication, which they use for B2C, thus never achieving the true potential of B2B email marketing. Today, I will discuss the top 5 B2B email marketing tips that will help you unlock the true potential of your mailing lists. Read on for a deep dive into the topic.
What Makes B2B Email Marketing Different From B2C And How To Approach It
B2C is more focused on driving sales on almost every message, and it contains little to no educational content. Moreover, the purchase won't have a long-term impact on consumers. However, B2B purchases have lasting effects on an organization, and one needs to invest in educational content spread over multiple emails before prospects start engaging truly. You will also have to optimize the messages to deliver value for each stakeholder who takes part in the buying processes. Thus, the B2C approach of generating revenue from single emails isn't going to work out. We can consider that their identical objectives are the reason behind many email marketers applying similar strategies: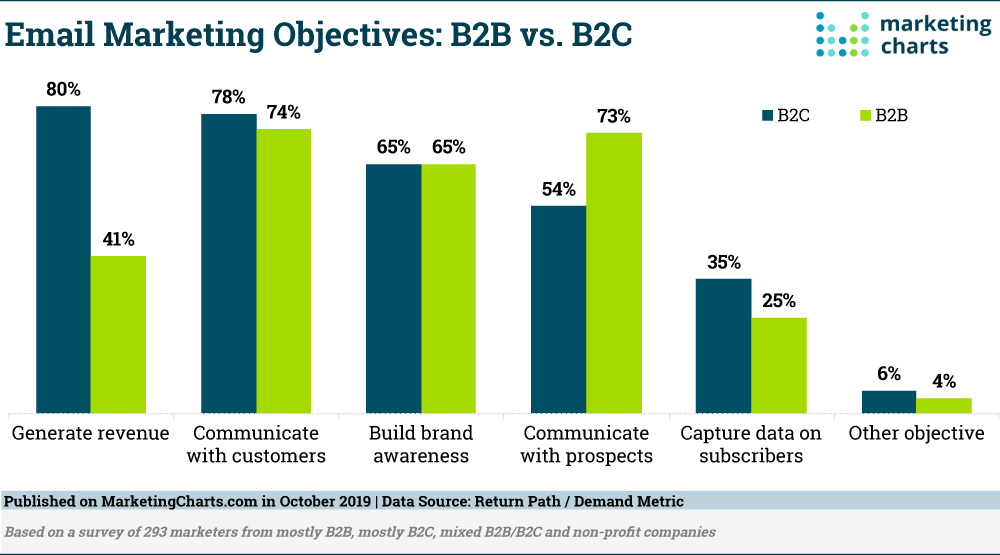 Now that we know about the differences between the two, let us understand how to approach B2B email marketing. Firstly, you will need to curate your content for a rational buyer and focus on lead warming. You also need to understand your prospect's requirements and satisfy multiple employees' concerns before your message reaches the actual decision-maker. You can find the subtle differences in the approach in the below table: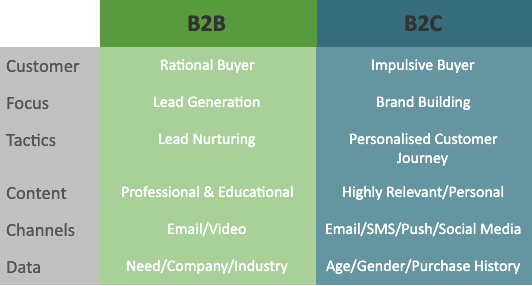 Emails have the best ROI as a digital marketing channel, and B2B emails have 47% higher CTR when compared to B2C messages. Also, checking work emails daily is still a part of every organization, and there's no reason you should miss on B2B email marketing.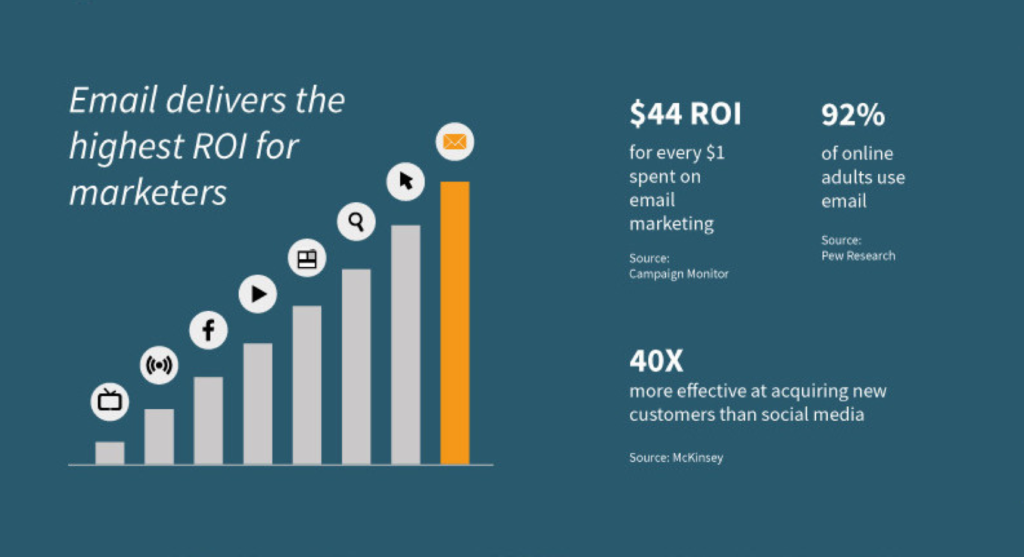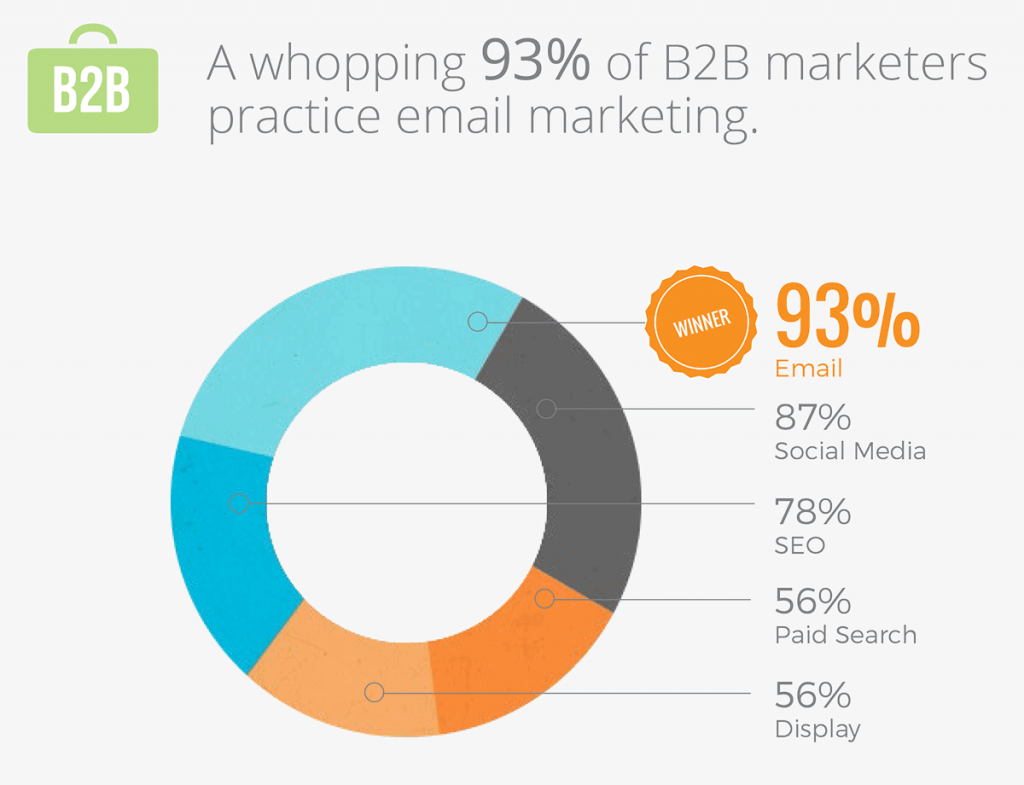 That's enough of polishing the basics. Let us explore those five B2B email marketing tips that will help you need to try without fail:
#1 Use Personalization + Dynamic Segmentation Simultaneously
Just because you are going to communicate with different professionals from different levels of hierarchy, it doesn't mean that you should give up on personalization efforts. You should segment your mailing lists in a way that helps you address different hierarchy levels and then run personalization efforts to make your messages relevant to the job profile. Focus on your prospect organization's needs and send content as per the powers and understanding level of the concerned job profile.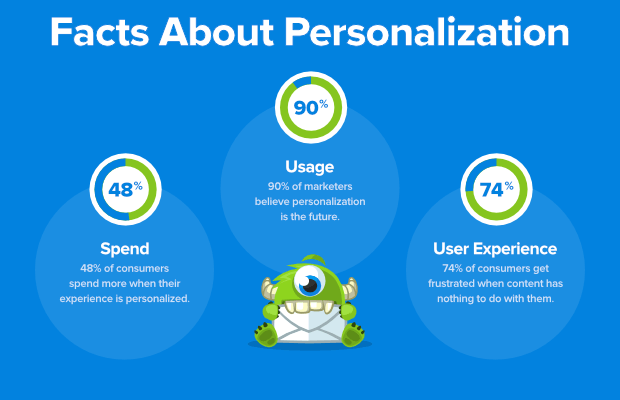 Dynamic segmentation comes in handy in filtering your mailing list proactively. It aids in targeting the contacts based on their recent activity on your website and response rates to your ongoing email campaigns. Thus, you will be able to get the benefit of staying relevant to the current phase of their buying processes instead of sending messages in a generic fashion.

(Credits)
Personalization coupled with dynamic segmentation is one of the highly effective ways to achieve the right send times. For instance, if your prospect viewed a certain FAQ on your website, sending them a relevant resource on the topic within a few hours can significantly help the customer journey. 
#2 Develop Content For Multiple Stakeholders And Offer Cascading Value Propositions
As I mentioned above, B2B email marketing relies on delivering value and establishing reliability. This will require you to create extensive content that complements all phases of the buyer journey. You should start by knowing which stakeholders are going to take part in the purchasing process. A finance manager's concerns are always going to differ from that of a production or sales manager. Yet, all of them come into the picture at different times and even stay in the loop. You can use the below chart to create email content development guidelines for addressing them: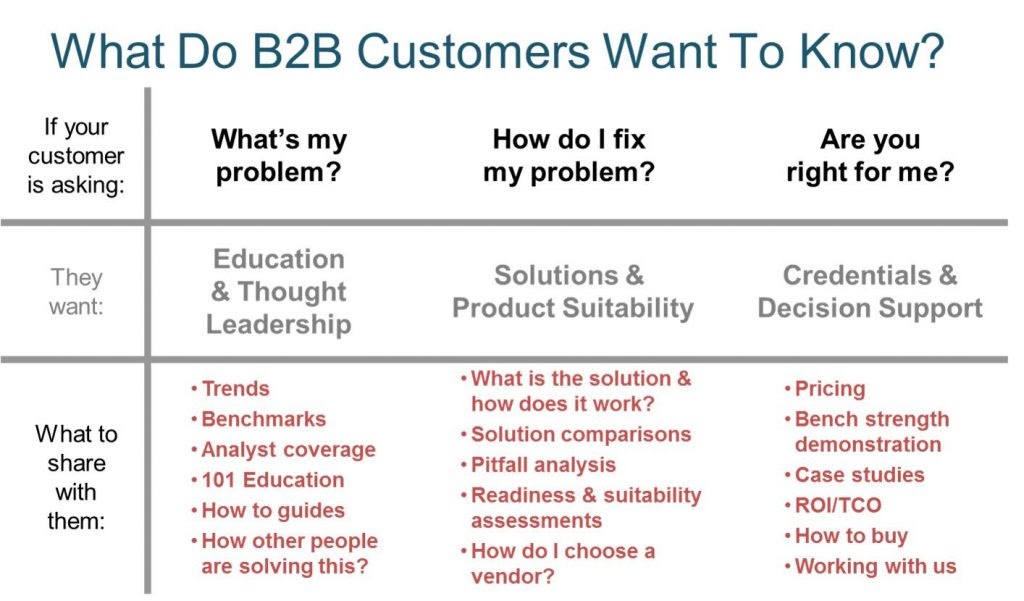 Also, optimize the subject lines, preheader text, and CTAs for various stakeholders when creating resources. Once you develop the basic framework for your email content, you should use different formats to distribute it. This makes content consumption easier. Drip email campaigns are the best solution for offering cascading value propositions. They help you deliver the right content via emails based on engagement and timing. Instead of bombarding the readers with huge amounts of information that either doesn't connect with their job role or is irrelevant to their buyer journey only discourages further engagement. Below is a schematic diagram of how drip emails deliver meaningful resources using cascading send rules: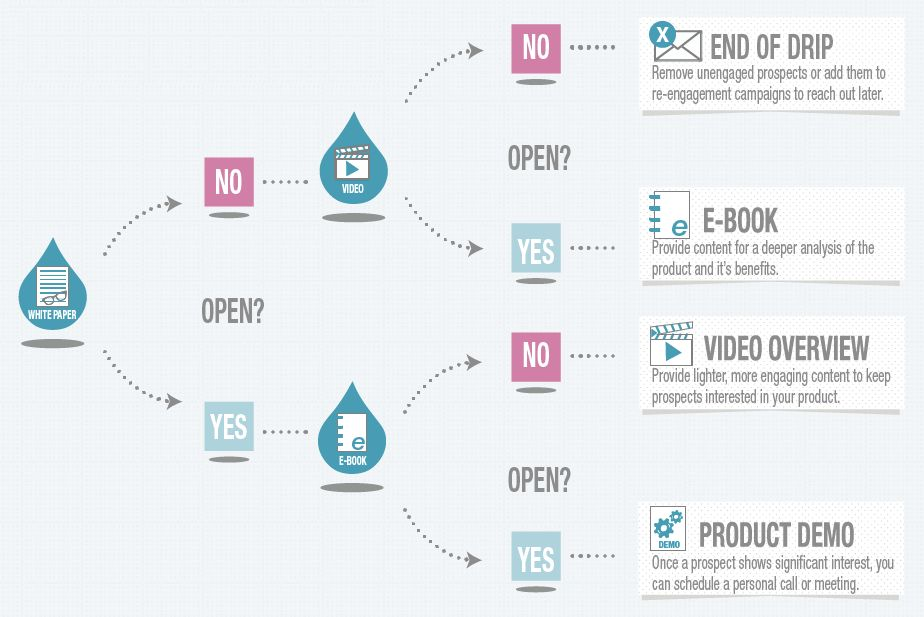 I find that using self-nurturing landing pages is a great way when you don't know the exact profile of your recipient. You can use customized URLs from Replug to track their activity and improve your database. 
#3 Leverage Newsletters To Project Thought Leadership
Newsletters are a multi-purpose tool for B2B marketers. They help establish thought leadership by engaging the readers consistently over information that aids their business. They give you an opportunity to send insights on various aspects of your customer's business and place your product/service as a facilitator of the benefits you mention. In many cases, it takes weeks to go through various offers, terms and conditions, technicalities, and discussions before they approach you again. You can use newsletters to keep your prospective clients engaged during those 'colder' phases, and it generally acts in your favour as opposed to brief periods of staying out of touch. No doubt, email is the hot favourite of B2B email marketers when it comes to content distribution: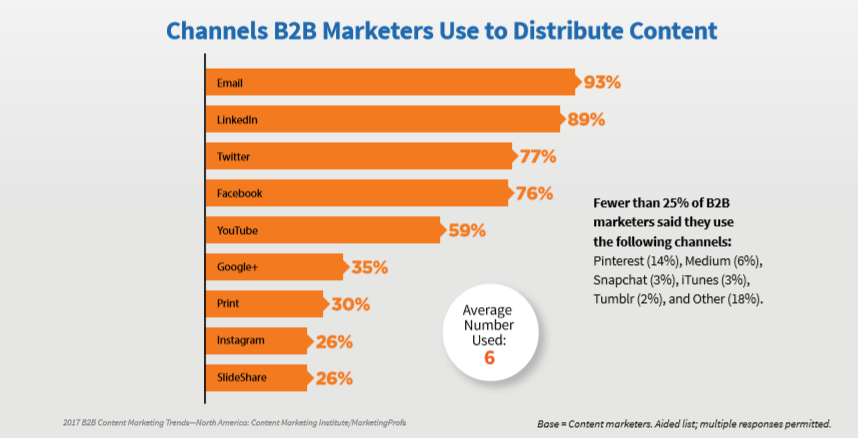 Sharing industry-level research, opinion pieces, and inputs from technical experts are some time-tested ways of projecting thought leadership. You can use tools like ContentStudio to keep your subscribers engaged through highly refined content pieces from third-party sources. The below email from Smartsheet helps it take an authoritative pose, and it will surely increase its trustworthiness among the readers: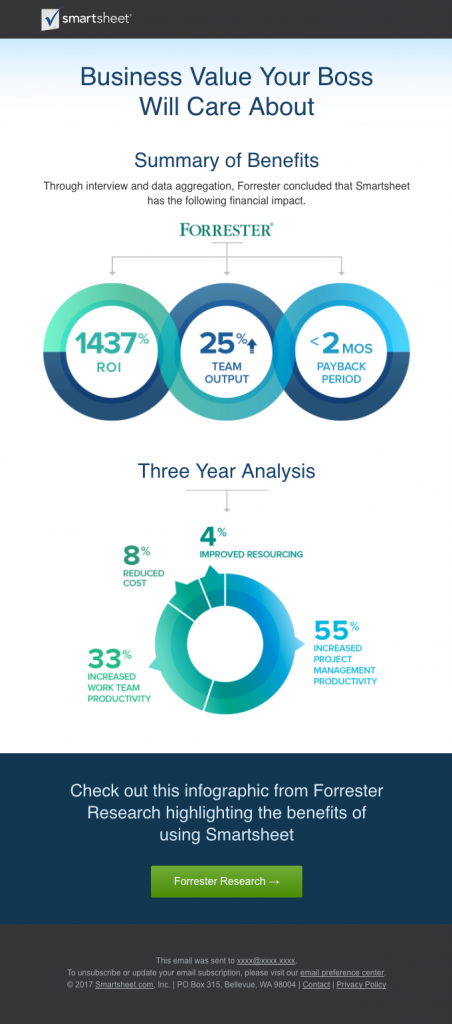 Similarly, if you are a SaaS company, you can send product-specific tips and tricks within your newsletter during the trial period. Here's an example of doing so from Miro: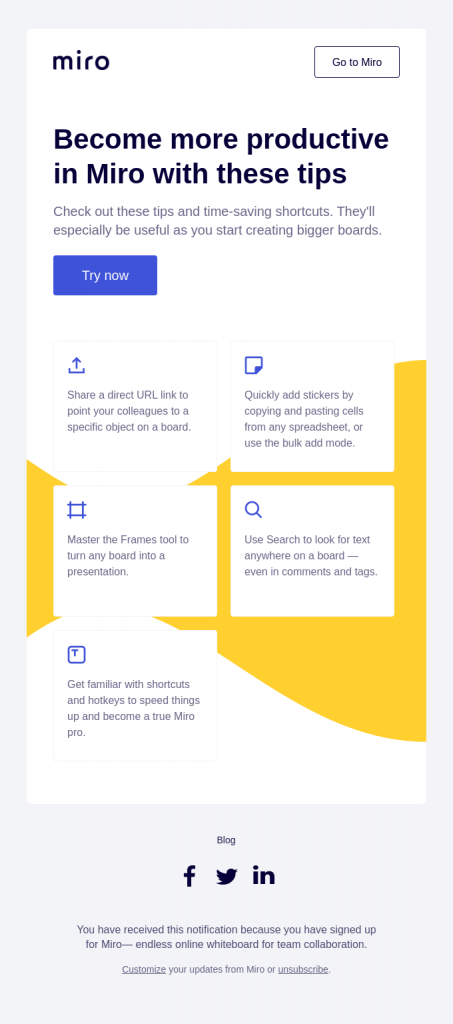 #4 Be Smart With Curation In Your Email Templates
Having the right B2B HTML email templates matters! Content plays a decisive role, but curation is another aspect that impacts your campaign's overall performance. The number of B2B buyers remains less when compared to the B2C buyers, but the ticket size is considerably huge. Thus, you should invest in beautiful email marketing templates that provide dynamic content blocks as it helps your personalization efforts apart from improving aesthetics. It also saves you from degrading your brand value in situations like sending an email with wrong images or URLs, as you can change them even after sending it.
This is how Crowd Writer UK works when they email other businesses. Having personalized subject lines and simple and authentic content has boosted their email marketing campaigns. When curating your content blocks, use visual hierarchy rules for getting the best aesthetic appeal. Keeping the paragraphs and lines shorter is a must, but your email typefaces, branding elements, colour palette, the separation between adjacent elements, font size, and colour play a huge role in determining your message's readability. Mobile optimization is also necessary as 51% of the total email opens come from smartphones. Here's a great example of curating a B2B email template in the right manner coming from none other than Campaign Monitor:

#5 Constantly Track Your Success Rates And Redesign Your Efforts
Lastly, I would like to tell the readers that tracking your campaign results is 10x more important in B2B email marketing. The reason? Right from the decision-makers to the purchase cycle, everything keeps shifting while your competitors are going to target your leads far more aggressively than the B2C sector. Keeping a tab of how your email copies perform, the subject lines that get maximum opens, most coveted gated content, and CTAs apart from the regular email metrics will pave your way to success. You can learn from successful conversions and replicate the model that helped you convert in your ongoing efforts.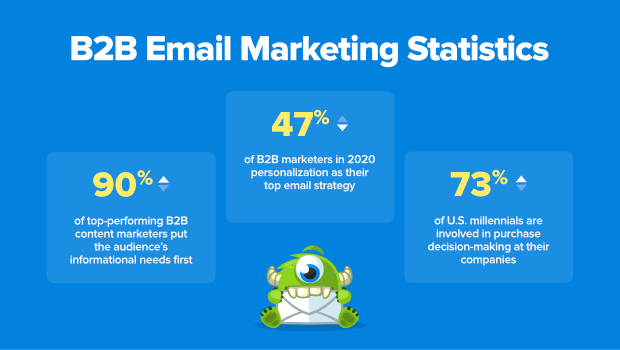 Most businesses run an email audit on a yearly basis, but it is advisable for B2B firms to use real-time insights and constantly tweak their email marketing strategy as per the latest performance results. As the businesses continue to evolve with technological advancements and shifts in end-customer perception, B2B marketers will have to constantly evolve their processes through consistent evaluations.
Putting It Together
Coming towards the end, I will draw your attention to one common trait among all of these five B2B email marketing tips: Cater to the needs of the buyer journey on a real-time basis and follow a flexible approach. No doubts that running email campaigns for business-to-business interactions is complicated but following these email marketing tips will help you focus on getting results through coordinated efforts. I hope these tips help you get greater success in your next B2B email marketing campaign.
Author Bio

Kevin George is Head of Marketing at Email Uplers, one of the fastest-growing full-service email marketing company that specializes in crafting professional email templates, PSD to HTML email conversion, and free HTML email templates in addition to providing email automation, campaign management, and data integration & migration services. He loves gadgets, bikes, jazz, and eats and breathes email marketing. He enjoys sharing his insights and thoughts on email marketing best practices on his blog.
Farwa Anees
Farwa is a Digital Marketer who likes to share her insights and experiences via writing. She likes to test and experience new eras in marketing and share them through blog writing.