11 Factors that make a high converting landing page  
What is a landing page?
An individual web page which has conversion elements e.g. catchy headlines, engaging content, call to action buttons, all strategically placed to convince the visitor to click on your offer. The offer could be anything from registration for a webinar, download an ebook, free trial of an application, requesting a demo etc.
The most common type of landing page is the sign-up landing page. It has one specific conversion goal: to encourage visitors to sign up for a service. The main aim of this page is to minimize the friction involved in the conversion.
Strategically designing these pages, keeping your target audience in mind is the key for a successful landing page. Whether it is an ad that brought your target audience here or content, there is still work needed to be done to make this click a conversion.
The following are the top design factors that you need to consider in order to optimize your PPC landing pages for the maximum output.
Relevant content meeting expectations
One of the worst things that can immediately turn off a prospective lead or even customer is a false promise or sheer meaningless click baiting for that matter. As a digital marketer, you need to ensure that the PPC ad bringing you into your landing page resembles the message on it.
Someone looking for a car insurance plan could really feel compelled to exit immediately if they see the bland homepage of an obscure insurance concern, or are bombarded by popup windows about random offers that they fail to escape out of. The example of ContentStudio page displays the singular mindset that the prospective user had in mind when landing there.

Using AMP Landing Pages
Landing pages have received a lot of facelifts in the past few years, but there was nothing significant as far as the functionality was concerned. In 2015, Google highlighted the shift toward mobile devices. It was estimated then that by 2019 almost 65% of all digital advertising will be done on mobile.
Now consider these astonishing statistics
The average load time of a site on mobile is around 18 seconds on a 3G connection. Around 75% of mobile sites take over 10 seconds to load

Conversion rates fall by 15% for every additional second the webpage takes to load.

Almost 40% of the visitors will leave a particular page id it takes more than 3 seconds to load.

Around 60% of users are unlikely to return to a mobile site if they had trouble accessing it.
From the above statistics, it can be concluded that is your page does not load fast enough, There would be a discontinuity between your ad and your landing-page, forcing the visitors to bounce.
Benefits of AMP Landing Pages
Audience Engagement
AMP landing pages load almost instantaneously.  This means your target audience is engaged as soon as they hit the ad. This way, they are more inclined towards your message, receptive to your brand's theme and more likely to convert. This helps to increase conversion optimization many a fold.    
Maximize your revenue
As mentioned previously, the conversion rate drops by almost 15% for every extra second visitors have to wait for the page to load. AMP offers a way for you to give users a faster experience everywhere — on ads, landing pages or your entire website.
Maintain flexibility and control
Using the latest AMP landing page format enables you to retain your own branding and tooling while taking advantage of AMP's optimized web components.
Keep the design simple and sleek
Unless you purposely want to hypnotize your prospective customer into a state of confusion, it is a good idea to keep your design clean, simple and sleek. Get rid of any unwanted clutter on your landing page. Of course, the precise design factors of your page are determined by the purpose of the page.
One of the very good examples includes the landing page for the Industrial Strength Marketing, which is crisp in its messaging and clutter-free in design.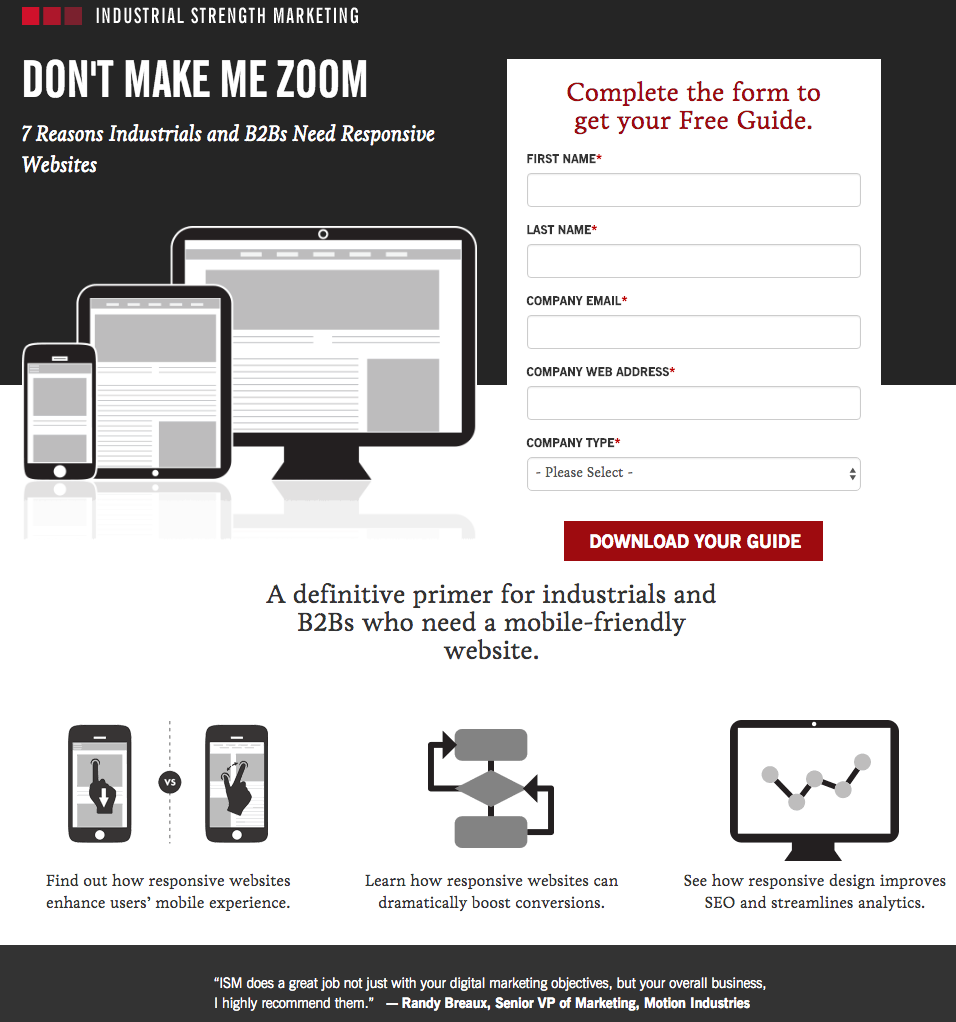 The landing page gets straight to the point with the headline " Don't Make Me Zoom." It is a common experience that we all face while browsing on our mobile phones.
This is not the only eye-catching feature in this page, Notice how the color red is strategically placed: It's right at the top and bottom of the form, drawing you even closer to the conversion event.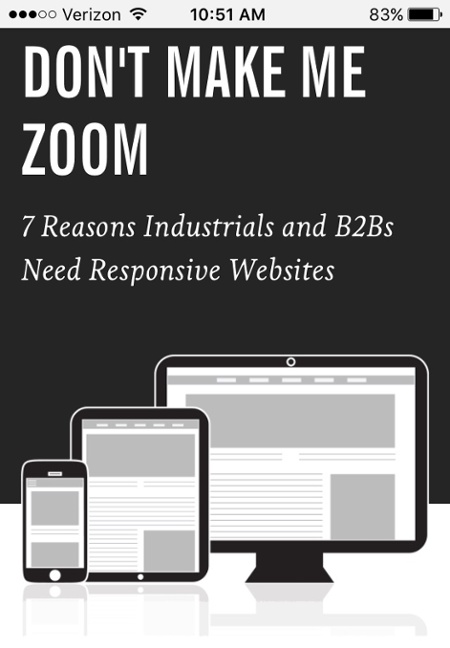 Their landing page design works great on mobile devices as well. If it is not so, a lot of the visitors might end up leaving the page.  Keeping in sync with their tagline, the people at Industrial strength marketing have purposefully made the fonts and form big enough so the visitors don't have to zoom in in order to read the message and fill in the form.
Clear visual call to action
One of the most vital factors of a PPC landing page design pertains to its goal completion: The call to action, which should be placed in a prominent way. Do bear in mind that we are only discussing the design here, so it goes without saying that the copy should be crisp and clean.
The CTA on a landing page has to be the most crucial element. All marketing strategy, page design, and ad copy narrow down to this single component.
Naturally, the CTA should stand out from the background and surrounding elements so the visitors are drawn towards clicking it. But before they can do that, they have to view it.
The size, shape, copy, color all impact whether a visitor notices your button. The best way to do that makes it contrasting.
Call to action buttons should be prominently placed, appropriately colored as per the design scheme and must have good text readability. The contrasting call to action button of GoToMeeting website is a great example.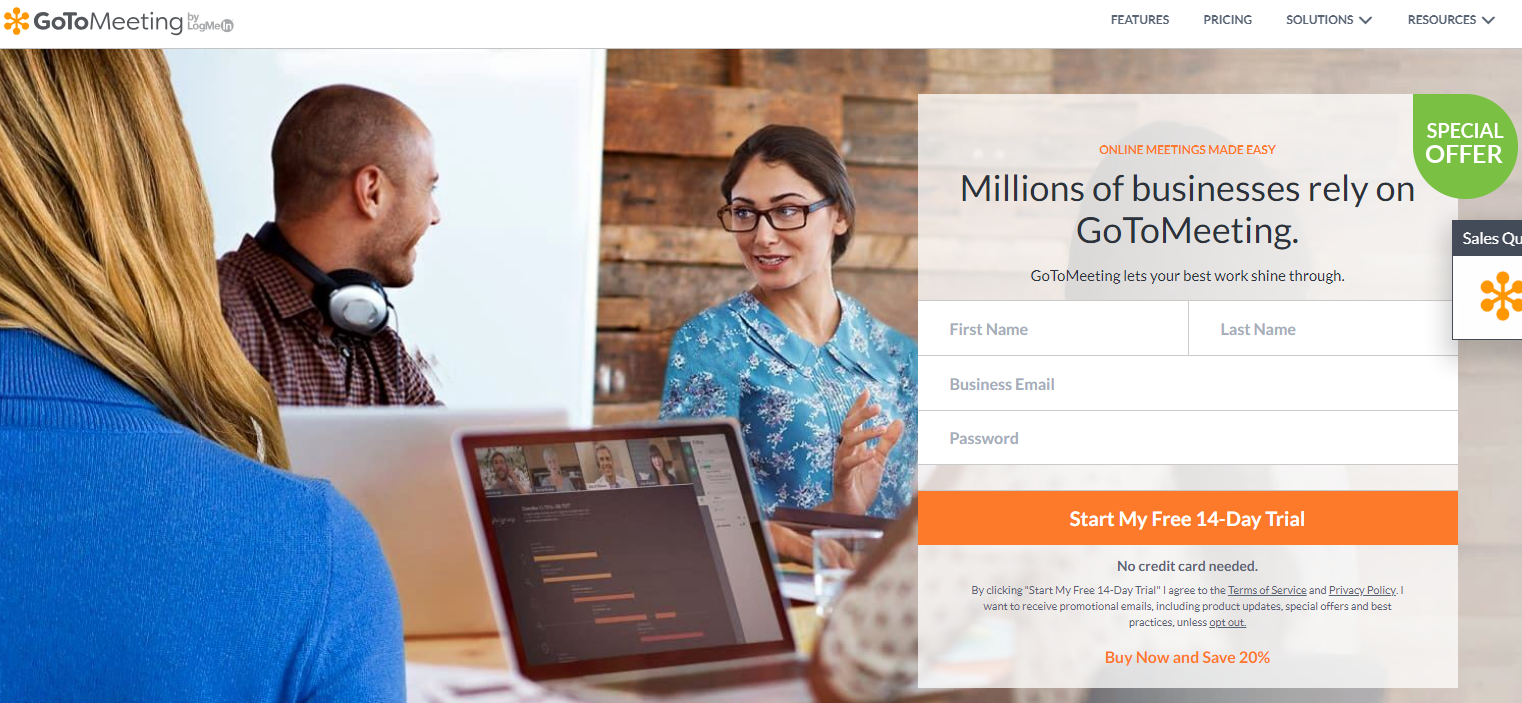 Source: Gotomeeting.com
Anticipate high visual contact areas
Closely related to the overall design and the placement of a call to action is the vital factor of estimating how the eyes of the customer will see the webpage.
A Usable World study illustrates how noticeable images and well placed and easily visible text are more likely to capture the attention of your target audience within a fraction of a second.
Consider the layout of your page design and have it tested for the most noticeable elements. Consult your web designer to manipulate design elements for leveraging this factor.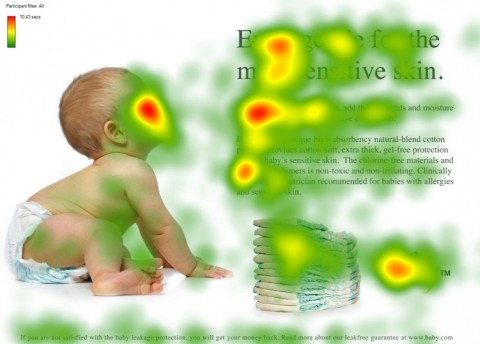 Source: Usable World
Another key concept in this regard is the use of whitespace. White space is the part of a web page that's left blank or unmarked. This includes the space between images, copy, CTA button, etc.
Using appropriate white space on your landing page not only declutters the page but at the same time highlights what's really important, the CTA.
Choice of imagery
Speaking of eye contact, probably the first thing that your potential customer will notice on your landing page would be the imagery that holds the copy around it. Believe it or not, the difference in imagery can sometimes result in a more favorable response in terms of goal completion.
In the A/B version test example, the leads soared through the roof with Version B, where a more relatable image is used, creating the picture of a family vacation, as opposed to one with the landscape.
Version A

Version B

Source: whichtestwon.com
Quite a few elements make up for a successful landing page and choosing the right imagery is one of them. Following are some guidelines that will help you select the perfect image for your landing page and increase your conversion rate.
Reflect Professionalism
It is imperative that your landing page looks professional. The images that go up there need to portray that your company is reputable and trustworthy.  The trust factor is an absolute necessity for converting for converting visitors to genuine leads
Use Enticing Images
A picture is worth a thousand words, Nowhere this is truer than a landing page. Powerful images will provoke visitors to act and click on your offer. Check out this example from Jetsetter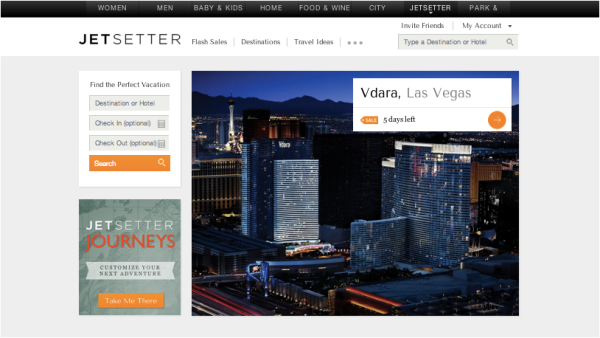 Less is More
In an attempt to educate the visitor as much as possible, do not overstuff your landing page. Cluttering will not help your cause. The design should be simple and elegant. Use a lot of white space in order to highlight what is important. Check out this landing page by Skype.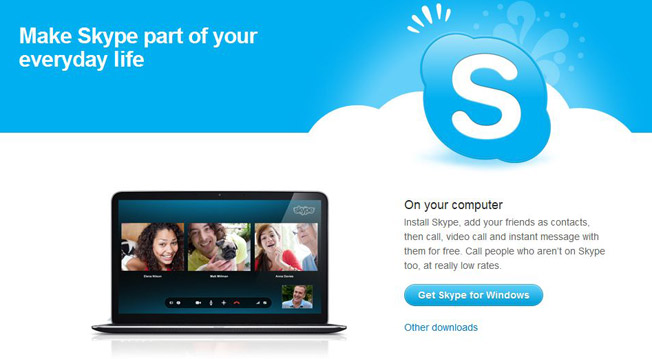 Optimization landing page for all devices
If you are not moving with the changing times, then there is a good chance that your competition would eat up your share before you know it. It's elementary but often ignored by companies in the haste of launching projects that it becomes embarrassing.
Your landing page must be mobile friendly because odds are that your potential customer will be reaching it on a mobile device. Not to mention that it allows you to present your page in another creative dimension. In case you missed the memo, more than half of e-commerce traffic is already driven by mobile devices.
With the immense increase in the popularity of handheld devices, if you are not optimizing for every format of screen display, you are losing potential sales.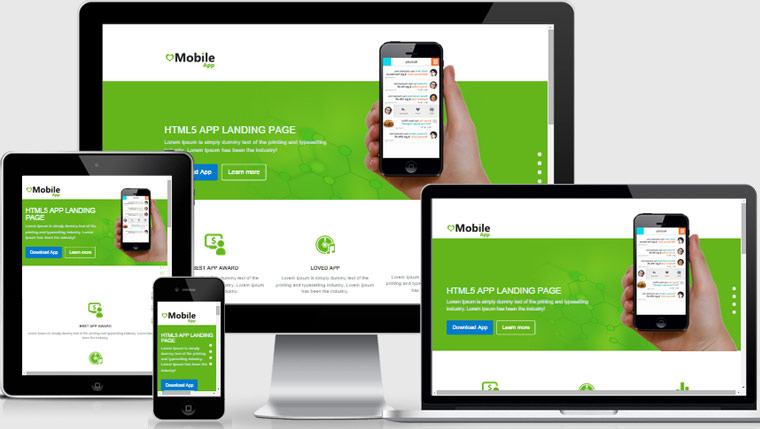 Without making your prospective customer feeling like losing control, carefully design their journey to the required goal, let it be an opt-in or a checkout. The key to doing that is to allow the user to navigate through calls to action through meaningful steps in the process.
The questions digital marketers face today is whether to remove navigation from landing pages or not?
In the above image, there are quite a few links on the landing page that may deviate the visitor from the ultimate conversion goal. Here is a great study which was conducted by Hubspot on whether or not to include navigation.
Another noteworthy concept is the 1:1 conversion ratio on landing pages.
The conversion ratio is defined as the number of clickable elements on a page to the number of actual conversions via those elements. A clickable element is usually a well placed and well designed CTA.
A landing page is an individual web page meant to promote a single offer (conversion goal). Hence 1:1 conversion ratio can be defined as "A singular link that takes the user away from the page and that link should be the CTA".
Deliver a fast experience
Unless you are trying to impress your manager with a metric that makes no sense, respect the time of your prospective customer. They are probably more likely to be impressed by a neat landing page experience that is not loaded with brain-eating scripts.
Page length
Ideally, you would want a short and crisp landing page, but that depends on the sort of pitch you need to craft to secure the desired response from the potential customer. It is a good idea to create varying versions in terms of page length if you believe that more information is necessary to help the user reach a decision pertaining to goal achievement.
Short Landing Pages for quick/ easy decision making
If you visit Kayak online marketing blog, you will see that the landing pages are short and to the point. If you are looking for a download form or an ebook, there is no need to over explain. You already know what you are looking for, hence the shorter pages.  Lengthy persuasion method does not work in these situations.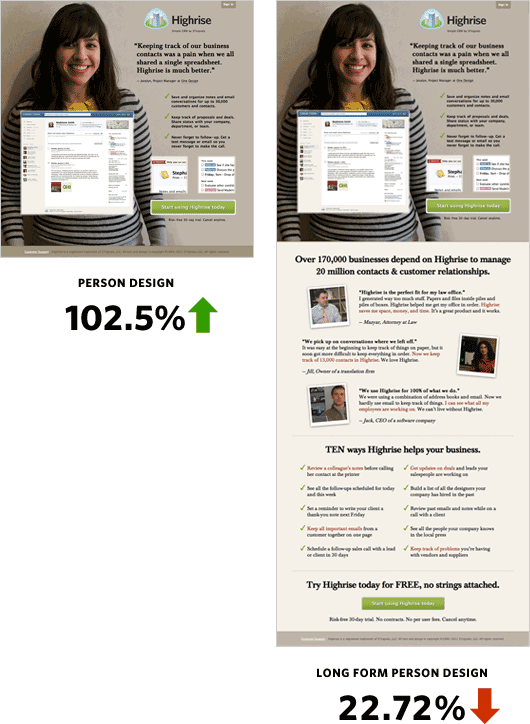 Longer copy for transactional conversion
It is but natural that bigger and more complex decision require more explanation and content so that a person is able to evaluate the pros and cons. This is the reason we find long copy landing pages at the end of email campaigns, advertisement etc.
Crazy Egg provides a great perspective on this, emphasizing the point that more content is used to rationally justify big money decisions. Here is a matrix proposed by them that will help you determine the length of your landing page pertaining to your industry.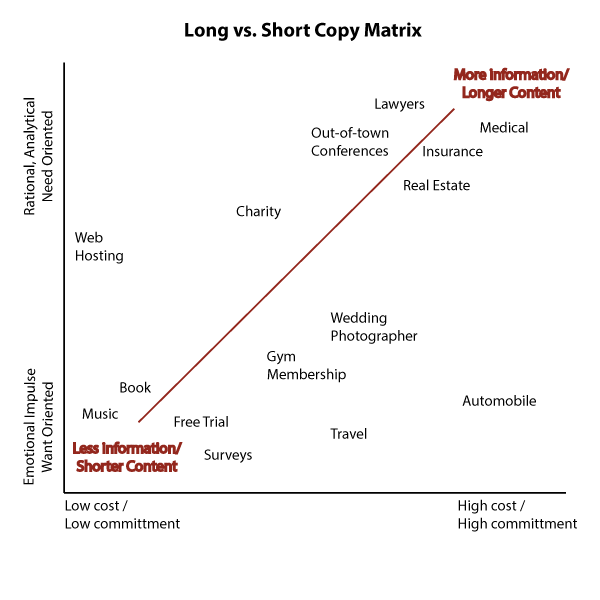 Prepare A/B Test Versions
It is important to know what is working for you in order to experiment with similar variations in the future and to get better results with minimum energy and resources invested.
Always prepare the A/B versions of your landing page to determine which one attracted the best responses helping in goal completion. A/B testing could involve the evaluation of several landing page elements including, but not limited to, headings, subheadings, copy content, copy placement, text appearance, page layout, imagery and page length.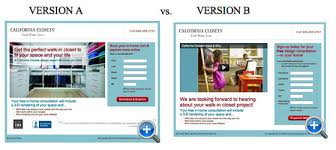 The above example illustrates choices such as using imagery instead of placing a video prominently placed where the main banner is supposed to be.
While there are no disputes about the engagement value of videos, it's probably a better idea to stick to images in such a central layout element. This is why version A was more successful in generating leads, though you would expect more people to be engaged by a video.  
Conclusion
Keep your seld update with modern techniques in improving your conversion rate.  AMP landing pages are a big step up as far as showing landing pages on mobile devices is concerned.
Put highly relevant content and image to establish a connection between your message and product/ service.
Determine which format, long or short landing page suits your business. Design your page accordingly.
If you have other suggestion on improving landing page design, do leave a comment.