Links serve as vital assets that connect your brand with the digital world, so having full control over them is essential. Branded Link management empowers you to safeguard your brand, optimize your marketing, and efficiently handle the many links your company generates.
Therefore, a central link management tool is essential to enhanced collaboration, accurate tracking, and brand protection.  It can also help to increase brand awareness and streamline link sharing between colleagues.
Here's what branded link management is and why it's crucial for your company's online success.
What is branded link management?
Branded link management, often referred to as branded link shortening is a specialized facet of link management that focuses on shortening, customizing, and optimizing links, particularly for branding and marketing purposes. 
Branded links are shorter and more user-friendly versions of URLs, and they often feature a custom domain that aligns with a brand or campaign.
Key aspects of branded link management:
Customization: Branded links allow you to tailor URLs to match your brand, campaign, or content. For example, a long and complex URL can be transformed into a concise and branded link.
Branding: By using branded links, you reinforce your brand identity in every link you share. This consistency can boost brand recognition and trust among your audience.
Tracking and analytics: Branded link management tools often offer robust tracking and analytics features. This data helps you measure the performance of your branded links, enabling data-driven marketing decisions.
Link security: Branded link management platforms often include security features that protect your links from malicious activities, ensuring the integrity of your brand's online presence.
User experience: Branded links are user-friendly and can enhance the overall user experience, as they are easier to remember and share.
Link Management Made Easy
Your go to link management tool for CTAs, branded and bio links, QR Codes, tracking and retargeting.
Get Started for FREE!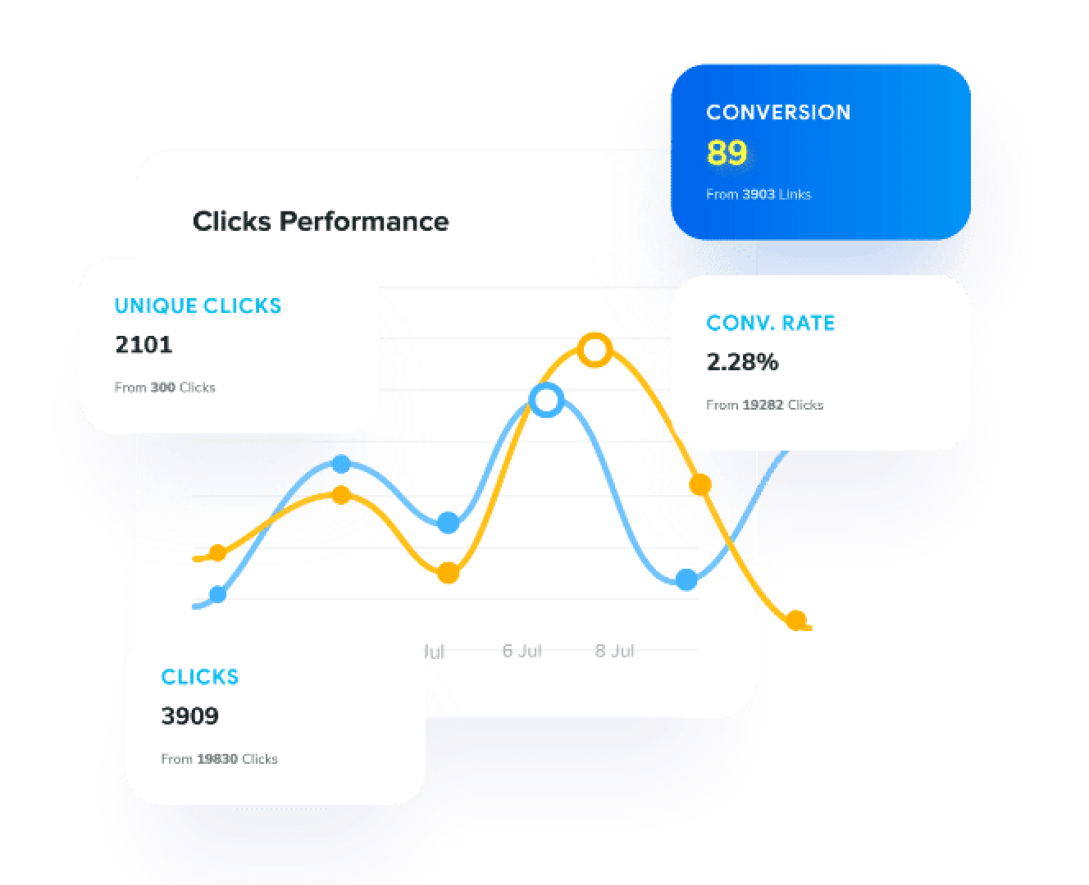 Branded link management: why do you need it?
Companies, particularly those engaged in e-commerce, affiliate marketing, and social media marketing, benefit from using a link management tool for several compelling reasons:
URL shortening:
A branded link management tool shortens long and cumbersome URLs, making them more user-friendly and aesthetically pleasing. This is particularly useful for sharing links on social media, in email marketing campaigns, and within content.
Tracking and analytics:
Branded link management tools offer robust tracking and analytics features, allowing companies to monitor the performance of their links. This includes tracking click-through rates, conversion rates, and other essential metrics to assess the effectiveness of marketing campaigns.
Conversion analysis:
Companies can analyze the conversion rates associated with specific links. This insight helps in optimizing marketing efforts and understanding which links are driving the most conversions and sales.
Branding:
Branded links provide consistency and reinforce a company's brand identity with every link shared. This consistency can boost brand recognition and trust among the audience.
Efficiency:
Link management tools streamline the process of creating and managing links, saving time and reducing the risk of errors. This is especially valuable for companies that deal with a large number of links.
Social media traffic:
Many link management tools offer features like bio links, which are crucial for social media marketers. These tools help drive social media traffic to the company's website by providing a simple and appealing way to share links on platforms with character limits or visual constraints.
Lead generation and retargeting:
Some link management tools go beyond shortening links and offer lead generation and retargeting capabilities, enabling companies to capture leads and re-engage with potential customers who clicked on their links.
Link Management Made Easy
Your go to link management tool for CTAs, branded and bio links, QR Codes, tracking and retargeting.
Get Started for FREE!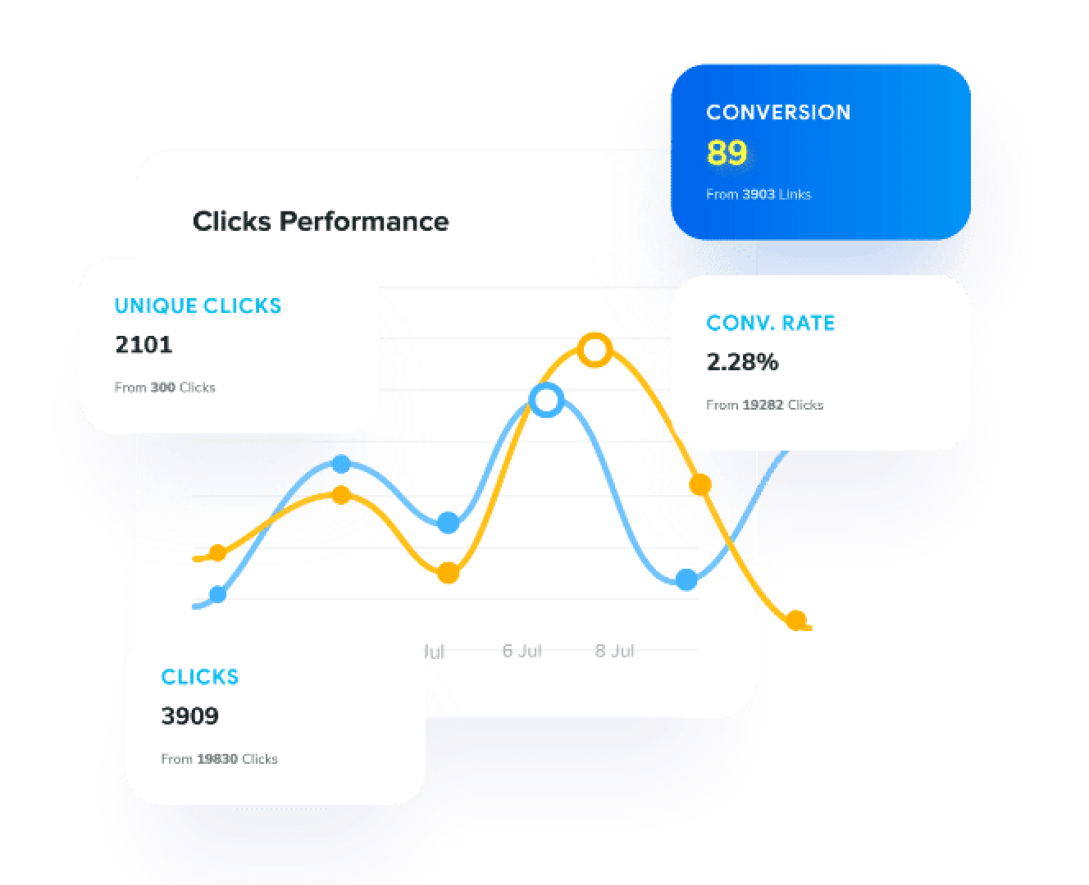 Brand and manage your links with Replug:
A powerful link management tool can be the difference between success and obscurity. Replug is not just another option; it's the best choice, and here's why:
Branded short links:
Replug's link shortener transforms lengthy URLs into concise, branded short links. Your audience will remember and trust these links, and you can even use your custom domain for that extra touch of professionalism.
Link analytics:
Replug provides in-depth link analytics, so you're never in the dark about your link performance. UTM tracking allows you to monitor metrics at your fingertips, enabling data-driven decisions.
Bio links:
Say goodbye to juggling multiple links. With Replug, you can consolidate all your branding needs into a single, sleek bio link. It's a one-stop landing page to engage your audience effectively.
Also read: How to Add Multiple Links to Instagram Bio Using Replug?
Retargeting pixel:
Lost sales don't have to stay lost. Replug's retargeting pixel enables you to re-engage potential customers across multiple networks, increasing your chances of conversion.
QR code:
Create dynamic marketing interactions with QR codes. They're versatile tools that can bridge the gap between the digital and physical worlds.
A/B testing:
Experiment with up to 10 variations of your URLs to find the winning formula. Replug's A/B testing feature helps you optimize your links for the best results.
Deep links:
Guide your audience through smooth in-app experiences with deep links. These links enable users to navigate seamlessly within mobile apps, enhancing the customer journey.
Link rotator:
Optimize user experiences by intelligently routing traffic based on user preferences. It's a powerful tool for keeping your audience engaged and interested.
SMS links:
Improve your SMS marketing efforts with bulk short links and insights provided by Replug. Enhance your messaging strategy and drive more conversions.
Call to action generator:
Simplify your calls to action (CTAs) to increase engagement and conversions. Replug makes it easy to create effective CTAs that drive results.
Branded Short Links
Create and track branded short links for your business for better conversions.
Brand Your Links Now!
Replug's white label solution: Your brand, your link management
For businesses, agencies, and professionals looking to maintain brand consistency and provide top-tier link management services, Replug's White Label Solution is the game-changer you've been waiting for. Here's why it's the ultimate choice:
In-house link management: Replug's White Label Solution allows you to have your very own, in-house link management tool. It's an extension of your brand, ensuring a seamless user experience for your clients.
Branded experience: Every interaction with your link management tool is a branded experience. Your clients see your branding, reinforcing your identity and building trust.
Client control: With your white-label solution, you maintain full control over your client's experience, ensuring that it aligns perfectly with your brand's values and message.
Streamlined workflow: Replug's white-label tool streamlines the link management process, saving you time and reducing the risk of errors. It's all about optimizing your workflow to be more efficient and productive.
Data insights: Comprehensive data insights are at your fingertips. Understand how your clients are using the tool and gain insights to guide your services.
Agency growth: As an agency, offering a white-label solution positions you as a full-service provider and strengthens your brand as a leader in your industry.
Suggested Read: The Ultimate Guide to Replug's White Label Software for Agencies
Final verdict:
Replug is not just a link management tool; it's a comprehensive solution that empowers your brand, streamlines your digital efforts, and positions you for success in a competitive online landscape.
Whether it's enhancing brand visibility with branded short links, providing a white-label solution for your agency, or offering a range of powerful features, Replug is the ultimate choice for those who aspire to stand out, make every click count, and unlock their brand's full potential in the digital world.
FAQs
What is branded link management?
Branded link management combines link shortening with customization using your branded domain, creating links that reinforce your brand's identity.
Can I track the performance of branded links with analytics?
Yes, our link management tool offers robust analytics, enabling you to monitor click-through rates, conversion rates, and other essential metrics for branded links.
Can branded link management be used by agencies for their clients?
Yes, agencies can benefit from white-label branded link management solutions like Replug to provide branded link management services to their clients.
What tools are available for effective link management?
Numerous tools and platforms are available, including Replug, which offers branded link management, analytics, custom domains, bio links and more.
Arslan Jadoon
Meet Arslan, a skilled website blog and content writer who combines creativity and expertise to deliver engaging and informative pieces that captivate audiences.