Below is a step by step guide to help you understand how Replug can shorten URLs in for entire RSS feed and use it for third-party platforms.
Step 1
Navigate to your replug dashboard and click on the RSS icon

Step 2
Click on Add RSS Feed button located on the top left corner. See below image for reference

Step 3
After step 2, a pop-up will appear on your screen. Select your campaign and in the second section enter the RSS feed URL that you want to shorten.
Replug check for content feed updates every 30 minutes. Click on the "Add Feed" button to generate the shortened URL.
You can now copy and add the RSS Feed URL to any third-party platform i.e. Contentstudio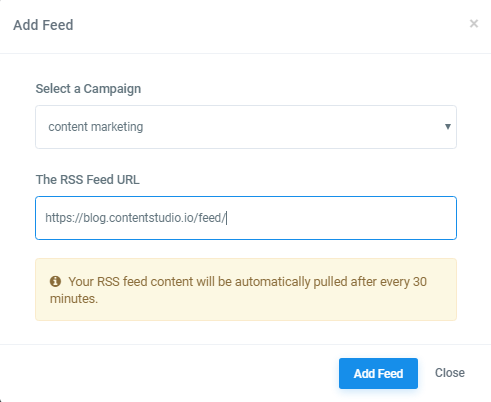 Step 4
Once the RSS Feed is created, you can perform the following actions.

Edit: You can update/change your RSS feed whenever you want.
Re-crawl: In order to re-crawl your entire RSS feed, click on the re-crawl button. It will be re-crawled instantly to fetch any new links that have been added for the RSS feed.
Preview: You can preview the list of posts from RSS feeds that are converted.
Remove: You can remove your RSS feed and create a new one or anything else.
Wasiq Naeem
Wasiq Naeem is a content and digital marketing veteran who is passionate about his writing. Extensive research and producing high-quality content is just another day at the office for him.