In our fast-paced digital world, managing information overload can be a daunting task. RSS (Really Simple Syndication) feeds have come to the rescue, allowing us to gather content from various sources into one convenient stream.
But wait, there's a hitch! Long, cumbersome URLs can put a damper on the sharing experience, especially on platforms with character limits. Luckily, there's a simple solution—automated URL shortening!
In this article, we'll explore how automated URL shortening can transform your RSS feed, making it easier than ever to share content. We'll break it down in a straightforward manner, no frills attached, so you can quickly grasp the benefits and implementation methods.
So, let's dive in and discover how to simplify URLs in your RSS feed, making sharing a piece of cake!
RSS Feed URL: What does it mean?
An RSS Feed URL, or simply an RSS URL, is the web address that points to an RSS feed. RSS (Really Simple Syndication) is a standardized format for delivering regularly updated content from a website or blog. An RSS feed contains a list of headlines, summaries, and sometimes full content of articles or blog posts. These feeds enable users to subscribe to their favorite websites and receive automatic updates whenever new content is published.
The RSS Feed URL serves as the unique identifier for a specific RSS feed. It is a direct link to the XML file that contains the structured data of the feed. This URL is typically provided by the website or blog that offers the RSS feed, allowing users to add the feed to their preferred RSS reader or aggregator. By subscribing to an RSS feed URL, users can stay updated with the latest content from their favorite websites without needing to visit each site individually.
Also read: What is RSS Feed and Why Should I Create One?
How to automatically shorten URLs in an RSS feed?
Here's how you can shorten RSS feed URLs automatically:
Step 1: Sign in to Replug or create an account for free.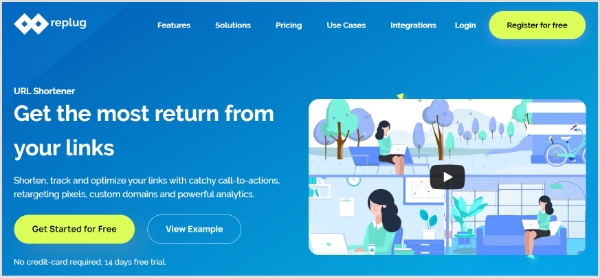 Step 2: Navigate to the Replug dashboard and click on "Manage," then select "RSS Automation."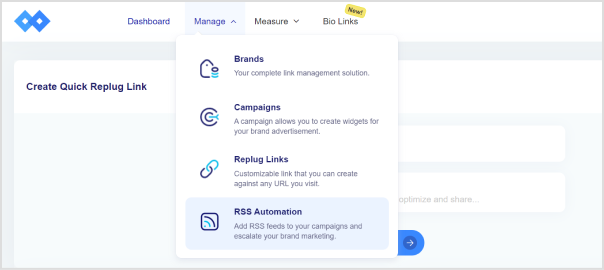 Also read: Unique URLs: What They Are and How to Use Them?
Step 3: Click the "Add RSS Feed" button in the top left corner on the next screen.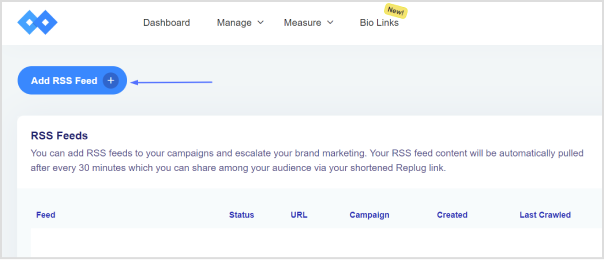 Step 4: A pop-up will appear; choose your campaign and enter the RSS feed URL. Click "Add." Replug check for content feed updates every 30 minutes.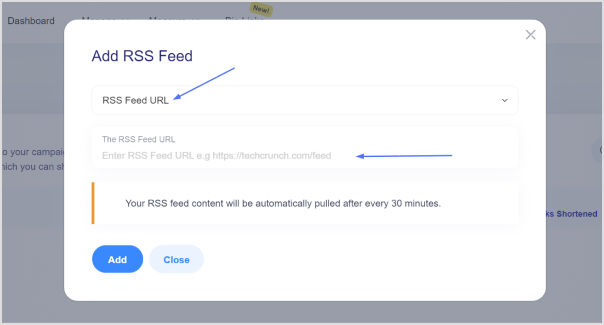 Note: If you're new to Replug, here's how you can create a new campaign in just a few seconds.
Step 5: You can now copy and add the RSS Feed URL to any third-party platform i.e. Contentstudio
Also read: How to Redirect a URL in WordPress – Ultimate Guide
You can perform the following actions with your created RSS feeds:
Edit: You can update/change your RSS feed whenever you want.
Re-crawl: In order to re-crawl your entire RSS feed, click on the re-crawl button. It will be re-crawled instantly to fetch any new links that have been added for the RSS feed.
Preview: You can preview the list of posts from RSS feeds that are converted.
Remove: You can remove your RSS feed and create a new one or anything else.
Branded Short Links
Create and track branded short links for your business for better conversions.
Brand Your Links Now!
Top RSS feeds platforms for podcasts:
The Apology Line Podcast
The Daily by The New York Times
The Bible in a Year Podcast
Crime Junkie Podcast
The Experiment Podcast
The Dan Bongino Show
Unraveled: Long Island Serial Killer
Morbid: A True Crime Podcast
Dateline NBC
The Lincoln Project
Top RSS feeds platforms for news:
CNN
New York Times
Huffington Post
Fox News
USA Today
LifeHacker
Reuters
Politico
Yahoo News
NPR
Los Angeles Times
Also read: How to Create Tiny URL: Step-by-Step Guide
FAQs
Are there any tools or services available for automating URL shortening in RSS feeds?
Yes, there are various tools and services available for automating URL shortening in RSS feeds. Replug, Bitly, and other similar platforms provide features specifically designed to shorten URLs in bulk or integrate directly into an RSS feed, making the process seamless and effortless.
Will automated URL shortening affect the functionality or integrity of my RSS feed?
No, automated URL shortening does not affect the functionality or integrity of your RSS feed. It simply replaces the original URLs with shortened versions while maintaining the structure and content of the feed intact. Users will still be able to access the original content by clicking on the shortened URLs.
Can I customize the shortened URLs generated for my RSS feed?
Yes, most URL-shortening tools and services offer customization options. You can often choose to have branded or custom domain URLs for your shortened links, allowing you to maintain consistent branding and create more memorable and recognizable links.
How can I track and analyze the performance of shortened URLs in my RSS feed?
Many URL shortening services provide analytics and tracking features. These allow you to monitor the performance of your shortened URLs in terms of clicks, engagement, and other relevant metrics. You can gain insights into the popularity and effectiveness of your shared content.
You may also like:
How to Fix the "Instagram Bio Links Not Working" Issue?
How to Create a Short Link With Ease: A Step-by-Step Guide
From Likes to Love: Comprehensive Social Media Engagement Guide
Wasiq Naeem
Wasiq Naeem is a content and digital marketing veteran who is passionate about his writing. Extensive research and producing high-quality content is just another day at the office for him.