Has anyone ever told you the secret to increasing social media engagement? I bet you've gone through hundreds of articles about social media success but haven't cracked the code yet. Hear me out as this article contains a secret sauce of dominating the social media space, and the good news is that anyone can do it.
Social media has significantly influenced the way we communicate, get inspiration, make buying decisions, and spend time.
One of the weird things about social media is that most of the starters want to rapidly grow on social media. When they hear the buzzword "social media," they tend to think of the number of followers and overlook the engagement factor.
It's a no brainer that celebs and influencers are warmly welcomed on a social media platform; all they need is to announce on a different social media platform or share it through a TV interview. Voila!
The number one reason why influencers and celebs rapidly grow on social media is the ample amount of engagement they get almost instantly.
When Jennifer Anniston joined Instagram, it took the internet by storm. Now the FRIENDS star has the world-record to her name for the fastest one million followers on Instagram.
Did Instagram know that this award-winning Hollywood actress is about to set up her Instagram account, and we need to bump it to the top? Of course, no.
It happened organically as Anniston is loved by millions of fans across the globe. The newspapers, magazines, blogs, and websites were publishing articles about her account, and it became a talk of the town.
When fans heard about her Instagram, they started searching for her official account and started following it. It didn't end here; they also started liking and commenting on the very first picture she posted, and it went viral.
You might think it happened because she was already a celebrity, but I believe it was all the attention that led to high engagement to her account that took it off.
Since you and I aren't famous Hollywood stars, so need to find ways to increase engagement on social media platforms and work our butt off to dominate social media.
Sit tight because I'm going to spill the beans here. I'll share a handful of techniques that help you increase engagement on social media platforms without spending a whole lot of money.
You'll notice that:
I won't be sharing any rocket science formulas to grow on social
My tips would include practical and actionable tactics
You won't have to spend a ton of money on social media to get followers
The strategies may look mundane, but they work if you stay persistent
So without any further ado, let's take a look.
Increase Your Social Media Engagement: Here are 6 Ways to do so
Let's dive deep into these social media engagement tactics:
Ask Questions
Social media engagement happens when followers get excited to respond to your post, and they'd only be excited about the stuff that's relevant to them or they know about.
Have you ever noticed that we stop scrolling the social media platform's feed when we see something relevant?
If you're passionate about dogs, you might not care about bicycle tires. However, if you stumble upon a video about dog training, you'd immediately play and try to pick the brain of an expert.
If you pay close attention, then you'd understand that it's the fundamental point of increasing social media engagement. Therefore, asking the right questions would unleash the social media attention that you're hoping for on social media.
I once asked about the video editing software my Facebook friends are using and the post got a ton of replies: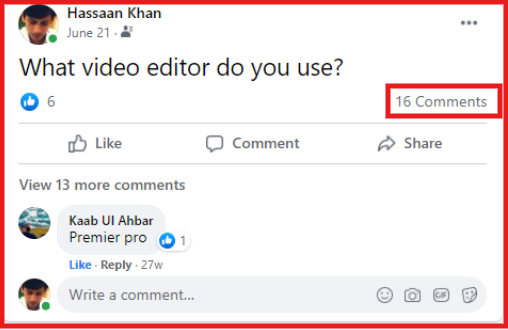 This kind of attention and engagement doesn't happen when I share a blog post link on Facebook. So it shows asking questions is an excellent strategy for starting a conversation on social media.
Am I only the one who thinks asking questions is good? To find the answer to that question, I went to Twitter and started scrolling through the timeline, and I found this tweet:

Rebekah Radice is a social media influencer, expert, and strategist. She also asked a question in her tweet. Look at the number of replies and likes on the tweet. It shows that asking questions is an ice breaker, especially if you're trying to improve engagement on social media.
Create Polls
Social media engagement is a bit more subjective to each user. A piece of content might attract PERSON A, but it might be irrelevant to PERSON B. Therefore, surveying the audience from time to time can help us understand our audience better.
I learned that polls are a great social media tool available on all mainstream social media platforms. What they do is that they motivate people to click and get engaged without being pushy. You must have seen a poll on almost all of the major social media platforms.
One of the reasons why creating polls on social media could increase engagement is that polls standout pretty easily. We're talking about an abundance of tweets or Facebook posts here, and when a poll shows up, it easily sifts through the noise and start attracting the audience.
I have multiple YouTube channels, and a lot of followers follow me across all channels. So I decided to survey one of my channels to help design my YouTube content strategy for 2021. Here's the screenshot of the poll I created in the community tab of my YouTube channel: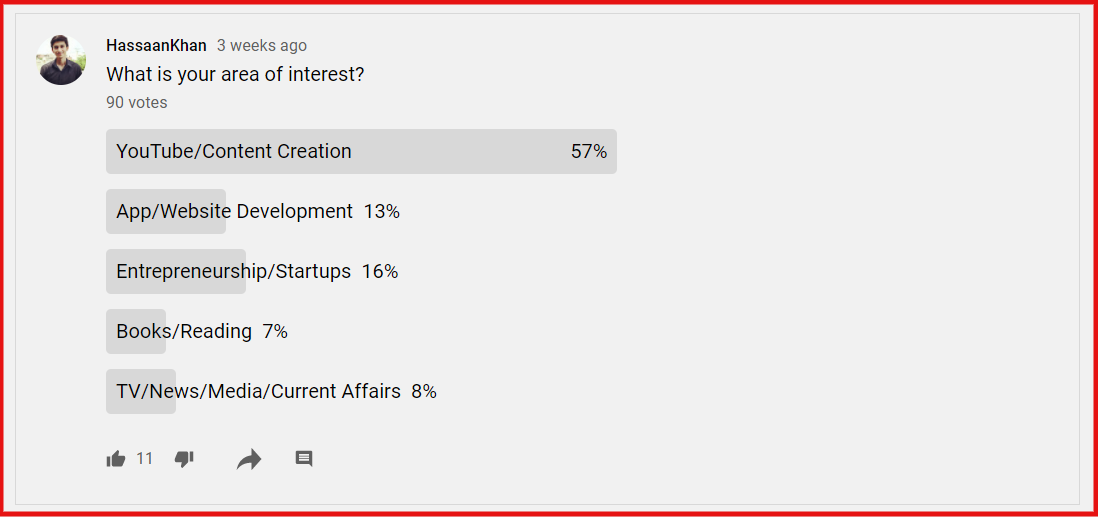 You can notice that the majority of the responders were interested in YouTube content creation. It got me thinking to double-down my efforts on creating YouTube-related content.
Diego Oquendo is an entrepreneur; I found his poll on LinkedIn while scrolling through the timeline: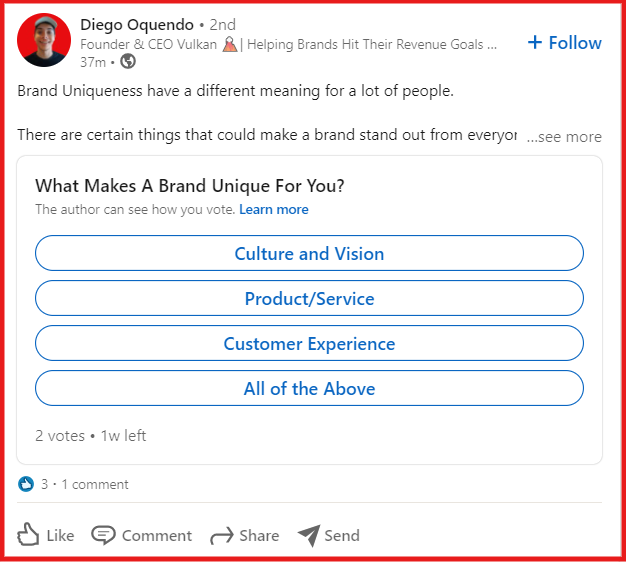 Here are three takeaways for creating polls on social media for increasing social media engagement:
Brainstorm a bit on the poll subject before moving forward with it so that you could come up with the most appropriate question to ask.
Provide the audience with multiple yet relevant options to choose from to get the best results. You should have at least three or more options in your poll.
III. Don't judge the poll results too quickly; give it a good week or two before you conclude.
Creating polls would showcase results slowly but surely. Don't chicken out if you don't see loads of responses on the poll immediately. Learn a lesson and come up with a better poll next time.
I learned that sharing blog posts or YouTube videos on Facebook, Twitter, and LinkedIn starts to look spammy at some point, and people are less likely to respond to the mundane content.
So creating a poll once in a while would be an excellent strategy to mix things up and increase the engagement on social media over time.
Repurpose Content
Content repurposing means taking a piece of content and transforming it into another type of content using the same information. It has become a popular content creation hack among digital marketers and bloggers as it's hard to consistently put out fresh content.
Therefore, repurposing allows us to put out content in some shape and form as well as it also helps us build a following on different social media platforms.
When brands and entrepreneurs hear about repurposing content, some of them don't follow it. Perhaps, it's because it doesn't get discussed as much as it should be.
Don't be afraid of content repurposing. Most people find creating original content difficult, and there might be many reasons why they have not been able to create content such as:
They don't know their strengths
They don't come up with great ideas
They don't understand their target audience
They are confused about the right niche
They get stuck between the content types such as text, video, and audio
I have been an admirer of content repurposing for a long time. Back in 2018, I posted a book review on my YouTube channel. Later on, I used the review video to create a blog post on the blog. This way, I was able to put out two pieces of content.
Take a look at the screenshot below: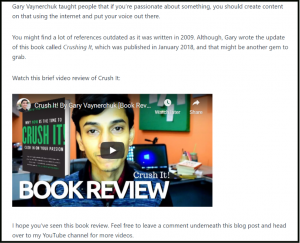 I took the embedded code of my YouTube video, wrote a brief blog post, put the embedded code into the blog post, and voila.
The story doesn't end here; I have repurposed blog posts into infographics as well.
Check out this infographic, which was designed for my Facebook profile: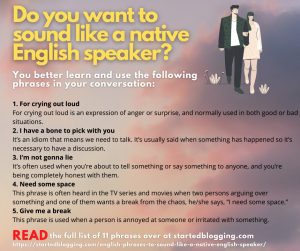 You can see the blog post URL on the footer of the image. Not only am I putting out a new infographic on Facebook, but I'm also directing the audience to the blog.
The point is that content repurposing could be very useful when you're trying to increase social media engagement.
Mention an Influencer
Most of us follow influencers in our industry or niche, which is necessary to keep up with the latest trends and techniques. However, we don't know how to leverage a connection with the influencer.
First things first, you should know you may have to invest your time, energy, and money into building a connection with the influencers.
It doesn't mean you would have to spend thousands of dollars to invite an influencer for a personal one-on-one session or something. What I mean is that buying a couple of $15 books or attending a few seminars or else sharing their content continuously would do the job if you know how to do it. And, I'm going to teach you how to do it.
The easiest way to get noticed by an influencer is by understanding his/her core values and spreading the word about them. If you're a blogger and you agree with an influencer on some common agendas, you can quote the influencer in your articles. If you're a YouTuber, you can give a shoutout to an influencer's channel or book.
However, there is a caveat, if you're doing it just to get attention, you might not be able to pull this off. On the other hand, if you genuinely believe in what you're saying, you won't stop highlighting the influencer in your content, and eventually, you would get noticed.
There is no secret recipe to get the attention of the influencers, but if you keep the following key elements of influencer engagement in mind, you can win their attention:
You must thoroughly study the influencer's content before you speak about it
You won't get a response if you're being negative about the influencer
If you're just doing it for the attention, it may seem fake and unauthentic and won't work
The persistence often pays off in winning the attention of the influencers
Here's an example: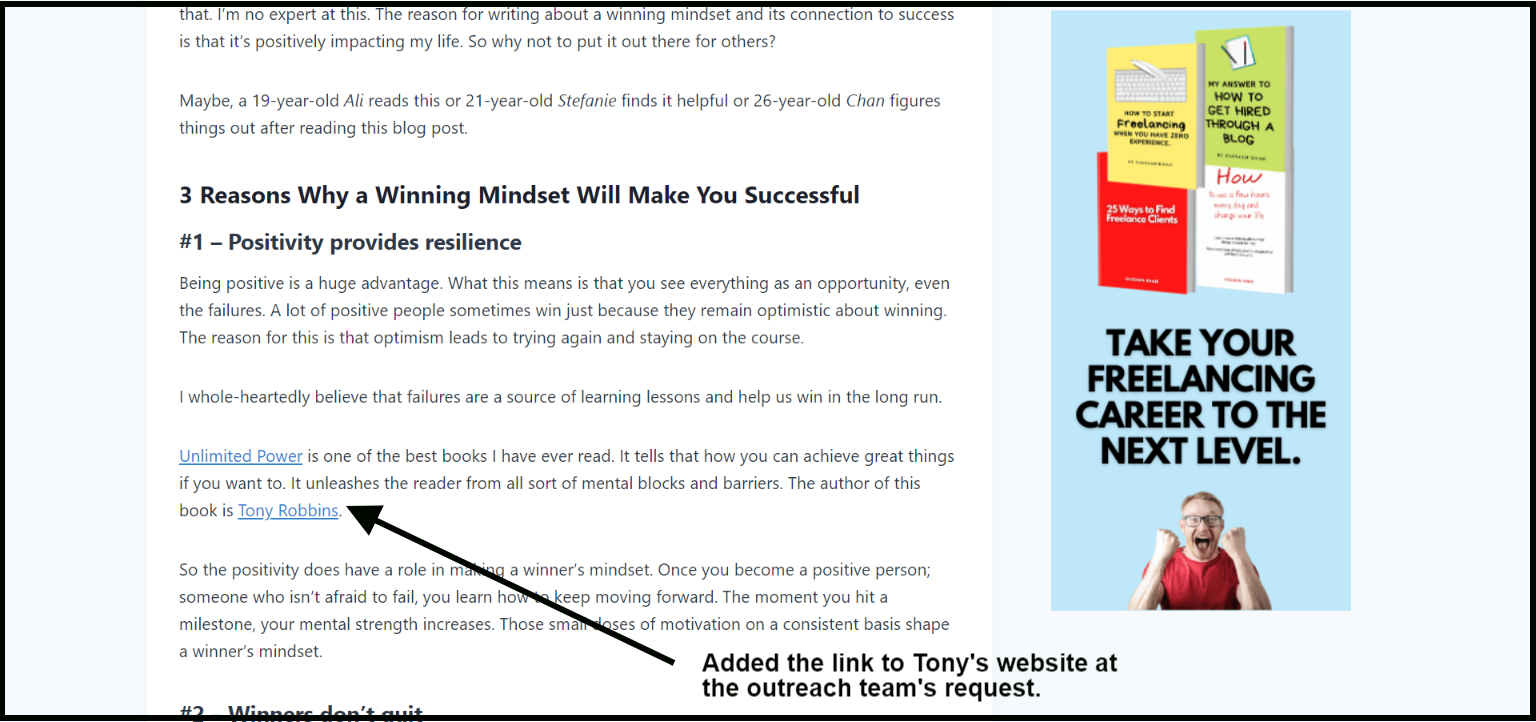 I was once reached out by the outreach team of Tony Robbins and they referred to the blog post in which I mentioned Tony Robbins' book Unlimited Power. It was one of the best books I've ever read. So I went on to praise the book, but I didn't pay attention to linking out to the Tony Robbins' website.
Therefore, his team reached out and thanked me for talking about the book, and requested me to add a link to that blog post. And, I did it at their request.
The takeaway from the example is that I didn't mention Tony's book to get an email from the outreach team, but rather, I wanted to solidify my message by adding an authentic source.
Simply put, if you want to increase your social media engagement, then engaging the influencers is a great way to go about it. What you need to do is to take the following steps:
Choose a handful of influencers that you agree with
Follow them everywhere on social media and blogging platforms
Show up in their comment sections on the blog, Facebook, YouTube, and pretty much everywhere
Link out to them in your blog posts or talk about them in your YouTube videos
Mention or tag them when you share your content in which they're mentioned
Share their content without any expectations whatsoever
What would happen eventually is that when you keep doing this for a while and don't ask for a return favor, your name or face or brand would start to get familiar with them.
The next thing that might happen is that out of hundreds of comments, they might reply to your comment along with a couple more. At some point, they might share your content in which they're mentioned. Once this starts to happen, you can expect a lot more attention and engagement as compared to the past.
Even if you don't see a major change in the vanity metrics, you still got yourself a story to talk about and engage your existing audience.
Folks, mentioning an influencer you admire or follow could go a long way if you're patient and authentic.
Try a URL Shortener Tool
Some of you may have used a URL shortener tool for trimming your long URLs for social media sharing. And here we are discussing this in a blog post about increasing social media engagement. You would think what good a URL shortener tool would do for social media engagement besides making the URLs look short and clean.
No wonder you'd be surprised, but hear me out first. In my defense, I'd say that it's partly true that a URL shortener is mainly used for trimming down the URLs to look short and beautiful. However, I'm not going to discuss an ordinary URL shortener tool; you'd be baffled to hear what this tool can do for you.
Replug is my go-to URL shortening tool that doesn't just shorten the URLs, but instead, it also brings the visitor back to your website or social media channel.
Therefore, when you use this tool for shortening a third-party article for sharing on social media, it creates a funnel to bring those visitors back to your site.
Here's how it works: when you create a short friendly URL of your friend's article and share it on social media, it generates a tiny pop-up snippet of your site or social channel for the visitors to click-through and comes back to your platform.
So you aren't just sharing others' content, but you're also infusing your website URL along with others' content without being pushy.
Benefits of Replug
Custom Branded URL
Replug allows you to integrate a custom branded URL to your account, which enables you to use your short URLs for your social media campaign. For instance, youtu.be is a custom branded URL of YouTube.com.
Retargeting Clickers
This URL shortener doesn't just trim your URLs for social media sharing, but it also helps in social media marketing. Retargeting the audience that clicked on the links is a huge plus of Replug. Capitalize on this opportunity to engage the audience and bring them to your platform through retargeting.
Call-to-Action Button
One of the best features of the Replug tool is that it provides users with an opportunity to add a CTA button on the pages that are being shared. What happens is that when a visitor clicks on the short URL you generated and shared, the visitor sees a clickable popup that displays the Replug user's brief information, which could eventually drive visitors to the user's website.
Performance Tracking
Measuring the performance of any marketing campaign is essential to moving forward in the right direction. Replug has a performance tracking feature that gives users insights into the links' clickability to keep track of their social media engagement.
Chrome Extension
Replug has a Chrome extension that makes it easier for the users to add shareable links to the Replug account, and it makes social media management a lot faster.
All-in-One Bio Link
One of the coolest things about Replug is that it could replace your Instagram bio link with an all-in-one bio link. You can create a page that has all of your social media links and generate the short URL for the page to add to your Instagram bio. It could massively increase your social media engagement on all major platforms you use.
I once wanted to try a different URL shortener but didn't subscribe to it for some reason. When I found out about Replug, I instantly signed up and started testing it.
I can say with confidence that the features Replug offers can increase social media engagement over time.
Use Video Content
I have said this a million times and I'm sure you have heard over and over again that video is vital to get attention on social media. Some of you might be paying attention to YouTube and Facebook videos. Let me burst the bubble; it's not enough.
If you want to increase social media engagement through videos, you have to milk every social media platform that supports video content. Most users underestimate LinkedIn, Pinterest, and Instagram for video content. What if I told you that must upload videos to these platforms to get more engagement?
The chances are, some of you haven't thought about putting out videos on these platforms. Go to your LinkedIn timeline and start scrolling through; you'd notice that a video would show up after every 5 to 8 posts.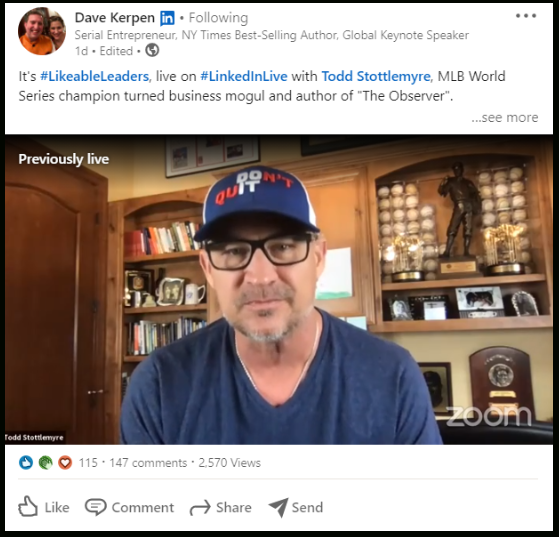 I have been noticing a video trend on Pinterest for quite some time. Now I'm planning on focusing on vertical videos for Pinterest too. The best part is that you don't have to put a lot of effort into creating a Pinterest video; a lot of users use the same strategy of pin designing into creating video pins for Pinterest.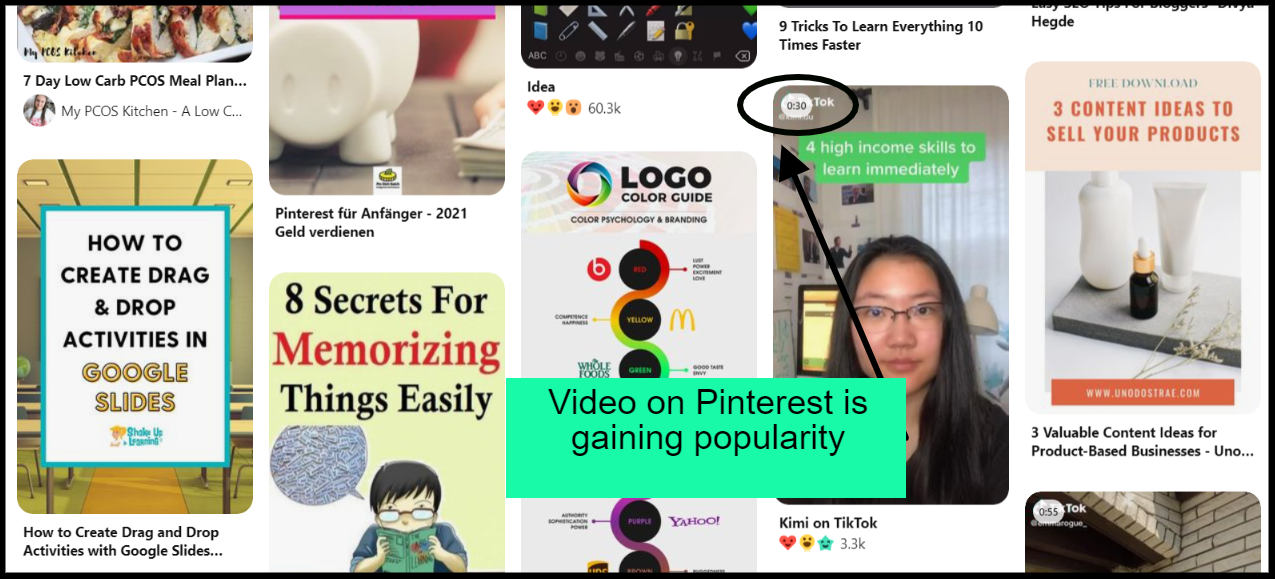 When it comes to videos, Instagram isn't far behind. Go to your explore page, and I'm sure you'd find videos along with picture posts.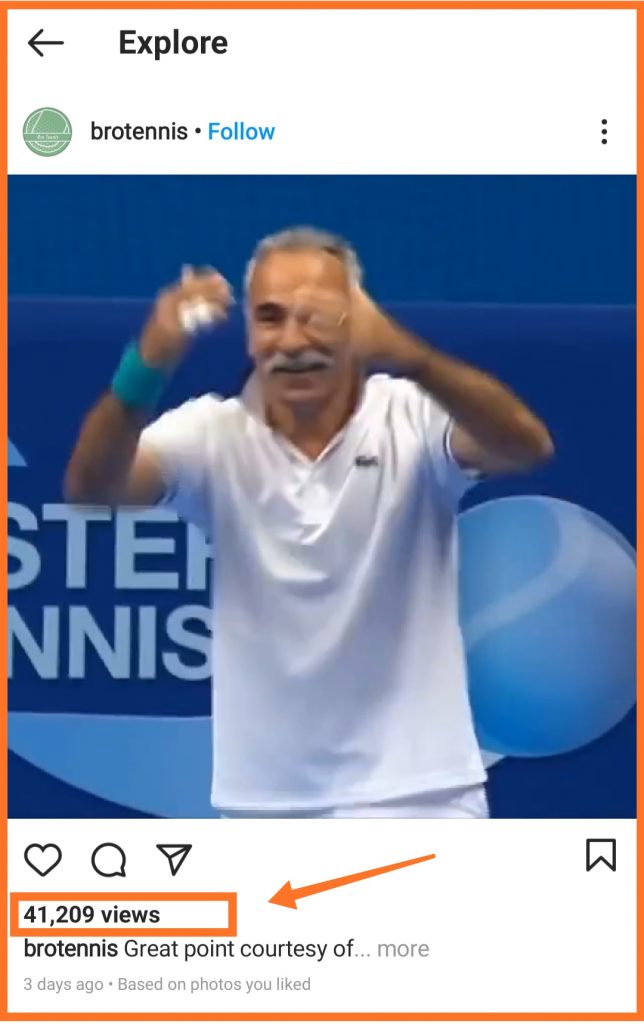 Most people are afraid of facing the camera and putting themselves out there. If you have been feeling stuck at this phase, then just go ahead and do it anyway. It may look scary, but that's the only way to move forward. You should know that everyone makes a few bad videos before they start making better videos.
One of the perks of putting out video content is that it gets easier for some people to consume video as compared to articles. It won't be easy, but the upside of putting out videos is so massive that you can't imagine. Once you start to reap the benefits of video creation, it will easily overshadow the fear of putting yourself out there.
We want to increase social media engagement, and videos can be a very digestible form of content for the audience unless you don't know much about the topic or put it out in front of the wrong audience.
How Would You Increase Social Media Engagement?
It's easier said than done. Anyway, I tried my best to share strategies that have helped me increase social media engagement across multiple social media platforms.
Get to know your target audience and come up with compelling content to offer to the audience. Once you crack the code of creating enticing content and putting it in front of the right audience, you'll be baffled to see the outcome.
The tactics I shared with you are tried-and-tested as I have been blogging since 2008 and learning something new ever since.
Had I known some of these secrets earlier, I would have made a fortune.
Anyway, Robins Sharma put it this way, "there are no mistakes in life, only lessons."
It all comes down to this question:
How would you increase social media engagement?
Let's talk in the comments section.
Author Bio:  Hassaan is a blogger and freelance writer. He has published articles on SEMrush, ThriveGlobal, BlogPress, FreelancerMap, and many other popular publications. He writes about freelancing techniques, tips, and career growth. Subscribe to his blog.
Hassaan Khan
Hassaan Khan is a freelance writer for SAAS companies, e-commerce stores, and niche websites. He has contributed to SEMrush, ThriveGlobal, BloggingCage, AllBloggingTips, and several other publications. He builds niche websites, publishes e-books, and helps website investors with his done-for-you niche site-building service.