Content marketing is one of the crucial aspects of digital marketing. It is all about how you communicate with your audience and present your content to build up the brand's reputation.
If the audience finds your content relatable, informative, and valuable then they will surely share your content.
We have devised an 8 tips that will make your content soar and roar in the digital world. Take a look at the below infographics.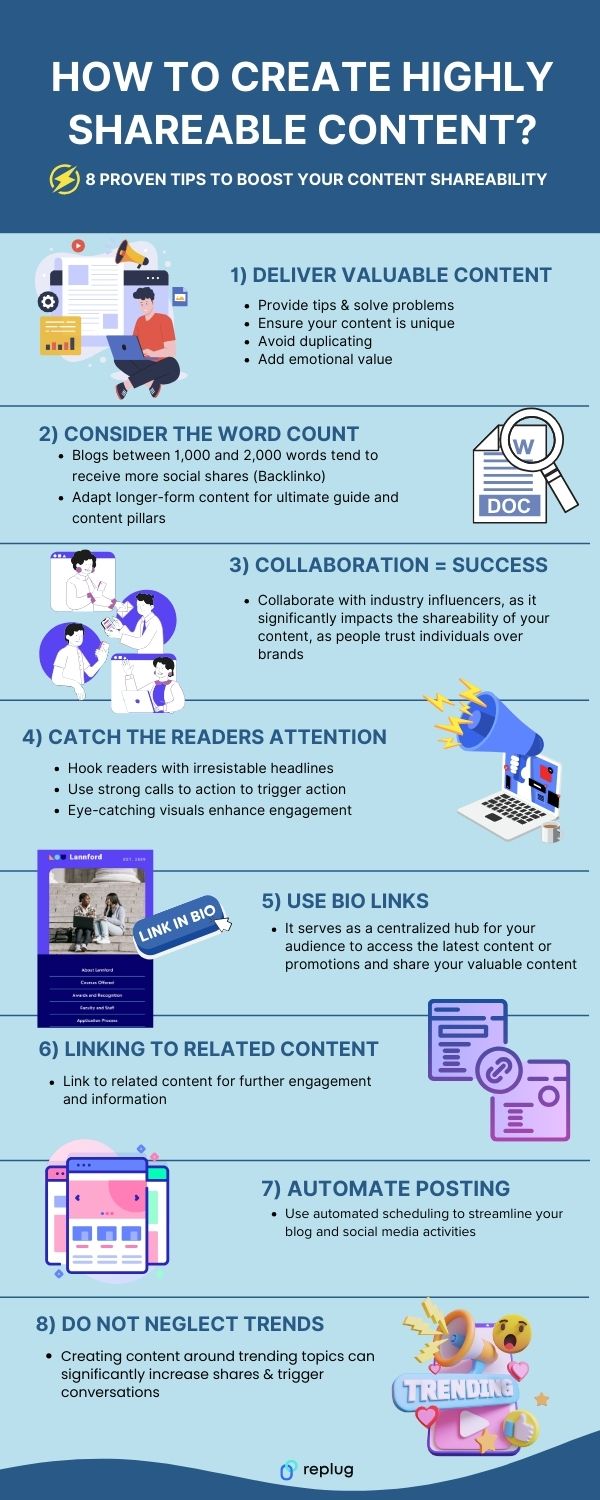 What is shareable content?
Shareable content refers to digital material, such as articles, videos, images, or infographics, that is designed and crafted in a way that encourages and facilitates easy sharing across various online platforms and social media networks. Shareable content is created with the intention of being shared by users, increasing its visibility and reach on the internet.
Related: 9 Key Steps for Writing Engaging Content
What is the purpose of sharing content?
The purpose of sharing content is to share valuable information and entertain others. Posting shareable content increases engagement with your audience.
What makes a content shareable?
| Sr. | Creating Shareable Content |
| --- | --- |
| 1. | Make your content special by bringing something unique to the table, i.e. statistical figures or tips. |
| 2. | Evoke emotions through story telling and discussing the pain points of your target audience. |
| 3. | Make your content digestible. Consider the word count strategically, depending upon the topic you select, you don't want to deliver less nor do you want to overwhelm your audience. |
| 4. | With the attention spans getting lower and lower. So, the headlines, CTAs and visuals are key drivers to hook attention. |
| 5. | Linking your content to other content pieces can bring more eyes to your content. Create evergreen content and repurposing it for different platforms is one of the smart ways to increase content shareability. |
| 6. | Bio links can give you a 360 degree marketing approach to showcase your top performing content. Personalize your bio web page and promote your content on all platforms using a single bio link. |
| 7. | Collaborating with influencers that carry a respectable following can get more eyes on your brand. |
| 8. | When it comes to content, keeping up with the trends is important for any industry to deliver value. Stay updated with the latest trends and developments in the industry, such as trending news, meme marketing or any other information can lead to more likes and share |
| 9. | Last but not the least. Using tools like social media schedulers helps maximize the reach of your content, encouraging more shares across various online platforms, ultimately boosting visibility and engagement. |
Related: 9 Hottest Content Marketing Platforms to Look For in 2024
Benefits of creating shareable content?
Below is the list of the benefits of shareable content:
| Sr. | Benefits of Shareable Content |
| --- | --- |
| 1. | Increased Reach |
| 2. | Enhanced Brand Awareness |
| 3. | Improved Engagement |
| 4. | Higher Website Traffic |
| 5. | Improved SEO |
| 6. | Cost-Effective Marketing |
| 7. | Viral Potential |
| 8. | Trust and Credibility |
| 9. | Valuable User Insights |
| 10. | Lead Generation |
You may also like:
Mustafa Niazi
Mustafa Niazi is a blogging addict, a tech fanatic, and a SEO specialist.