With the growth of SNS (social networking services), the number of businesses trying to promote themselves on such platforms is also growing. Facebook is the largest social media platform, with 2.94 billion monthly active users. It's an ocean of buyers!
With many businesses moving online, it's challenging to stand out unless you use Facebook SEO best practices.
Search engine optimization also works for social media, and you just have to know what to do to achieve the needed results. This may sound confusing initially, but we'll guide you through the topic, covering the basics and effective practices for optimizing your Facebook page.
What is Facebook SEO?
Let's start with the SEO definition. SEO (Search engine optimization) is increasing incoming traffic and quality through keyword use, link building, user experience improvements, etc. Such optimization is all about improving your organic online visibility.
Facebook SEO is a strategy of optimization for your FB page. In this scenario, your page is similar to a website, and you build a plan to increase its visibility, making more people visit it and find out about your business or persona. The practices work both for FB's internal search and search engines.
Top ways to improve SEO for Facebook in 2022
So, which practices apply to Facebook SEO? How to make your page more visible organically with no investment in paid ads? Here are five elements of your future strategy that will work in 2022.
#1: Keywords matter for Facebook SEO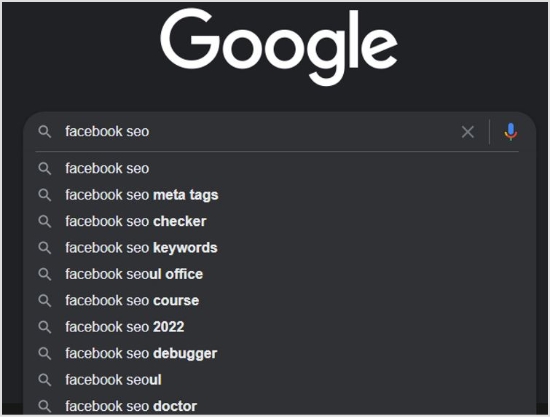 Using proper keywords increases your chances of ranking on the search results page. So, the first thing to do when optimizing a Facebook page is keyword research. The queries you eventually use must describe your business perfectly and be specific.
To get an idea of what you need, you can rely on good old Google Search.
Just start the phrase, and you'll see some of the most relevant queries at the moment. 
This approach is used only to get a general idea of what you need. Of course, you also need a more sophisticated practice involving advanced SEO software.
One such tool is the SE Ranking keyword builder, which will help you find the most relevant keywords and improve your Facebook SEO with them. On an intuitive dashboard, you'll see the suggestions for the seed query you've researched, low-volume options, and the data on them. SE Ranking has a vast worldwide database and easy-to-use SEO tools suitable for beginners.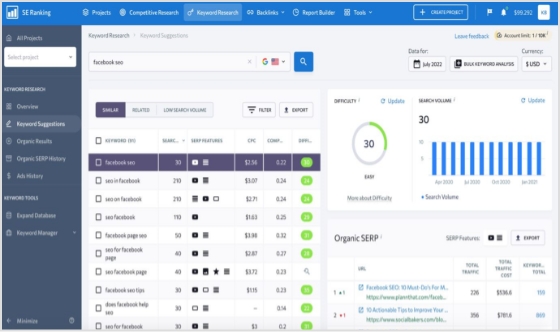 As you compile an excellent list of relevant keywords, make sure you:
Don't simply stuff your page with keywords. This doesn't look good or build trust at first sight.

Use the keywords wisely in all of the following sections on the page:

Headline

About

Description

Photo captions

Notes

Updates, etc.
It's better to use 1-2 keywords in a post naturally than to overcrowd a caption with similar words that don't make sense. 
How do keywords help SEO for Facebook? 
The Facebook search algorithm will match your page and its content with the queries people use when surfing search engines or Facebook, which will draw more organic traffic.
#2: Put essential info in your Facebook bio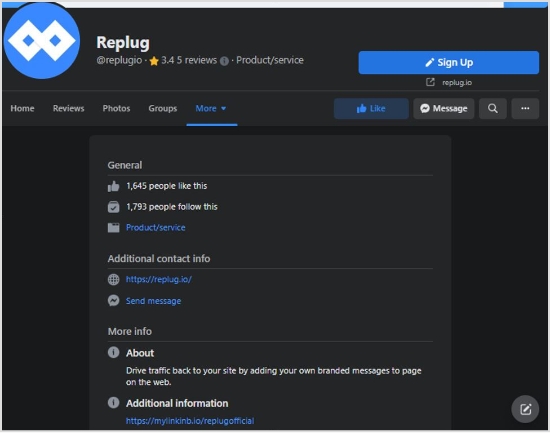 Your bio provides essential information about your business to visitors. It contains everything they need to know to decide if they are simply passers-by or if your company is just what they've been looking for.
To appeal to the target audience, add the following up-to-date information:
NAP (name, address, phone number)

Business hours

Website, etc.
Don't leave the address of your headquarters on the page, as this will help you be considered reliable by Google.
A pro tip: Using a URL shortener like for your website link will help track how well your Facebook page performs regarding website clicks and conversions. All the data about your audience that you can track is valuable, given you do it ethically. So, let's make it another essential element of your Facebook bio.
How does a good bio help SEO for Facebook?
You should draw people to your page and keep them there. Having clear NAP (name, address & phone) and other essential data right in the "about section" will make it easier to navigate your page and understand what your company is about.
Related: Create a stronger marketing impact through social sharing
#3: Use custom tabs to stand out

Customize the tabs to show visitors the best information and content representing your brand. Make it easier to navigate your page by adding tabs such as:
Posts

Videos

Photos

Reviews

Community

Podcasts, etc.
Prioritize them and update them regularly for informational and entertainment reasons.
Also, don't forget to remove the tabs you don't need. First of all, they create clutter. Besides, visiting a page and seeing some empty tabs is not very pleasing.
Why custom tabs help SEO for Facebook?
Retaining visitors is important, easy navigation can be used for a seamless user experience, making people stay on your page, get familiar with your brand, and choose it over the competitors.
Related: How to build a Facebook community for SAAS business?
#4: Use AI-powered Facebook Messenger chat-bots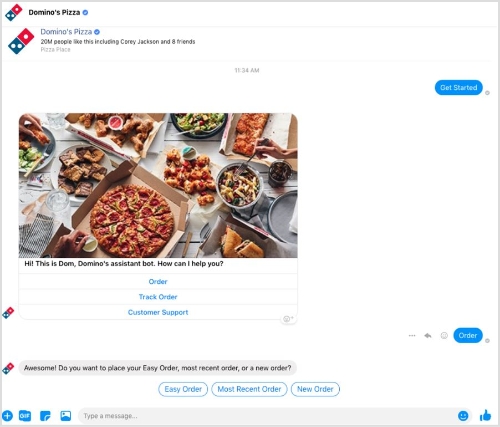 Aside from Facebook SEO keywords and a properly filled bio, another approach will contribute to user experience and draw customers to your business. AI-powered chatbots can be embedded into your FB Messenger and provide suggestions, answer questions, and guide users to your website around the clock.
There are many benefits of using AI for your SE :
Engagement rate improvement

: Chatbots may spark curiosity and provide valuable info 24/7

Lower agent overload:

Basic questions can be answered by the algorithm, leaving more complicated conversations to humans.

CX (customer experience) automation:

O

ne of the best modern approaches for any business
How AI powered chat-bots help SEO for Facebook? 
AI provides time-saving and revenue-boosting opportunities with data gathering, processing, and UX contributions. A seamless experience means more interest in your business, traffic, and sales.
#5: Backlinks are also important for your Facebook page
The off-page section of your SEO strategy involves link building which can help you get more referral traffic – the people visiting your page from another Internet page other than the search engine.
Backlink quality is of the utmost importance here. The websites referring to you should have a high Domain Authority and be relevant to your niche. Such links show Google that other people in the industry vouch for you, which means you're worth a higher ranking.
Build links and draw traffic to both your website and Facebook Page:
For the website

: Post links to your blog posts and other important pages to your Facebook posts. For example, if you're writing about the insights your company gained from the last case, add a link to an expanded post with stats on your website.

For Facebook:

Write guest posts for relevant websites in your niche and ask them to add a link to your FB page in the Author bio section.
How backlinking helps SEO for Facebook? 
High-quality backlinks establish and improve your authority and credibility. This approach works not only on your target audience but also on search engine algorithms.
#6: Create a vanity URL for your Facebook Page
A vanity URL is a customized URL you can create for your Facebook page to make it more recognizable and easier to find and remember. The default URL is usually a series of numbers, which doesn't look that appealing to Internet users.
Make your link:
Concise

Descriptive

Include keywords
A long URL won't look very reliable. facebook.com/JohnSmithBusinessCopyWriter10YearsofExperience doesn't look like a URL we'll remember. But facebook.com/JSmithCopywriter looks better.
Why Should You Use Link Shorteners for Social Posts?
There are several reasons you should use link shorteners in your social posts on Facebook and other social media:
They don't look as intimidating as large links with lots of letters and numbers, which means more people are likely to click on them.

They don't take up as much space, which means you'll have more space to fill with the actual post rather than an endless link.

They make the reading experience smoother.

They may contain a UTM (Urchin Tracking Module) that will allow you to track clicks, see what campaigns work best, where people find your links, etc.
Why does this help SEO on Facebook? 
It helps because a short, descriptive URL is easier to remember and boosts brand awareness.
Related: How to Disguise a Link Using a URL Shortener?
#7: Add a CTA button to your page
A CTA button can do multiple things:
Guides visitors to a landing page

Let's them see your website

Let's them see your offer page

Let them subscribe to your newsletter
Besides, you can even create a Call-to-Action ad that will promote the button and help you reach a larger audience. Make sure your CTA phrase is short, yet smart, and appeals to people's problems and your solutions. Create a sense of urgency, but don't be too aggressive with your claims.
How do CTAs help SEO on Facebook? 
CTAs guide people through the sales funnel, making them take the focus action.
Related: Call To Action For Social Media : 15 Best Examples
#8: Find the best time to post
People tend to go online most actively at a specific time each day. For example, some like to relax during their lunch break and go offline on weekends, while others like to do the opposite. But what about your target audience?
Analyze the activity on your page and find out when your readers are the most active. Then you'll know when it's time to post new content that appears in visitors' feeds and grabs their attention. You can also analyze trends and try posting at the best considered times.
According to ContentStudio's study, Thursday is the best day to get most engagement on Facebook. Whereas, Tuesday, Wednesday and Fridays are also good days to post.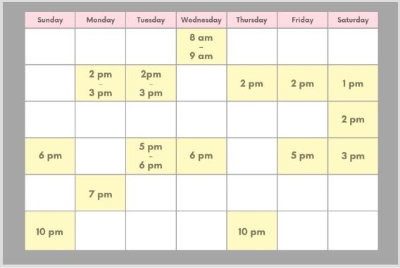 Best times to post on Facebook are listed below:
Best time to post on Facebook on Tuesday: 2 PM – 3 PM, and 5 PM – 6 PM  EST
Best time to post on Facebook on Wednesday: 8 AM – 9 AM, and 6 PM EST
Best time to post on Facebook on Thursday: 2 PM, and 10 PM EST
Best time to post on Facebook on Friday: 2 PM, and 5 PM EST
How does posting on the best time help SEO on Facebook? 
If many people see your post, many of them will read it. A portion of your audience may repost, subscribe, or participate in your activity, which will increase social media engagement.
Related: Facebook scheduling made simple
#9: Claim unofficial pages
When you run targeted ads and develop a FB presence, Facebook creates unofficial pages as placeholders for your business. This happens if you don't already have such a page.
Some people also unintentionally create new unofficial business pages for companies by including the wrong location, etc. You have to claim those pages and manage them to your liking. The wrong ones should be deleted because who needs the wrong location for a restaurant.
As you have to manage the main Facebook Page properly to build a presence and ensure that all the other pages, even those you still don't know about, are a hoax or unintentional mistake.
Why does claiming unofficial pages help SEO on Facebook? 
You have control over the messaging your Facebook page has. Plus, you can monitor the wrong pages and eliminate them, guiding people to the only official source.
FAQs
Here, you'll find answers to the most common questions people ask about Facebook SEO.
How do I boost my Facebook page?
You can use Facebook Ads by choosing a goal, creating a target audience, setting a budget, uploading visuals, and further adjusting your new campaign to make sure it reaches the right people at the right time.
You can also post at a certain time on your page, create brand awareness by claiming all unofficial pages, and create a great vanity URL for the official one. Getting backlinks to your page and using keywords in your posts will also help you increase organic reach.
Related: 10 must try Facebook ad retargeting strategies to boost conversion
Do Facebook ads improve SEO?
Yes, they do. Through advertisements and retargeting ads, you generate more leads and convert social media traffic, which improves SEO indicators.
How does Facebook SEO work?
By choosing the right keywords and adding them strategically to your publications, video and photo captions, name of the page, etc., you can improve your ranking within Facebook's internal search engine. As a result, you get more organic traffic to your page and increase the number of leads and eventual conversion.
Do Facebook posts count as backlinks?
Technically, each social media is a website. And each link posted on a different website that leads to your pages is considered a backlink. So, yes, if your link is mentioned in a Facebook post, you can consider it a backlink.
Do social media pages count as backlinks?
Your social media pages do count as backlinks because any link leading to your source that is located on another website is a backlink.
Summary
Facebook SEO is worth it. The best practices will help you rank higher, draw more traffic, lock in leads, and garner trust. Loyal customers are your advocates and won't mind your marketing.
But first, you need to cater to your target audience to get them to become your clients, which search engine optimization can help you with at little to no cost. It:
Builds authority and reputation

Helps you reach out to your audience through many channels

Helps users find out about your business and what it offers

Improves user experience

Improves content quality

Draws people to your Facebook page and website

Improves 

conversions
Use SEO to build a community around your brand. It will provide not only revenue, but also reviews, user-generated content, and feedback on your products and services.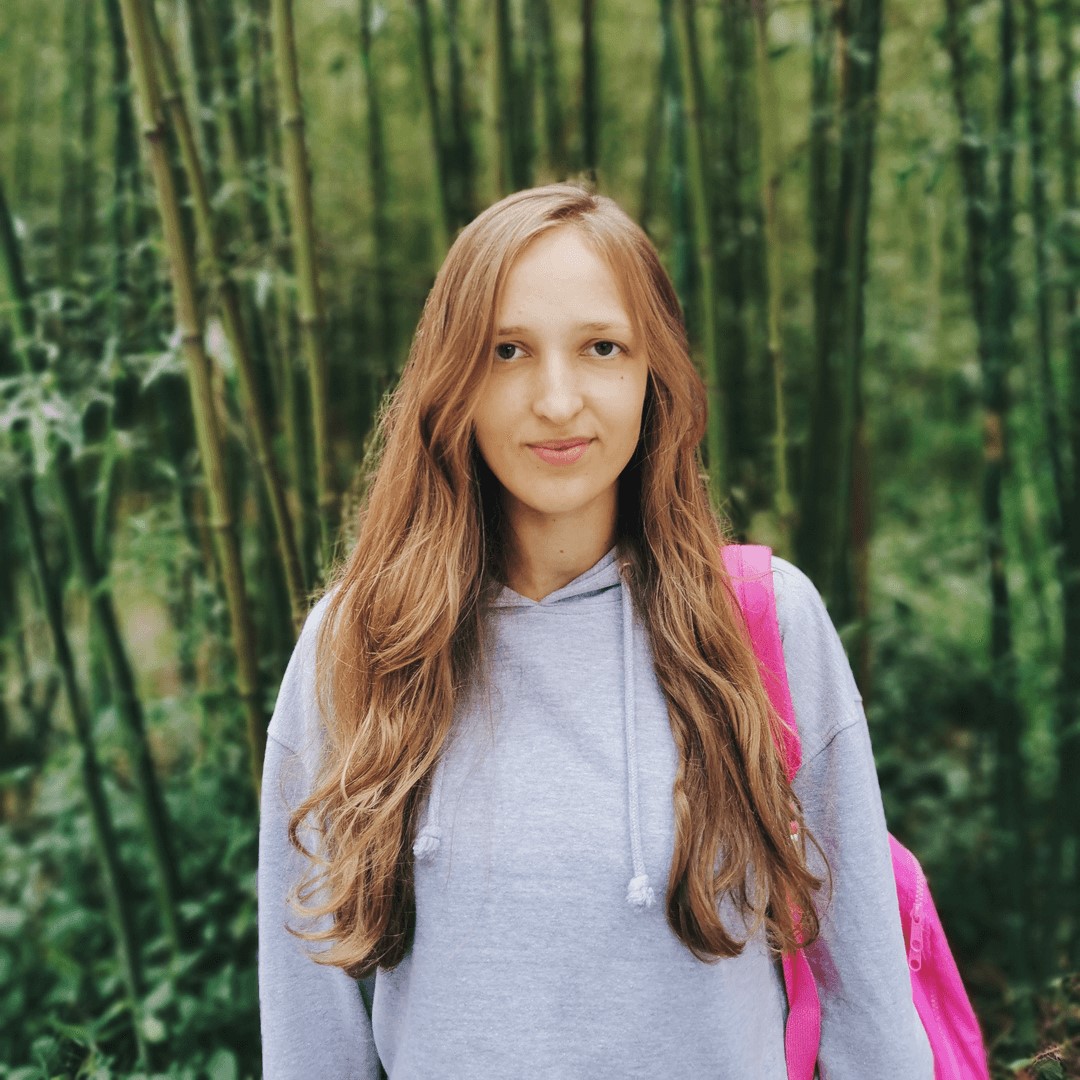 Author bio: Alina Tytarenko is an Outreach Manager at SE Ranking and has worked in the SEO sphere for four years. She likes to share her experience in marketing techniques, link building, and social media marketing. Alina enjoys playing guitar and shopping online in her spare time.
Mustafa Niazi
Mustafa Niazi is a blogging addict, a tech fanatic, and a SEO executive.