Rebrandly has been a popular choice for many.
But at the same time, it's expensive and offers fewer features and other link-shortening tools.
If you're facing the same problem and seeking alternatives to Rebrandly, you're in the right place.
This article will explore the best alternatives to help you level up your branding game and enhance your online reach.
Best Tools
Key – Feature
Agency Plan
Limitations
Replug
White-Label Feature
Complete Link Management Solution
$79 /mo
No Freemium
Bitly
Free URL Shortener
Branded QR Codes
$199 /mo
No Retargeting
TinyURL
URL Shortener
Campaign Tracking
$129/mo
Low value for money
No additional features
BL. INK
Branded Short Links
QR Codes
$599/mo
Expensive
Limited Features
Linkly
Link Tracking & Retargeting
$79/mo
No Bio Links
Cutt.ly
Link Tracking
$99 /mo
No Bio Links
No CTA
Short.io
Branded Link Shortener
Link Tracking & Management
$149 /mo
No Bio links
No CTA
Sniply
Call to Actions
$59 /mo
Limited Features
Shorby
Link Tracking & Analytics
$99 /mo
Limited Features
What is Rebrandly?
Rebrandly is a user-friendly tool for creating custom-branded short links, shorter and more visually appealing versions of long URLs.
It's commonly used in digital marketing to share links on social media and email campaigns.
Moreover, Rebrandly also offers detailed link tracking and analytics, helping users understand how their links are performing and where their audience is coming from.
Top alternatives of Rebrandly:
Why Replug: Our top choice as the best Rebrandly alternative is Replug. This tool offers a comprehensive link management suite with link shortening, tracking, and retargeting features.
Also, Replug stands out for features like white-label, A/B testing, deep linking and analytics. Overall, it's a powerful tool for marketing campaigns.
Explore Replug's features in-depth
Pros:
Complete link management suite
A/B testing for optimizing links
Link retargeting
Custom branded domains
Cons:
Currently, no freemium plan is available.
Why Bitly: Bitly is a household name in link shortening, known for its simplicity and analytics. It's great for tracking link performance and enhancing user engagement.
Pros:
Simplicity and user-friendly interface
Powerful link tracking and analytics
Easy-to-use browser extension
Cons:
Limited features in the free version
Advanced analytics require a premium subscription
No link retargeting, CTAs, and AB testing.
Why TinyURL: TinyURL is your friend if you need a no-fuss solution. It's straightforward and user-friendly, ideal for quick link shortening.
Pros:
Straightforward and no-fuss link shortening
Quick and easy to use
No registration required
Cons:
Lacks advanced features
Limited link-tracking capabilities
Link Management Made Easy
Your go to link management tool for CTAs, branded and bio links, QR Codes, tracking and retargeting.
Get Started for FREE!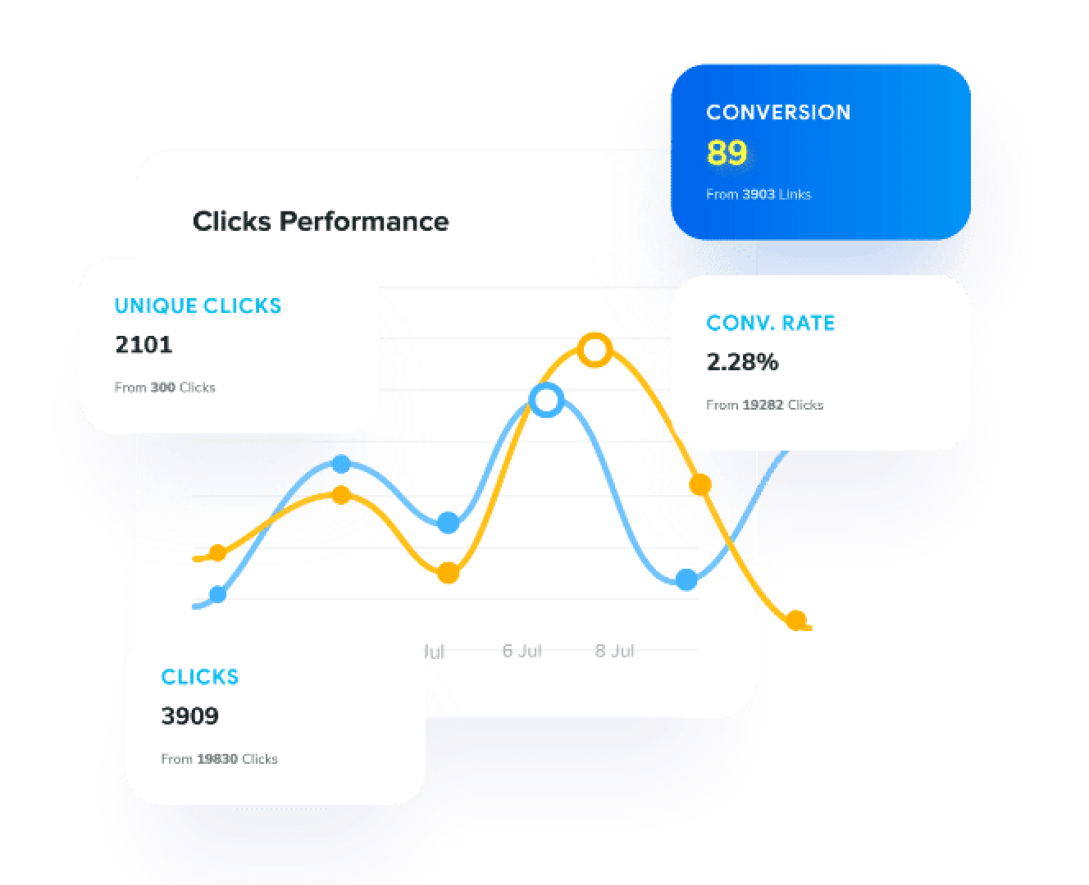 Why BL.INK: BL.INK is a versatile URL shortener with advanced features like QR code generation and analytics. Perfect for marketing and tracking campaigns.
Pros:
All-round URL shortener
Analytics for link tracking
Custom branded domains
Cons:
Pricing may not suit budget-conscious users
Lacks many features, such as link retargeting and bio links that Rebrandly offers.
Why Linkly: It's a powerful link management tool that helps you optimize your online presence and marketing strategies. It allows you to create, customize, and track links, providing in-depth insights into audience engagement.
Pros:
Link Customization
Scheduled Links
Password Protection
Cons:
Learning Curve (for new users)
Premium features may be pricey for some.
Why Cutt.ly: It's a user-friendly link management tool specializing in link shortening and tracking. It simplifies creating custom-branded short links and offers comprehensive analytics to help you understand link performance.
Pros:
Easy-to-use interface for quick link shortening.
Custom-branded links for a professional appearance.
Suitable for businesses of all sizes.
Cons:
Some advanced features may require higher-tier plans.
Limited customization options for free users.
Why Short.io: Short.io offers custom-branded links and link tracking, making it an excellent choice for businesses and marketers.
Pros:
Custom-branded links
Link tracking and analytics
User-friendly interface
Cons:
Pricing may be on the higher side for some
Advanced features may require higher-tier plans
Why Sniply: Sniply combines link shortening with lead generation. It allows you to add call-to-actions to shared links, making it a powerful tool for marketers.
Pros:
Combines link shortening with lead generation
Great for marketers and brand promotion with CTAs
Cons:
Lacks in several important features.
Some features are reserved for premium users
Why Shorby: Shorby focuses on enhancing social media profiles through link shortening and online branding. If you're active on social media, it's worth a look.
Pros:
Cons:
May not be suitable for users with broader link management needs
Some features are specific to social media management
Why choose Replug over Rebrandly?
It's a valid question. Replug offers features that set it apart from Rebrandly:
Link Retargeting: Replug allows you to add retargeting pixels to short links, helping you reach users who have engaged with your links before.
A/B Testing: Test different versions of your links to determine which performs better, ensuring optimal user engagement.
Custom Branded Domains: Create links that match your brand for a consistent and professional appearance.
White-label branding: Take complete control of your agency's branding by adding your branded custom domain, logos, interface, and more.
Comprehensive Analytics: Gain insights into your link performance, making data-driven decisions for your campaigns.
Call to Action (CTA): Include call-to-action messages on shared links, driving user action and lead generation.
Create compelling Call-to-Actions to boost conversions
Improve your click through rate by creating catchy CTAs for your marketing campaigns.
Get Started For Free!
Conclusion
In conclusion, the world of link management offers a wide array of alternatives to Rebrandly. Each of these alternatives has pros and cons, catering to diverse needs.
Whether you're looking for simplicity, analytics, branding, or lead generation, consider the options mentioned here and choose the one that aligns with your specific goals and preferences.
Happy link management!
FAQs
Why Look for Rebrandly Alternatives?
Rebrandly has been a popular choice for link shortening and management, but it's essential to have options that suit your unique needs. Whether you want more features, a different pricing structure, or a fresh interface, these Rebrandly alternatives are something for everyone.
Which Rebrandly alternative is best for marketing campaigns?
Replug is an excellent choice for marketing campaigns, offering various features for link management and user engagement.
Are these alternatives suitable for businesses and marketers?
Yes, many of these alternatives, such as Replug and BL.INK, offers advanced features and analytics, making them excellent choices for businesses and marketers.
Which link-shortening tool is similar to Rebrandly?
Replug is a link management tool similar to Rebrandly, offering custom-branded short links and robust analytics.
You may also like:
Manahil Asif
Meet Manahil - A wordsmith who practically buddies with B2B and B2C businesses to create digital magic. With a dash of humor and a sprinkle of wit, she whips up content more addictive than your morning coffee.