Digital marketing is changing at a fast pace. Most marketers try to keep up with the innovation and adapt accordingly. However, some of them miss out on a number of things.
One of those essentials is URL tracking. If it doesn't ring a bell, then you probably need to listen to me right now. Otherwise, some competitors who're tracking their links might have a competitive advantage over you.
Since you haven't had a chance to learn about the basics of link tracking, I'll start from scratch and tell you everything you need to know.
What's a link tracker?
Link tracking software is a tracking tool that tracks user activity by tracking clicks and conversions on the links. Further, providing users with an in-depth report on the clicks' origin, CTR, traffic source, and other metrics.
Why is it necessary to use a link tracker?
A link tracker is used to analyze the performance of your URLs. It is an essential tool for brand marketeers that are constantly involved in sharing links on social media.
With the link analytics data, you can analyze performance on the base of clicks, conversions, demographics, etc.
One of the other benefits of link tracking is that marketers, bloggers, and webpreneurs get the idea of how their content or marketing campaigns are performing. They can also analyze which campaign is outsmarting the other ones.
URL tracking comes in handy in email marketing, social media marketing, affiliate link cloaking for product promotion, social media advertising, and website visitor tracking.
I hope it clarifies these queries. Now let's head over to some tips about choosing the best link-tracking tool.
How to pick the best link tracking software?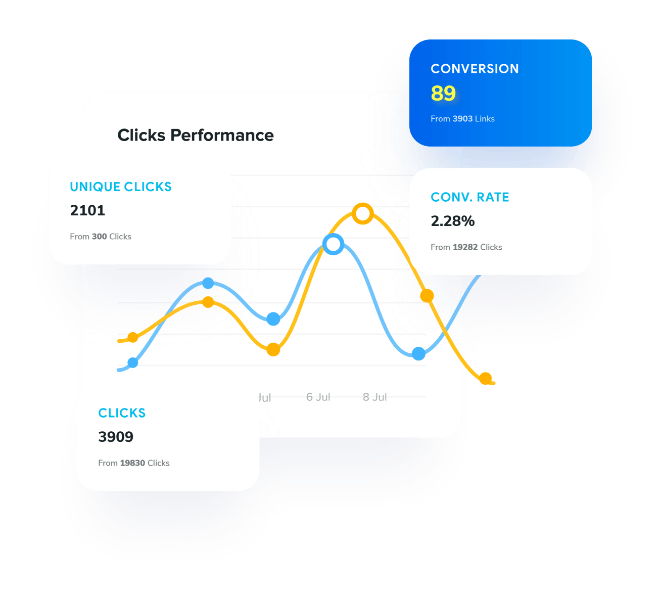 Here are the features/options you should look out for when picking a link-tracking software for your business:
1. Data tracking features
If there is no clickability data in a link tracker, then there is no point in using it. The fundamental reason to use a link tracker is to analyze the clicks they're getting on their links.
Conversion analysis is yet another important feature for link tracking. The URL tracking campaign goes to the next level if the reporting tool could analyze the action being taken after the clicks and record the conversion. This feature might only be able in top-notch link management tools.
Real-time reporting refers to reporting actions as they happen without any delay. Most link-tracking softwares have a delayed reporting system. However, real-time reporting is a huge plus in link tracking tools.
Traffic source is another key feature to analyze where your traffic is coming from. Some tools have in-depth analytics that track and report what kind of operating system, devices, location of users clicking on your links.
2. Integration capabilities
One of the best features to look out for in link trackers is whether or not it integrates with the industry's other digital marketing and SAAS tools. It'll be a bummer if a link tracker fails to connect with other marketing tools.
3. Simple user interface & easy campaign management
Make the users feel at home with a simple user interface. Users who cannot find the options on their dashboard screen tend to get bored of it and look for an alternative. So remember that a friendly-user interface is a big deal.
Campaign management is a feature that allows users to create and manage URL tracking within the campaigns. It immensely helps marketers to manage and track URL campaigns for different brands. Replug, the fastest-rising link management tool, has a campaign feature that makes it easier for users to manage different campaigns by creating short URLs.
4. Affordable pricing
One can't choose an online marketing tool without seeing the monthly or annual price. A lot of users choose an alternative tool just because of a high price of an online tool.
5. Reputation
Buyers often check out the reviews of existing users. Plus, they check social media for the product/brand reputation before they put out their credit card information. So, always take a look at the reviews of users before making your final choice.
6. A/B testing facility
A/B testing is the feature that helps users compare two versions of the same thing to see which one outperforms the other. The best link trackers have this feature, allowing users to split-test two or more links to see which one performs better.
7 best link trackers
We have compiled this list after great research so that you don't have to spend time researching and you can get on with the list to try what suits your individual or business needs.
1. Replug
A complete link tracker and link manager that comes with enhanced capabilities. The primary functions of the tool are URL-shortening and link tracking, providing several handy solutions for marketers. It's a powerful link management solution for brands and marketers to create, manage, and track short URLs.
Apart from click & conversion tracking, elevate your social media marketing ad campaigns with Replug. The link management tool allows you to add pixel codes of your favorite social platforms to Replug. Then run your retargeting campaigns and build custom audiences when anyone clicks on your shortened retargeting link.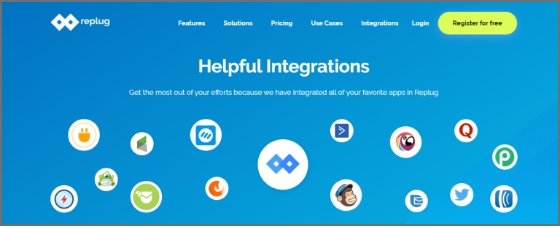 Furthermore, Replug integrates with several email marketing services, lead generation tools, and retargeting platforms flawlessly. All in all, it's an excellent platform to set up your link-tracking campaign.
Top Features:
⦁ It's an easy-to-use link management tool
⦁ Users can connect their custom domains
⦁ It provides branded short URL facility
⦁ Every shortened URL can be tracked
⦁ A/B testing helps split test two versions of the URL
⦁ Add UTM codes to the URLs to track visitors sources and other details
⦁ Create short bio links for social media platforms
⦁ Convert offline audience into website traffic through QR codes
⦁ Retarget the audience that clicks on your short links through social media ads
⦁ Deep links allow users to seamlessly navigate to in-app sections without logging in
Replug has three plans:
Free Trial: Start your 14-day free trial account – no credit card required.
| Plans | Price | Features |
| --- | --- | --- |
| Basic plan | $19 per month | 10000 clicks and unlimited links |
| Professional plan | $49 per month | 50,000 tracked clicks, unlimited campaigns & retargeting links, 25 bio links and more. |
| Agency plan | $79 per month | 200000 unlimited campaigns, links and advanced features |
Note: Pricing may vary. You can always verify the pricing plans by going to the pricing pages.
2. Short.io
Short.io is a popular URL shortening tool that offers a number of link management services. It lets marketers and brands create personalized, short branded URLs without any hassle.
Furthermore, it integrates with several marketing tools such as Zapier, Slack, Google Tag Manager, Adroll, and others.
Top features of Short.io:
⦁ It lets you track clicks in real-time
⦁ Users can add custom domains for branded short URLs
⦁ Campaign tracking is available for all users
⦁ Apps developers and brands can create deep links
⦁ It provides API access for developers
Free Trial: Every paid plan has a 7-day free trial
| Plans | Price | Features |
| --- | --- | --- |
| Basic plan | $19 per month | 50,000 tracked clicks and limited features |
| Professional plan | $49 per month | 50 custom domains, unlimited tracked clicks and branded links. |
| Agency plan | $149 per month | advanced features, unlimited custom domains, tracked clicks and branded links etc. |
3. Bitly
Bitly is one of the most popular URL shorteners on the market. It started as a URL shortener but transformed into a full-fledged link management tool.
It has mobile apps for Android and iOS users to manage their links on the go. Plus, it integrates with several SAAS and digital marketing tools. Moreover, it has Chrome, Edge, and Firefox browser extensions for users.
Top features of Bitly
⦁ Bitly allows users to add custom domains for customized branded short URLs
⦁ It shortens the long and clunky URLs with ease
⦁ It lets users create QR codes for links
⦁ Link tracking and reporting make it easier to analyze the links' performance
⦁ Users can create link-in-bio short links for social media platforms
It has three paid plans:
Free Trial: Bitly has a free plan that allows 10 Bitly short links per month
| Plans | Price | Features |
| --- | --- | --- |
| Starter plan | $8 per month | 200 branded links and limited QR code customizations and scan data |
| Basic plan | $29 per month | 1500 branded links, advanced QR code customizations, complimentary custom domain and more |
| Premium plan | $199 per month | 3000 branded links and advanced features such as region base click and conversion statistics. |
4. Rebrandly
Rebrandly is one of the reputable names in the URL shortening and link management genre. Its high-quality service, diversified features, and affordable pricing make it a good choice for marketers.
It covers all the bases when it comes to link tracking for brands and marketers. Moreover, it integrates with over 100 tools, SAAS products, and software.
Top features of Rebrandly:
⦁ Workspaces option allows marketers to share ULRs with teammates
⦁ Easily connect multiple custom domains to your Rebrandly account
⦁ Access customized analytics for short links through custom reports
⦁ Deep linking and traffic routing could help a brand smoothly navigate and test their audience
⦁ Retargeting allows brands to remarket the people who have clicked on the short URLs
⦁ Talk to the dedicated account manager for help or advice
Rebrandly has four paid plans:
Free Trial: Start a free trial that provides 25 branded short links per month
| Plans | Price | Features |
| --- | --- | --- |
| Lite plan | $13 per month | 250 branded links and 1 custom domain |
| Essential plan | $32 per month | 1500 branded links, 3 custom domains, 404 redirects, nded links, advanced QR code customizations, complimentary custom domain and more |
| Enterprise plan | $625 per month | 20000+ branded links, 20+ custom domains and several advanced features, such as broken link management, deep linking, SSL, etc. |
5. Red Track
RedTrack is a link-tracking software and affiliate marketing platform. It is designed to help businesses and marketers track the performance and effectiveness of their marketing campaigns, especially those involving affiliate marketing.
With RedTrack, users can create unique tracking links that they can use in their various marketing channels, such as social media, email campaigns, websites, and advertisements. These tracking links allow them to monitor the number of clicks, conversions, and other essential metrics to evaluate the success of their campaigns.
The platform provides in-depth analytics and reporting features, enabling users to gain insights into which campaigns and traffic sources are performing best.
Top features of Red Track
Create a tracking URL for each marketing campaign
Track conversions and events on your website or landing pages
Access real-time data and reports to monitor the performance
Conduct split tests to compare different campaigns
Target specific geographic locations and analyze performance data based on regions
Identify and mitigate fraudulent activities to ensure the accuracy of your tracking data
Generate comprehensive reports and customize them
The pricing plans of Red Tracker are as under:
| Plans | Price | Features |
| --- | --- | --- |
| Basic Plan | $1,490/Yearly | Unlimited tracking, 3 domains, free SSL and data storage for 18 months |
| Team Plan | $2,490/Yearly | With everything in the basic plan, plus 2 additional users, unlimited domains, live-chat support, and 2-year data storage |
| Enterprise Plan | $2,490/Yearly | with everything in the team plan, plus 10 additional users, unlimited domains, full API access, live-chat support and 3-year data storage, and more |
6. Click Magik
ClickMagick is a sophisticated web-based tool extensively utilized by digital marketers, affiliate marketers, and online businesses for link tracking and comprehensive analytics. Its versatile features empower users to track, optimize, and gain valuable insights from their marketing campaigns across various channels.
Top features of ClickMagick:
ClickMagick enables users to create unique tracking links tailored to different marketing campaigns and traffic sources.
Users can accurately track and measure conversions occurring on their websites or landing pages.
The platform supports A/B split testing, allowing users to compare multiple variations of their campaigns.
It provides real-time data and reports, allowing users to monitor campaign performance as events happen.
Advanced bot filtering technology within ClickMagick helps detect and eliminate fraudulent or non-human clicks.
Users can set up their own branded tracking domains, enhancing their credibility and maintaining consistent branding in their marketing efforts.
ClickMagick provides a mobile app
ClickMagick's geotargeting capabilities empower users to target specific geographical locations.
The pricing plans of Click Magic are mentioned below:
Free trial: They also offer a 14-day free trial.
| Plans | Price | Features |
| --- | --- | --- |
| Starter plan | $49 per month | 10,000 clicks, real-time stats, 1 team member, 2 custom domains tracking, and 6-month data support |
| Standard plan | $99 per month | 100,000 clicks, 3 team members, 10 custom tracking domains, 1-year data retention, cross-device tracking, mobile app, and more |
| Professional plan | $199 per month | 1,000,000 clicks, 2-year data retention, unlimited custom domains, funnel tracking, team members, and more. |
7. Link Trackr
LinkTrackr is a powerful web-based platform that offers comprehensive link-tracking and marketing solutions. It allows users to track the performance of their marketing campaigns, efficiently monitor conversions, and optimize their marketing strategies.
Top features of Link Trackr
Easily shorten and cloak affiliate links with Link Trackr
Compatible with all popular affiliate networks
Rotate links and conduct split tests for landing pages or offers
Insert retargeting codes on any cloaked link
Implement redirects based on geographical location, click limits, and expiration dates
They have four different plans. i.e.
| Plans | Price | Features |
| --- | --- | --- |
| Basic plan | $7 per month | 100 tracking links, 10000 clicks, default domains Etc. |
| Pro plan | $17 per month | 500 tracking links, 50,000 clicks, pixel tracking Etc. |
| Hyper plan | $27 per month | Everything you need, but with limitations including 1,000 tracking links,100,000 clicks, custom domain, split testing, link rotator, link cloaking and remarketing |
| Extreme plan | $47 per month | 5,000 tracking links, 500,000 clicks, add custom domains, import affiliate CSV files, split testing & link rotation and pixel & postback tracking |
Note: All the plans of Link Trackr are charged cumulatively annually.
Which one is my favorite link tracker?
I have used three link shorteners i.e. Replug, Bitly, and Goog.le.
The Goog.le from Google doesn't exist now. However, there are thousands of alternatives available on the market.
I'm not going to lie; I have been using Replug for the past three years, and it has been exceptionally good. No offense to any other link-tracking tool, but Replug has been the best so far.
The reasons are multifold. Not only does it provide easy and effective URL shortening, but it also helps in tracking website visitors. Plus, the link analytics makes all the difference.
Furthermore, features like A/B testing, deep linking, retargeting, UTM parameters, and others take the link management strategy to the next level.
The integrations help marketers expand their digital engagement horizon without breaking the bank. Lastly, pricing is affordable, driving the buying decision in most cases.
How to create a tracking link using Replug in seconds?
FAQs about link trackers
Here are some popular questions about link-tracking tools:
Can you track a URL?
Yes, you can track a URL. All you need is to choose a set of tools to make it happen. Firstly, you need a link management tool like Replug to add UTM parameters and then you need something like Google Analytics to track the respective link.
Can I track someone's location by link?
The advanced URL tracking tools allow users to keep track of the geographic data of the link clickers. So it's possible to track someone's location but it only happens when they click or open the URL. It's quite common in the email marketing industry. Most email marketing softwares report to the sender how many subscribers opened the email and where these openings have come from.
Are link trackers safe?
Don't quote us on this because it's difficult to say that every link-tracking software out there is safe and secure. However, most of the reputed and popular link trackers are safe to use. However, due diligence is always required before opting for a link tracker.
Other Popular Blogs
Hassaan Khan
Hassaan Khan is a freelance writer for SAAS companies, e-commerce stores, and niche websites. He has contributed to SEMrush, ThriveGlobal, BloggingCage, AllBloggingTips, and several other publications. He builds niche websites, publishes e-books, and helps website investors with his done-for-you niche site-building service.