Sales prospecting is the lifeline of every business that helps guarantee its growth. Typically, it involves using different methods, tools, and techniques such as cold calling, trade shows, and referrals to attract new customers, which is a process that is compulsory for salespeople to grow revenue and retain existing clients.
Today, technology continues to advance and become smarter. This is why companies need to adjust accordingly to improve business processes that involve sales. Therefore, sales teams need to be at the forefront of embracing and adopting new technologies
And since sales prospecting can be quite a costly and time-consuming venture, sales prospecting tools can also help improve prospecting workflows and achieve business growth. 
What is a sales prospecting tool?
Sales prospecting is the process of looking for potential customers or buyers and improving your sales pipeline. Its main objective is to arouse the interest of a prospect in your product until you can successfully lead them through the sales funnel and convert them into buying customers. 
Sales prospecting tools introduce automation into repetitive tasks, helping save time and increase the efficiency of your sales reps. With them, you can also generate more data, move faster, and effectively engage your clients in a way that would boost sales and close more deals.
Benefits of sales prospecting tools
There are plenty of sales prospecting tools on the market that you can use to achieve different tasks, such as:
Lead generation


Effective prospecting helps attract more potential customers that can be easily converted into buying clients. Considering that businesses

lose about 15% of customers

, generating leads will enable the sales team to remain busier with existing and new clients.
Lead qualification
Lead qualification is an integral aspect of prospecting that focuses on the use of specific criteria to qualify leads and obtain the most profitable potential customers. This process is important, as

67% of sales are lost

as a result of sales representatives not properly qualifying their prospects.
Bigger customer base


With sales prospecting tools, you can increase your customer base and minimize your risks of lost sales because there will always be more customers available even if one client leaves.
Higher revenue
The higher the number of customers, the more revenue you will generate. Every converted prospect by your sales team will continue to increase the sales volume of your business. This is imperative to business growth.
Data generation


Generating instant sales might not be the only reason for prospecting. It can also be used to gather information and carry out market research.
How to choose the right sales prospecting tool
Choosing the right sales prospecting tool requires different considerations. A couple of things to look for are:
Automation
When it comes to getting the attention of your prospects, it's crucial to be timely. There are several methods for collecting their information, but processing this data and reaching out to every one of them needs to be done quickly to engage potential clients as soon as possible. 
Manual and repetitive tasks involved can be much limited by automation to facilitate timely contact and engagement of your prospects. Automation also ensures that your workflow stays efficient and productive even when you're tired and occupied. Therefore, it's helpful to choose sales prospecting tools that come with excellent automation features that will make your sales team more productive.
Email marketing
Launching email marketing campaigns is one of the most effective methods of qualifying a lead. As a matter of fact, it generates a great return on investment (ROI) that can be as high as 4400%. 
Choose a sales prospecting tool that comes with the email marketing functions that you need. It will enable you to find and verify email addresses, utilize customizable email templates to send bulk emails, and schedule follow-ups, among others.
Besides, it's also important to monitor open rates, as well as other email marketing metrics. And sales prospecting tools can come in handy. By using them, you can easily determine what works for you and how to improve your subsequent email campaigns.
So, if email marketing is your main focus — choose a tool based on the features that can help you with it.
Visualization
Good visualization is required to determine the stage your prospects are at in your sales funnel. A sales prospecting tool should be able to provide important information about your lead and your relationship with them. 
For example, if you are yet to reach out to new leads, you will want your sales prospecting tool to indicate it to avoid providing them with details and offers that they are not ready for. Having all the information about your leads visualized in one place will help you make effective contact.
Usability
When we talk about the usability of a sales prospecting tool, we usually mean how easy it is to navigate and learn how to use it. Prospecting tools with excellent usability can help a user achieve the defined objective satisfactorily, effectively, and efficiently. By using such software, you should be able to find your way with the tool without depending on external knowledge.
15 best sales prospecting tools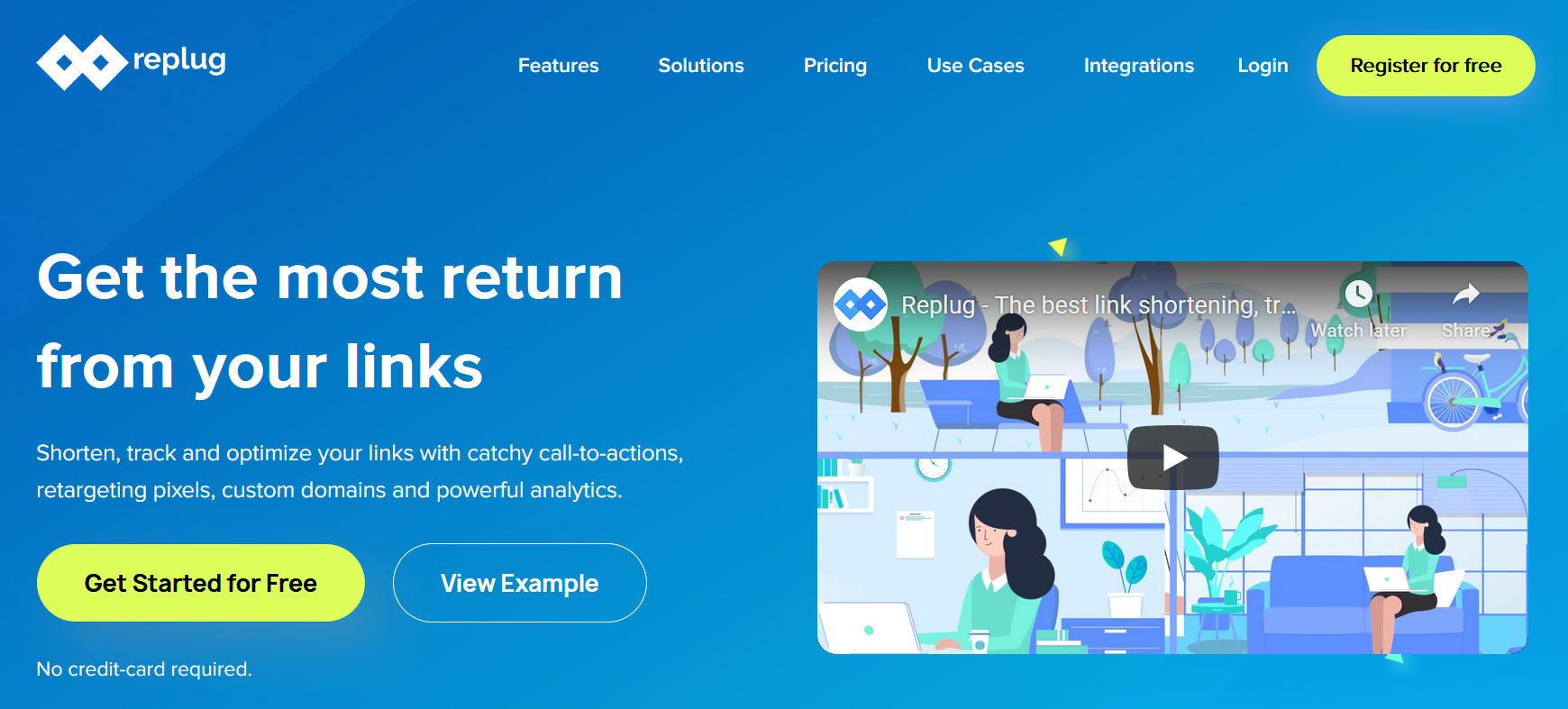 Replug lets you create custom short link and enables you to generate leads and traffic to your website by including your branded message on any webpage. 
With this tool, you can promote your product, event, or service by optimizing your link with personalized call-to-action, custom domains, powerful analytics, A/B testing, Deep Links and retargeting pixels. By doing this, you will increase your returns from your shared links.
Replug now gives you deep analytics by tracking URL which can help you increase sales to 500%.

Pricing: Free trial. Paid plans start from $19/month.
Leadfeeder is a B2B lead generation tool that recognizes the intention of the buyer through anonymous web traffic. It helps companies see how leads are generated, how they arrive on the website, and what their buying behaviour and decisions are. LeedFeeder is also used by businesses to identify what visitors are looking for to directly advertise and engage them.
Price: Free plan with limited features. Free trial. Paid plans start at $77/month.
ContentStudio


ContentStudio is an integrated cloud-based content and social media management tool used by small, medium-sized, and solo businesses. It features content management functionality, automated publishing, social media monitoring, post scheduling, and multi-user collaboration.
ContentStudio can help manage multiple social media accounts for users. It also offers a text composer, a search engine optimization tool, and suggestions for creating custom content.
Pricing: 14-days free trial. Paid plans start at $49/month.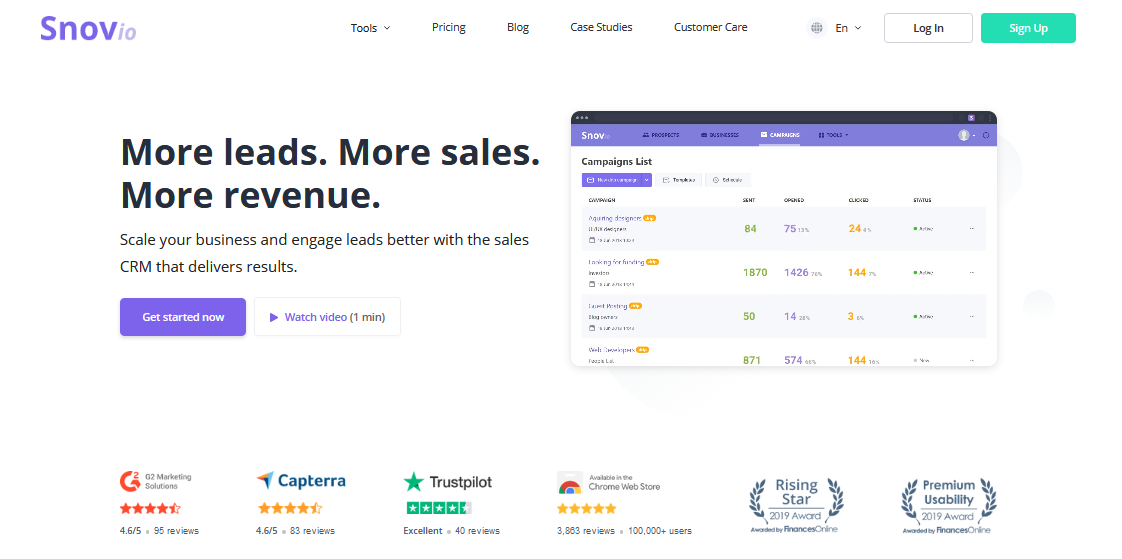 Snov.io is an effective tool for contact management and efficient cold outreach campaigns. It can help you discover more convertible prospects, verify contacts, perform lead progress tracking, and automate cold outreach. 
With Snov.io, you can find email addresses anywhere – by companies, professional social profiles, or domains via the app or on company websites, search results, and LinkedIn using the Chrome extension. Besides, you will save time and increase your revenue through customizable campaigns and numerous integration options.
Pricing: Free plan. Paid plans start at $39/month.
Scrapp.io


Skrapp.io is an email finder tool that enables you to scrape email addresses from professional social media networks and websites. It comes with an advanced domain search feature that helps you discover emails of employers and their companies. 
This email finder tool can also be integrated with LinkedIn or Sales Navigator and find the details of your leads according to their name, email, address, company, and LinkedIn URL. The results can then be easily exported to your ESP, CRM, or file storage service.
Pricing: Free plan. Paid plans start at $49/month.
FindThatLead is a SaaS software used to find leads for businesses based on website traffic. It's not only used as a lead generating tool but also as a prospecting tool for cold campaigns and email outreach. On top of it, you can use FindThatLead to find the phone numbers of potential clients. 
This tool comes with a domain search feature, email verifier, email campaign sender, and a social search feature. FindThatLead is also available as an extension that can be easily integrated into your Chrome browser to deliver instant results on your current webpage.
Pricing: Free plan. Paid plans start at $49/month.
SendPulse is an email marketing automation tool. It can be used to schedule email campaigns, generate and segment email subscribers, launch marketing outreach using web notifications, SMS, and email, perform A/B testing, as well as to evaluate and track performance to collect actionable insights.
The platform offers a user-friendly interface for launching marketing campaigns, which makes it perfect for both beginners and professional marketers and organizations.
Pricing: Free plan. Free trial. Paid plans start at $9/month.
Mention is a social listening and monitoring tool that allows brands and agencies to discover the mindset and behaviour of their audience across the web and social media networks. It's used by companies to monitor the comments about their product, obtain insightful analytics on the industry, and discover the impact they have on their marketing outreach.
Pricing: Free limited plan. Paid plans start at $29/month.
Owler is a tool that provides difficult company data and insightful news notifications for professional marketers, sales experts, and executives. It also helps businesses across the world to carry out fast market research and discover the latest industry news and updates that can be used to gain a competitive edge.
Pricing: Free plan. Paid plans start at $99/year.
Calendly is a powerful software for scheduling meetings, group events, and one-on-one appointments with the aim of saving time, improving service quality, and accelerating sales. It removes the archaic method of scheduling appointments, interviews, and likes through emails and phone. 
Pricing: Free plan. 14-day free trial. Paid plans start at $8/month for every user.
Close is a sales engagement tool developed to help businesses generate higher revenue by attracting more leads. It automatically tracks every touchpoint with a lead and provides a visual timeline that enables your sales team to skip the back and forth associated with different tabs and apps and focus on the deal.
Pricing: 14-day free trial. Paid plans start at $25/month.
Zoom is a web-based video conferencing software offered as both a mobile app and a desktop client. It facilitates easy online meetings, video webinars, an app marketplace, chats, and so on. Zoom is a user-friendly platform that provides audio, video, and screen sharing/recording experience across Android, Windows, iOS, and Zoom rooms.
Pricing: Free plan. Zoom Meeting paid plans to start at $14.99/month.
Prospect.io enables you to generate email lists, launch effective email campaigns, and measure outcomes. It can be easily integrated with different services such as HubSpot Sales and Salesforce. Salesforce data management will allow you to avoid duplicate emails, and inconsistent data and keep contact information secure. 
Prospect.io also automatically discovers and verifies emails, phone numbers, and job titles of leads. It comes with a drip campaign feature that sends multiple emails with an inbuilt email template that will be filled with the information of the lead.
Pricing: Paid plans start at $89/month.
LinkedIn Sales Navigator is an effective sales management tool that helps marketers close more deals and rapidly discover new prospects using specific and customized insights such as company updates and lead recommendations. The platform has made it much easier for sales organizations to effectively discover leads and manage their pipelines.
Pricing: Paid plans start at $79.99/month.
AngelList is a platform for startups that makes hiring, job listing, and investing processes super easy. It's a pioneer in online startup investing and an excellent choice for early-stage startups. AngelList features a directory of various companies that can be filtered according to organization type and employee size, as well as the stage of funding.
Pricing: Free plan. Paid plans depend on the company size and can be between $199 and $1,999/month.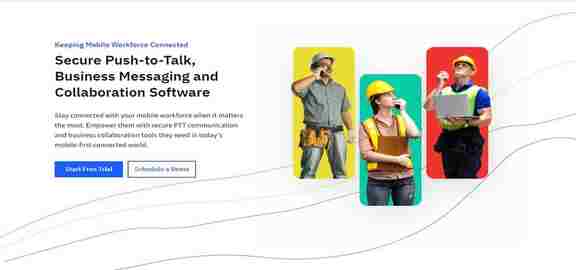 NuovoTeam is a business collaboration tool for Android and iOS that offers the Push-to-Talk app for instant on-field connectivity. It facilitates hassle-free two-way communication over cellular or Wi-Fi networks, at the push of a single button. On-field sales representatives can leverage instant messaging, document sharing, location tracking, group calls and much more for instant team collaboration.
Pricing: NuovoTeam offers a business plan of $5 per user per month
A summing-up table around 5 criteria
| | |
| --- | --- |
| Categories sales prospecting tools  | Examples of tools |
| List building tools | Replug.io, Snov.io, Skrapp.io, FindThatLead, SendPulse, Close.io, Prospect.io, LinkedIn Sales Navigator |
| Lookup tools | LeedFeeder, Skrapp.io, Owler, AngelList |
| Prospect qualification tools | Replug.io, LeedFeeder, Snov.io, FindThatLead, Mention, Close.io, NuovoTeam |
| Meeting tools | Calendly, Zoom |
| Prospect engagement tools | Replug.io, LeedFeeder, Snov.io, Owler, Close.io, Prospect.io, AngelList |
Wrapping up
Sales prospecting can be quite challenging, filled with different back and forth processes and activities, but leveraging the features of some of the tools provided above can help you or your sales team become more productive, rapidly connect with new and existing leads, and generate more revenue.
Author's bio: Tamara Zhostka is the chief editor at Snov.io, who is working her finger to the bone to make sure you get the freshest insights from the marketing world. She is always happy to share valuable tips with marketers and entrepreneurs.
Farwa Anees
Farwa is a Digital Marketer who likes to share her insights and experiences via writing. She likes to test and experience new eras in marketing and share them through blog writing.