5 Must Try Facebook Ad Retargeting Strategies to Boost Conversion
Specifying a marketing budget is the need of every company, but choosing where to spend it brings lots of other factors into play. Only about 2 decades ago, marketing criteria were set for everyone. You bought air time on the radio, bought billboards, or made an advertisement for TV to be played during intervals, with primetime ads costing more than others.
The product marketing playing field is not level anymore. The scales have started to tilt in the favor of online marketing. People are no longer looking at billboards or paying attention to advertisements.  So in reaction to that low demand, those companies have increased the price of advertising to keep it ROI positive. This is bad news for small and medium enterprises that have a limited budget and can not compete with big businesses for product placement.
Fortunately for them, social media has come to the rescue.  As the monopoly of conventional marketing started to wither, it revealed the drawbacks of traditional marketing.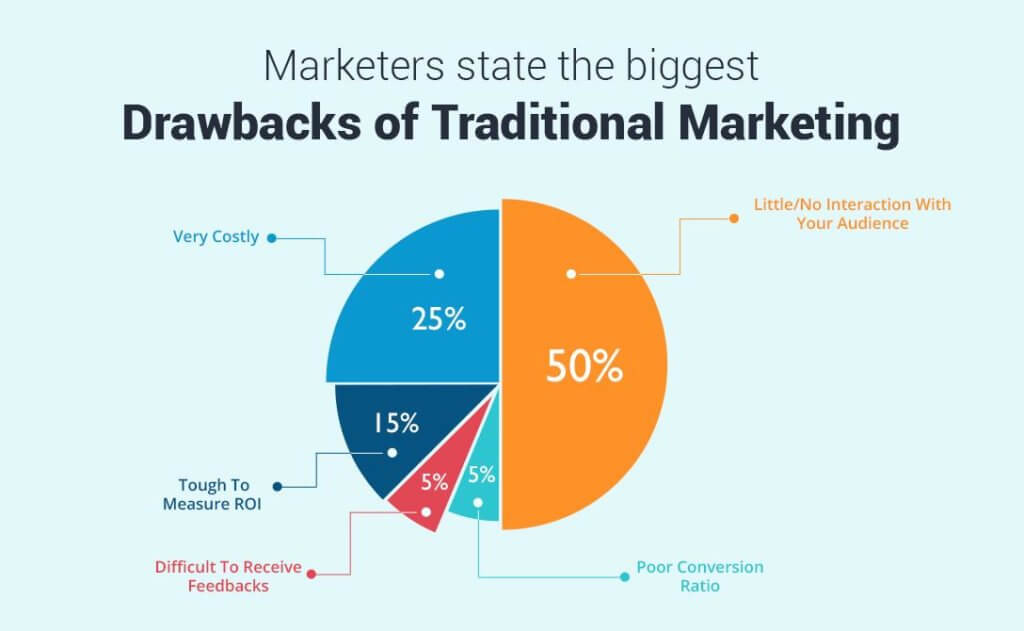 Source
Factors such as high cost, lower conversion rates, and zero interaction with the audience proved to be pivotal elements that urged marketers to look at alternative modes of advertisement. Marketing on social media platforms costs less and converts better making it a win-win situation for advertisers. Nowhere is the ROI in social media advertisement better than on Facebook.
Retargeting on Facebook
Part of the reason Facebook marketing is so great that it has continually improved its pixel. The Facebook pixel is a code that you place on your website. It collects data that helps you track conversions from Facebook ads, optimize ads, build targeted audiences for future ads, and remarket to people who have already taken some kind of action on your website.
In the last few years, Facebook has worked on perfecting their pixel to be more accurate and to help build retargeting audiences. From reaching those who have taken specific actions on Facebook/Instagram, to serving ads to only those who spent the most time on your website, these new options are geared to help push prospects and customers down the marketing funnel.
The common pattern is that people visiting a website are less likely to make a purchase on the first visit. In actuality, it is a long journey from visitor to customer. This is why Facebook shows them relevant ads and retargets them to help you convert better. Not only does Facebook offer a variety of retargeting options and immersive ad units that aren't available on other platforms, but it also boasts both a higher audience inventory and lower conversion costs.
Importance of Facebook Retargeting
In real life, people like to window shop before they can establish value for money in a product. They visit different stores to get a price and quality idea for the product they are searching for. The same is the case with online purchasing.
It is extremely rare that people visit a page and select the product right there and then. These websites show retargeting ads to visitors that did not buy. Even then it is unlikely people will buy after clicking just one ad. There is usually a complex journey of transforming a visitor to a paid customer and Facebook has the unique power of making that journey easy. However, making money on Facebook can be a little tricky too.
How Facebook manages to achieve this is mainly associated with providing a willing and responsive audience as opposed to a cold one. This helps a lot as people shortlisted by Facebook are already partially inclined to buy your product. This is done by complex algorithms and hardworking capabilities to determine the search patterns and interests of billions of people.
Creating a Facebook retargeting campaign in 3 steps
The idea of retargeting is a fairly simple one. By tracking website visitors, you show them relevant content via a sponsored ad on their news feed on Facebook once they have left your website.
Let's say you wrote a blog about top content marketing tools. Now if you have a Facebook retargeting campaign set up, you have the opportunity to place an ad for Content Marketing Strategy 2019 in your prospects feed. This allows for your product to be in the company of potential buyers all the time.
To create a Facebook retargeting campaign navigate to ads manager. You can find this on the left-hand navigation or in the top, right-hand dropdown. You can also find this on your business page under the "Promote" dropdown.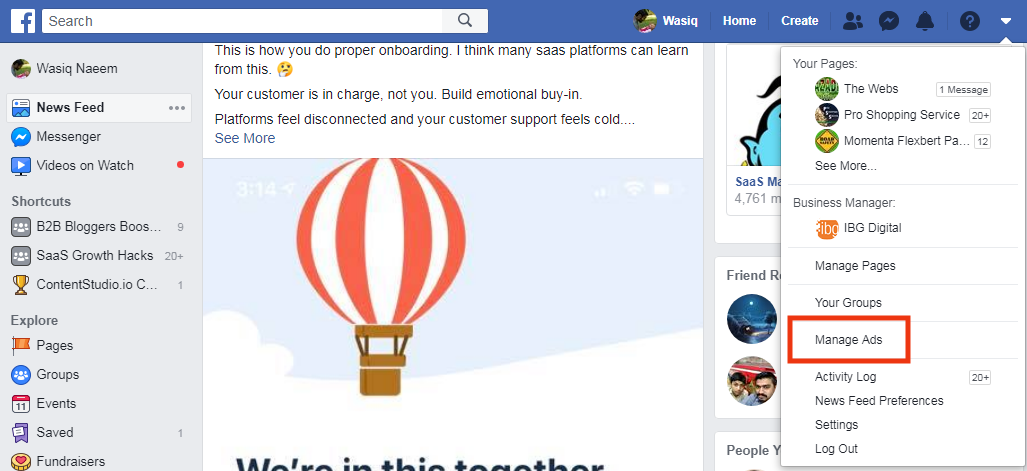 The first thing you need to do is to ad the pixel code to your website to track traffic. Fortunately, Facebook has provided a detailed guide on how to ad pixel code to any type of website.
Once you have successfully added the pixel code comes the part of creating a retargeting campaign.
Step 1: Setting up a custom audience
After verifying that your pixel is working fine and receiving traffic, login to your business manager account, click on all tools, then under "Assets", click "Audiences"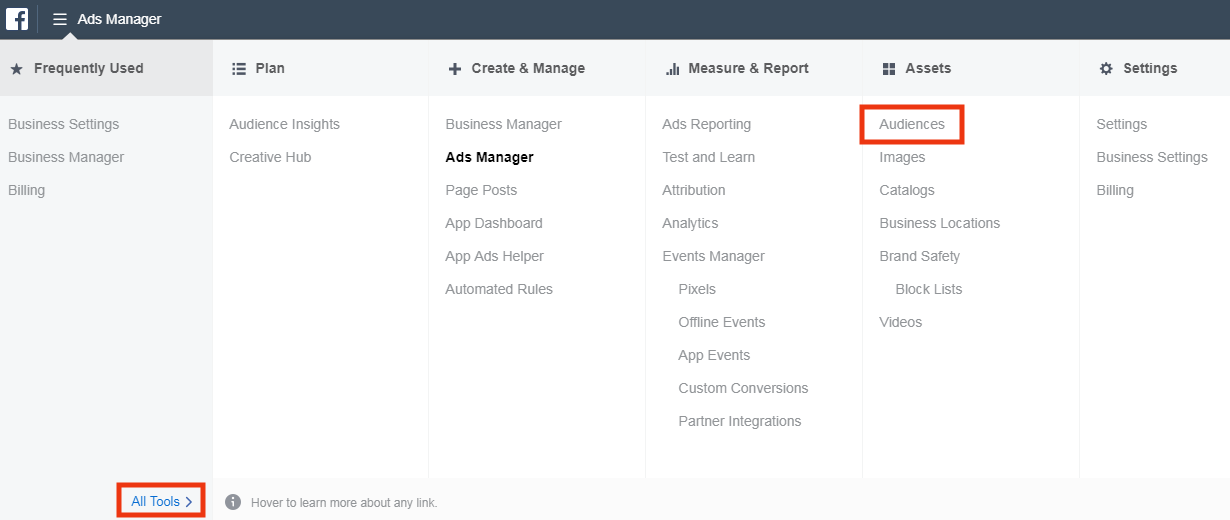 Here you will create a custom audience based upon the visitors on your website. You will have to create and target audience for a specific page on your website. This page can be a sales page, landing page, or a specific product you want to target. Once you place the URL that you would like to target and create your audience based on, Facebook will save this audience and begin to populate the page visitors.
Step 2: Set up your Campaign
Now it is time to create the actual campaign. Facebook remarketing campaign. In the campaign section, you will want to choose the "send people to your website" objective.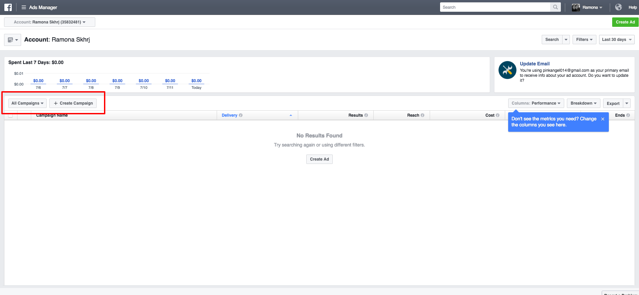 This will open up a set of options to finetune the potential customers for your business.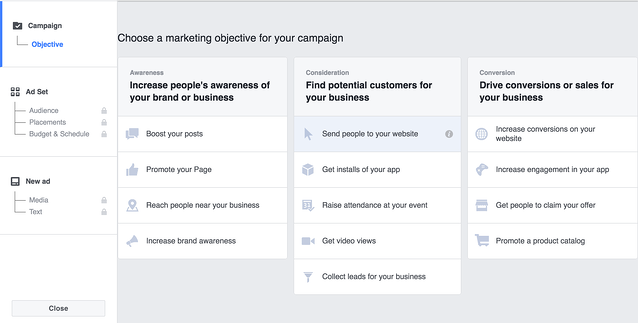 Choosing this option will allow you to create Ad Set where you can customize audience, ad placement, and the budget you want to allocate towards this campaign.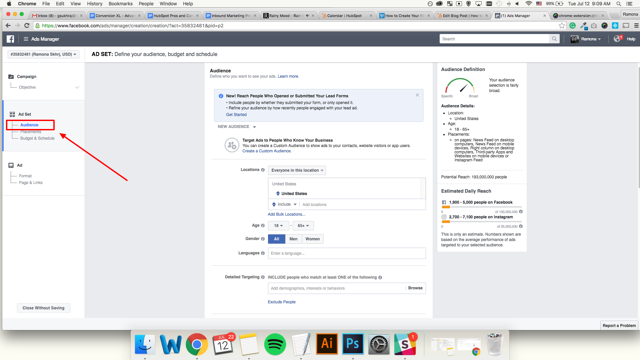 From here, you have the option to attach your custom audience which you will see appear in the dropdown.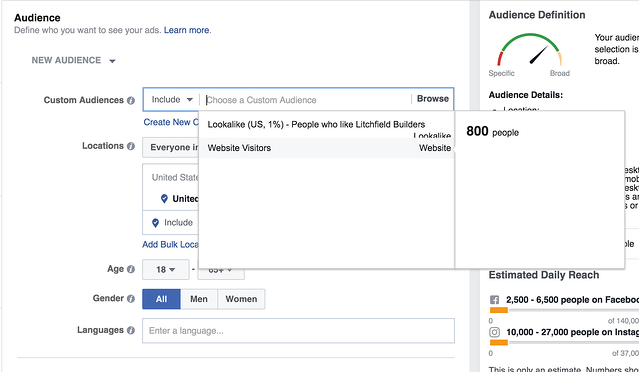 You can further classify it on the basis of the following factors
Geographic location
Age
Gender
Language
Interests (Anything from job titles to favorite music bands)
You can observe for the first week which type of audience is being attracted to the ad and then classify it further.  Your audience should already be very targeted based on your buyer persona and you don't want to miss out on any good opportunities.
Step-3: Creating Ads
Now comes the fun part, when you will create the actual ad which will be viewed by the user.
The most important features of the ad are the image and the headline. The best advice is to keep your ad copy clear and concise. Use a simple image and a powerful headline.  One of the things that really matters is that your ad should appear naturally in the user feed. You should remember what drives more clicks in the feed. So instead of spending unnecessary time on creating custom graphics, create simple and clean images appearing harmoniously in the feed.
It is however best to test different sets of images, headlines, and descriptions to see which is performing better. A/B testing is a great feedback method while creating ads. You can judge the performance of your ads and alter details accordingly.
Test this out with a week-long campaign and a small budget of $50 -$100. Your first campaign might not be a major success story, but learn from it and by continually tweaking your campaign/ads you will start seeing leads move down the Inbound Marketing Funnel!
Challenges of Facebook Retargeting
The idea of Facebook retargeting is fairly simple but when you immerse your self in the actual planning of the campaign, you will see that it's a success is dependent upon far more complex parameters. A couple of the crucial ones include setting website custom audiences to the last 30 days of visitors and failing to consider the particular buying and lead acquisition patterns for the individual brand.
Choosing the right time period of the audience which visited your website plays a crucial role in determining the conversion rate. Understanding the client acquisition patterns for your business will help you determine the type, nature, and period of your retargeting campaign. For example, If you find that most of your customers tend to convert within a few days of visiting your website, then you would be paying for 30 days worth of Facebook impressions that are no longer relevant.
Similarly, consider the case where your product is high priced or it requires education the visitor sand making up their mind through regular engagement. This time the potential buyer will require more time in the conversion process and if you have set the audience pool time period to 30 days of visitors, this potential conversion might slip in the categorization.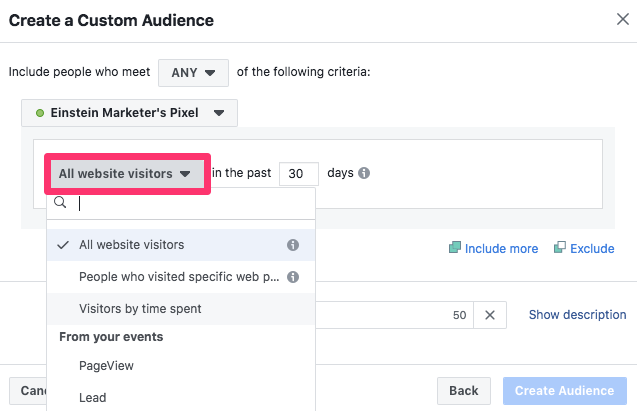 The solution to these problems is to intelligently study the audience and then break your audience into smaller groups. With each group having common needs which then need to be addressed in the remarketing campaign. Let's say you have identified two group one which visited 3 days ago and one 25 days ago. What you can do in your remarketing campaign is to show the later one a stronger marketing message as they have become a colder lead. You have to encourage them more vigorously compared to the other group.
Grouping all audience together might seem better since you have a larger audience, but once your analyze how the retargeting ad misses the mark by not meeting the expectation of the viewer, you will be forced to divide them into smaller groups.
5 must-try Facebook retargeting strategies
Retarget those who engage with Facebook posts
Nearly all businesses have a social media marketing strategy in place which includes regular content sharing on their official Facebook page. If you put some thought and effort into the posts you create, you will definitely get engagement on your posts. People will like and share your content if they find it interesting enough.
The idea for this strategy is to retarget those people who engaged with your Facebook posts but never visited your website. If you are running Facebook ads, these are the perfect audience to retarget. As these people are already engaging with your content, is it easier to encourage them to take the leap of faith.
This strategy includes three steps. First, you need to create a set of people who have engaged with your content on Facebook. In the menu under "Engagement", there is a list of various options of how users can interact with your brand on Facebook. Click "Facebook Page," select "People who engaged with any post or ad," and include a timeframe. Remember to exclude the people who have already clicked on your ads.
Create a second custom audience of "all website visitors" keeping the time period the same as the first group. Now create an ad that targets the first group and excludes the second.
Hook line and sinker
It's a well-known fact that people do not make the purchase first time around. Hence retargeting. There are numerous reasons for such behavior. A common one that we may all agree upon is visiting the order page and realizing we might have budget constraints. This keeps us from purchasing and we subdue to the temporary restriction.
Well, this can all be turned around by implying an intelligent strategy of Facebook retargeting. Create a custom audience of all people who visited the checkout page of your website in the last 30 days. Create a compelling ad to them in the first 3-5 days of the new month. Come payday, will be a new motivation to the visitor and seeing your ad will make them think its fate that has brought the product in front of their eyes and the required money to buy it in their pocket.
The two-tier strategy
Often time you have to mimic the behavior of the visitors to develop a retargeting strategy. The behavior of the visitors on social media is to wait and see. They would not rush to the decision to make a purchase and might need inceptive persuading.
The inception here being your brand. In the first tier start with a brand awareness ad which would create an impression in the mind of the viewer. And what better way to create an impression by making an awesome video.
You can n create a second more compelling retargeting ad based on the custom audience who have viewed the video. Yes, Facebook offers the unique targeting option to the custom audience who view specific portions of your video. Create a custom audience base upon people who have viewed at least 50% of your video content indicating high-interest levels.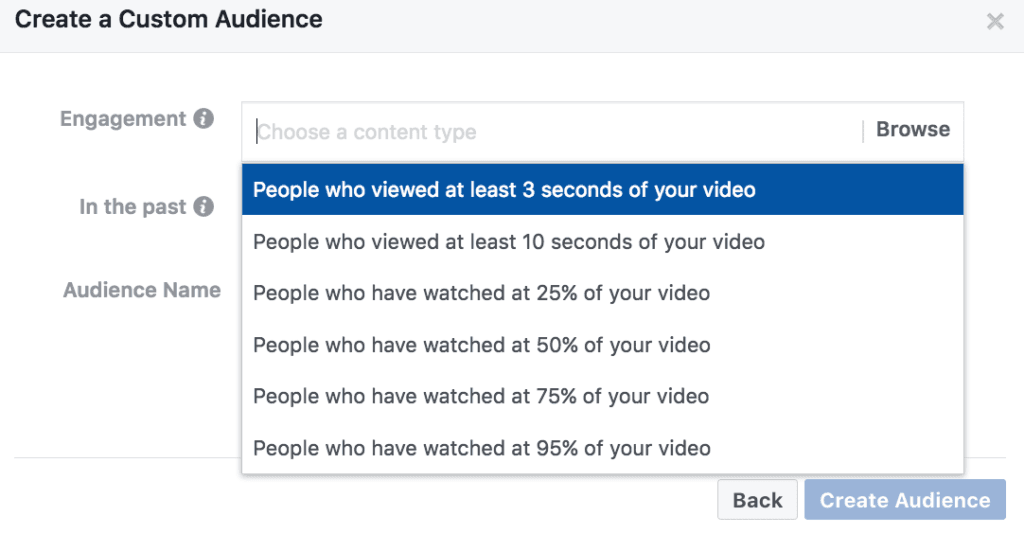 You can then retarget them with another and with more incentive for better conversion.
Retarget the most engaged website visitors
A simple measure of how much-interested people are in your product is the amount of time they spend on your website. if the bounce rate of your website is lower, it means the design layout and journey of the visitor on your website are appropriately set. You can check the bounce rate and measure the avg time on the website by using the Google Analytics tool or lucky orange which helps you track visitor journey.
You can retarget people on Facebook who have spent significant time on your website.
In the custom, the audience panel clicks on website traffic to select visitors by time. You can further skim the audience based upon the amount of time they have spent. An important pointer here is to exclude the people who have visited and made the purchase.  Otherwise, you will be wasting time and money on people who are already your customer.

Prospecting for a lost cause
In the world of Facebook retargeting, there are no such things as a lost cause. There's a lot of room for customer growth with re-engagement campaigns. This is the same case as you might have observed in email marketing, where you receive promotional emails months after you visited a website.
Facebook retargeting campaigns are specifically designed to connect with users who haven't purchased from you or engaged with your site within a set period of time. The tenure of the audience which you want to rejuvenate can vary from a couple of months to up to and year. You can upload a custom audience from your email list for people who haven't replied to your emails. Many CRMs such as MailChimp provide this facility.

Conclusion
Retargeting can yield higher ad engagement, brand ad lift, and awareness, click-through rates, and conversions, all at a lower CPC than the majority of campaigns targeting cold audiences.
This is an incredible opportunity that brands should spend more time focusing on instead of exclusively trying to create ad campaigns for cold audiences.
What do you think? Which retargeting strategies have you used for your business? Which has worked best for you? Let us know in the comments below!